We are now able to watch movies and television shows like never before, it really has never been this easy. With the launch of on demand services such as NEON we are able to watch amazing movies whenever and wherever we like! We no longer have to wait until a certain time to tune in, no more annoying ads and in this case a huge array of movies and tv shows to choose from for the whole family to enjoy. Read on to find out about an awesome Free Trial!

There is something magical about NEON which sets them apart from the rest, and that is the amazing Disney content! With the school holidays approaching my kids were so excited to try out NEON. They have delighted in being able to safely & easily choose their own movie for us to watch as a family and WOW there are so many amazing Disney movies to choose from! From the classics to new movies there is literally something for everyone!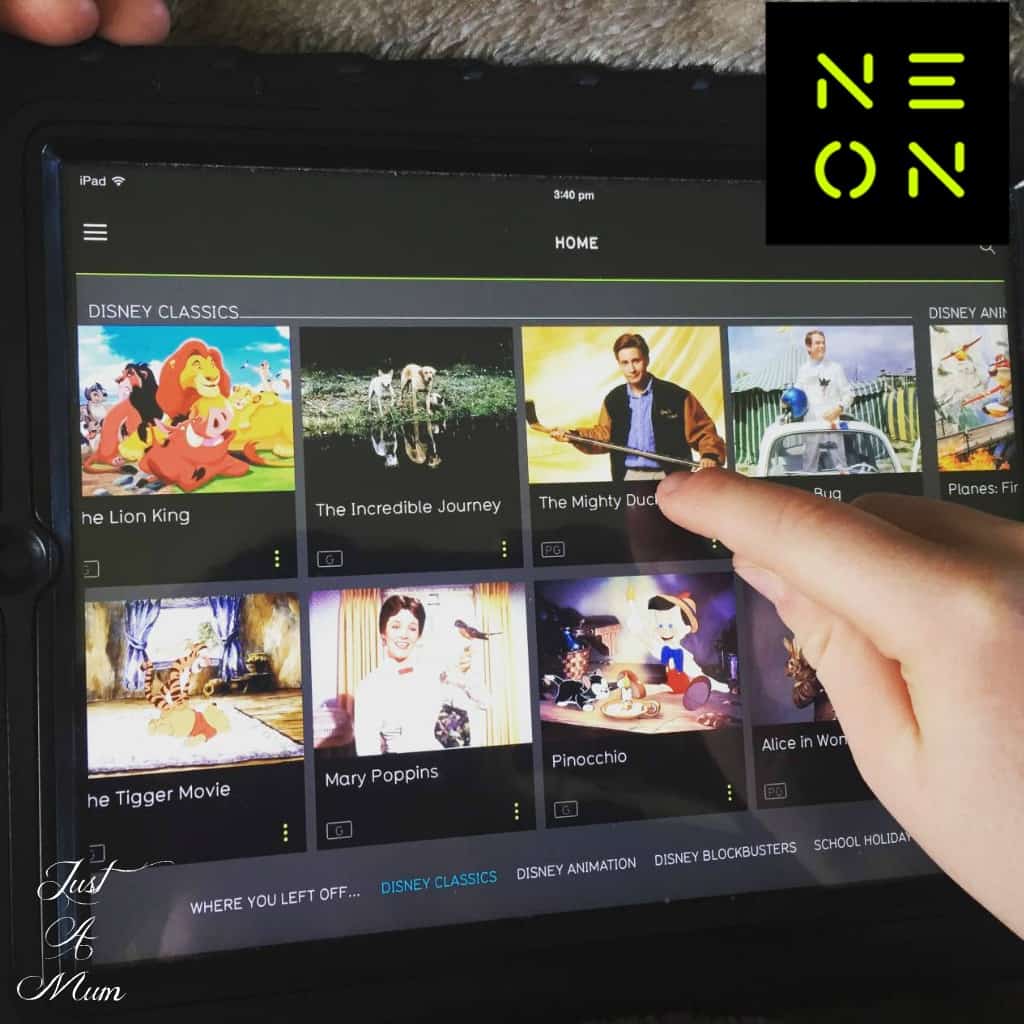 My kids are aged 5, 8 & 10 so it is just perfect for them, they can watch something to chill out during the day as a break from their busyness or we love choosing a Disney movie for the whole family to watch at night so it has been so special.
Best of all for us it is low cost – paying for what you watch has traditionally been a VERY expensive exercise, now we are given so much choice! We are like most families in that our schedules are pretty hectic these days with work, kids sports, school, after school stuff, so it has been so lovely to have a place to find a movie we will all love to watch together. I have to say that it's a pretty great way for the kids & I to safely search for suitable movies for them to watch when I am busy blogging, working or baking during the day in the school holidays!
And let me tell you the selection is awesome – this is just SOME of the absolute plethora of Disney Movies available:
Animation
101 Dalmatians
A Bug's Life
Cinderella (a beautiful classic)
Disney Mickey Mouse Clubhouse: Mickey's Adventures In Wonderland
Dumbo
Lilo & Stitch
The Lion King
Pinocchio
Pooh's Heffalump Movie
Real Life
Muppets Most Wanted
Maleficent
Alice in Wonderland
101 Dalmatians
Cool Runnings
The Mighty Ducks
Flubber
Herbie Goes Bananas
James and the Giant Peach
Mary Poppins
And that is only a small sample of what they have! I don't know about you but I would happily watch any of those, which I guess is the amazing appeal of Disney movies, they all become classics you can watch over and over again!
So whether you have pre-schoolers or pre-teens settle in and see what my own kids just love about NEON and see further down for how your can try NEON for FREE!
So what are you waiting for Sign up for a 30 day free trial at neontv.co.nz and start streaming now.
It really is that easy, escape with the whole family into these amazing Disney Movies.
I cannot wait to hear what your favourite is?
Happy Watching! Anna 😀
This content has been sponsored by NEON, all opinions are our own and we gratefully appreciate working with them!
buy ventolin online
http://chiesadomestica.org/new/buy_fluoxetine_without_prescription.html
http://rxbuyonlinewithoutprescriptionrx.net/zocor.html