Wouldn't it be lovely if you could have someone else do the baking for a change? Finally a way your other half or kids could get in the kitchen and spoil you!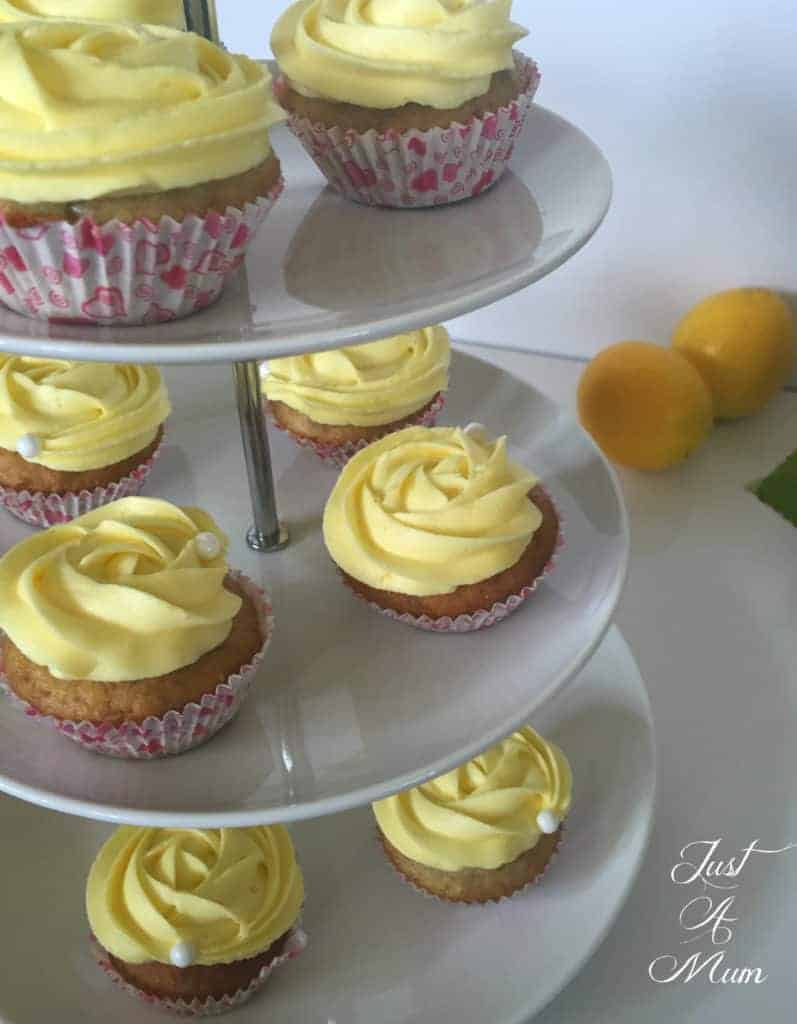 I have been working with Edmonds with their Banana Cake Mix. That's right, pretty much all the ingredients you need to create light, tasty and perfect every time banana cake recipes. I had a lot of fun creating some gorgeous ways to showcase this cool product. Each bag contains enough ingredients to create THREE recipes! So of course I had to give it a road test and share with you guys!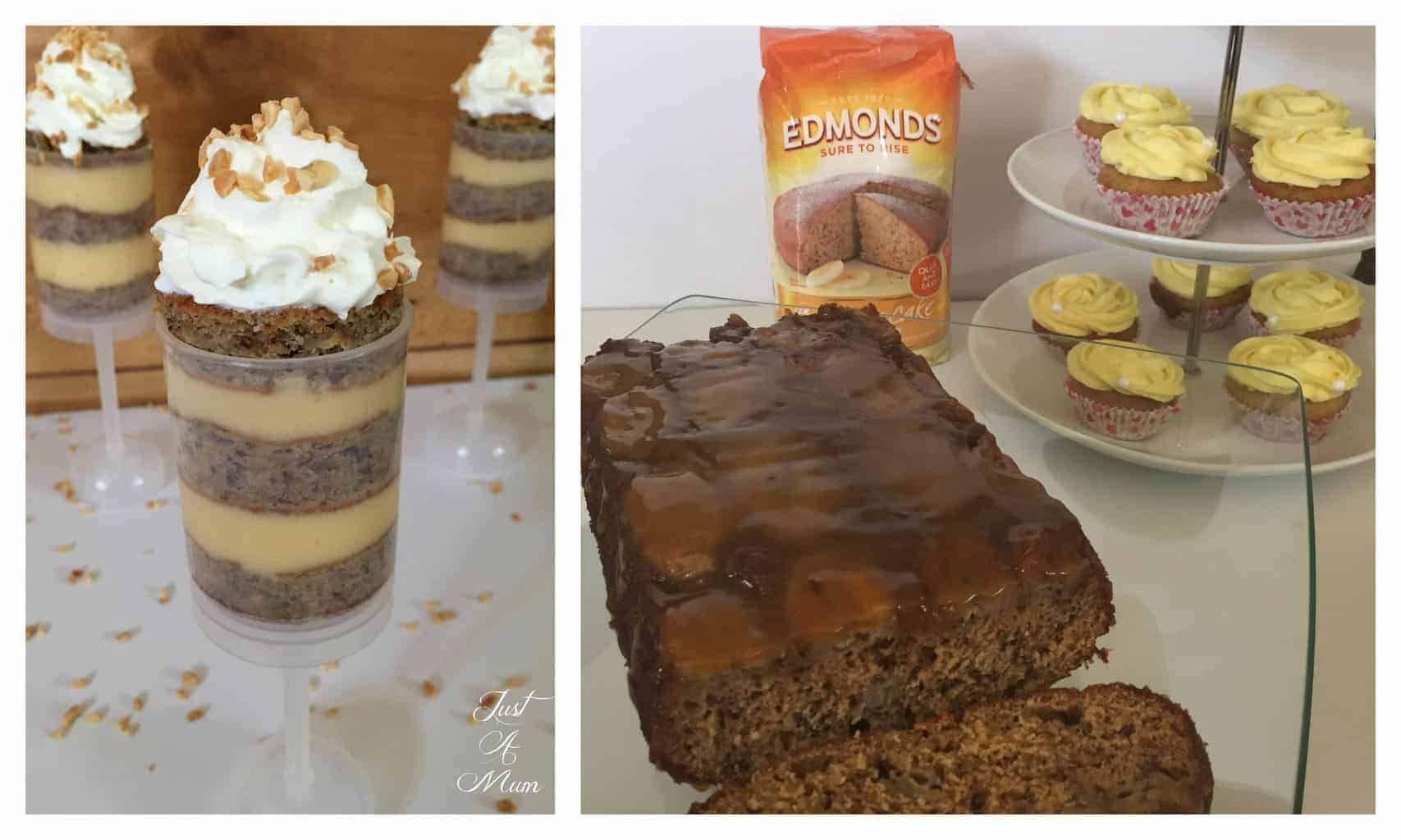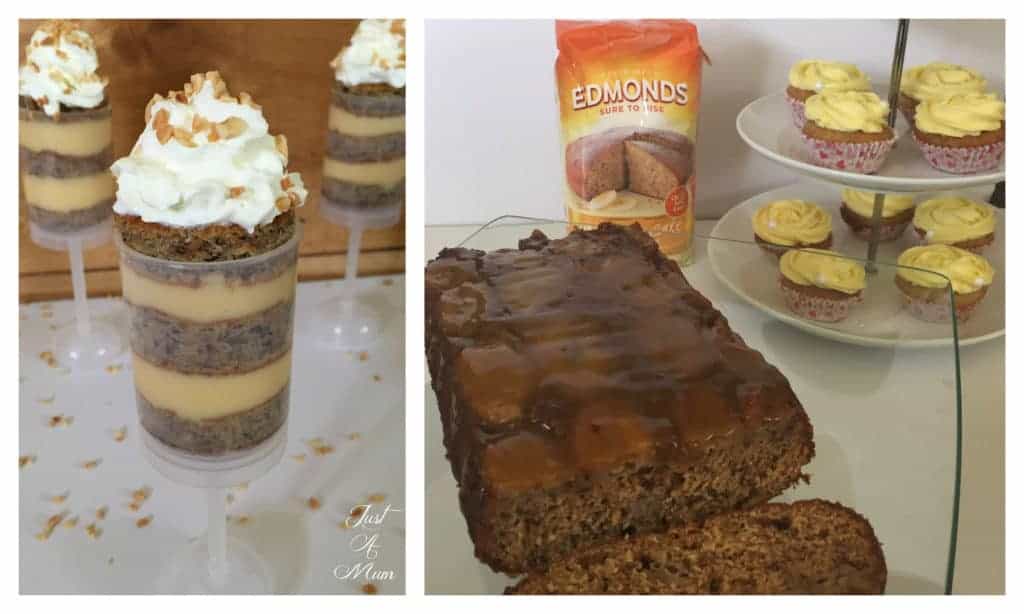 It is as simple as using the cake mix and 4 additional ingredients (including fresh bananas), mix it all together and it is as easy as that!
The ideas are endless with what you can create. You can use this as a base for cakes, cupcakes, loaves, desserts so there is no excuse for those who are not as confident baking to grab a packet and get experimenting.
I so often have people tell me they would love it if they could be the ones on the receiving end of baking so I hope this blog post gets out there to a few husbands and kids who perhaps don't often enter the kitchen! Or maybe it is you who is a little unsure and spend more time baking rocks than edible goodies (it's okay, I'll keep your secret) .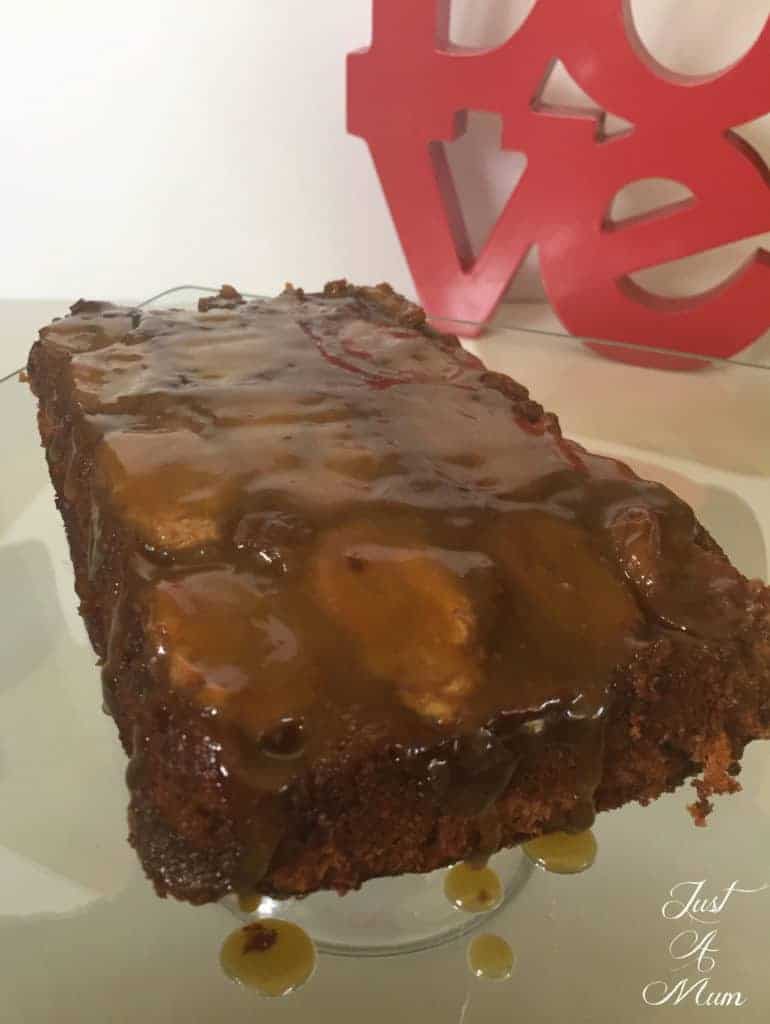 I hope you enjoy the ideas I came up with for this post and thank you to Edmonds for working with me here in my little corner of the blogging world.
The first recipe I want to share with you is one I have wanted to write up for a long time! It is delicious, smells amazing and really quite easy! And of course without having to create a cake from scratch its pretty much foolproof. It is a gorgeous combination of caramel, bananas and cake mix made into a gorgeous Caramalised Banana Bread, and with the addition of a Caramel Syrup this is bound to be a hit! Inspiration for this from the amazing Daring Gourmet, what fabulous bloggers we have in the world!
It has some cool steps so follow the easy recipe below:
I can only assure you that the smell of this Banana Bread is absolutely stunning!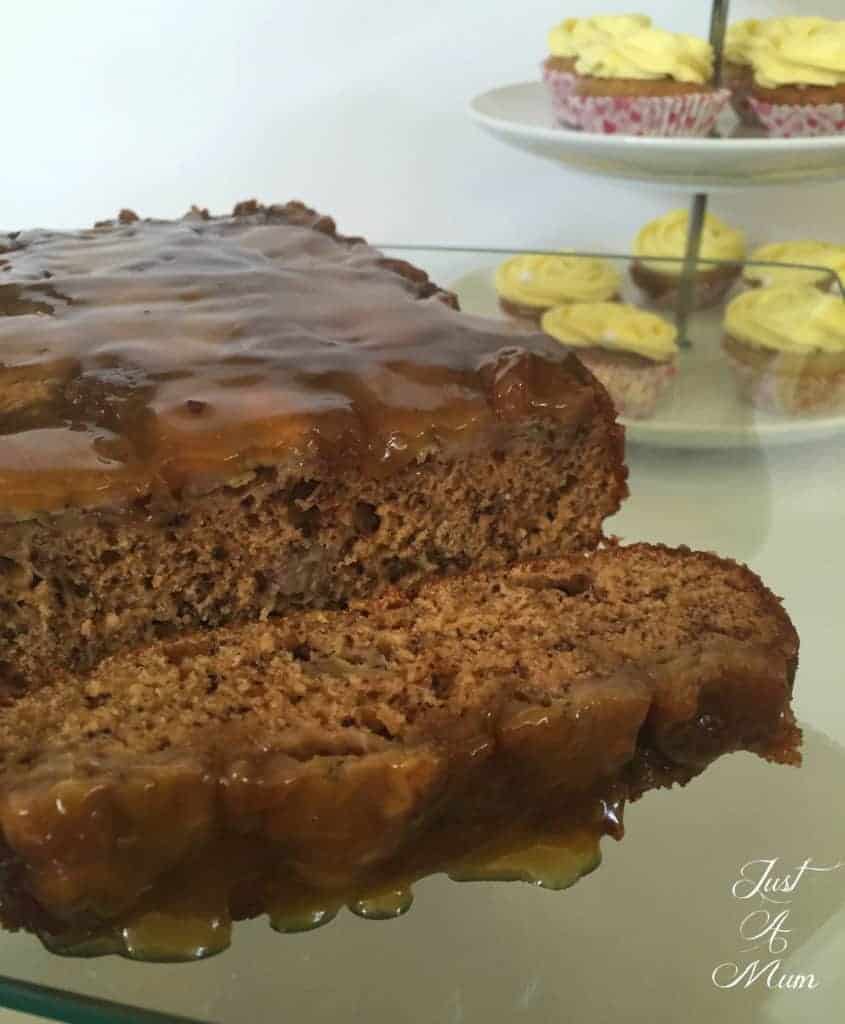 No celebration or special occasion would be quite right without cupcakes! They seem to have taken the party scene by storm and are not going anywhere. So it was an easy choice to showcase these to you today. With Mother's Day coming up, I thought these would make a lovely addition to someones day. And again, they couldn't be easier!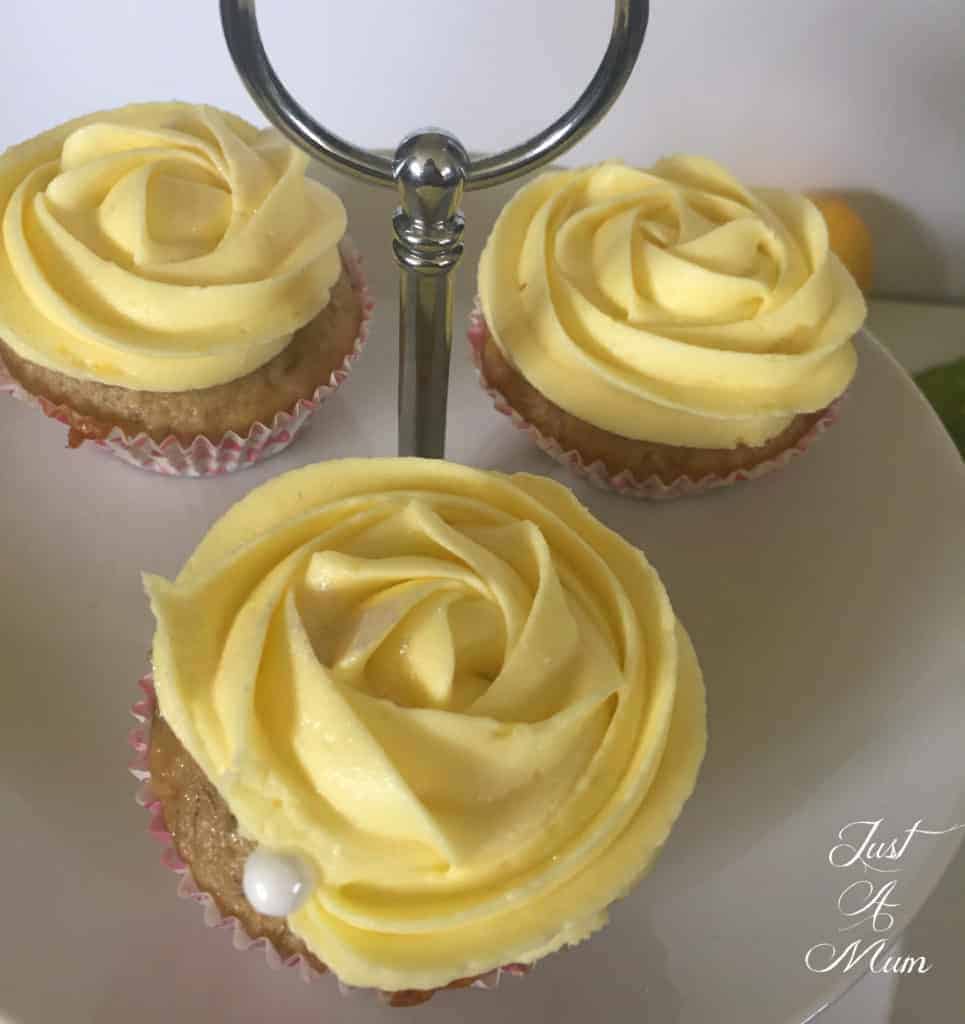 Ingredients
2 2/3 Cups Banana Cake Mix
1 egg
2 Tablespoons Vegetable Oil
1/2 cup cold water
2 ripe mashed bananas
Cupcake Cases
Method
Simply prepare the Edmonds Banana Cake Mix, place the cake mix, egg, vegetable oil, cold water and mashed bananas into a medium mixing bowl. Using an electric mixer beat on low speed for 1 minute to combine. Scrape down mixing bowl and mix on low speed for a further minute. Fill cupcake cases 2/3rds full and bake at 170C for approximately 15 minutes, until they bounce back at a light touch. Allow to cool and ice with a gorgeous Lemon Buttercream Frosting!
Lemon Buttercream Frosting Ingredients
125 Grams Butter, Room Temperature
1 1/2 Cups Icing Sugar
1-2 Tablespoons Lemon Zest
2-3 Tablespoons Lemon Juice
2 Tablespoons Milk (If needed)
Method
In a food mixer bowl add the butter and whip until it is pale and creamy – approx 4 minutes
Add the lemon zest and 2 tablespoons of lemon juice and combine well.
Add half the icing sugar and combine well, then add the second measure and combine until just stirred through.
Taste to see if lemony enough, add the remainder of the lemon juice if required.
Consistency should be firm enough to hold its shape, but still soft and silky, feel free to add either milk or a small amount of icing sugar to get consistency right as factors such as the temperature and the type of icing sugar will vary results.
I used a Wilton 1M piping nozzle and piping bag (the zest gets stuck in a 2D!)
Pipe or spread onto the prepared and cooled cupcakes, serve and enjoy!
My third and final recipe came about as I wanted to think of something that the kids to do almost on their own, and combine their love for cake and dessert! So this Butterscotch Banana Cake Dessert was invented! It is absolutely delicious, finished off with whipped cream, who wouldn't love to be served this at the end of a special day.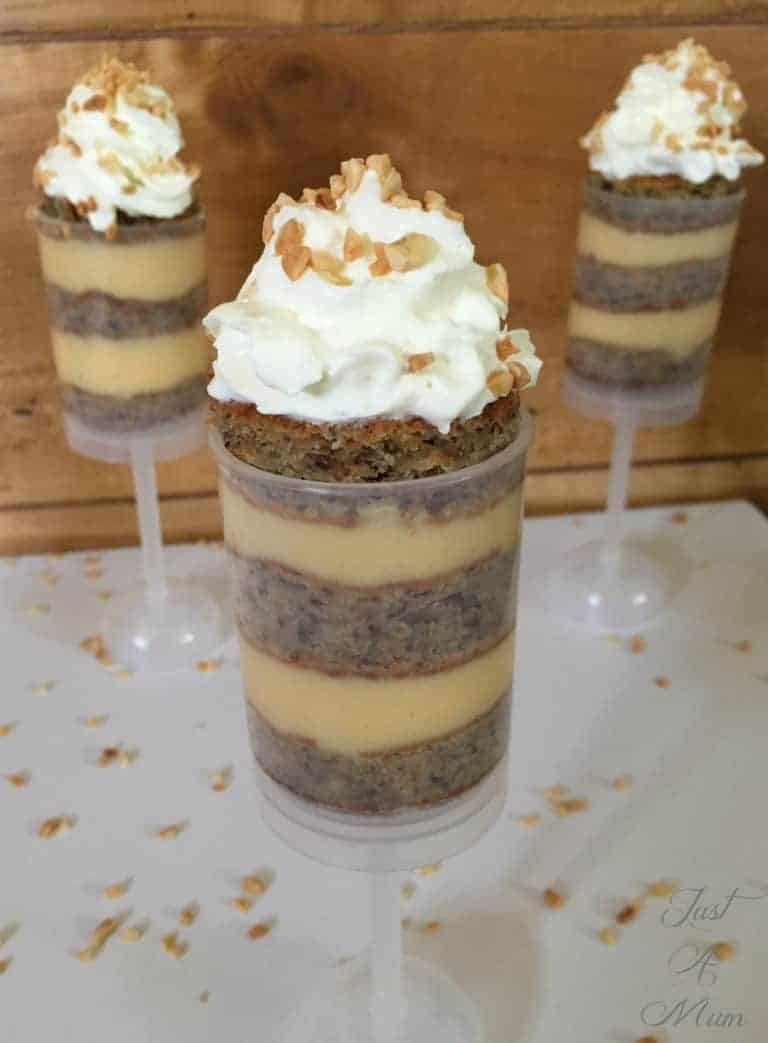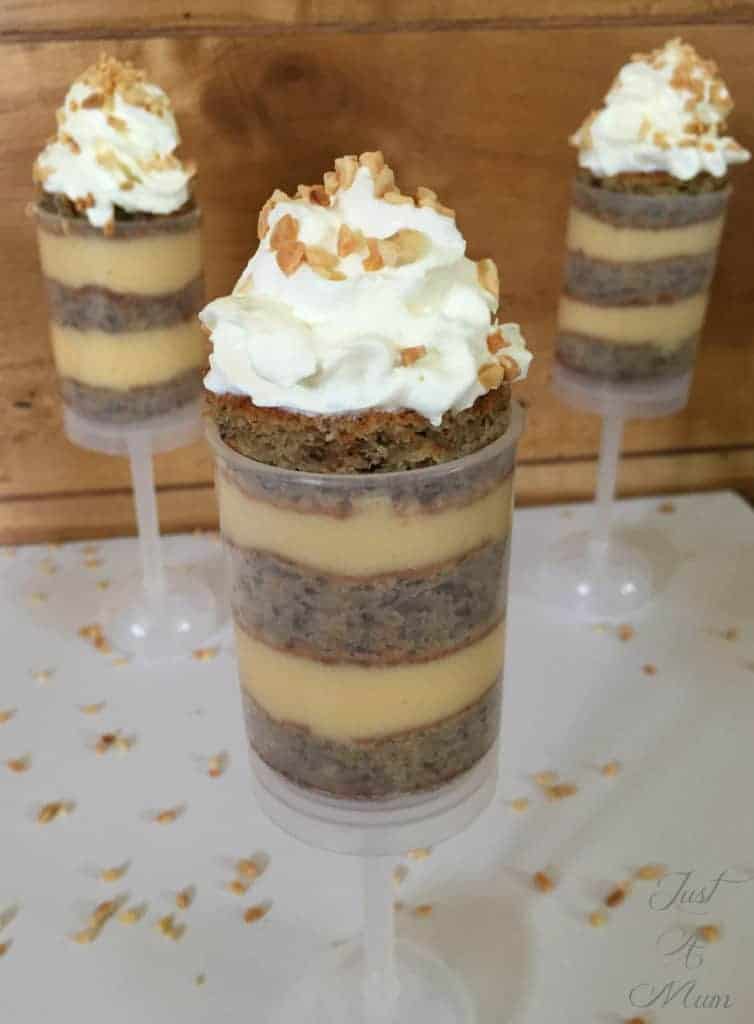 These are so simple to prepare, all you have to do is prepare the cake mix according to directions, bake the cake in a slice tin or I used my roasting dish so nice and thin, then allow to cool and follow the instructions below. Also, don't worry too much about what sort of glass you prepare this in! Anything will do, after all its a special treat no matter what so just use what you have – I have used these awesome Push Pop creations, but you can use a glass, a mug, just whatever you have on hand. Its nice if it's tall and thin but really just be creative!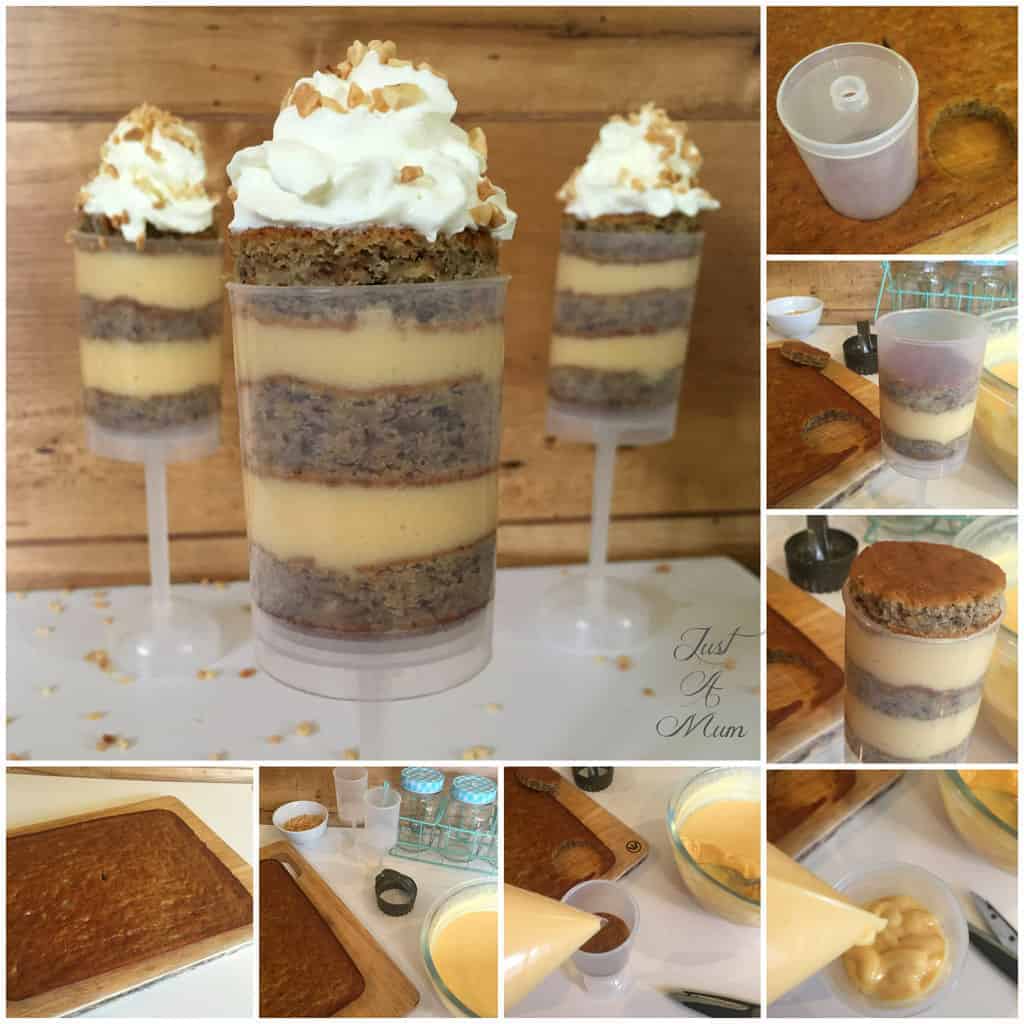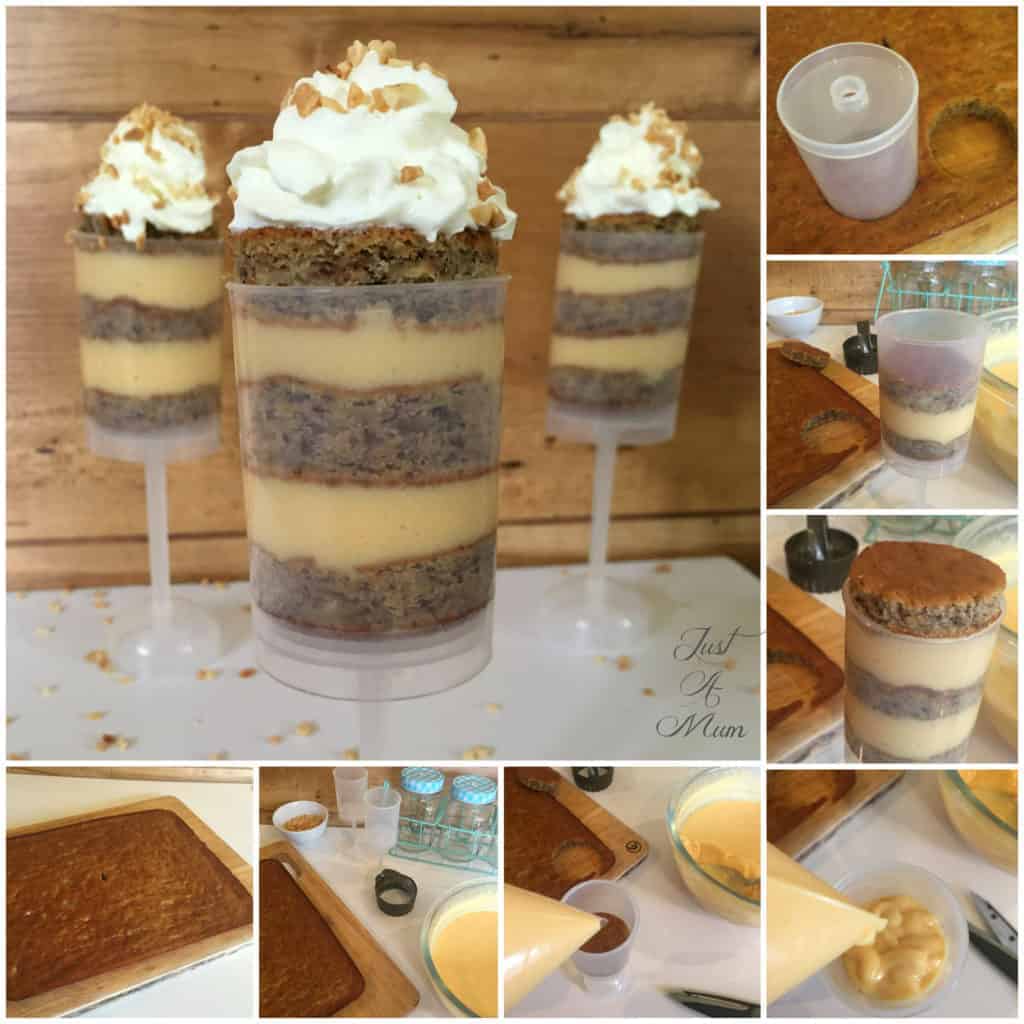 Ingredients
2 2/3 Cups Edmonds Banana Cake Mix
1 egg (size 6)
2 Tablespoons Vegetable Oil
1/2 Cup Cold Water
2 Mashed Ripe Bananas
1 Packet of Butterscotch Instant Dessert made according to packet directions
Whipped Cream, nuts, sprinkles optional!
Method
Preheat Oven to 170C
Prepare the Edmonds Banana Cake Mix, place the cake mix, egg, vegetable oil, cold water and mashed bananas into a medium mixing bowl. Using an electric mixer beat on low speed for 1 minute to combine. Scrape down mixing bowl and mix on low speed for a further minute. If baking in a roasting dish as I did, cut down the cooking time as quite thin to approx 20 minutes, and test that it bounces back and is golden brown and allow to cool.
Prepare the Instant Pudding according to directions and refrigerate for 30 minutes at least.
To create this layered beauty, use the same size glass you are using as your cake cutter, this way the cake will fit tight in the glass, cut the rounds that you need.
Using a medium ziplock bag spoon in the set instant dessert and cut a small 2-3mm slice in one corner to use to pipe in the instant pudding (or a teaspoon will do too!)
Layer a piece of cake with a similar quantity of instant pudding, and repeat then finishing with a piece of cake.
Set these aside until you are ready to serve.
Do not add the whipped cream until it is time to serve, decorate with nuts, chocolate hail or sprinkles & enjoy!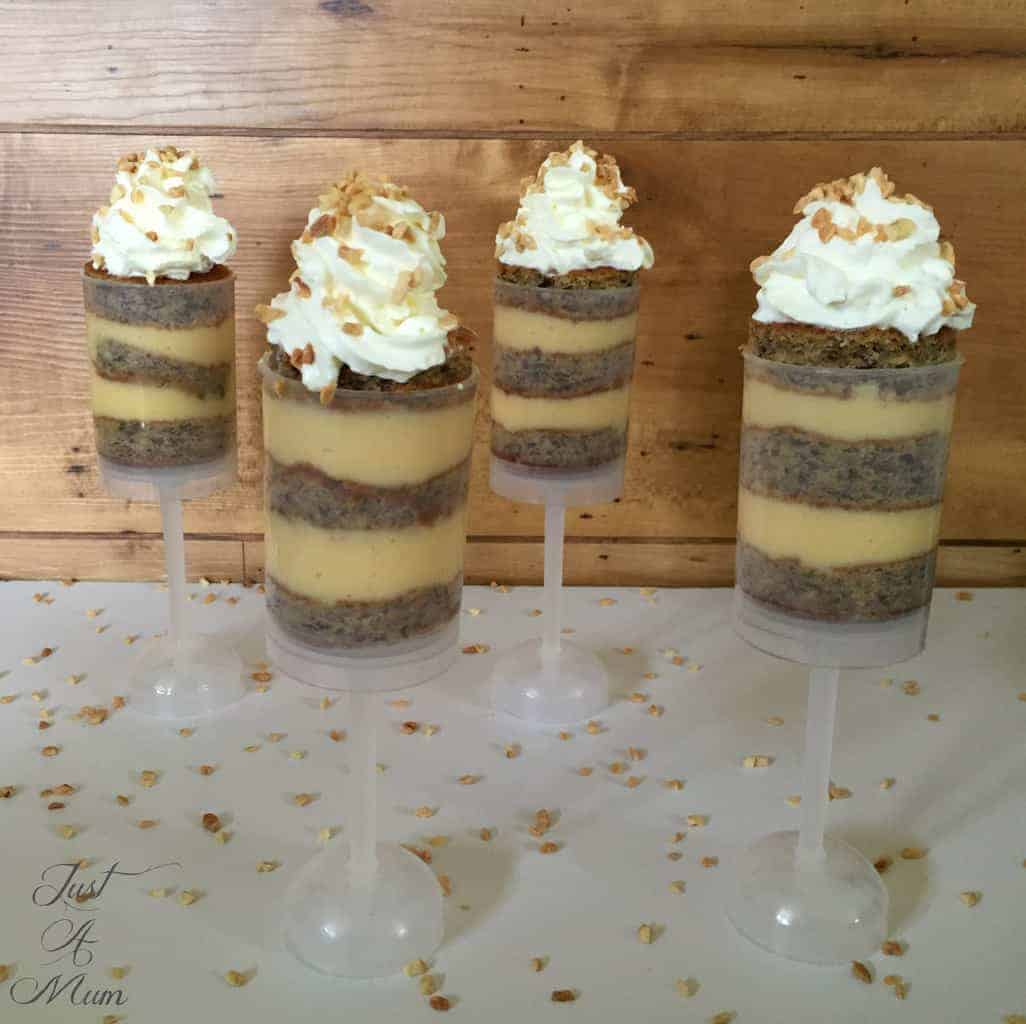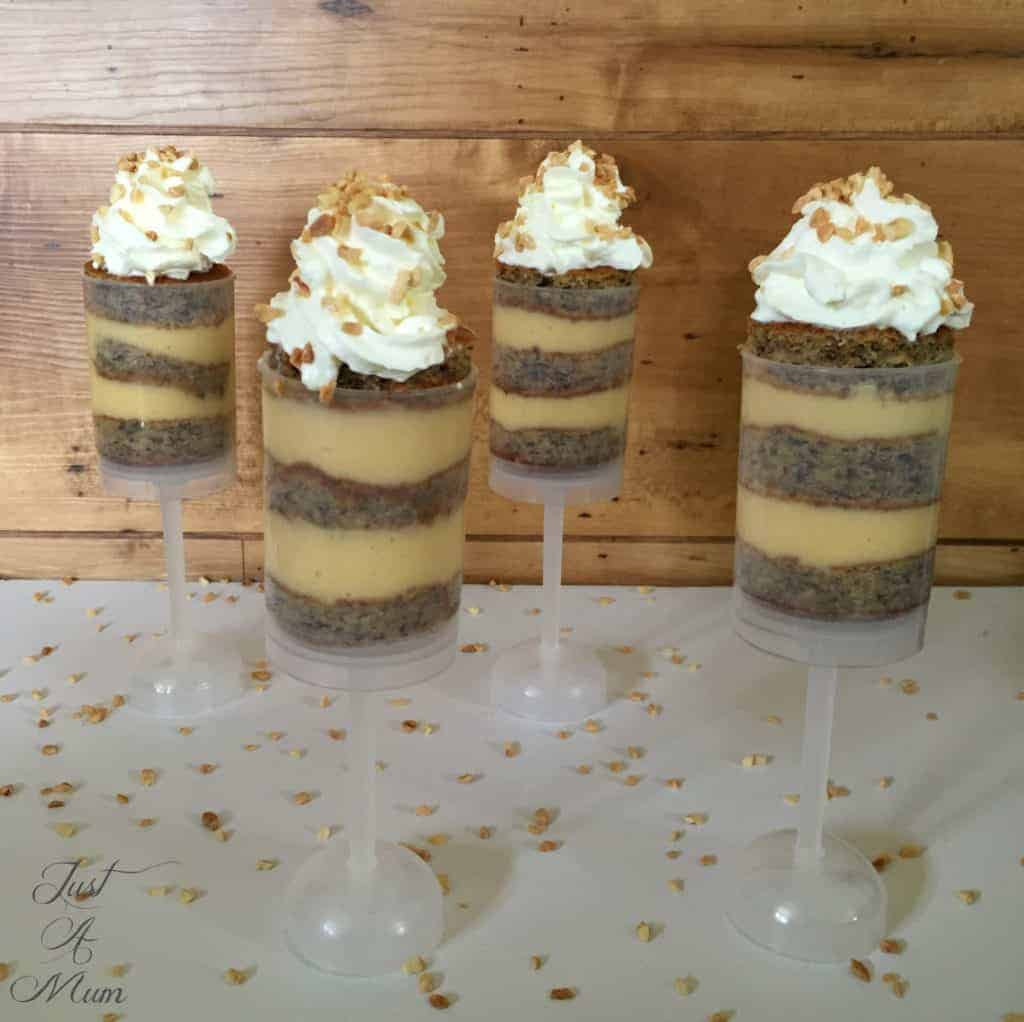 I have had so much fun creating these recipes and testing the easy Edmonds Banana Cake Mix. I would love to see what ideas you come up with also. Imagine replacing the Bananas with Feijoas? The possibilities for this mix are awesome.
This post has been made possible thanks to Edmonds, but it's not just me they are spoiling! They want to give away a $50 Gift Pack to one lucky Just a Mum Fan!
All you have to do is please enter below, the winner will be drawn Tuesday 10th of May so get entering and share with your friends.
Good luck!
Thank you so much for stopping by to check out these delicious simple recipes, please follow me on Facebook and also register your email above right to be the first to receive my recipes as I post them!
Happy Baking!
Anna