There is nothing quite like the smell of freshly baked cookies, and if you have one go to Chocolate Chip Cookie recipe then definitely make sure its this one!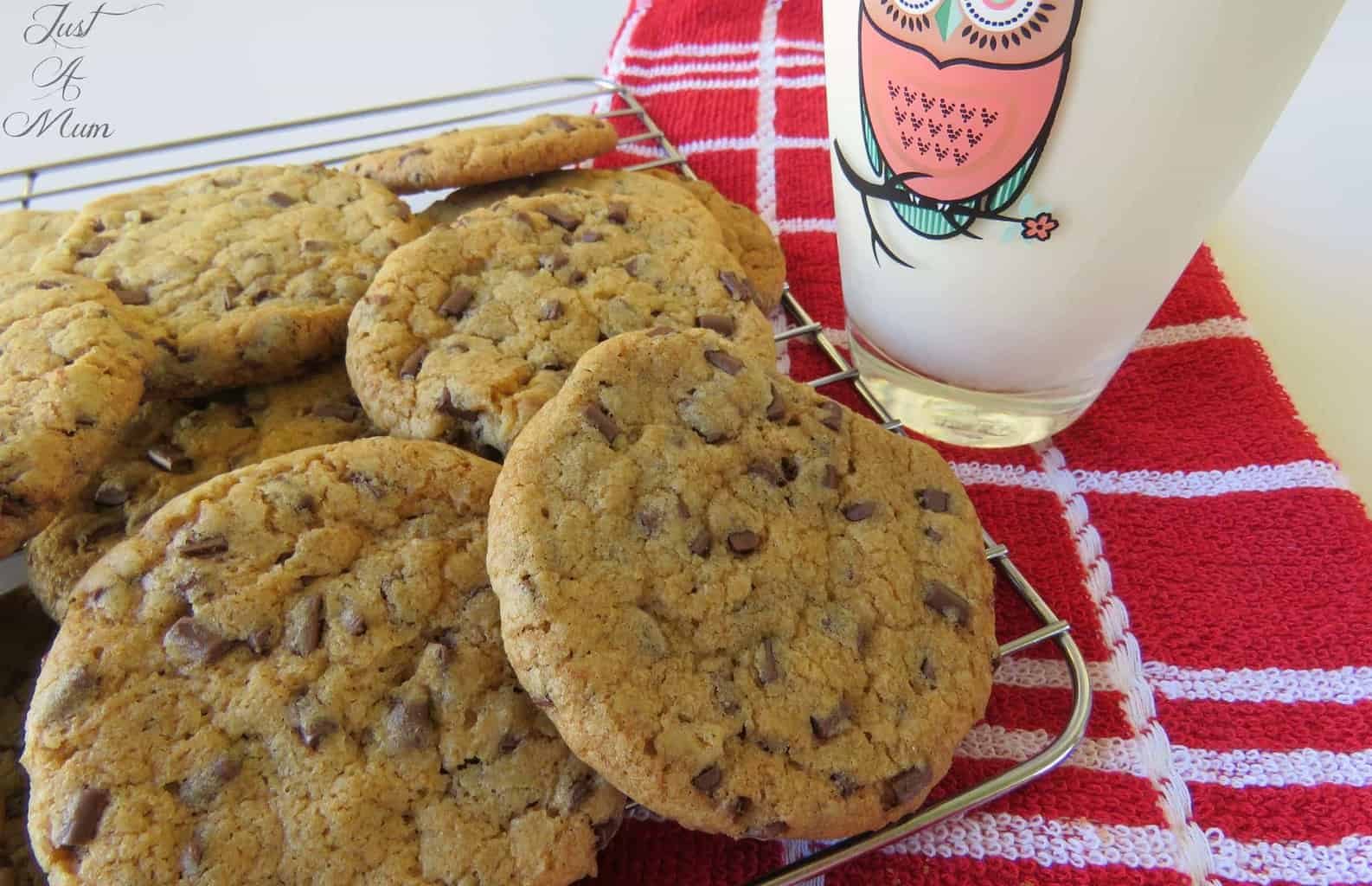 I love to bake, especially easy yummy recipes like this! I have tried many different recipes online and this is by far the best Chocolate Chip Cookie in my humble opinion!
The secret to most good cookies lies in chilling the dough, especially for cookies that require melted butter as the main ingredient. Otherwise you will find your cookies will melt all over the tray and be thin.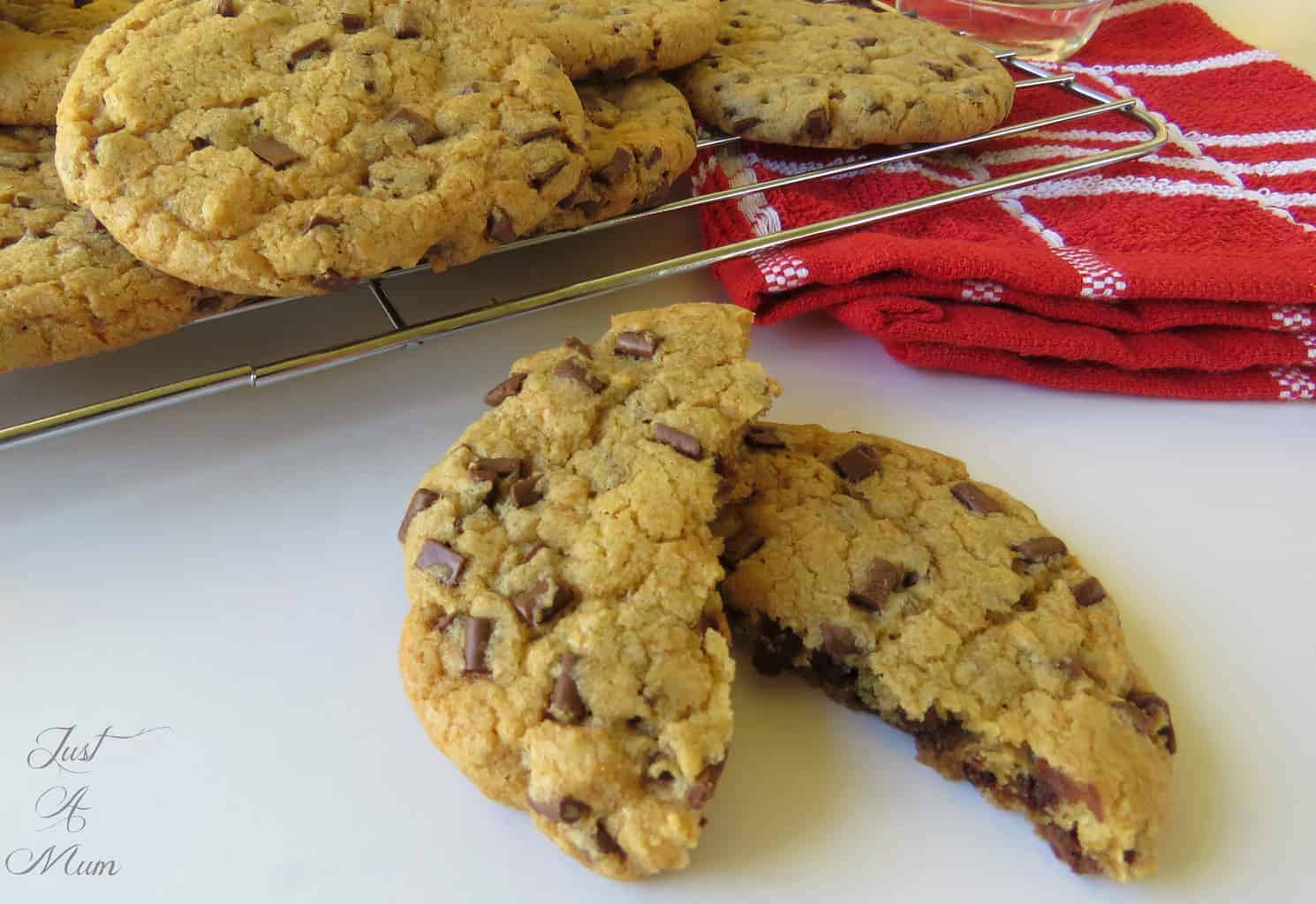 My cookies tend to always be a slightly different shape and size each time I make them, I think it is to do with lots of factors, but they always taste good so it is a great fail safe recipe to have on hand. It is versatile too, you can switch out the chocolate chips for a combo of chocolate drops or dried fruits.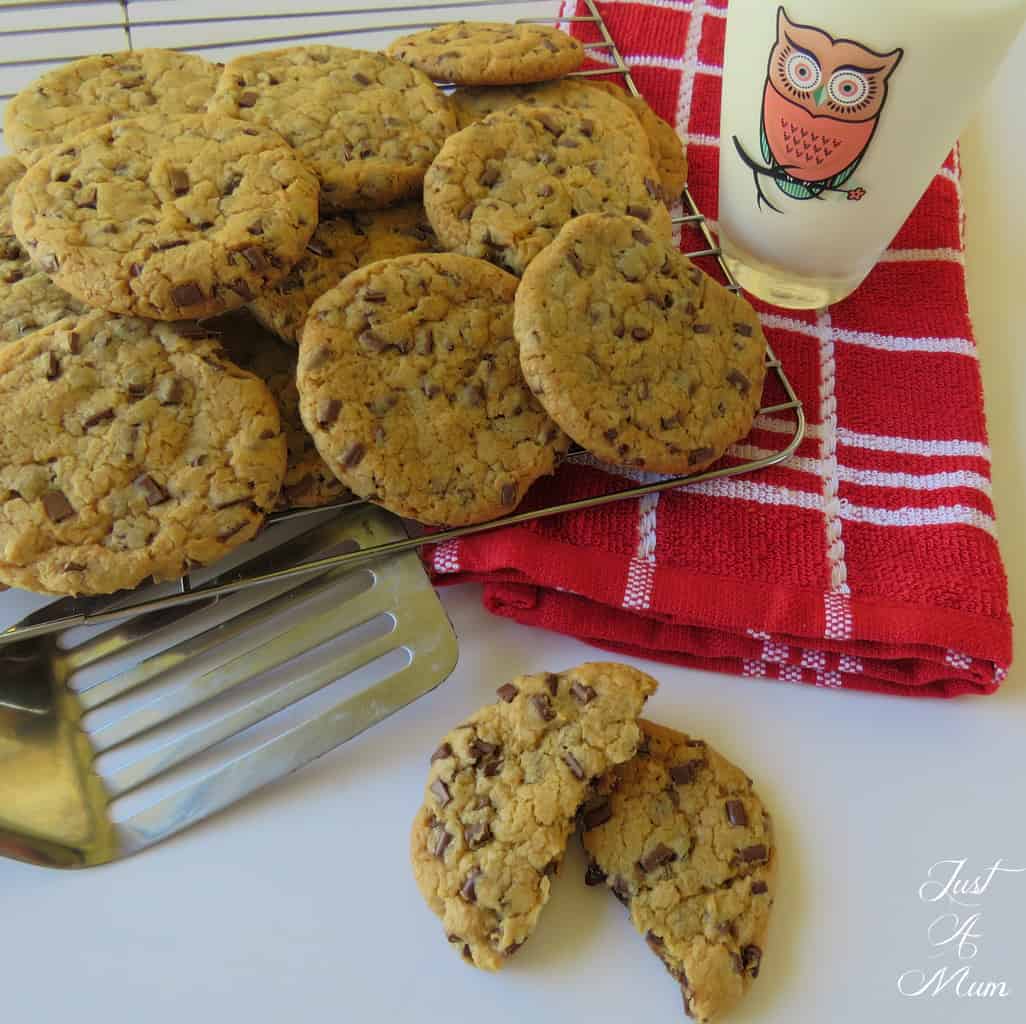 I always double this recipe and freeze half of it in one or two containers – it is wonderful to know you have cookie dough on hand for the kids after school or unexpected visitors – I have even thawed it in the microwave once when we had an overwhelming cookie urge at 9pm!
Pin It – Best Ever Chewy Chocolate Chip Cookies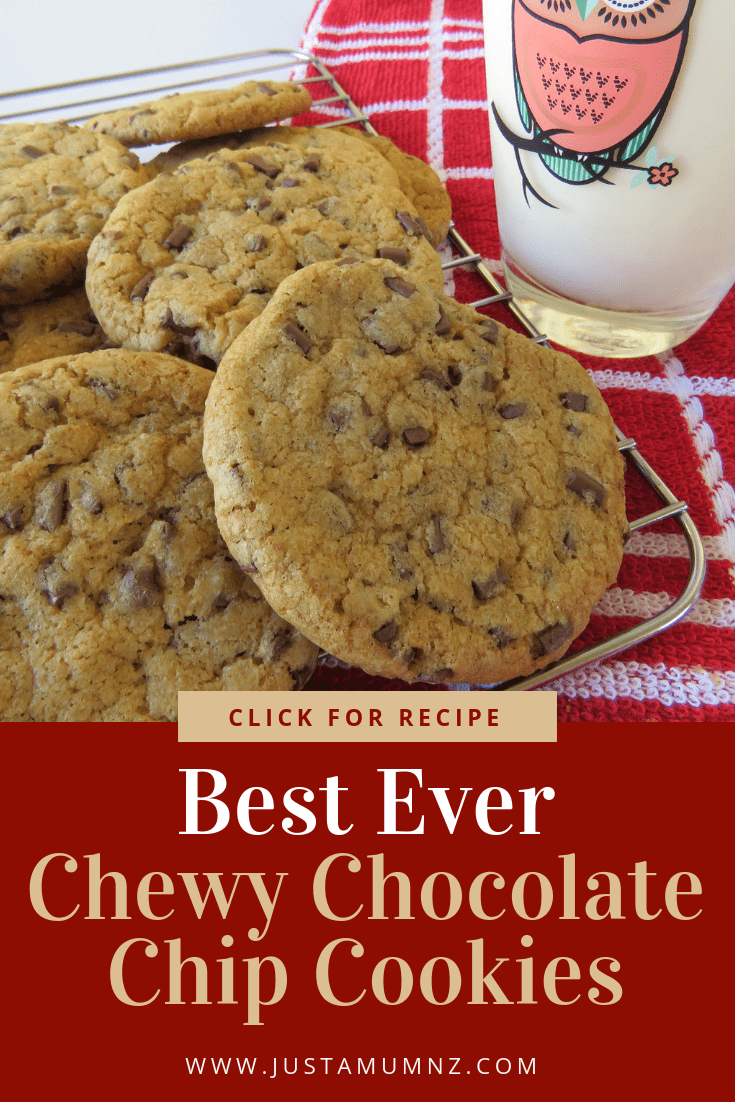 Far to good not to share – Enjoy!

Best Ever Chewy Yummy Chocolate Chip Cookies!
Ingredients
2 Cups plain flour
½ teaspoon baking soda
½ teaspoon salt
170g unsalted butter, melted (I actually just use ordinary as I don't often have unsalted)
1 Cup packed brown sugar
½ cup white sugar
1 Tablespoon vanilla extract
1 egg
1 egg yolk
2 cups chocolate chips (can use a combination of choc chips, choc bits, white or dark choc bits – up to you!)
Method
Preheat oven to 165 degrees C (or 330 Fahrenheit)
Lightly spray baking tray then lay baking paper on top (I find this the BEST method – baking paper sticks and no extra oil on cookies)
Sift together the flour, baking soda and salt and set aside
In a medium bowl (or large if you double it like me!) mix melted butter, brown sugar and white sugar until well blended – colour will start to change – I use my food mixer but you can do this with electric hand held beater
Beat in vanilla, egg & egg yolk until mixture light and creamy
Add sifted ingredients until just blended
Stir in the chocolate chips (it says to do this by hand but I sometimes just chuck it all in the mixer)
Put the bowl into the fridge for at least 15 minutes – often an hour better
Spoon out tablespoon sized bits and roll into balls and pop onto tray about an inch or two apart
Take out after no more than 13-15 minutes – they will be still soft but will set in a few minutes
Once set cool on a wire rack
Make sure that for quality control purposes you eat one cookie about 5 minutes after they come out of the oven, you may need to try up to 3 to ensure its a suitable for general consumption!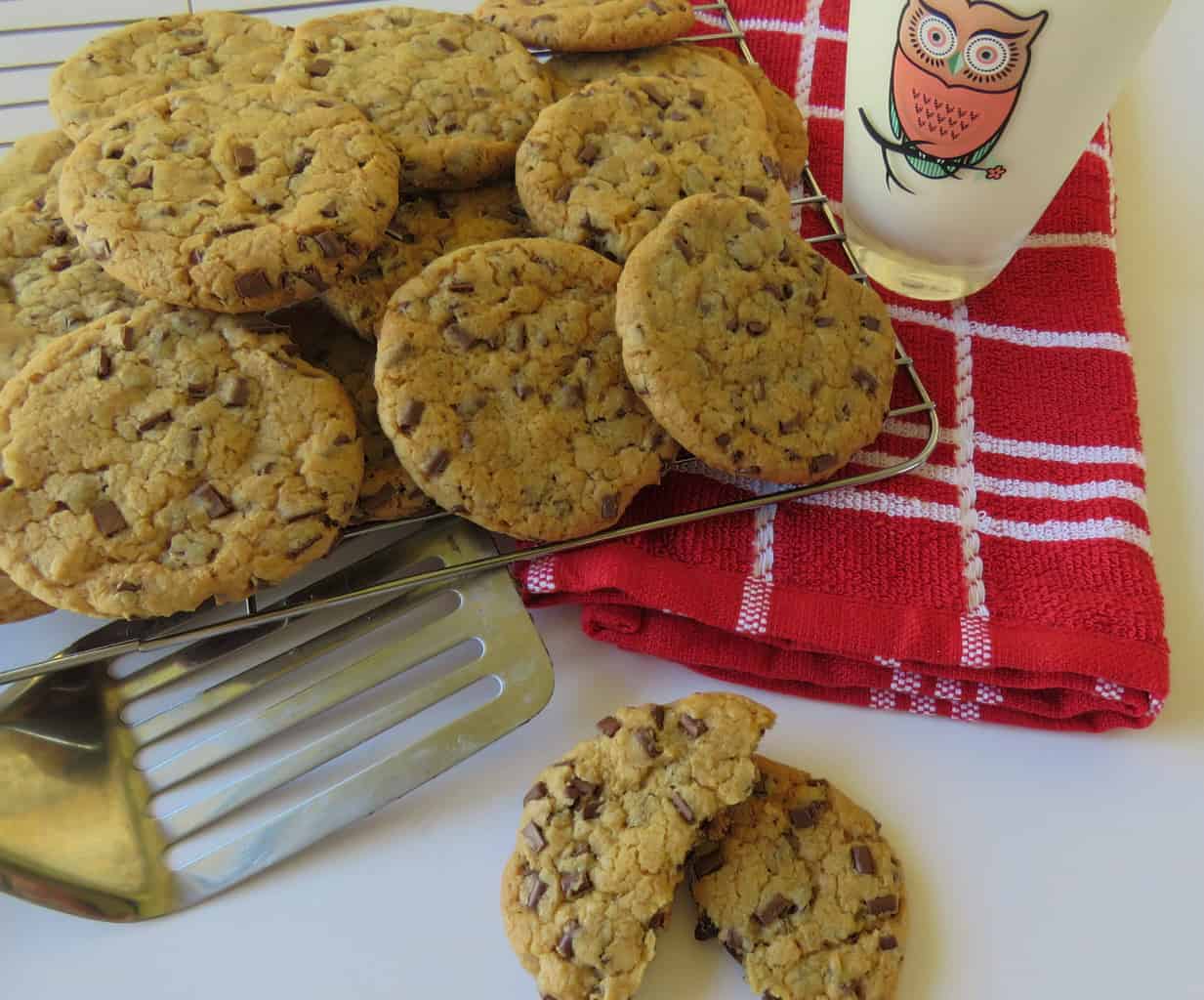 I hope you enjoy this recipe, you can follow me on Facebook and Instagram for more deliciousness, if you make this recipe comment below and tell me what you thought!
Happy Baking! Anna xo