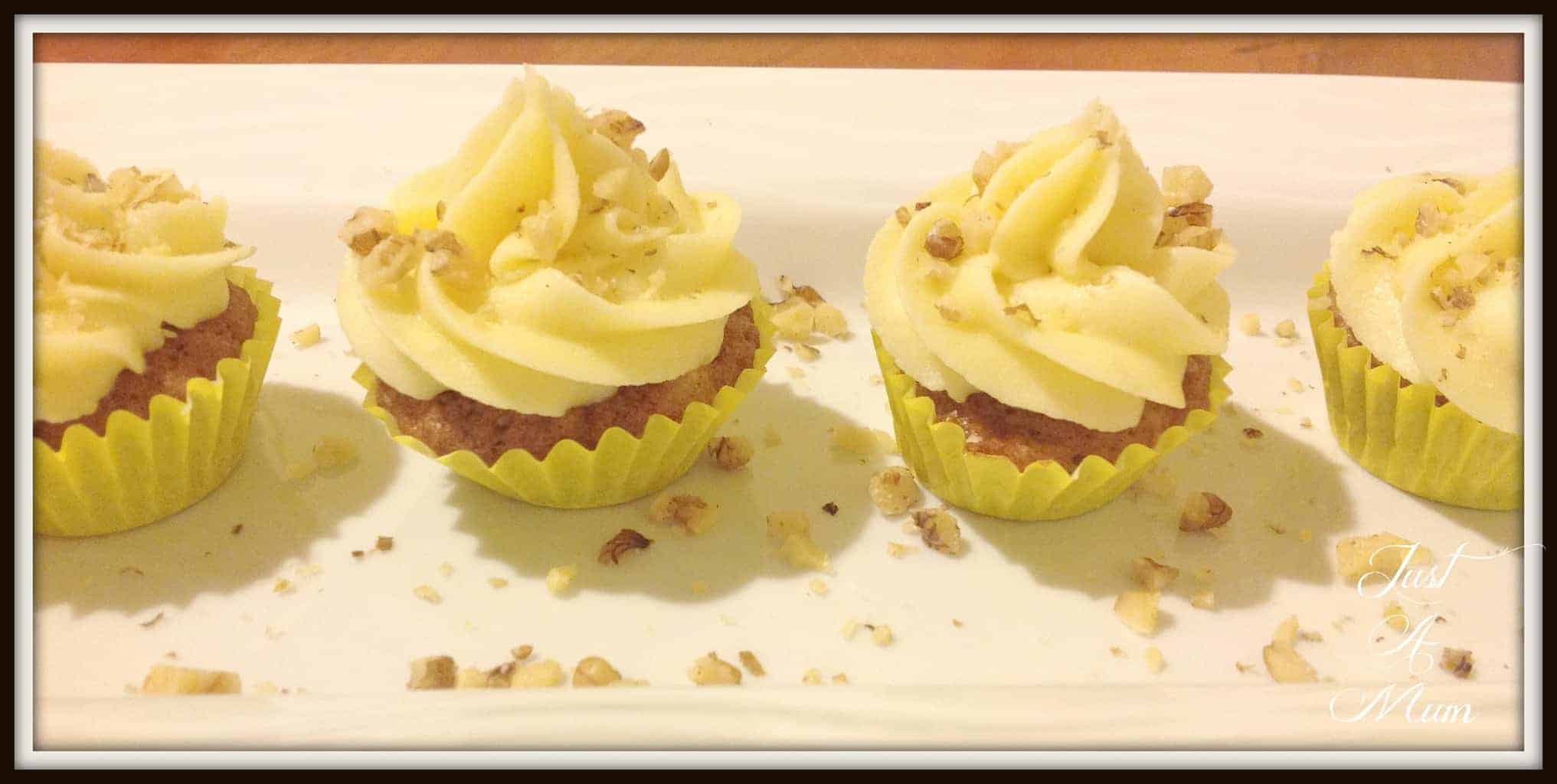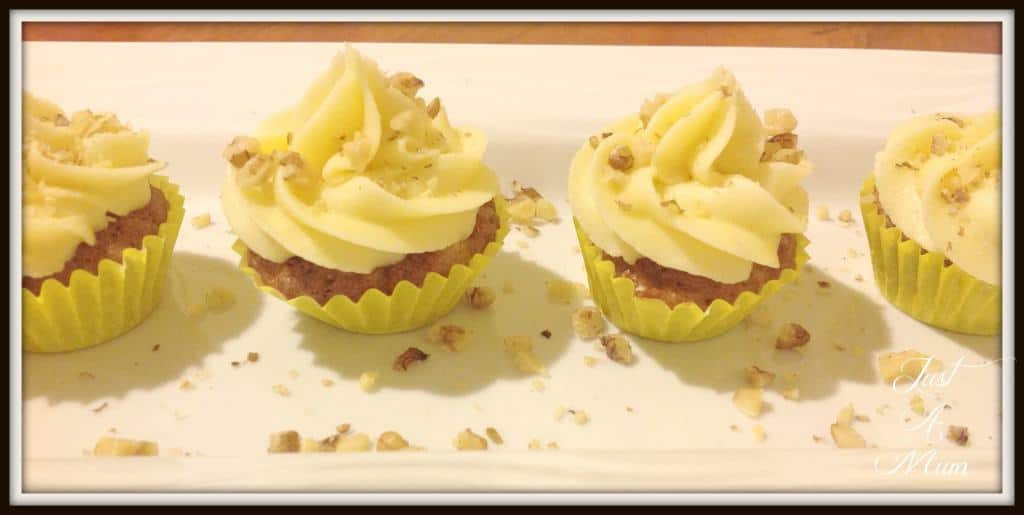 I have gone a little carrot crazy this week. Spring has sprung here in New Zealand and I am thinking blossoms, babies and bunnies, so therefore by association carrots! Or something like that….lol.
The local supermarket had a big sale on carrots so I got myself a few kilos worth so had to find some uses for them. All 3 of my kids are big carrot fans so will happily have a raw carrot a day (especially if they can dip it in hummus!). I asked on a local recipe message board for some ideas and this one came through and sounded lovely. The original recipe appears on a few Walnut websites, and this recipe is adapted from California Walnuts site. You could make these muffins or cupcakes as they call them without walnuts if you do not have any, but it certainly does add a lovely taste and texture component.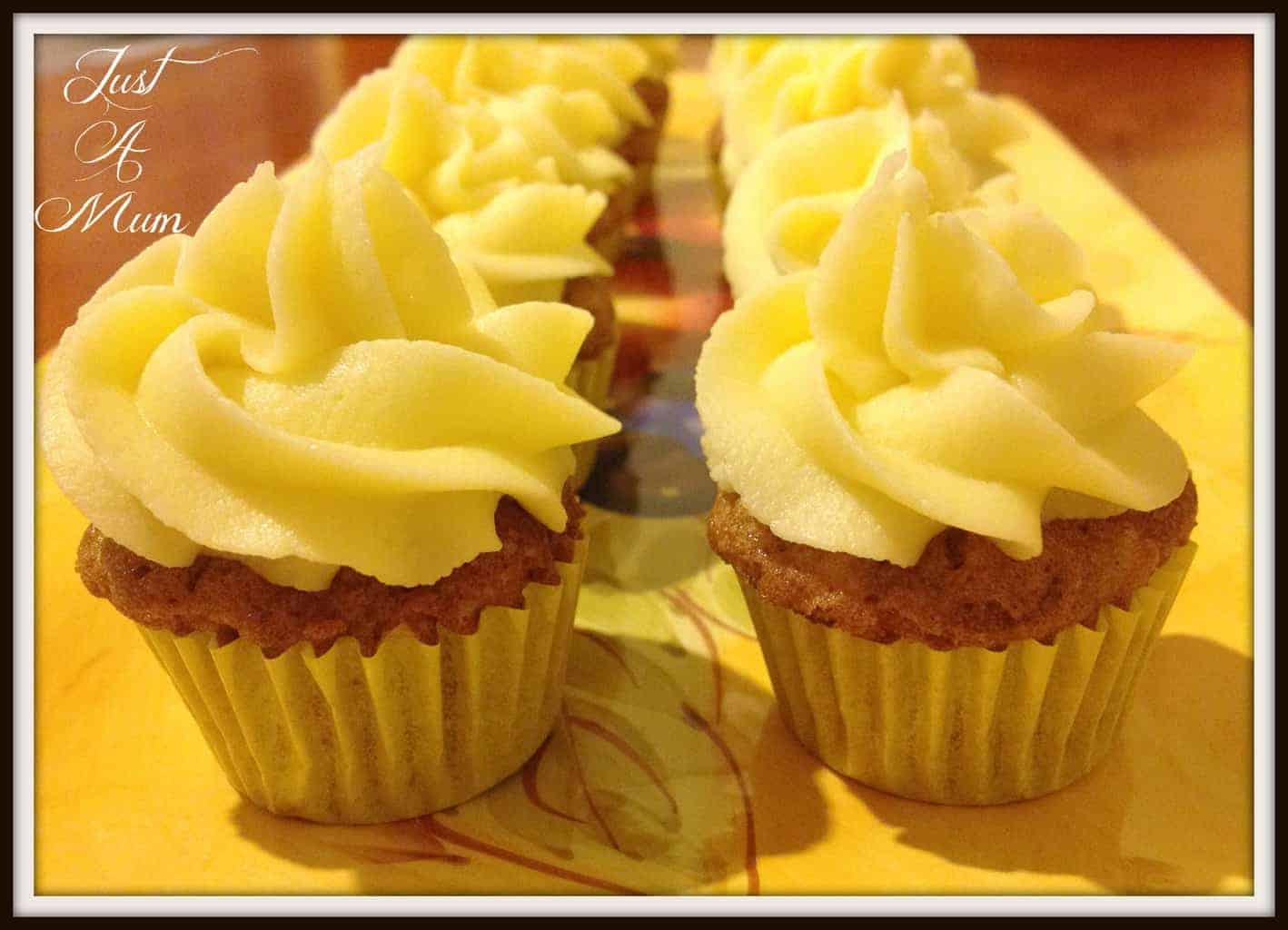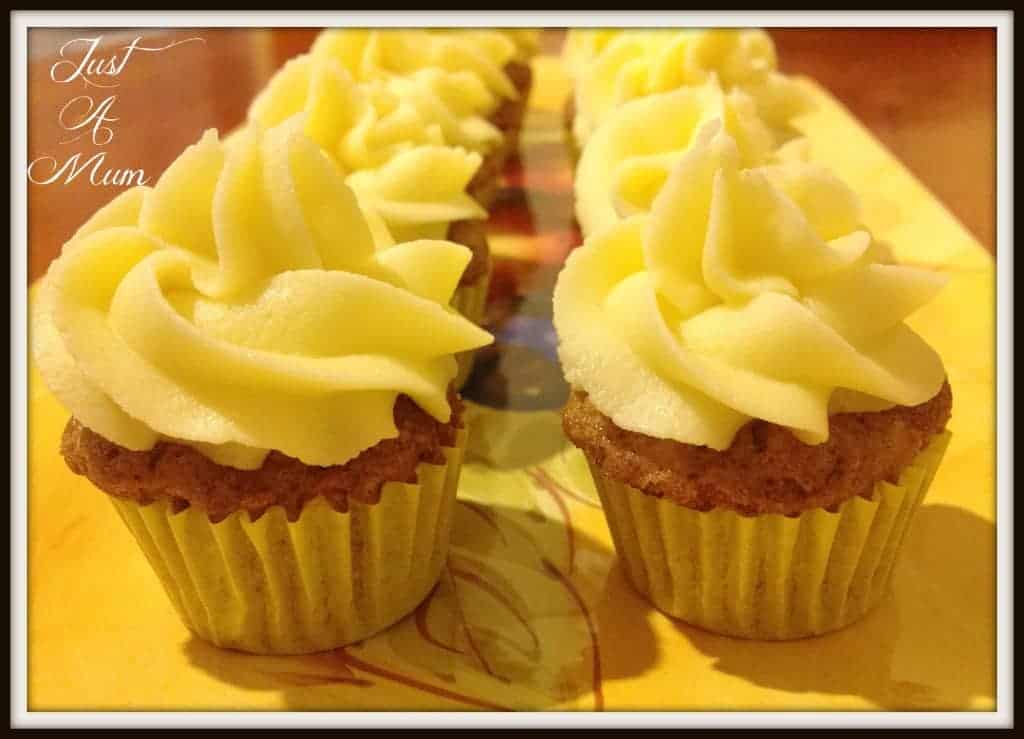 This recipe results in such a light flavoursome cupcake, my carrot cake recipe is divine but much denser than these and one piece of cake is plenty – but you can managed one or two more of these cupcakes! They can be topped with a cream cheese frosting as I have done here or left plain which is how we have eaten them this week. Perfect for the kids lunchboxes too.
I have also done a tutorial for the cream cheese frosting – this one is slightly different to the usual cream cheese frosting as it contains more butter – if you wish to pipe cream cheese icing it does need to have a slightly higher fat component to hold its shape, especially if you wish to do swirls or use a piping bag as I have done here.  The basic idea is to have half cream cheese, half butter, plus icing sugar and vanilla, Click Here for Cream Cheese Frosting Tutorial
The recipe calls for plain sugar, I used 1 cup white of sugar and 1/2 a cup of raw sugar as I had it on hand and it gives a lovely flavour to carrot based baking. Raw sugar still contains it's natural molasses coating so can give a lovely flavour to recipes. I did feel like I had a lot of bowls and the mixer on the go – but hey – it was so worth it in the end! Also worth noting, I made mini cupcakes and normal sized, the minis took approx. 13 minutes to cook and the larger ones just over 20 minutes. They are cooked when they bounce back to the touch, or a skewer comes out clean. I used canned crushed pineapple drained of its juices and found the size of this to be perfect, but you can always slice fresh or canned into smaller pieces. With the replacing of the flour with Gluten Free Flour this recipe can be not only dairy free but gluten free also, of course without the icing! 🙂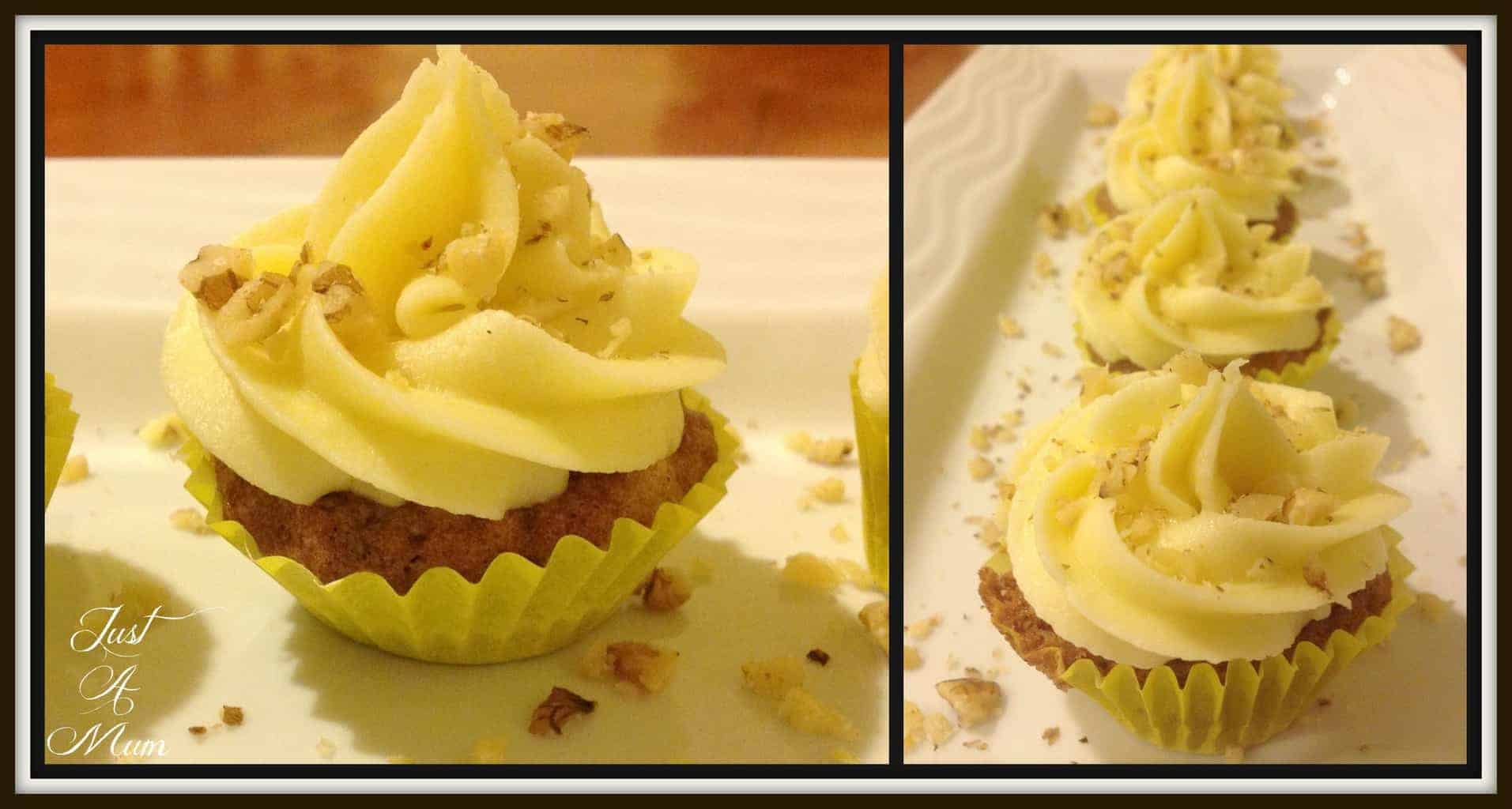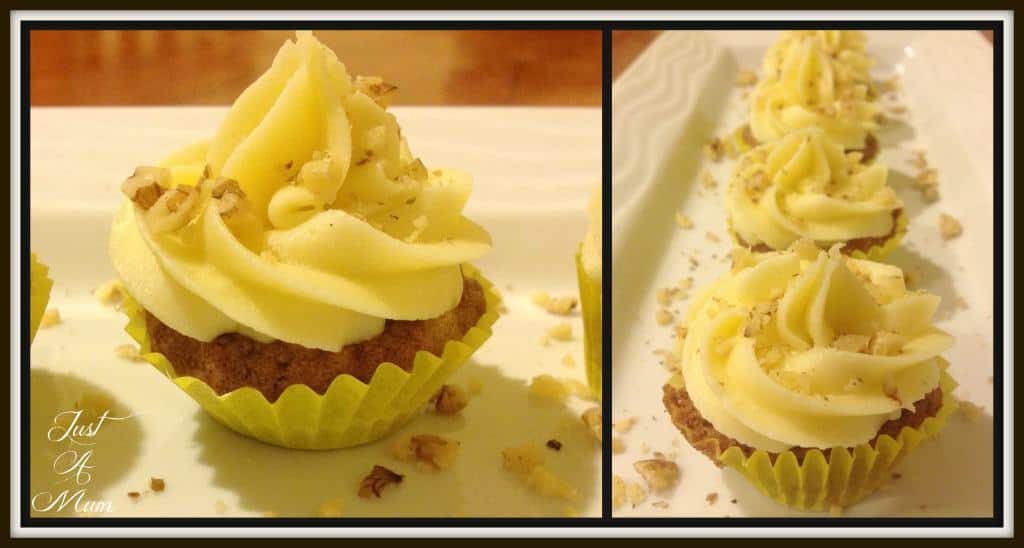 Without further ado here is the recipe – it will become a favourite so pin it or save it.

So there it is – this recipe is just lovely and I am sure will soon become a favourite of yours. The perfect way to introduce some vegetables into the kids diet, not to mention in a tasty way! For some people carrot cakes and cupcakes are merely a vessel for holding up the cream cheese frosting – but why not have the carrot muffin tasting divine too!
If you try this one let me know how it goes – I love hearing from you and really appreciate your feedback using the comments section below.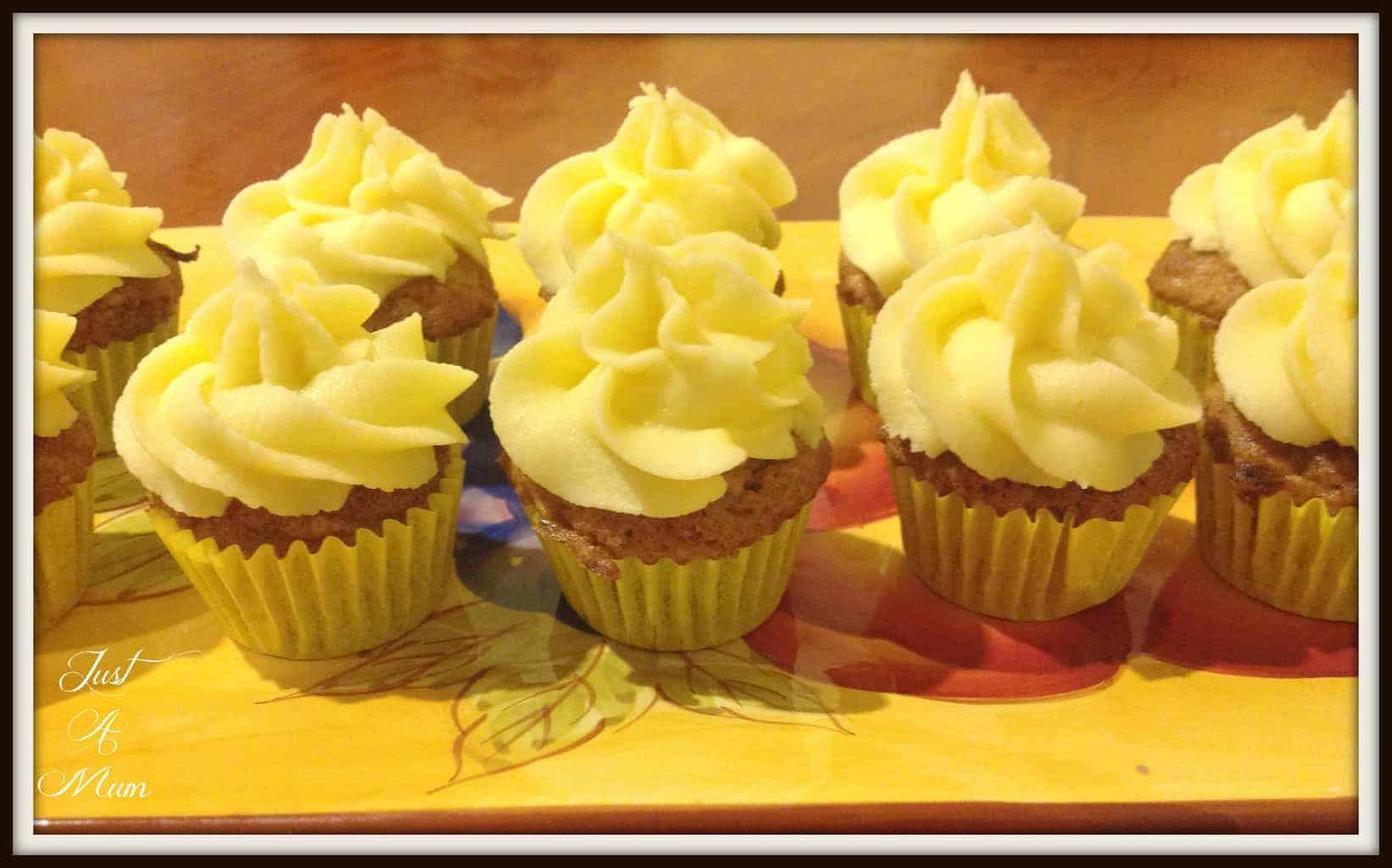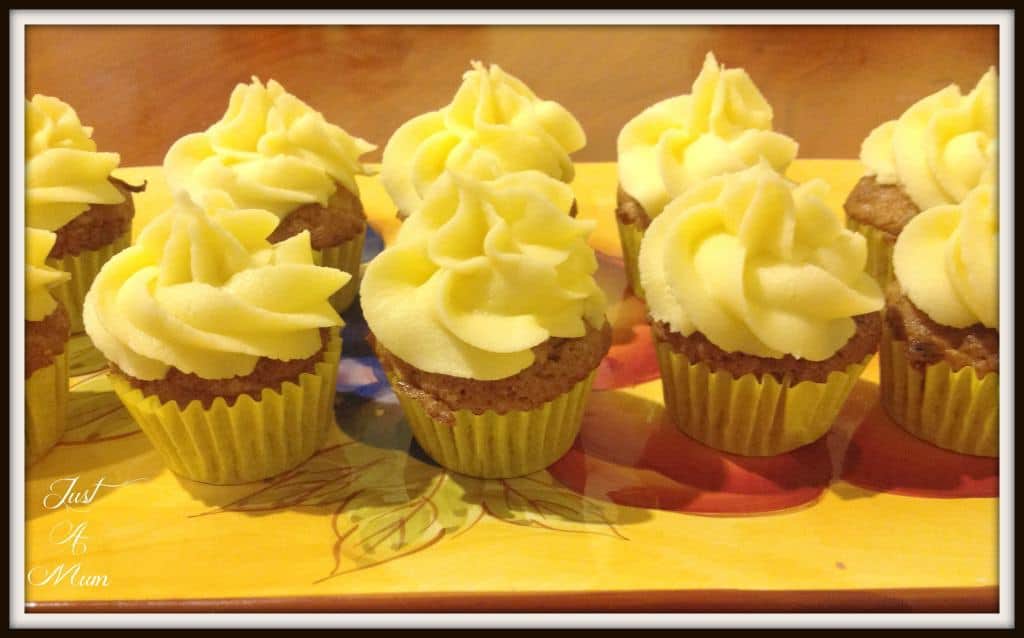 As always follow me on Facebook or my other social media platforms and remember to register your email address to  be the first to hear about each recipe as I post it.
Happy Baking!
Anna 🙂