This beautiful style is super simple to achieve. No heat, no fancy tools, just a few rags and a good nights sleep! These No Heat Ringlet Rag Curls will become your new favourite hair style!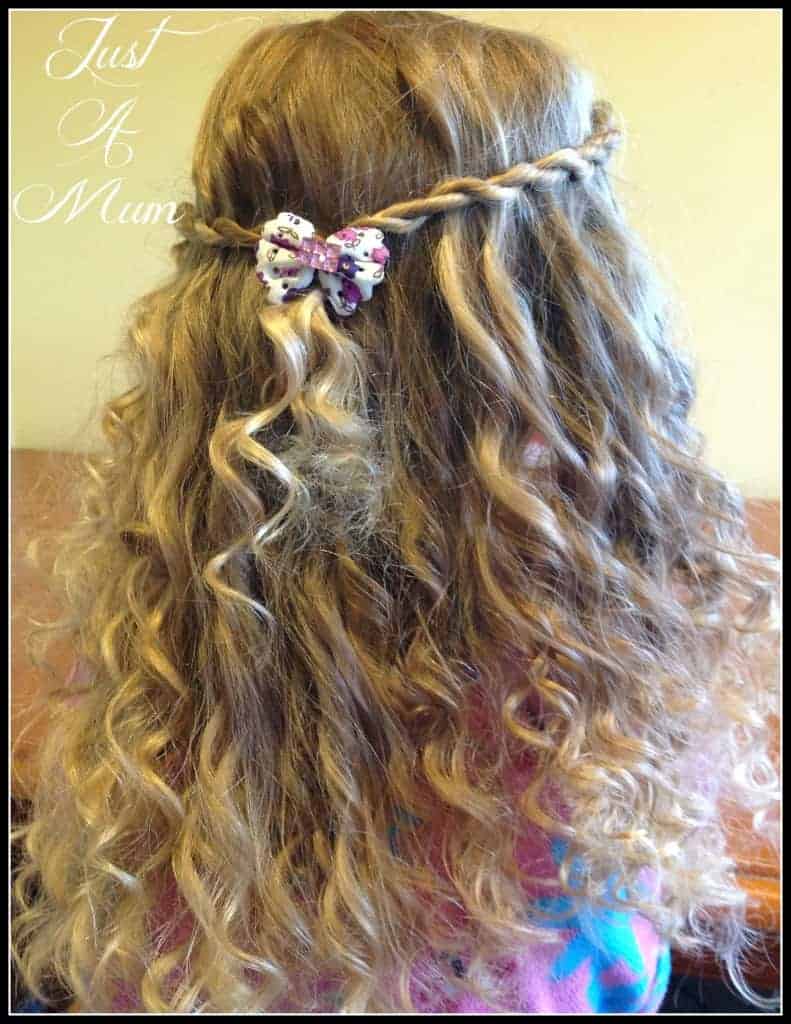 I often get asked how I do my girls hair. Like my wee slogan above says it's the little things that make life fun and doing my girls hair in fun and different ways (occasionally……) it is one of my little things. Chances are that most often they are just given a quick pony tail but a couple of times a week we will bust out something more fancy!
My little 4 year old had a Kapa Haka performance today at a cultural festival – for those not in the know & not from New Zealand Google will help you know what that is all about! But she wanted to have her hair curly so she could have "pretty Kapa Haka hair". As you do when you are only 4, but she is all about pretty things so as it does not take much time at all I thought why not.
Making curls with Rags has been done for a long long time – think 100's of years! There are lots of different ways to do them to create different sorts of curls. This one is for a more spiral or ringlet curl. It is as easy as starting with wet hair, cutting 5 or 6 strips of fabric, separating the hair into sections, curling as per instructions below and allowing to set over night. I just use wet hair rather than using any products (she is only 4!) and I find the curl will last for days before it drops out. It is super curly day 1 and gets softer each day. You can however add a setting lotion or styling product to it if you needed once it is wet before you prepare it. Best of all NO HEAT!
My girls have no problem sleeping in them – and I always remind them that they are the ones who want curls and no pain no gain! lol not really but they will fall asleep and the rags stay in all night if tied well.
With her hair today I let the curls start a little dropped from the crown of her head – she was wearing a head band for her performance so I didn't want to get in the way of that and also means it is less curly right from the scalp.
So first things first, get some fabric, thin cotton type fabric is ideal, not too thick but not stretchy (op shops sell it for little more than $1 at times or an old sheet) and rip or cut into 3 -4 inch strips 2-3 times the length of their hair.
Make sure the hair is damp but not dripping, either after a bath or shower or using a spray bottle as I did tonight. You can always add more water as you do each strip of hair.
Comb or brush the hair into the normal part they wear every day – or in the centre if you need this for the style you want. Then take the first section of hair – it is ok if it is quite a big section – 3 inchs x 3 as you separate the curls anyway once dry.
Hold up the strip of fabric and take approx. 5 inches past the top of the hair and ask your child to hold onto that piece for you while you begin the curl.
Take the rag to the left of the hair underneath, begin to wrap the hair around the rag – (not the rag around the hair or you will wake up with curly rags and straight hair!!). Wrap the hair tightly right from the first twist firmly against your head, ensure the curls are very firm around the fabric right from the start. 🙂
Once you are at the bottom of the hair, fold the rag back up over the bottom tip of hair and hold firmly with your thumb – flatten out the rag and begin to wind it back up the hair until you are at the top of the section of hair.
Bring down the piece of fabric your child is holding and tie a double knot at the top of the section of hair.
Repeat with the next section of hair. In terms of how many pieces of fabric you will need, before you begin take a rough look at your child's hair and gage how many sections they need – in most cases it will be no more than 6 – two on the each side and two at the back, but some children will need more some less. If you want the curls to be tight to their head you will need more sections.
Once you have finished check all the knots are tight and secure. they will feel like they have sausages in their hair – but assure them this funny look will mean curls – lots and lots of curls!
Also important to remember that their hair will shrink up when curly so if they are starting with short hair – you might be surprised just how tight this style is and may wish to choose a different curl style. However, if you can imagine a little one with shorter hair and curls tied up into pigtails its pretty cute!
After sleeping on it I tend to keep them in it until they are dressed or ready to go. Start with the bottom rag and carefully unknot the fabric. Unwind the fabric first, then you can usually gently pull the rag out the bottom of the curl – if not unwind the rag from the hair gently. Do not be tempted to go near this hair with a comb!! Frizz alert if you do, just be patient 🙂
Once you have removed all of the rags you will have 6 tight looking ringlet curls, not the best look, but never fear, it gets better.
Gently take each curl and run your fingers through from the top of the curl to the bottom – separating the curls as you go – then take each thick spiral and begin to separate them from one another by pulling them apart – you want lots and lots of thin strands of curls so keep searching for thick ones until you are happy with the overall look. Do not use a comb, please! 😉
Once you are satisfied with the look of the curls, and have searched all over for any thick curls to separate (they naturally will go back to larger ringlets during the day so may need to have this process done a few times – they are like curl magnets!) then you can begin to style the hair. You can do two simple side plaits, a rope twist as I have done or simply take two strands of hair from the temples and tie them back with a small hairtie. Simple is best to allow the curls to shine.
For the subsequent days you can have so much fun with this style – think pig tails, high pony tail with gorgeous girls, or a low pony when they have almost dropped out.
Pin It! Ringlet Rag Curls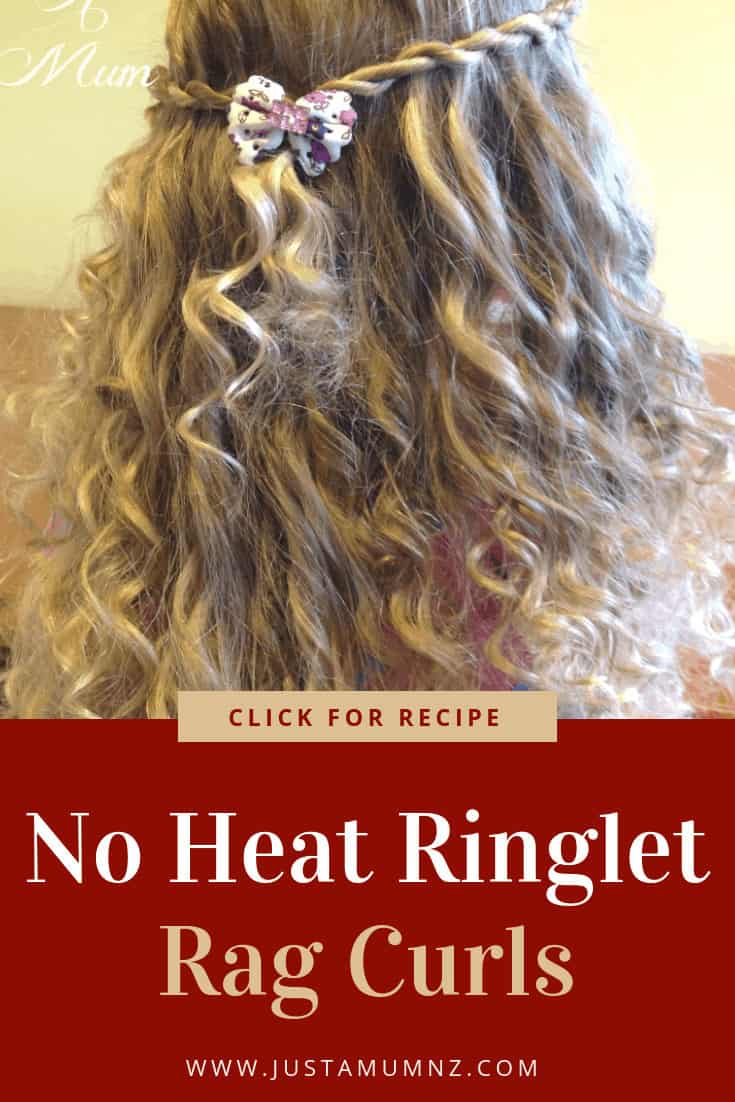 I would love to see photos of your little ones when they have been curled and transformed and if you have any questions please do ask, I am never far away unless sleeping but I will respond as soon as I can so ask away!
Thank you for your patience while I try to explain this to you in words, will work on the video thing and see if I can share more of my fun easy hairstyles for girls with you all.
How did I do for my first tutorial? Let me know below in the comments section.
Follow my blog via email subscription box and also you can find me on Facebook and Twitter. Don't forget to check out the gorgeous recipes & fun kids activities too while you are here.
Thanks for stopping by!
Anna 🙂