This is such an incredibly simple recipe, absolutely delicious, add this Slow Cooker BBQ Pulled Chicken to your weekly dinner rotation.
This recipe originally appeared on my Slow Cooker Website – Just Slow Cooker Recipes- see original here
Often simple is best, and I find that works so well with most slow cooker meals. Using a few basic ingredients and cooking long and slow allows the flavours and textures to develop.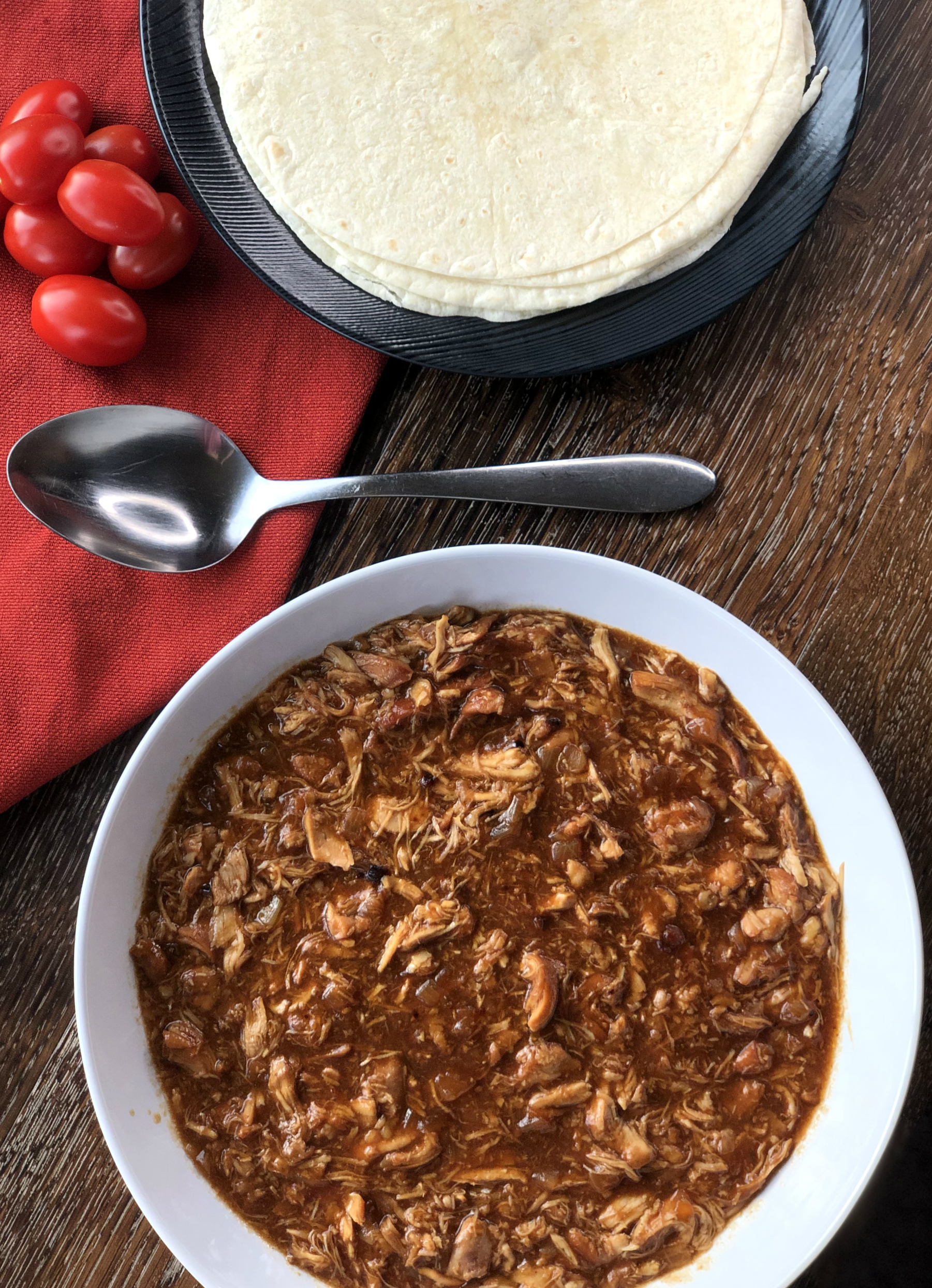 This recipe is based on my easy and delicious BBQ Pulled Pork – I thought if the flavours work well over there they are bound to work with Chicken and they really do! Using just 4 ingredients I am really pleased with this one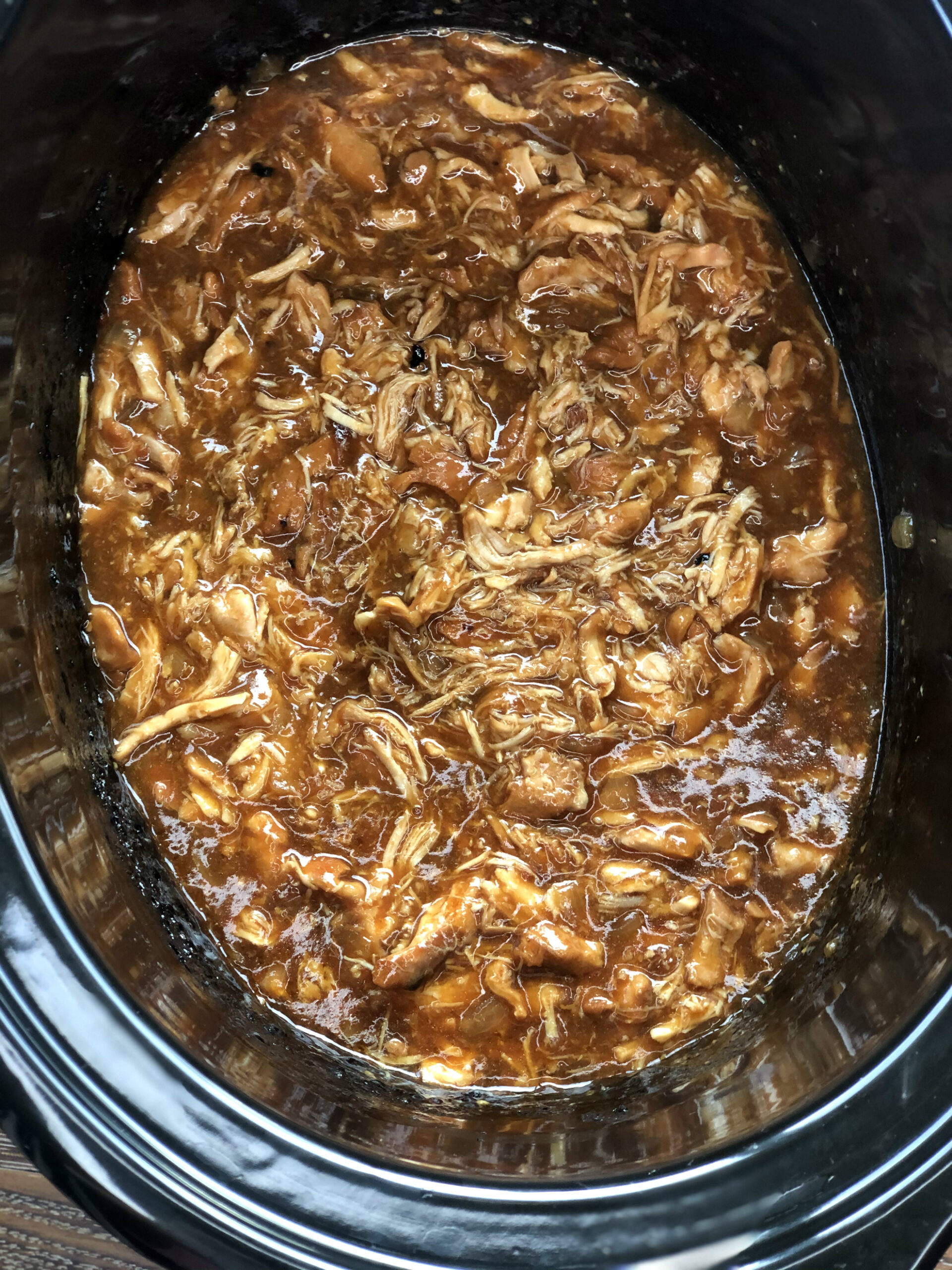 Cooking chicken in the slow cooker can be a little tricky, only in that you do not want the chicken to dry out. After all with a slow cooker we are always hoping for lovely tender meat. Cooking in this sweet simple sauce you cannot go wrong.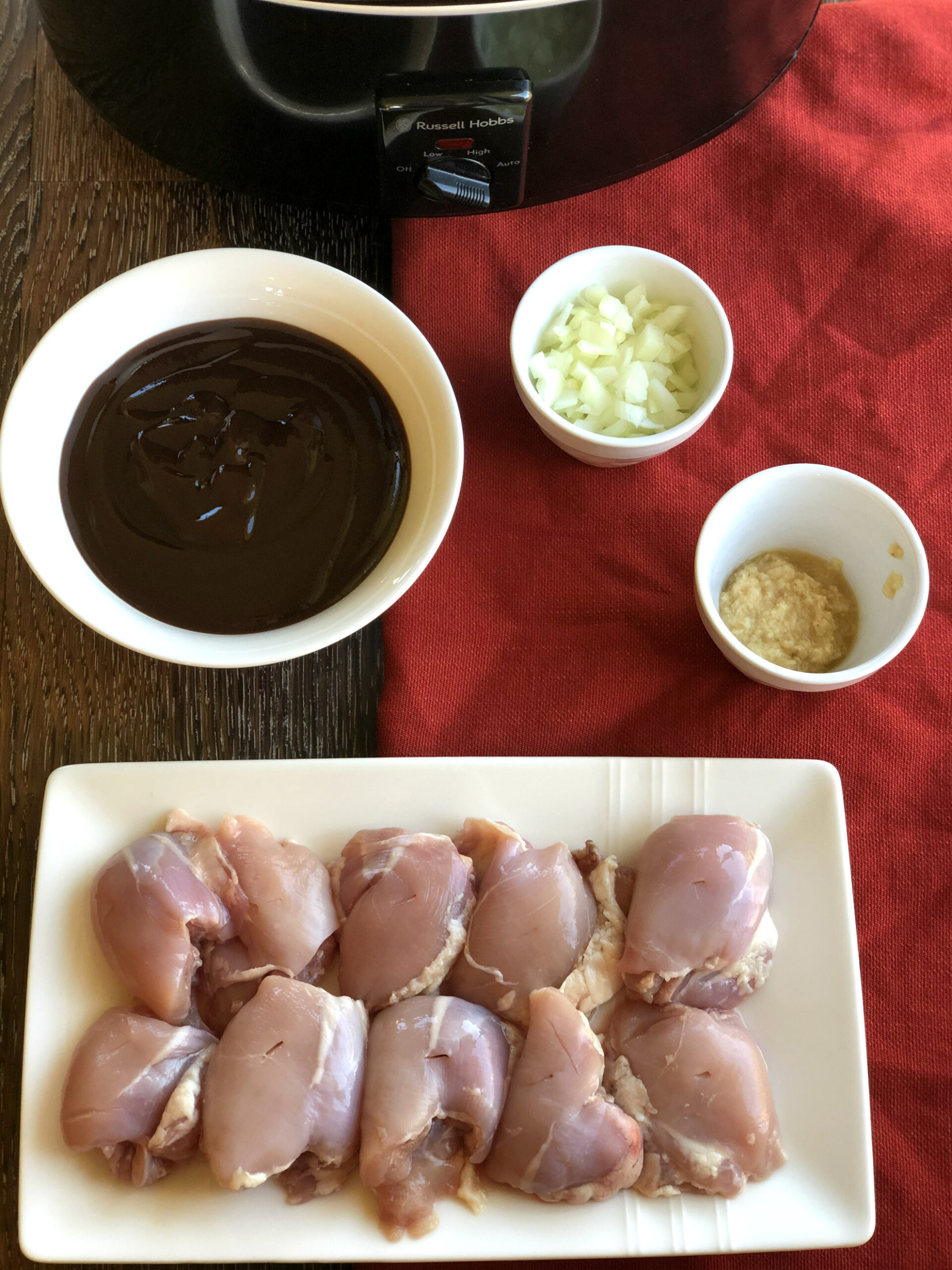 The ingredients are as follows – just 4 of them but at a pinch you could actually just use the first two!
Ingredients
Chicken Thighs

BBQ Sauce

Onion

Garlic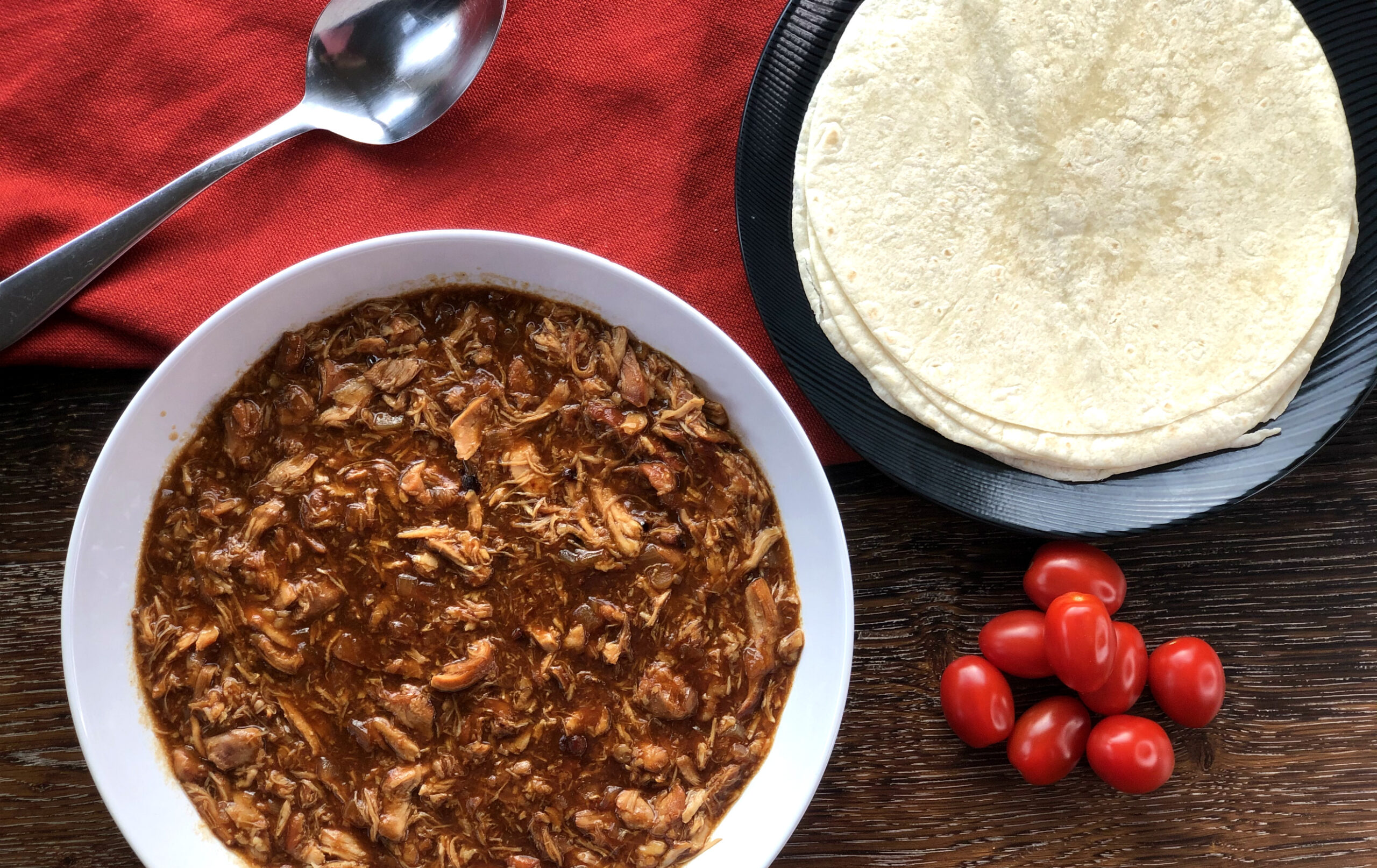 See how easy that is, quick too. I use a basic brand of BBQ sauce, use any one you love, a nice sweet BBQ sauce will give a lovely finish. If you prefer a smoky or spicy BBQ sauce then use that too.
The ideal cooking time for this one is around 6 hours on LOW, just until the chicken is ready to fall apart and be shredded. You could also do it on high for 3-4 hours if you are short on time.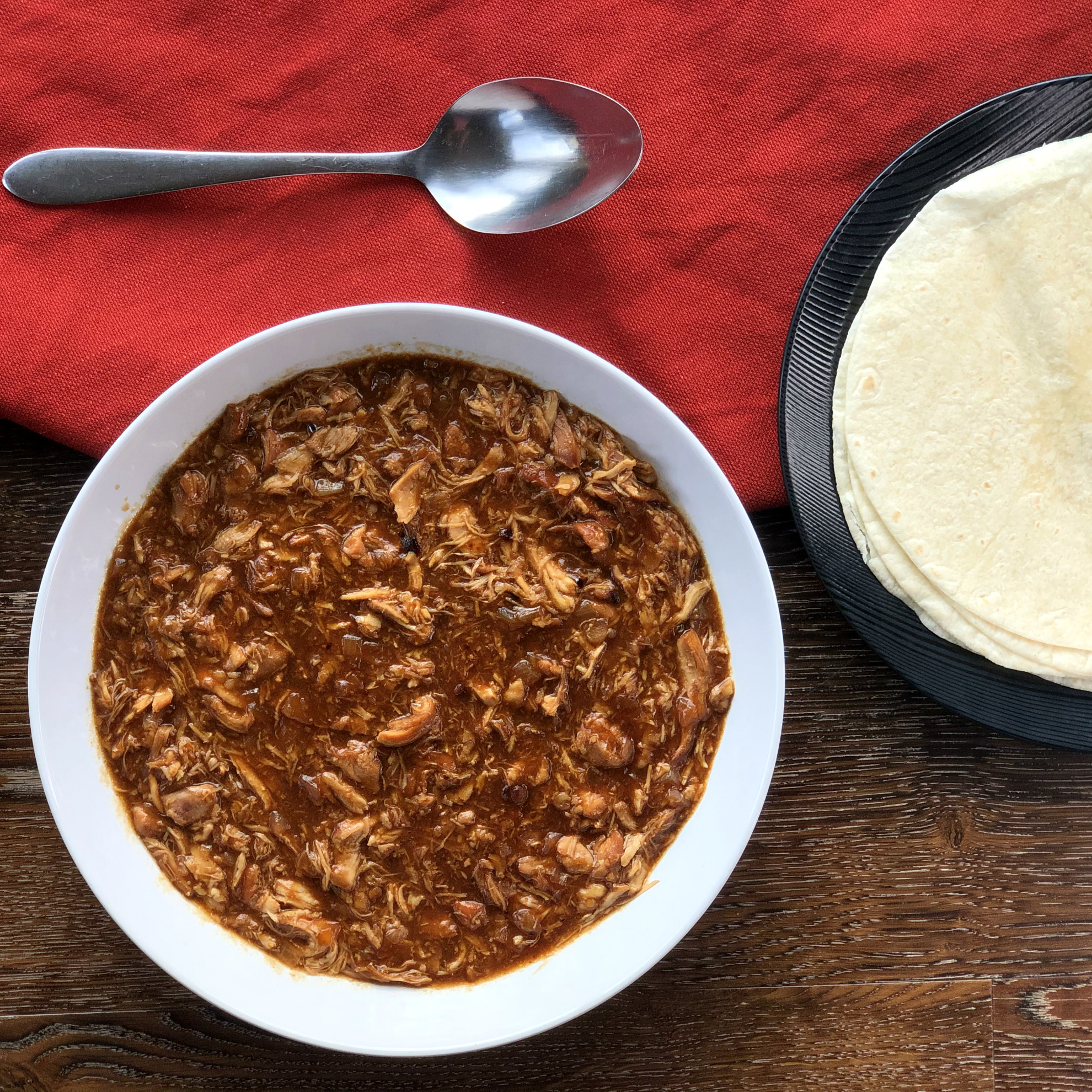 Once it is baked I simply use two forks and pull apart the meat, hence the name Pulled Chicken! Pulled pork is the name given to meat that is often basted and cooked long or slow either in a slow cooker or a smoker. Shredded chicken refers to the consistency of the meat.
I have used chicken thighs as I find they are a more flavoursome and tender cut of chicken, however you could easily use chicken breasts, as long as they are cooked until tender and not overcooked they will be lovely too.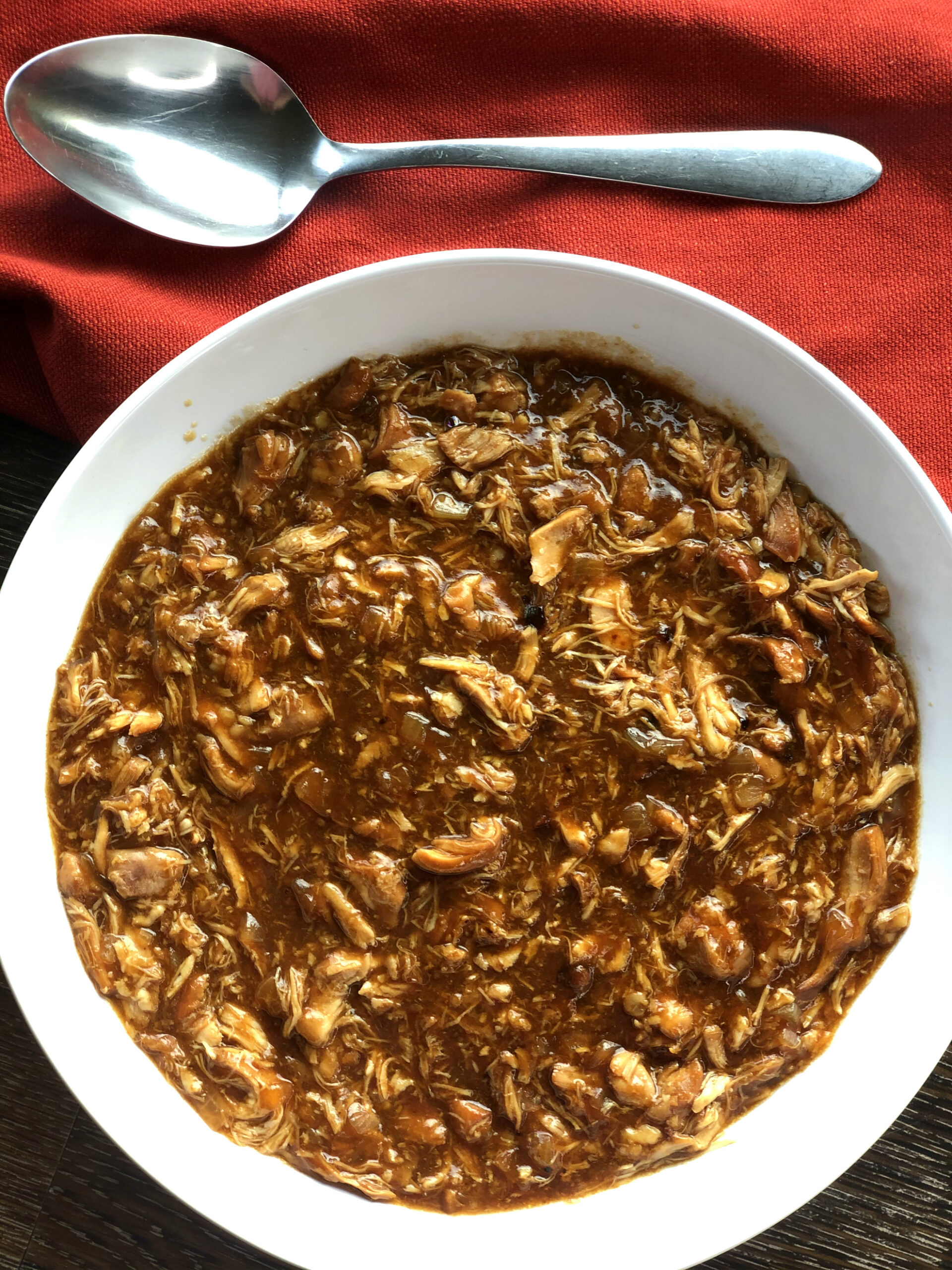 If you are after more family dinner ideas for the slow cooker be sure to check out these
Roast Pork with a Garlic Honey Butter Gravy
This recipe is so incredibly easy to prepare, less than five minutes! The most consuming thing to do is to finely dice the onions and garlic – or store bought minced garlic like I do!
Then it is simply a matter or pouring the BBQ sauce over the chicken and the onion and garlic, giving it a stir and then let the slow cooker do its thing. So easy!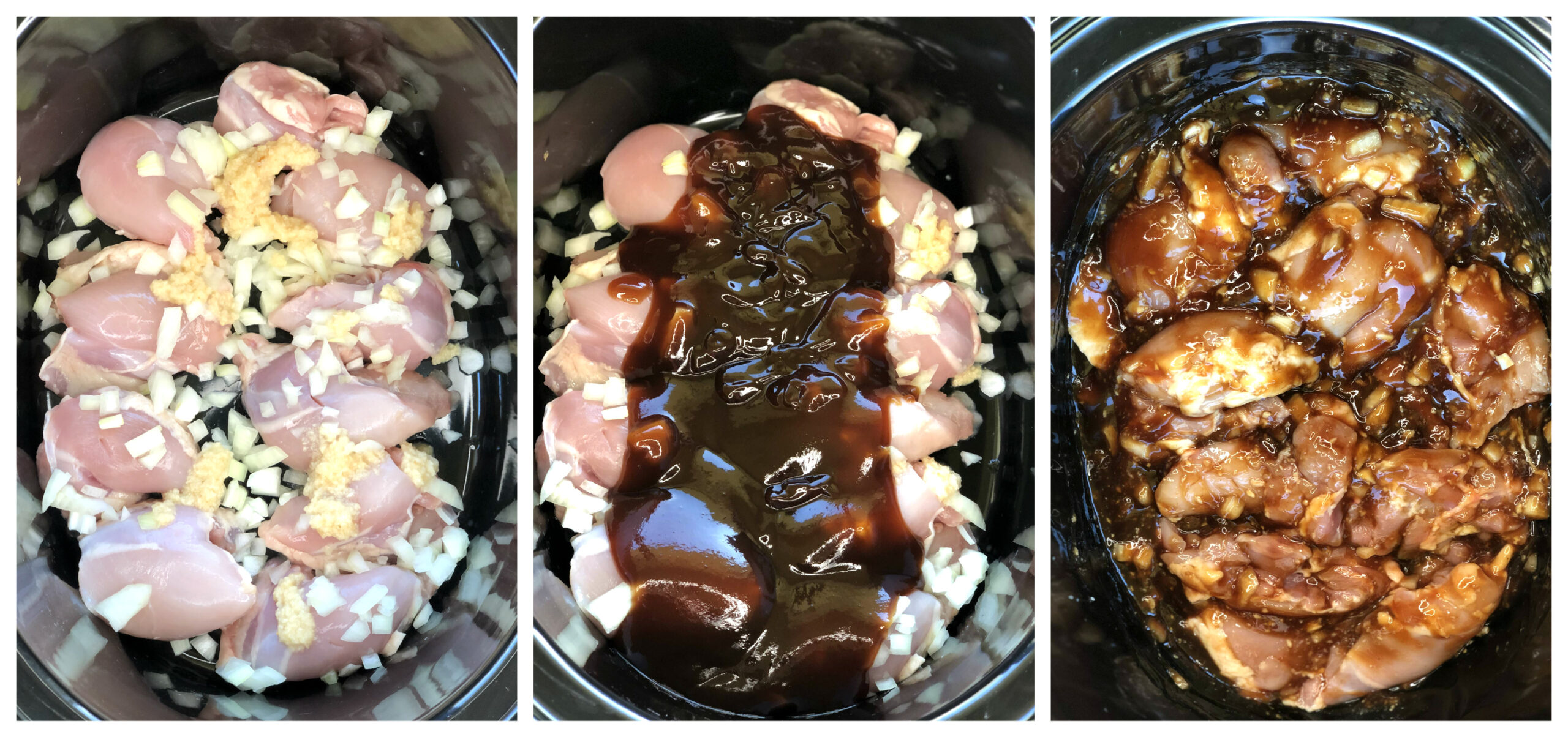 You can serve this in many different ways, it is so tender and juicy that you could definitely serve it with rice, it is lovely on bread-rolls with coleslaw, or you can use it as I have done by making simple enchiladas.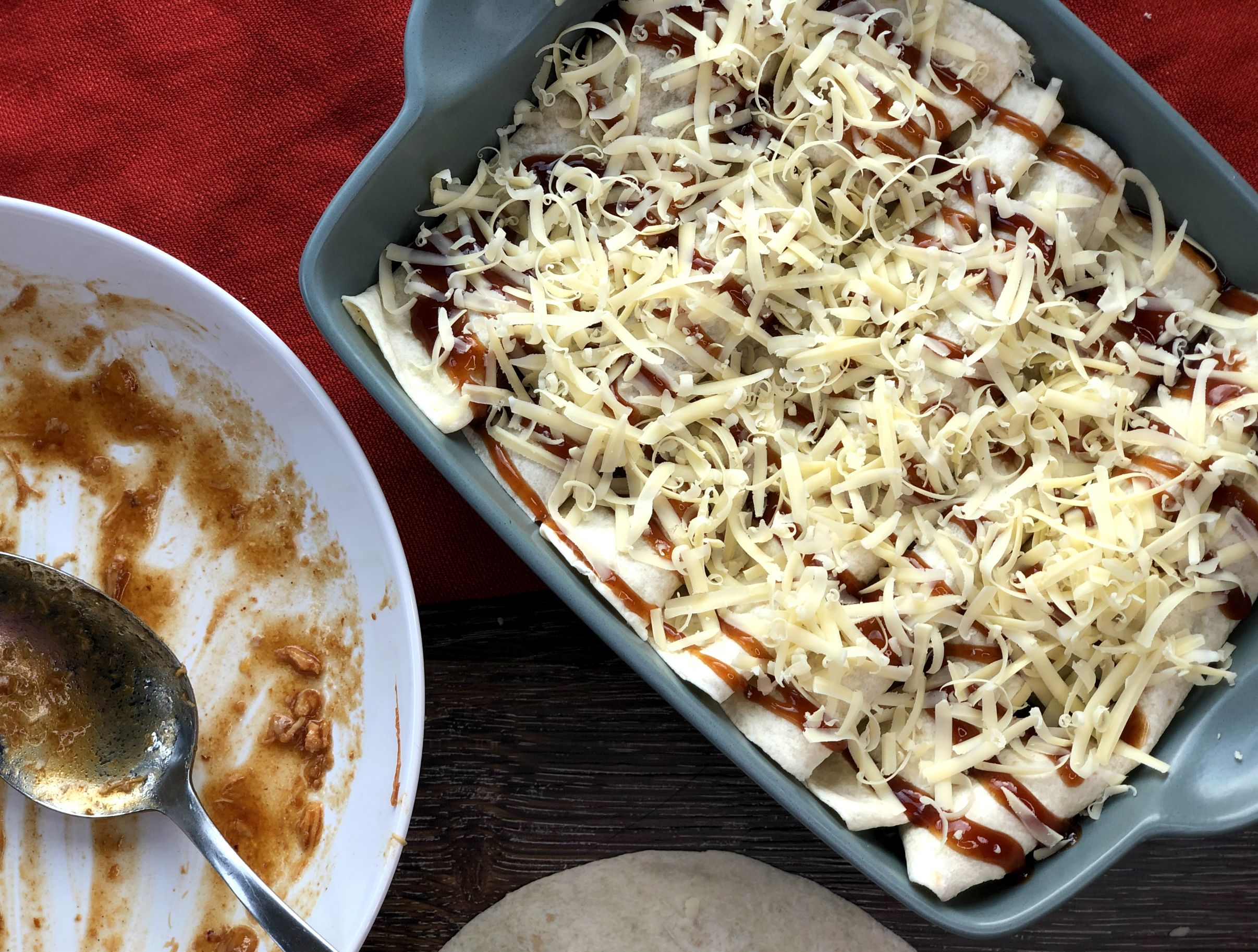 To make these I simply used tortillas and add a portion of the chicken and roll them up and place in a baking dish then repeat. Then I drizzled over some more BBQ sauce and lots of cheese, add to a moderate oven until the cheese is lovely and toasted golden.
Serve with a salad! So delicious.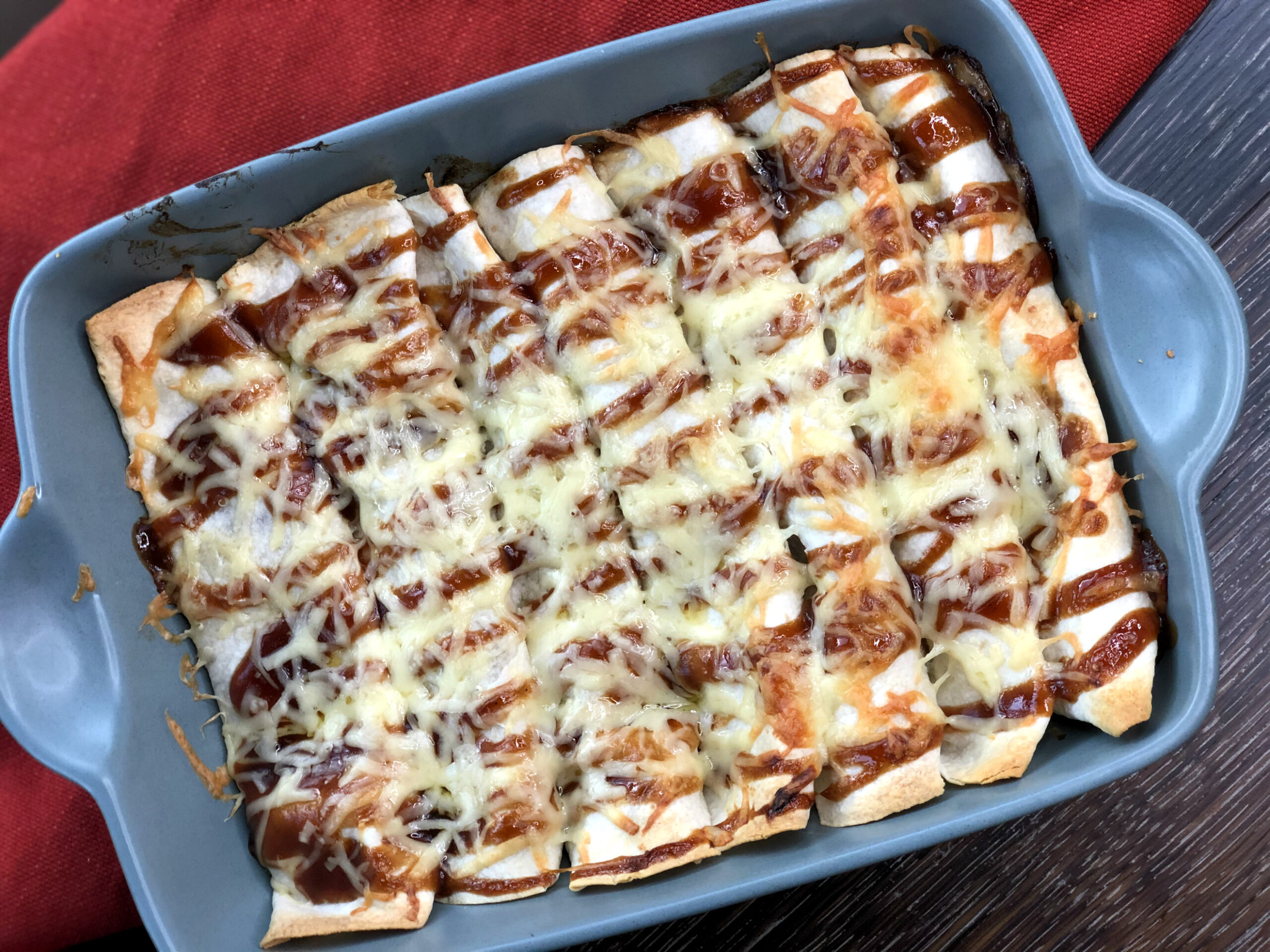 I would love to hear in the comments below when you try this one! Be sure to tell me how you have served it.
Onto the recipe for my easy 4 ingredient Slow Cooker BBQ Pulled Chicken, including pressure cooker instructions
How easy is that! So lovely and simple but packed full of flavour. Be sure to let me know what you think of it.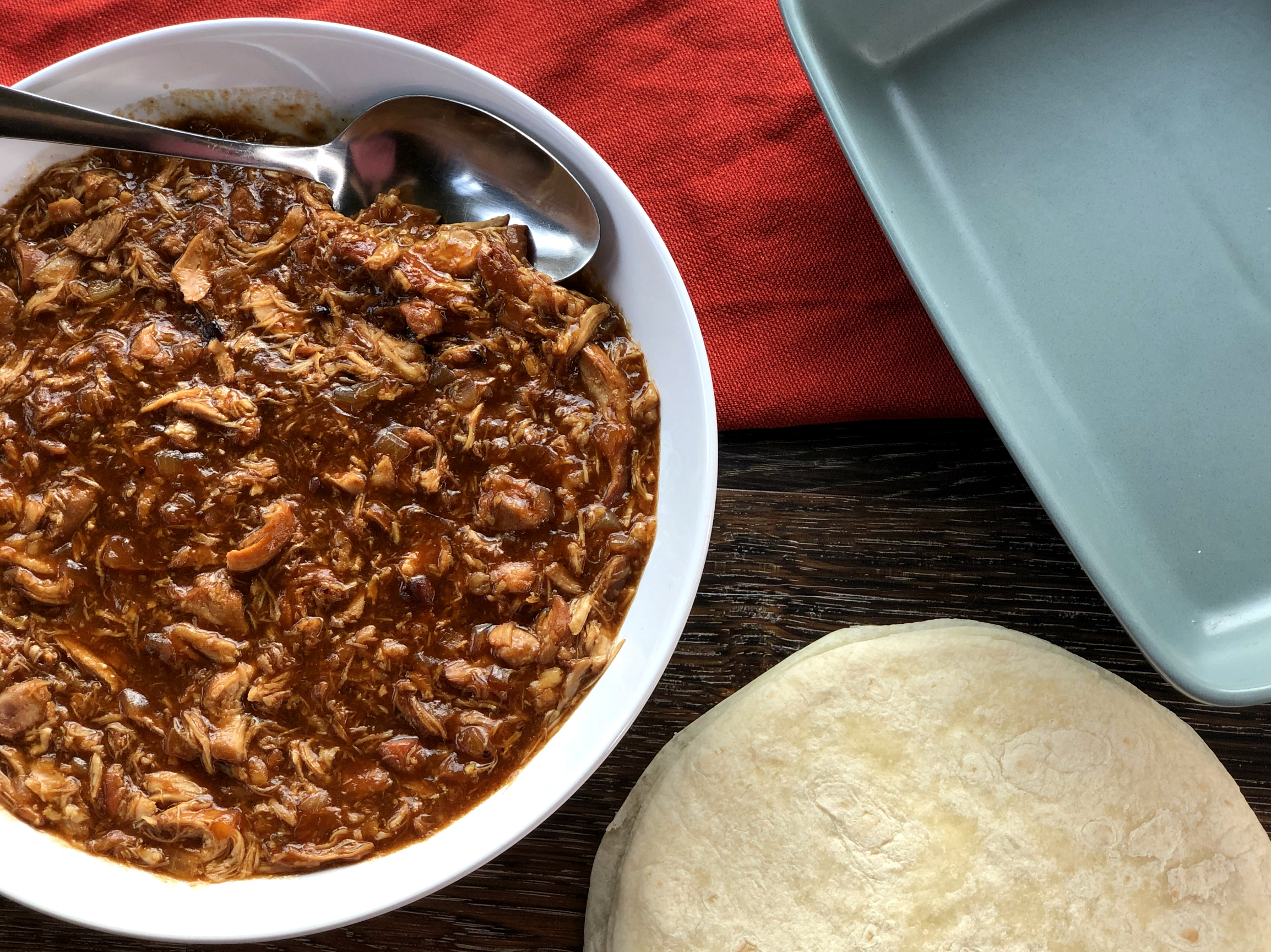 Thank you so much for stopping by to check out my latest recipe and others on my blog. If you are not already be sure to follow me on Facebook or Instagram for more Slow Cooker deliciousness, and you can register your email in the subscription box below to receive all my recipes as I publish them.
Happy Cooking!
Anna
Pin It! Pinterest