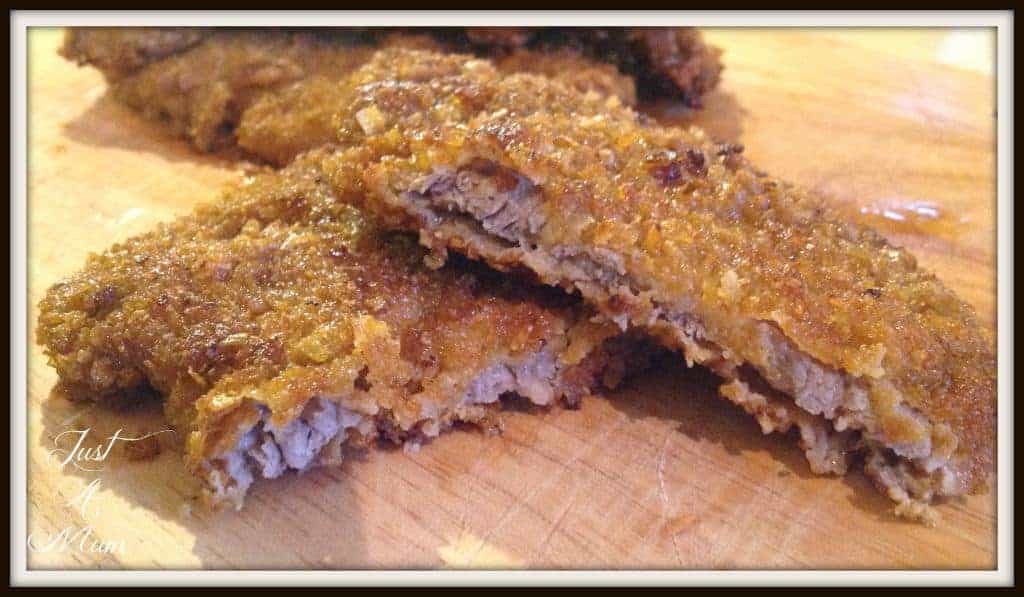 We are so lucky to receive a lot of our meat from a family dairy farm nearby – so the freezer is never short of meat…..tasty straight from the farm meat! But it is up to me to come up with some different and easy ways to prepare the meat that the whole family will enjoy.
The main reason I set up this website was so I could note down some of my recipes and cooking methods for my kids to have on hand when they have their own homes – and this is a simple one that they have grown up with so I am adding it to the list!  I thought I would share this method with you for crumbing schnitzel that is cheap and simple and I am sure you will have many of the ingredients on hand. I never remember to buy a pre-made crumb mix when I am shopping, and some of them are not very tasty or taste a little like cardboard. So I have been using cornflakes to make mine and the family loves it. I seem a little cornflake crazy at the moment as I have made several sweet recipes in the past week or two, but now it's time to share with you a savoury meal that is quick, simple and cheap!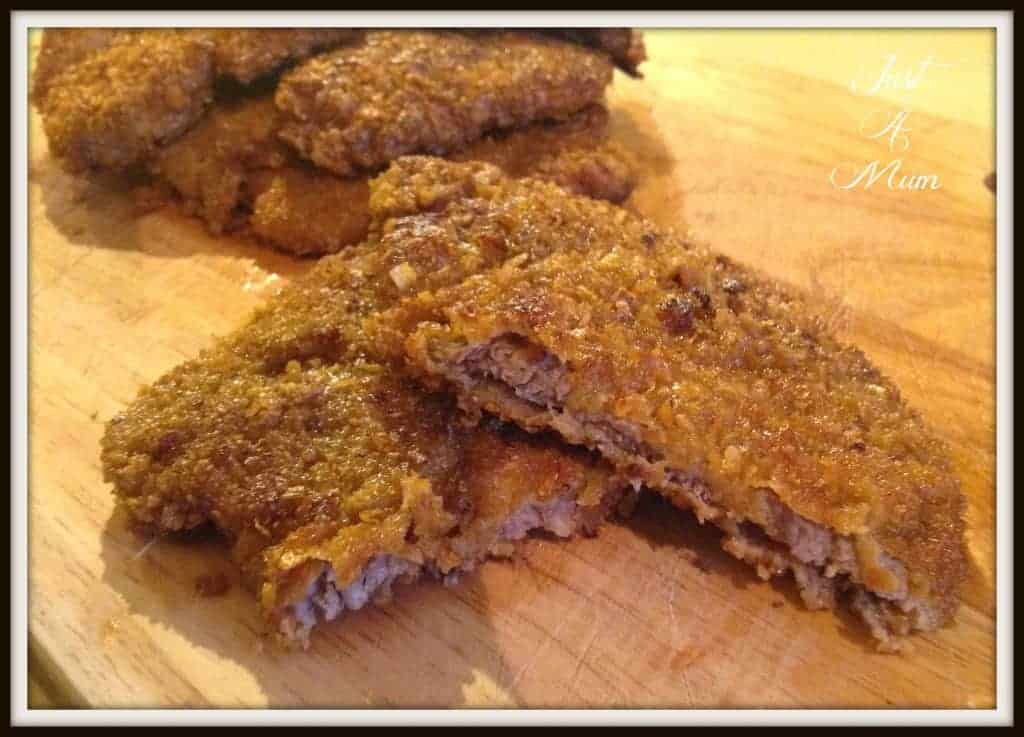 I use beef wiener schnitzel, you could also use thinly sliced or pounded chicken breast, thinly sliced steak, or veal. The method is the same – I get all the ingredients set up first – then I dig in – get filthy fingers and I am good to go! Can you imagine how hard it was for me to take photos during this process – normally my hands are so messy that I just keep going until I am done then wash them. If you are anti-mess you could probably do this whole process with one hand or a fork – but I just get in amongst it! Be aware though – chances are high that if you use both hands the phone will ring or in my case a child will have an urgent need Mum moment!
I season my flour with salt & pepper, but you can also do that with the cornflakes too if you want extra seasoning. I like cooking in the combination of butter and oil – I think it gives it a lovely flavour and colour. If you do buy a pre mix crumb mixture you use the same technique – just sans cornflakes!
Here is the recipe – the quantities are up to you dependant on how much meat you have 🙂

Wiener Schnitzel - Just a Mum Style!
You will need 4 dinner plates in preparation, 1 for flour, 1 for egg. 1 for crumbs, and 1 for prepared meat. Or large shallow bowls ok toö
Ingredients
4-6 Pieces of Beef Schnitzel
¾ Cup Flour
Salt & Pepper to Season
2-3 Eggs - lightly beaten
2-3 Cups Cornflakes (Crushed)
Butter & Oil
Method
Crush your cornflakes to a medium crumb - either in a food processor or in a bag with a mallet or rolling pin (the former option easier!)
Pour cornflake crumbs onto a dinner plate
Pour flour onto a dinner plate and season with a pinch of salt & pepper
Lightly beat your eggs and pour onto a dinner plate
Set up 4th plate handy to pop the prepared schnitzel on.
Ok, now you are ready to go - dredge your meat in flour, one side at a time
Then lightly dip into the egg mixture, turning to both sides - draining off excess as you lift it
Then place one side at a time onto the cornflake crumb - ensuring both sides are well covered.
Place on plate and set aside while you prepare other pieces.
Once complete pop the plate into the fridge to chill for 10 minutes minimum (this helps the coating stay on the meat not in the pan!)
Preheat a frying pan on a medium to low heat and add a knob of butter & 2 TBSP oil. Once melted place your meat onto the pan.
Let the meat fry slowly until the underside golden brown and I find that once the blood appears on top of the meat it is also time to turn. (3-4 minutes)
Turn over the meat for a further 2 minutes - or until golden brown.
Repeat with remaining pieces of meat - adding more butter & oil when needed.
If pan getting messy with coating bits I sometimes wipe out with a kitchen towel before adding my next batch.
Allow meat to rest for 4-5 minutes and serve with fresh salad or vegetables.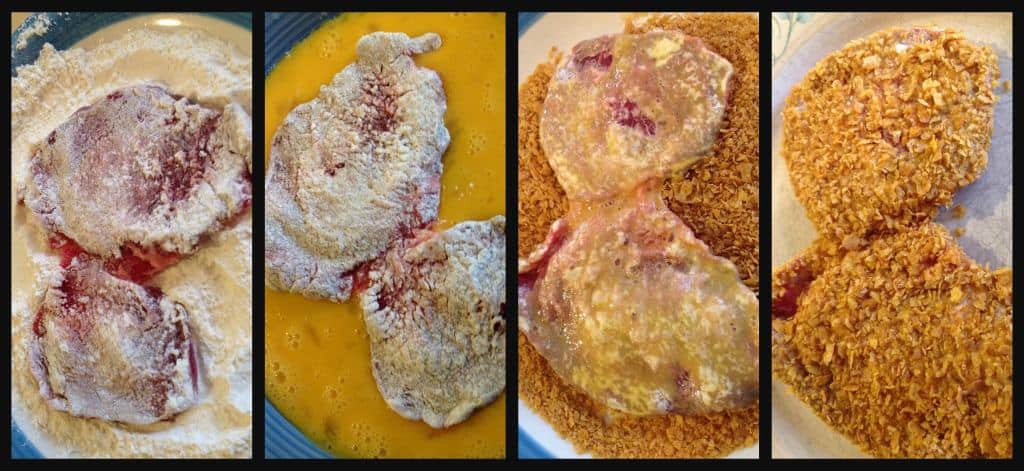 So as you can see it is a pretty simple recipe. The kids all enjoy this one – the crunchy coating is a hit as you can imagine. So there you go – more cooking with cornflakes – what a versatile wee ingredient it is!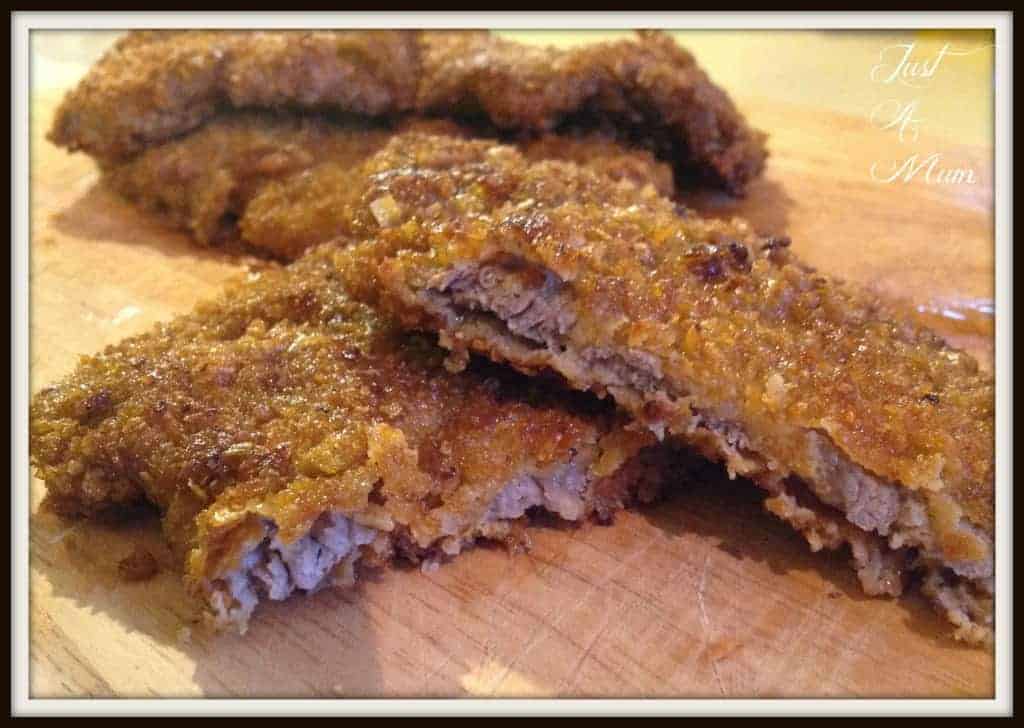 I would love to hear if you make this recipe with your family. Please sign up to subscribe to my email list to ensure you do not miss any recipes. If you have any questions do ask – I check often 🙂
Also I am on Facebook, Twitter and Pinterest to name a few – the icons above right will steer you in the right direction.
Thanks for stopping by. Happy Cooking! Anna 🙂