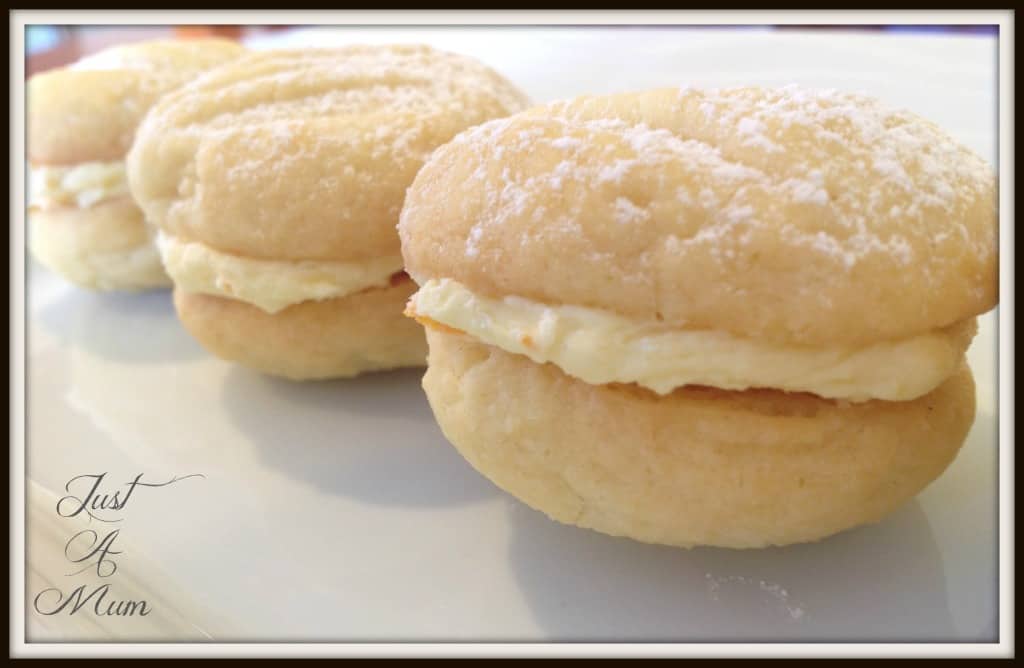 Never has a name of a recipe been so perfectly suited! These melting moments are absolutely melt in the mouth delicious! They are light and buttery and so simple to make. There are many variations of these out there – in fact it was interesting to see the various ratios of ingredients in the recipes – but this one came out perfectly!
They have the flavour of a light crumbly shortbread with a light citrus buttercream layer in between. Often times the icing is lemon, but I used orange and it was lovely. You could even add orange zest or lemon zest to the biscuit batter for additional flavour. Also consider passionfruit or maple syrup flavoured buttercream, or berry jam with a lovely vanilla icing would be lovely too!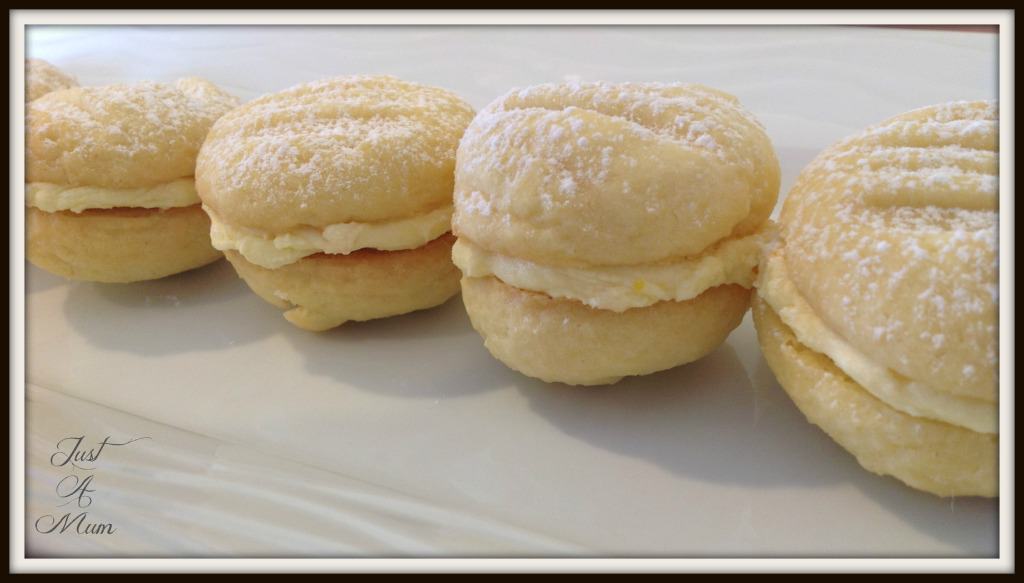 I have often wondered what the difference is between Melting Moments and Yo Yo's – well I can now wonder no longer! Melting Moments were adapted some time ago with the invention of custard powder – the custard powder replaced the cornflour – So you can easily do this with this recipe also – replace with the same quantity of custard powder if you have that on hand. Custard Powder is simply cornflour, colour and flavouring, so will add a lovely flavour to the biscuit.
I found this recipe really easy to make up, it made 15 biscuits as you sandwich together two biscuits with the icing (so 30 biscuits to bake). Remember to make the balls of dough little so they are easy to eat and assemble.

Melting Moments
Recipe type:
Cookies & Biscuits
Ingredients
275 grams butter, softened
½ cup icing sugar
1 teaspoon vanilla essence
1 ½ cups flour
½ cup cornflour
Buttercream Icing
1 Cup Icing Sugar
½ teaspoon vanilla
60g softened butter
2 tsp lemon or orange zest finely grated
2 tsp lemon or orange juice
Method
Preheat the oven to 160ºC.
Lightly grease 1-2 baking trays or lightly spray with cooking oil and cover in baking paper
Beat the butter, icing sugar and vanilla essence together in a food mixer until light and creamy - approximately 4 minutes.
Combine the flour and cornflour and mix into the creamed mixture (or Custard Powder if using instead of cornflour), only mix until just combined
Roll teaspoonful sized balls and place on the prepared baking tray - the mixture is quite sticky so if a hot day you may wish to pop in fridge for 5-10 minutes to firm up to avoid the cookies spreading if mixture very soft.
Dip a fork into a little flour, flatten the balls slightly by gently pressing with the fork. Dip the fork into the flour as needed - this helps the fork not stick to the dough
Bake in the preheated oven for 12-14 minutes until the biscuits are firm and beginning to brown a little around the edges. They should remain pale in colour however.
Remove from oven and allow to cool completely on the tray
Once cold ice with the buttercream icing.
Icing Preparation
Combine the icing sugar, softened butter, vanilla, zest and juice in a medium bowl or food mixer. Beat for 2-4 minutes until creamy and pale. Taste to ensure it is flavoursome enough for you - add a little more zest or a small amount of juice if you prefer a stronger taste
Using a knife carefully spread a good portion of icing on the underside of a biscuit and top with second biscuit, set aside and repeat.
To serve dust with icing sugar. Store in an airtight container - in the fridge if weather hot to care for buttercream icing.
(If you prefer a less buttery icing - use a basic vanilla icing, 1½ cups icing sugar, ½ tsp vanilla, 1 tsp melted butter, zest, juice and combine well - you may need to add additional juice for right consistency - not too runny)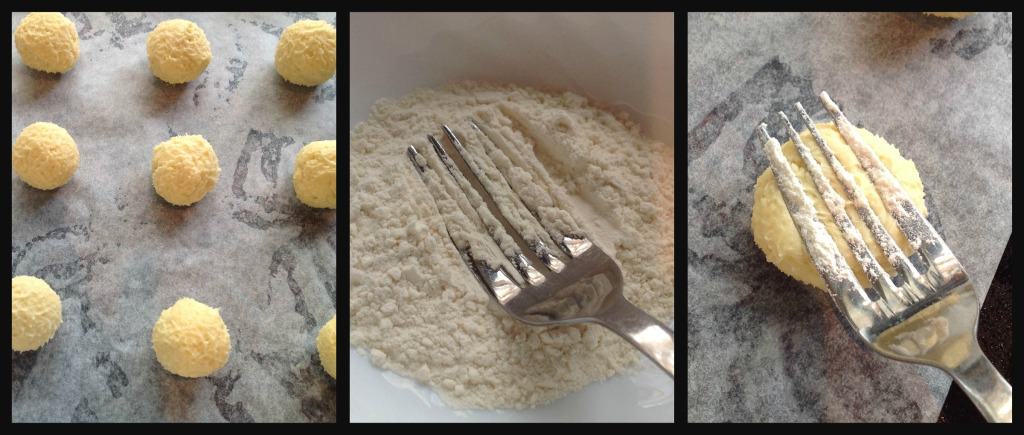 These are so fun to make and a lovely dish to take somewhere as they look so good! Dust them with icing sugar to serve, pop on a pretty plate and you are away!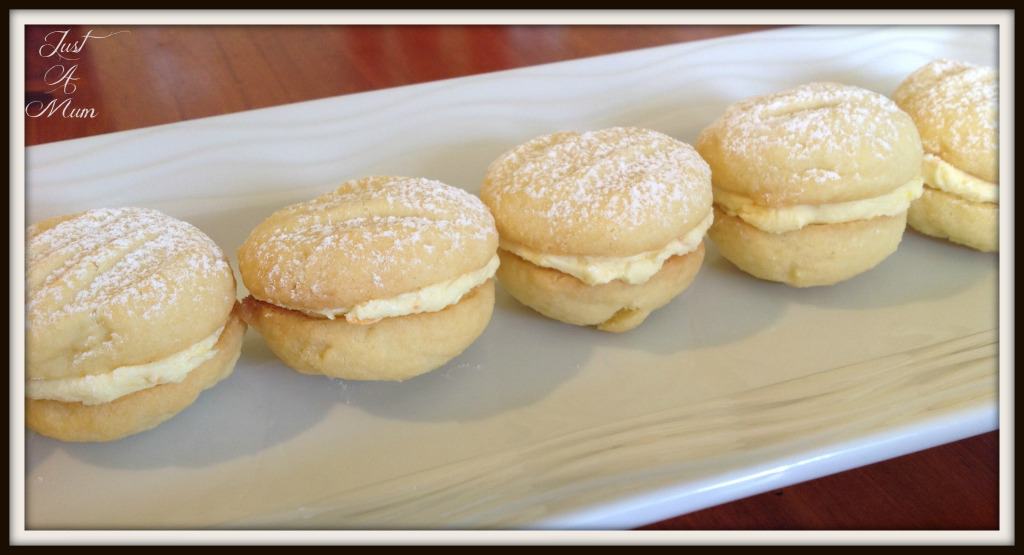 I hope you have enjoyed this simple recipe. As always I love to hear your comments so pop them below and remember to follow me on Facebook for more delicious recipes, fun kids activities and gorgeous hairstyles for girls now too!
Happy Baking!
Anna 🙂