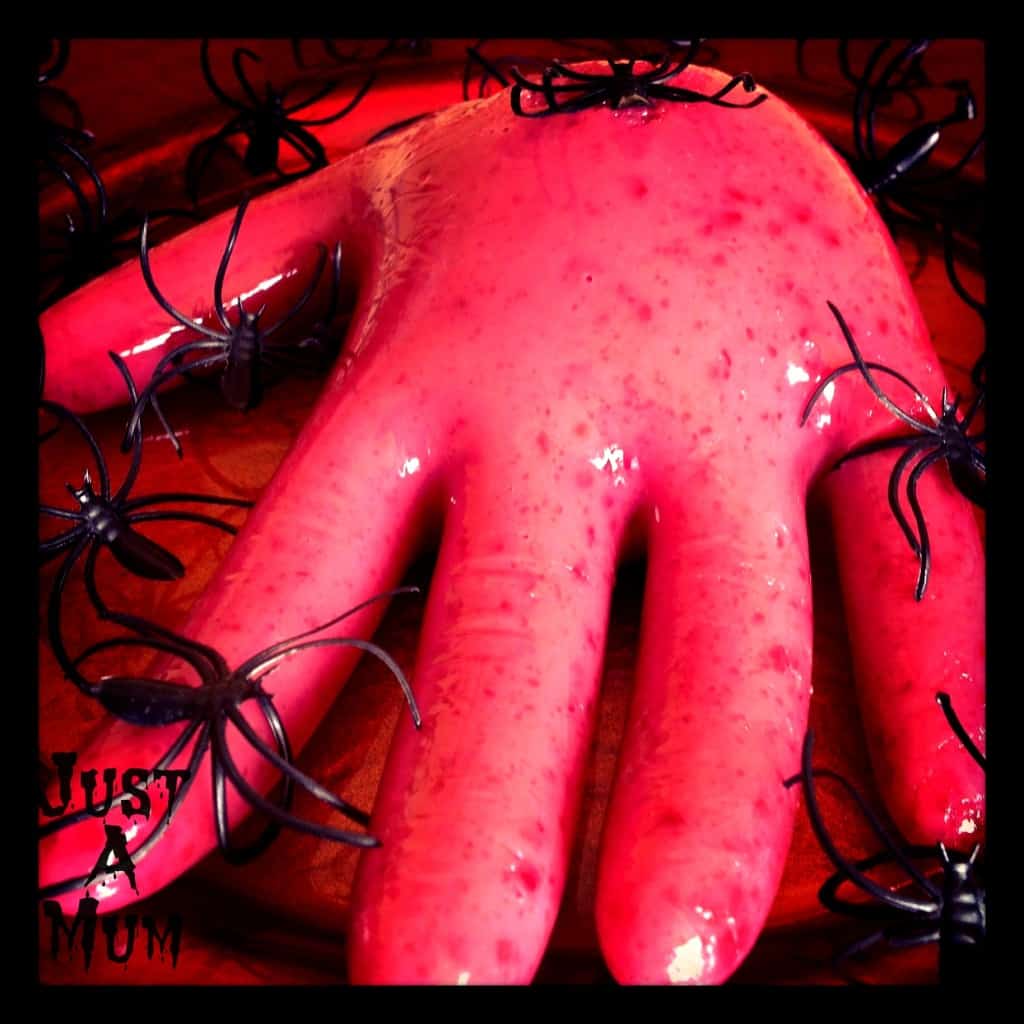 This gorgeous gruesome hand was created quite by accident! I was all set to make some creepy jelly worms with a few modifications (which is a bad habit of mine – altering things to suit my fridge not necessarily the recipe!) got side-tracked and visitors arrived as the jelly was cooling and two hours later I knew it would be all bad news for the worms but like I tell the kids we can always try to turn disasters into something!
So out came a disposable glove and a good clean inside and out and I filled it with the gorgeous gooey jelly mixture and let it set overnight (or at least 8 hours if doing it in the morning) – and we were met this morning with disaster worms (as expected) and this delightful perfect squidgy floppy hand! It is a pretty delicate manoeuvre getting the glove off so do take care at that stage of things – but honestly – can you imagine your kids faces when you bring this out after dinner one night! I added a few spiders from the dollar shop and we had our first of many easy Halloween treats to try.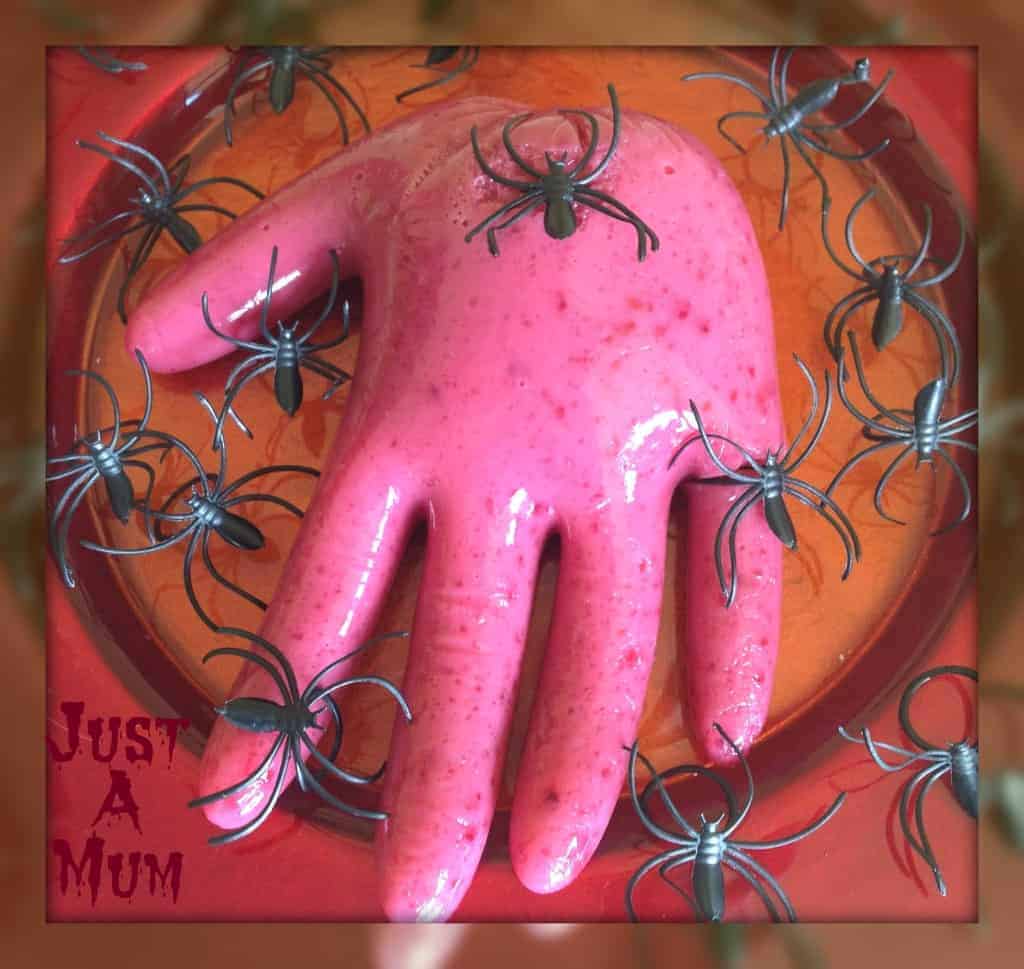 If you know anything about my blog you know I like things to be easy – I like cheap and I like it to be stuff I have in the cupboard – which is why I NEVER use gelatine in my recipes – its just not something that I have on hand and if I do buy it I use it once and forget its there, so I am determined to come up with as many gelatine related recipes over the coming weeks while it is there. It is inexpensive though, you can buy it in jars or envelopes – I believe one envelope is equivalent to 1 Tablespoon of powder.

Halloween Ideas - Severed Jelly Hand
Makes 2 Hands Prepare Disposable Gloves by rinsing well in warm water inside and out - then reverse glove so outside becomes inside.
Ingredients
2 packets Jelly Crystals - Jello (Raspberry) 85g or 3oz each
3 TBSP Gelatine
3 cups Boiling Water
¾ cup milk (or heavy cream)
15 drops green food colouring
Method
Prepare your jelly (jello) and gelatine in a bowl or jug and add 3 cups of boiling water to this and stir well until all crystals are dissolved.
Set aside for 20 minutes to cool slightly
Add milk and green food colouring and mix well
Prepare glove by rinsing well with warm water and turn glove inside out (easiest way to do this is to put glove on then take off so fingers invert inside out.
Pour jelly mixture into glove until almost full
Remove any air bubbles by lying glove on its side and tying the end with a small rubber band - loom bands are ideal for this!
Pop in fridge for a minimum of 8 hours, or overnight.
Carefully cut off rubber band end and begin to carefully cut the glove lifting away from the jelly
Take care to cut down each finger rather than pulling finger out of glove.
Once the glove is completely open carefully using two hands lift the hand and place on a serving plate - can add spooky extras like spiders etc if so desire!
Serve straight away - or it will keep covered in the fridge for 2 days.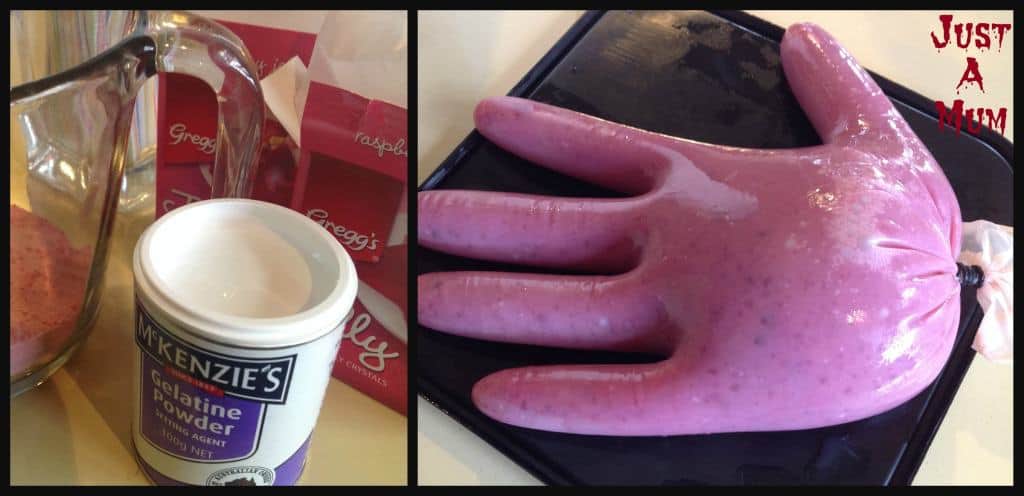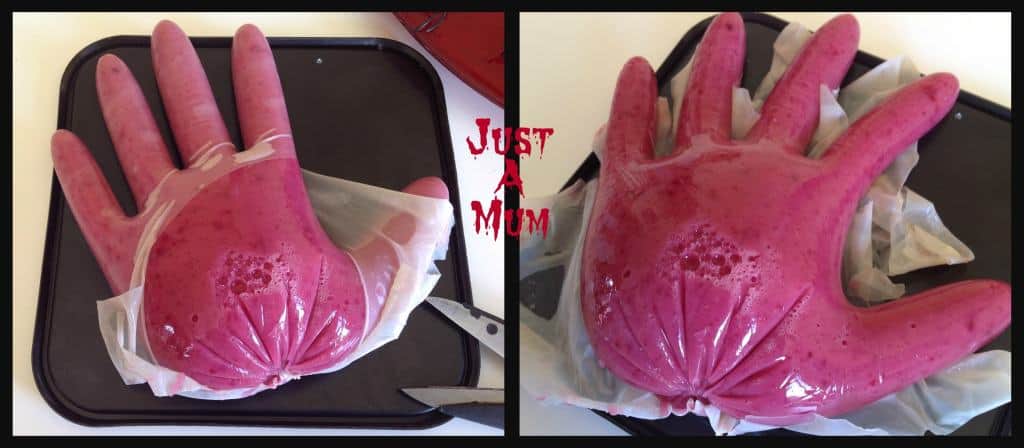 So it is as easy as that! It takes some time to set – but if you are into a little Halloween fun then this is a great idea!
I will be uploading more simple Halloween ideas over the coming days so be sure to subscribe to my page to receive them as I publish them!
Thanks for stopping by – comments and questions welcomed and remember to follow me on Facebook – http://www.facebook.com/justamumnz
Happy Halloween Month!
Anna 🙂