Halloween is not really a big thing here in NZ – in fact not that many years ago very few people celebrated it – shops were not really into it and there were never really any trick or treaters out. It appears times are changing and there are still many people who are not at all impressed by the celebration but in our home we like to have fun and we like to dress up so we celebrate Halloween as a time to get into some crafts and fun activities around the home. Our town centre has recently started a tradition of all the kids coming into town after school on Halloween and trick or treat the shops – they end up with way too many lollies & chocolate, get to see their friends dressed up and its a great chance to see your friends and a general spirit of family and fun – nothing sinister there!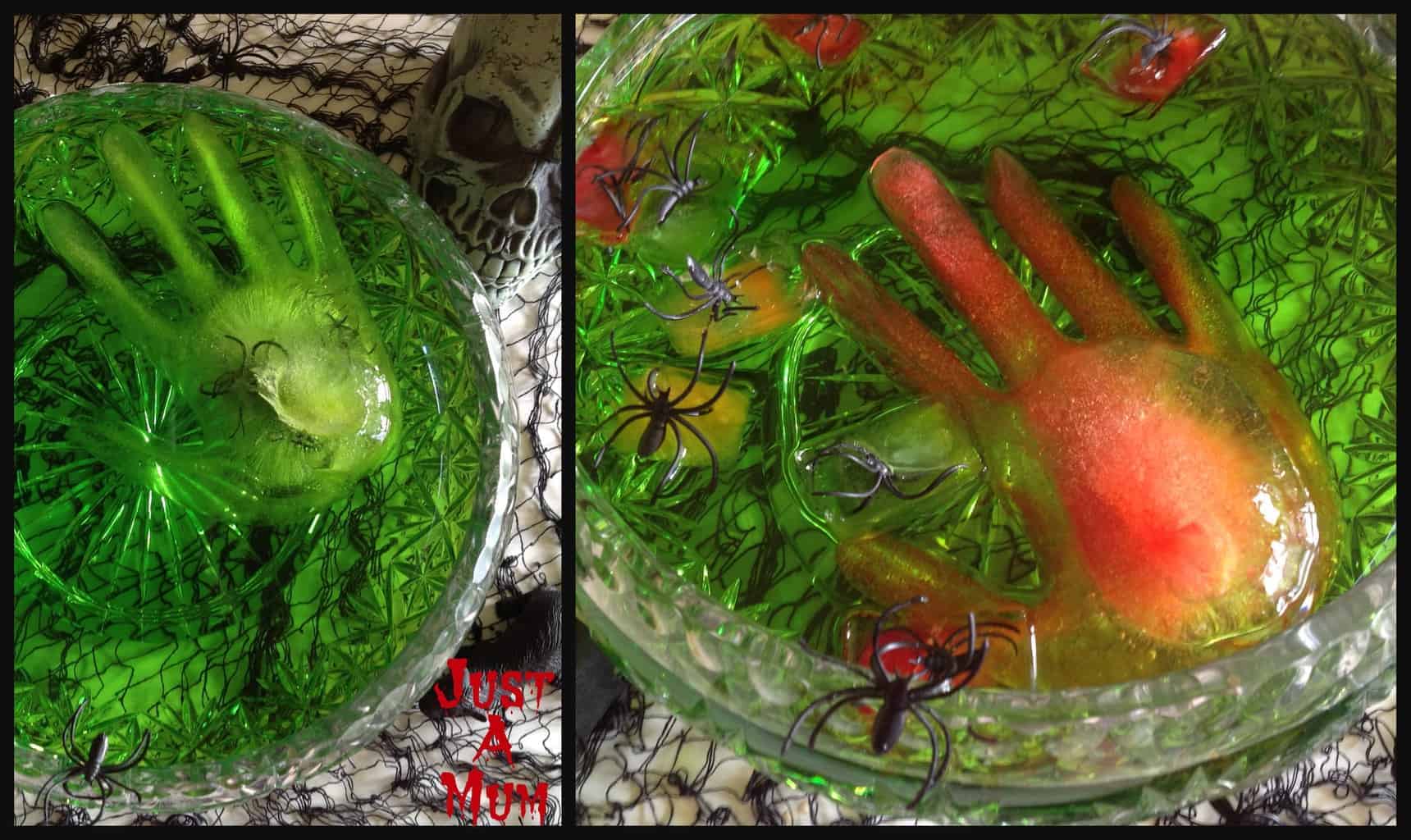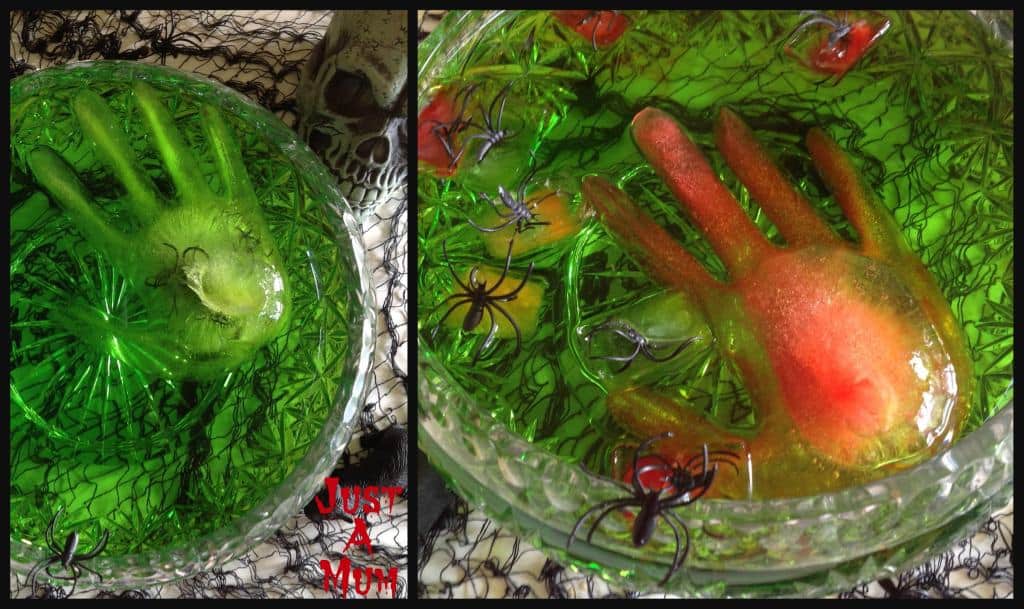 So this year with me having the blog I thought I would test out a few ideas and see if we can come up with some fun activities for you all to try at your own home – and cheap or free ideas are always appealing to me! I love the idea of celebrating with fun drinks – and these do not always have to be sugar laden – in fact all the pictures taken here are water! Coloured with a little food colouring for extra fun – but you can just use plain water if you don't like to add extra E numbers to your day! However you can make these with your favourite juice, soda or alcohol for the grown ups! The sky is the limit. The ice will last longer in drinks that have been in the fridge rather than room temperature – but if it is just for an afternoon tea treat then these are sure to be a hit!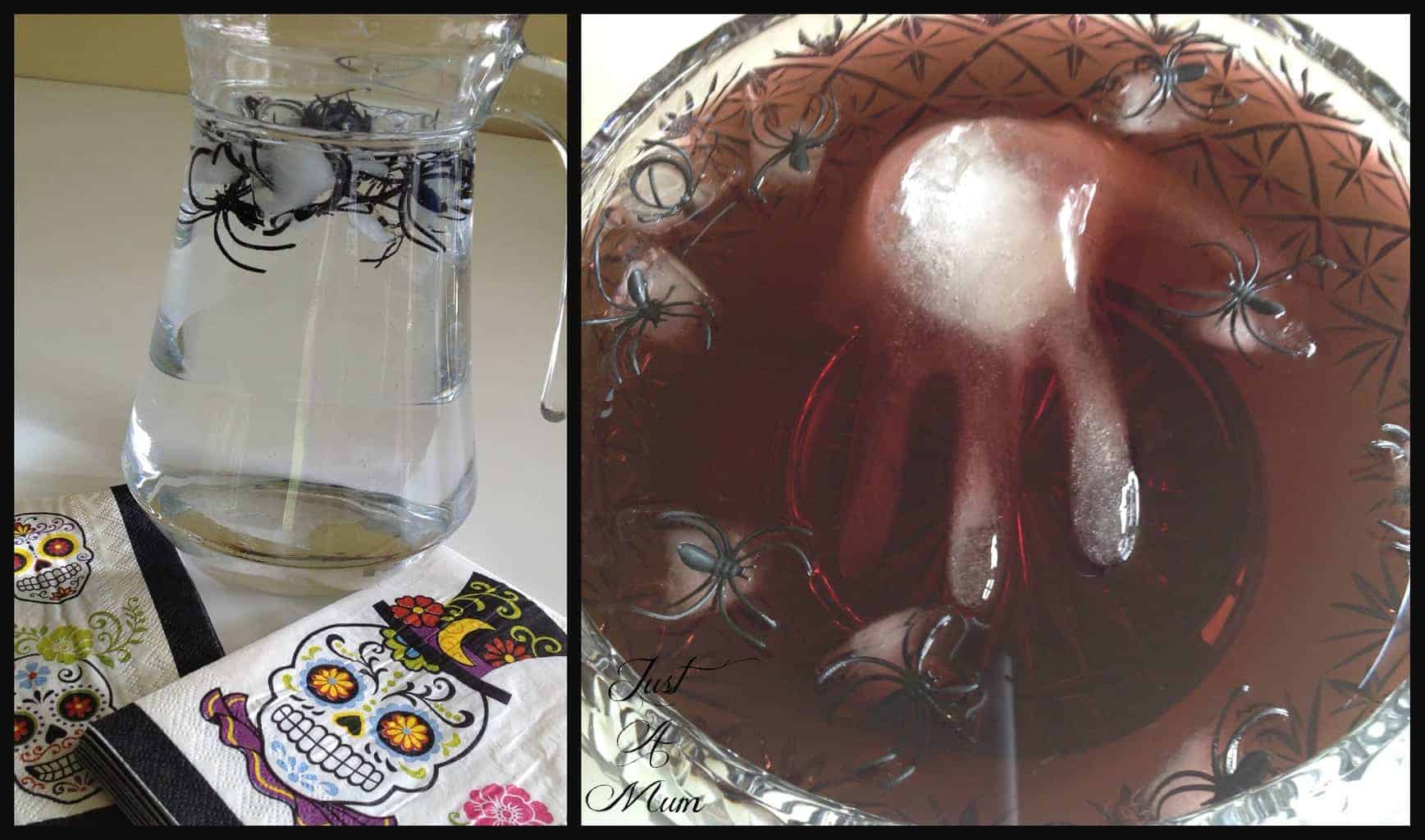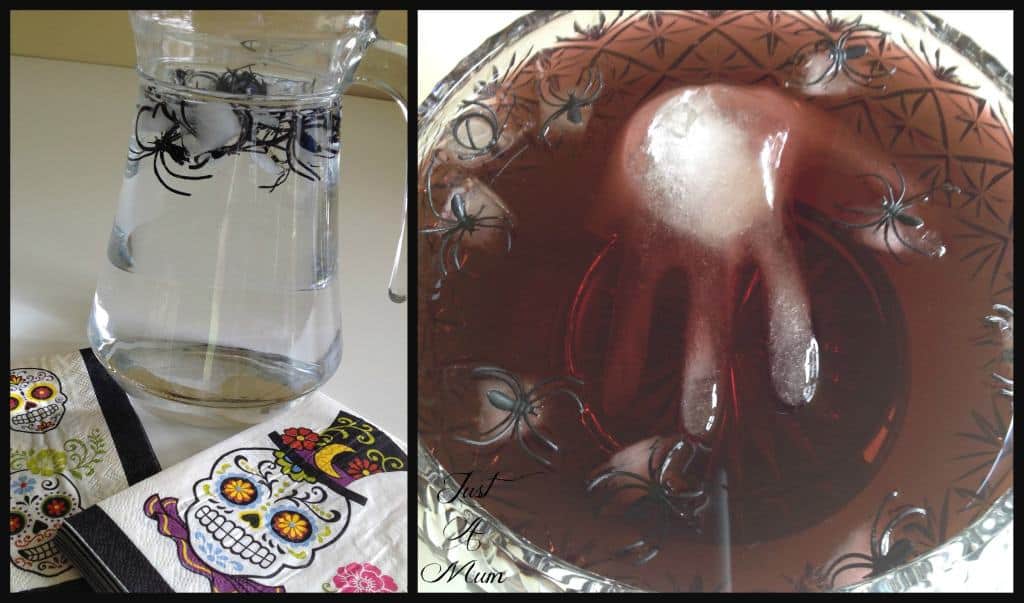 I have had so much fun at our dollar stores buying up little Halloween bits and pieces – I got 50 spiders for $2 and it turns out they are rings so the kids like that! I used them in some ice – and used disposable gloves to create some spooky ice hands for a punch bowl. You can make the ice out of water as I have done here – or if you do not want to dilute your punch or drink you can make it from soda, juice or wine etc (for the adults). As I said above the ice hands do not last long – but if you pop it in the drink as your visitors or kids arrive at the table you will get maximum effect for little work!
Remember to rinse the disposable gloves – these gloves contain latex so take care if you know someone with an allergy – or get latex free gloves. Some gloves have a powder on the inside which is why I rinsed well and turned inside out.
In order to have no air bubbles in the gloves lay them on their side once filled and make sure no air is in the glove then tie with a small rubber band – or loom band is perfect! Pop on a tray or ice-cream lid and freeze overnight or until completely frozen.
For the spider ice cubes it is as simple as filling an ice-cube tray and pushing in the spiders and freezing! I added food colouring to some of the ice cubes for fun – and as above you can make with juice or soda as well.

When you get the ice gloves out of the freezer begin by cutting off the band end and using a sharp knife or scissors slice up the front of the glove an down the fingers so you can peel off the glove. Handle carefully so the fingers stay in tact – careful is better but some of my gloves did stick to the dish so it might pay to dry the gloves a little before freezing them.
You can have so much fun with these simple ideas – even if it is just for the kids afternoon tea or for a Halloween Party for friends – your Halloween ideas need not be expensive or using lots of equipment – have fun!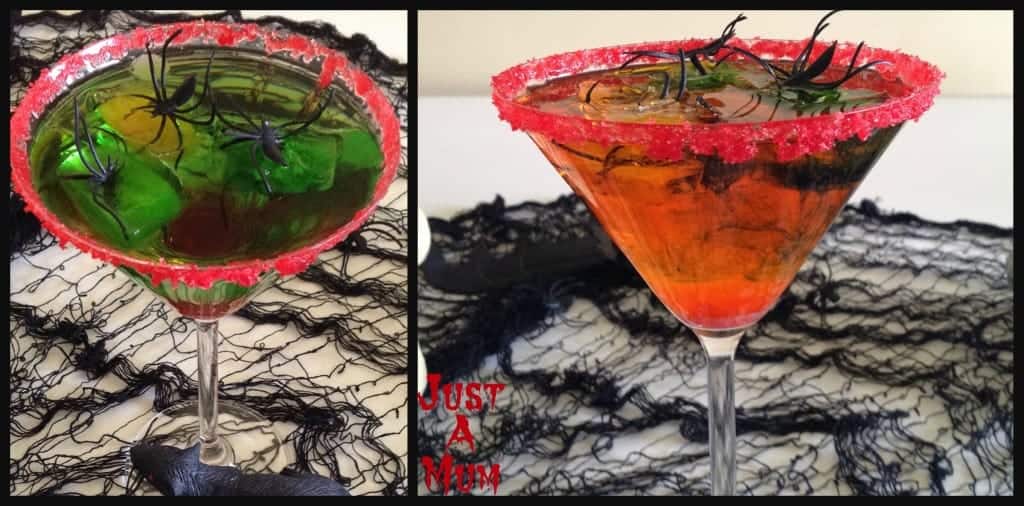 So no matter whether you go all out – or just want to do something a bit different this year – this is an easy place to start! If you do make them be sure to send me your pictures – upload to my FB page to show my likers how creative you can be! http://www.facebook.com/justamumnz
Thanks for stopping by – be sure to check out my other Halloween ideas and have a wander around the blog.
Happy Halloween Month
Anna