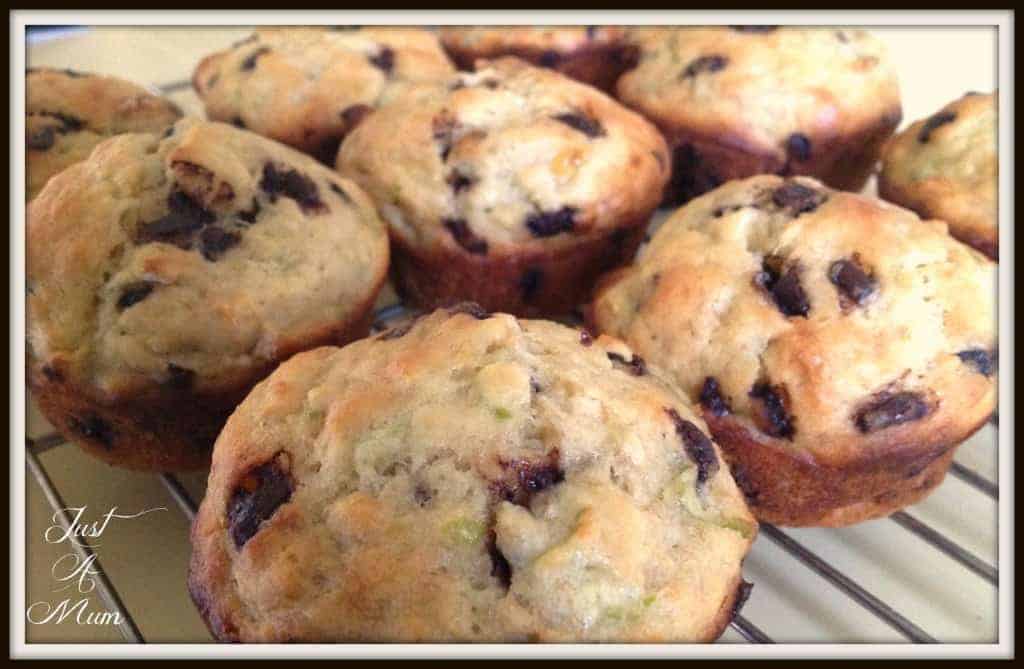 These muffins are so so quick and simple. a great way to use fruit in your baking and kids love them, and adults will too! Thanks to the delightful Kiwi Baker Alison Holst these muffins are a staple in our house. We always seem to have a random apple around the place and bananas that need using up. The ABC stands for Apple. Banana & Chocolate, so you can see why they are so popular!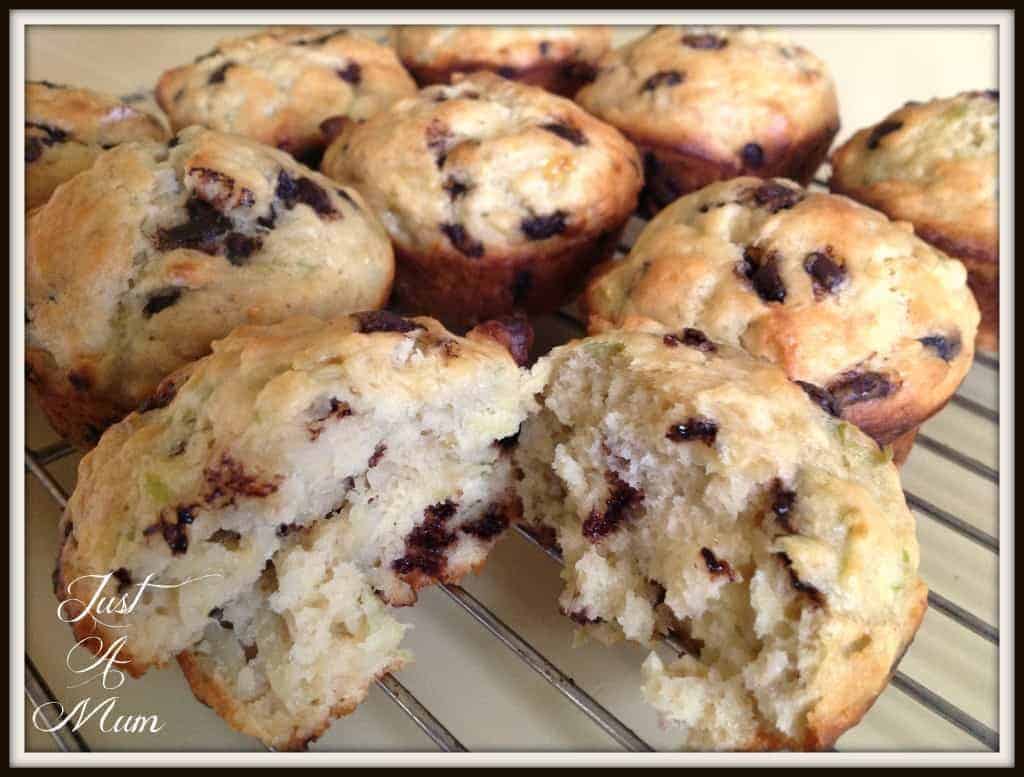 The amount of sugar in this recipe is low compared to some other muffins recipes and I like the addition of apple to give it a lovely flavour along with the banana. These are moist and last well. I had a whole lot of extra kids over after school last week and this was a great recipe to whip up to keep them all happy for afternoon tea – and cheap!
You can easily keep out the chocolate chips if you prefer, the flavour of the muffins is still lovely. Check out the recipe below!

ABC Muffins
Ingredients
1 Cup (2-3) Mashed Ripe Bananas
½ Cup Brown Sugar
¼ tsp Salt
¼ Cup Canola Oil
1 Large Egg
½ Cup Milk
¼ to ½ Cup Chocolate Chips
1 Apple grated or finely chopped (I used granny smith - use Tangy apples for best flavour)
2 Cups Self-Raising Flour
Method
Preheat Oven to 210C
Place oven rack just below middle of oven
Prepare muffin trays with cooking spray or cupcake cases
Mash the bananas well and grate the apple (including skin) and set aside
In a large bowl mix together the mashed banana, sugar, salt, oil, egg and milk until well combined
Stir in the chocolate chips and grated apple and mix well
Stir the flour before measuring (to lighten it) Spoon the flour into the cup without packing it or banging it down.
Sprinkle the flour over the top of the other ingredients then gently fold it in without overmixing, stopping when their are no streaks or pockets of flour visible
Spoon the mixture into prepare muffin trays to ¾ full
Bake for 10-14 minutes until golden brown and the tops spring back when gently touched
Leave to stand for 2-3 minutes in their pans
Remove carefully and cool on a wire rack.
Store in an airtight container - muffins can be frozen once cooled.
I know these will become a favourite in your home too! They can be made in mini muffin tins for the mixture to go further – or I recommend if you are making these for lunch boxes to double the recipe and pop them in ziplock bags in the freezer – take one out in the morning for the lunch box and by the time morning tea comes around they will have thawed out!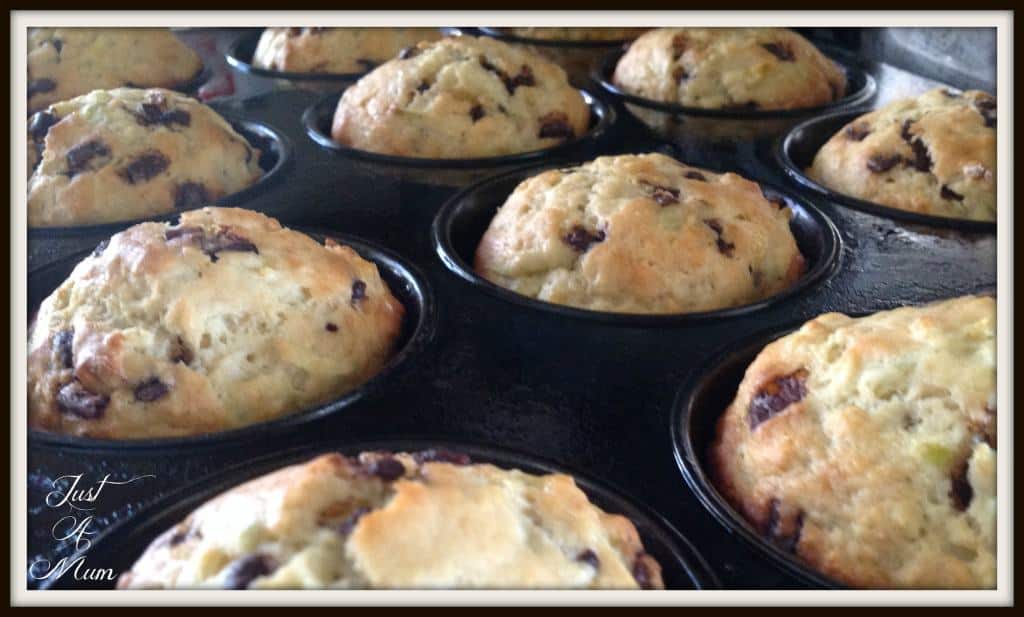 Alison Holst is a baking inspiration here in New Zealand and has many recipe books that feature in our homes and memories. From dinners to muffins to slow cooker meals and much more, Alison and with her son Simon know what Kiwis love to cook in their homes. I will feature more of her recipes over time but do grab a copy of one of their cook books if you see it, worth their weight in gold for good home-cooked simple meals loaded with flavour.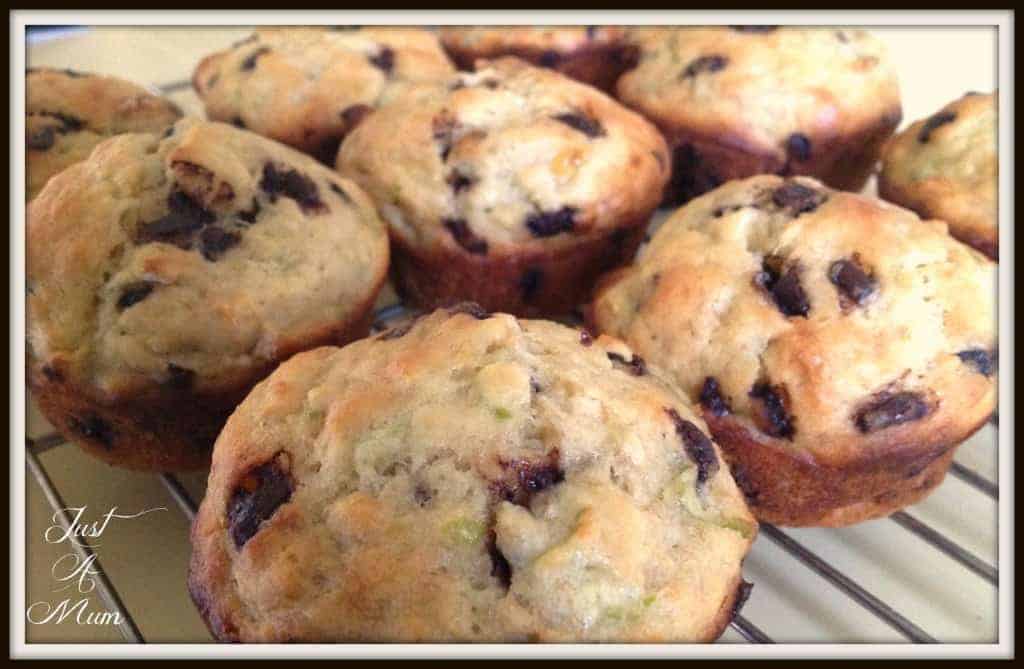 Thank you for stopping by to check out this recipe – please do follow me on Facebook for more great recipes and be sure to check out the Sweet Treats tab for more delicious baking than you can get through!
Happy Baking!
Anna 🙂