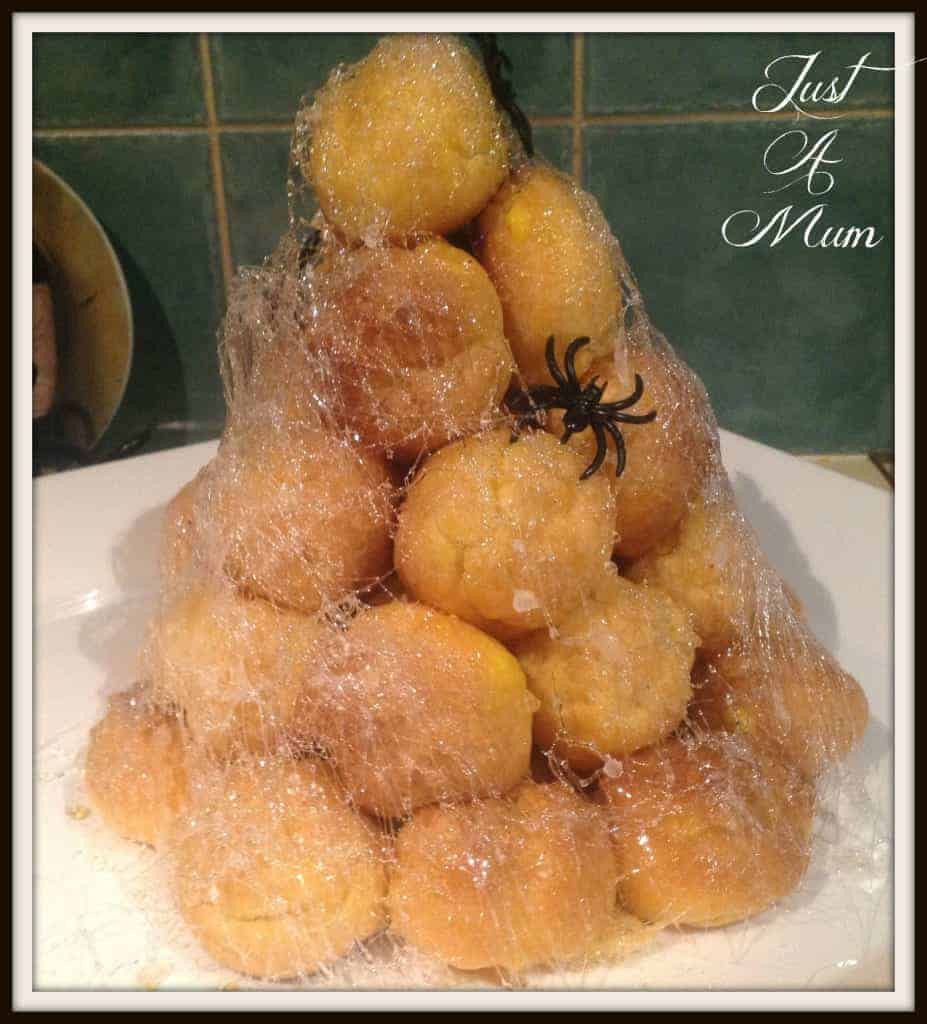 So you know you are out of your league when you have to Google how to spell the title of the recipe you are about to write up! lol. What a way to start…….
I have recently become obsessed with learning the recipe and methods of my friend Alison's Profiteroles and Éclairs – presuming that it would be some elaborate involved process that only the best French chefs can reproduce……and baking freak Alison. Well I am pleasantly surprised to say that I think we can all do it! Sure it involves a few steps but it is so worth it for the end result. This recipe can be made into profiteroles to serve on their own or made into a Croquembouche (yep had to Google how to spell that one too….te he he) or Éclairs. The filling is a gorgeous Crème Patissiere which is actually quite simple and again just takes time to prepare it carefully and then the deliciousness and filling fun can begin! Please note – you do not need to make a crème patissiere to make these delicious- the filling can be as easy as whipped cream or chocolate mousse. But I love this filling and really it is not too hard for us home cooks!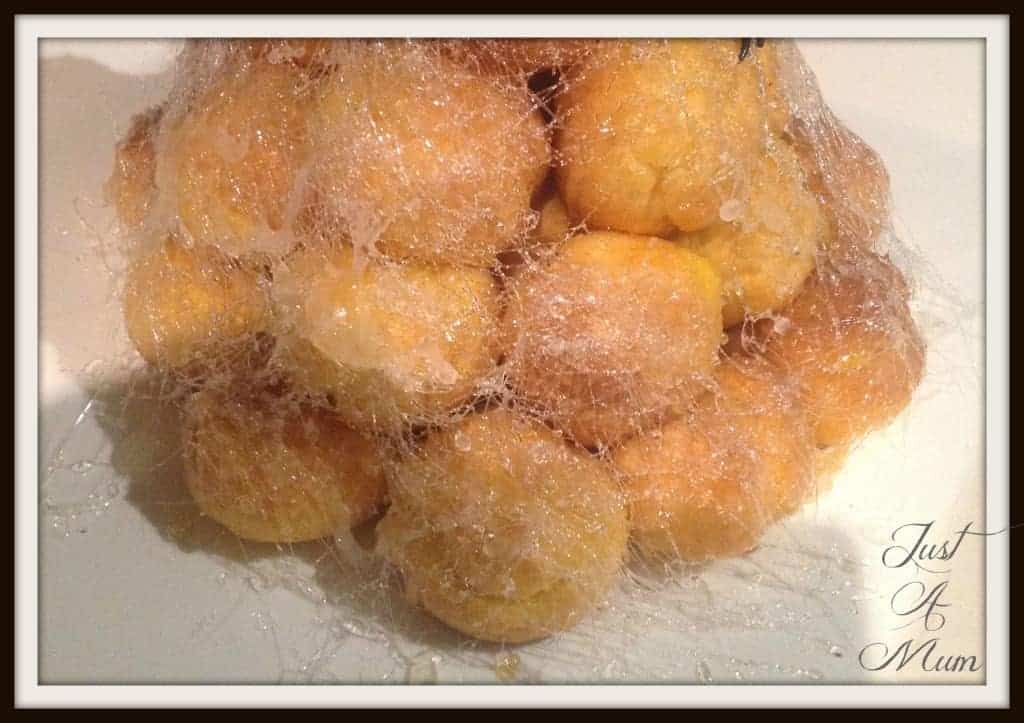 The recipe Alison uses for both of these is pretty universal, the steps are the same with some slight tweaks from recipe book to recipe book, but the technique and ingredients will be mostly standard. The profiteroles themselves are light and delicious and the crème is so delicious and creamy one will never be enough.
As we were having a Halloween Themed Party Alison turned them into a tiered Croquembouche with some spun sugar and the odd spider for a fun touch – but these could just have easily been dipped in chocolate and served chilled for a delicious afternoon tea or dessert treat. The sugar though gave it such a delicious crunch and texture that I suggest you give it a try too – you can stack them as done here or go the whole hog and try out a Croquembouche mould from your local kitchen store (most hire) and see how fancy and how high you can make it!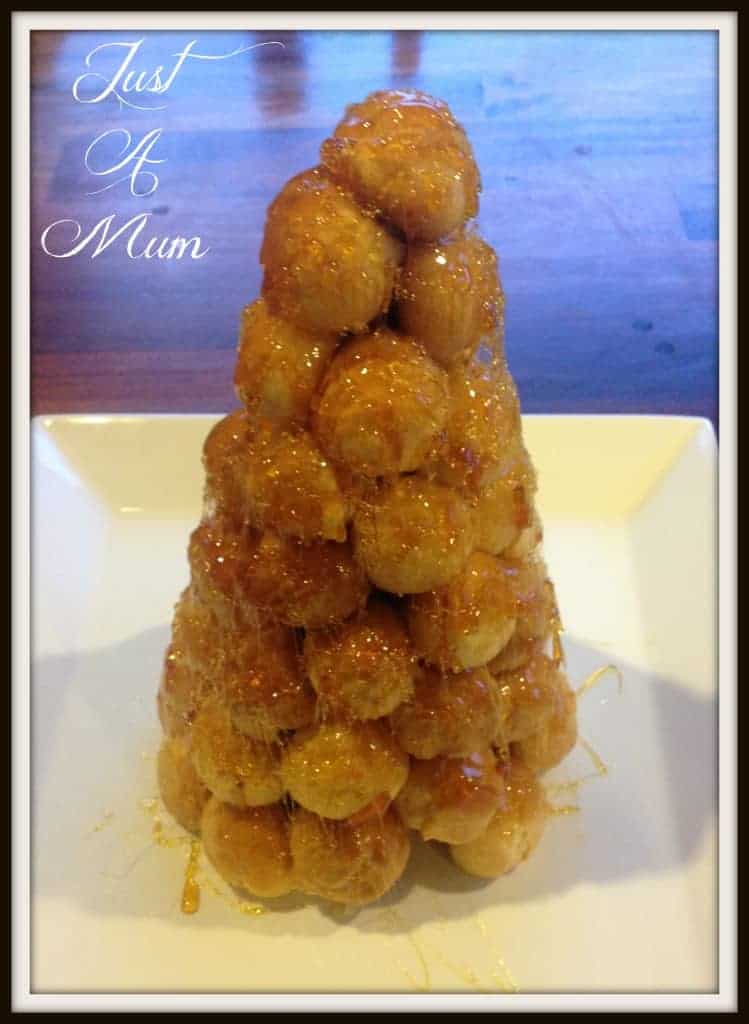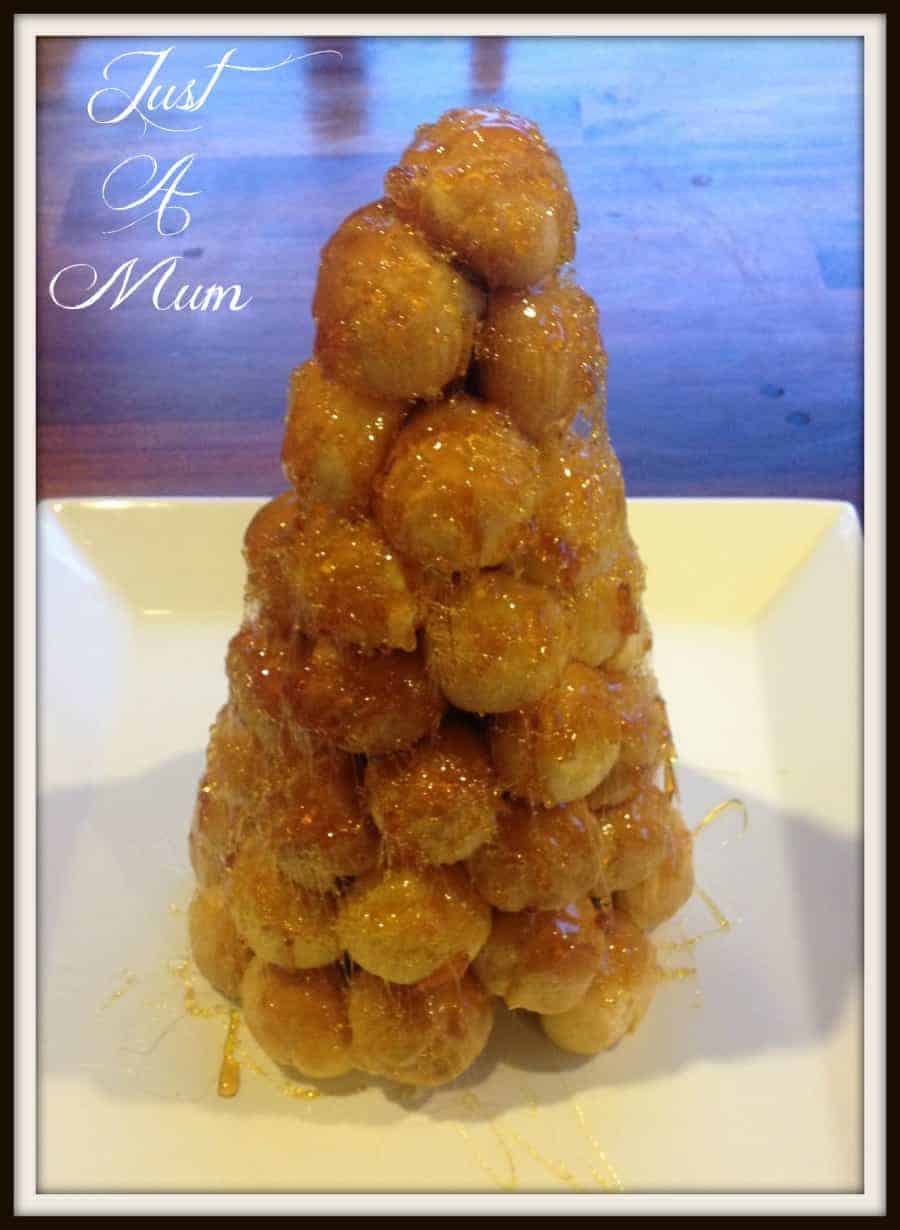 Again the recipe is quite simple with basic ingredients which as you know is important to me – you might like to make meringues, or Pavlova the same day as you will have a lot of egg whites left over OR I am delighted to learn today that you can freeze egg whites – who knew?? Easiest way to do this is to separate the egg over an ice cube tray and allow the egg white to settle in one compartment of the tray – so you know that one cube is one egg white. This should work for most size eggs – Jumbo size 8's may be too large. Once they have frozen remove them from the ice cube tray and store in a zip lock bag in the freezer until you need them – thaw them in the fridge and once completely thawed bring to room temperature before whipping them – gosh you learn lots at Just a Mum's place! 😉
Anywho – onto the recipe. Below will be the ingredients and instructions for both the profiteroles and the crème patissiere. The crème does need to completely cool before piping it into the profiteroles so you may even wish to make it first and have it cooling as it will take longer to cool that than the profiteroles.
So don't be wary – get stuck in and remember to send me photos of your gorgeous baking – whether it turns out gorgeous or not!

Profiteroles with Creme Patisserie
Ingredients
~~Profiteroles~~
1 Cup Water
100g Butter
¾ Cup Plain Flour
4 Eggs
(Dark Chocolate for Dipping if you are doing so)
~~Crème Patissiere)
2 Cups Milk
1 tsp Vanilla
4 Egg Yolks
⅓ Cup Caster Sugar (a fine white sugar)
⅓ Cup Cornflour (cornstarch)
~~Spun Sugar~~
2 Cups Sugar
1 Cup Water
Method
Preheat the oven to 200C
Prepare oven trays with a light spray of cooking spray or water and cover with baking paper - helps paper stick!
In a large Saucepan heat the butter and water over a low heat until it comes together and begins to simmer, stirring often.
Keeping the heat low add the flour to the butter and with a wooden spoon mix in well until smooth
Continue to cook the mixture until it comes away from the sides of the saucepan
Remove the pan from the heat.
Add in eggs one at a time mixing well with a wooden spoon in between each egg (good arm work out!)
Spoon the mixture into a piping bag (with no nozzle) tip - turn down the top 3rd of the piping bag down over your hand as you add mixture - then pull it back up - saves you getting mixture all over the place!
Pipe heaped tablespoon sized drops (approx. 3 tsp) onto your prepared tray - Alison's tip is to use a knife to cut off the drop from the piping bag - works well! (Or do longer 2-3 inch pipes for Eclairs)
Once you have even sized drops on your tray you can use a damp hand to slightly mould the drops if they are a little misshapen or have pointy bits from the piping bag
Cook in the middle of the oven for 30 minutes or until they are lightly golden brown
Turn off the oven and using a wooden spoon to hold the door ajar keep them in the oven for a further 15 minutes or until they are golden brown and sound hollow when you tap them.
Cool the profiteroles on a wire rack until completely cold.
~~Crème Patissiere~~
In a medium saucepan heat the milk and vanilla on a medium-high heat until it comes to the boil (stirring to ensure it does not catch)
In a medium bowl whisk together the egg yolks and caster sugar until thick pale and creamy (using a manual whisk not electric)
Add the cornflour and whisk to combine well.
Slowly pour the hot milk form the saucepan into the bowl of egg & sugar mixture, whisking the whole time well.
Once all combined pour the mixture back into the saucepan and put back onto the medium to high heat to simmer rapidly and whisking constantly (so it does not catch) for 5 minutes or until thick. Depending on your stove top take care with heat to ensure it does not catch the bottom - you may wish to reduce heat to medium/low
Once thick remove from the heat and place plastic wrap or baking paper directly onto the crème patissiere as shown below to prevent a skin forming and set aside to cool completely before piping.
~~To Pipe Crème Patissiere into Profiteroles~~
Put a thin tipped round nozzle into a piping bag
Fill the piping bag with the crème patissiere (folding down the top third of the bag over your hand when filling and bringing top back up with a twist to begin piping)
With a sharp knife make a small hole in the profiterole - depending on what you are doing with them decide where you want the whole - if dipping in chocolate make it on the top where the chocolate will hide the whole if making a croquembouche then you might want to make the hole in the bottom or on the side of the bottom as we have done here - or you can do it with the end of the piping nozzle but sometimes this may squash the profiterole.
Then insert the nozzle with the crème and gently squeeze the filling into the profiteroles until they are full.
Once they are filled refrigerate them until you are ready to ice or plate up.
~~For Spun Sugar~~
Place sugar and water into a saucepan
Stir over a medium heat until sugar dissolves
Boil without stirring for 8-10 minutes until light golden and remove from the heat (CAREFUL HOT!)
If you are dipping in toffee to make stack and for joining or as the icing carefully dip profiteroles into the toffee - careful not to burn fingers!
If you are creating spun sugar for the outside of the stack use a fork - dip it in the sugar and drizzle the sugar the stack for the look you are after.
~~Dipping in Chocolate for Éclairs or Profiteroles~~
Melt Dark Chocolate in the microwave, stirring every 20 seconds
Dip the profiteroles in up to a third and put aside to set.
Store completed goodies in the fridge until you are ready to serve with no lid in case of sweating
Here are some step by step photos to help as well…..
So I know that seems like a long recipe – but I assure you the steps are all easy! You will need a bit of time – but the cooling times of things takes longer than the prep.
So go on – give it a try and let me know in the comments or on my Facebook page if give it a try. I would love to see your photos of your creations too!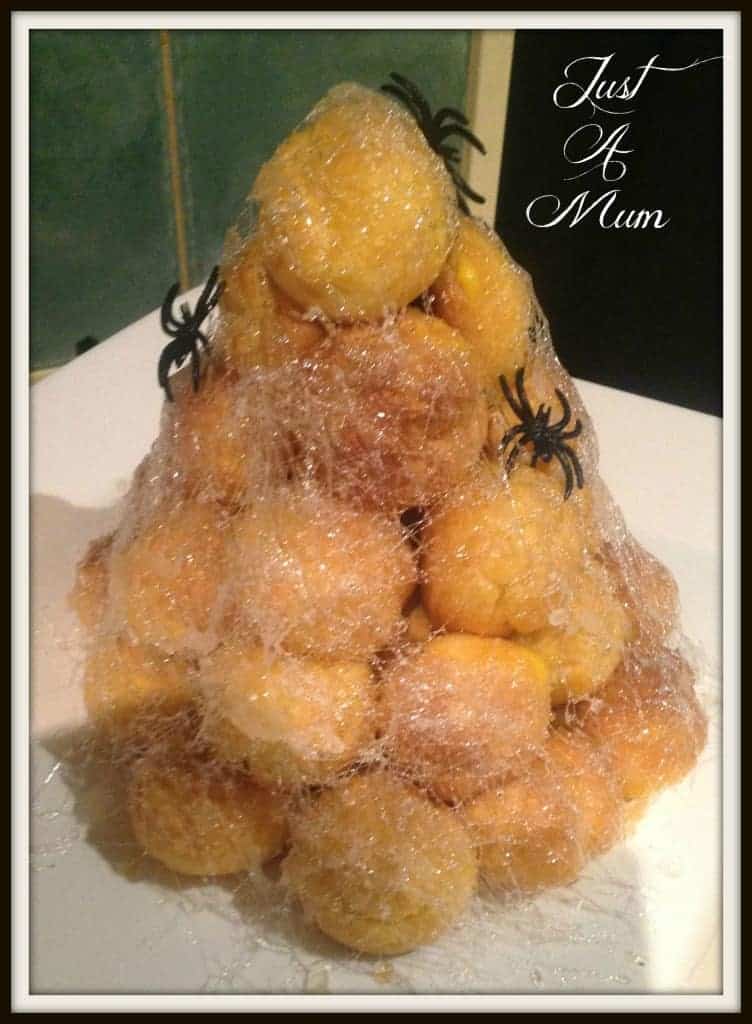 You can follow me on Facebook Here and see more delicious recipes by checking out the sweet treats tab above.
Happy Baking!
Anna 🙂