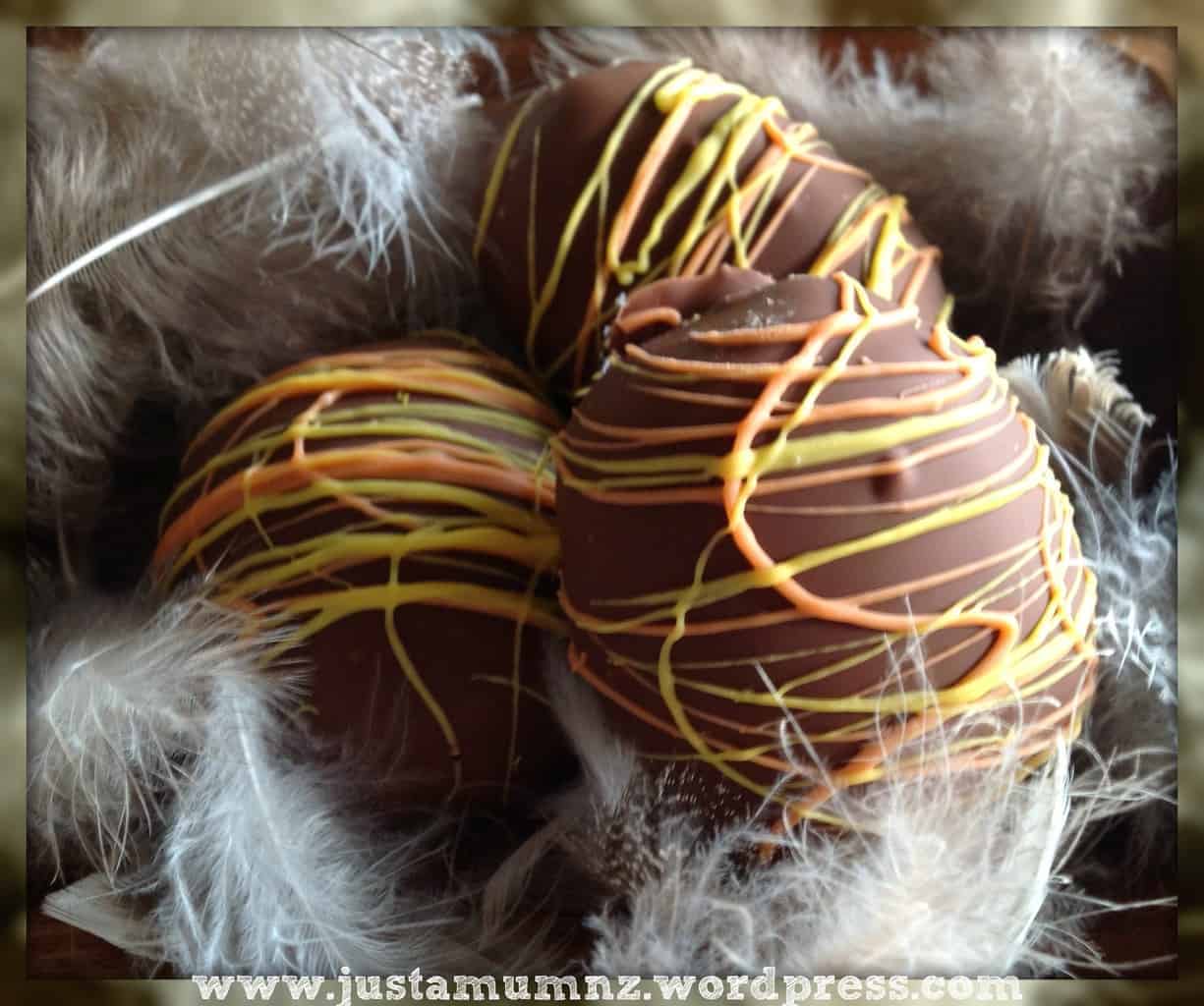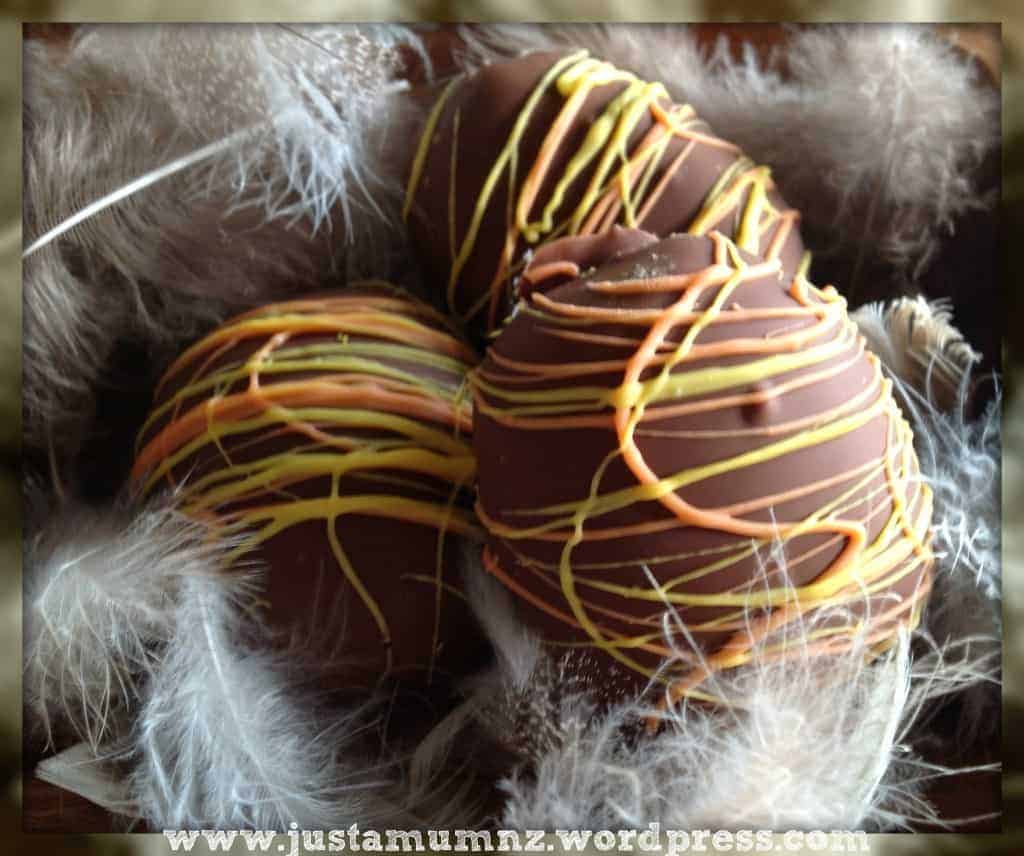 When I was thinking of what Easter Treat I could make this week I remembered making these when I was in school many years ago and thought I had to give them a go and I am really pleased with how they turned out!
I used an uncooked coconut ice recipe so it as really easy for the kids to make as well and easy to work with as it is cold.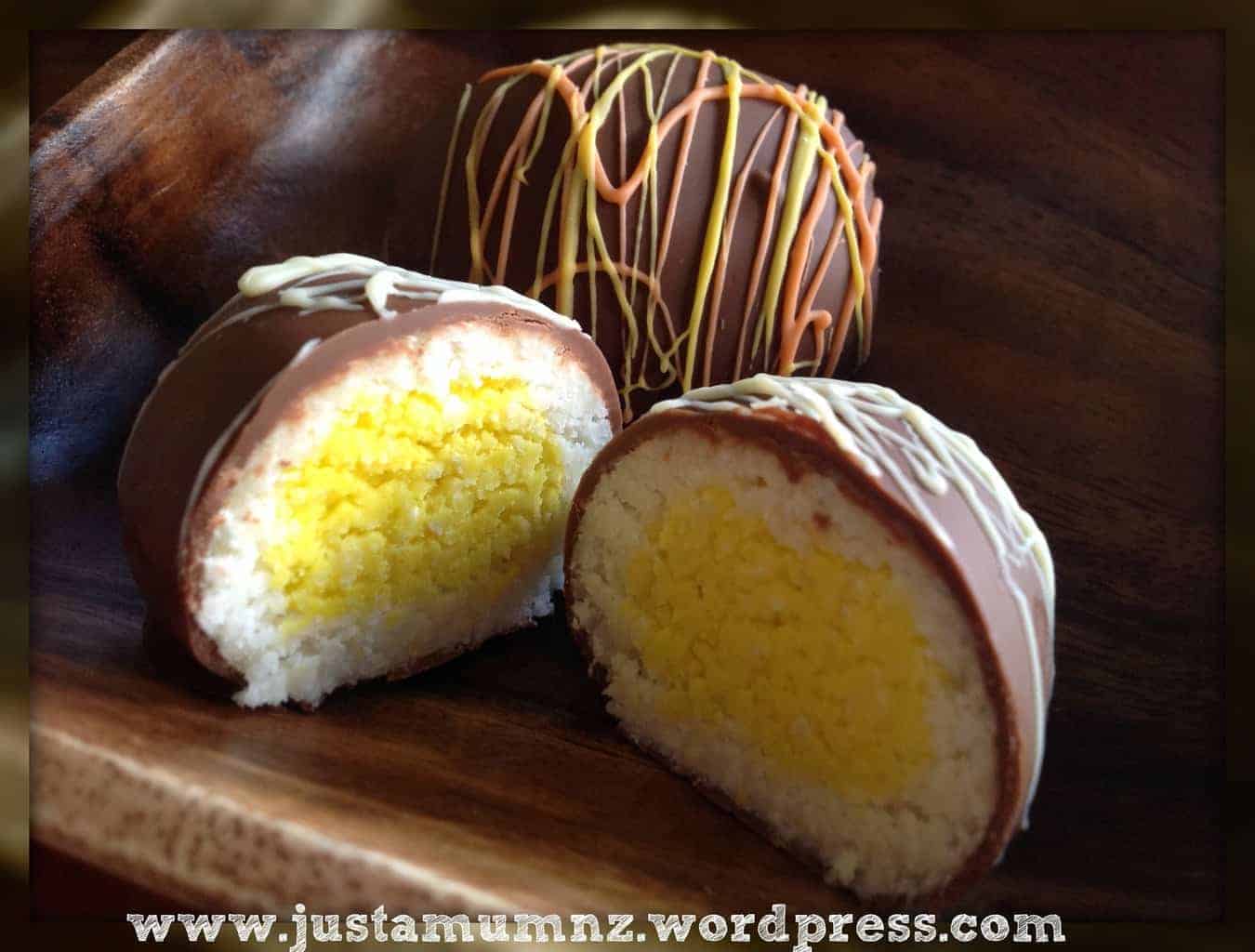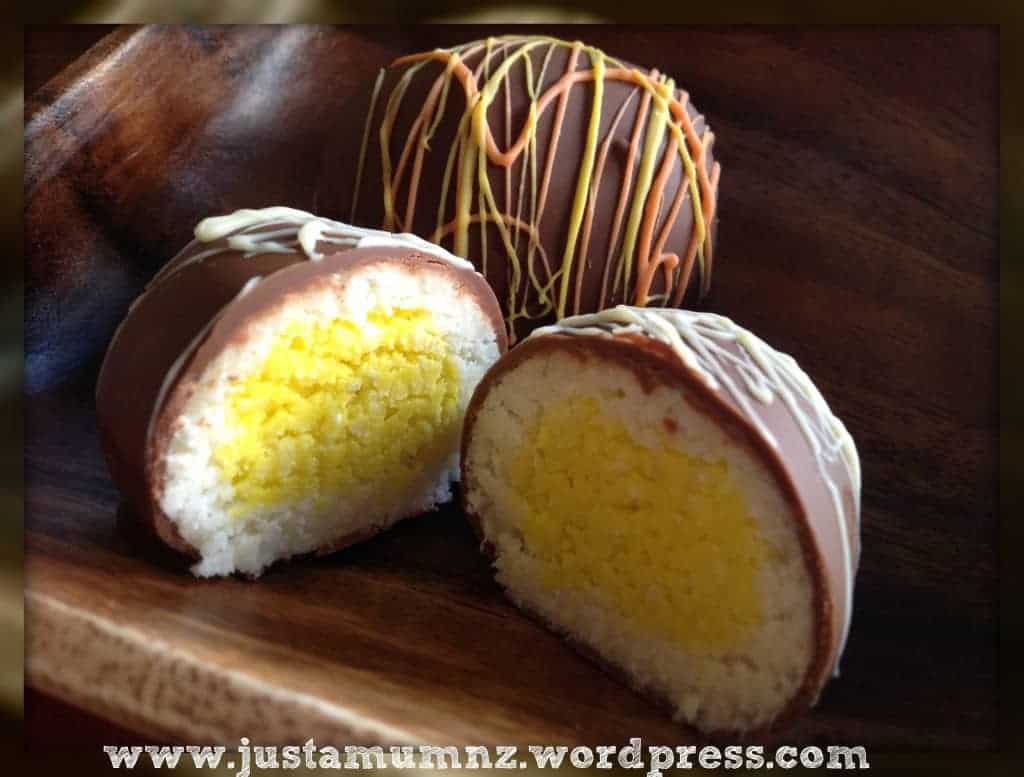 So here are my spin on a Coconut Ice Easter Egg, complete with a yellow yolk and chocolate coating.
Please note – I halved this recipe today – it made 10 eggs reasonable sized eggs, if you are making this whole amount you will need to use a larger tray to place eggs on. You could easily make them smaller too so the recipe will go further 🙂
Ingredients
3 1/2 Cups Icing Sugar
3 Cups Desiccated Coconut
1 tin Condensed Milk (400g)
1 tsp vanilla essence
Yellow food colouring
Chocolate for Coating – Milk or Dark & White for the fancy schmancy decoration
(Optional – white chocolate powdered colours)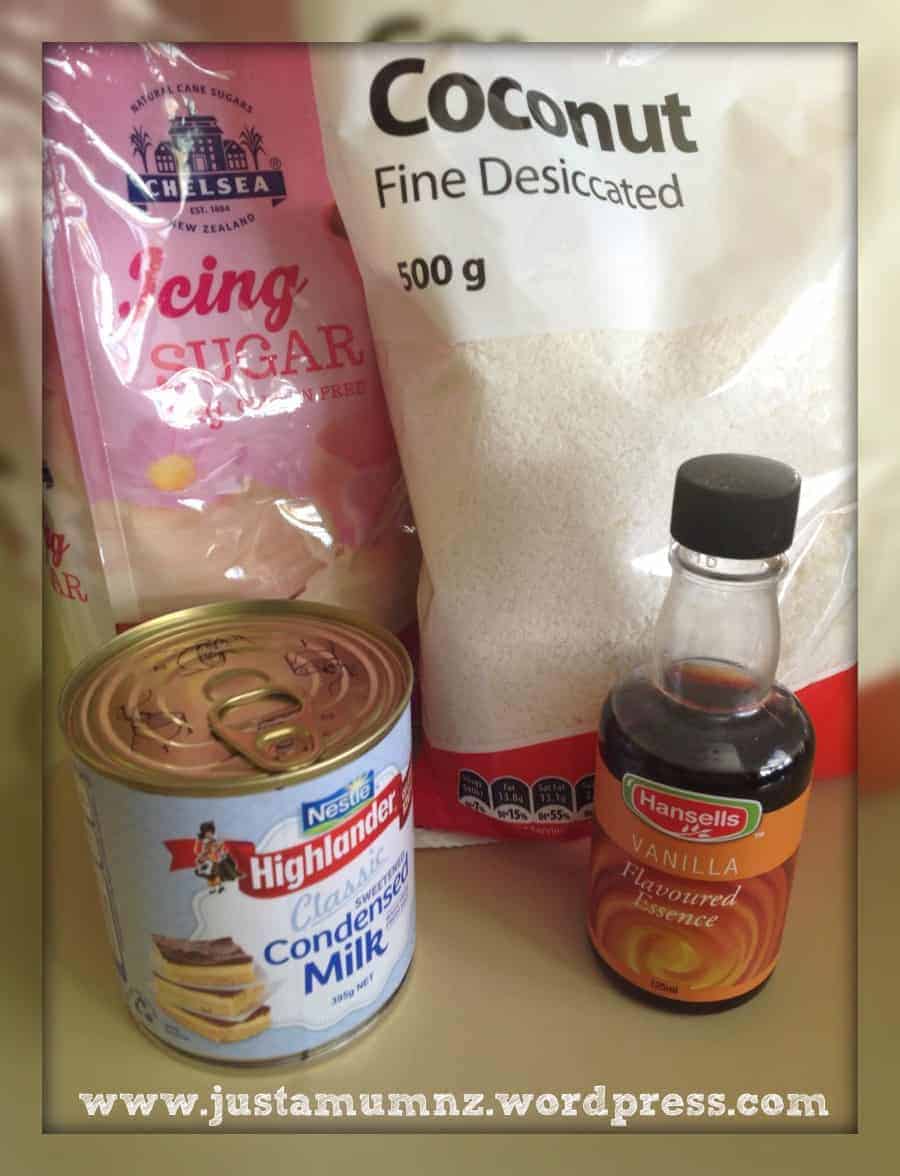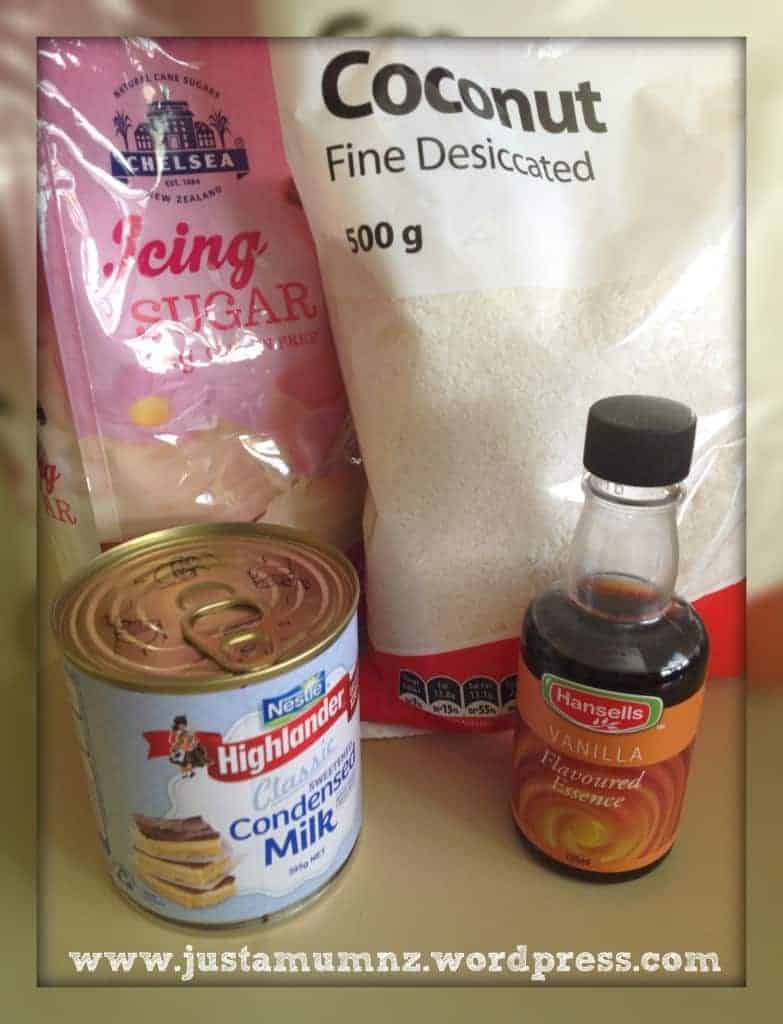 Method
Combine the icing sugar, coconut, condensed milk and vanilla in a bowl and blend well. Once it begins to come together use your hands to kneed it until completely combined.
Take 1/4 of the mixture and pop this into a separate bowl and add a few drops of yellow food colouring. I also mixed this with my hands but be prepared for your skin to go a little yellow too! 🙂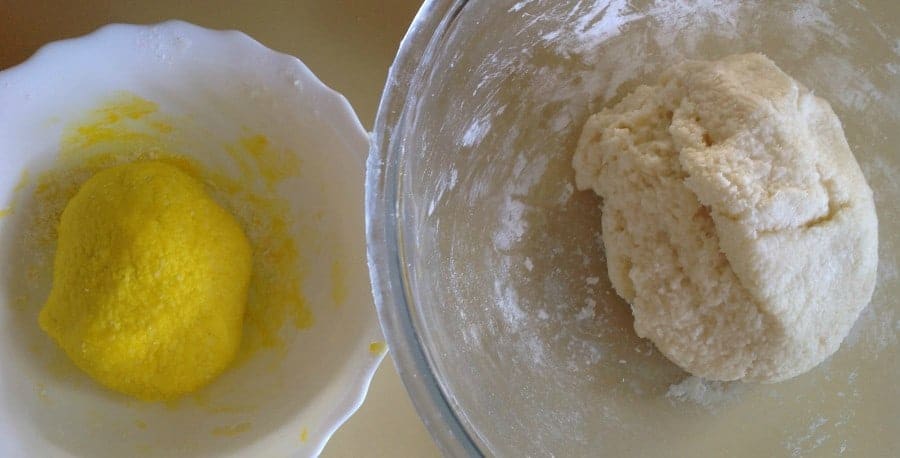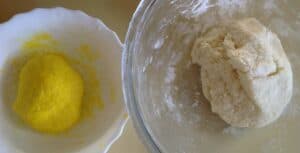 Take a teaspoon sized piece of yellow coconut ice and roll it into a ball, repeat with remaining mixture.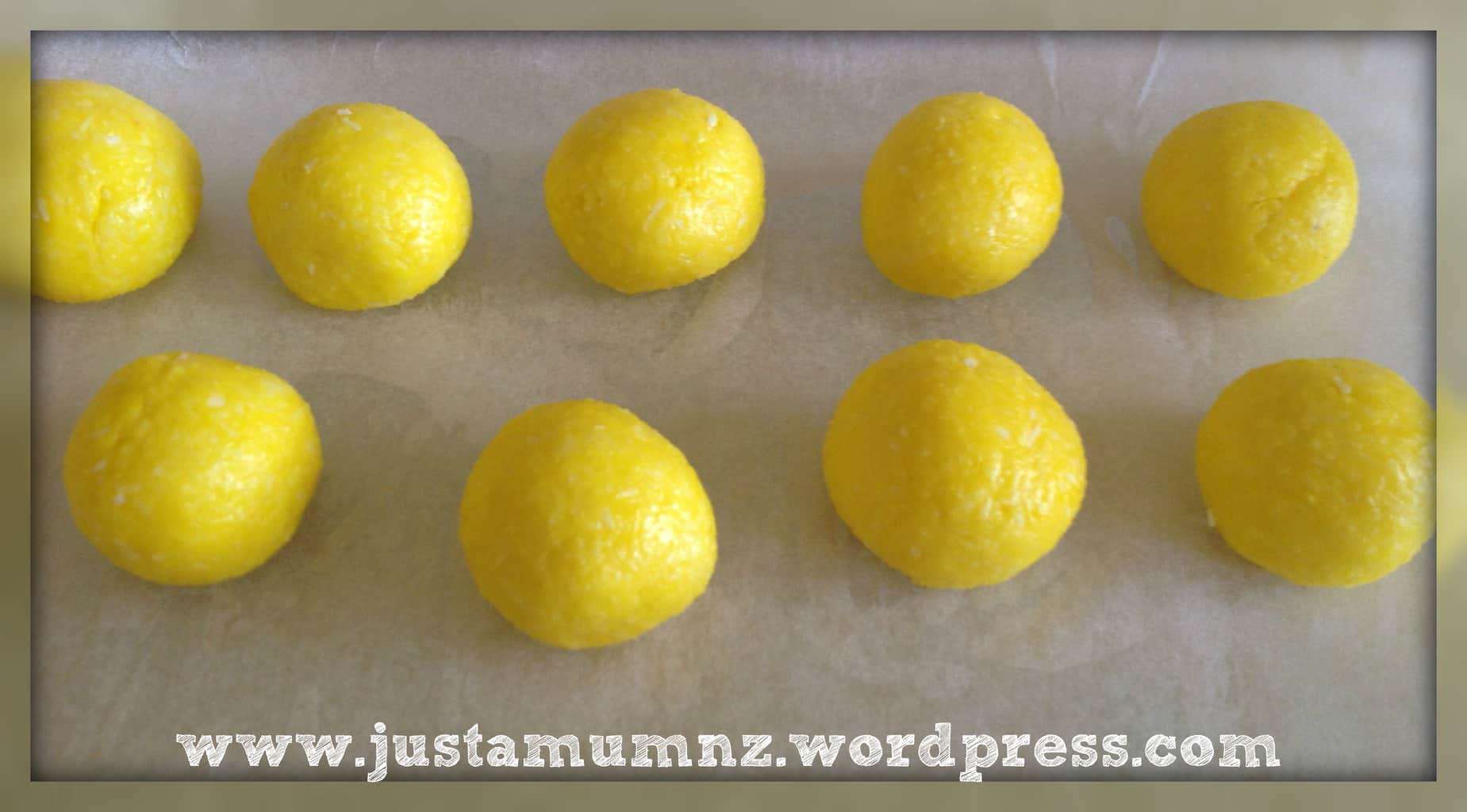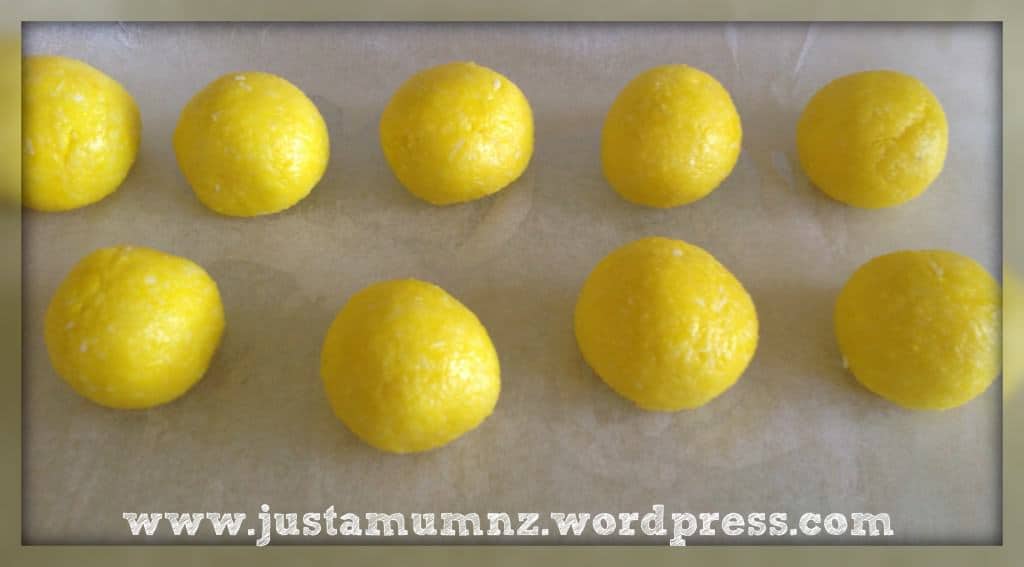 Take a large tablespoon sized piece of the white coconut ice and pat it flat in your hand and pop the yellow ball inside. Gently mould the white around the yellow and once all covered in gently roll it in your hands until you get a round ball – then gently squeeze the ball to make it more egg shaped.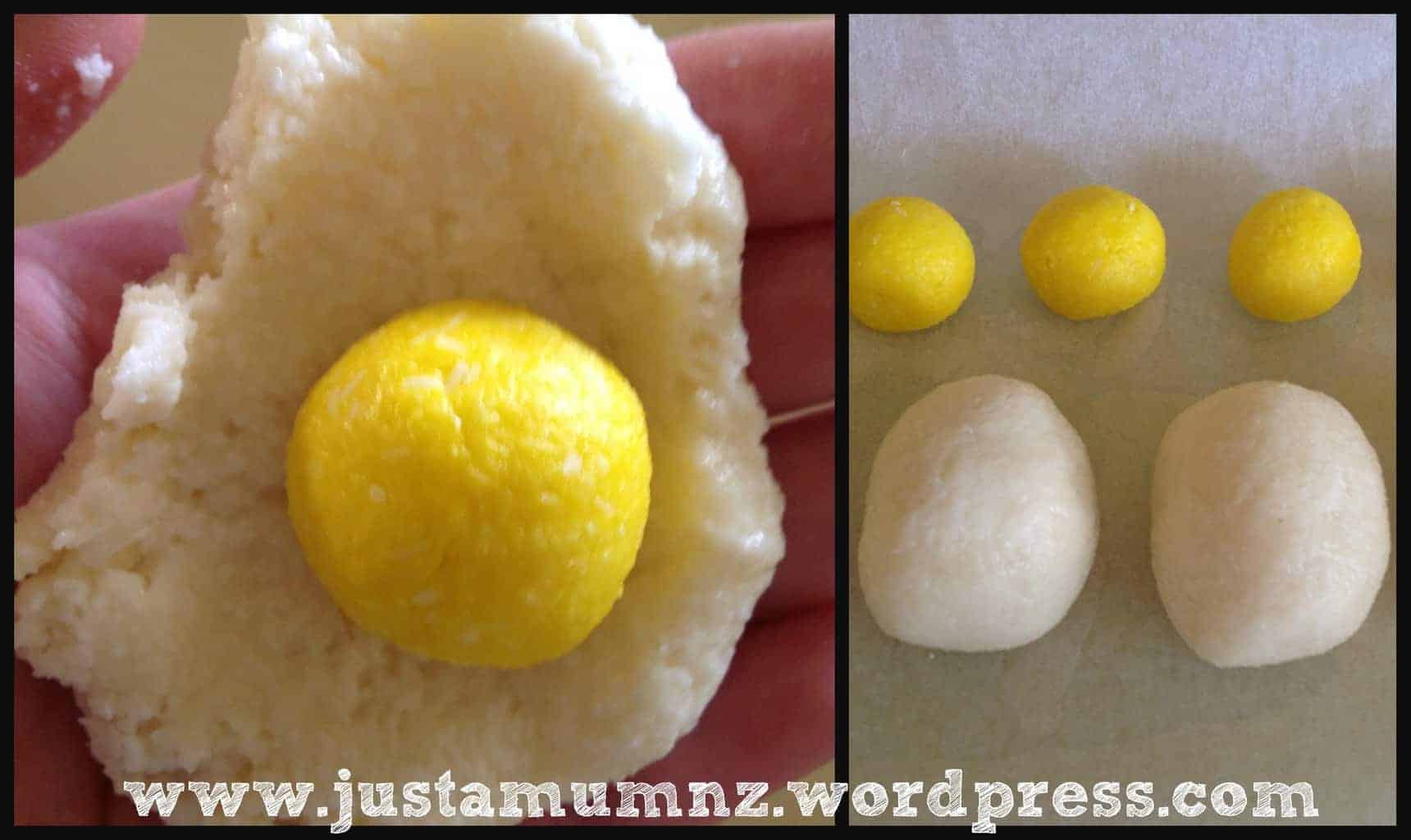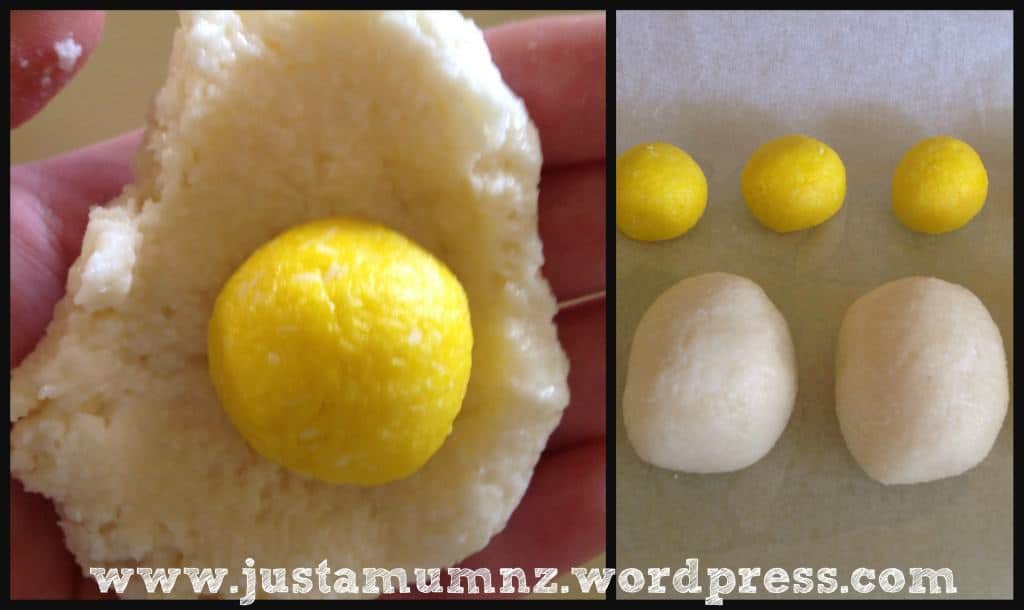 Pop the completed eggs on some greaseproof paper and refrigerate for 10-20 minutes until set.
Melt 200g of Milk or Dark Chocolate (I used Whittakers Creamy Milk – yum!) in the microwave in 20 second bursts until the chocolate has completely melted.
Drop the egg into the chocolate mixture and using a spoon turn the egg to completely cover with chocolate. Using the spoon carefully lift the mixture and hold it over the melted chocolate until most of the drips come off then lay it on the greaseproof paper. It does not look flash but that is why I am Just a Mum and not a professional chocolatier! 😉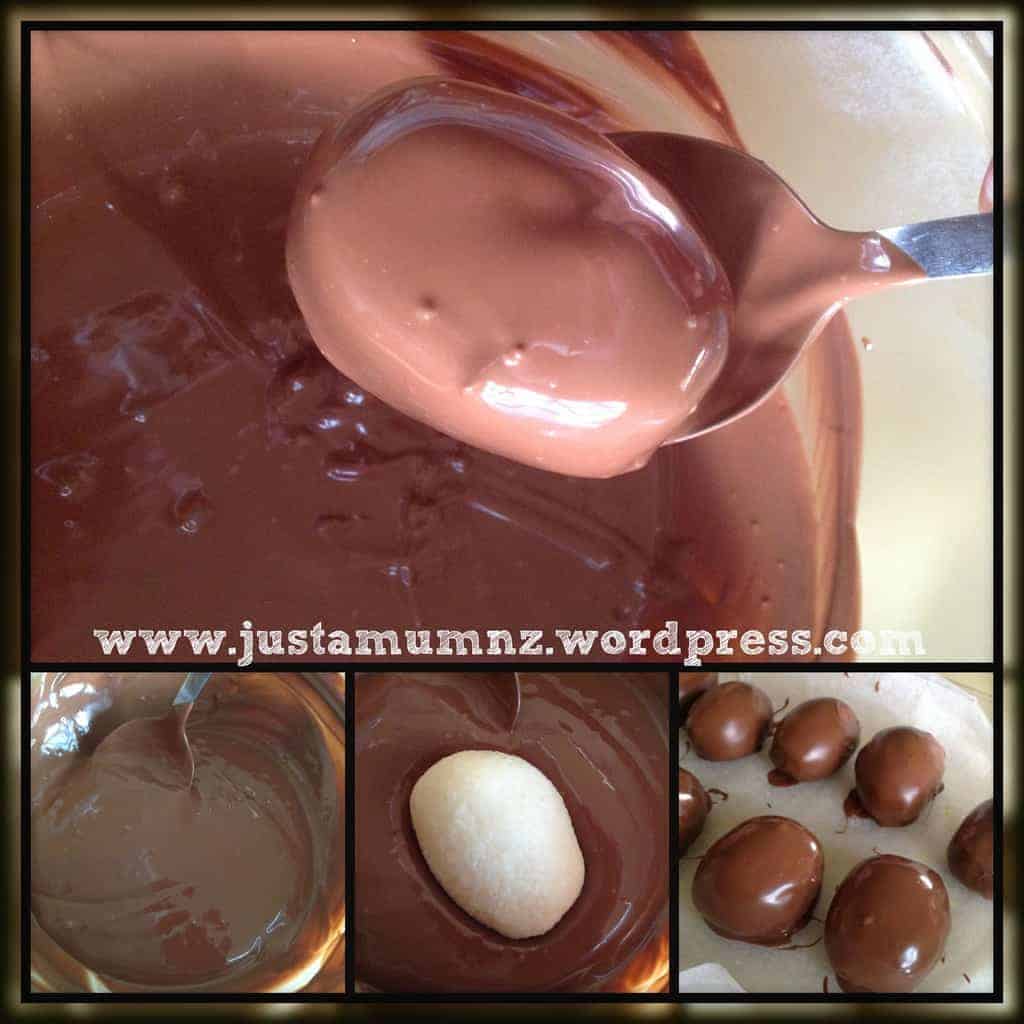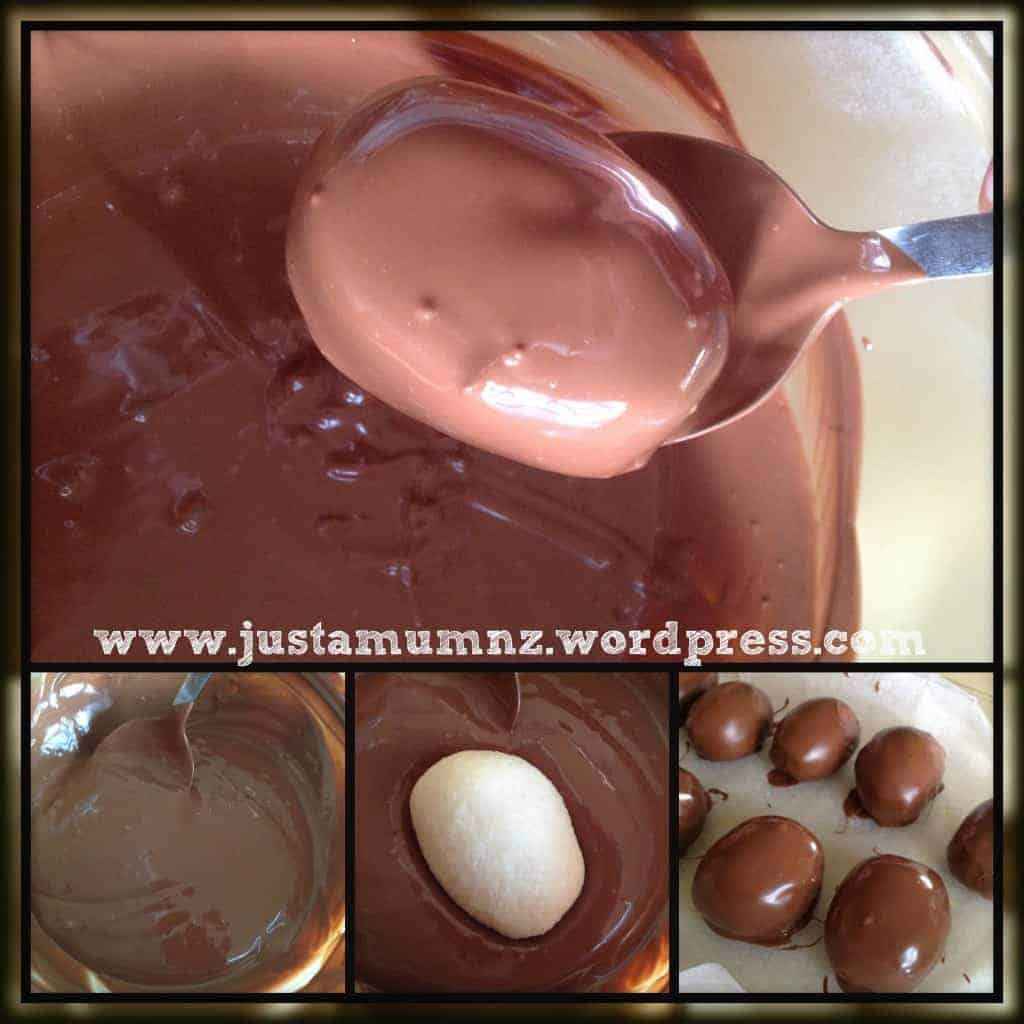 Pop the chocolate covered eggs back in the fridge. They look great just as they are and would make any person old or young happy just like that. But if you want to make them look a little more festive, melt 50-100g of white chocolate in the microwave in 20 second bursts until completely melted.
Using a teaspoon take a scoop of the chocolate and hold it about 30 cm above the eggs and begin to quickly flick the spoon back and forth – with a bit of luck, it will leave strings of chocolate across the eggs! If not it will leave large blobs of chocolate and a bit of swearing but that is fine too as really we are not planning on winning awards with our Easter Eggs!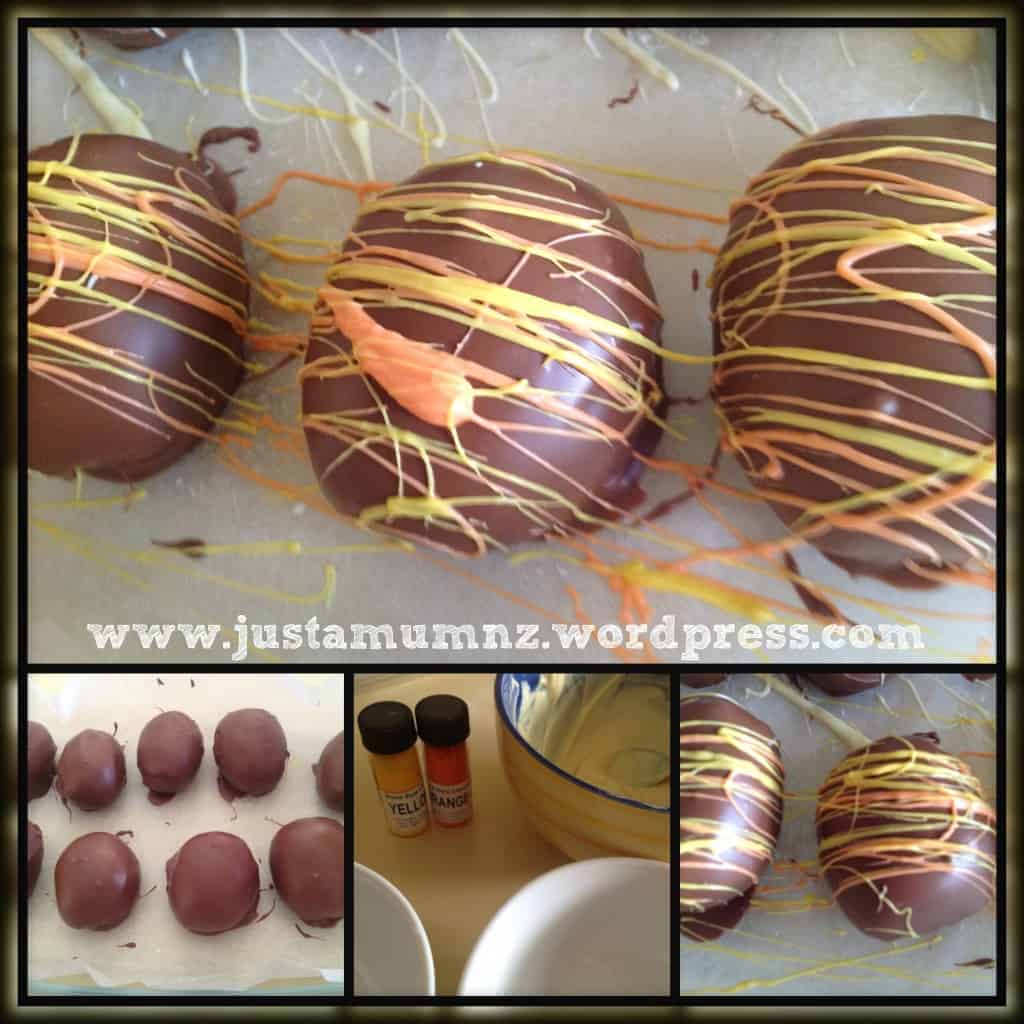 Chill the Eggs until you are ready to serve – the chocolate will not keep for long outside the fridge so store them in an airtight container in the fridge until you need them. How cool do they look!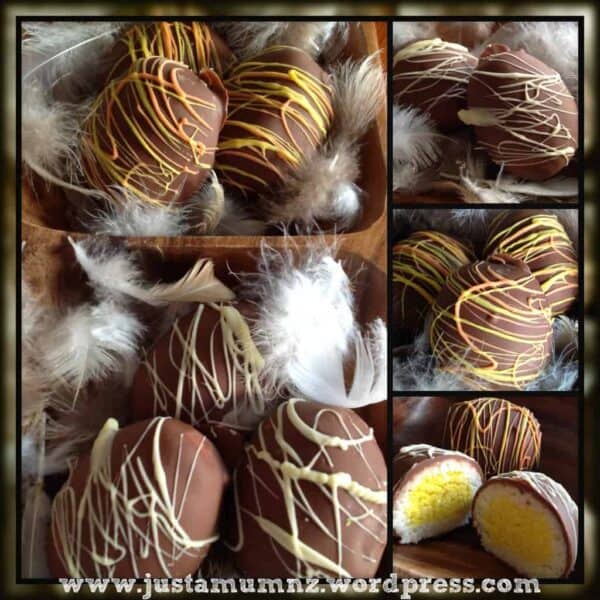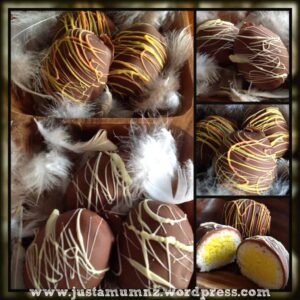 I have in my stores the proper white chocolate powdered colouring, I highly recommend it as it was quite reasonably priced (bought from Trade Me) and has lasted for ages as you use so little. You cannot colour white chocolate with regular liquid food colouring as it will spoil the chocolate.
Thanks for stopping by and checking out my Coconut Ice Easter Eggs – I would love to hear from anyone who has made these before and if these are how they remember doing them.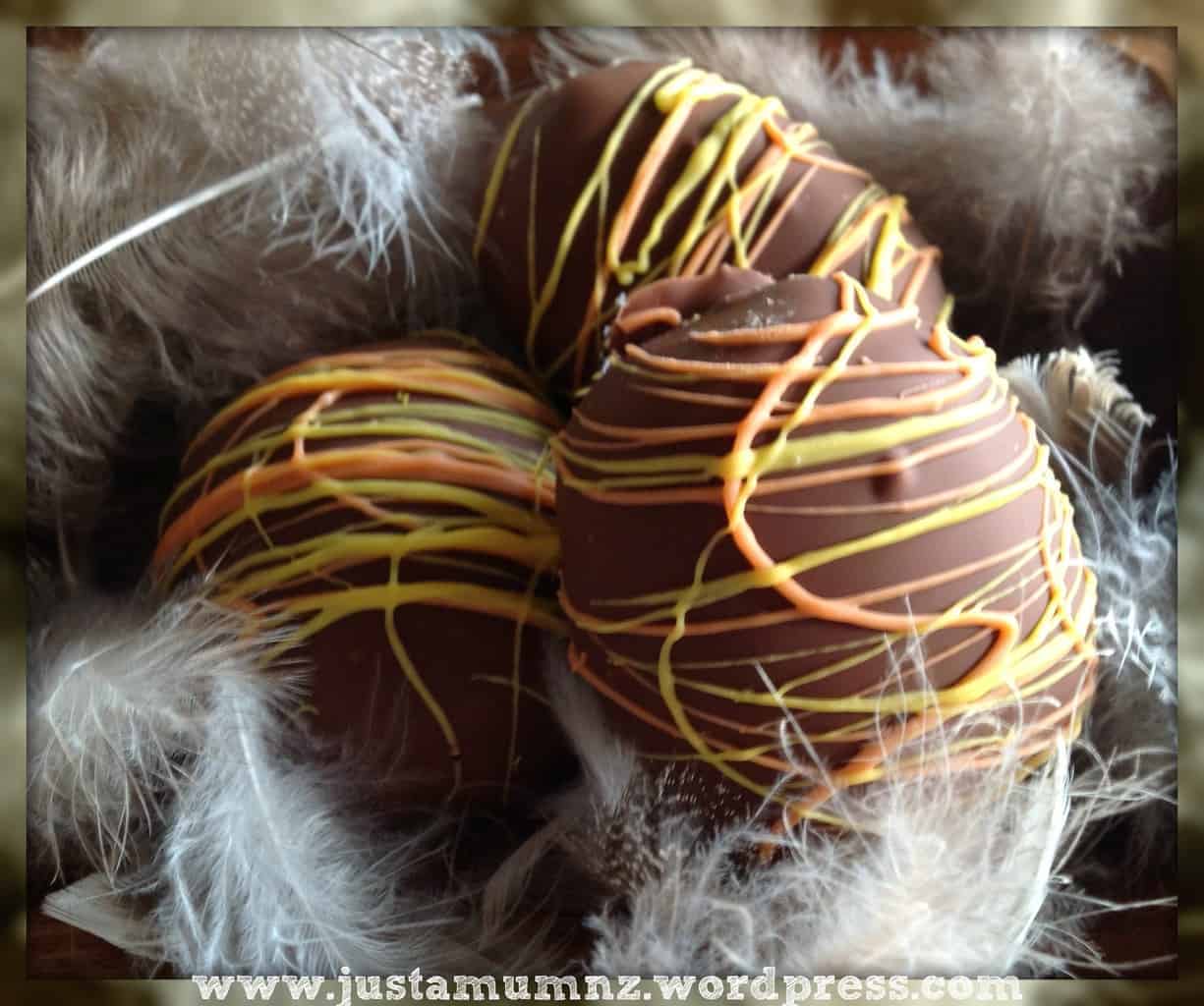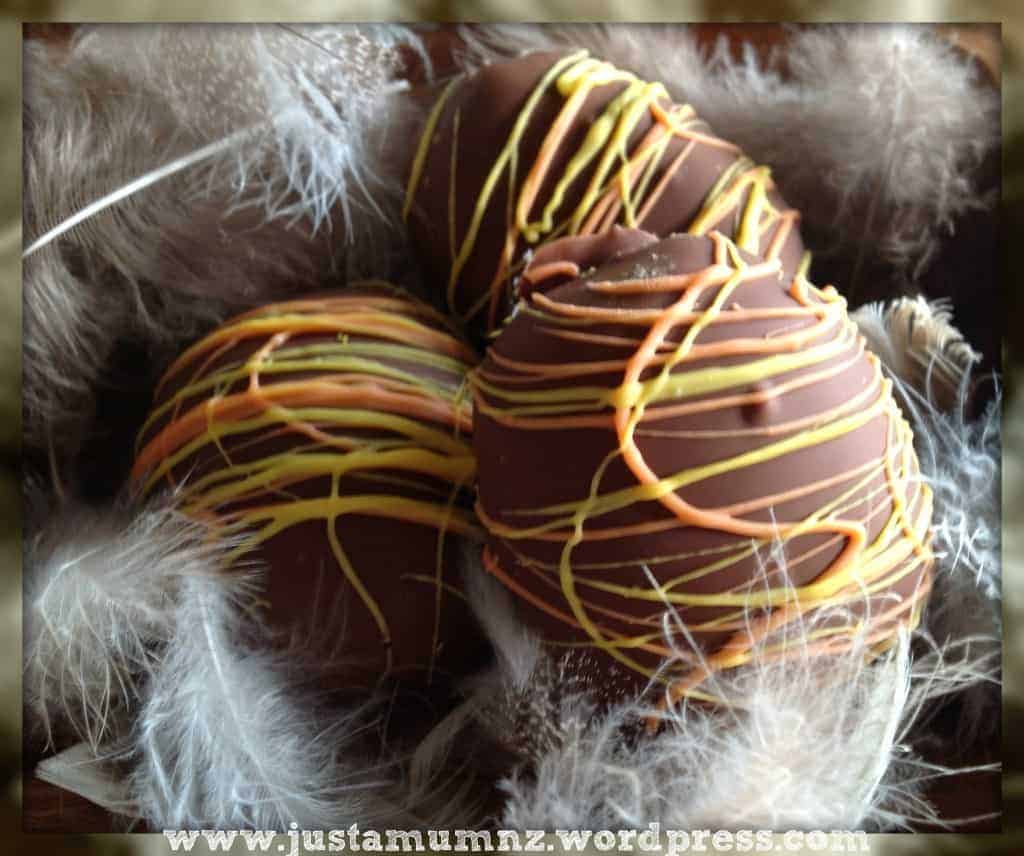 Feel free to have a good look around the blog for more recipes & fun kids activities and you can follow me by registering your email above, or check me out on Facebook & Twitter to get my latest recipes as I post them.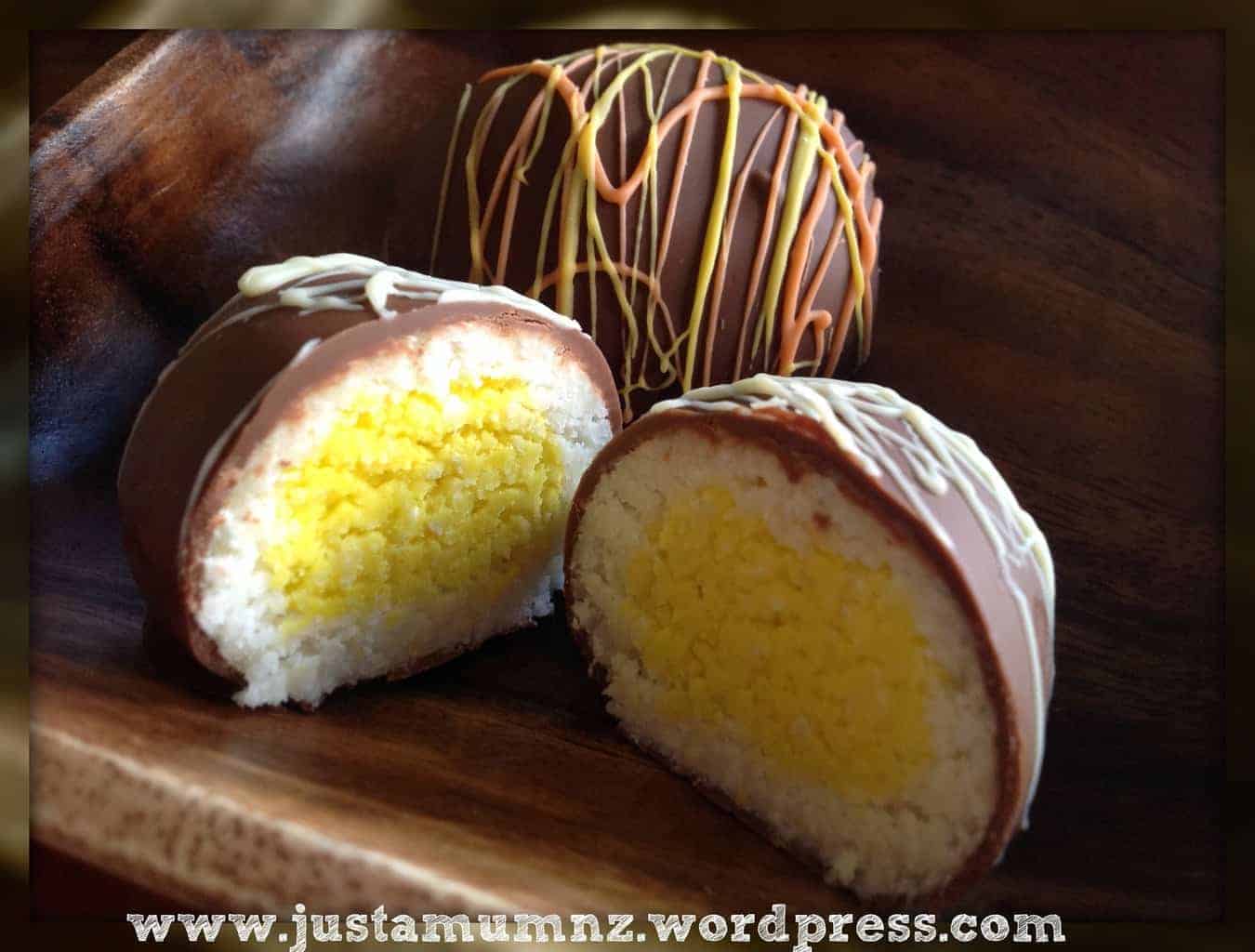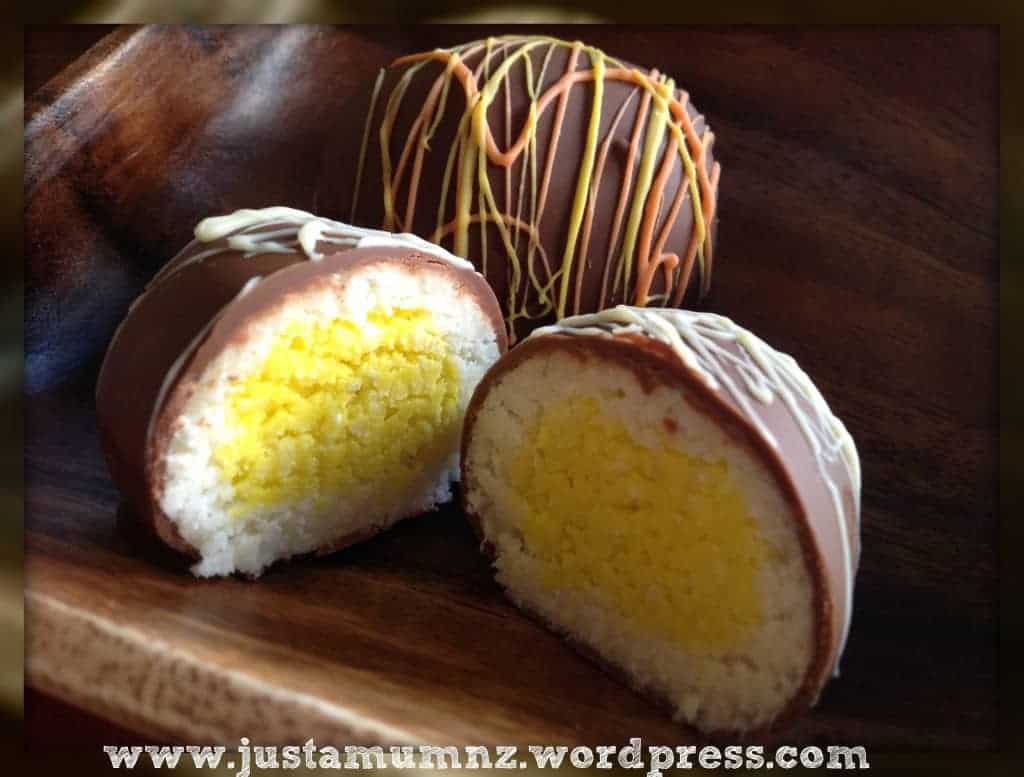 Happy Easter! 😀
www.facebook.com/justamumnz
www.twitter.com/justamumnz