I am a firm believer that you can never have to many easy recipes at your fingertips! Which is why I created this blog. To share recipes that I enjoy making so that you need never worry about where to go to find great recipes. In fact while you are reading this notice the search function just to the upper right of this paragraph, pop in your favourite ingredient, whether it is chocolate or lemon, cornflakes or coconut and see what comes up! So with that in mind I have been wanting to share this easy no bake chocolate slice for a while. When its a matter of crushing some biscuits, melting some chocolate and mixing a few other ingredients together I am pretty sure we can all cope with that!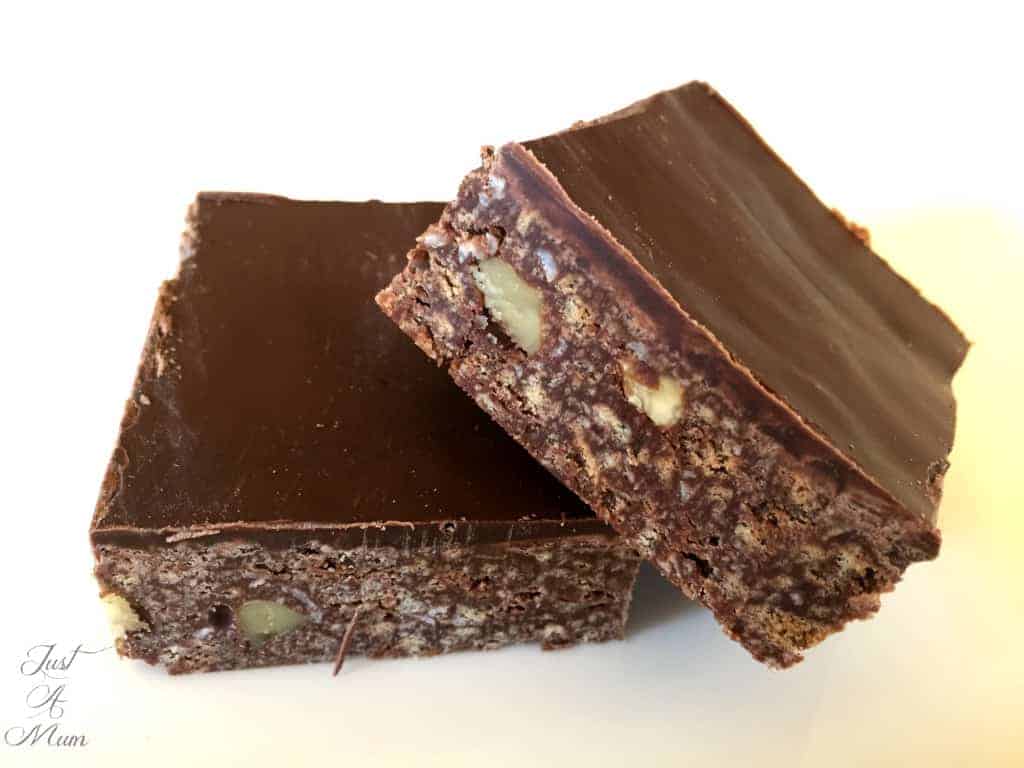 There are so many variations around, all called different things, biscuit slice, hedgehog slice etc so I just went with the worlds most simple recipe name here, my inspiration brain cell appears to have gone on holiday today, as I have always just called it Chocolate Slice.
I have used simple dark chocolate cooking drops for this recipe, but if you want it to really stand out in flavour I would recommend using your favourite block of dark chocolate! It does taste nice with just drops but it would taste AMAZING with a gorgeous flavourful block of chocolate. So I will leave that up to you.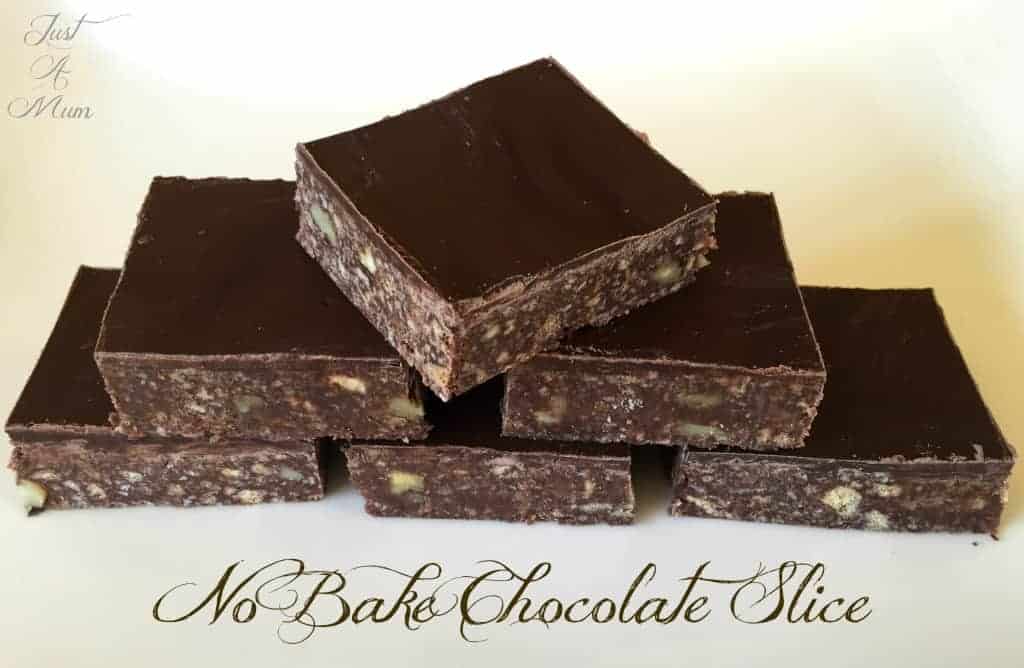 There are a few little steps to creating this slice, crushing the biscuits and two lots of melting, but they are all quick and simple using basic household ingredients so in no time you can have a gorgeous easy slice to serve. I included walnuts, but consider jazzing it up with some diced dried apricots, cranberries, pistachios or even white chocolate drops! It is a super versatile slice so feel free to play around with it and let me know your tasty combinations.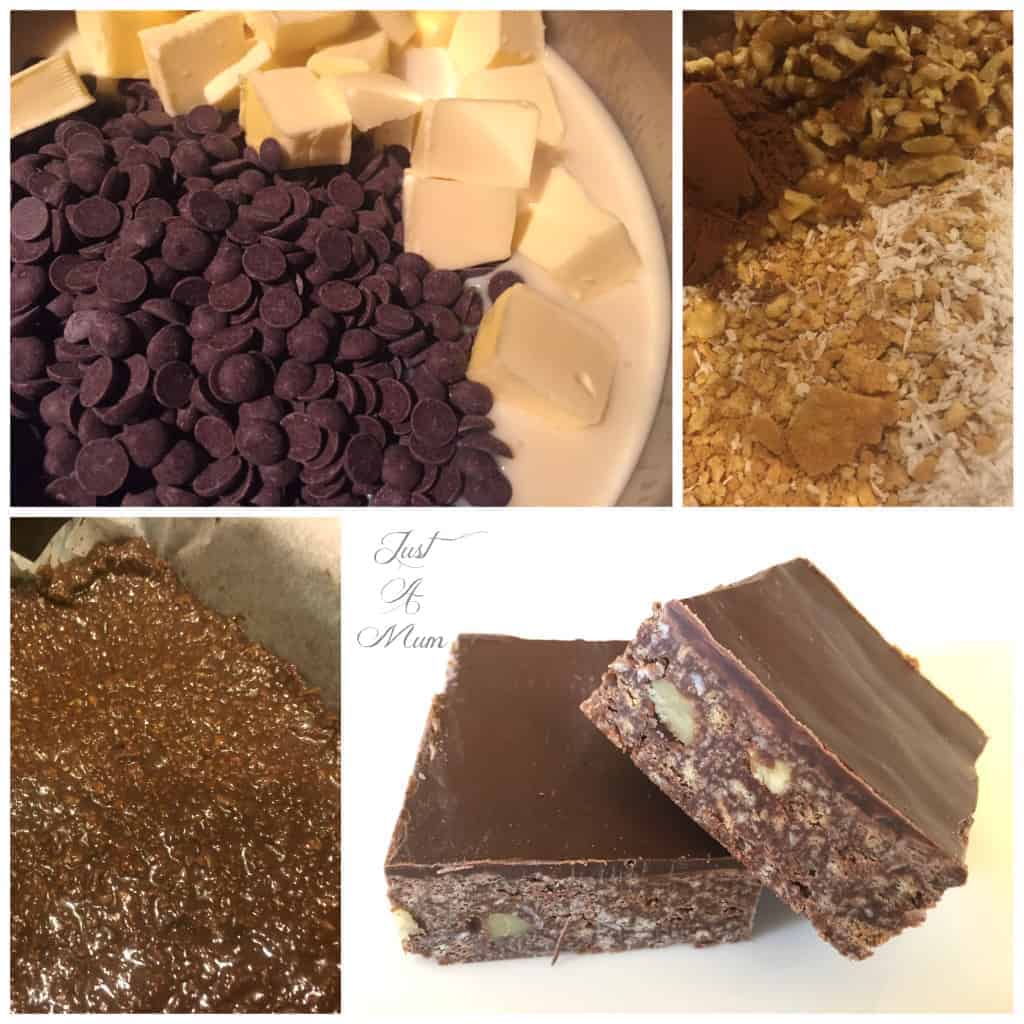 Read on for the recipe…….

No Bake Chocolate Slice
Ingredients
250g packet of Plain Biscuits (I use Superwines)
½ Cup (40g) Desiccated Coconut
½ Cup (55g) Coarsely Chopped Walnuts
2 TBSP Cocoa Powder
1 cup (150g) of Dark Chocolate (Melts, Drops, or your favourite dark chocolate block)
100g Butter
395g Can Sweetened Condensed Milk
~~Chocolate Icing~~
1 ½ Cups (225g) Dark Chocolate (Melts, Drops, or your favourite dark chocolate block)
1 TBSP Vegetable Oil
Method
Prepare a 25cm square slice dish or baking tin with greaseproof paper (I always give my tin a quick spray with cooking oil then line with paper so it sticks nicely) and set aside.
Using a food processor roughly crush the biscuits (or pop them in a ziplock bag and bash them a bit with a rolling pin) You want them all sizes not fine and set aside.
Roughly chop your walnuts and set aside also.
In a large saucepan slowly melt together the chocolate, butter and condensed milk, stirring often to ensure it does not catch until butter completely melted and ingredients blended together.
Allow the mixture to cool slightly, then add to this the biscuits, coconut, walnuts and cocoa powder and mix thoroughly.
Pour mixture into the prepared pan and using the back of a large spoon spread it around and flatten mixture until it is completely smooth and packed tight.
Put the biscuit base in the fridge to cool for 30 minutes
~~Chocolate Icing~~
You can prepare this either on the stove top in a double boiler or in the microwave. Quicker and easier to use microwave.
Place the chocolate in a medium sized microwave proof bowl
Heat for 30 second bursts, stirring in between until the chocolate is completely melted and smooth.
Add the oil to the chocolate then pour over the cooled biscuit base. (The Oil is to prevent the topping from cracking!)
Place back in the fridge for a minimum of 30 minutes to set completely.
Slice using a sharp knife & Store in an airtight container until ready to serve.
And there you have it! One handy no bake recipe to have on hand when you have not much time or patience for fancier stuff! And the best bit is you just know people will love it!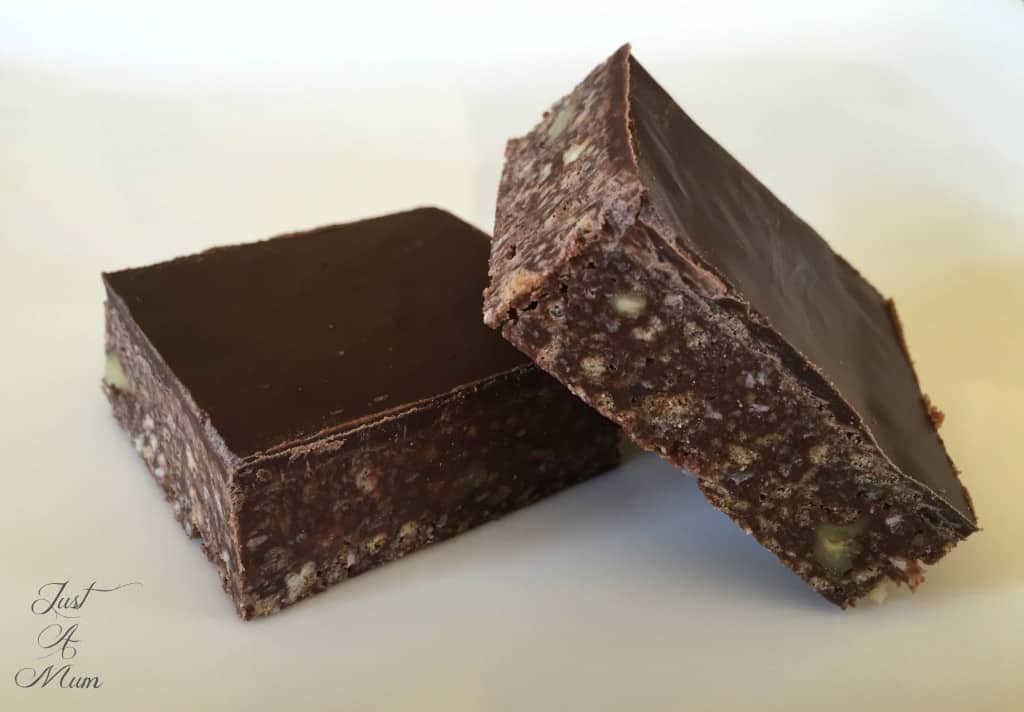 Thank you so much for stopping by to view this recipe, please do check me out on Facebook and also feel free to add your email address to the side panel where it says Subscribe Here so that you can receive my recipes as I post them 🙂
Happy Baking!
Anna 🙂