I have ALWAYS wanted to make one of these, well always since I had one a few years ago and thought it was the best thing since sliced bread!!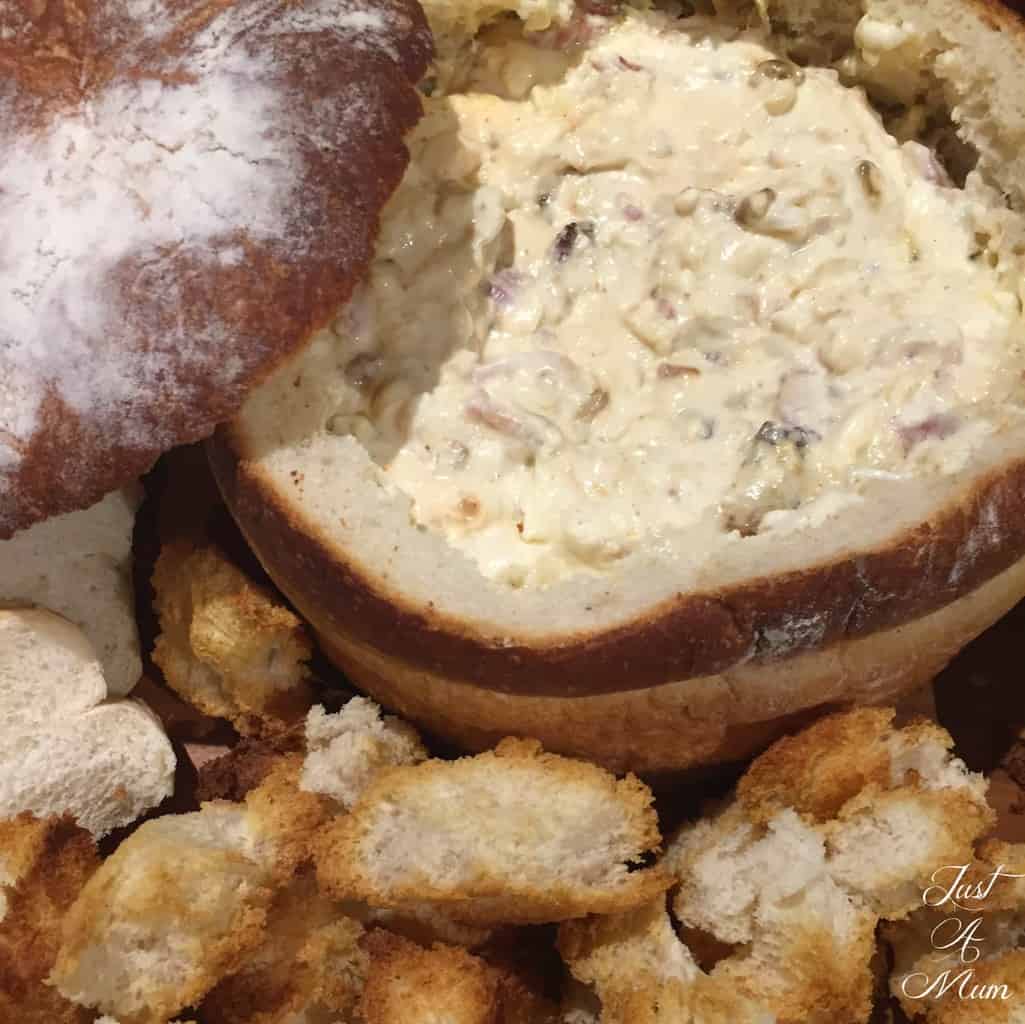 Basically it is cheesy creamy dip in a loaf of bread baked to create cheesy gooey deliciousness that has no redeeming health benefits at all but oh boy will you be the hit of any party you take it along to.
Its also a pretty forgiving recipe, everyone has their version and you can mix things up quite a bit, if you are an onion lover additional spring onions or chives is the way to go, you could even add a big dollop of creamy onion dip in place of some of the cream.
The key is finding a gorgeous loaf to hold it all together, I used this beautiful sourdough cob loaf from our local grocery store, or you can use a plain cob loaf and I highly recommend Rewena bread too!
The loaf wants to be a lovely big solid one, the basic idea is you scoop out the soft insides of the loaf leaving a good amount of crust to hold all the dip, then mix together all the ingredients, pop the dip in the loaf then bake the loaf in the oven and serve! So simple and oh so delicious. The bits of dough you earlier took out can be popped in the oven and baked at the end to act as "dippers" and I serve mine with thinly sliced baguette as well as it's a lot of dip!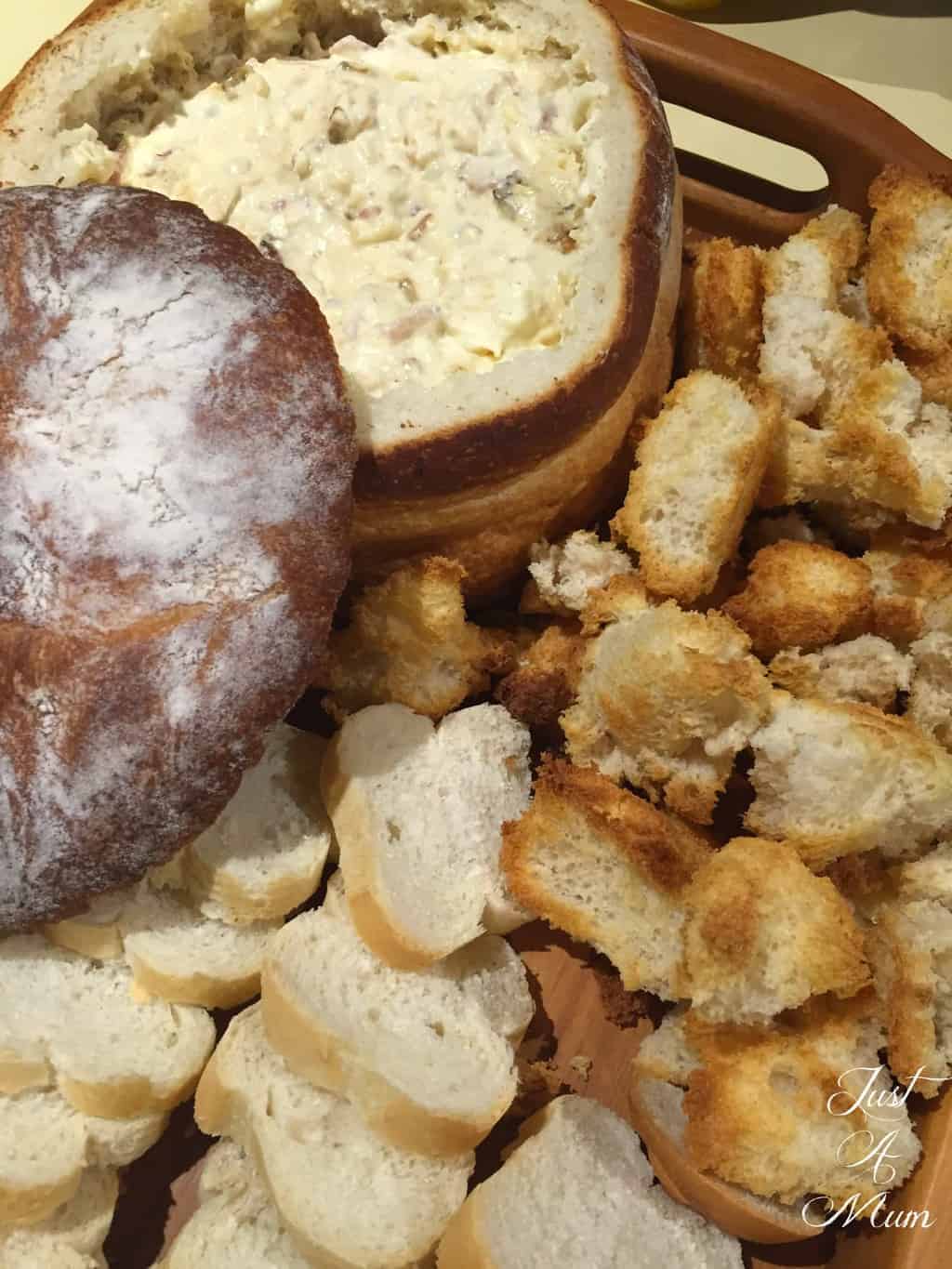 There are so many variations and I have a feeling after making this one this summer I might check out a few more! It makes a huge serving size so perfect for a party. Best served warm so save it until the last minute and wrap in foil to ensure it stays warm in transit if travelling.  Also I wrap mine in aluminium foil while baking to ensure the insides get baked well but the outside doesn't burn. This is optional so if no foil, simply reduce the cooking time to 20 minutes.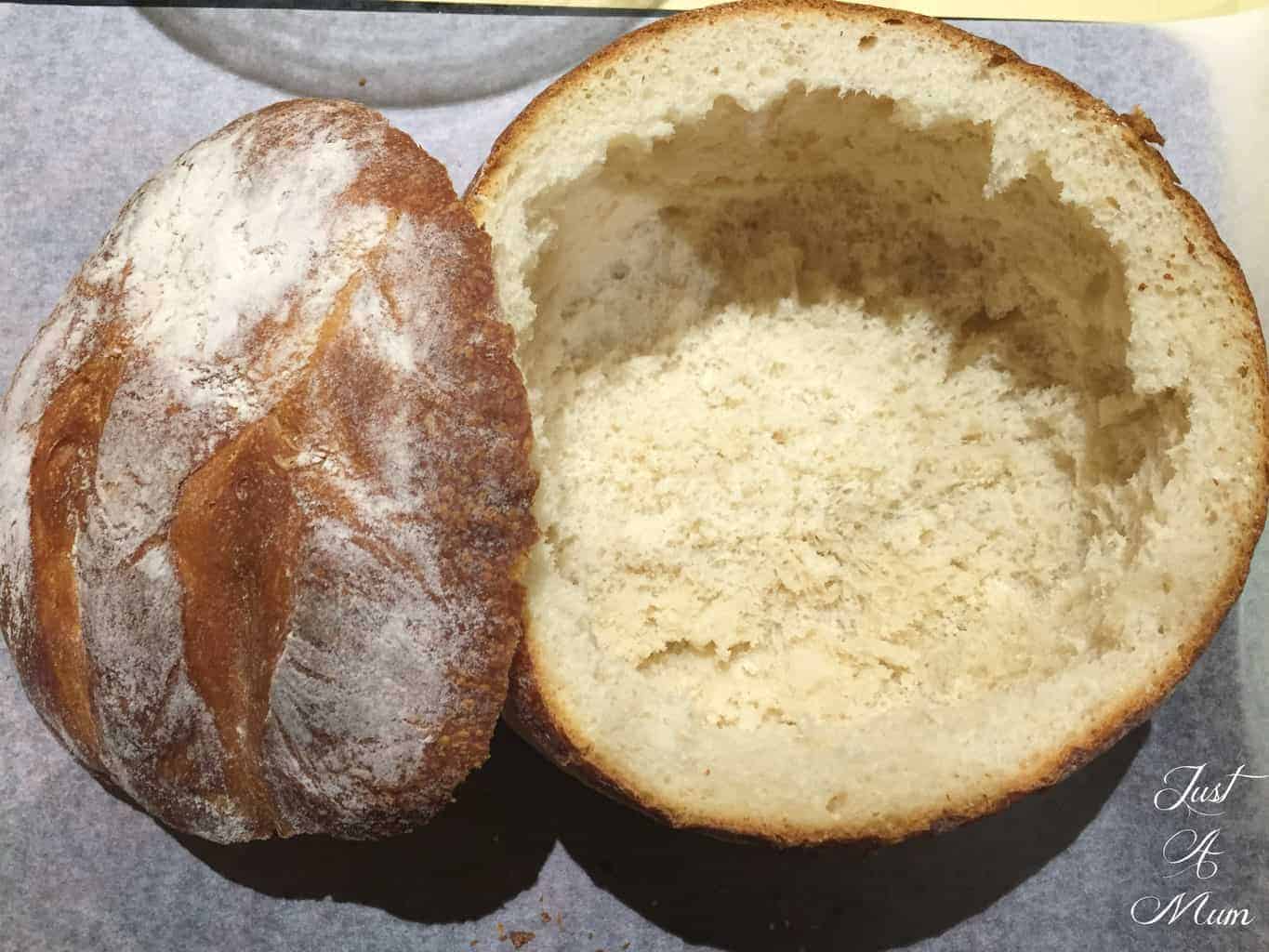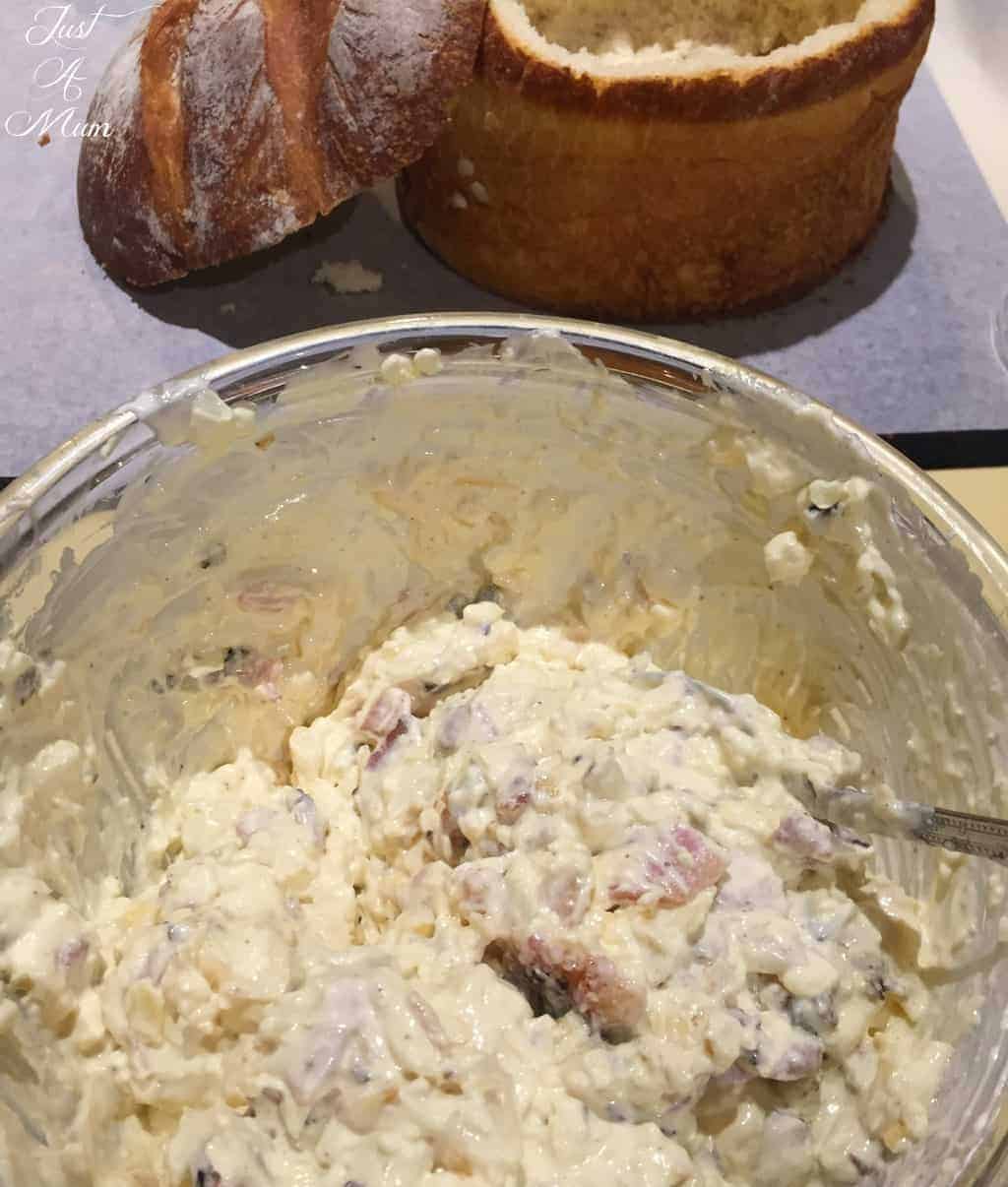 And the best bit……once the dip and bread gone, you literally get to rip apart the loaf and eat the cheesy dip soaked outer loaf….yep it's that good! So here is the recipe, I think you will love it, perfect for a special occasion or when someone asks for a "plate"
Cheesy Loaf Dip
Ingredients
Large Cob Loaf (sourdough, Cob, Rewena Bread etc)
1 Small Onion, peeled and finely diced
200g Bacon, diced
1 Tablespoon Oil
250g Cream Cheese (I used Philadelphia Block)
⅔ Cup Pouring Cream (160mls)
⅔ Cup Sour Cream
1½ cups Grated Hard Cheese (I used Tasty)
2 Tablespoons Thinly sliced Chives or Spring Onions
Salt & Pepper
1 French stick or baguette thinly sliced.
Method
Preheat Oven to 180C (355F)
Line a baking tray with cooking paper (I spray tray lightly first so paper sticks)
Place the loaf on the tray and slice off the top of the loaf - approx 4 cm depth and set aside.
Scoop out the soft bread from the centre, leaving approx 1.5 cm thickness around the outside and set the bread aside.
In a frying pan heat the oil and add the diced onion and bacon. Cook over a medium/low heat until the onions have softened and the bacon has browned and remove from the heat.
In a large bowl add the onion bacon mix, then add the cream cheese and mix until fully incorporated, then add the cream, sour cream, grated cheese and chives/spring onions and mix well.
Add salt and pepper to season.
Pour into the prepared loaf and place the top "lid" back on.
Cover the loaf in aluminium foil and place in the oven for 30 minutes, check in last 10 minutes to ensure the loaf is not burning.
Remove from oven and place the torn bread bits to to the oven to cook for 5 minutes until just turning golden (you can add the sliced baguette too or I leave this unbaked).
Place on a platter and surround with the bread and serve immediately.
 So there you have it, delicious, simple and the hit of any party.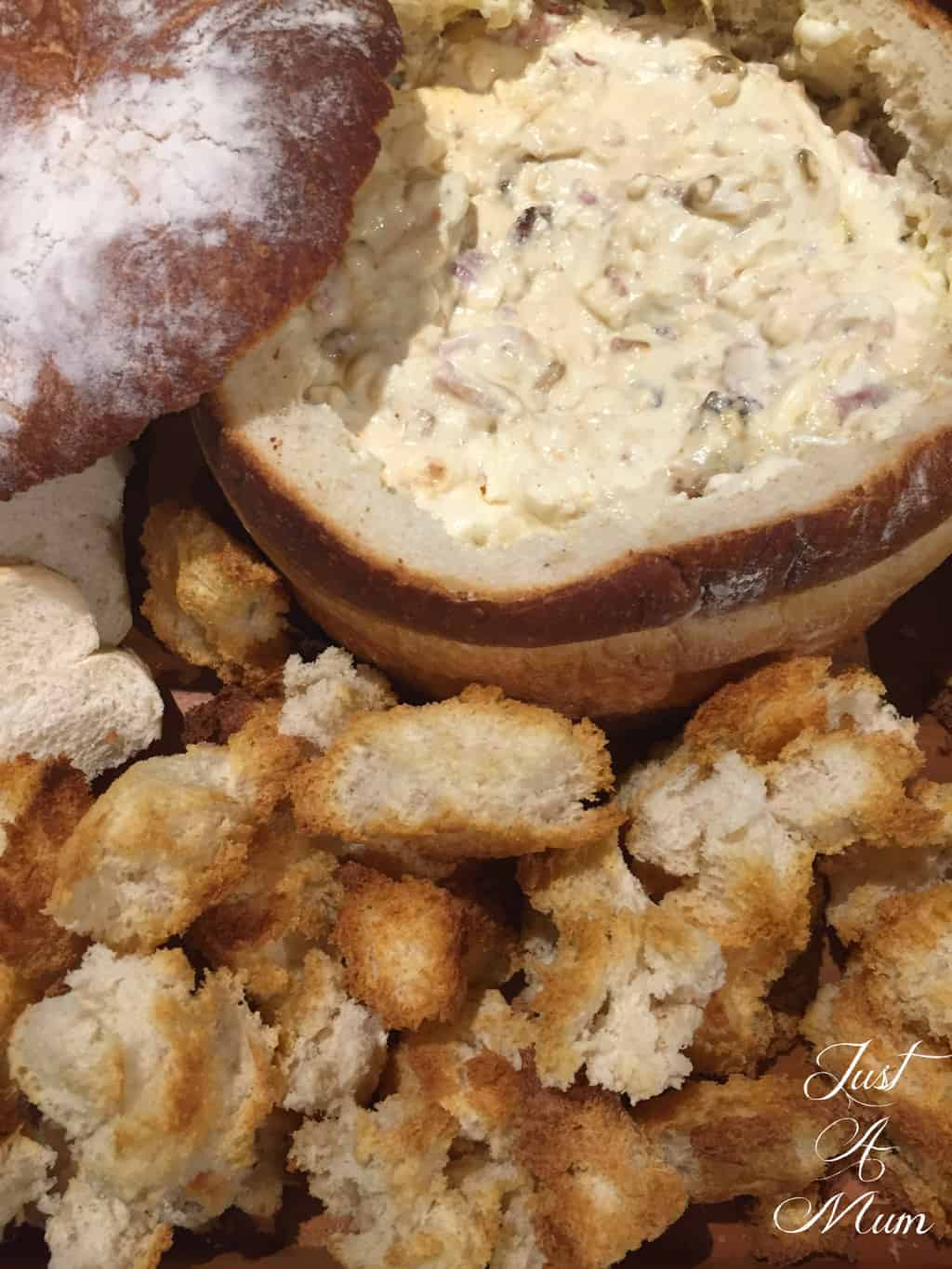 Thank you so much for stopping by to check out this recipe. Please feel free to have a look around the page for other delicious ideas. Remember to follow me on Facebook and if you subscribe to my page you will receive all my recipes as soon as I publish them!
Happy Baking!
Anna xx