Chicken, Camembert & Plum Sauce would have to be one of my favourite flavour combinations. It worked perfectly with the light scone base and made lunch a real treat today!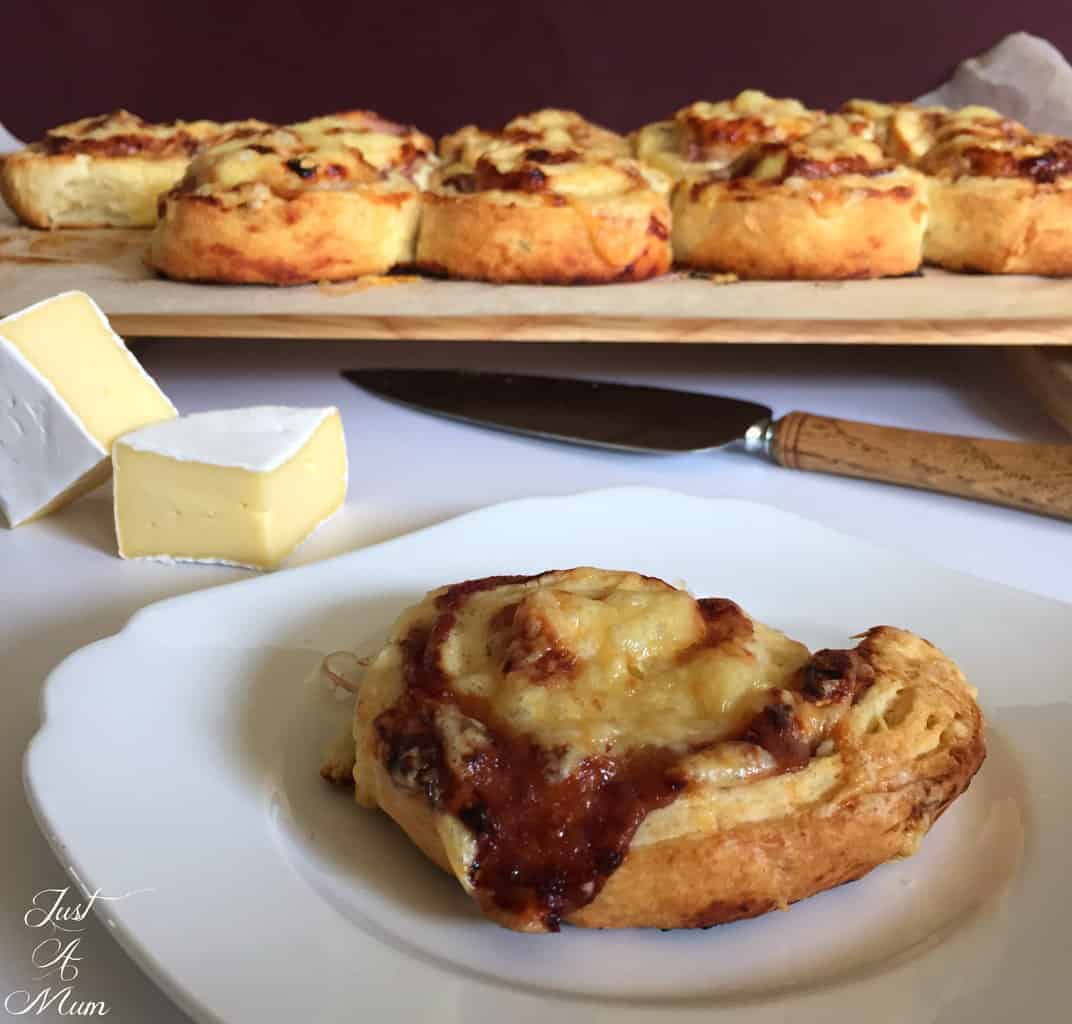 I was looking at some new flavour combos for this recipe when one of my lovely Facebook followers Mel suggested this one and I just had to try it! The original suggestion was to use shredded chicken and it would be delicious, here I used Sliced Deli Chicken as that is what I had on hand, but this would even work with Ham. The one ingredient you cannot omit is the Plum Sauce, be generous with this as it helps with the moisture in the finished product, you could also try Cranberry Jelly as an alternative.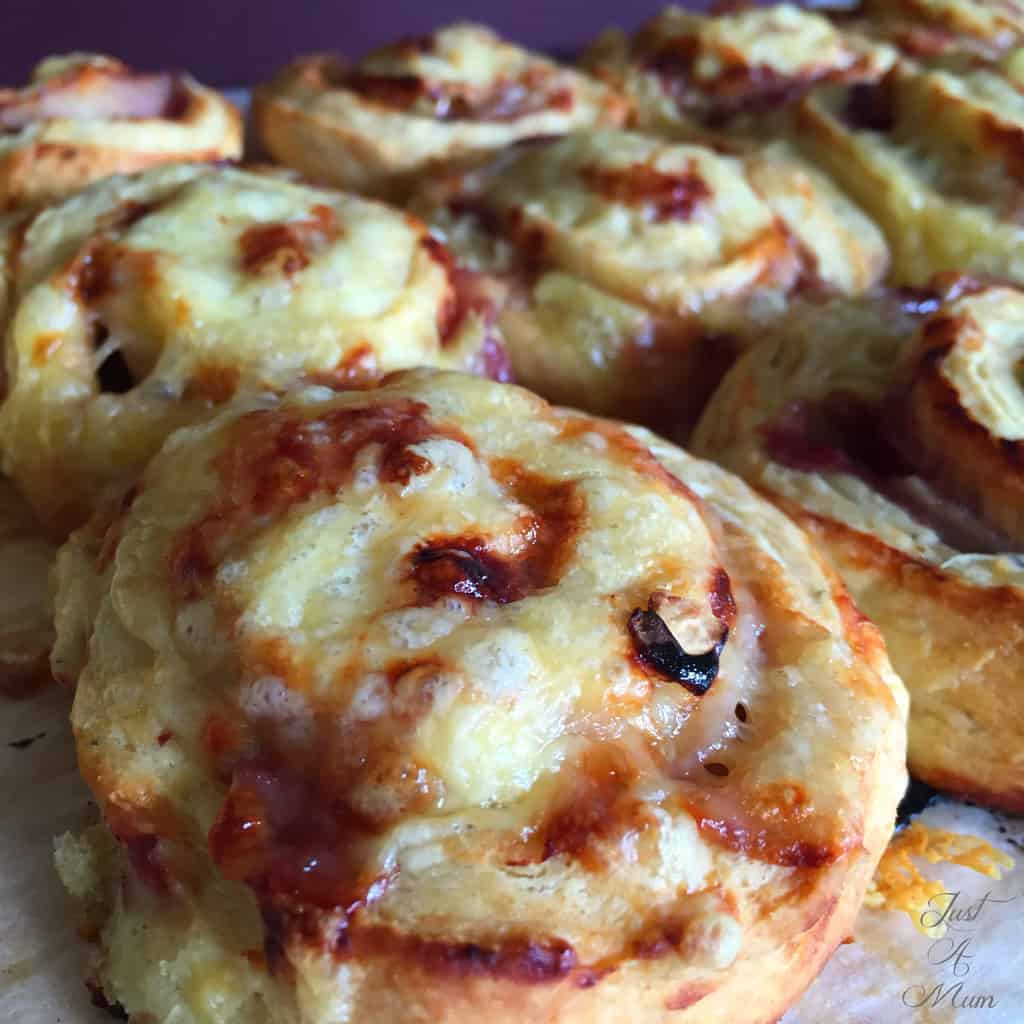 What I do realise when I make recipes like this is that I am so spoilt in the kitchen, with various appliances and being able to whip things up pretty quickly. I definitely have no patience for rubbing in the butter! It reminds be of home economics in school. In all honestly it takes less than 5 minutes so I really shouldn't complain. The end result is well worth it too.
My original recipe is with Hawaiian scrolls, a classic combination that kids just love. You can check out that recipe here Hawaiian Scrolls. They are absolutely perfect for lunch boxes or if the kids need to take a plate to school.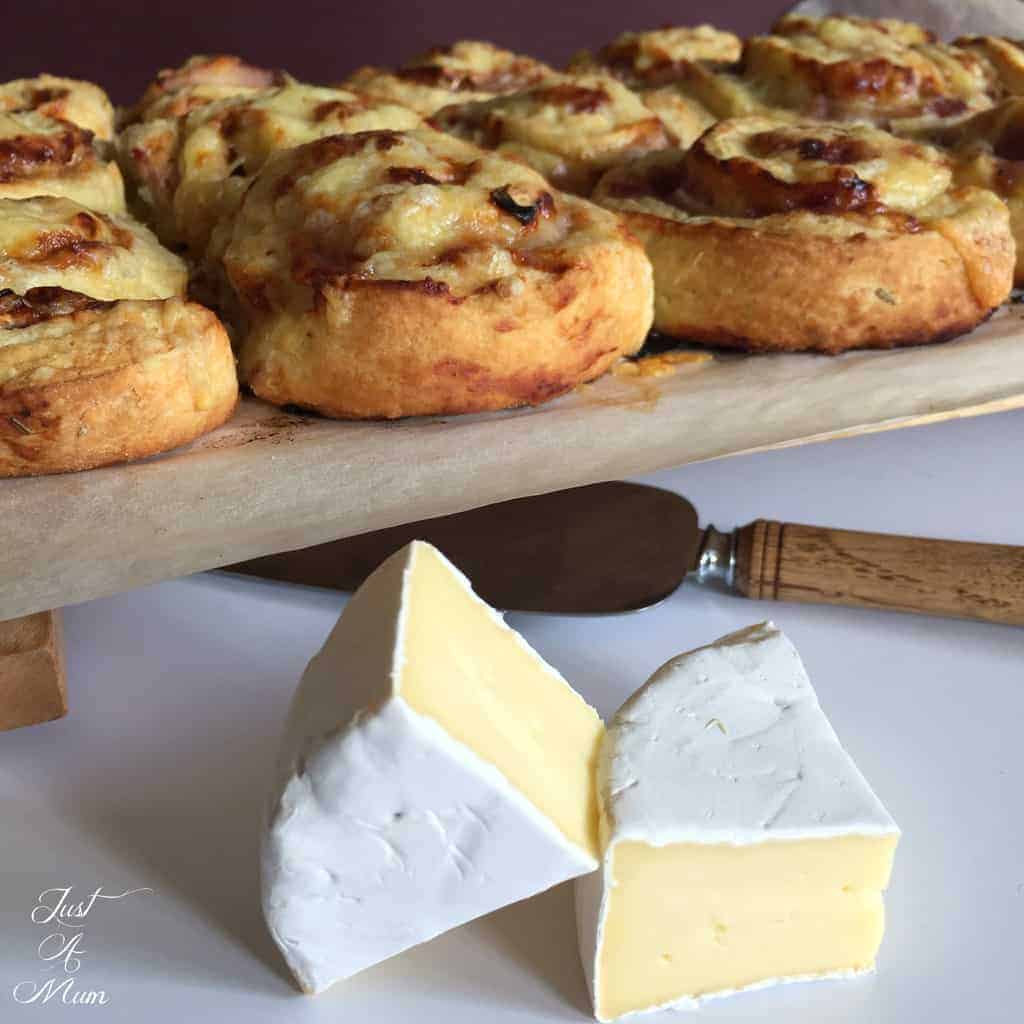 These were absolutely beautiful fresh from the oven, moist and delicious. They will be good cold too but I definitely prefer fresh! I added a little dried rosemary to the scone mixture and it added a lovely flavour to the finished product.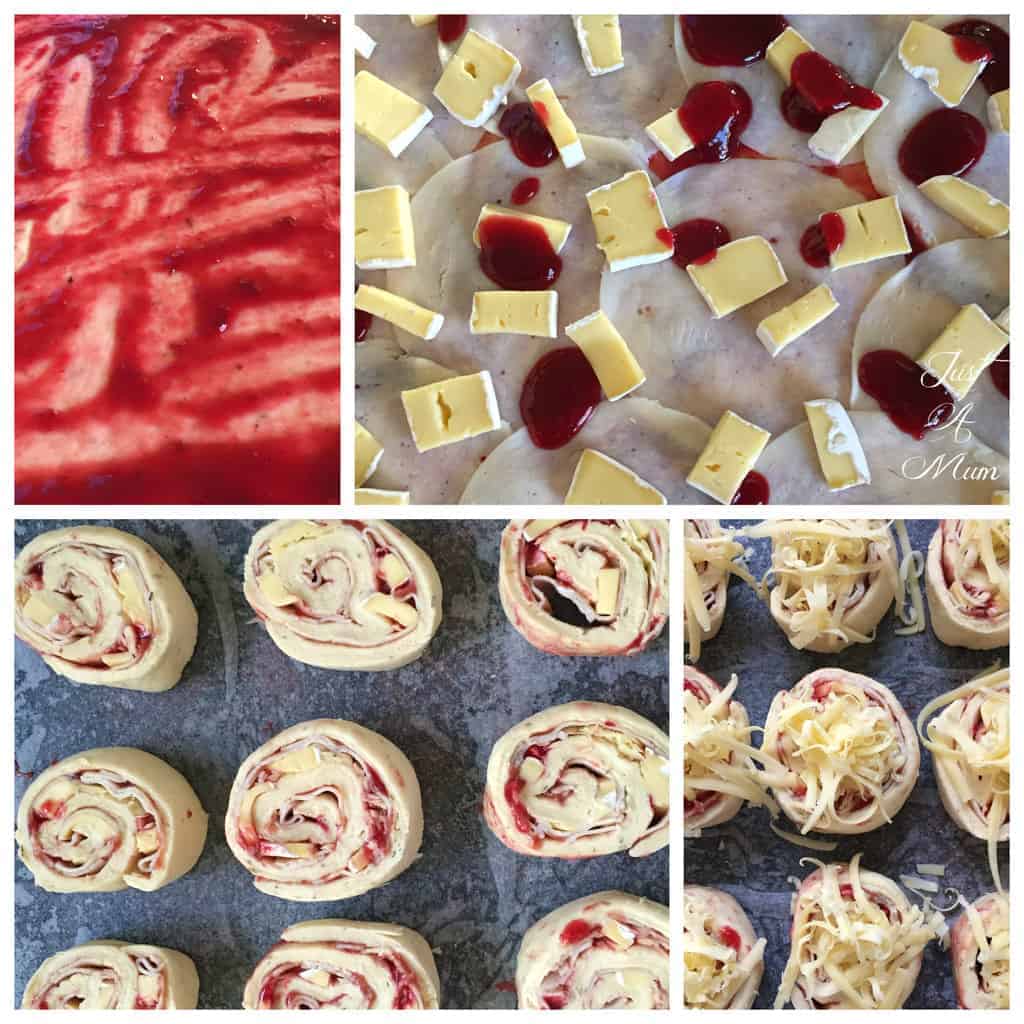 Check out the recipe below
Chicken, Camembert & Plum Sauce Pinwheels
Ingredients
300 g (2 Cups) Self-Raising Flour
Pinch of salt
90g butter, cut into cubes
1 teaspoon Dried Rosemary
160 ml (2/3 Cup) Milk
Plain flour, to dust
¼ Cup Plum Sauce
100 Grams Shredded Chicken or Sliced Deli Chicken
50 grams Camembert
⅔ Cup Grated Cheese (I use tasty)
Extra milk, to brush
⅓ Cup grated cheese (optional extra)
Method
Preheat Oven to 210C
Prepare oven tray with a quick spray of cooking spray and baking paper (best method for getting paper to stick!)
Prepare your chicken, dice your camembert, and grated cheese and set aside.
Add the self raising flour and salt to a medium bowl.
Dice your butter into small pieces and add to the flour
Begin to rub the butter into the flour with your fingers, until the flour resembles fine breadcrumbs and no large pieces of butter remain - this can take a good few minutes so be patient (I am not....)
Add the dried rosemary if using and gently combine.
Pour the milk into the flour mixture and using a round ended butter knife begin to cut through the flour until the milk begins to combine.
Flour your bench and tip out the ingredients and gently knead to combine.
Using a rolling pin roll out your dough into a rectangle approximately 1 cm in height - approx. 40 x 30cm
Cover the base in plum sauce, add the chicken, then Camembert, then a little more plum sauce drizzle if you like and finally the first measure of grated cheese, leaving a small 0.5cm edge around.
Begin tightly rolling from one of the longest edges ensuring the mixture stays in the roll and keep the roll tight until you reach the end - you can dab a little milk along the last edge so that the roll sticks to itself whilst cutting.
Once you have a log formed - begin to slice 2 cm portions and pop on the tray, leaving 1-2 cm in between
Top with a little additional grated cheese
Cook for 18 minutes or until golden brown
Remove from oven, serve warm or cold.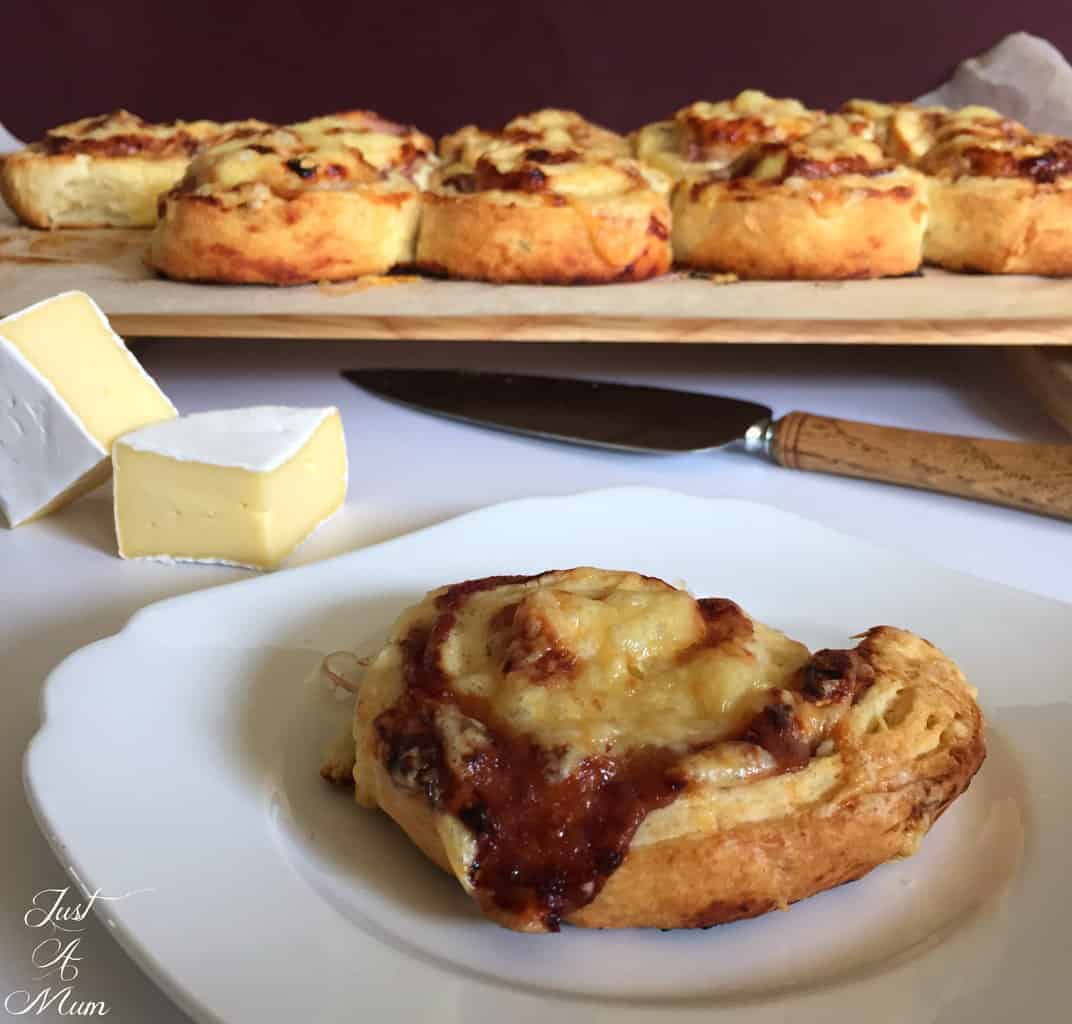 So I hope you enjoy this recipe, we certainly had a wonderful lunch and not too many are left!
Be sure you are following me on Facebook and Instagram for lots of fun recipes and ideas.
Thank you so much for stopping by, Happy Baking!
Anna 🙂