This is not your ordinary Marshmallow Slice – but it still holds its place as one of my all time favourite slices!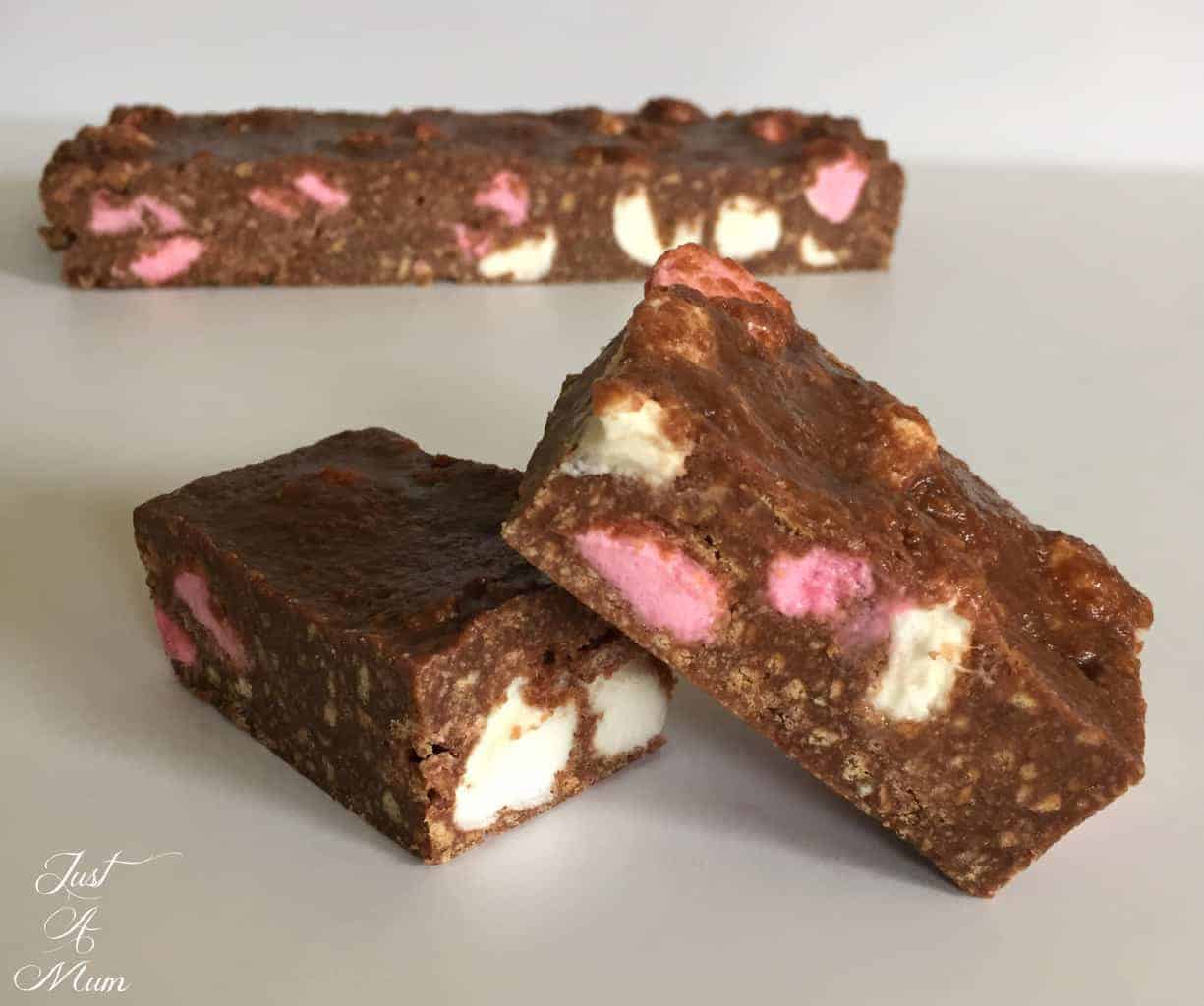 This recipe has featured on my blog for some time but as one of my first recipes so I thought it was time to revisit it and photograph it again so you can see just how delicious and simple it is!
As you can see this is not the usual Marshmallow Slice with a lovely fluffy topping on a shortcrust base that you would expect to find. You can find that version here. This is yummy chocolately, biscuity, marshmallowy goodness with a good dollop of butter & sugar for added tastiness – you sure don't come here for diet advice!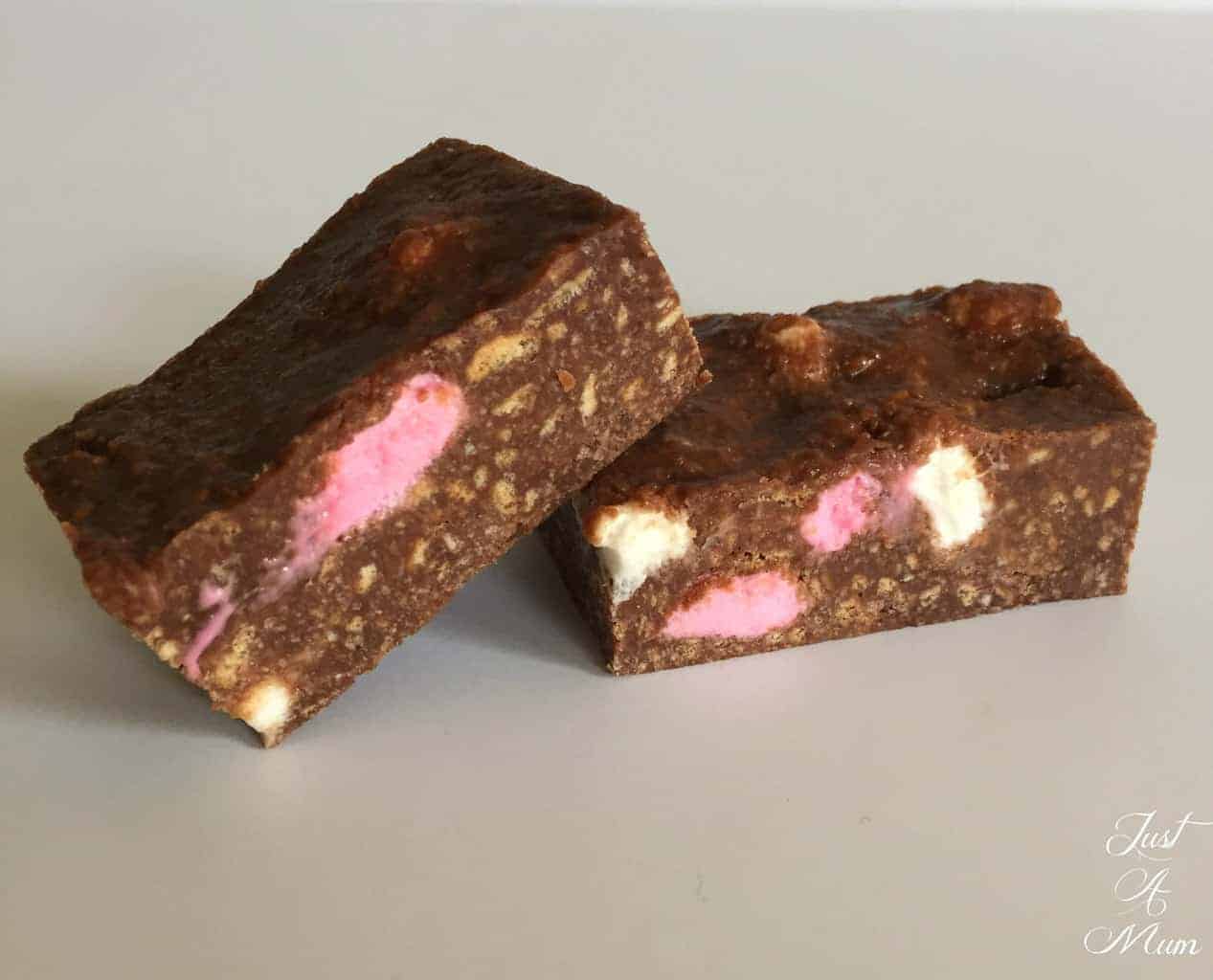 This recipe is delicious, easy and a great treat to take as a plate – or lets face it – to eat when the kids are in bed! I had it once at a friends birthday party and the lovely Sarah was kind enough to share this recipe her Mother had given her.
One tip I have is that I freeze my marshmallows – I pop them in the freezer a day or two before I need them. You can of course not freeze them at all and it potentially has no effect on the outcome but my hope is that the marshmallows hold their shape longer. How about you make two batches and test it out!

The recipe is so simple – crush the cookies, slice the marshmallows, melt together the rest of the ingredients and combine! The hardest part to be honest is allowing it to cool sufficiently before testing it, and this is the best lick the bowl recipe you will ever find. So I will say here to allow to chill overnight, but honestly, you can eat this stuff with a spoon if you need!!
Kids love it, but seriously I have found adults love it more!
So here is the recipe

No-Bake Marshmallow Slice
Ingredients
2 Packets Super Wine Biscuits (500g total) - a sweet tea biscuit
1 Tin Sweetened Condensed Milk (approx 395g)
250g Butter, diced
1 Cup Brown Sugar (packed)
4 Tablespoons Cocoa Powder
1 teaspoon Vanilla Essence
1 packet of Marshmallows (I use Pascall 180g bag and freeze first)
Method
Prepare a 23-25cm slice or cake tin with cooking spray and baking paper (allows paper to stick)
Crush the biscuits, leaving some pieces a little chunkier sized crumb, I use a food processor to make this easier.
Using kitchen scissors or sharp knife, slice the marshmallows - I usually slice off a third then cut the remaining bit in half and set aside.
In a large pot add the butter, condensed milk, brown sugar and cocoa and over a low heat melt until completely combined, stirring occasionally.
Once melted add the vanilla and stir in well.
Once the ingredients fully combined & melted, pour into this the crushed biscuits and the marshmallows – quickly combine all the ingredients.
Spoon mixture into the lined slice tin. Firmly press down with the back of a spoon.
Allow to set in the fridge before slicing - ideally overnight.
Slice into squares to serve, storing in an airtight container in the fridge.
No bake slices really are the best, so quick and so delicious this one will become your go to slice for parties.
Thank you so much for stopping by to check out this recipe, you can follow me on Facebook & Instagram for more recipes & fun food related things!
Also you can follow my blog via email to receive all my latest recipes as I post them. Simply subscribe below.
Happy Baking! Anna 🙂