I am delighted to bring you my version of Easy Eton Mess, a super easy recipe and perfect for using up leftover meringues.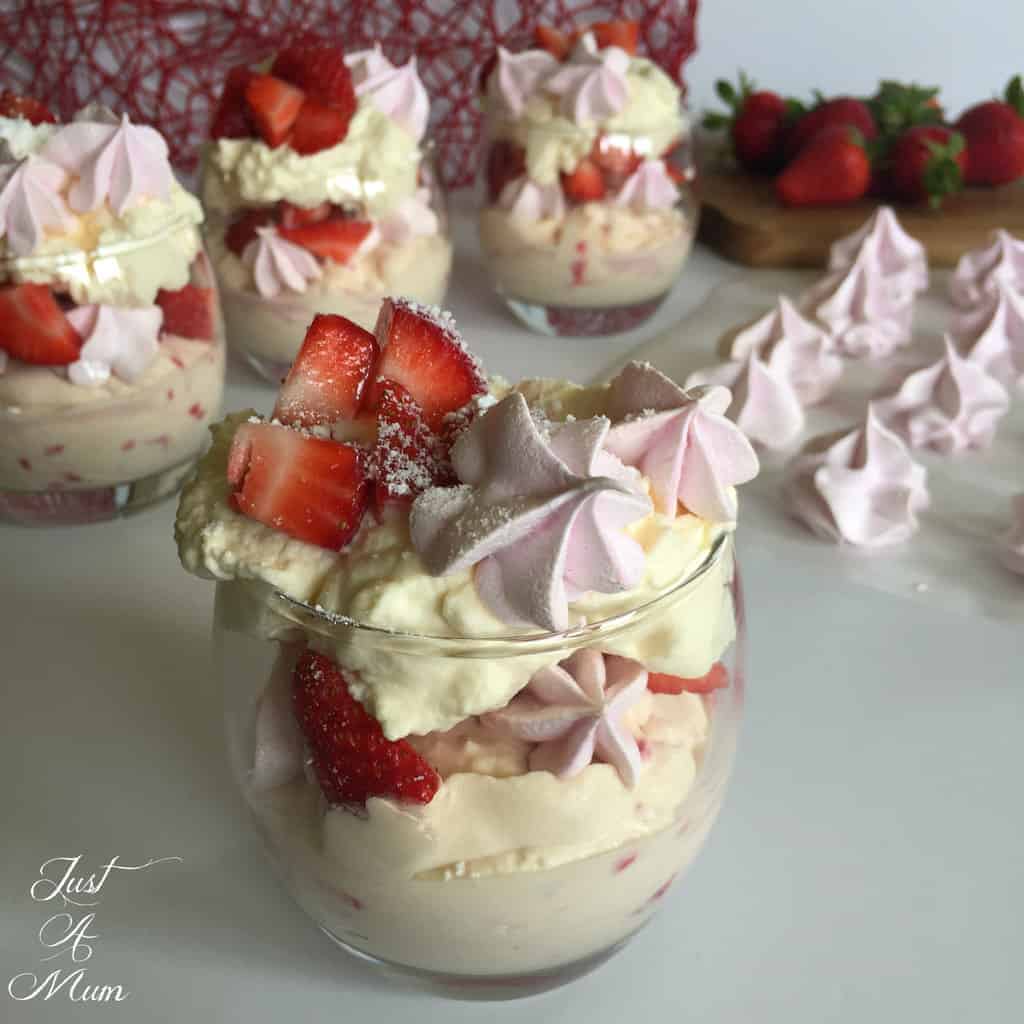 Eton mess is such a fun recipe to recreate – there really is no wrong way to do it! In fact once I assembled the ingredients I really didn't follow a recipe as such I just added ingredients until I thought it looked and tasted great. You really cannot go wrong with a big old mixture of cream, crushed meringues and fresh berries!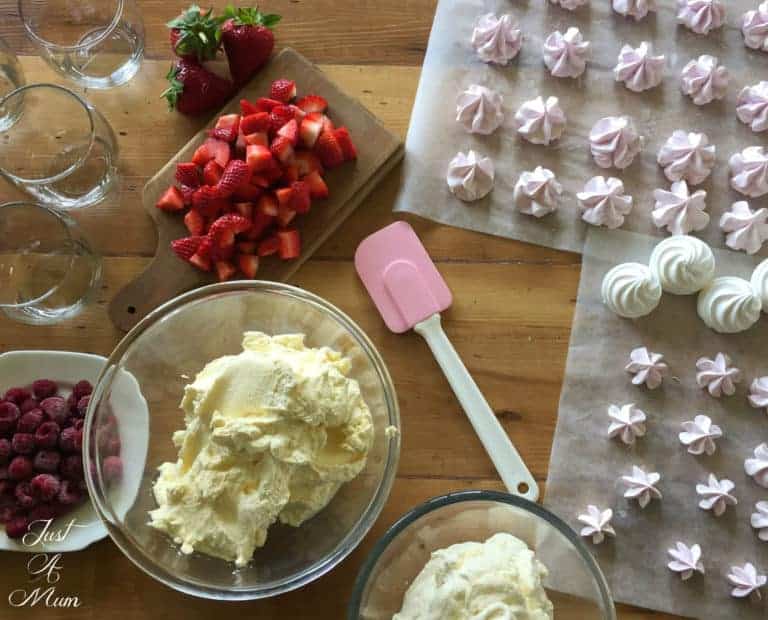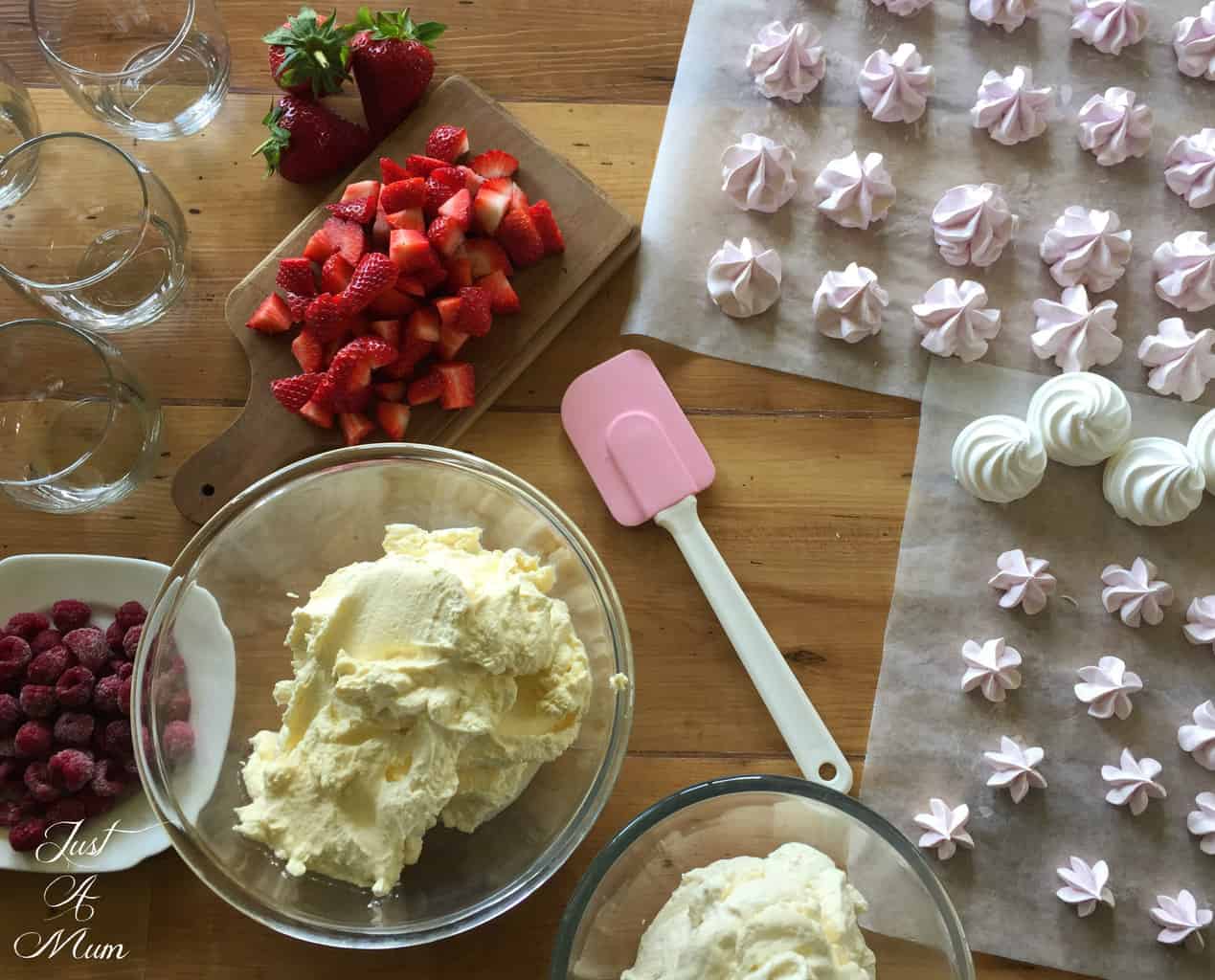 You can make this recipe as easy or as tricky as you like. The supermarket has a wonderful array of meringues you can buy, as well as frozen berries and even whipped cream (although it is sooo easy to make whipped cream you at least should try that step!)
Or you can make your own meringues, whip your own cream and use gorgeous fresh fruits that are in season. I love the combination of strawberries and cream so that was my go-to flavour base. I even had a go at making my own meringues!
Making the little meringue kisses was so fun. I have been wanting to share a recipe for these with you for a while, so this is a mini post about them and I will go into more detail another time. I also used (shock horror) store bought meringues as they were perfectly crumbly and dry, so perfect for the crumbling texture you want in an Eton Mess. If you however are a meringue expert then definitely make your own a day or two out so they are ready to go.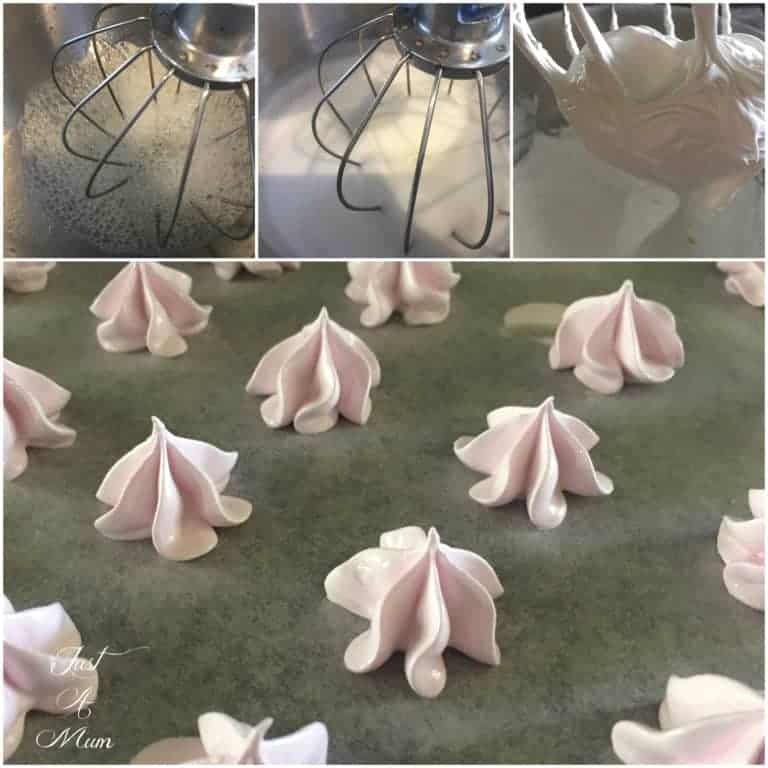 A few key tips for making meringue kisses are to begin with a ratio of 2:1 Caster Sugar to Egg Whites. I use a food mixer, or use an electric beater. You want to begin whipping the egg whites slowly until you are just starting to aerate the egg whites before turning the mixture up to a higher speed, continue to beat until you are starting to form a soft peak and the egg whites have completely turned white before very very slowly adding the caster sugar (you can also heat the caster sugar but more on that in another post).
You then want to beat the meringues for a long time, checking every now and then to see if the sugar has dissolved. You can do this by rubbing a small amount of mixture between your fingers. Once you are satisfied all the sugar is dissolved you are ready to go. You can add food colouring if using at this stage.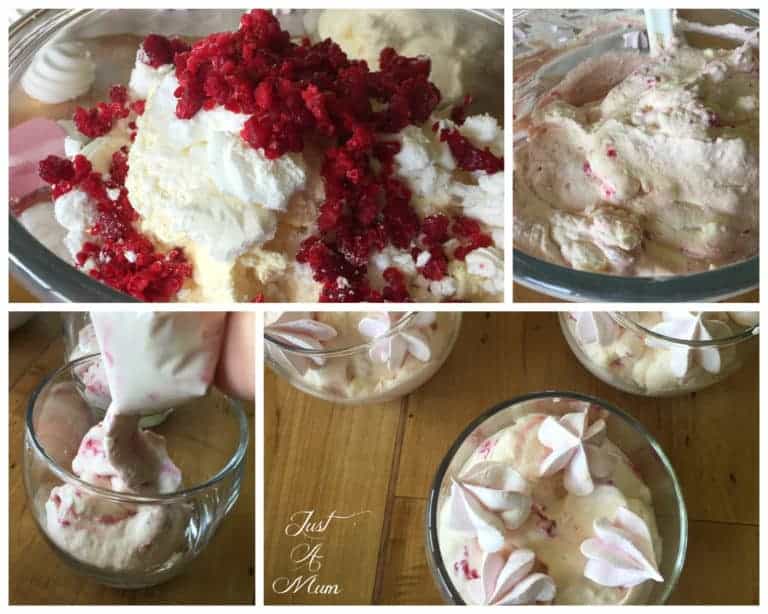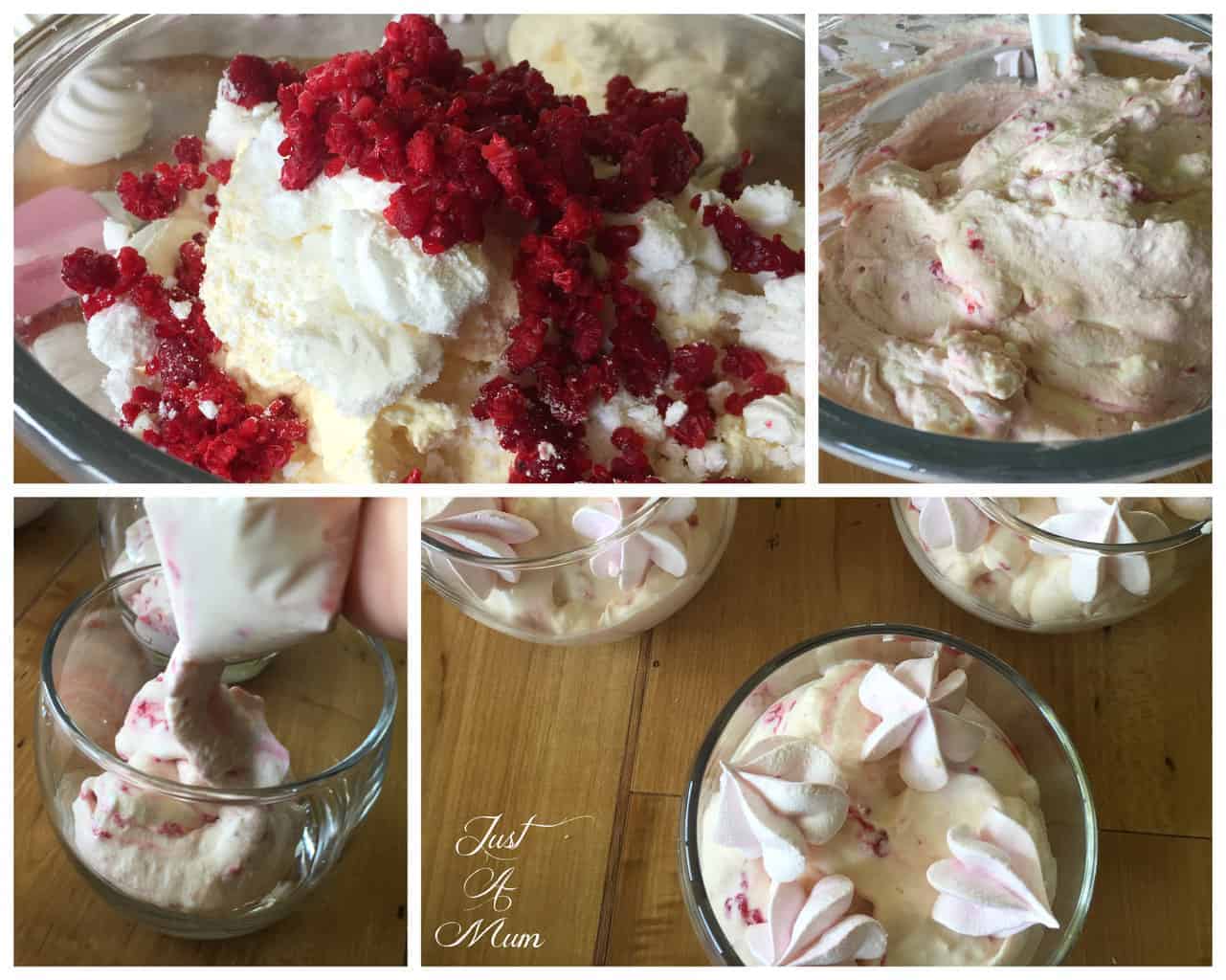 If you like a dry and crumbly meringue you want to cook them long and slow and then leave them in the oven to dry out over the course of a few hours. If you like a chewy centre cooking high and quick is the key! In both instances you do not want any colour on the meringues, so watch them carefully.
Whipping cream is not something everyone has done before, so again if you are unsure have a good look online for tips and techniques, but the key is to take it slowly and watch it for changes, you are after firm peaks but not too firm or it will begin to turn into butter! I add vanilla essence to my cream, some add icing sugar too. I think it is lovely with some flavour to it rather than plain, you can even add a liquor of your choice.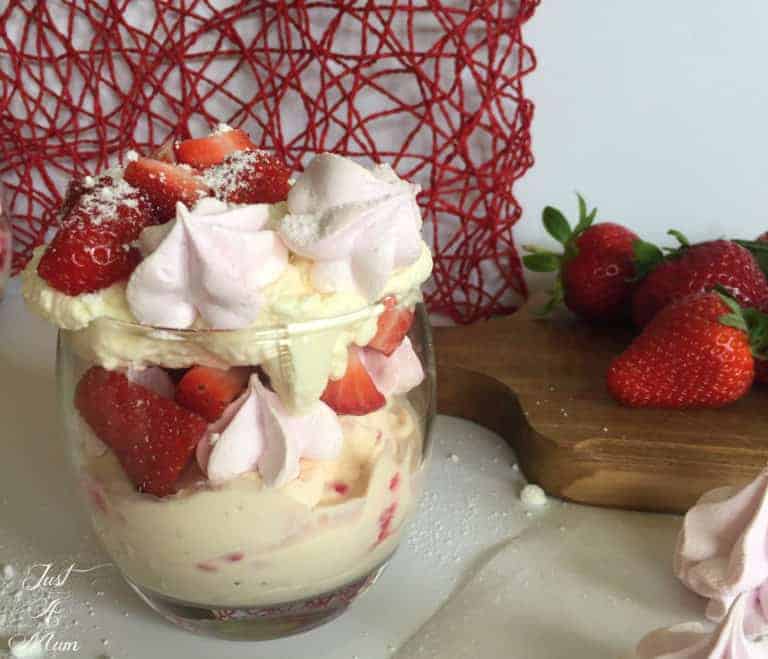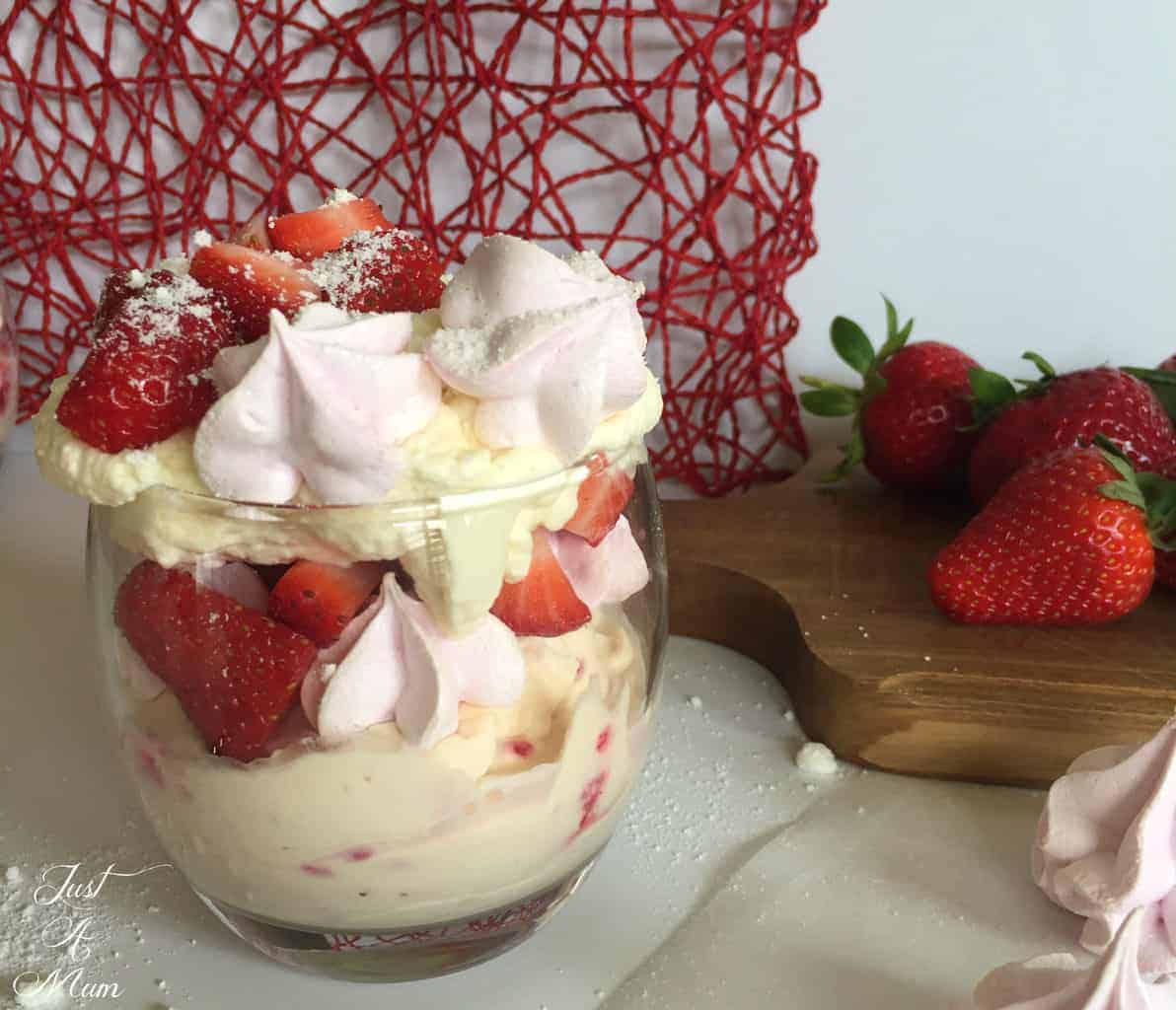 Prepare all of your ingredients prior to assembling. The best time to serve this is fresh, as soon as the cream is beaten, but it will hold for up to 3 hours in the fridge so you can travel with it, or do as my family has done for years and travel with the cream and whip it wherever you are going! Reserve some of the crisp meringue if you wish to have that crunch when eating.
It really is so easy to make, you can be quite creative with how you serve it. You can do individual servings as I have done here or you can throw it all in a gorgeous large glass bowl.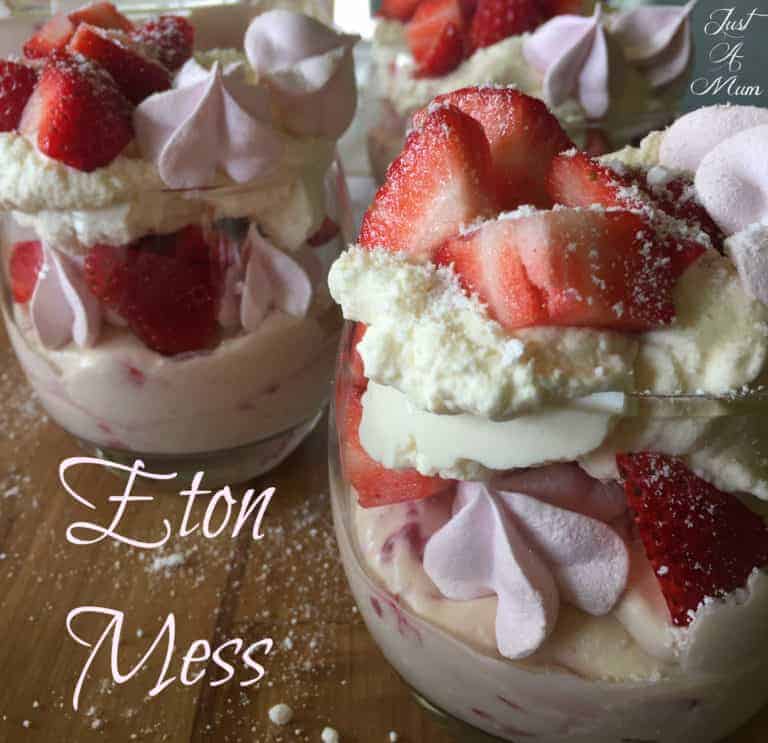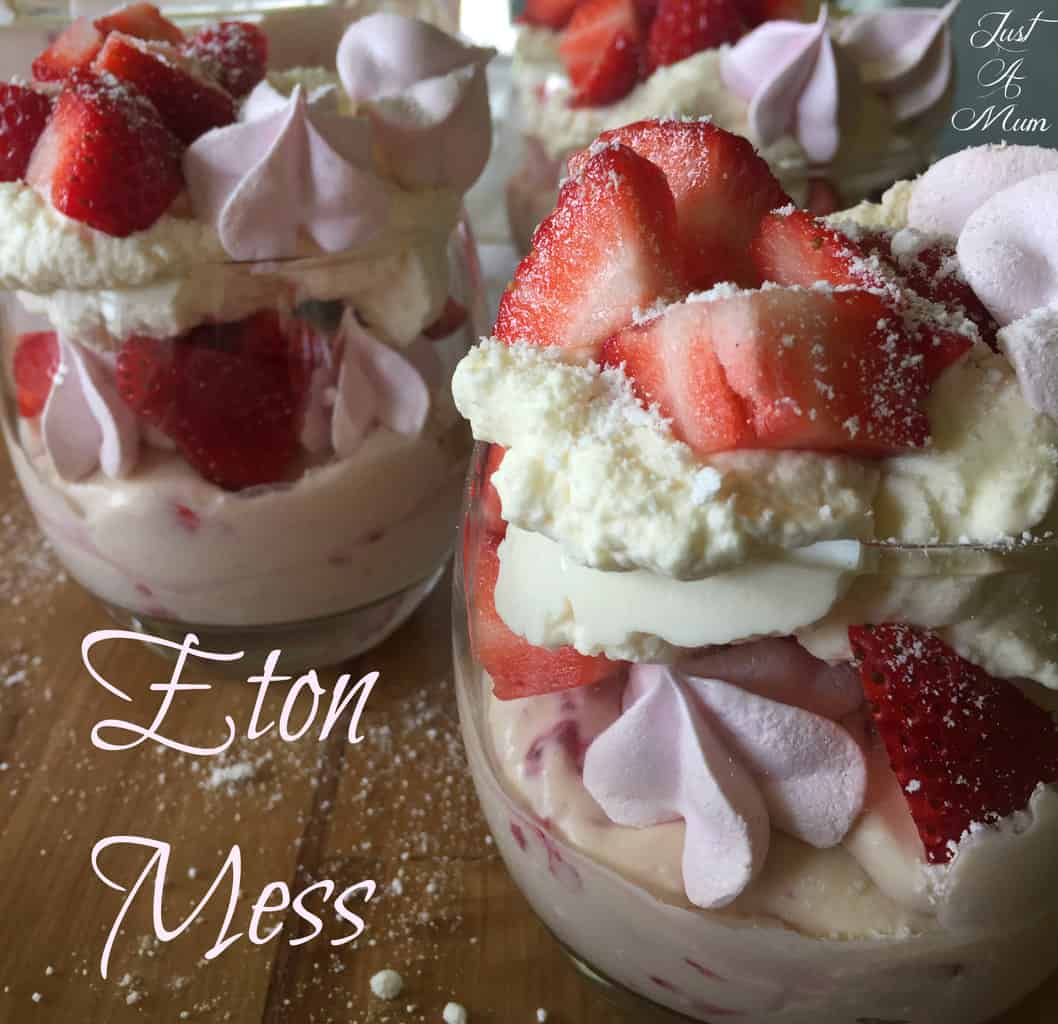 There were no fresh raspberries today when I went looking so I used frozen and they worked really well. I wanted some flavour and texture through the cream with the crushed meringues and they were tart and delicious and mushed up beautifully in my hands as I sprinkled them over the cream so the perfect thing in then end.
Any mushy flavoursome fruit will do such as pomegranate, kiwifruit, blueberries etc. I added the strawberries as a layer in the dessert and on top but the assembly is up to you!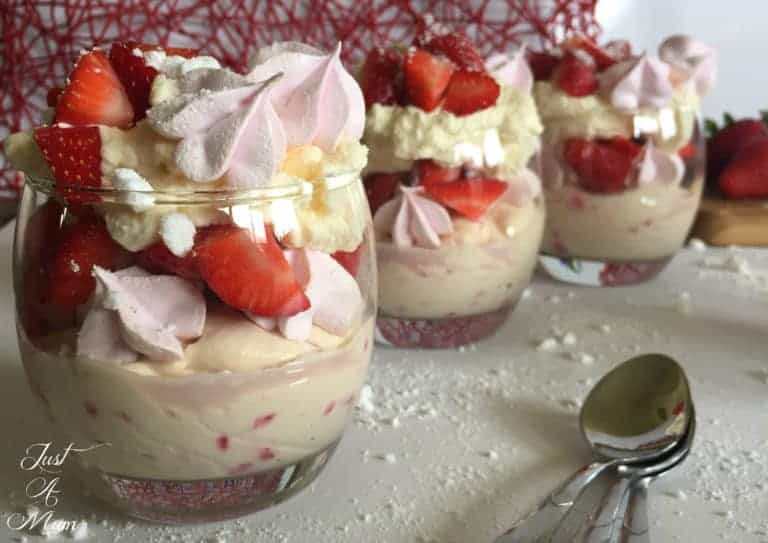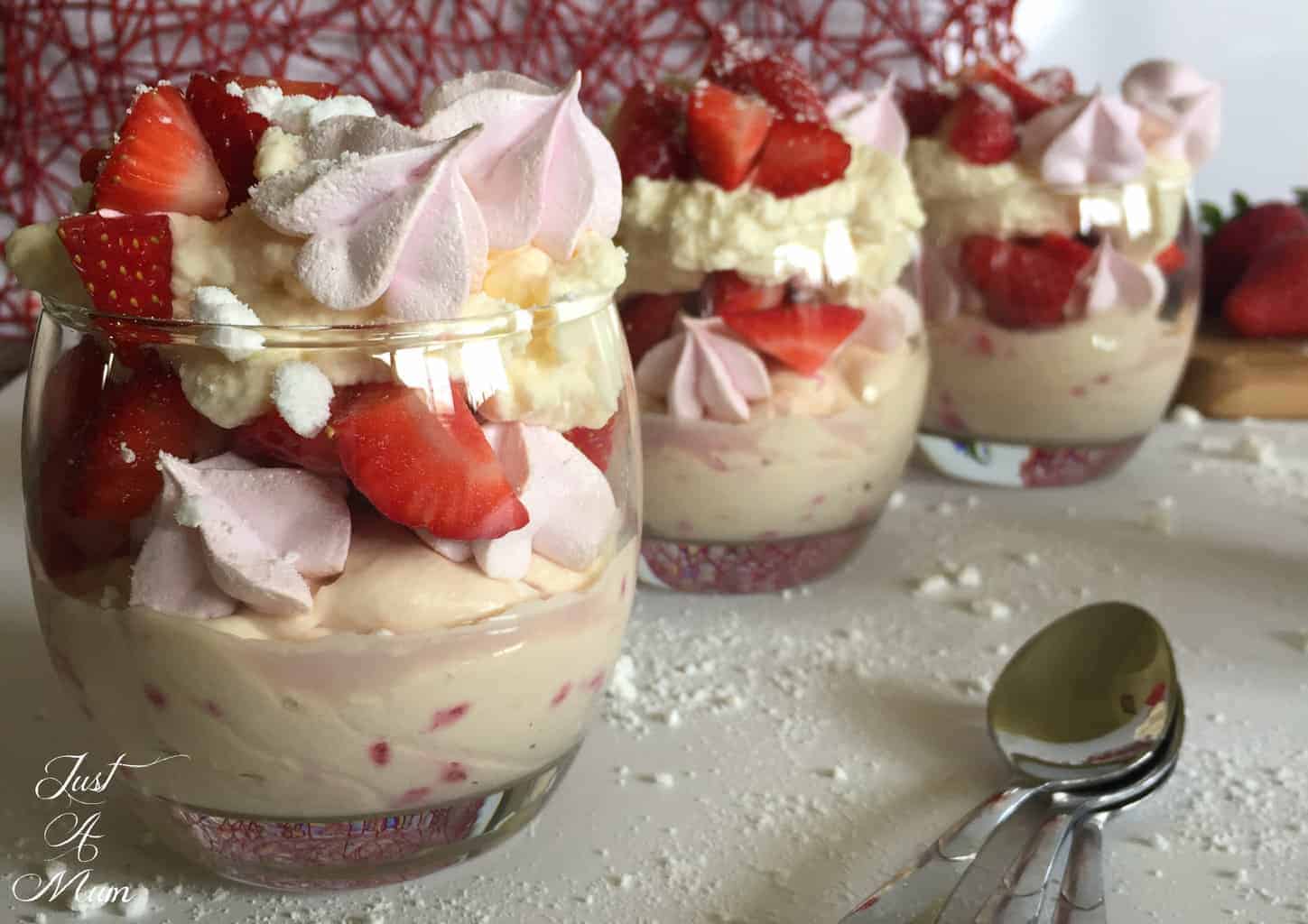 Below I will give you the basic recipe based on 1 cup of cream, alter this as you wish. You will need to increase the quantities depending on how many people you are feeding! Good key is that the cream will double in size, so 1 cup of cream becomes approx 2 cups once whipped, so start there and see how much you require.
If you love this recipe and have some spare whipped cream leftover then definitely give My Easy Chocolate Mousse a go! A special treat that is so simple to make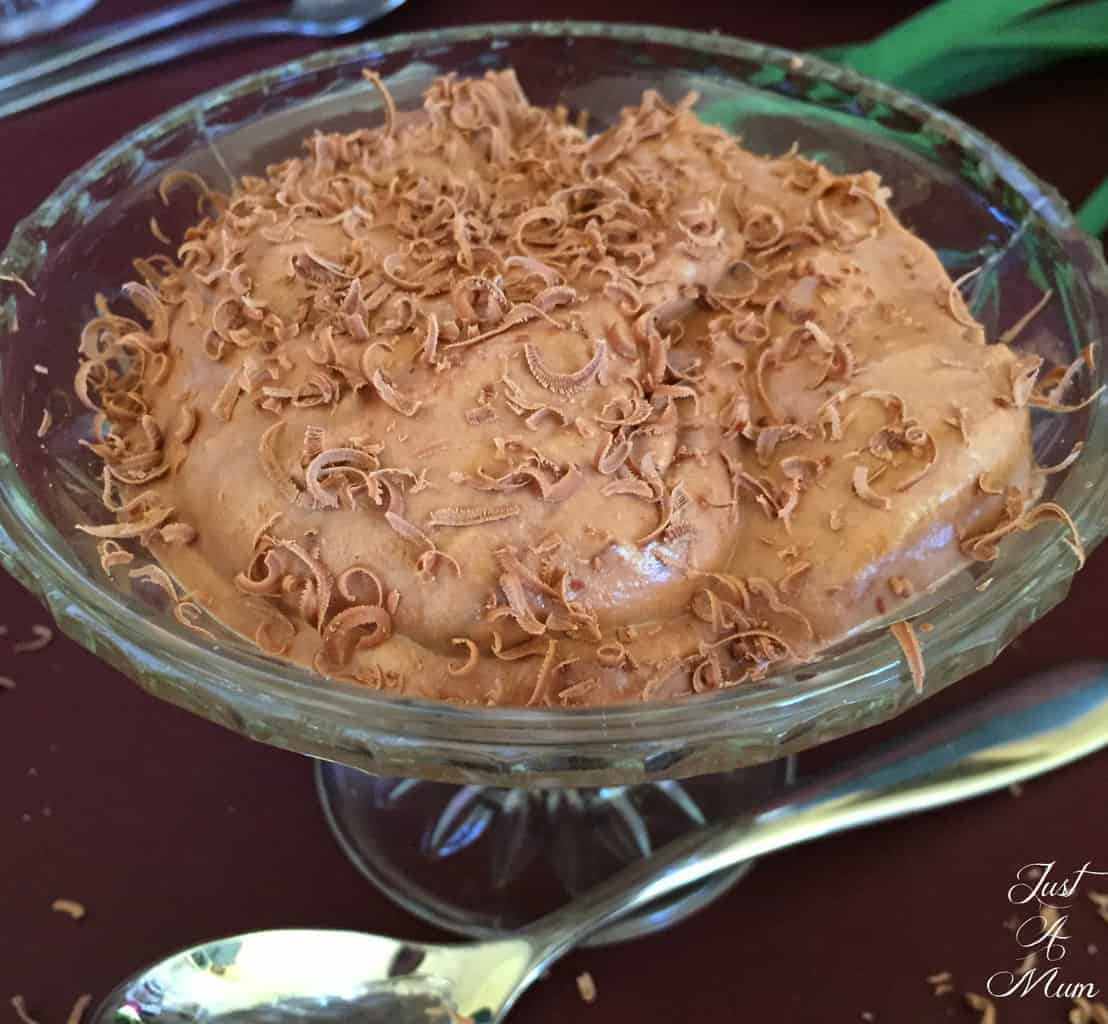 Onto the recipe for Eton Mess, I hope you love it!
And that is my version of Eton Mess! Truly a mess and a delicious one at that. If I was making this just for family and not to photograph for my blog it would be much more rustic than this (rustic meaning messier!) so make this recipe all about the flavour and less about the aesthetics!
I hope this recipe appears on your menu this Christmas. It is such a delicious and simple combination of flavours, I do hope you try it soon. If you already make Eton Mess how does this differ from your recipe? What are your top tips?
Thank you so much for stopping by to check out my latest recipes on my blog. If you are not already be sure to follow me on Facebook or Instagram for more deliciousness, and you can register your email in the subscription box below to receive all my recipes as I publish them.
Happy Baking
Anna