I have been wanting to try this recipe for some time to see if it is as good as I imagined it would be, and who doesn't love two ingredient no bake treats!!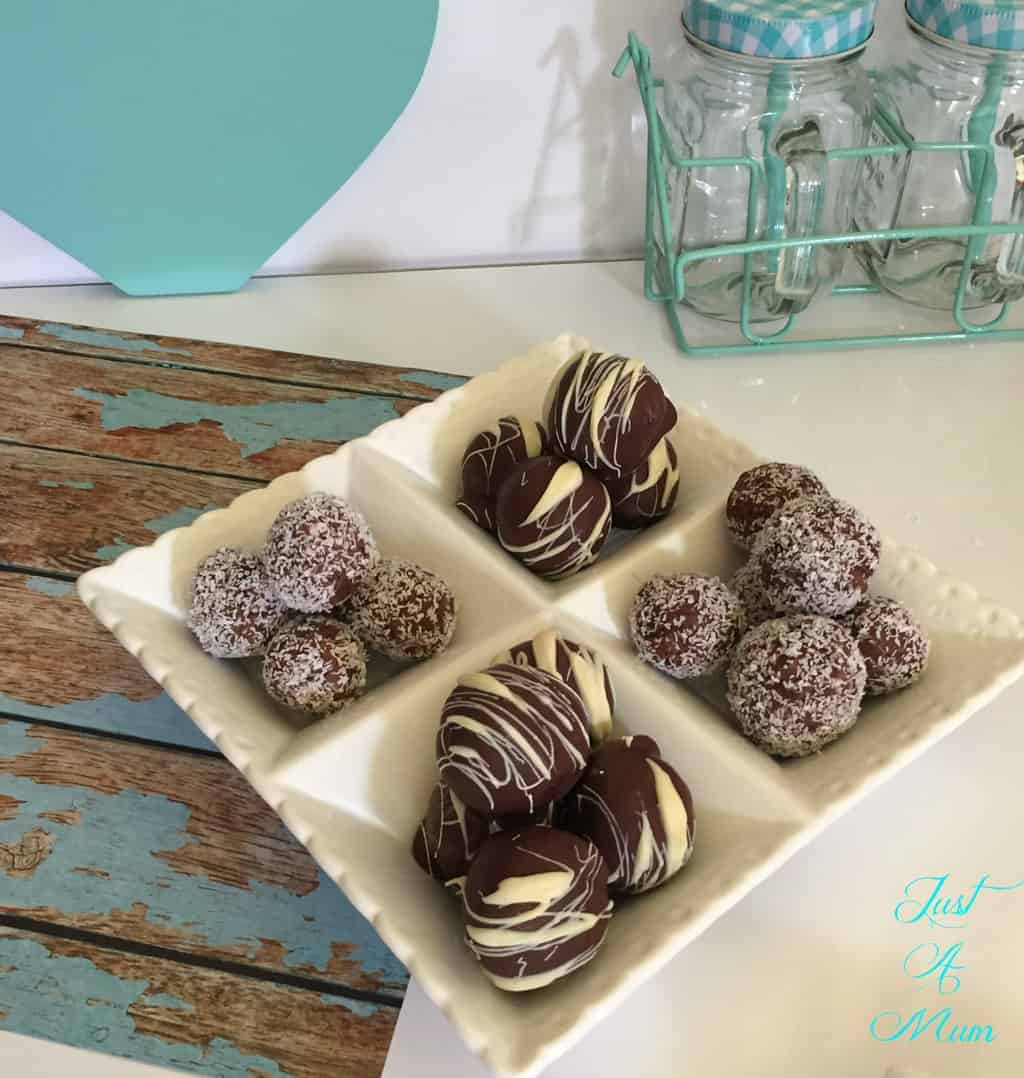 My freezer is starting to fill up already. I have so many ideas for wonderful recipes I want to share that even thought it is just early November I am already starting to fill it up with delicious treats. Which is handy if we need to go somewhere or give a little thank you to a friend as deliciousness is never far away! The things I do in the life of a blogger…..
I have to feel a little sorry for my husband and children, as rarely is an ingredient in the cupboard for its intended purpose. Many a time I have found a half eaten packet of biscuits that were intended for a recipe, but how are they to know! So it took me a few attempts to make this one as the biscuits kept disappearing.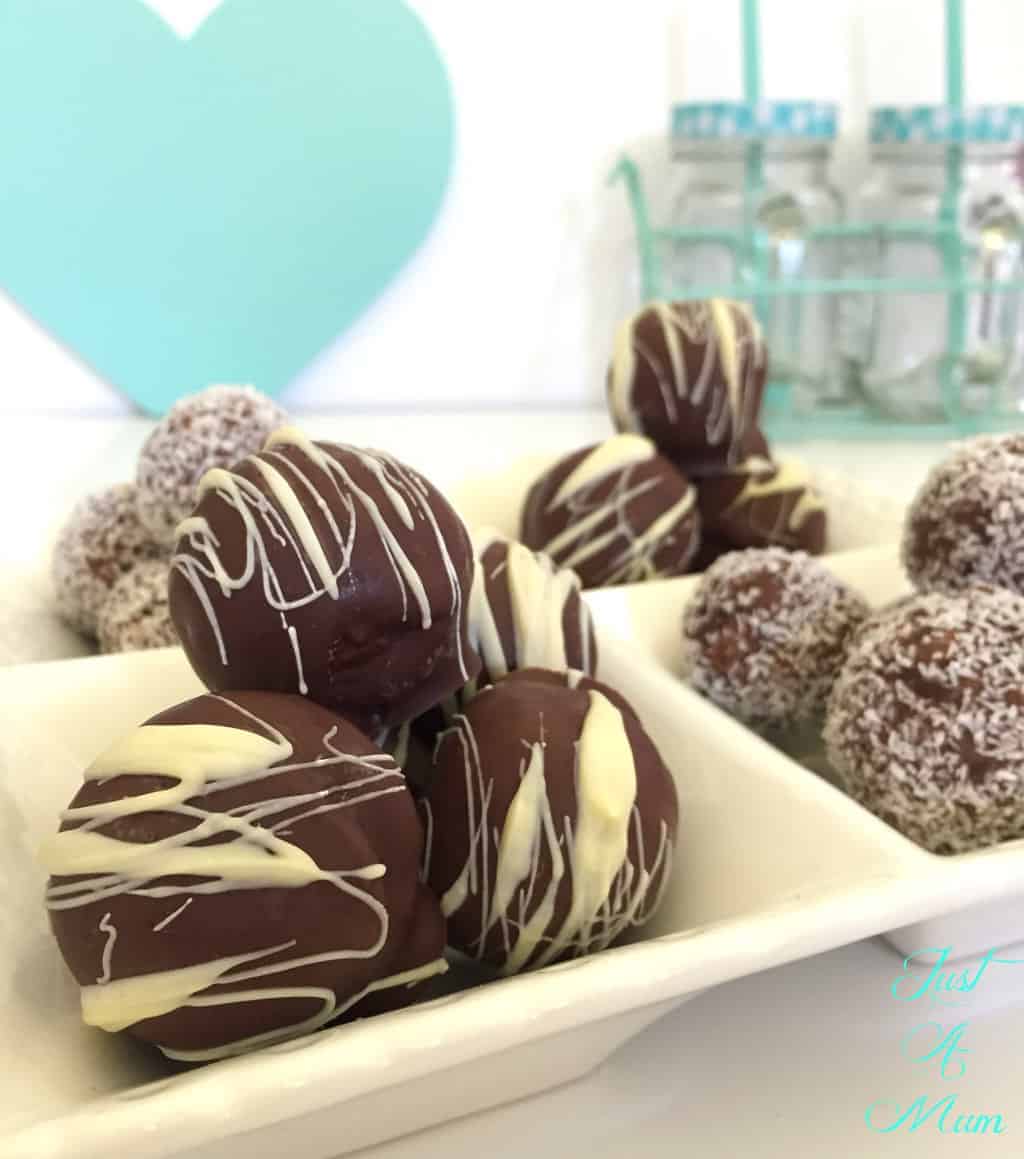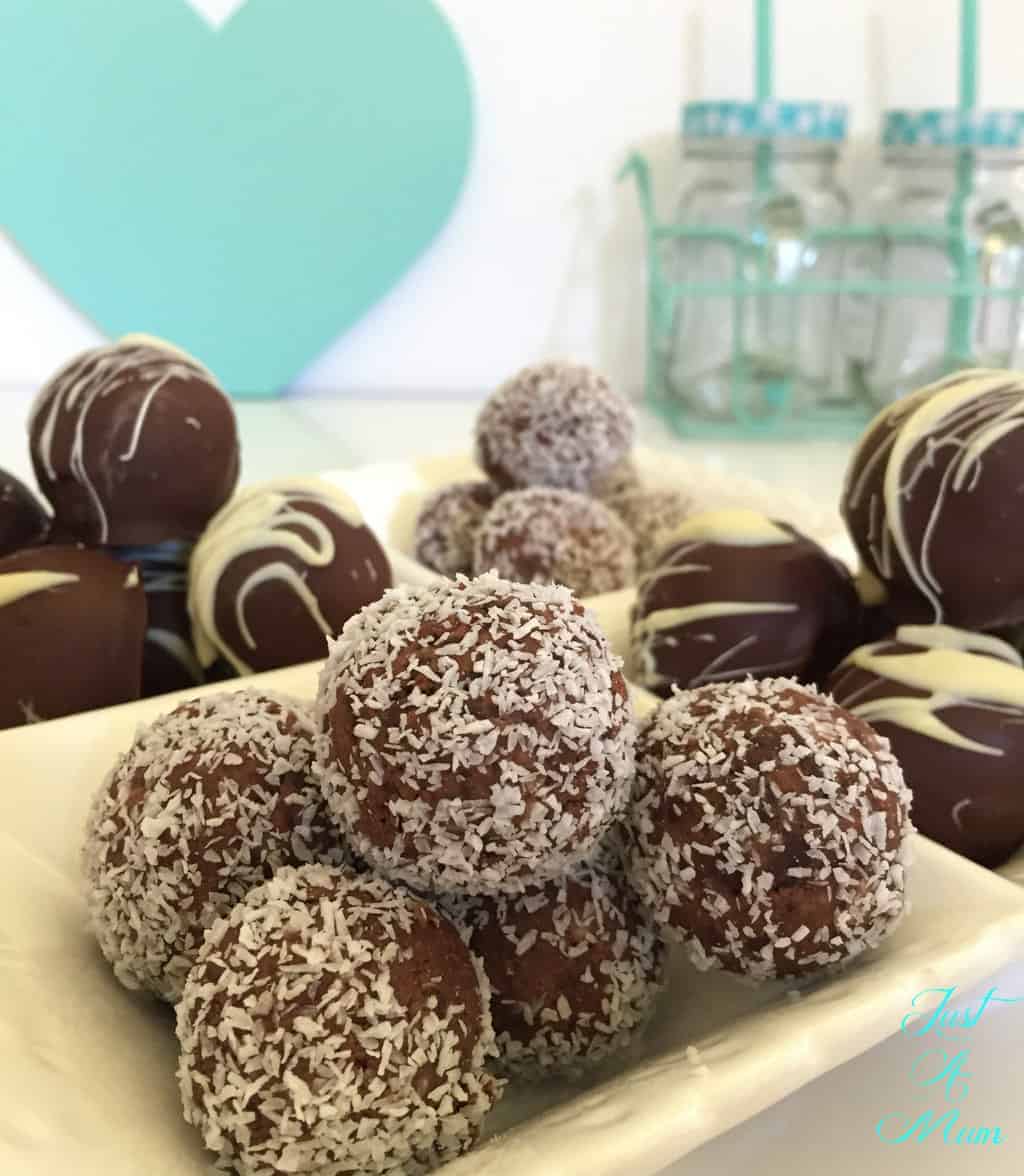 My recipe for Tim Tam Truffles has been so popular. They are a really simple way to make a great looking treat for gifts or a special occasion, especially as they now come in so many flavours you can create an amazing array of combinations. Many recipes out there use Cream Cheese, which is great but I am not such a huge fan so I tried it with Condensed Milk and it was wonderful! You can search for that recipe here.
The next step was to see what it would be like combining Condensed Milk with Chocolate Mint Biscuits and they are just lovely! So quick and simple to make, and you can make them as simple or as flash as you choose! I have rolled them both in coconut and also dipped them in chocolate to show you just a few ways to make these truffles look great. Or of course you could leave them plain….but sometimes more is more!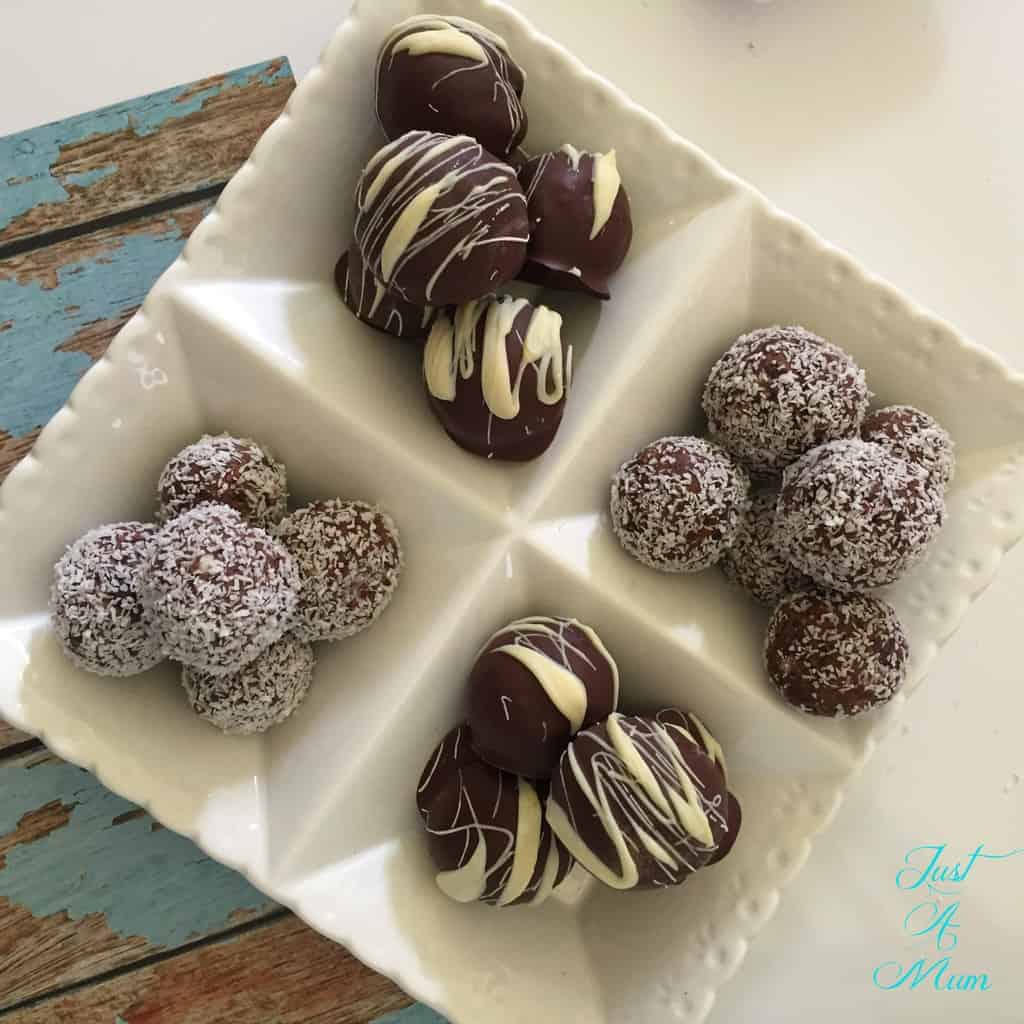 You can find Mint Treats or Mint Slice biscuits in the biscuit aisle. One packet of biscuits does not make many truffles, so always consider doubling or even tripling the recipe if you want it for a crowd or to make as gifts. The rolling is of course time consuming but also a great way to catch up on Netflix or some other more intersting telly.
So onto the recipe, just two ingredients, plus extra stuff for rolling, this one is so easy you will find yourself making several batches before Christmas I am sure!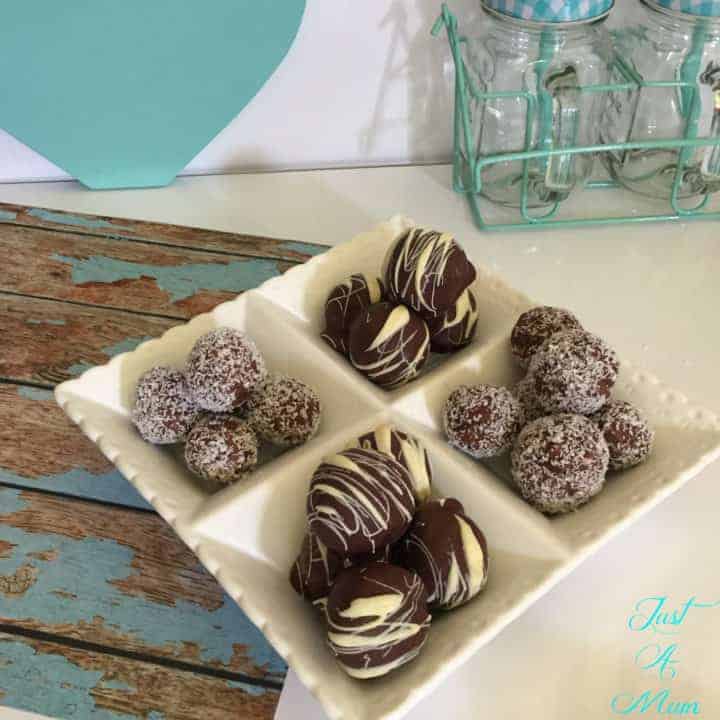 Chocolate Mint Truffles
Yield: 12

Prep Time: 20 minutes

Total Time: 20 minutes

To make a decent sized batch use 2-3 packets of biscuits
Ingredients
1 x 200g Chocolate Mint Slice Biscuits
1/3rd Cup Condensed Milk
Optional: Finely Dessicated Coconut, Melted Chocolate, Milk, Dark or White
Instructions
Blitz the biscuits in the food processor until they resemble coarse crumbs
Add the 1/3rd Cup Condensed milk and blitz again.
Prepare a small bowl with ¼ cup of coconut and a large plate for the prepared truffles
Begin to roll the truffles, taking a teaspoon sized amount and rolling well until it forms a solid even ball, then roll gently in the coconut, set on the plate and repeat.
Pop in the fridge or freezer for 30 minutes until firm to the touch.
If coating in melted chocolate, prepare the melted chocolate, then dip the truffles in carefully using a spoon then drain off the bulk of the chocolate and set it down on a tray covered in baking paper and allow to cool at room temp.
Can be stored in an airtight container in the fridge or cupboard until ready to share, best served at room temperature.


So it is all pretty simple and straight forward! I have a lovely selection of Christmas Recipes on the blog, be sure to check them out to see what inspires you this holiday season. These delicious truffles can of course be enjoyed any day of the year!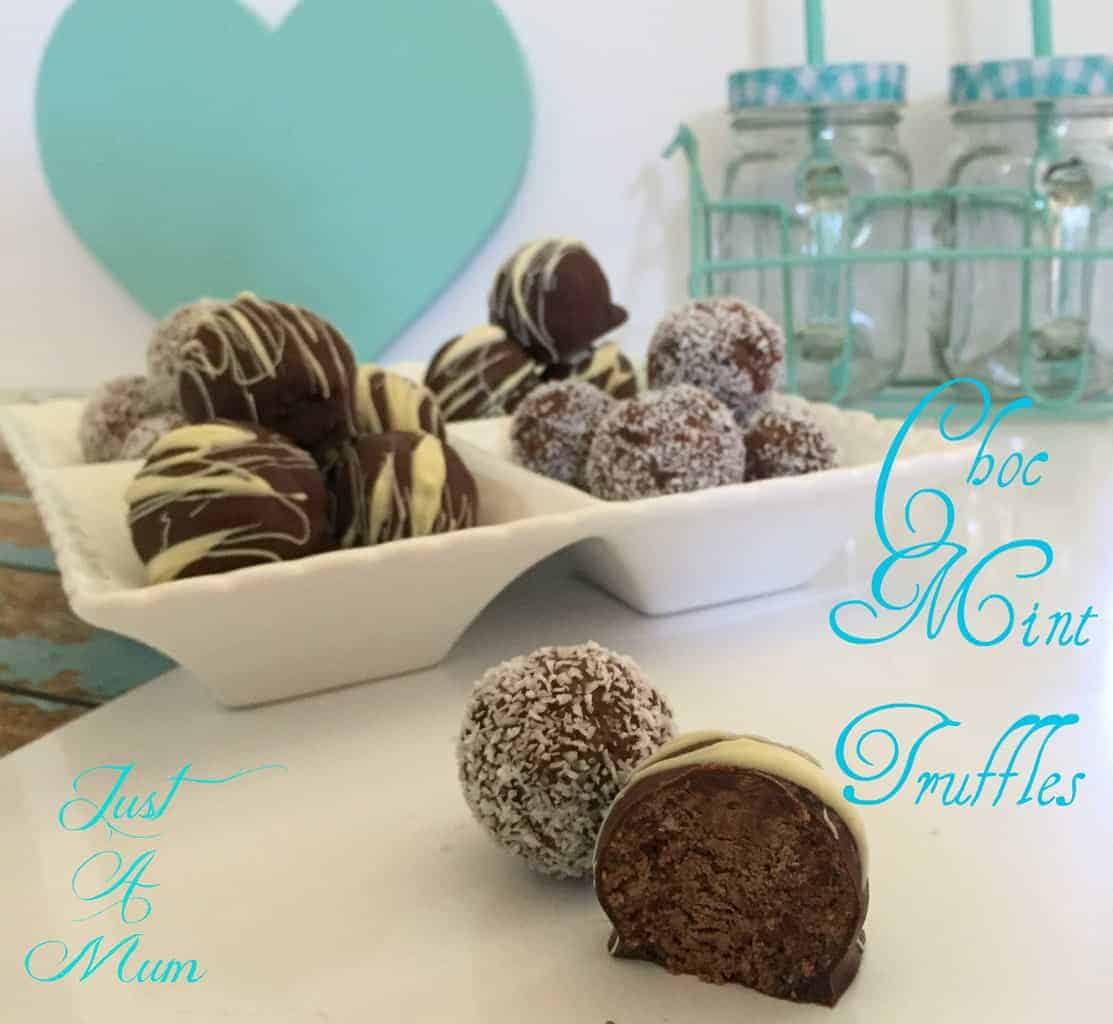 Be sure to stop by and let me know on Facebook if you make this recipe, I always love seeing photographs of what you make so flick that through too!
Happy Baking!
Anna 😀