Hiding veges in delicious food is becoming my new favourite thing! I know these ones were a hit as my kids devoured them fresh from the oven!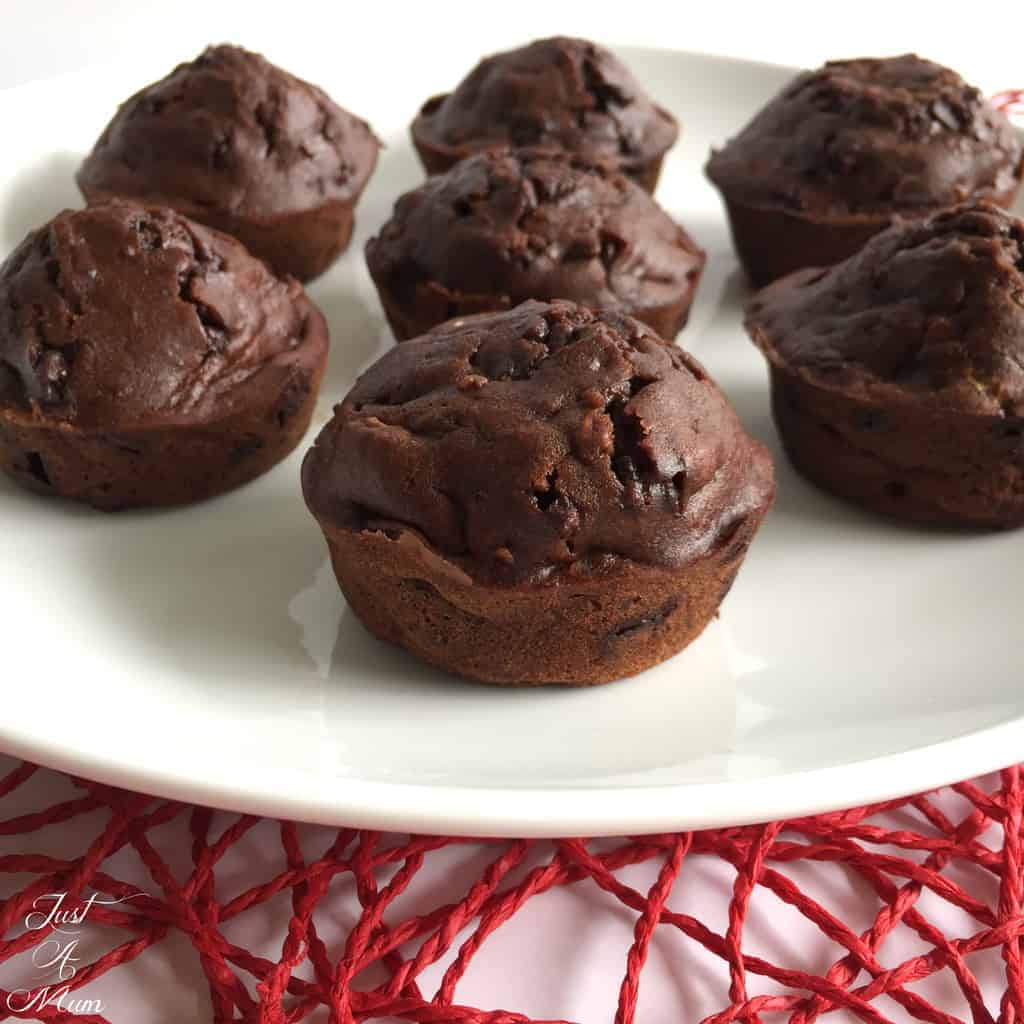 Recently when I asked on my Facebook page for ideas for 2017, recipes with hidden veges was one of the special requests. While these muffins do have the usual suspects, flour, brown sugar and chocolate they also have some added nutrition by way of zucchini and carrot – which add even more natural sweetness and moisture.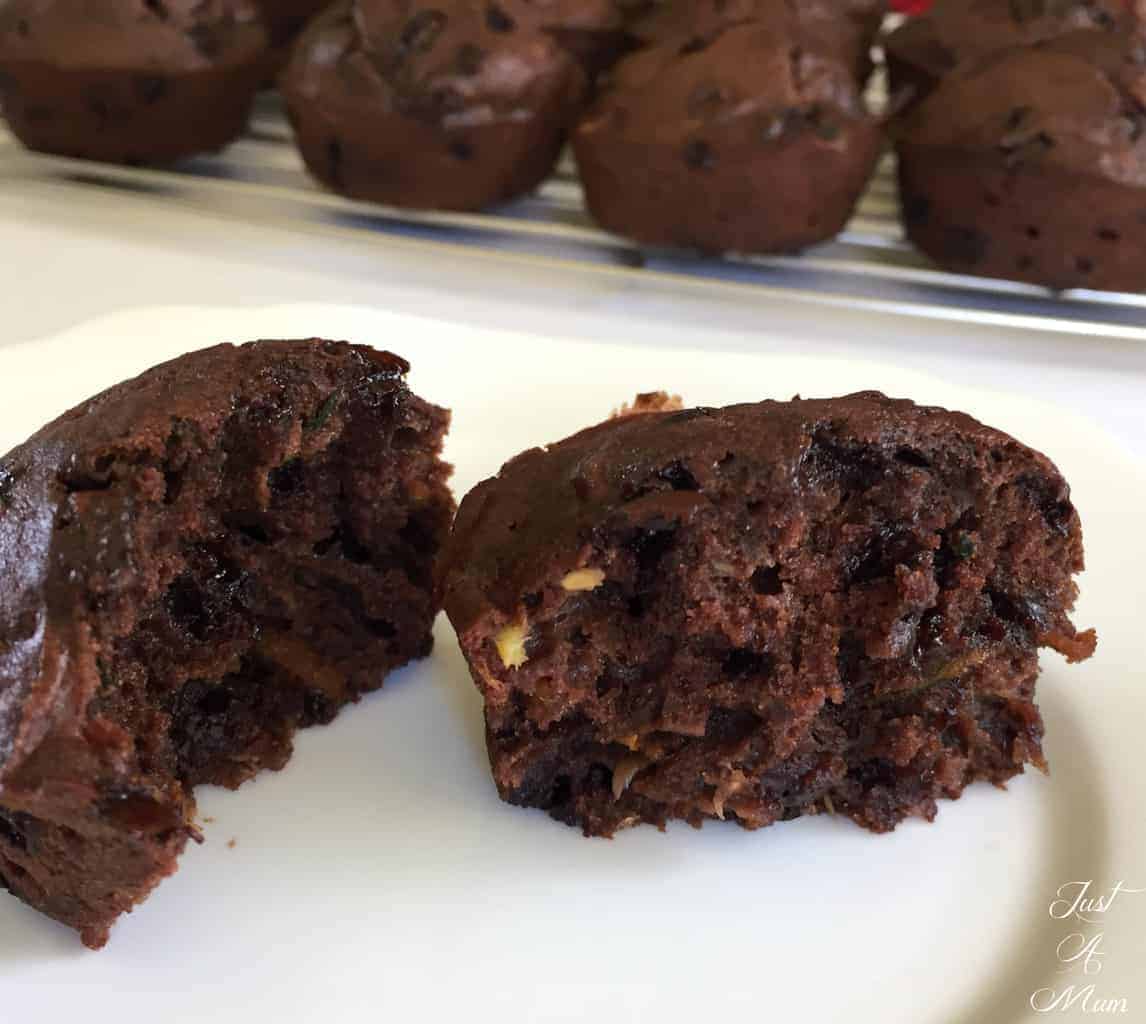 These muffins end up tasting to me like my Chocolate Self Saucing pudding, they are rich and dense and definitely delicious. Only the fussiest will notice the veges in this one, but if you do have a super fussy food-spy then you could grate the vegetables even finer. Honestly they cannot find their shoes but a tiny piece of goodness will be spotted miles away lol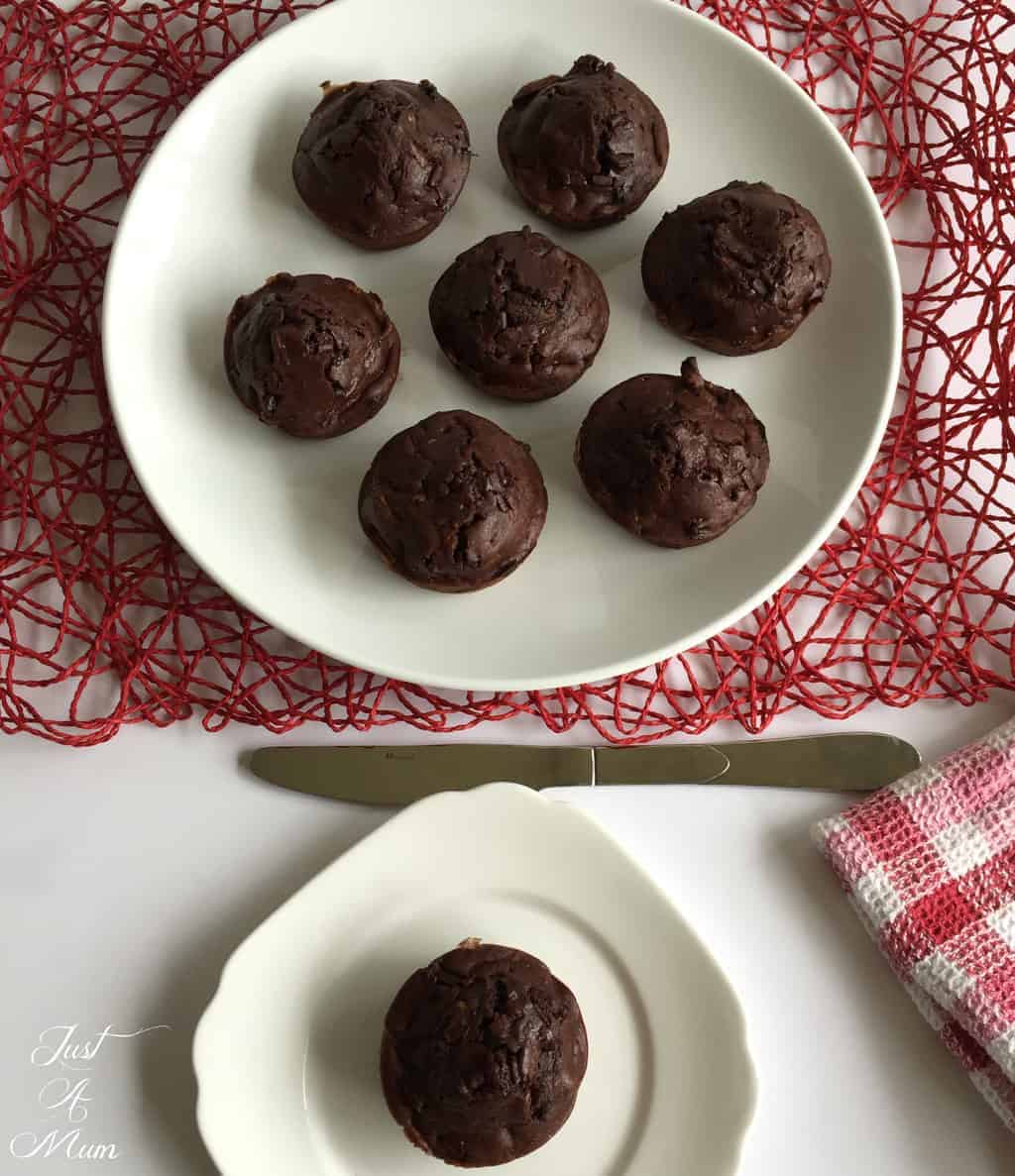 My kids lunch boxes tend to be different each day, the fruit and or veges is the easy part, then I like to put something else in as well as a sandwich or a wrap. And of course they all like different things! So the great part about making different sorts of muffins is that I freeze them so that I can add the right one to the right kids lunch box!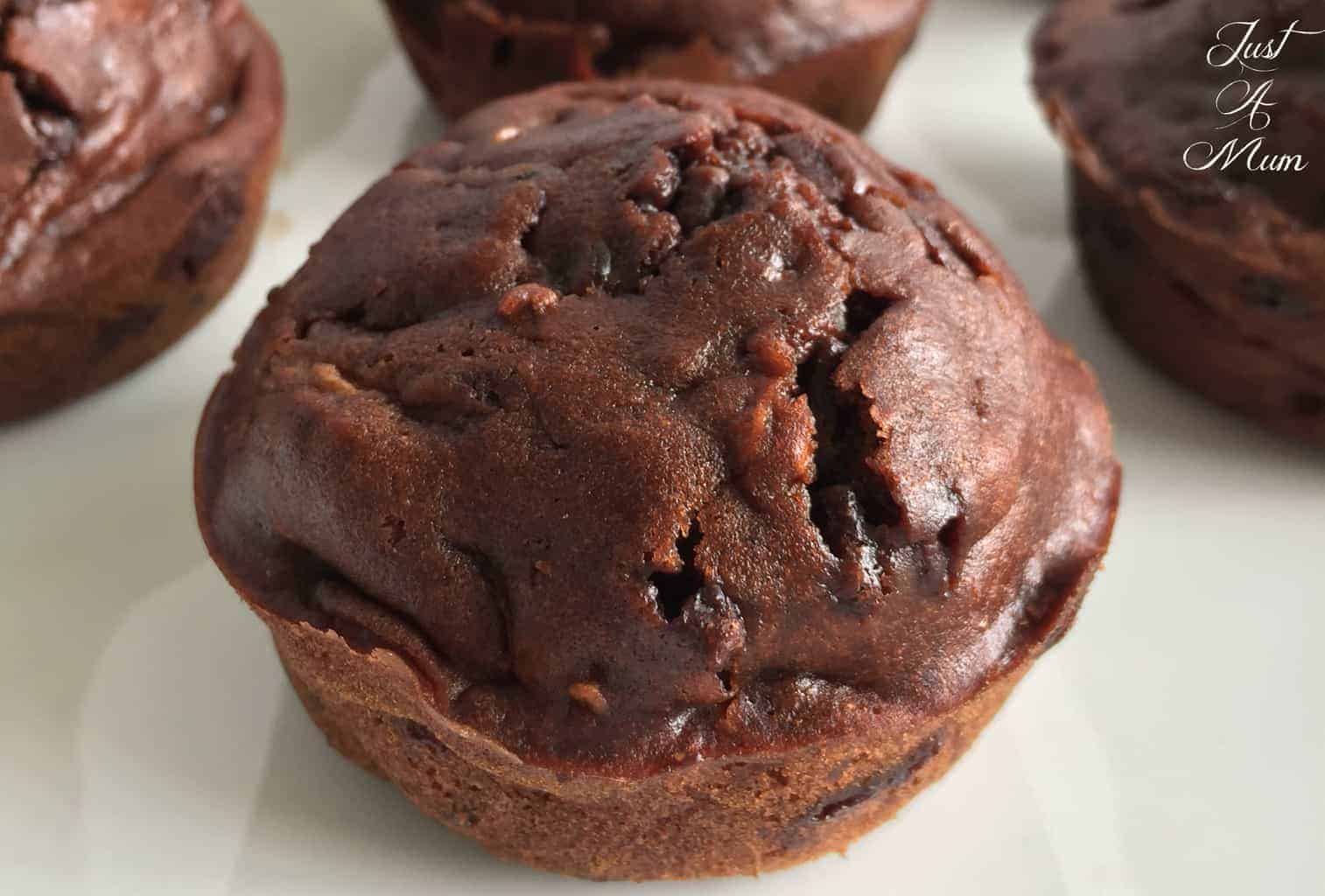 I know there is so much controversy around lunch boxes these days and a few brave souls will share online what their child got that day, and usually they are the victims of what you can only call cyber bullies. They will pick on the smallest thing that is not 100% healthy or organic.
But I have to be totally authentic and genuine with you, my kids lunch boxes will usually have baking or biscuits (sometimes both – shock horror!), fruits and or veges, sandwiches or wraps and often crackers. The poor things, they really are missing out on their organic paleo grass fed hemp infused goodness and for that I do not apologise. They are busy, sporty, they get fed well with a balanced diet and as long as I am not feeding them hot pies and coke I feel like I am on the winning side!!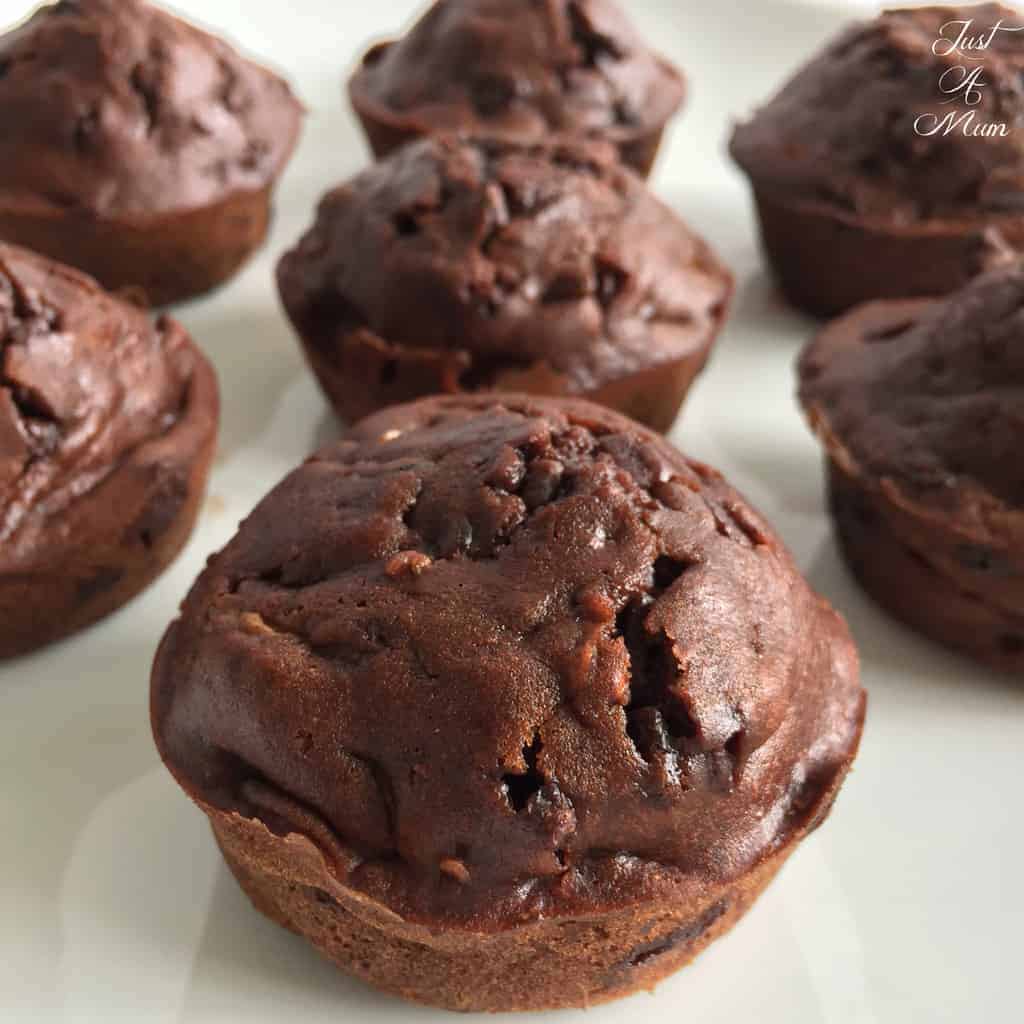 So after that little rant lets get on with this simple and delicious recipe! There is no need to squeeze out the moisture from the zucchini as it adds to the moisture. I recommend one zucchini and one small carrot, which for me made a heaped cup of vegetables which was perfect. So use your judgement, no need to be too exact.
I hope you enjoy this recipe as much as we did. Be sure to follow me on Facebook & Instagram for so much more deliciousness.

Double Chocolate Zucchini Carrot Muffins
Ingredients
¾ Cup Brown Sugar (packed)
¼ Cup Oil (I used Canola)
2 Eggs
1¼ Cup Milk
2 teaspoons Vanilla Essence
2 Cups Plain White Flour
½ Cup Cocoa Powder
2 teaspoons Baking Powder
½ teaspoon Salt
1 Heaped Cup Grated Vegetables - 1 medium Zucchini & 1 medium Carrot
1 Cup Chocolate Chips or Drops.
Method
Preheat Oven to 200C (395F)
Lightly grease a 12 Muffin Tray and set aside
Rinse, peel and grate the carrot, and grate the zucchini and set aside.
In a large bowl add the sugar, oil, eggs, milk and vanilla essence, whisk until smooth
In a medium bowl add the flour, cocoa, baking powder and salt and gently combine.
Add the dry ingredients to the wet ingredients and mix very carefully until just combined, add the grated vegetables and fold carefully - careful not to overmix.
Add the prepared mixture to the muffin trays until each cup ¾ full.
Bake for 15 minutes or until the muffins spring back to the touch.
Remove from the oven and allow to cool for 5 minutes before removing onto a wire rack to cool completely before storing.
Will freeze well.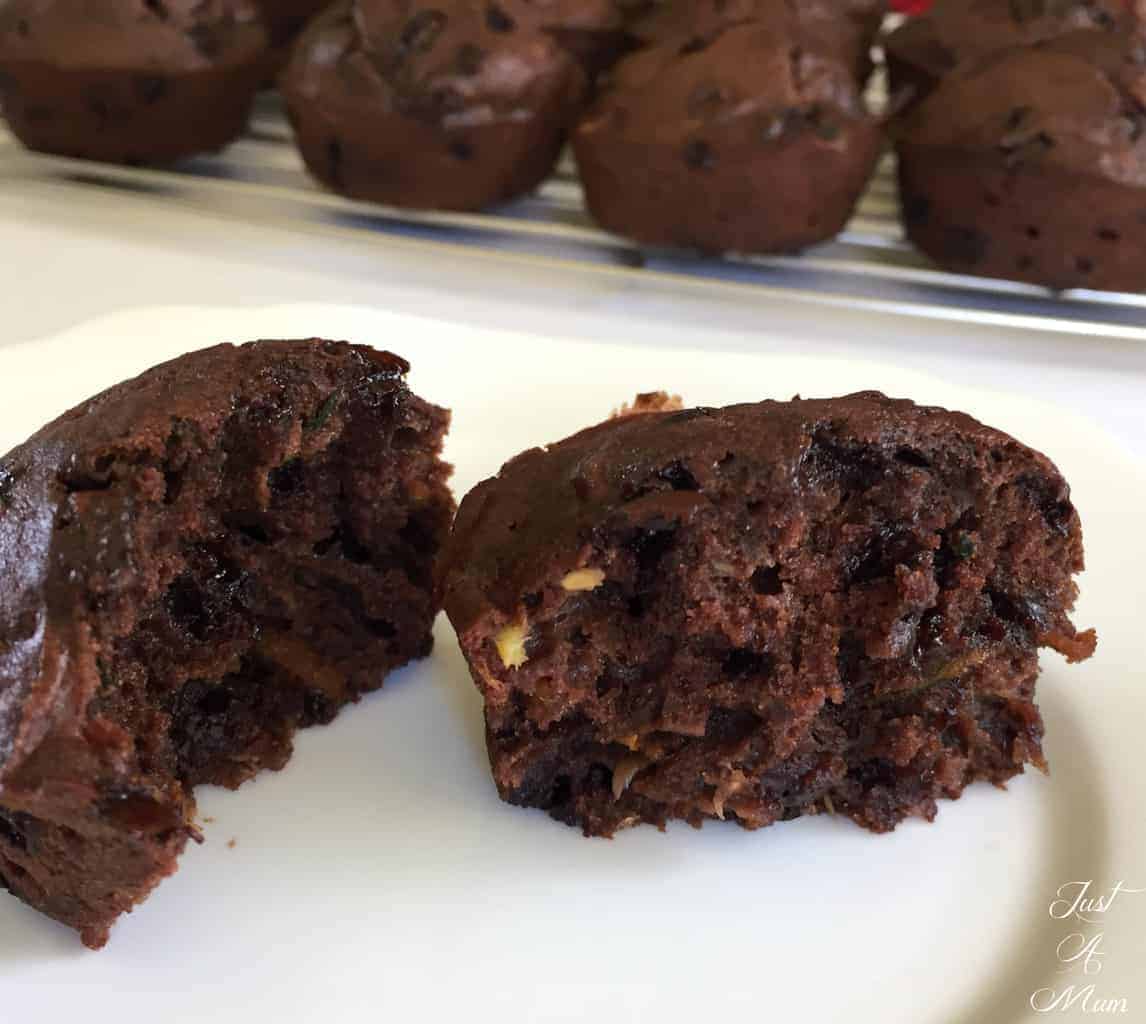 Thank you so much for stopping by – be sure to check out my other hidden vege recipe! To never miss a recipe again be sure to subscribe to my blog with your email address in the box below.
Happy Baking!
Anna xox