This recipe is absolutely delicious, restaurant quality, but oh so simple and I am not sure why it has taken me so long to try it!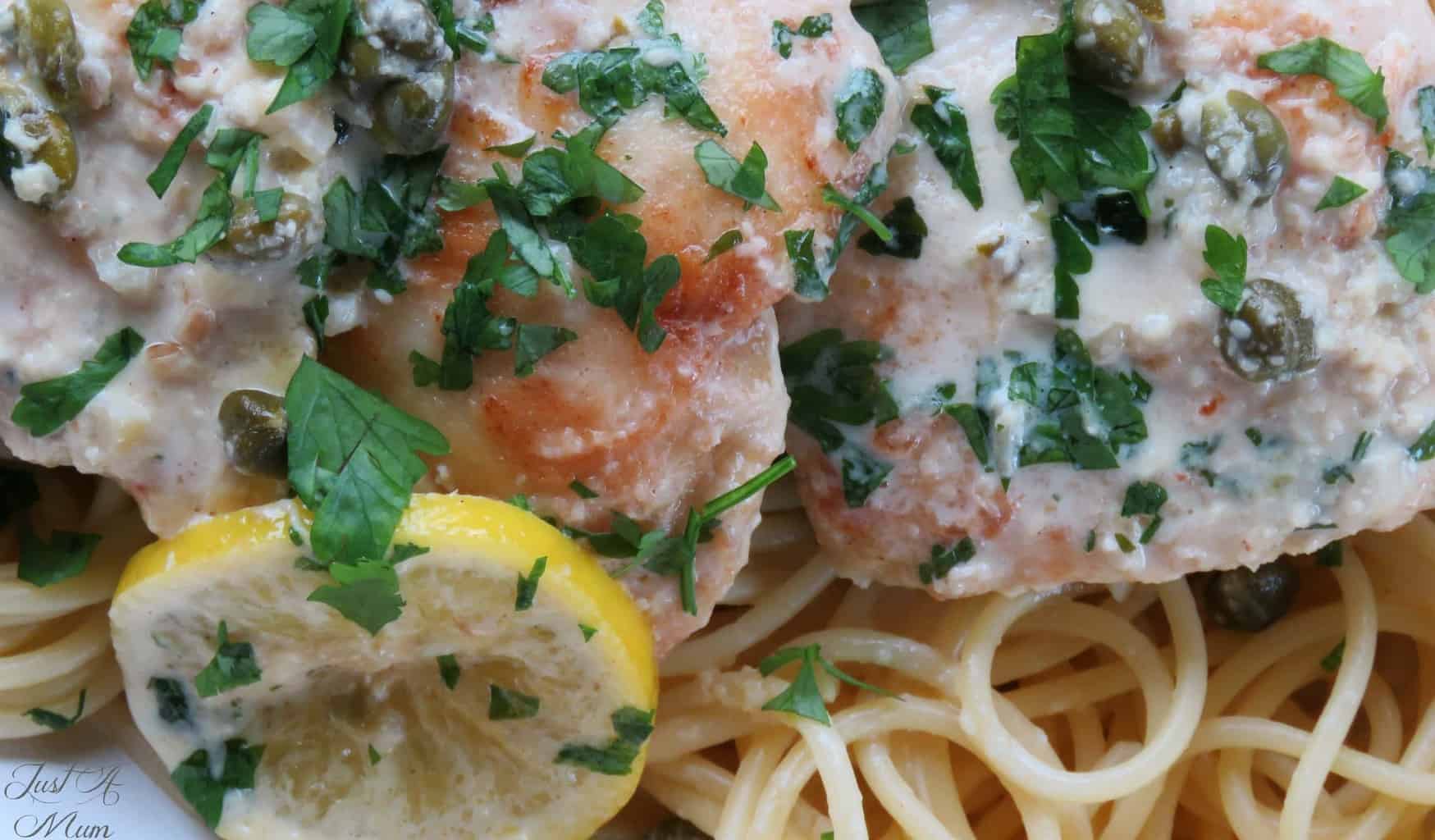 The combination of Chicken, Lemon, Parmesan and cream is to die for, add in some garlic, capers, parsley and you have a match made in heaven – plus EASY – oh boy do I love easy recipes.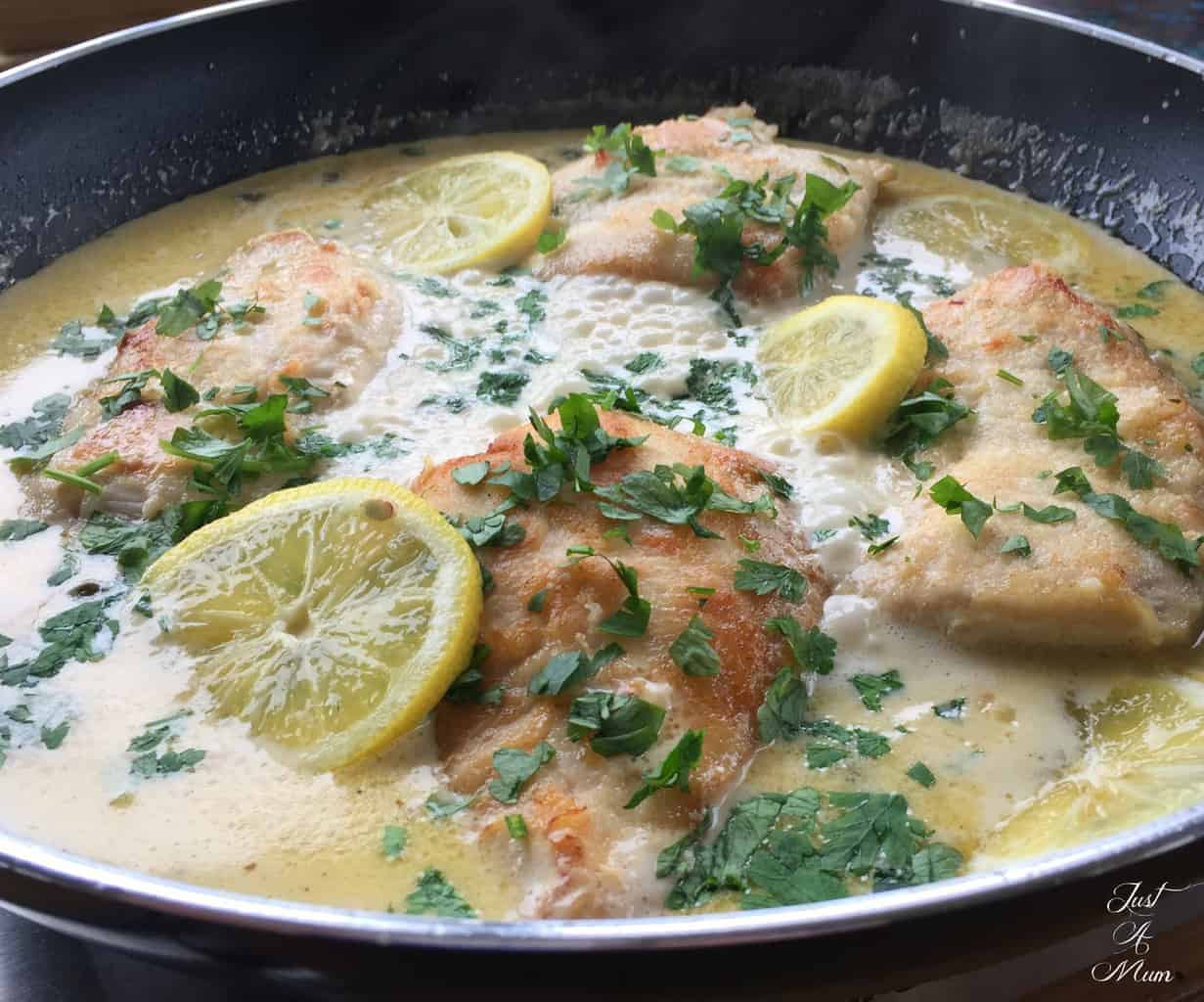 We are a busy family of five and our kids, like many, have lots of after school activities, homework and general life busyness for us all, so it is super important to me that these recipes are something that could be made really quickly, with simple ingredients that would not break the bank!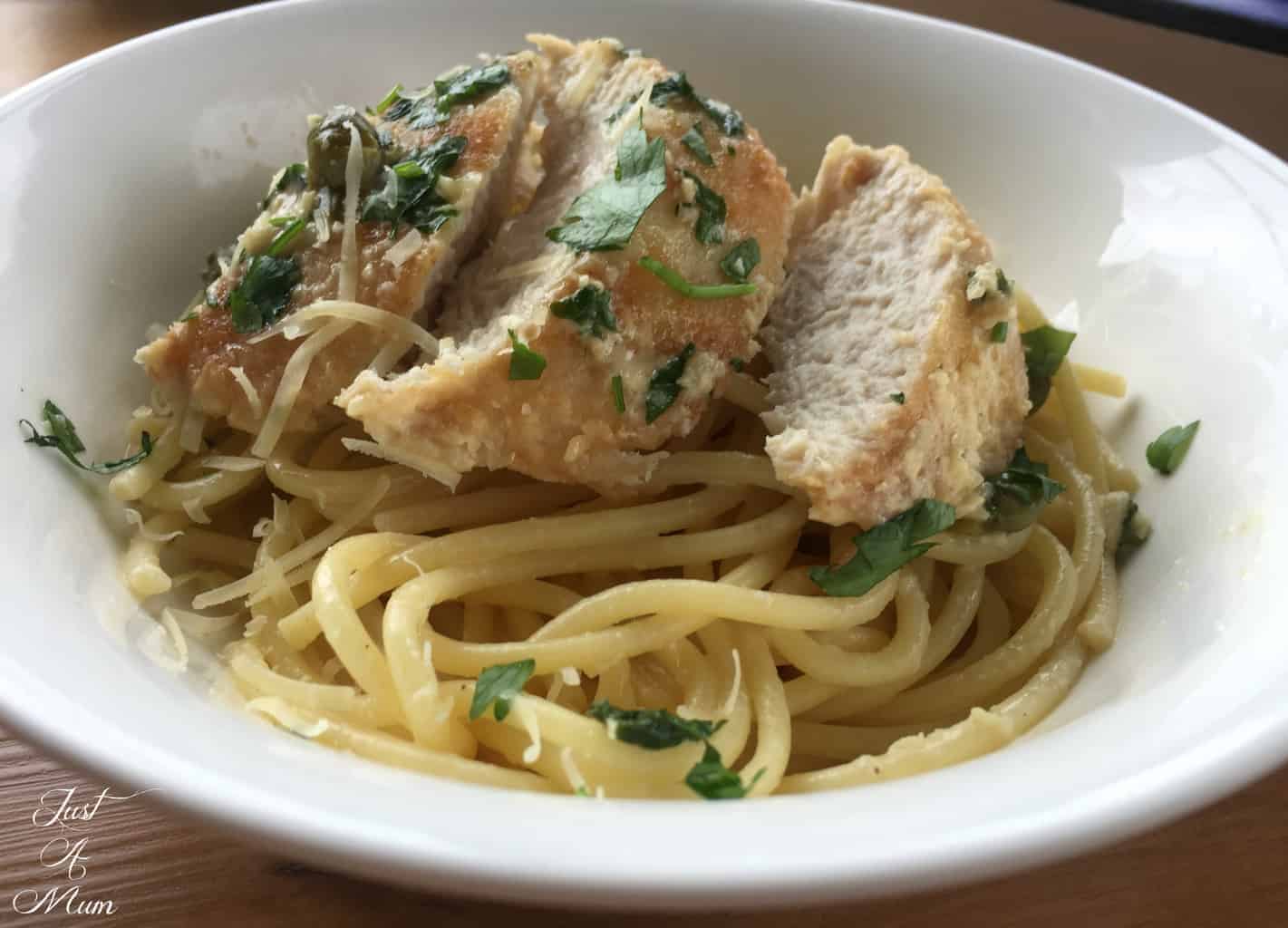 So that is exactly what I have done. I have created a gorgeous chicken meal that can be amended in a few subtle ways to make it even cheaper or to peoples own taste. I absolutely adore garlic, lemon and Parmesan anything so I knew that I wanted to work with those flavours. When I am dining out I love ordering the creamy chicken dish, and usually feel it is not something I can recreate at home, but I was definitely wrong.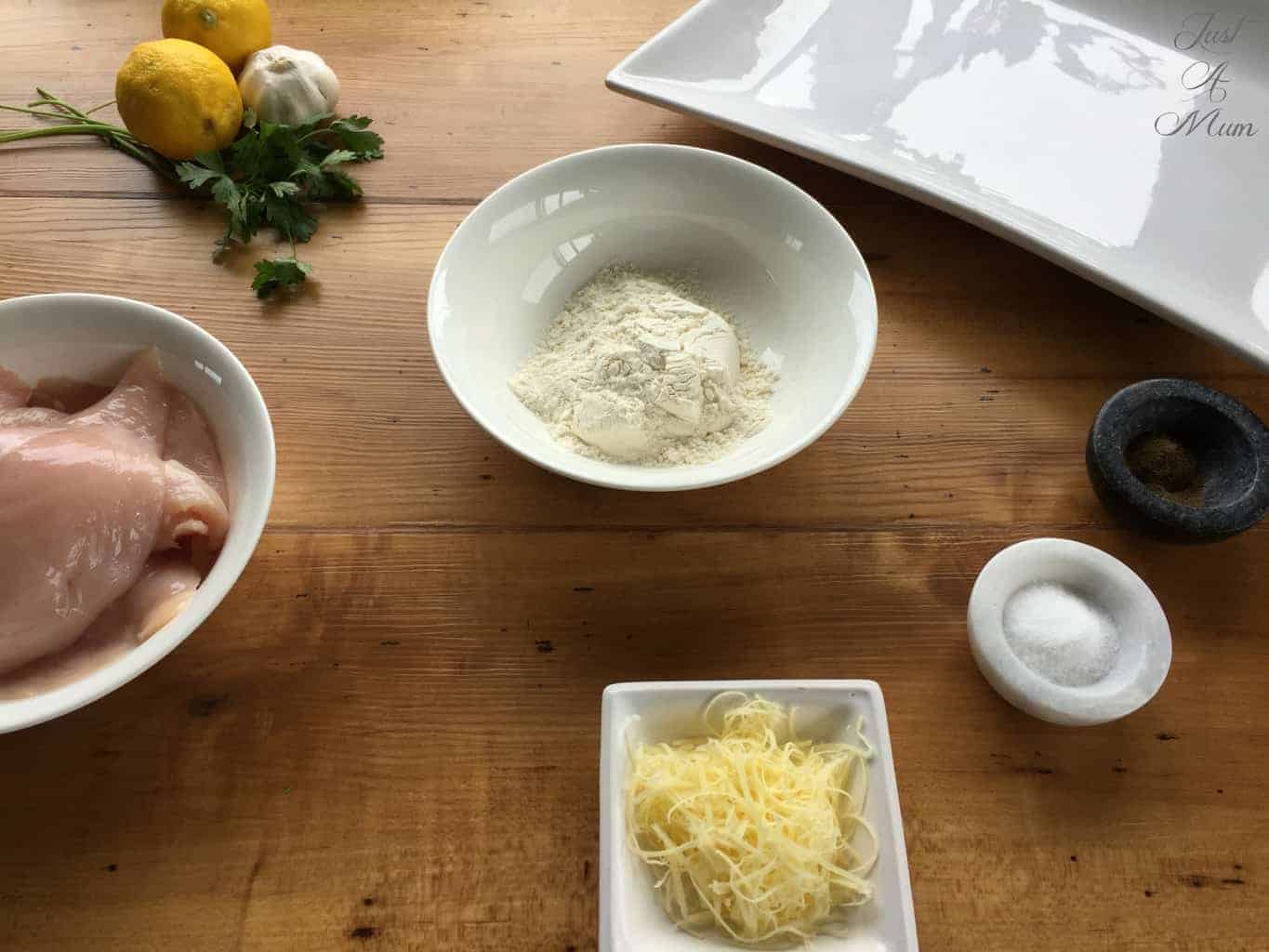 This dish is often referred to as a Piccata, there are many variations around, many share similar traits, sliced chicken cooked with butter and lemon and occasionally spices. I wanted to infuse a few of my favourite flavours into this recipe so that is exactly what I have done here. A little of this, a little of that and in under half an hour you will have the most beautiful meal. The house smells sensational and the entire family enjoyed this one.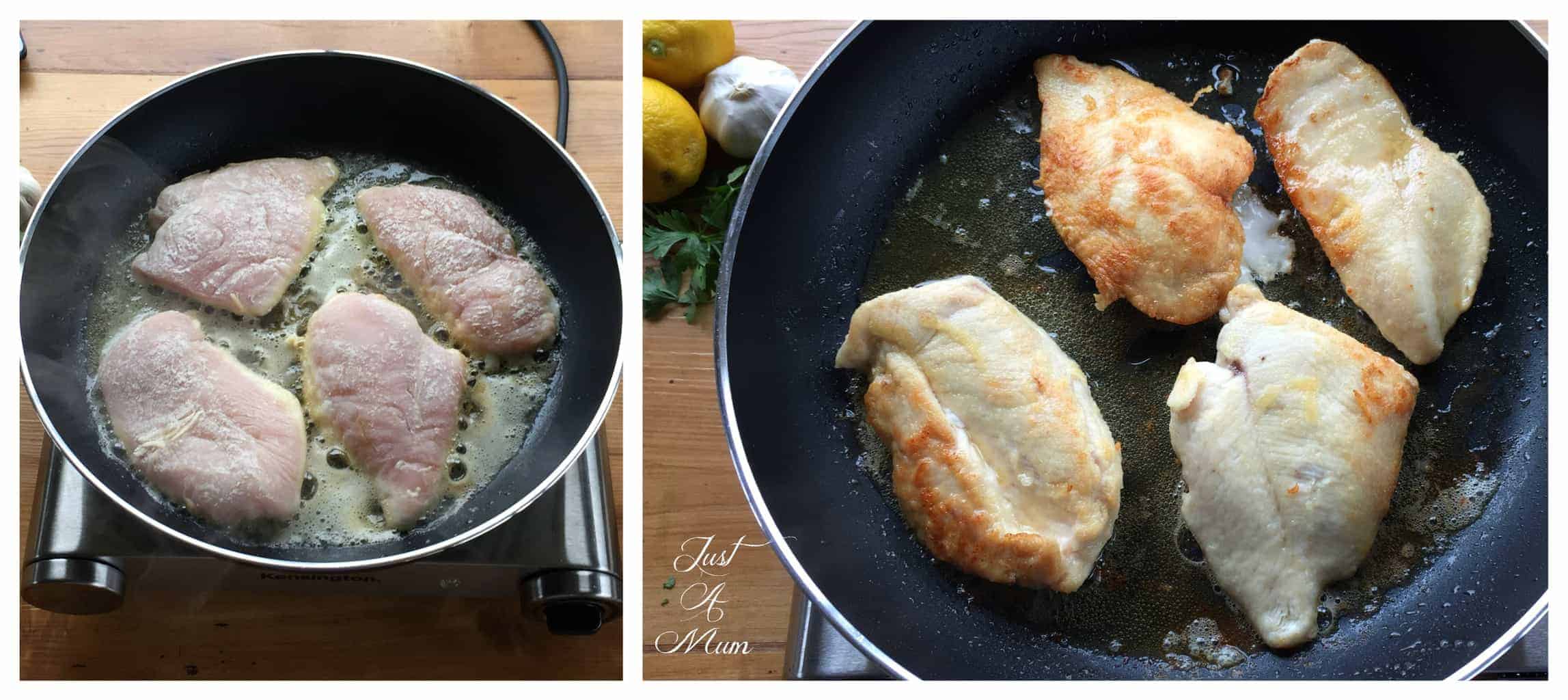 I, like most NZ families, tend to focus on the specials when I am grocery shopping. Our grocery budget is limited so if I can make my dollar go further then I definitely will. With that being said they also cater to your needs, if organic free range is your thing then totally buy that, if you want 'brand name' cream then go for it, but for us it is cheap and cheerful right now. But creating delicious meals from less is what many families do every single night.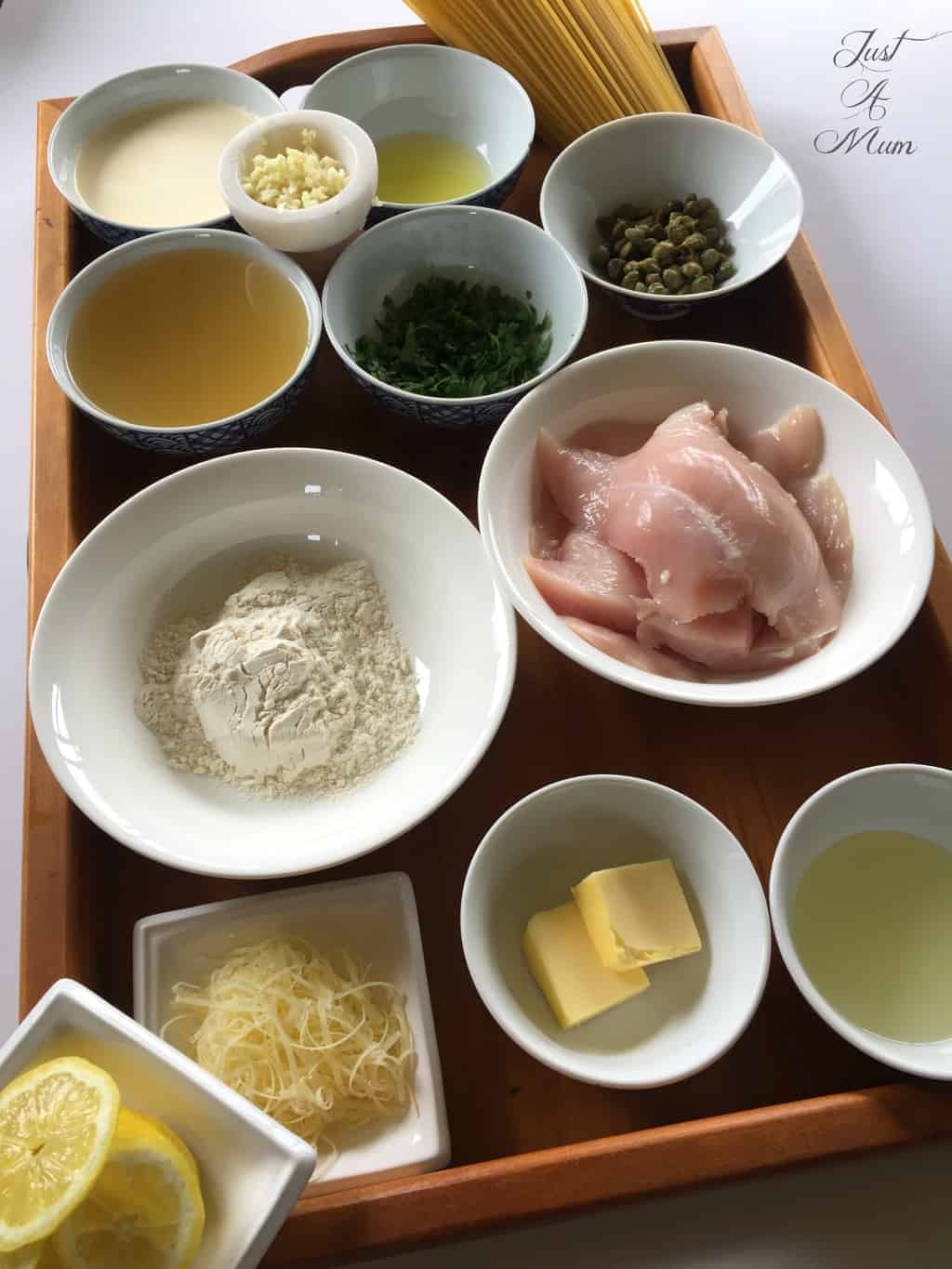 Onto the recipe, this is a beautiful blend of flavours. However this recipe is really flexible, in that if garlic or capers are not your thing then they can easily be left out. If the children find the lemon juice overpowering simply reduce the amount you add. You could also use chicken thigh if you felt that better suited your needs, you could even replace the cream with milk*! Either way I can assure you that this will definitely become a wonderful addition to your meal plans each week.
I really hope you give it a try and let us know what you think!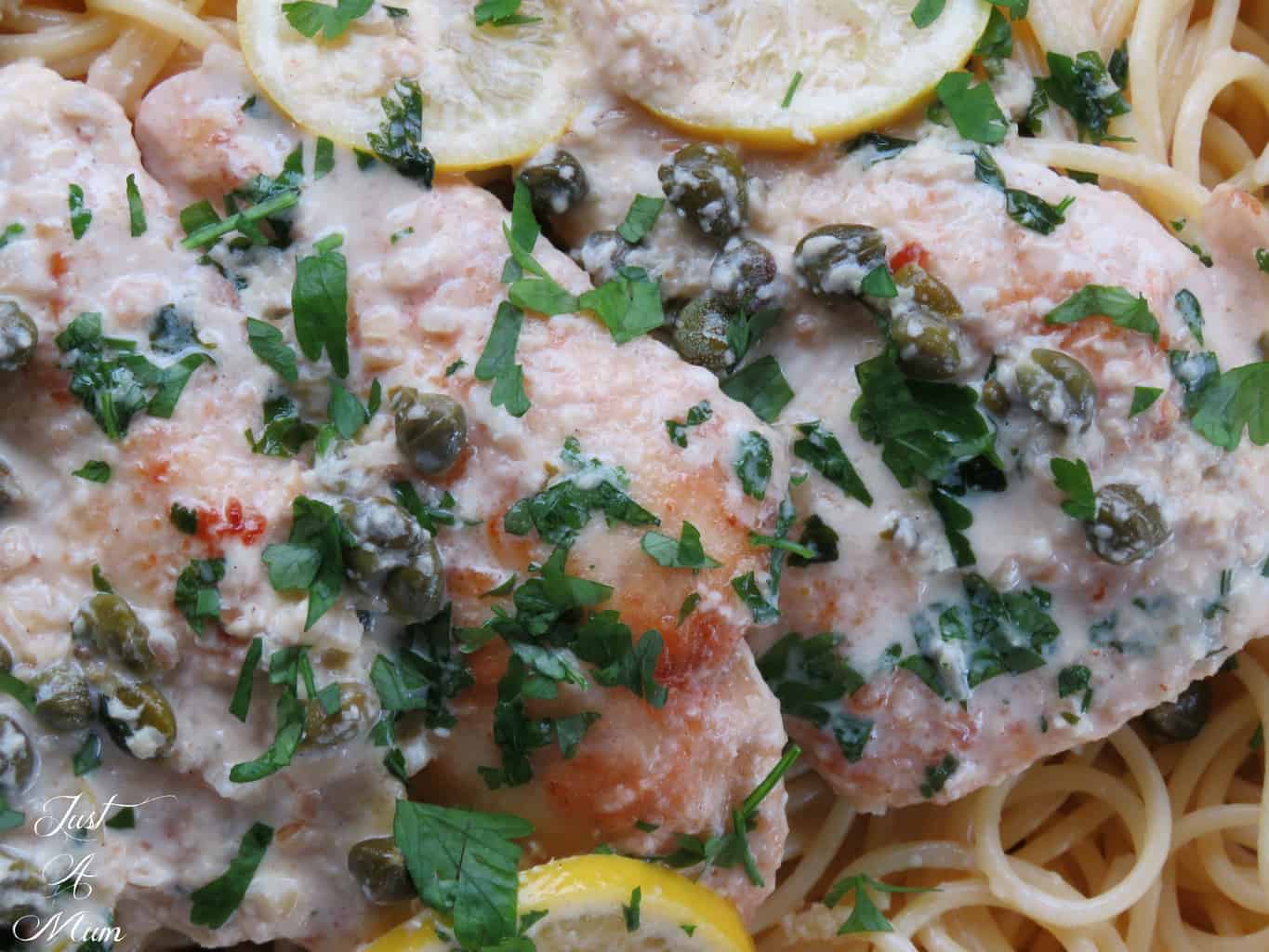 With any quick meal like this one, I recommend that you prep all of your ingredients before you begin so you can simply cook and enjoy!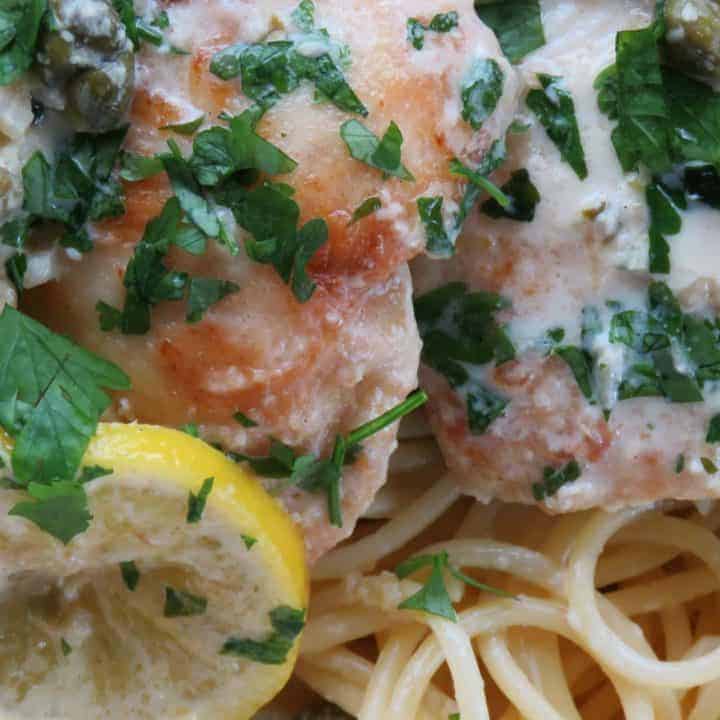 Creamy Lemon Parmesan Chicken
Yield: 4

Prep Time: 30 minutes

Cook Time: 20 minutes

Total Time: 50 minutes

With a quick meal like this one I recommend preparing your ingredients before hand.
Ingredients
Chicken
2 Large Chicken Breasts, Boneless, Skin Off, sliced in half
1/3 Cup Plain White Flour
1/4 Cup Parmesan Cheese, finely grated.
Pinch of Salt
20 grams Butter
2 Tablespoons Oil
Sauce
1-2 Tablespoons Crushed Garlic
1 Cup Chicken Stock
3/4 Cup of Cream
1 Lemon, juiced and strained - approximately 1-3 Tablespoons
1/4 Cup Capers, drained (optional)
1/3 Cup Parmesan, finely grated
2 Tablespoons Parsley, finely diced for garnish
Lemon, sliced thinly for garnish (optional)
Salt & Pepper, to taste
Pasta
Water
400 grams Spaghetti
Instructions
Heat a large pot of salted water on the stove top for the Spaghetti, bring to the boil while you prepare other ingredients.
Prepare the chicken by slicing each chicken breast in half so each piece is half the original thickness, creating 4 evenly sized pieces of chicken
On a large plate combine the flour, first measure of Parmesan and season with salt
Dip the 4 chicken breasts into the flour and cover well on both sides and set aside
Add the spaghetti to the pot of boiling water and allow to cook for 8-10 minutes until al dente, drain and set aside.
While the spaghetti cooks, heat the butter and oil in a medium hot frying pan
Once the butter is melted add the chicken to the frying pan and cook for 3-4 minutes until golden before turning the chicken over and cooking for a further 3-4 minutes until cooked through
Once cooked remove the chicken from the pan and set aside
Using the butter and oil that is already in the frying pan reduce the heat to low and add the crushed garlic and cook for 1 minute
Add to this the chicken stock, cream and juice of one lemon and combine well then increase the heat to bring this to the boil, once boiling reduce the heat and cook through for 3 minutes.
Add the second measure of Parmesan and the capers and stir through to combine, season with a pinch of salt and pepper to taste.
Add the Chicken back into the sauce, then garnish with parsley and lemon slices if using.
Serve either on a large serving dish with the spaghetti as the base, lay the chicken over top then pour over the remaining sauce, or serve individually with spaghetti, sliced chicken and drizzle the sauce over each serving.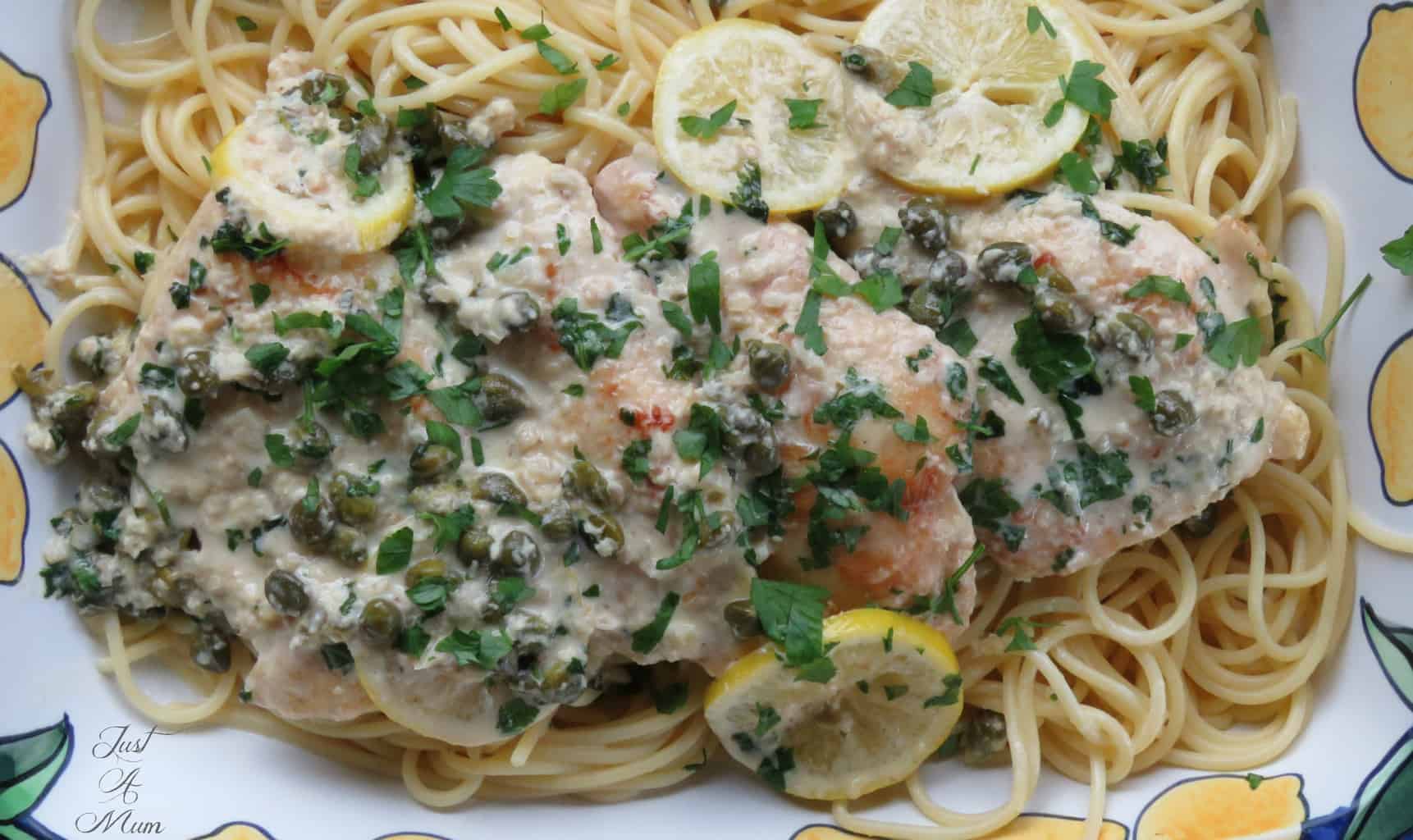 There you have it, a delicious meal that is definitely a winner! Cooking meals from scratch need not be difficult or time consuming. This recipe creates a decadent meal that not only looks divine it tastes delicious!
If you are not already a follower of Just A Mum on Social Media then definitely check me out on Facebook and Instagram and see what else is cooking.
Happy Cooking! Anna xox
*If you do replace the cream with milk you may wish to add a small amount of cornflour to a small serve of milk before adding to thicken the sauce, however this is not vital!