I always thought profiteroles would be tricky, turns out they are not and I have just made them even easier and super delicious!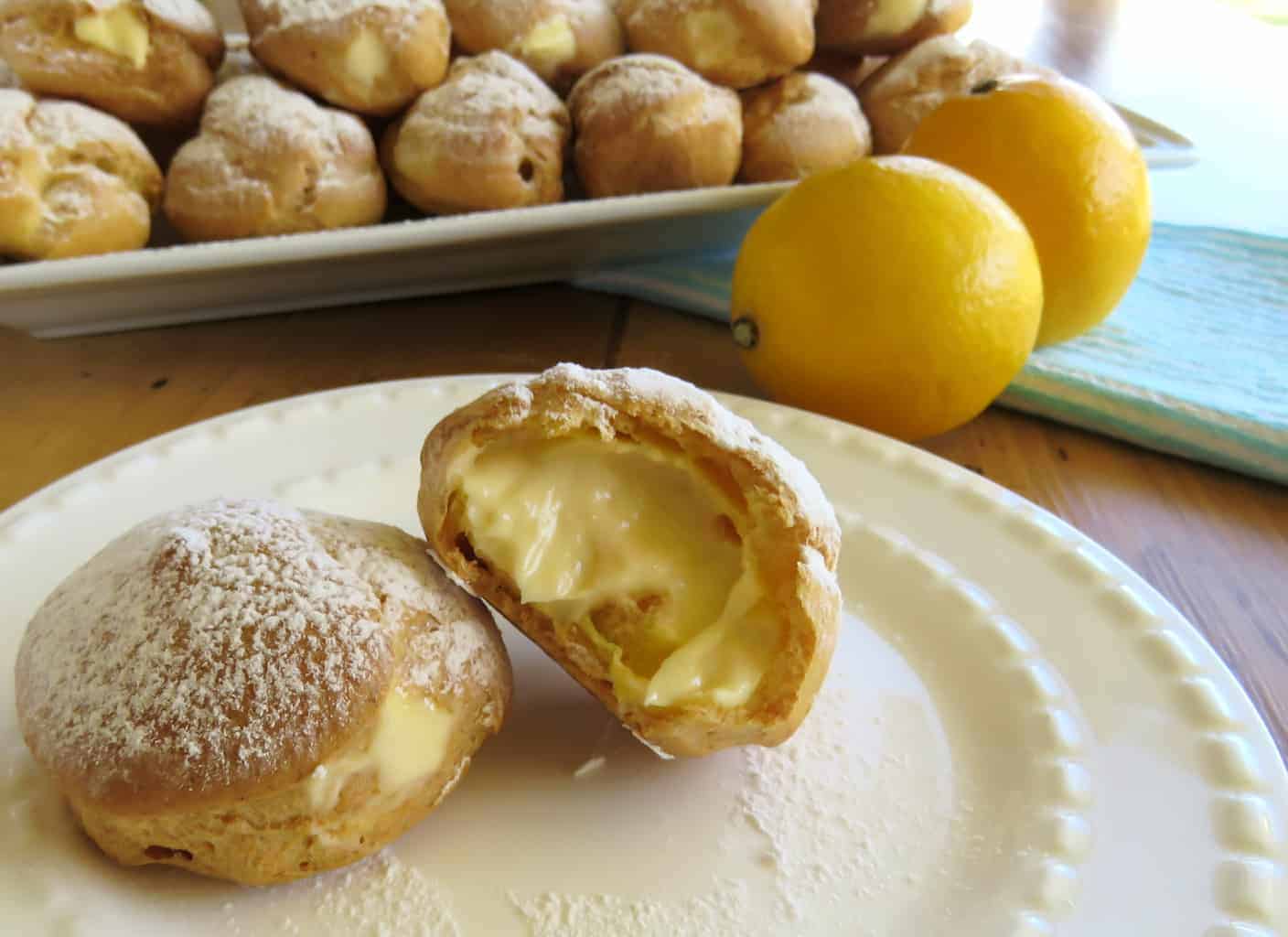 With only 4 ingredients making profiteroles is actually quite simple. There are a couple of tips I can offer that will make it even easier. This is also the same base you use for Eclairs, you just pipe them differently.
But what makes this recipe so simple compared to what you often see is the filling. I have taken all the worry out of making a delicious filling by using just 3 ingredients! And it is super divine, especially if you are a lemon lover like me. I have used Tatua Créme Fraiche, lemon curd and for those who REALLY love lemon add in some lemon zest. So easy!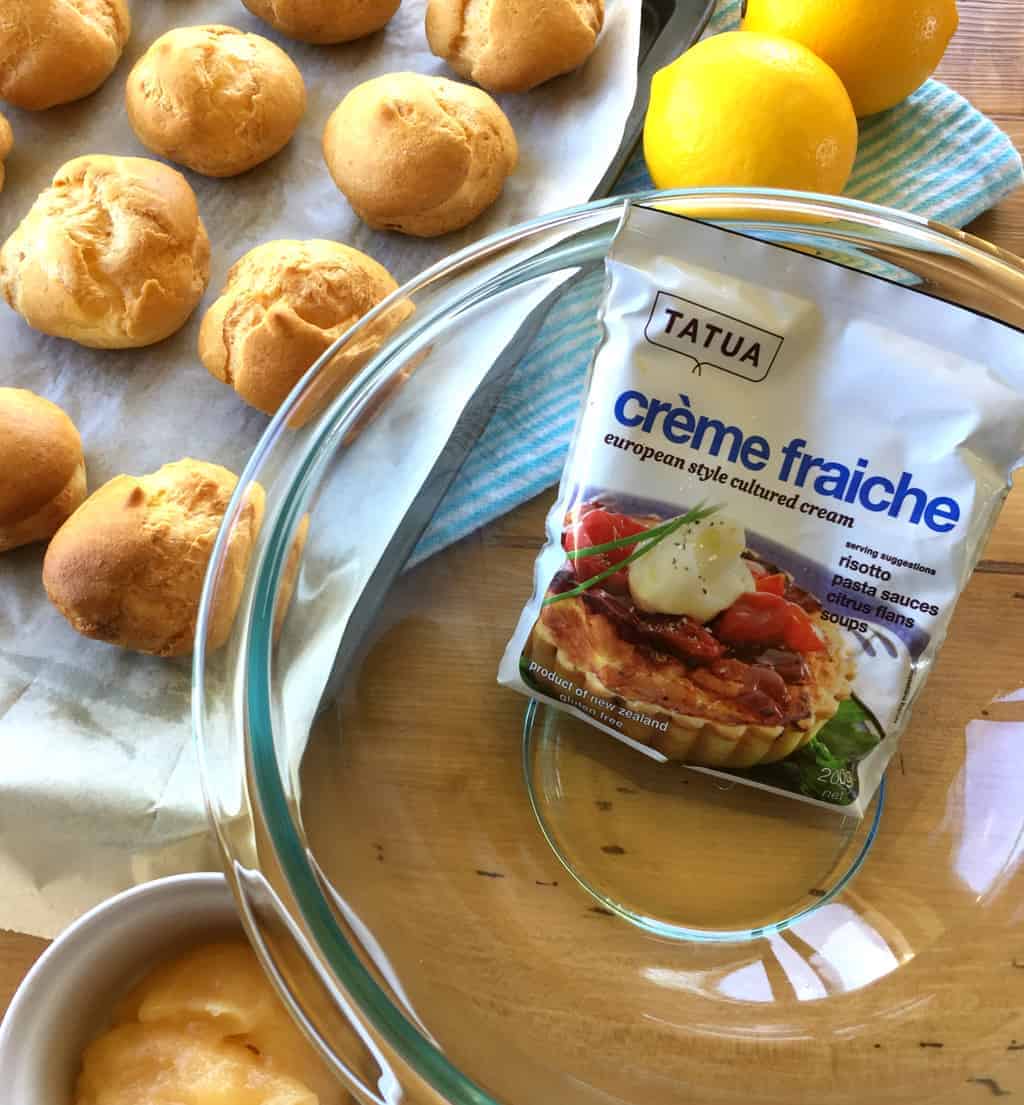 I love créme patisierre but it is quite an involved process with lots of steps. Definitely worth it for some occasions but my profiterole filling recipe can be prepared in no time at all which makes it all the more appealing to me! In the past I assumed my friends that could make profiteroles had some sort of super powers, turns out its very simple and even I can make them.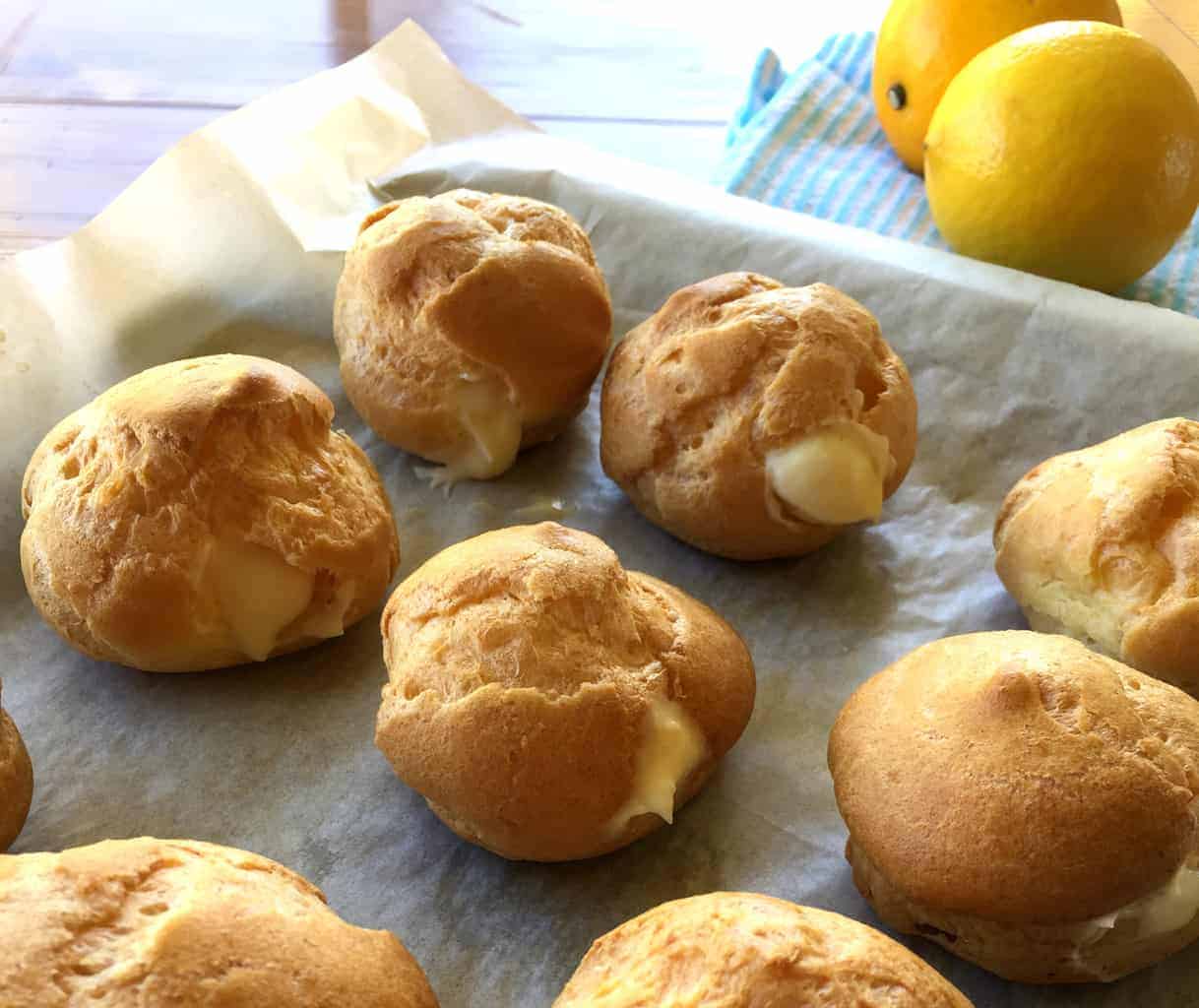 I have taken a video to shows the steps of preparing the batter for the choux pastry. You simply melt together the butter and water, add the flour and beat well until it comes away from the sides of the pan and forms a ball. This means all of the liquid has absorbed into the flour. Then simply add your eggs one at a time, the mixture will go slimey and seem like it won't form back normal, but it does, just beat it well with a wooden spoon until fully combined before adding the next egg. Repeat this process with 4 eggs in total, then you are ready to pipe!
I tested two different batches with 3/4 cup and 1 cup of flour to see if the runnier batter made much difference. Honestly it didn't so don't worry too much if your batter looks different to mine or someone elses.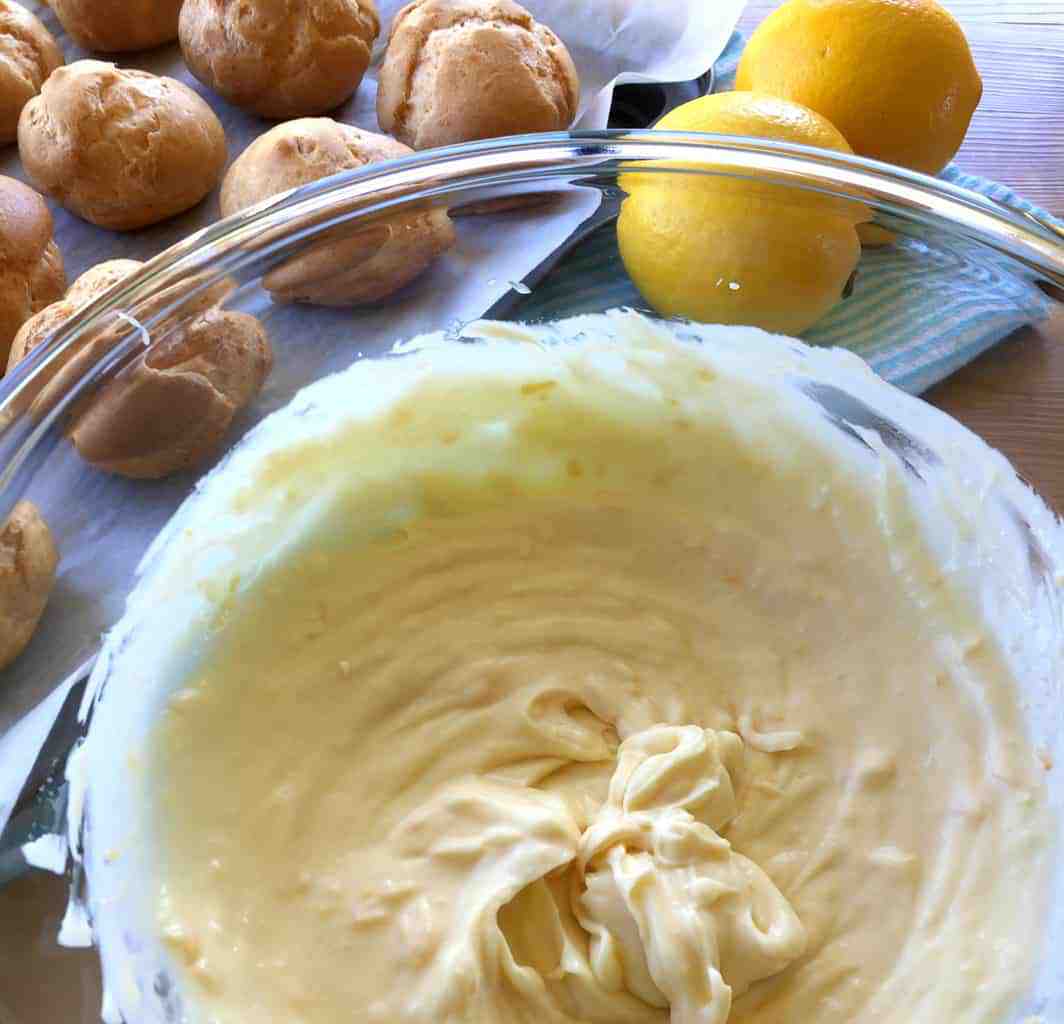 The filling is my favourite part, the profiteroles are hollow inside once they have baked, which is why you do not want to make them too big, otherwise you will have a huge amount of créme fraiche lemon filling to get through in one bite!
I have once again partnered with Tatua to bring you a new and delicious way to use their créme fraiche. Créme fraiche is actually a tangy sort of sour cream. It is wonderful in this recipe as it doesn't split or separate so it is perfect to add the citrus flavours to. I have used a store bought lemon curd as I love it. However if you are feeling virtuous you are very welcome to whip up your own batch! This is definitely a taste as you go recipe. Add the lemon curd a few tablespoons at a time until you get a flavour you love, the same with the lemon zest, and if you wish for a less tart result, add a tablespoon or two of icing sugar to balance out the sweet tangy flavour.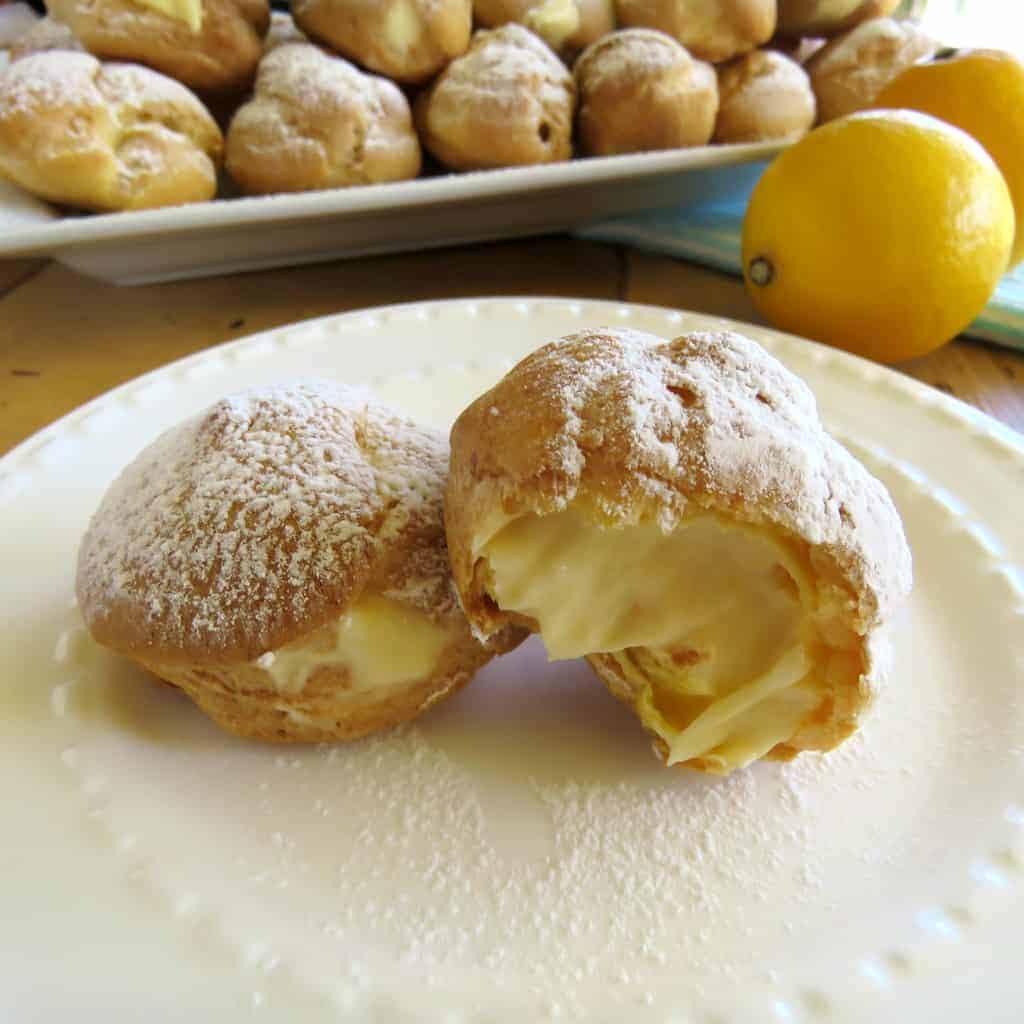 So onto the recipe, Profiteroles with Créme Fraiche Lemon Filling
Profiteroles with Créme Fraiche Lemon Filling
Yield: 24

Prep Time: 40 minutes

Cook Time: 25 minutes

Total Time: 15 minutes
Ingredients
Profiteroles
1 Cup Water
100g Butter
¾ Cup Plain Flour
4 Eggs, size 6 or 7
Filling
2 x 200 gram pouches Tatua Créme Fraiche
4-8 Tablespoons of Lemon Curd
Zest of One Lemon, optional
Icing Sugar to dust
Instructions
Preheat the oven to 200C Bake
Prepare 2 oven trays with a light spray of cooking spray or water and cover with baking paper - helps paper stick!
In a large saucepan heat the butter and water over a medium heat until the butter melts and begins to simmer, stirring often.
Reduce the heat to low and add the flour to the butter, with a wooden spoon combine well until smooth
Continue to cook the mixture until it comes away from the sides of the saucepan and forms a ball that a teaspoon can stand up in - 2-3 minutes maximum
Remove the pan from the heat.
Add in eggs one at a time mixing well with a wooden spoon in between each egg until it is completely incorporated (good arm work out!) It will go slimy and separate before it comes together again, this is normal
Spoon the mixture into a large piping bag (with no nozzle) - turn down the top 3rd of the piping bag down over your hand as you add mixture - saves you getting mixture all over the place!
Pipe heaped tablespoon sized drops onto your prepared trays, (Or do longer 2-3 inch pipes for Eclairs), separated 2 inches apart.
Once you have even sized drops on your trays you can use a wet finger to slightly mould the drops if they are a little misshapen or have pointy bits from the piping bag so these do not burn
Cook in the middle of the oven for 25 minutes or until they are lightly golden brown
Turn off the oven, place a wooden spoon in the oven door to keep it open 1-2cm for 15 minutes to allow the profiteroles to dry.
Remove from the oven
Cool the profiteroles on a wire rack until completely cold.
Filling
In a medium bowl add two pouches of Tatua Créme Fraiche and 3 tablespoons of lemon curd.
Stir to combine, taste and add more lemon curd a tablespoon at a time until you have a tart and flavoursome filling
Add lemon zest if you choose, and if too tart you can add 1-2 Tablespoons of sifted icing sugar to balance flavours.
Prepare a large piping bag with a small round piping nozzle, add the filling to this.
Take a cooled profiterole and place the nozzle of the piping bag into the lower side of the profiterole, and squeeze the filling until you feel resistance that it is now full
Place down and repeat with remaining profiteroles.
Dust with icing sugar, or top with white or dark chocolate
Keep these refrigerated until ready to serve.
Enjoy

So there you have it, in a few simple steps you can have a delicious and decadent dessert that your friends and family will love. You can make eclairs the same way and topped with dark chocolate, sublime!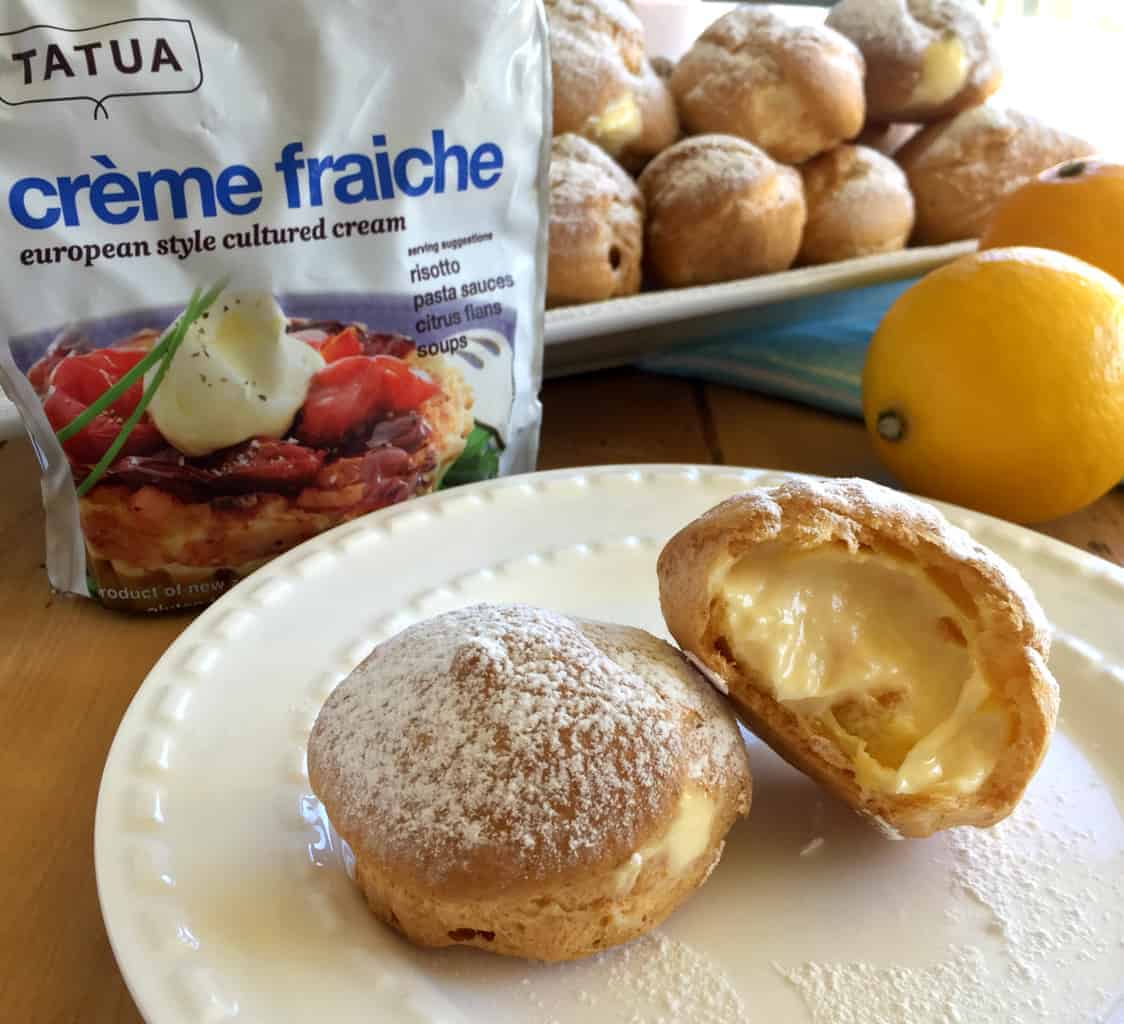 A huge thank you to Tatua for allowing me to create this recipe, we love using their products in our home and they are so versatile. Check out my recent recipe for Chicken, Mascarpone and Pesto Filo Parcels. Delicious!
Thank you so much for stopping by to check out this recipe. Please also follow me on Facebook or Instagram and you can be one of the first to receive my new recipes by subscribing via email in the link below.
Happy Baking!
Anna
Disclosure: Partnering with awesome companies from time to time helps maintain the upkeep of my personal blog. This recipe for Profiteroles with Créme Fraiche Lemon Filling was developed while partnering with Tatua. The content and opinions are always my own.