Delicious and incredibly easy you will love this Feijoa Ice Cream – just two ingredients and a squeeze of lemon juice!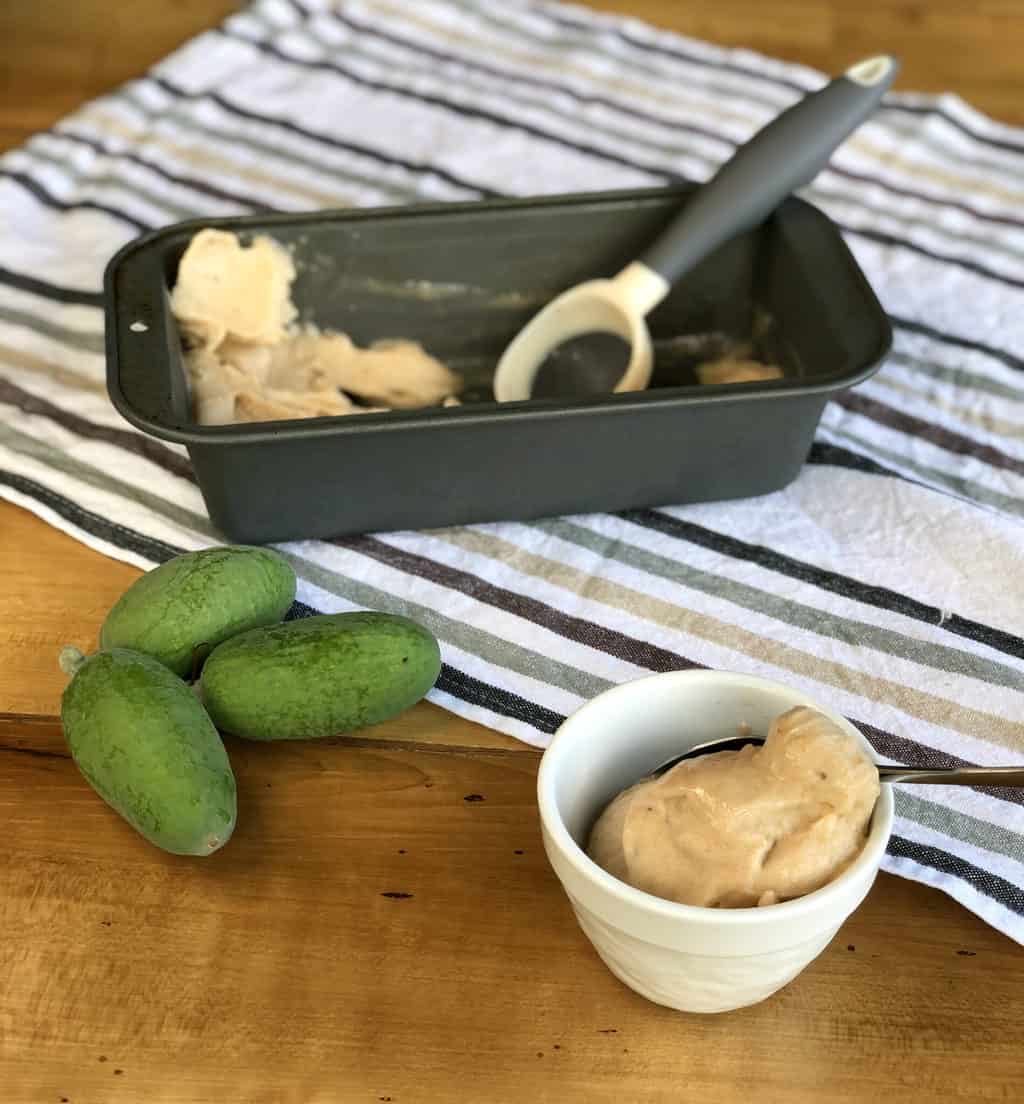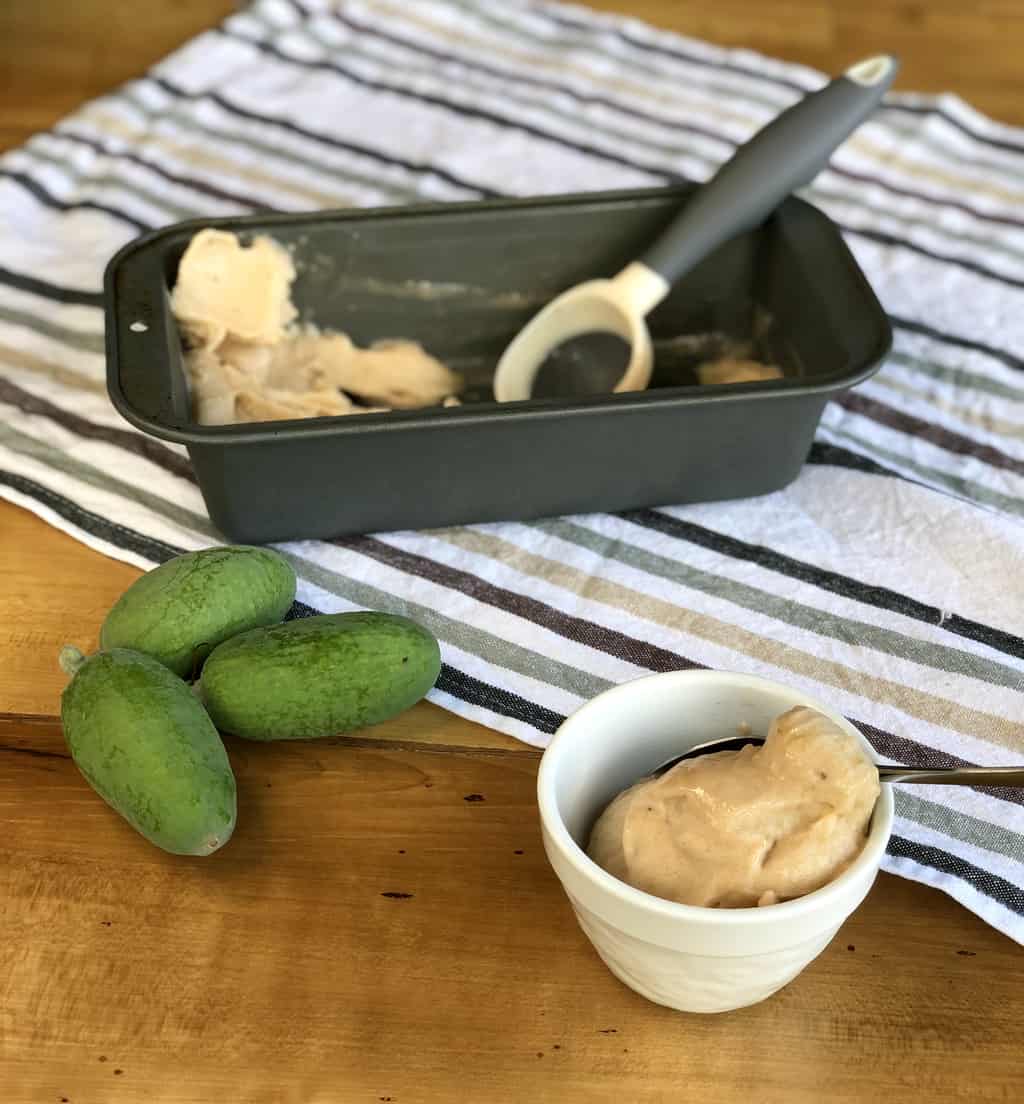 I know that Feijoas is a mainly Kiwi thing, and so many of you message me saying you cannot get them where you live, and for you I am sorry! We have two trees and get a bumper crop each year so it is nice to find new ways to enjoy them other than eating them by the dozen!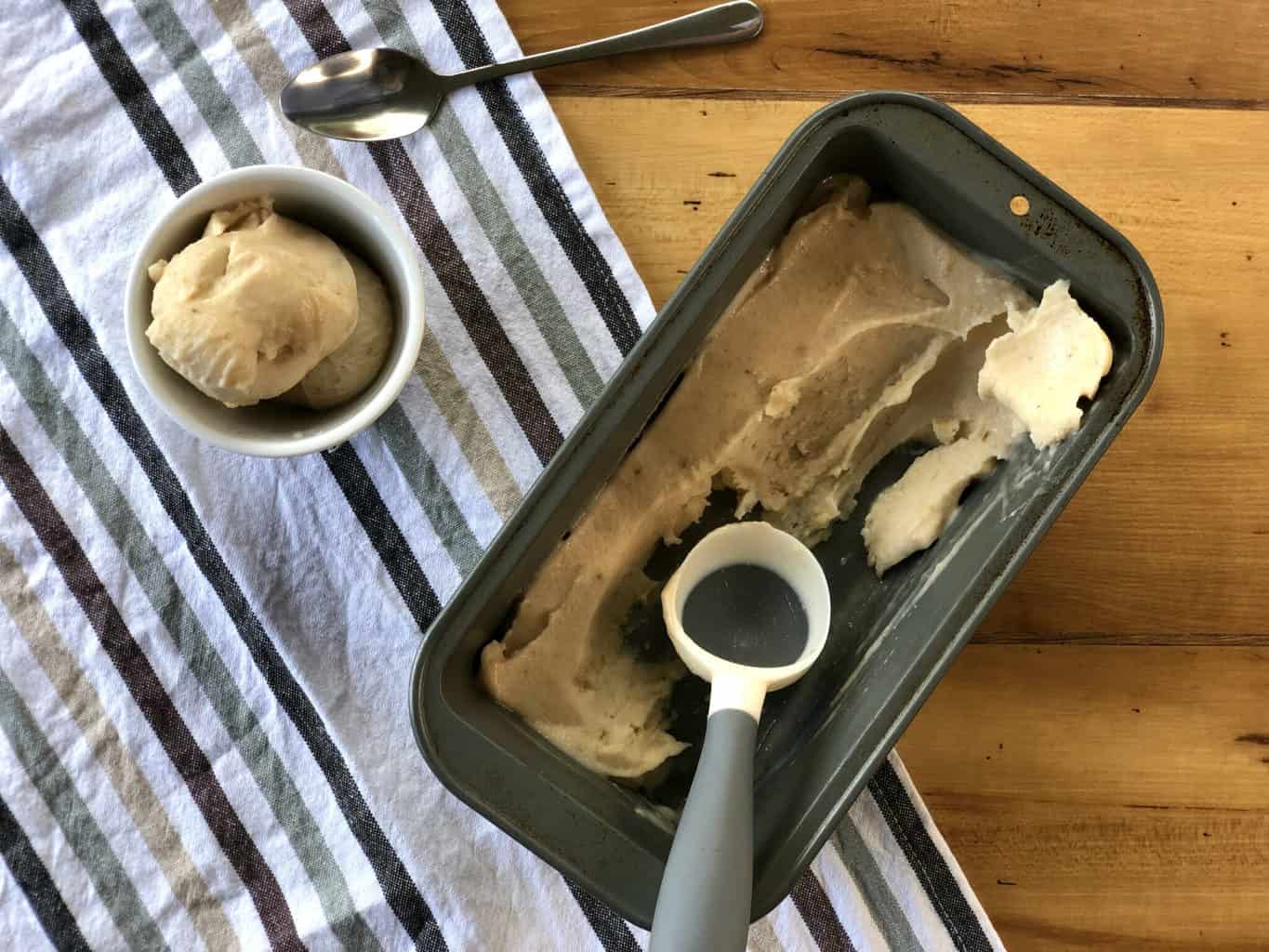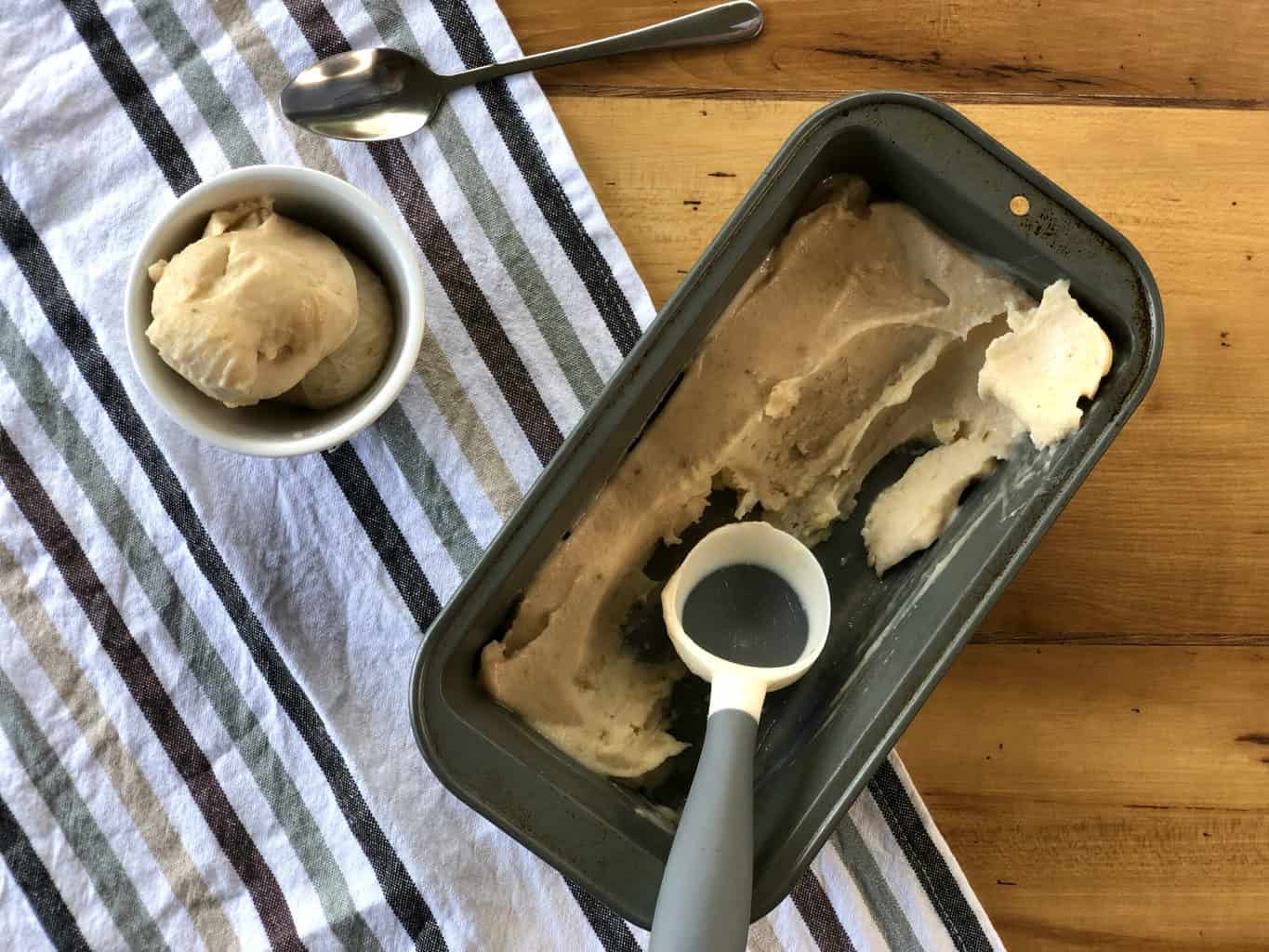 One of my favourite recipes for them is my Feijoa Crunch Muffins, they are absolutely divine. You can find that recipe here.
I am a huge fan of 2, 3 or 4 ingredient recipes, especially ones that are so simple and delicious such as this one. The kids have been making a lot of frozen fruit ice cream recently, which is good as we always have loads of frozen fruit in the freezer. It is so handy for smoothies and ice cream!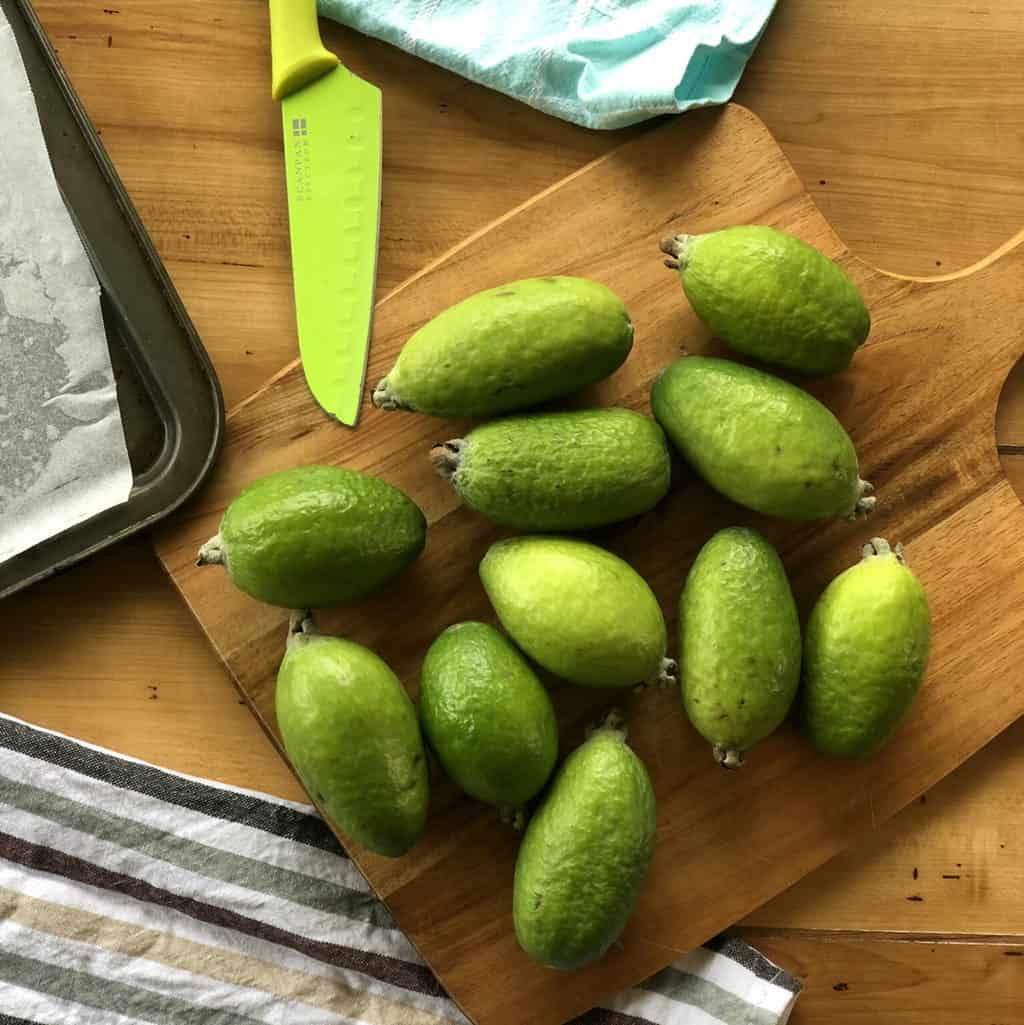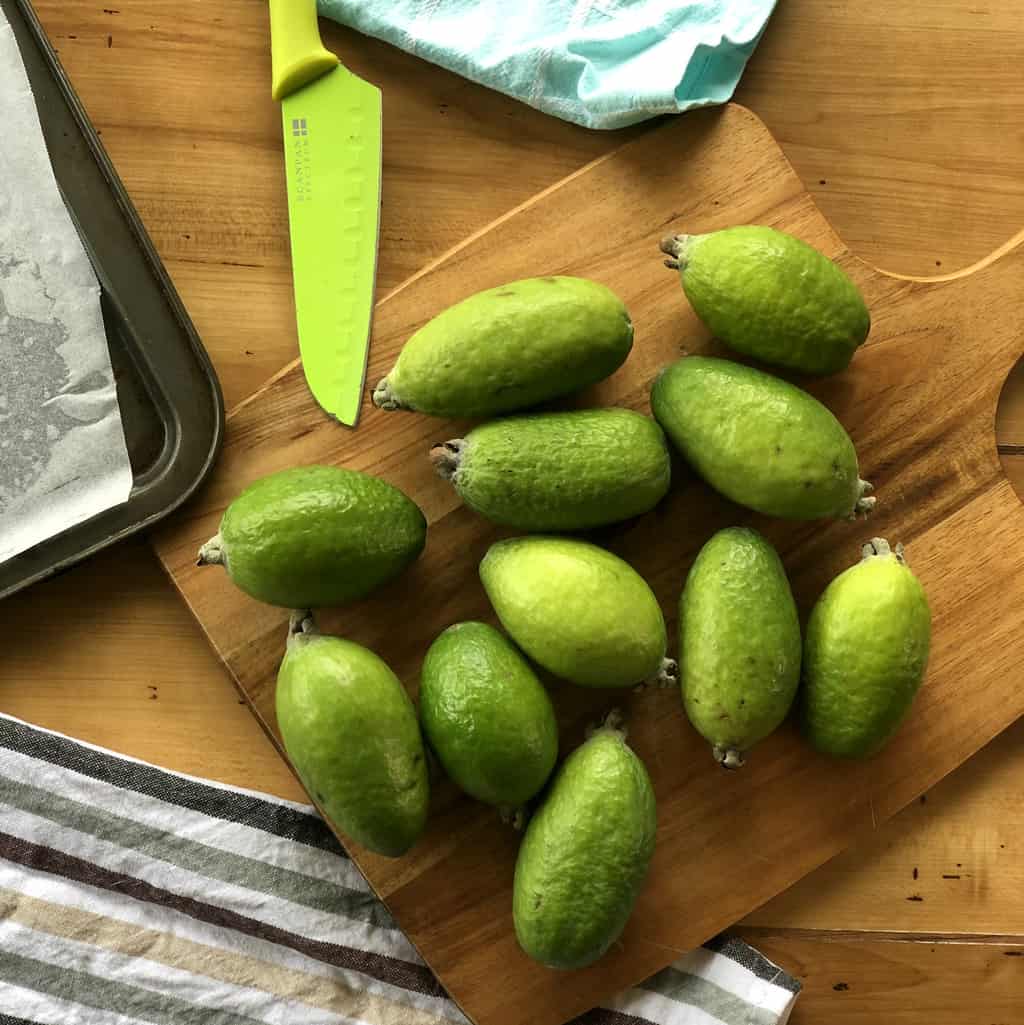 There are many Feijoa ice cream recipes out there, some with additional sweeteners or cream or yoghurt, but we find the simplest version is often the best and that is definitely the case here.
The main ingredients are feijoas and banana. The banana adds the creaminess, and the feijoas all that flavour! I am well aware there are many people out there who are not fans of the humble feijoa and that is ok!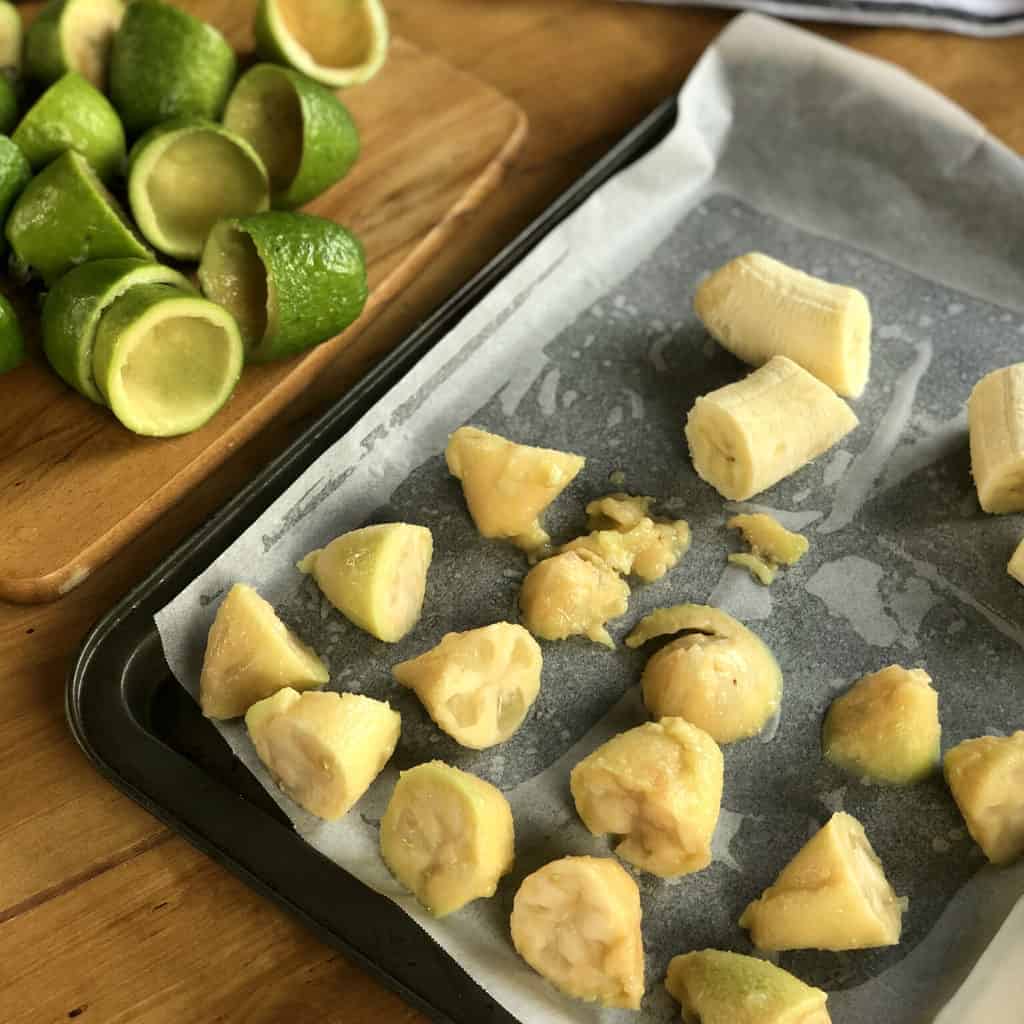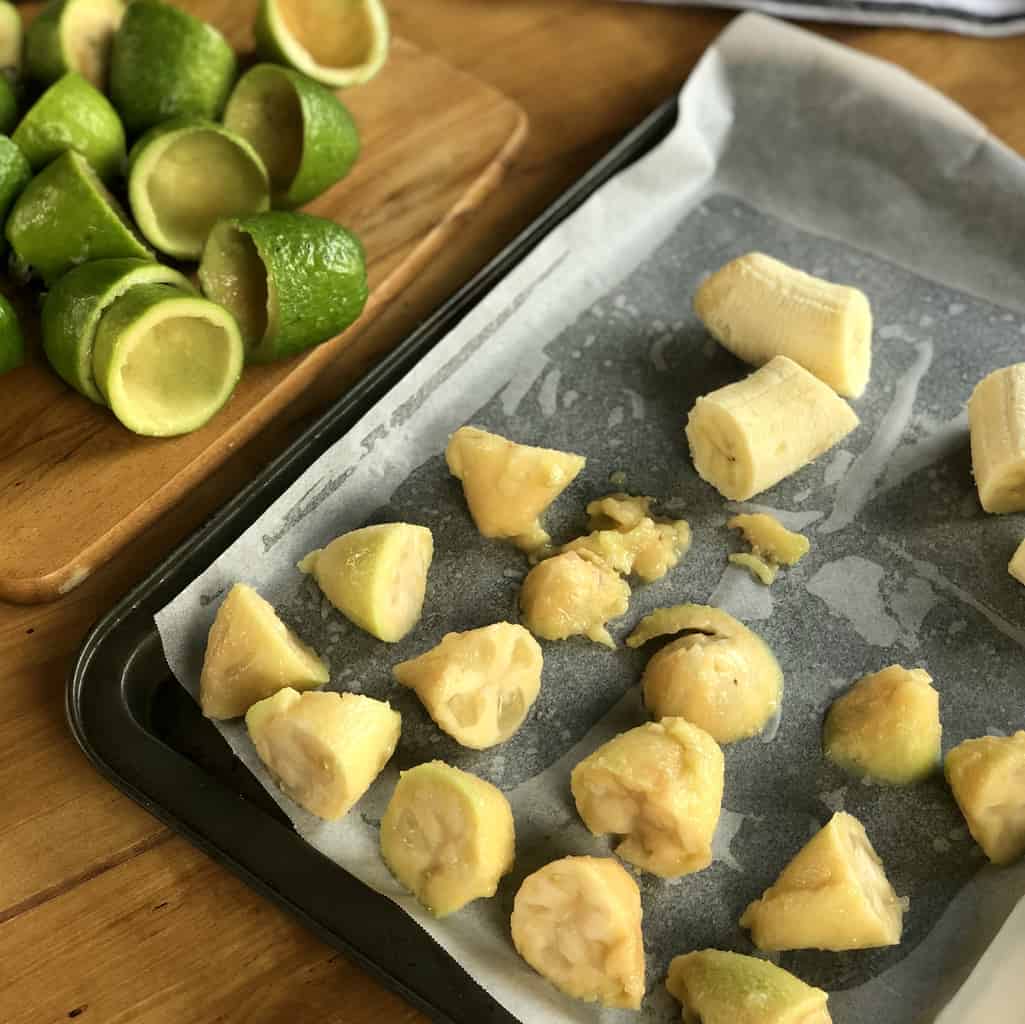 What is a Feijoa?
Sometimes known as a pineapple guava it is a green egg shaped fruit that grows on trees. The inside flesh is a creamy colour with jelly like centre, and it has quite a gritty texture like a pear. The flavour is hard to pin down but some suggest it is a combination of many other fruits such as pineapple, guava and strawberry. There are also those that think it tastes like soap…..
There are only a few basic steps, you want to scoop out the feijoa flesh and peel and dice up a banana. Pop on an oven tray or similar and place in the freezer overnight, you want the fruit to be completely frozen.
The next step is to use a food processor to blend up the frozen fruit. A top tip here is to leave the fruit out for five or so minutes so it is not such hard work on your food processor. We always add a squeeze of lemon juice at this stage too.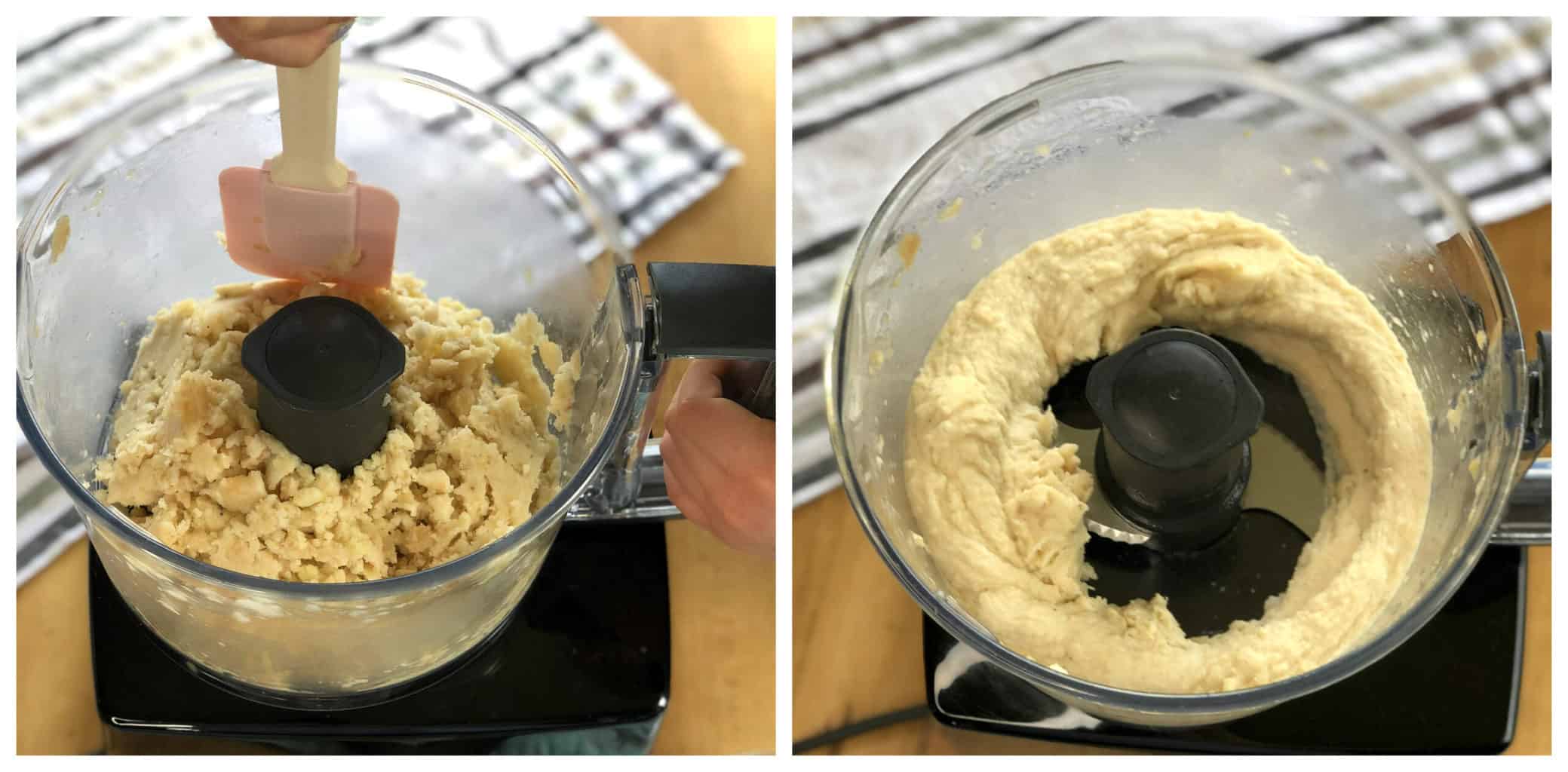 The fruit goes through stages of coming together. You will want to scrape down the sides from time to time and keep going until it does become creamy – this can take a while.
Once it is creamy and smooth you are good to go! You can either eat it straight away, or pop it in a container and freeze for a further 30 minutes to firm up or until you are ready to serve.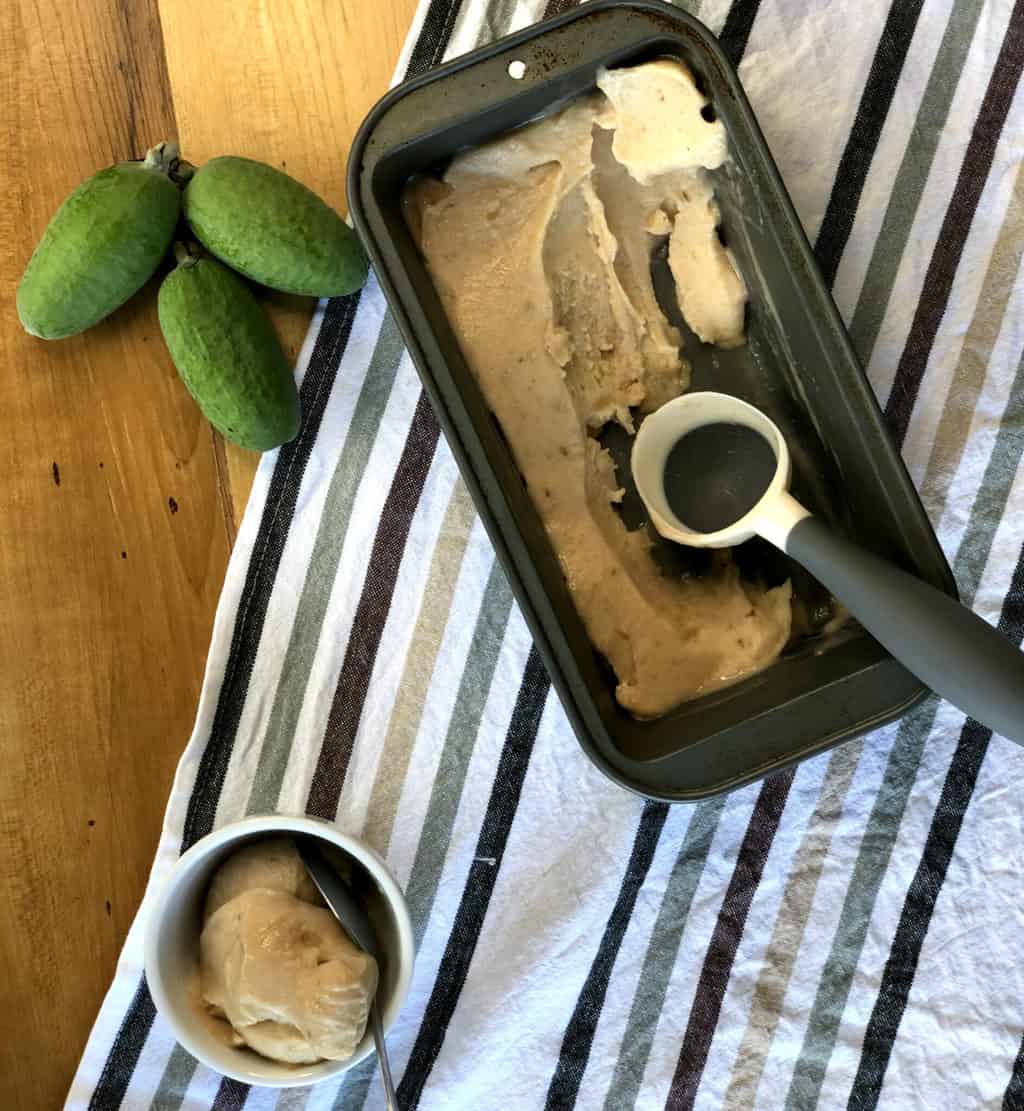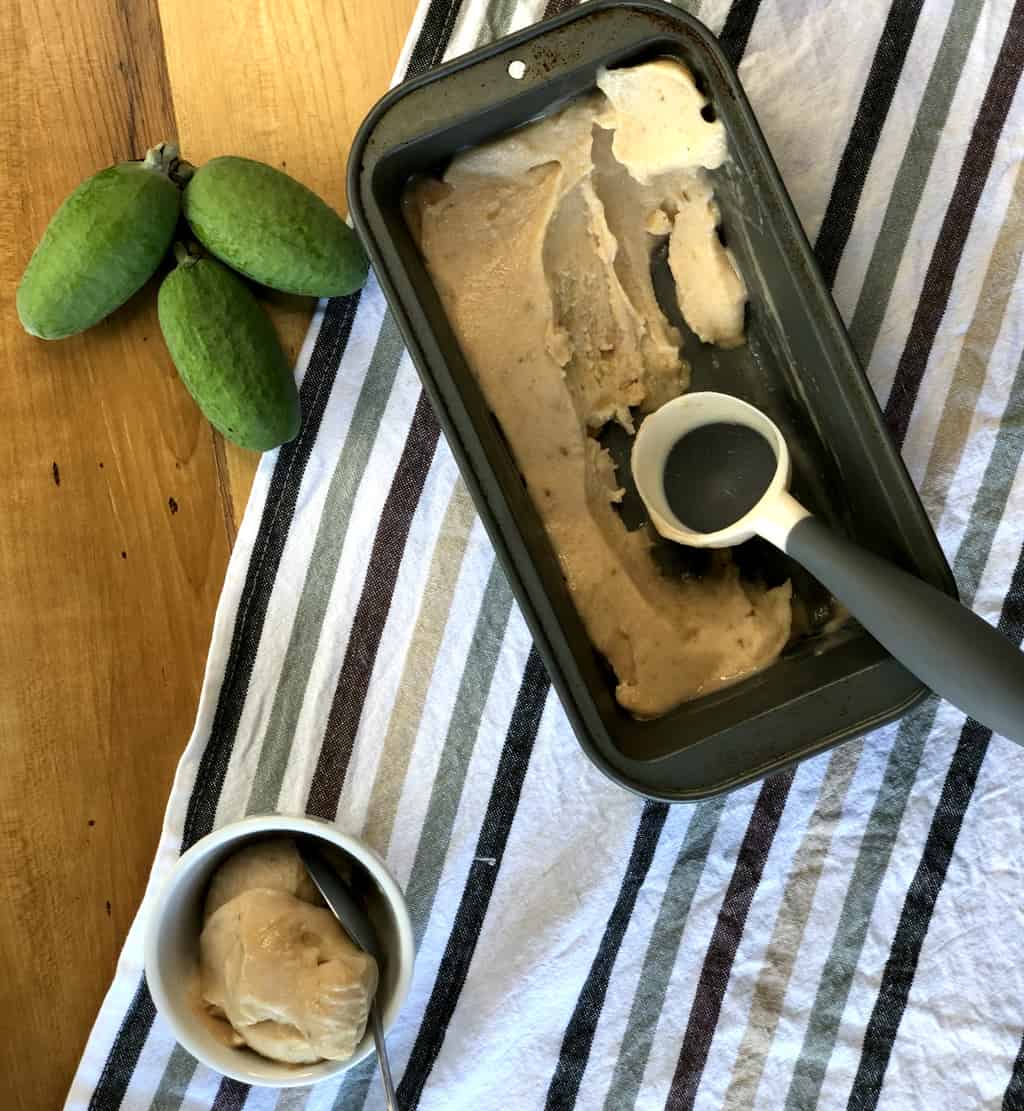 It is that easy! Have you tried fruit ice cream before?
I hope you enjoy this recipe for delicious fresh fruit Feijoa Ice Cream.
It really is that easy! We make so many variations, let me know in the comments below if you would like to see more recipes like this?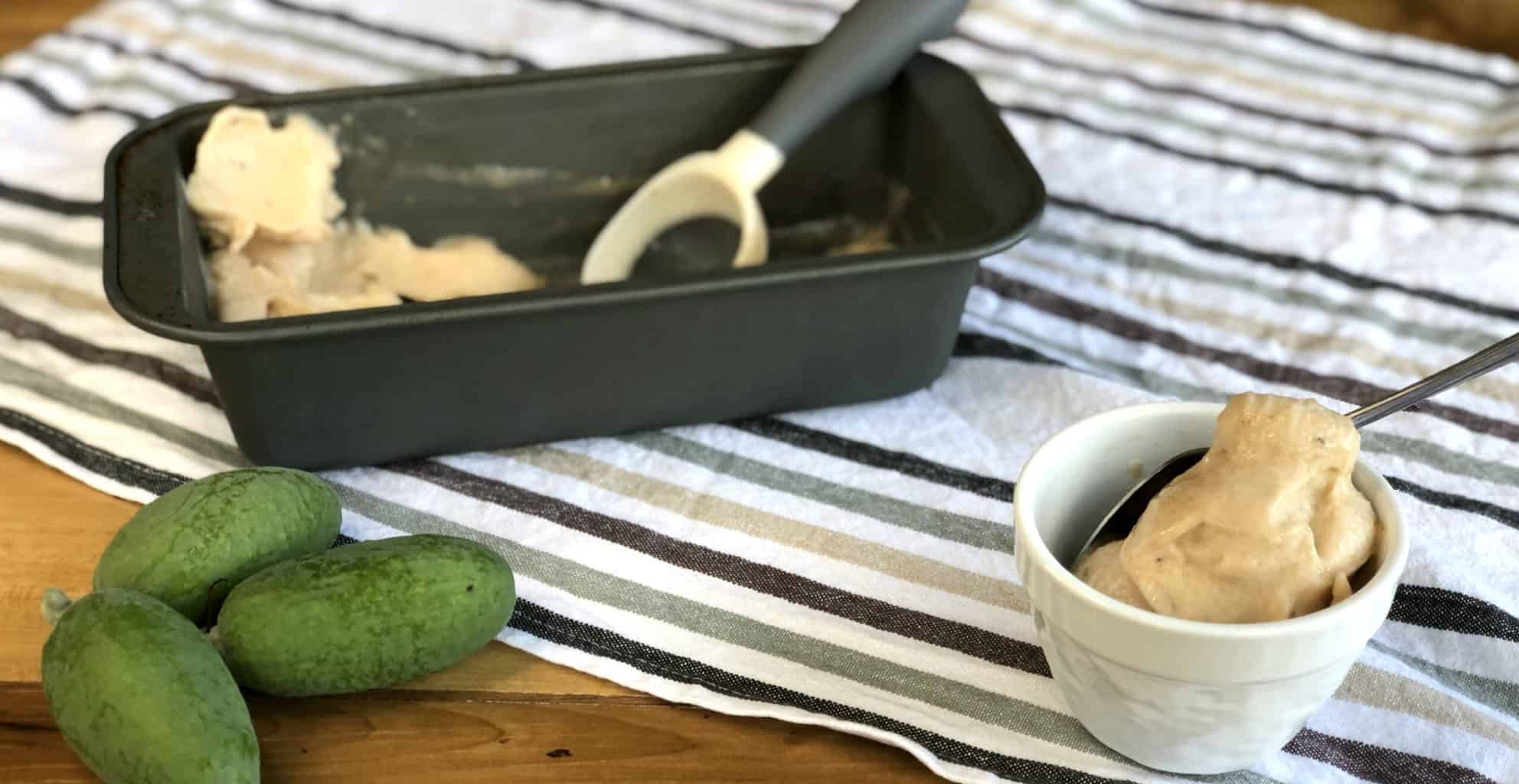 Thank you so much for stopping by to check out my post today! You can follow me on Facebook and Instagram and also subscribe to my page by adding your email address on the right or below to receive all my recipes as soon as I publish them.
Happy Baking!
Anna
Pin It! Pinterest