These Beetroot Burger Patties are absolutely delicious and packed full of flavour.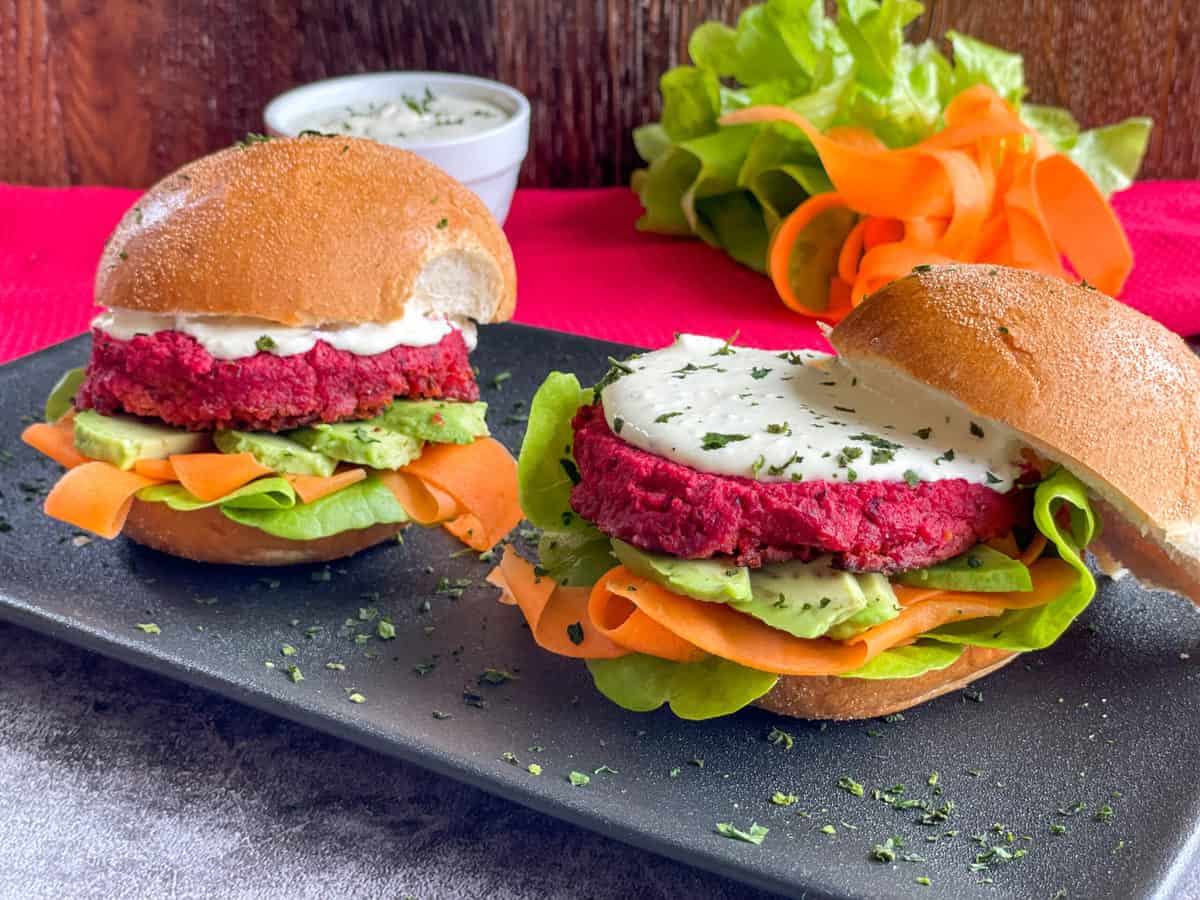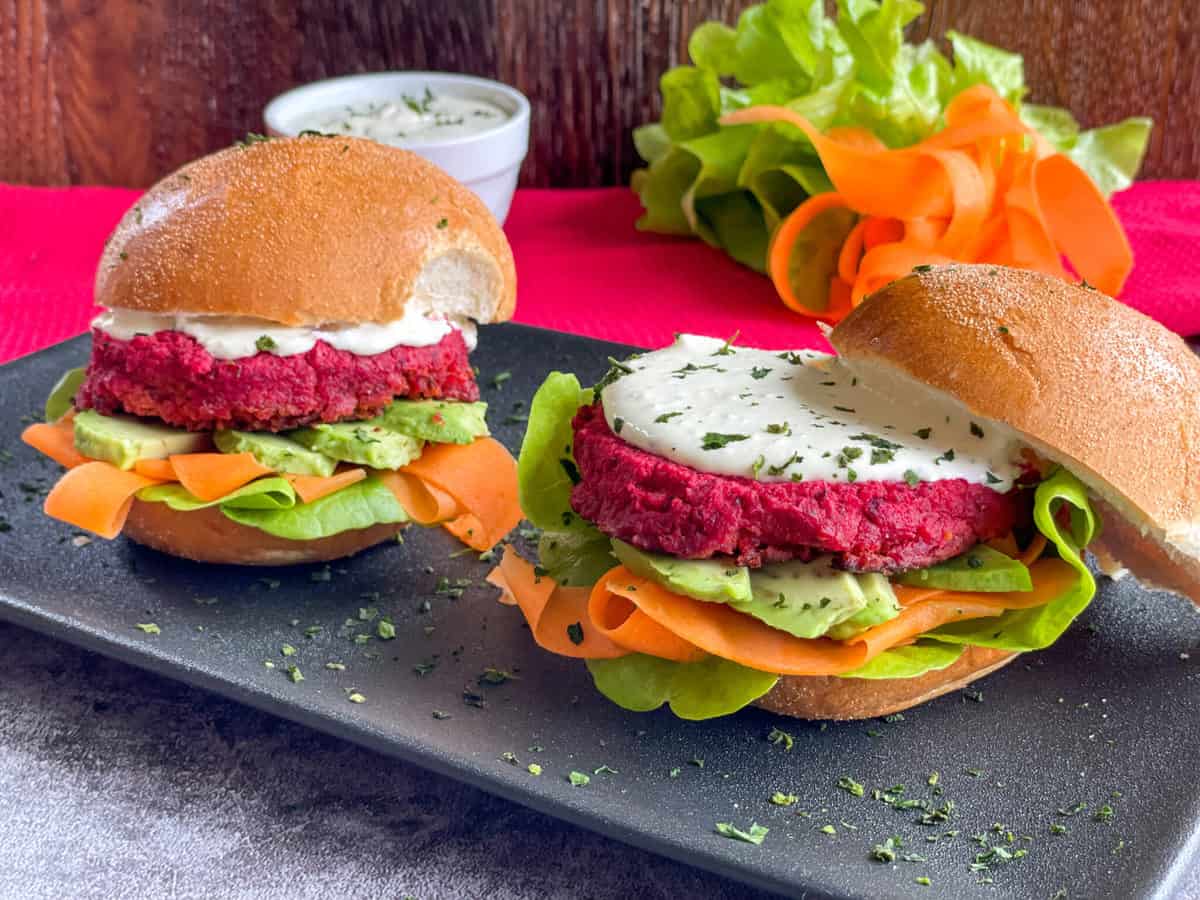 This recipe has been sponsored by Edgell using their delicious Diced Beetroot and Chickpeas, all opinions are my own
I am so often asked for meat free recipes or healthier dinner ideas and I think this recipe is one well worth sharing! I wanted to share a recipe that is healthy, tasty and convenient to make.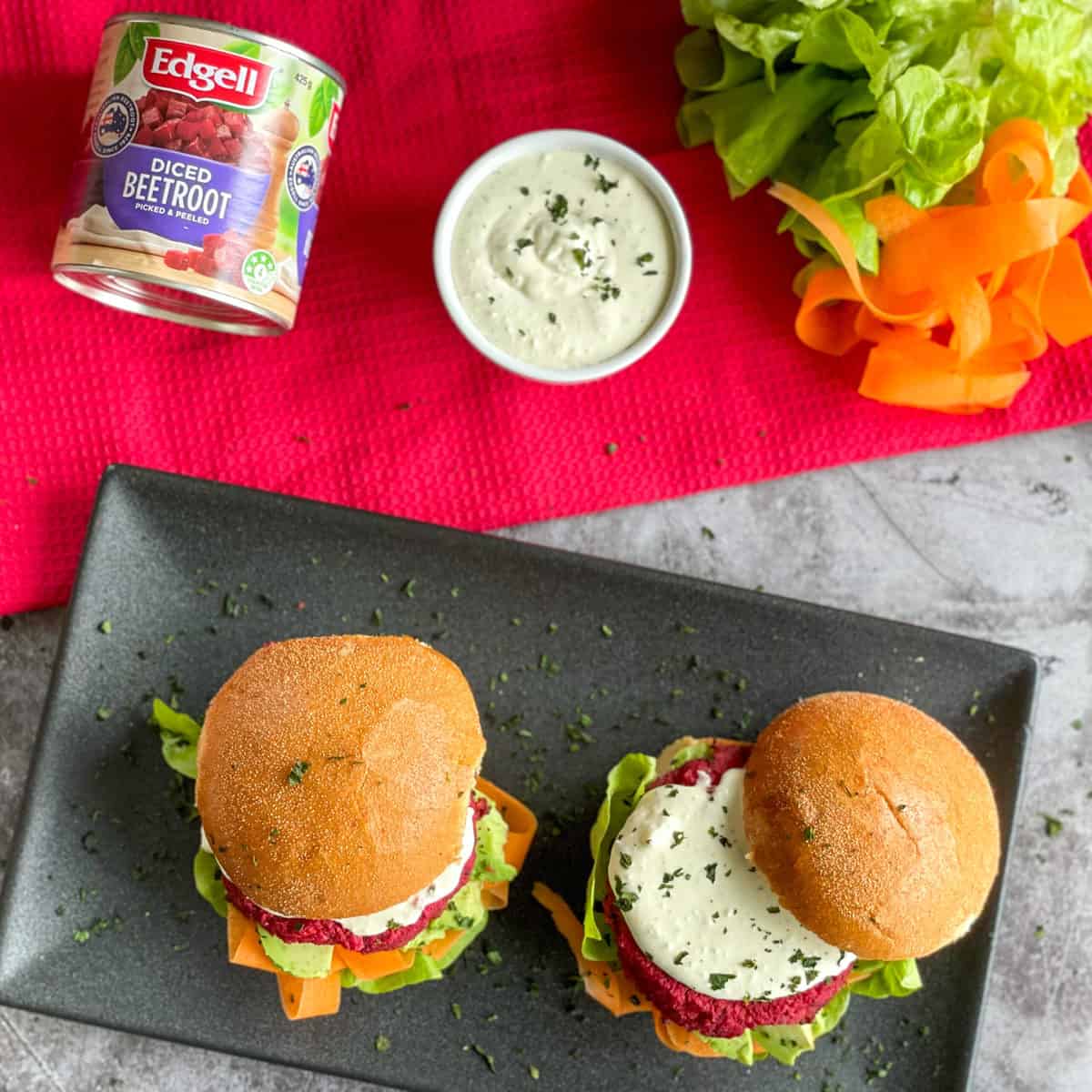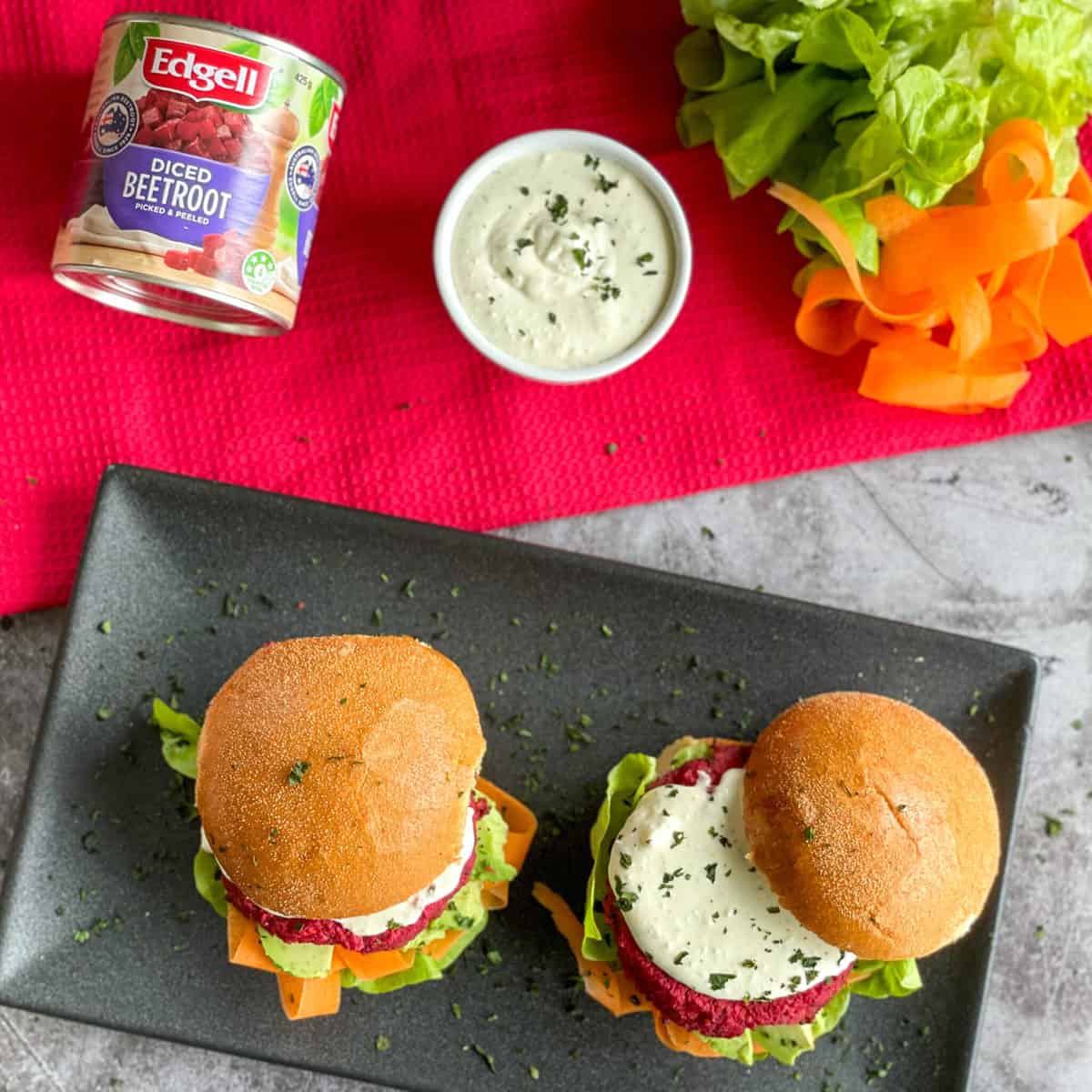 You will have seen the Edgell range in your local supermarket, they are a canned legume and vegetable company that have been in the industry for 80 years so they know a thing or two about quality and creating delicious nutritious products. They have such a wide range of products!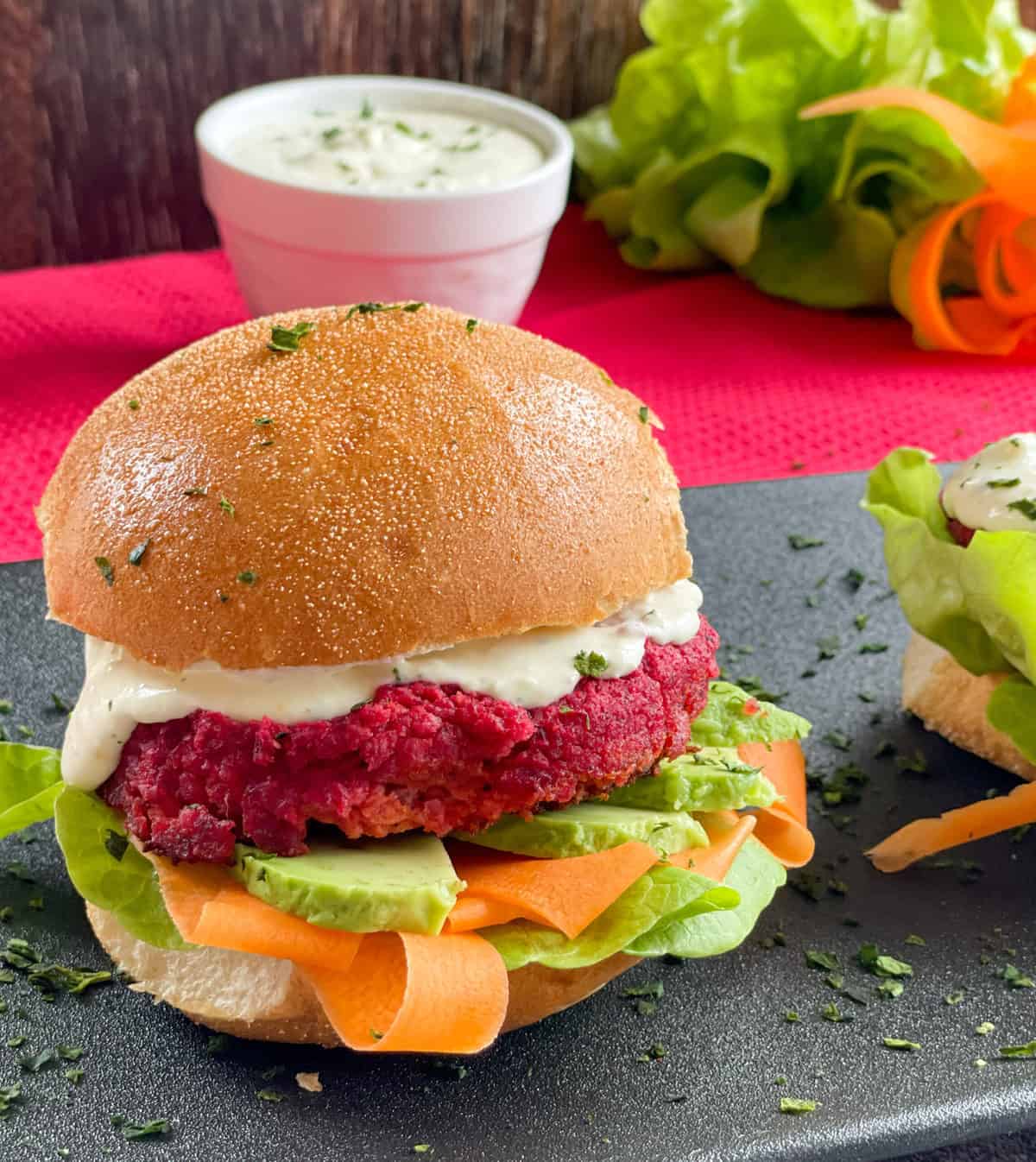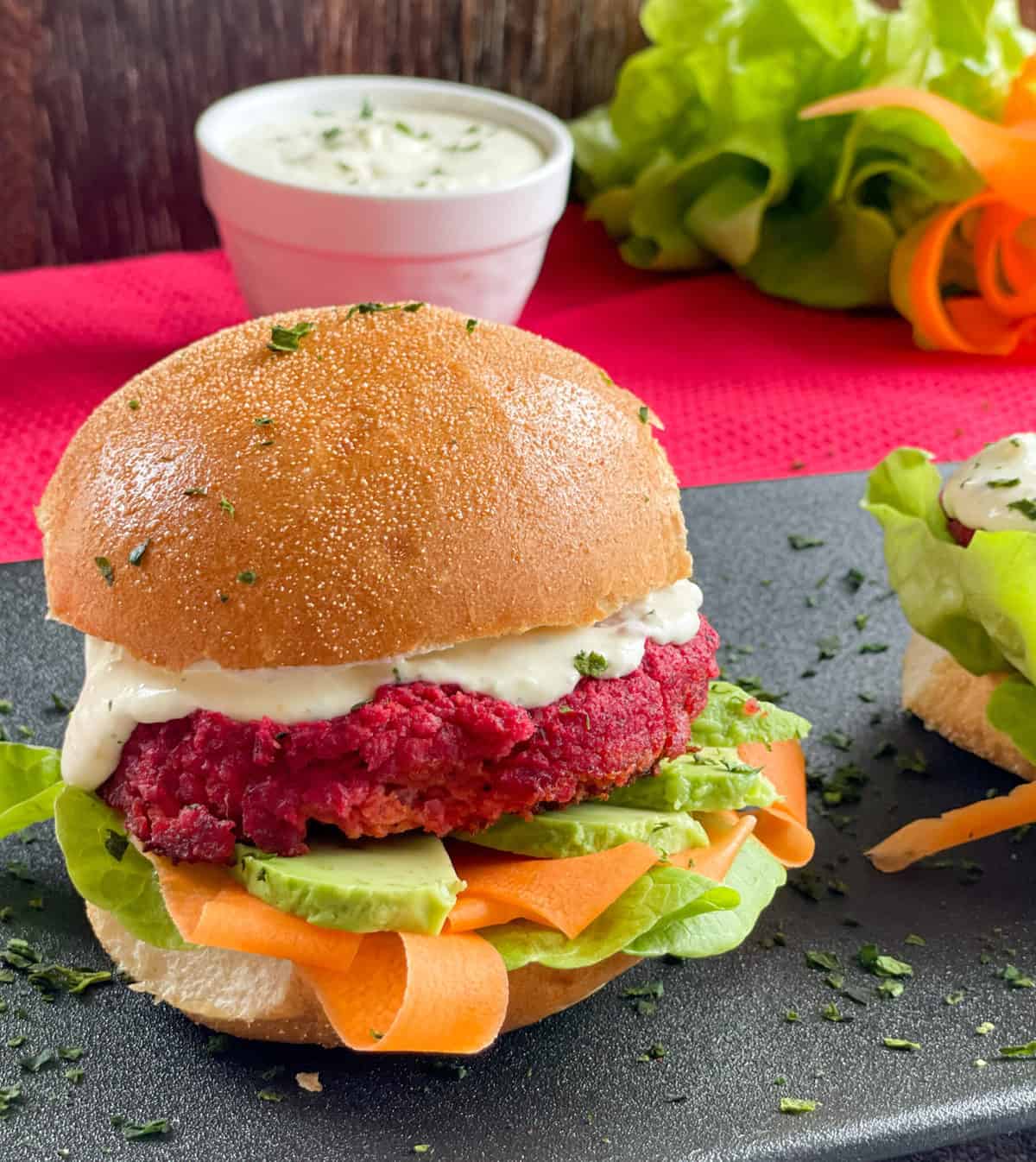 We are fans of their canned corn range but this time I wanted to share a recipe that includes my girls favourite veg, beetroot! While there is some debate on whether beetroot belongs in a burger I decided that it not only belonged but it should be the hero!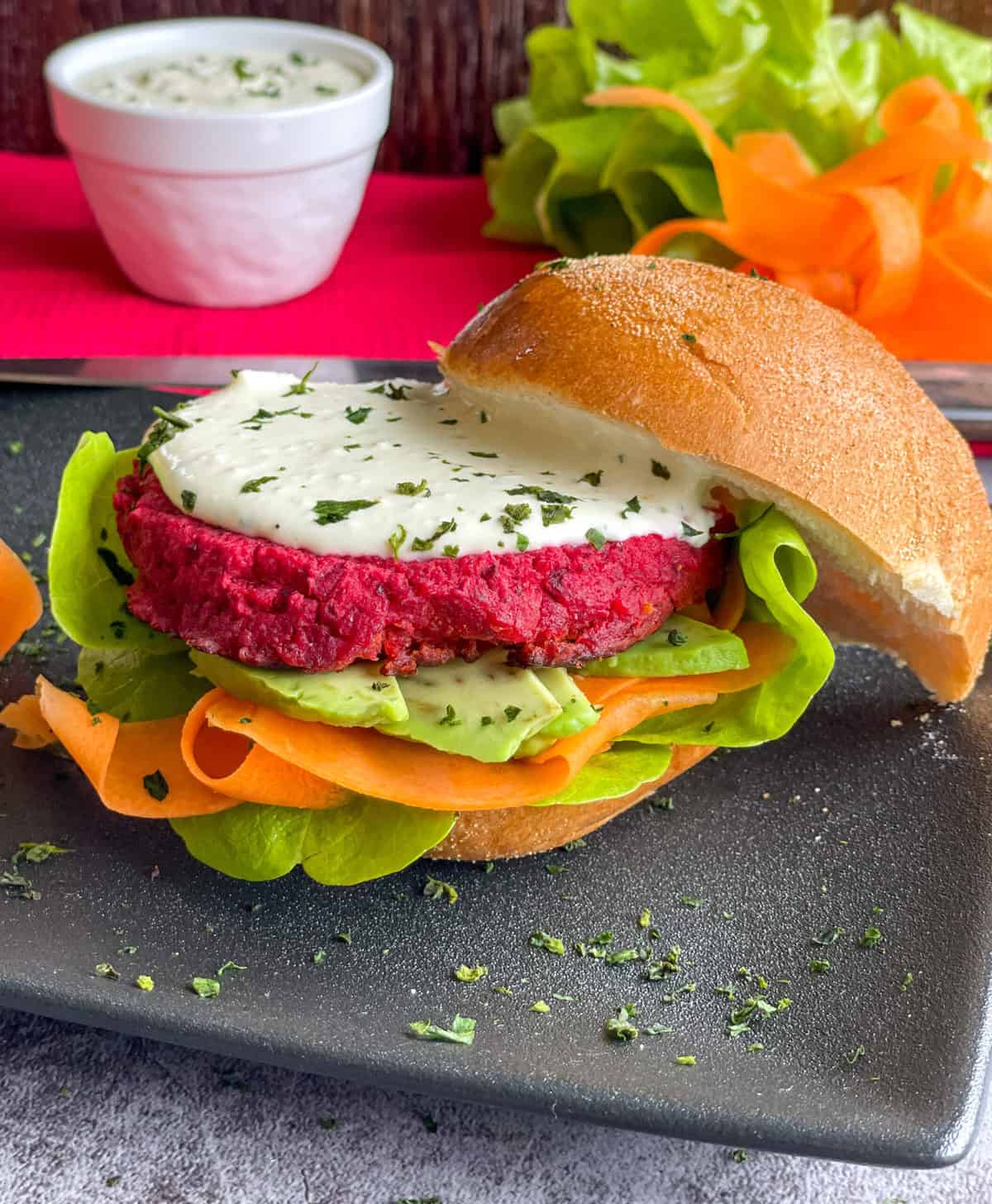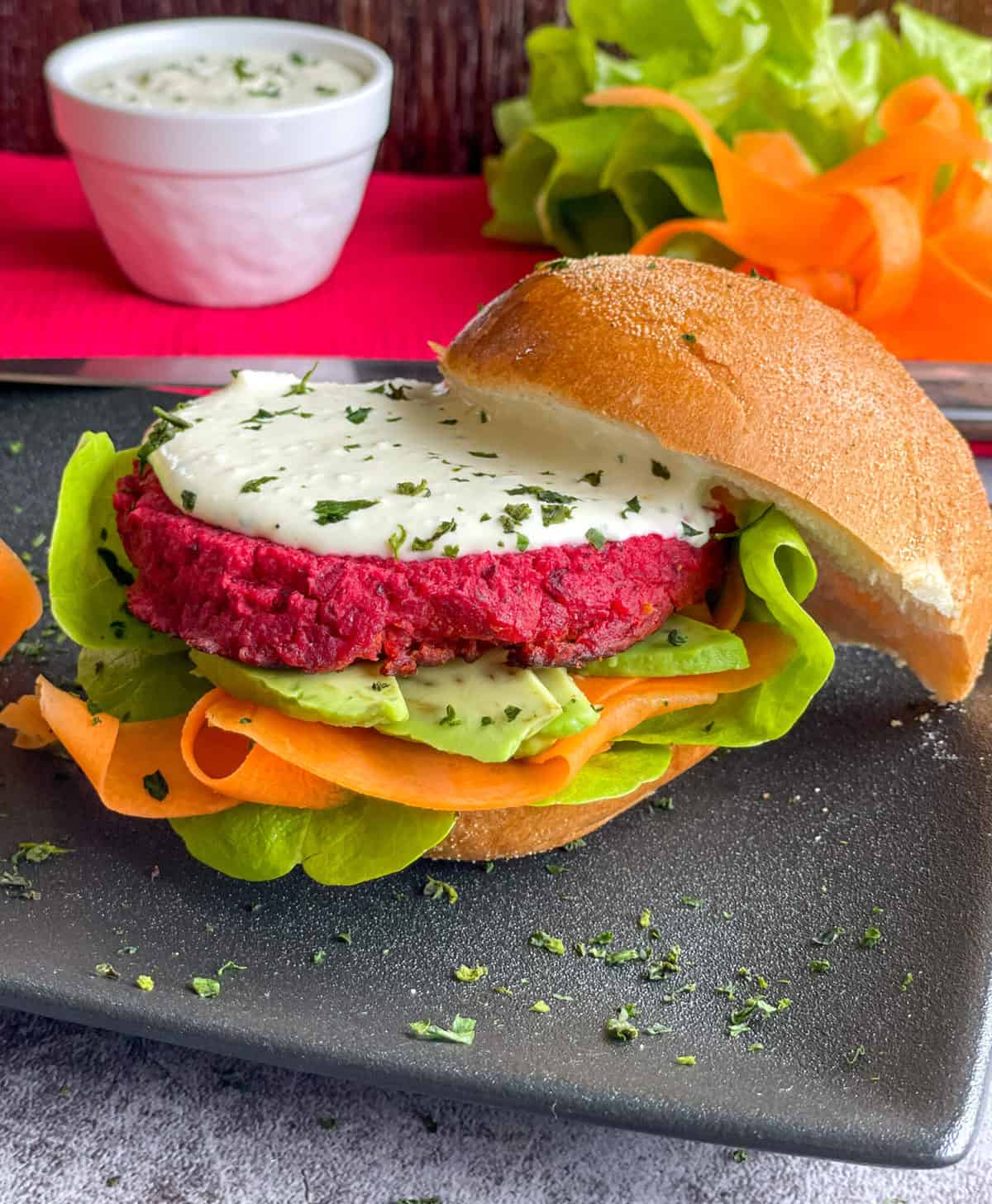 There are so many variations of beetroot burgers around, using everything from chickpeas, black beans, quinoa to rice. The one thing I can tell you is that the most important aspect is getting as much flavour as you can in the mix to ensure they pack a punch in the taste department.
The other thing is to ensure your patty is neither too dry or too wet, vegetarian patties are notorious for this and it can be an art. Using these canned varieties means it is lovely and moist if you prepare and cook it correctly.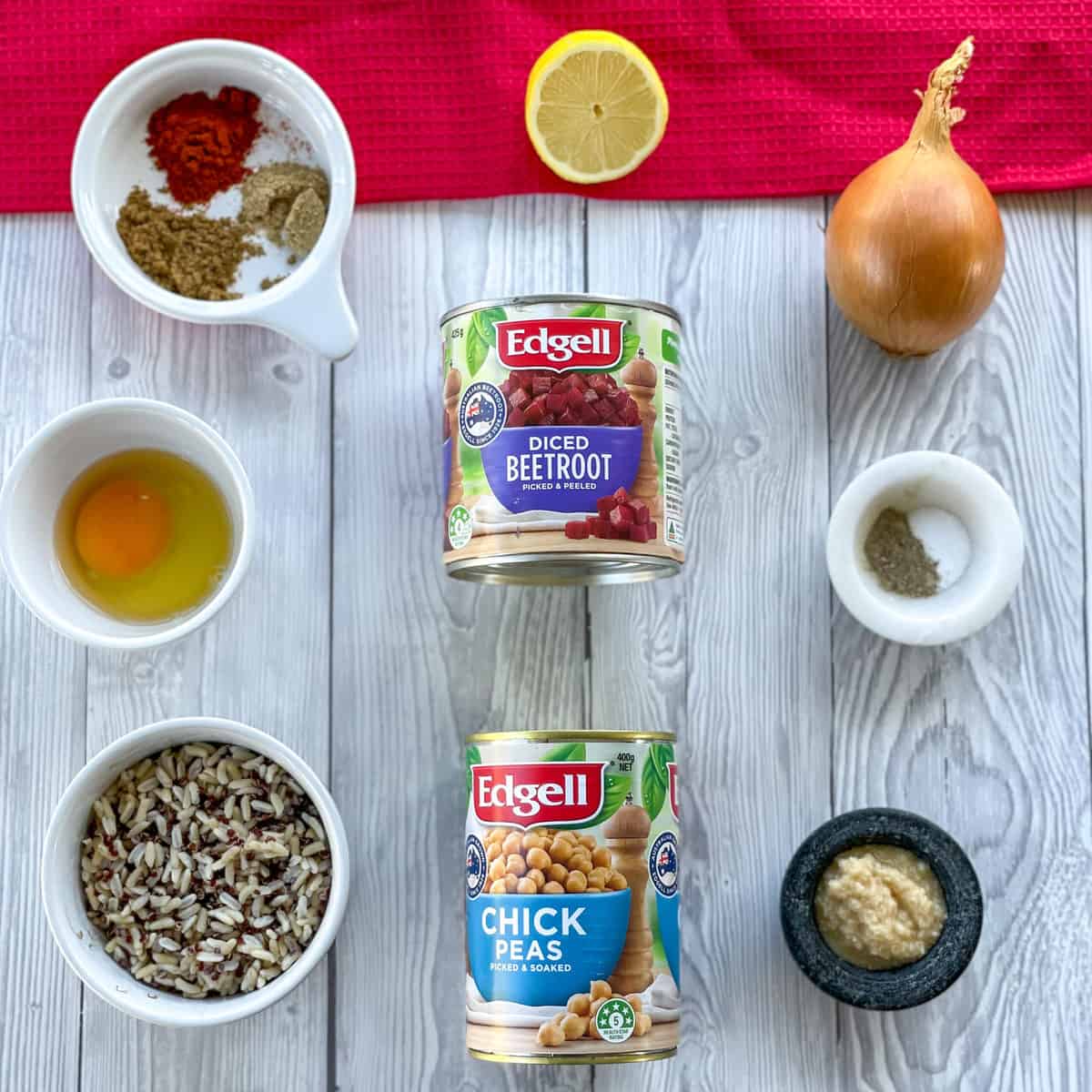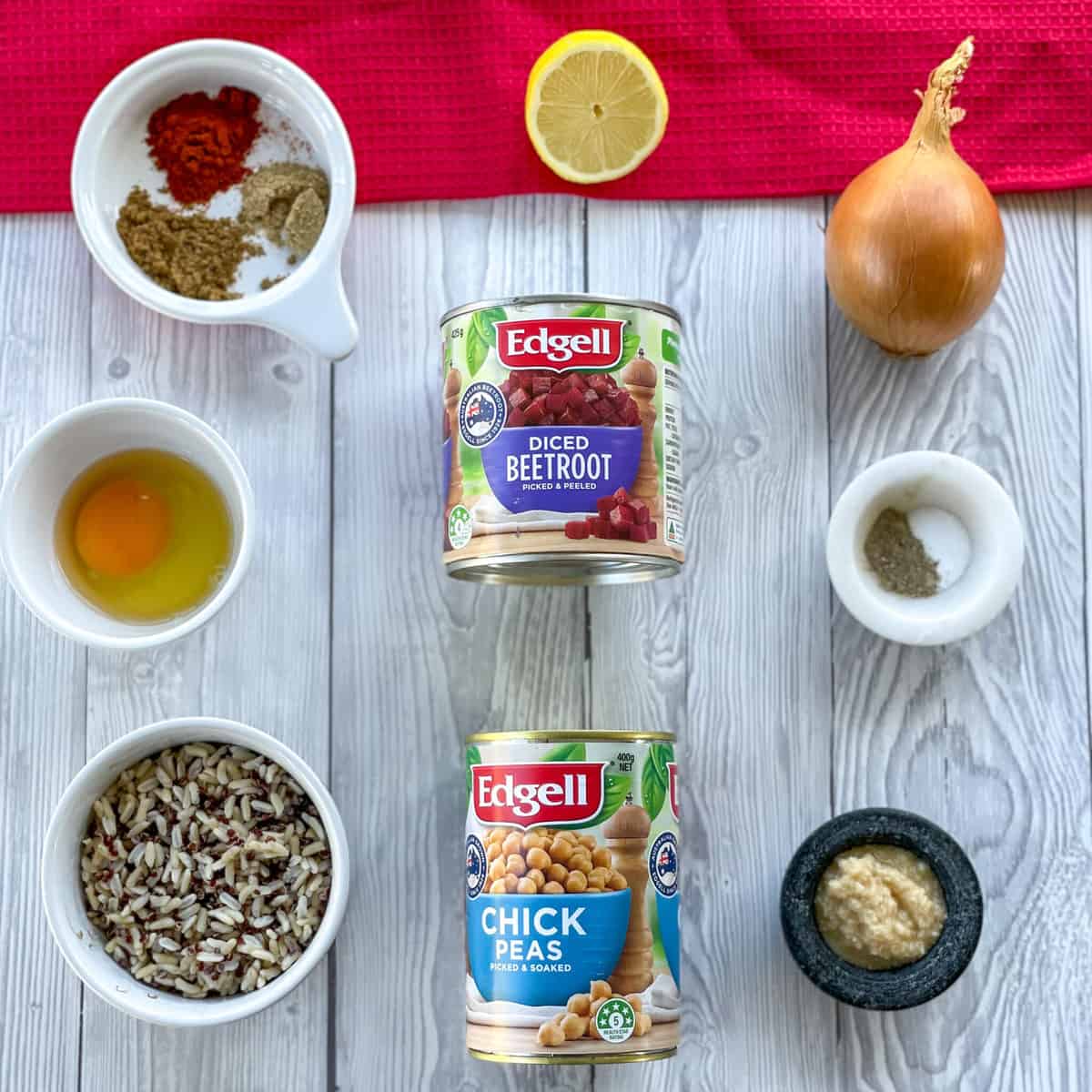 All you need for this recipe is
Edgell Diced Beetroot

Edgell Chickpeas

Quinoa & Rice Mix

Onion

Garlic

Ground Cumin

Sweet Paprika

Ground Coriander

Egg

Salt & Pepper

Lemon Juice
Creating a burger patty using beetroot does involve a few steps, but nothing too tricky and all for the greater good. The first one is trying to avoid getting red hands!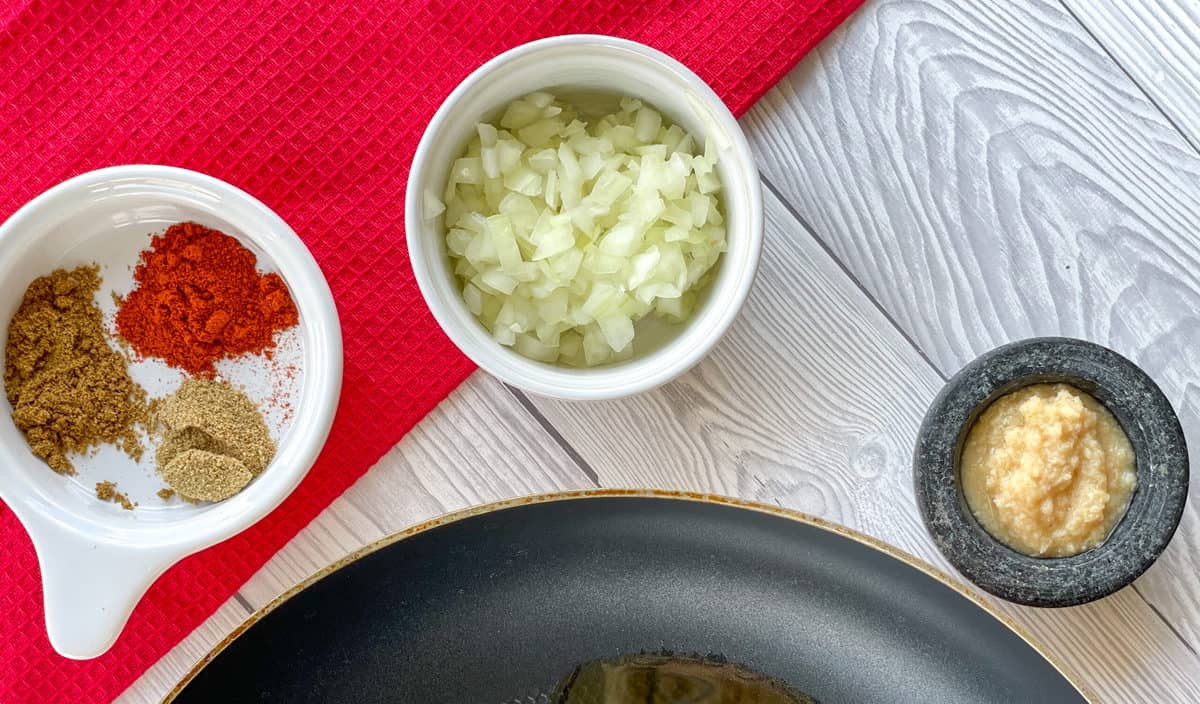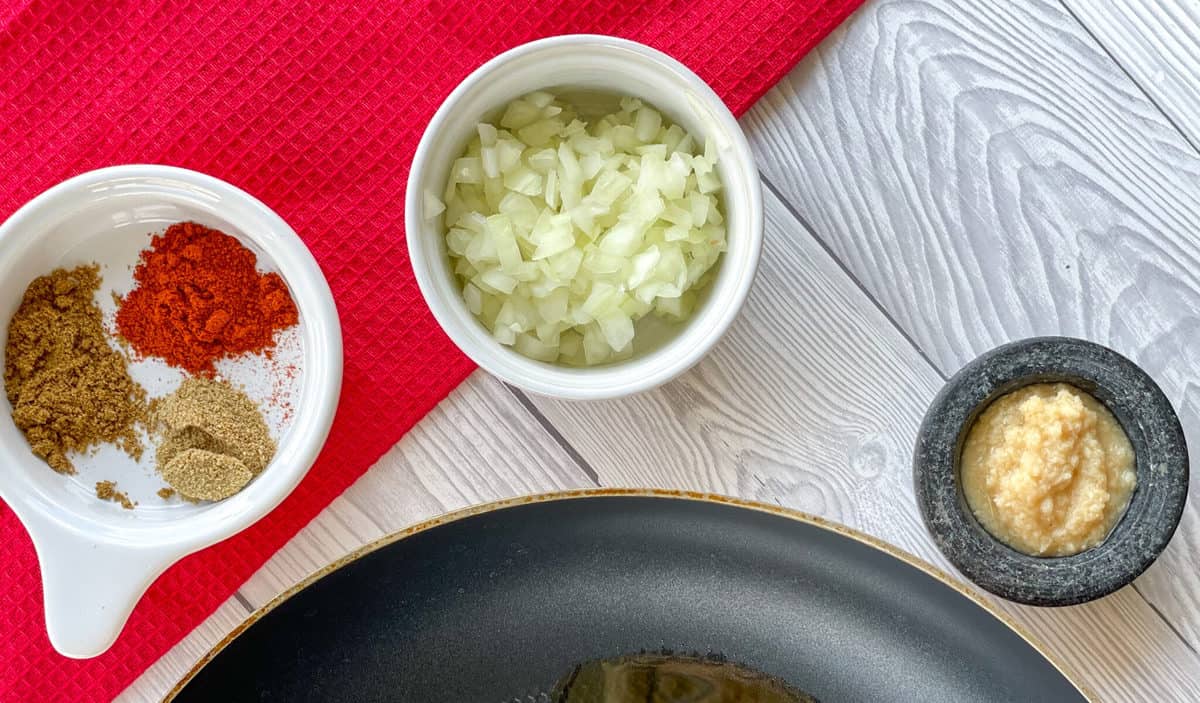 Beetroot has a lovely consistency and earthy flavour, using it with the combined spices really elevates the flavours while still retaining that taste you love. I also have to admit I am not a huge beetroot fan but I LOVE these.
To begin with you want to sauté the onion until it is starting to go golden brown, the more flavour you can add in each step the better so caramelizing the onion is important. Then adding the garlic and spices ensures they become fragrant to further enhance the finished patty.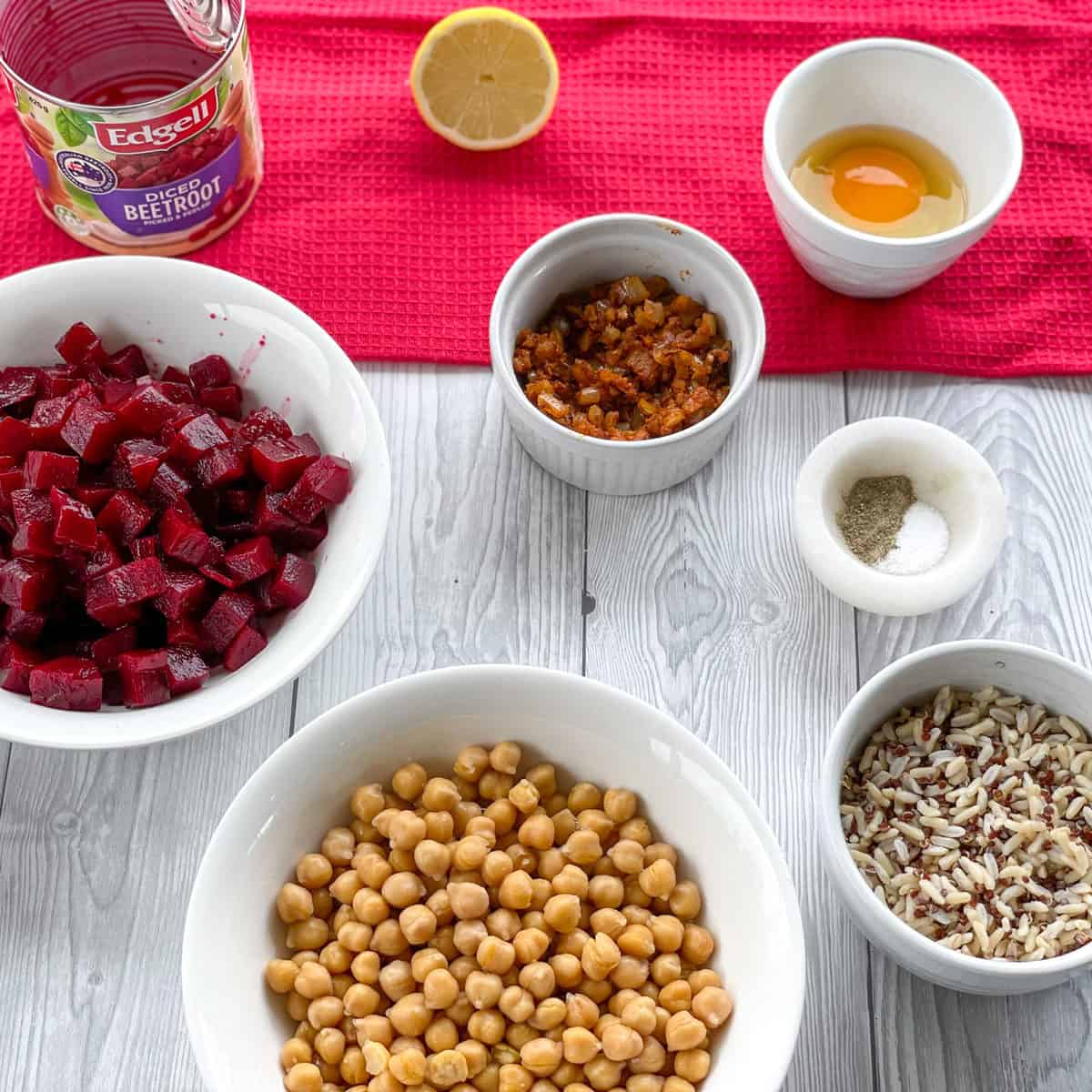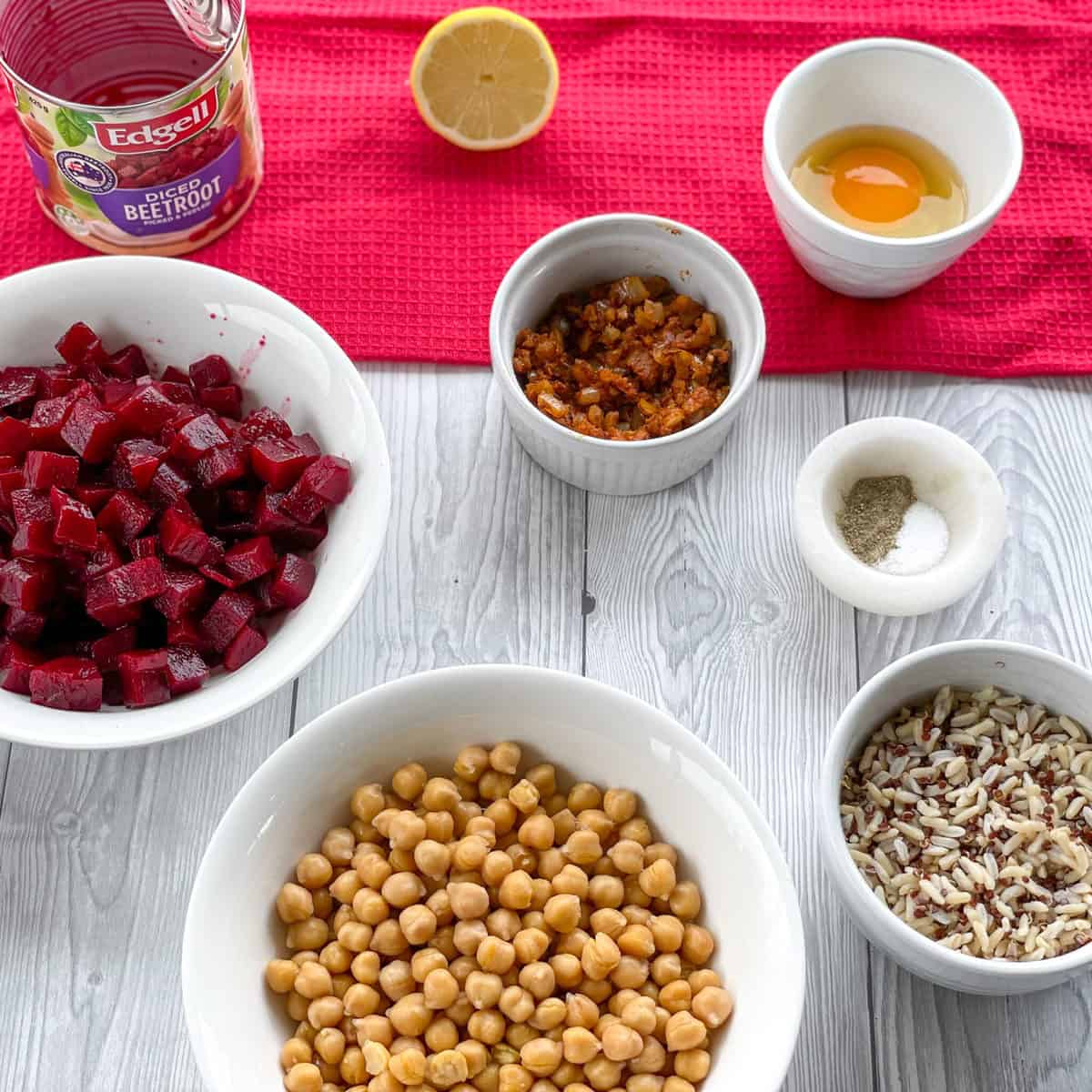 I use a food processor to make this dish for a few reasons, firstly you get a lovely even mix of the chickpeas and other ingredients, but also so that I do not need to handle the beetroot and get that lovely beetroot stain.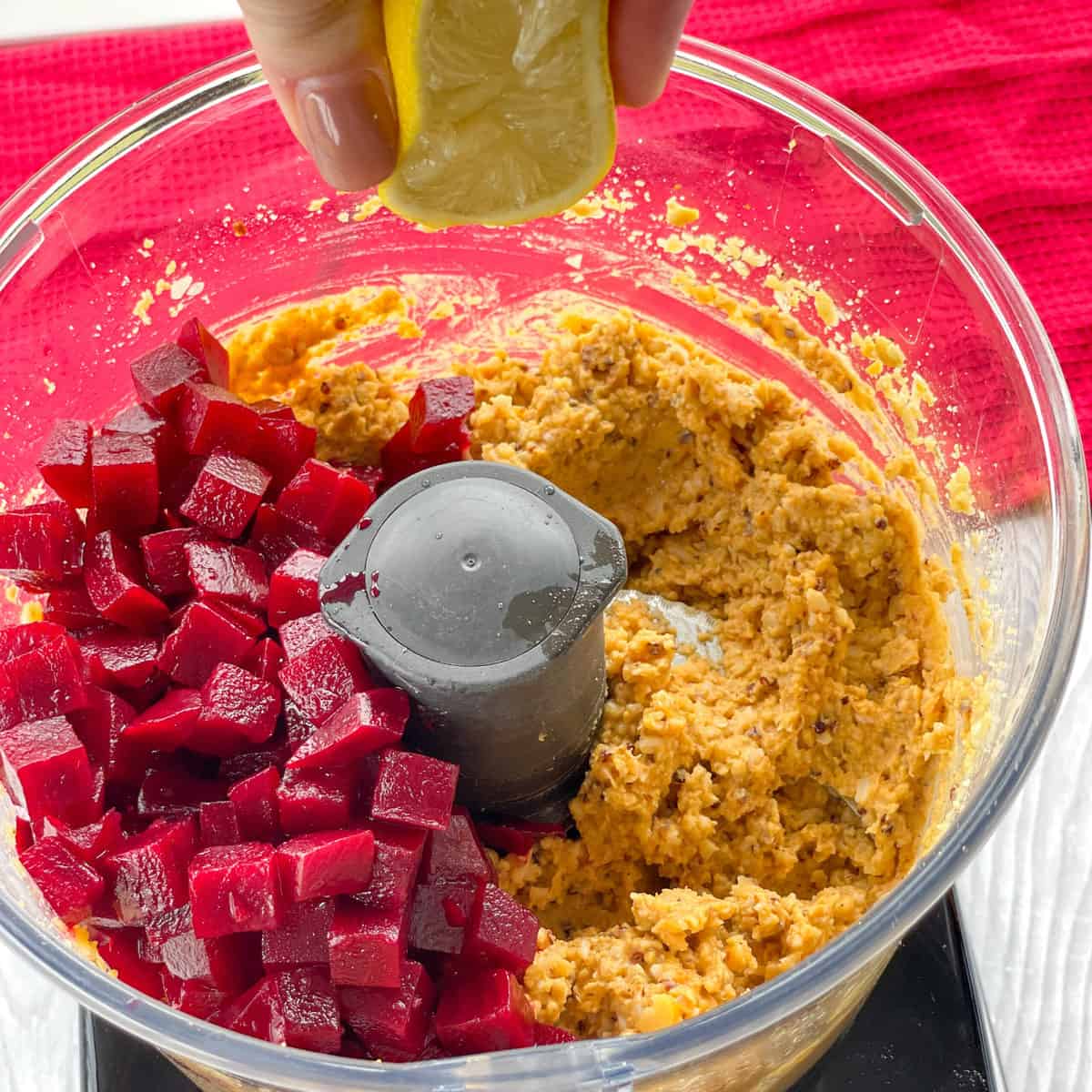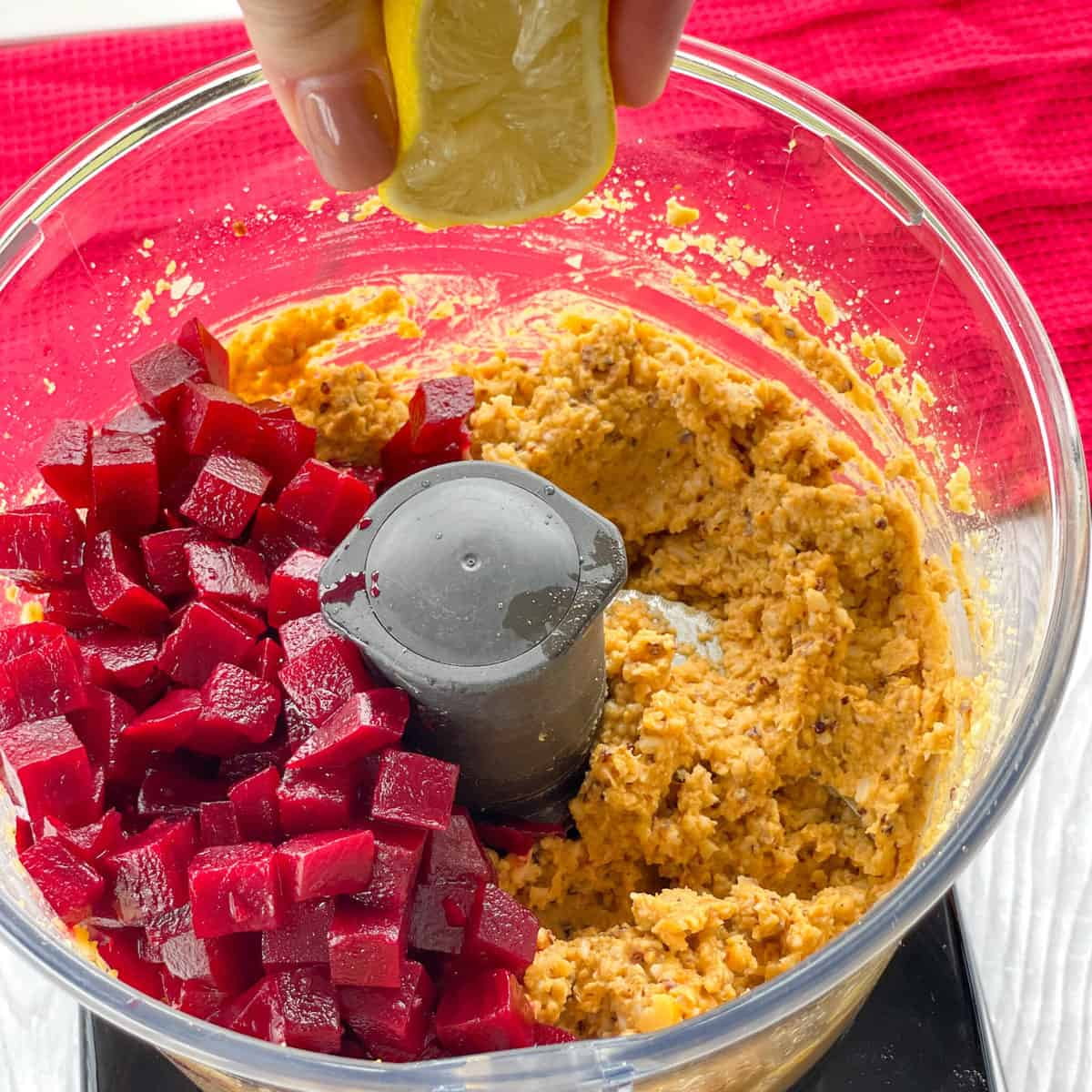 First you blitz the chickpeas then add the rest of the ingredients in order to create a soft mixture. If you find the mixture too soft and wet you can add a small amount of breadcrumbs to the mix to bind, leave out if you wish this to be gluten free.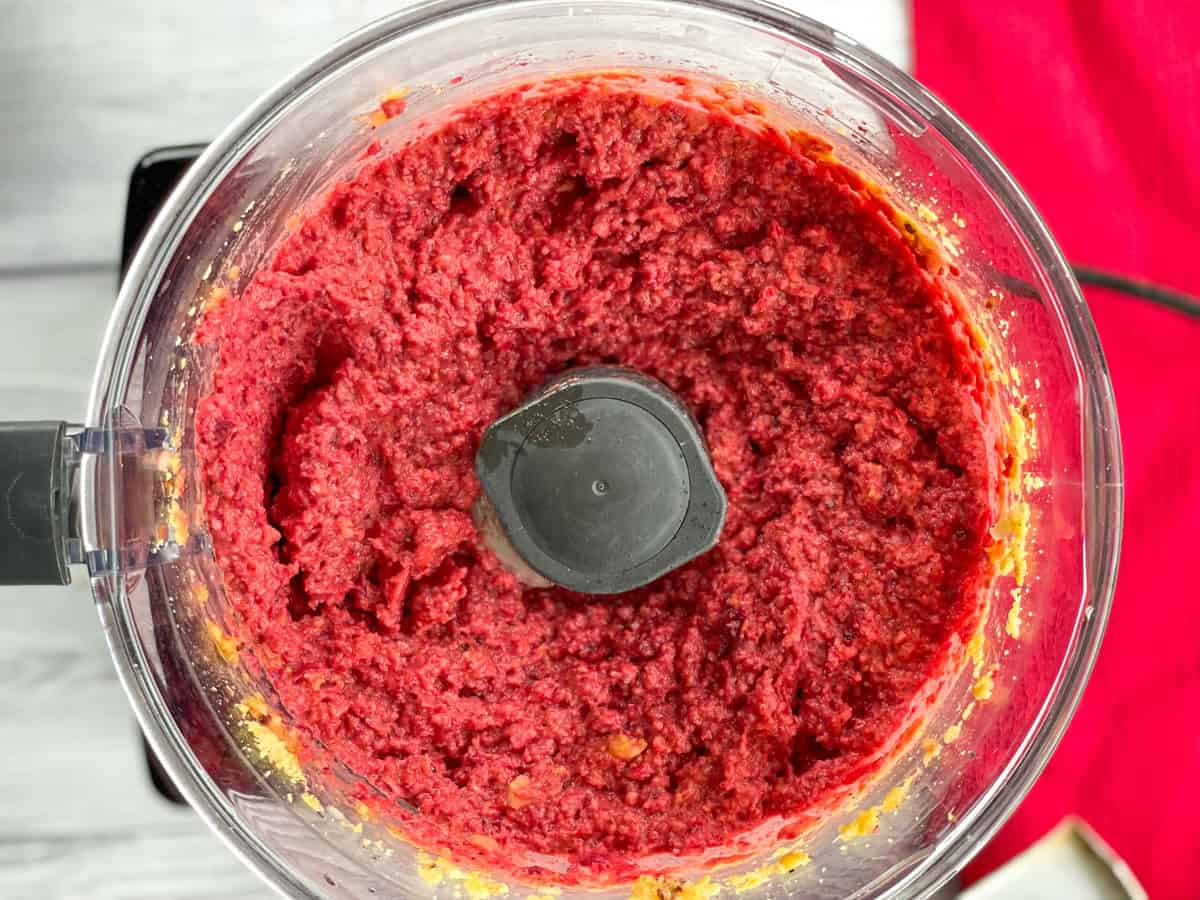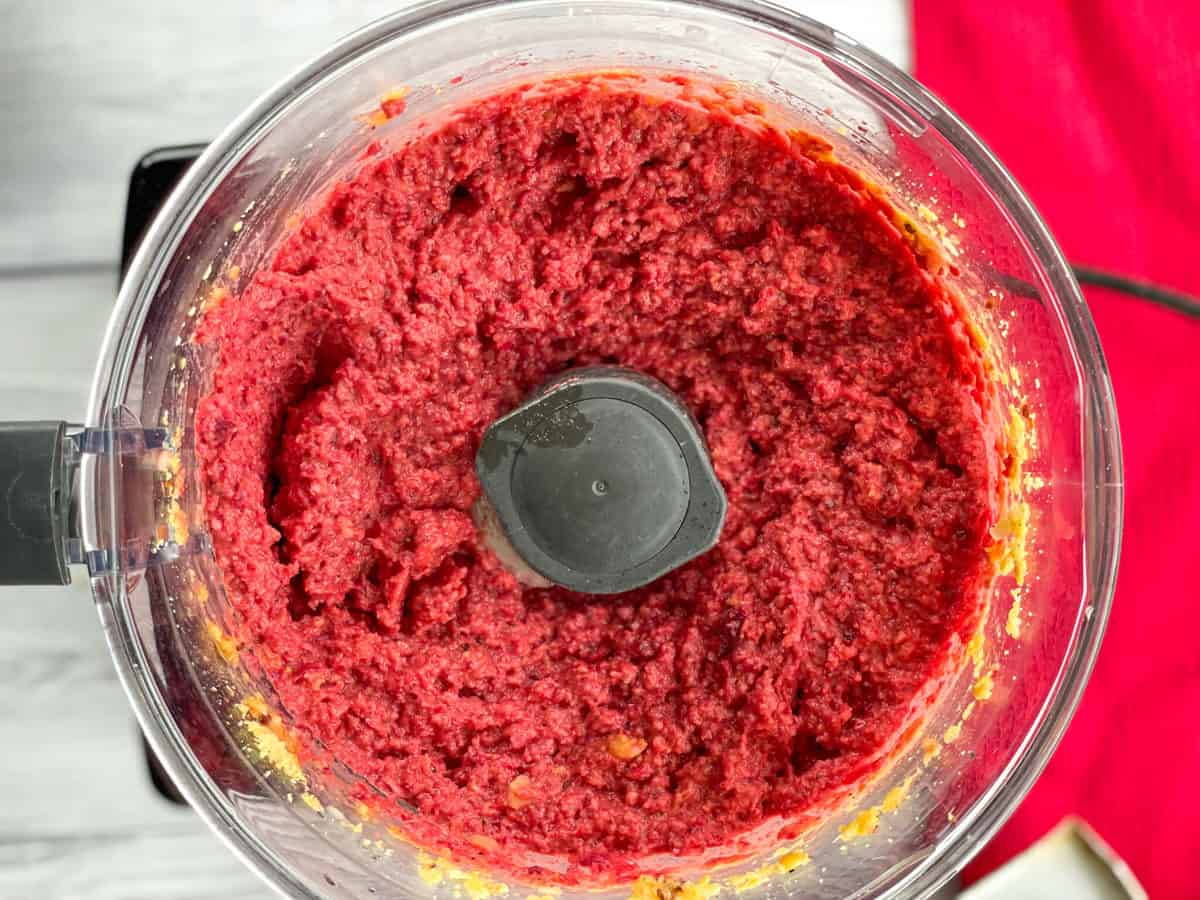 I then use a round half measure cup to scoop out the mixture and plop this straight onto a lined tray, then using a knife gently create the shape of the patties.
I chill the patties for at least 30 minutes to allow them to bind well before cooking.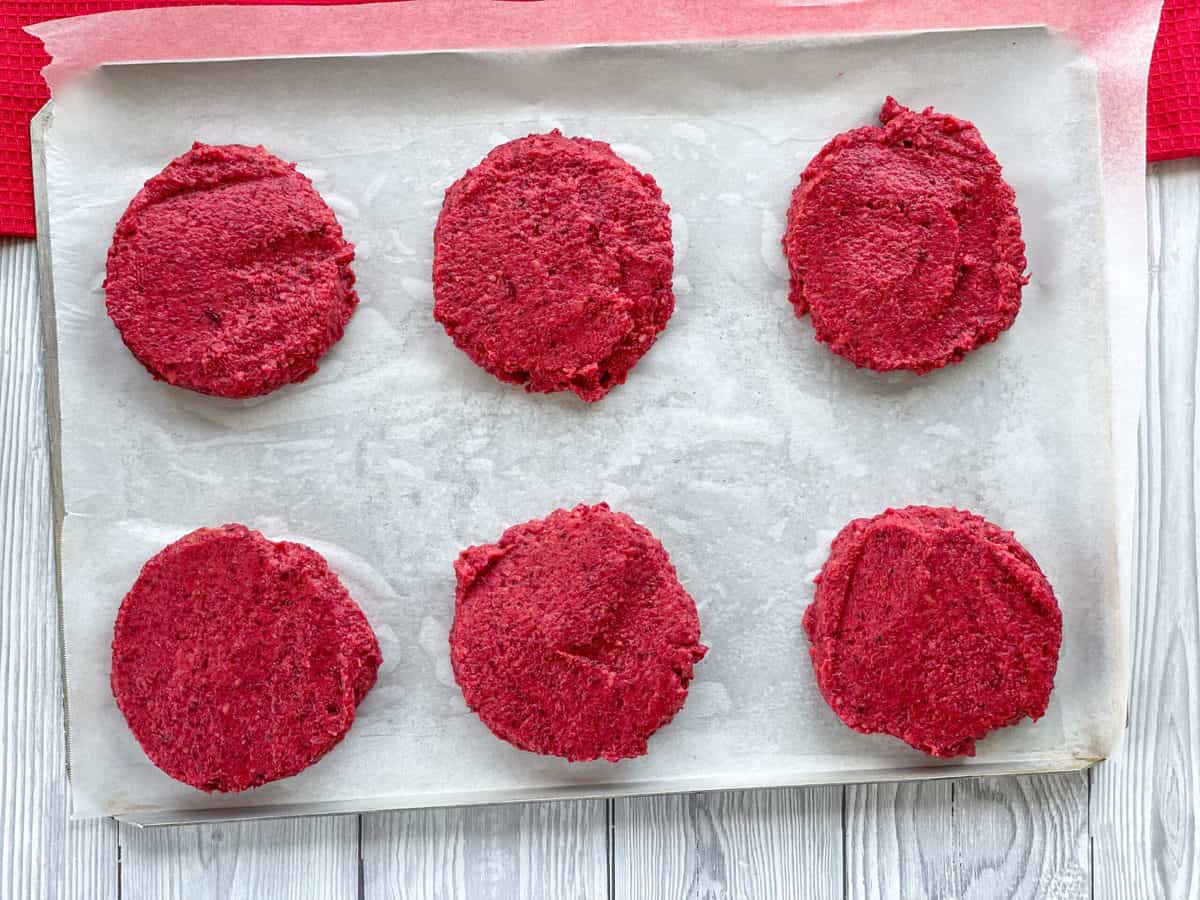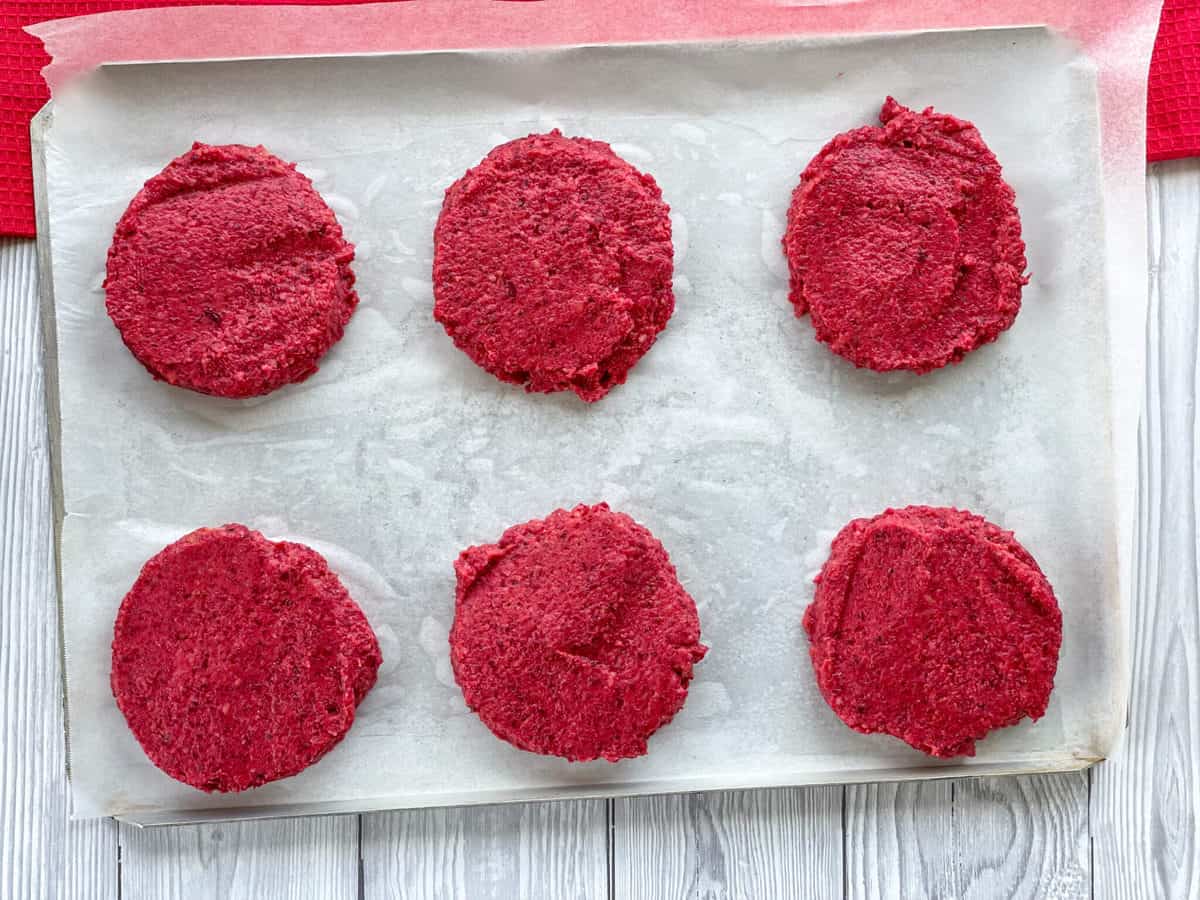 To serve these I love to create a salad base with fresh crispy vegetables such as lettuce, carrots, tomatoes & avocado on a toasted bun, then add a whipped feta on the top. The tart lemony feta adds such a decadent finish and beetroot and feta goes together so well.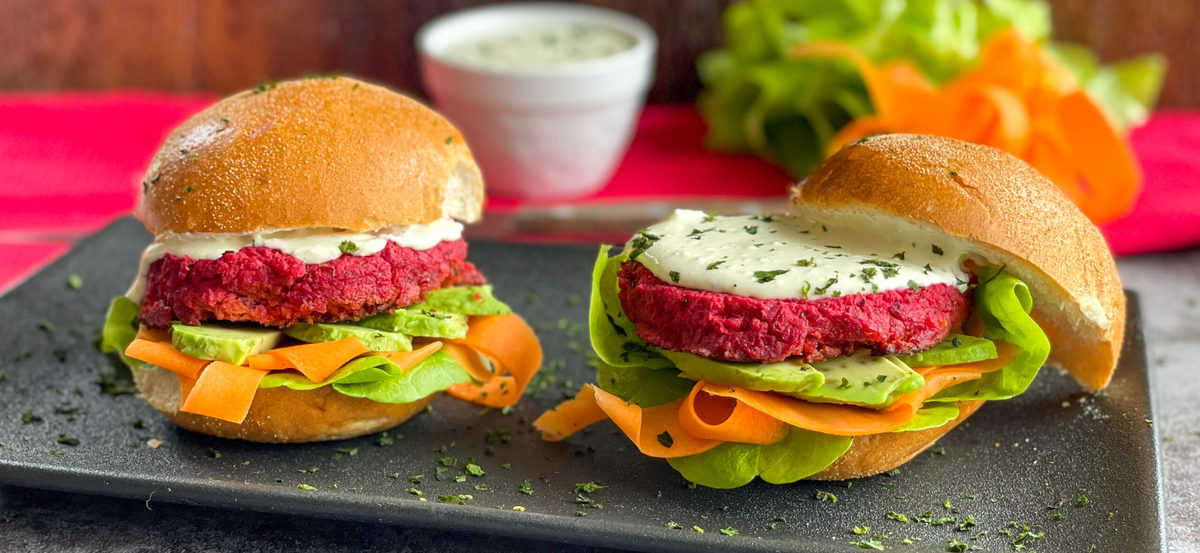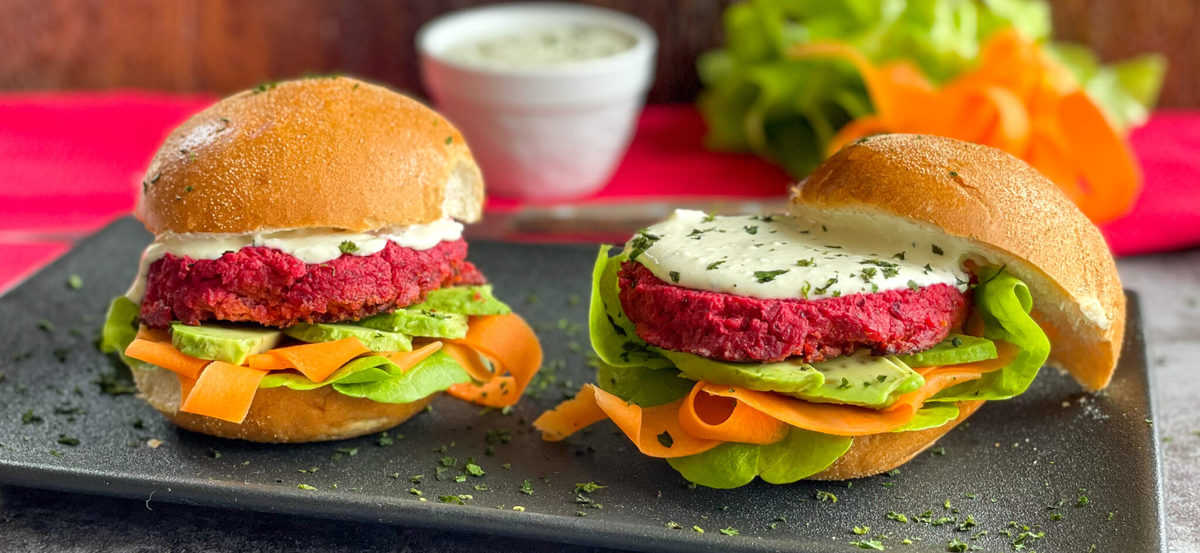 You can either choose to bake these or pan fry. However the key is to not dry out the mixture too much or they loose their flavour. These vegetarian patties have no fat content so be generous with the oil if pan frying.
Onto the recipe for Beetroot Burger Patties.
I cannot wait to hear what you think of this one, let me know when you try it in the comments below.
A huge thank you to Edgell for partnering with me on this recipe, be sure to keep an eye out for their full range in stores.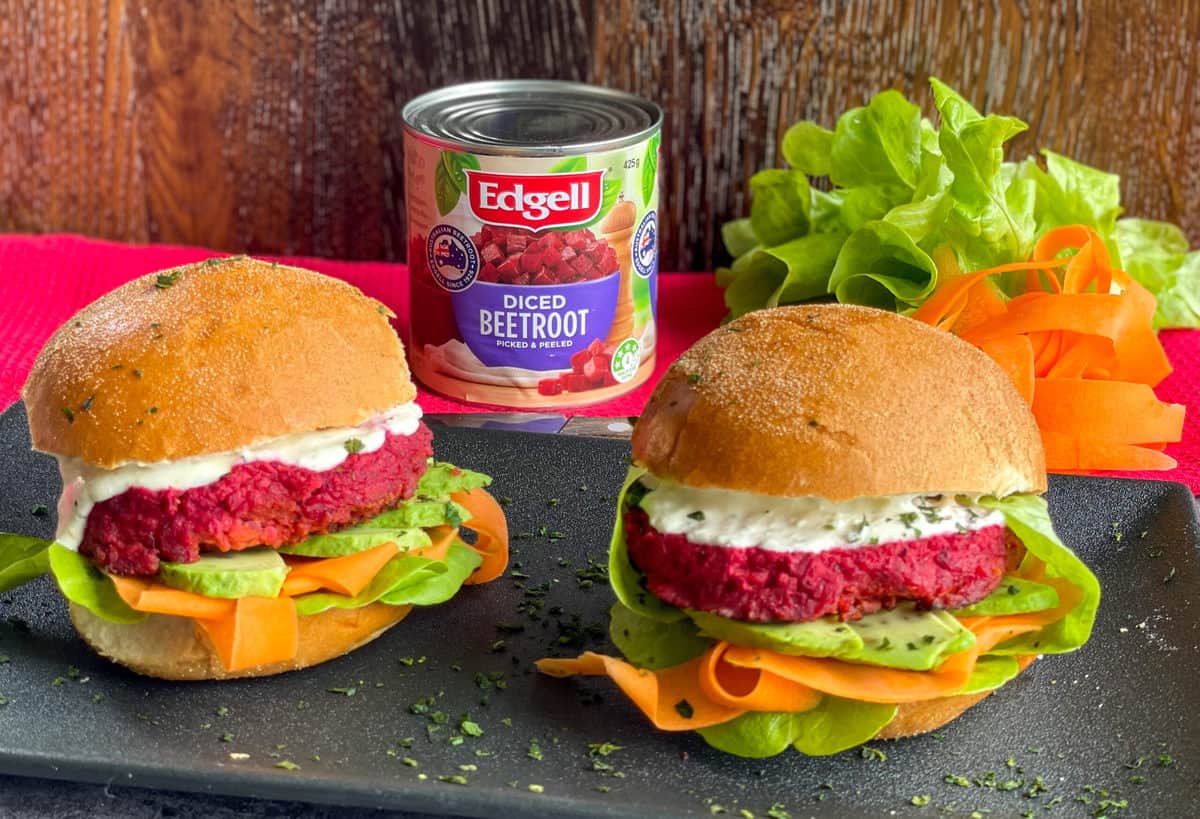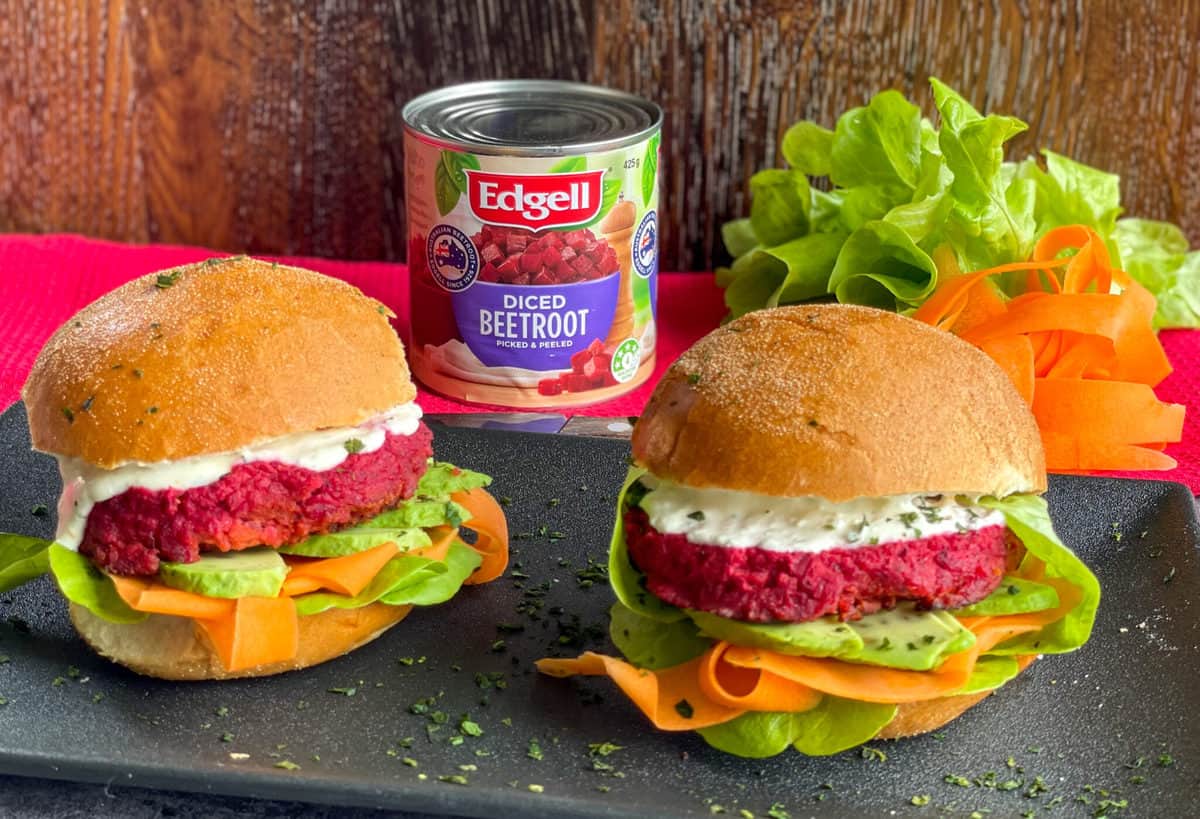 Thank you so much for stopping by to check out my latest recipe and others on my blog. If you are not already be sure to follow me on Facebook or Instagram for more deliciousness, and you can register your email in the subscription box below to receive all my recipes as I publish them.
Happy Cooking!
Anna
Pin it! Pinterest