This is a delicious special occasion cake, a lovely Easter mudcake with a creamy buttercream and speckles with a surprise inside!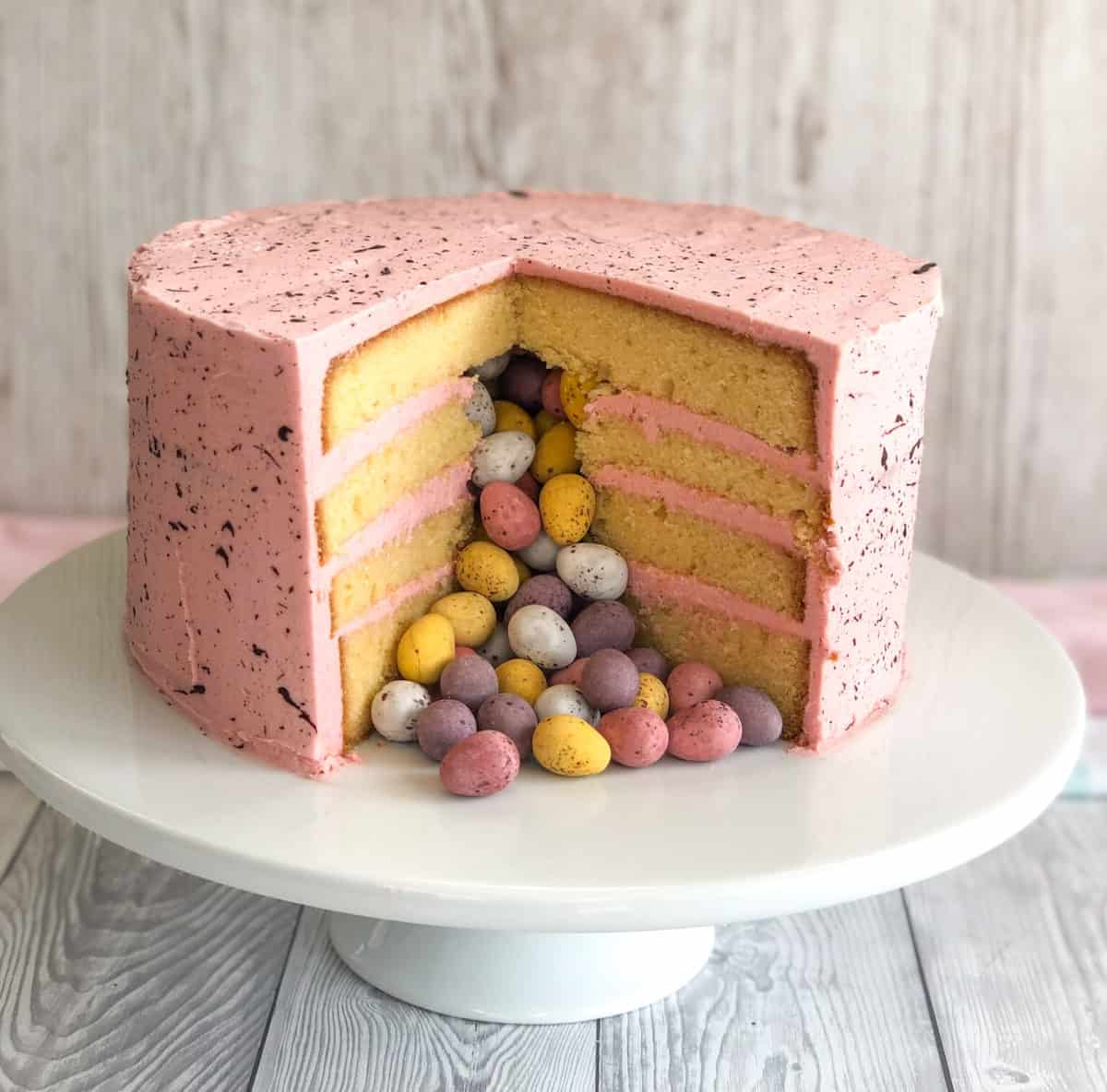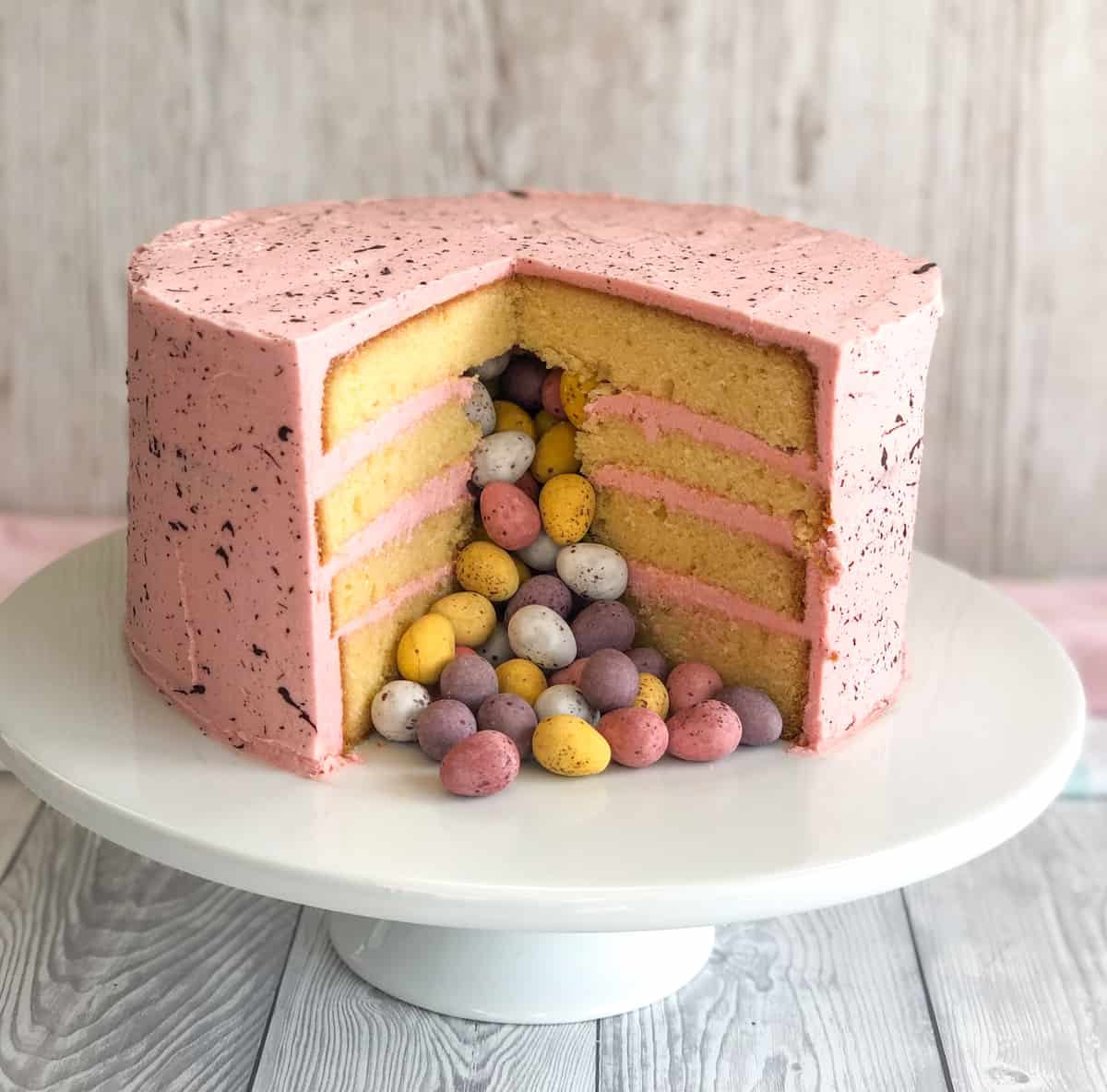 Every now and then you need a special occasion cake, and why not create one for Easter! This cake is a combination of a few of my favourite recipes and a new technique. You could use this for any special occasion really.
I so loved putting together this cake last Easter for a campaign for Countdown Supermarkets Easter recipe book, I wanted to share it here on my blog so you can reference it forever.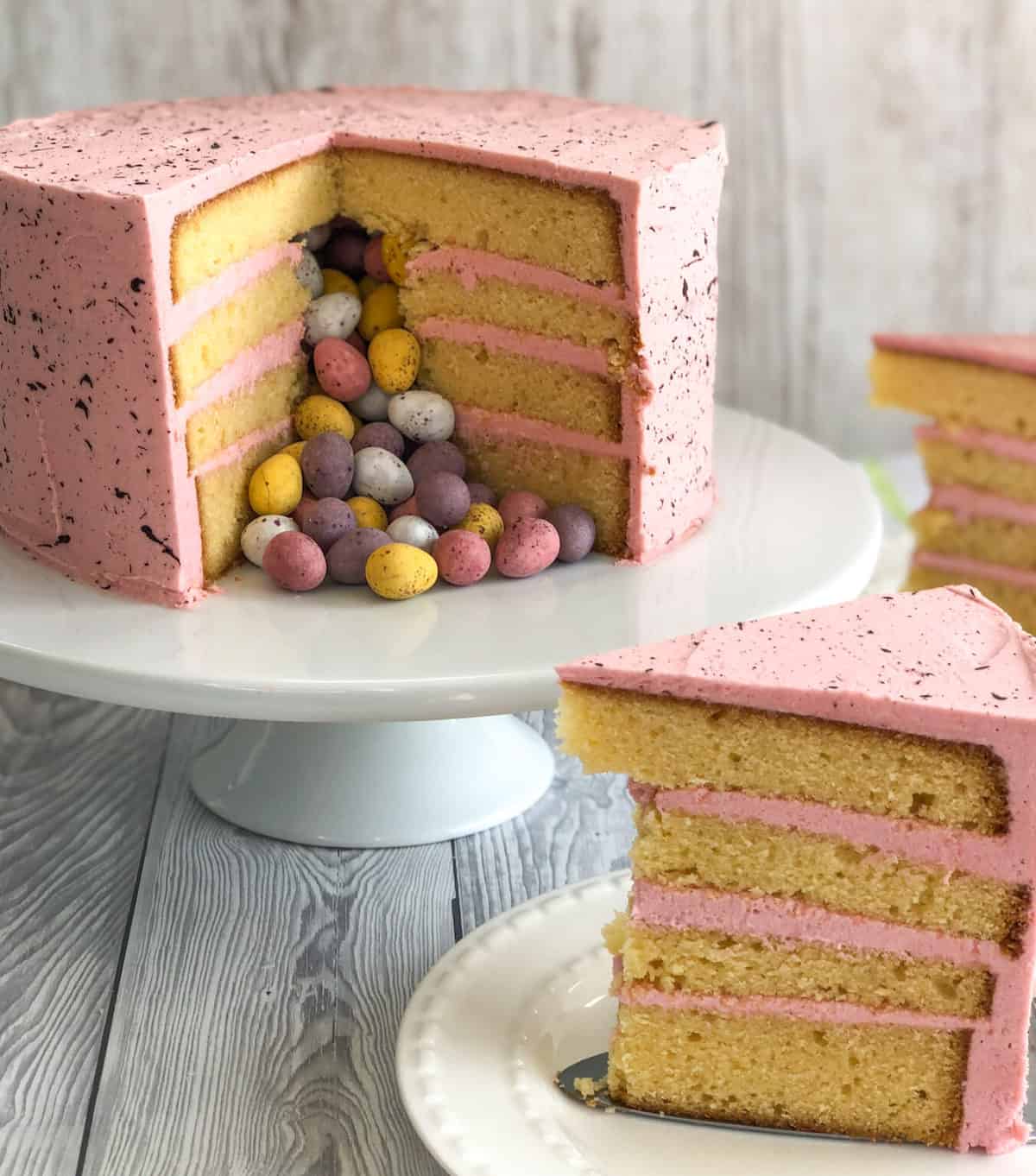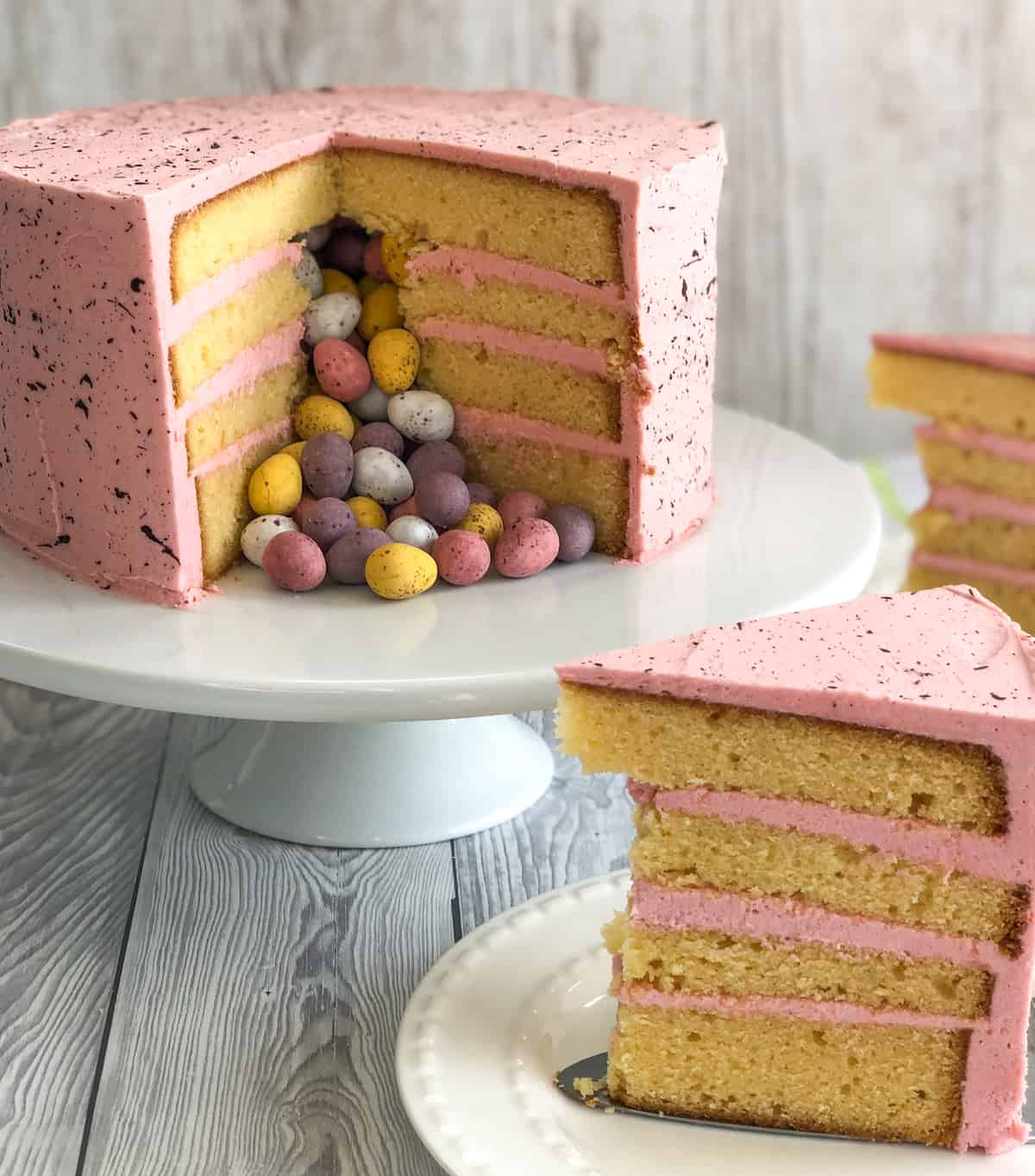 The cake is so lovely and decadent but I hope to break it down into lovely simple steps for you.
This one is going to be a long post simply because I want to explain the process for you and show you the photographic steps of how I assemble the cake for those of you who like to see the process.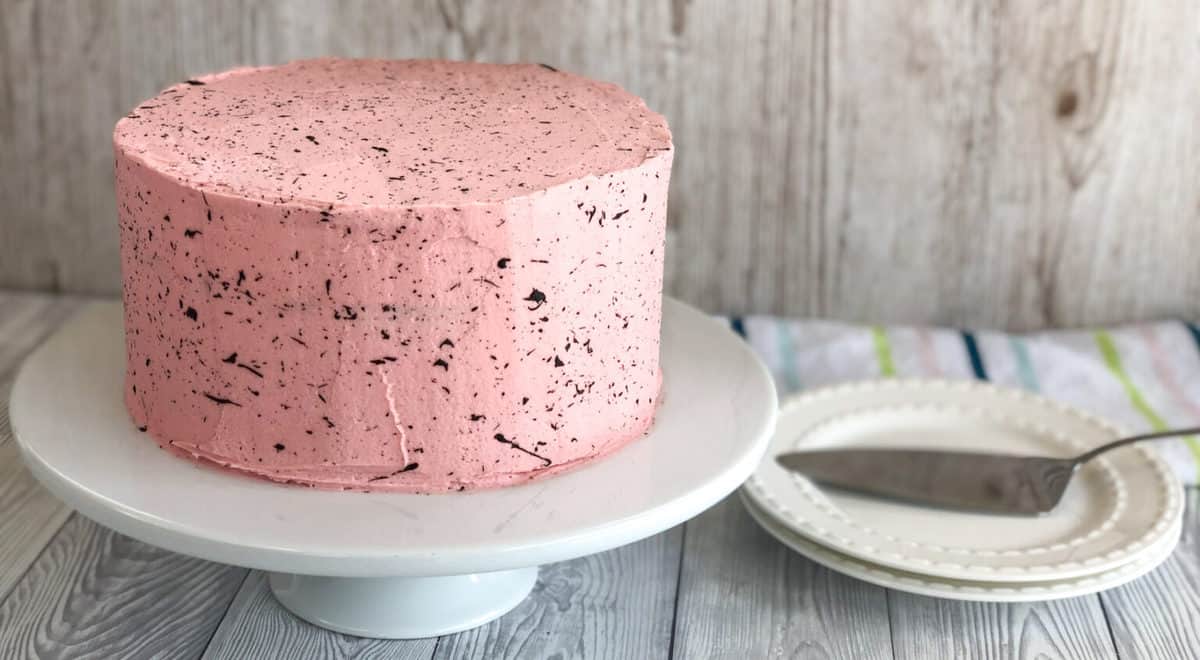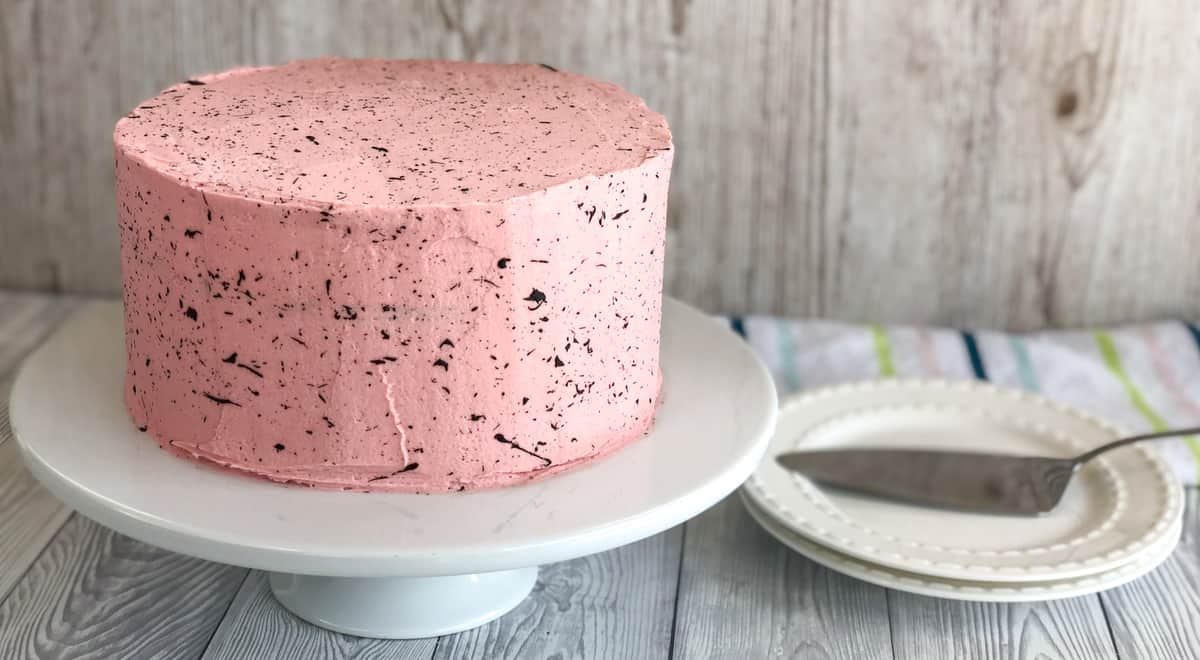 The cake is made up of three components, a tasty White Chocolate Mudcake, a lovely buttercream and then the speckle technique. And of course the "surprise" inside of the lovely mini easter eggs.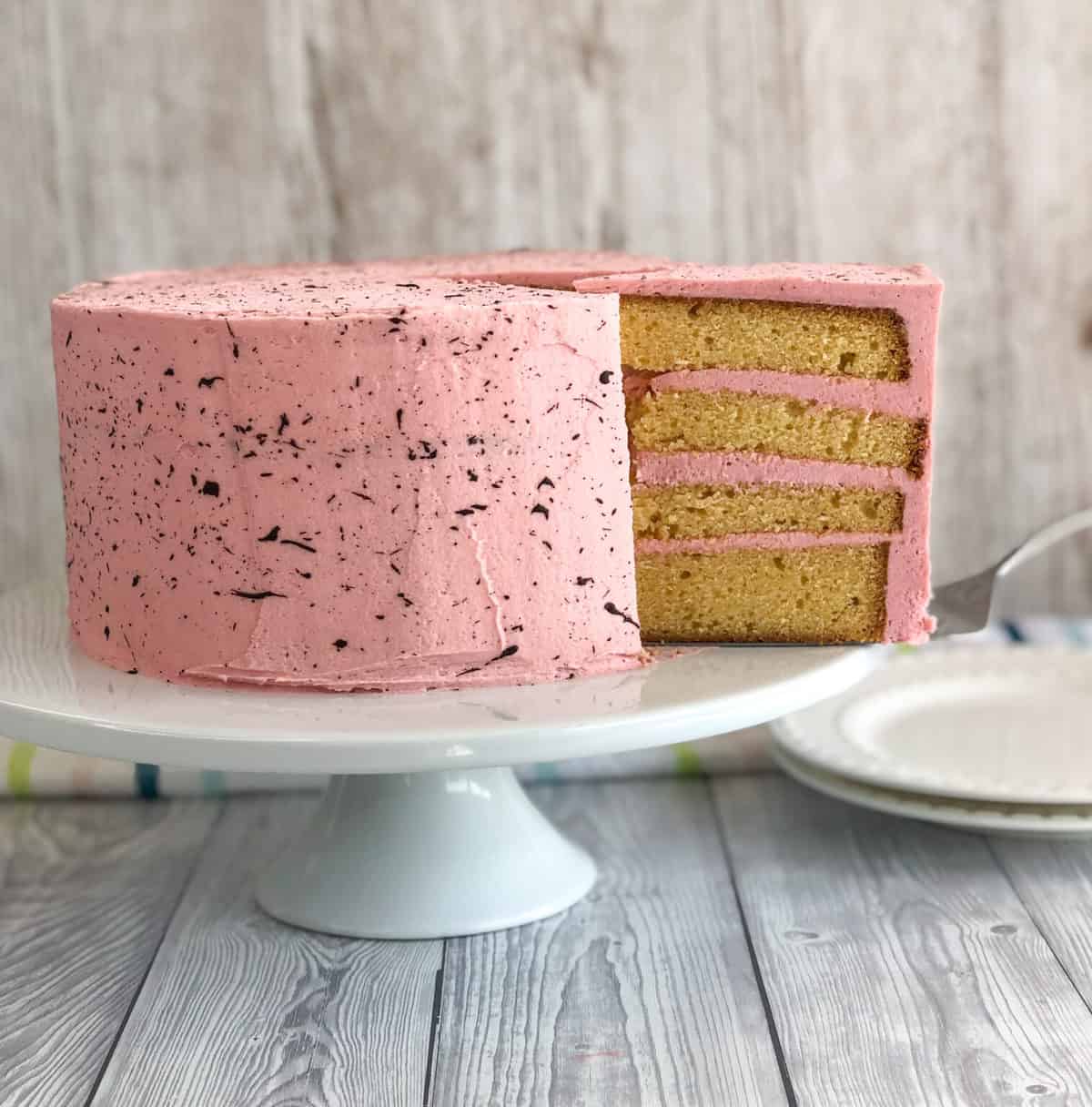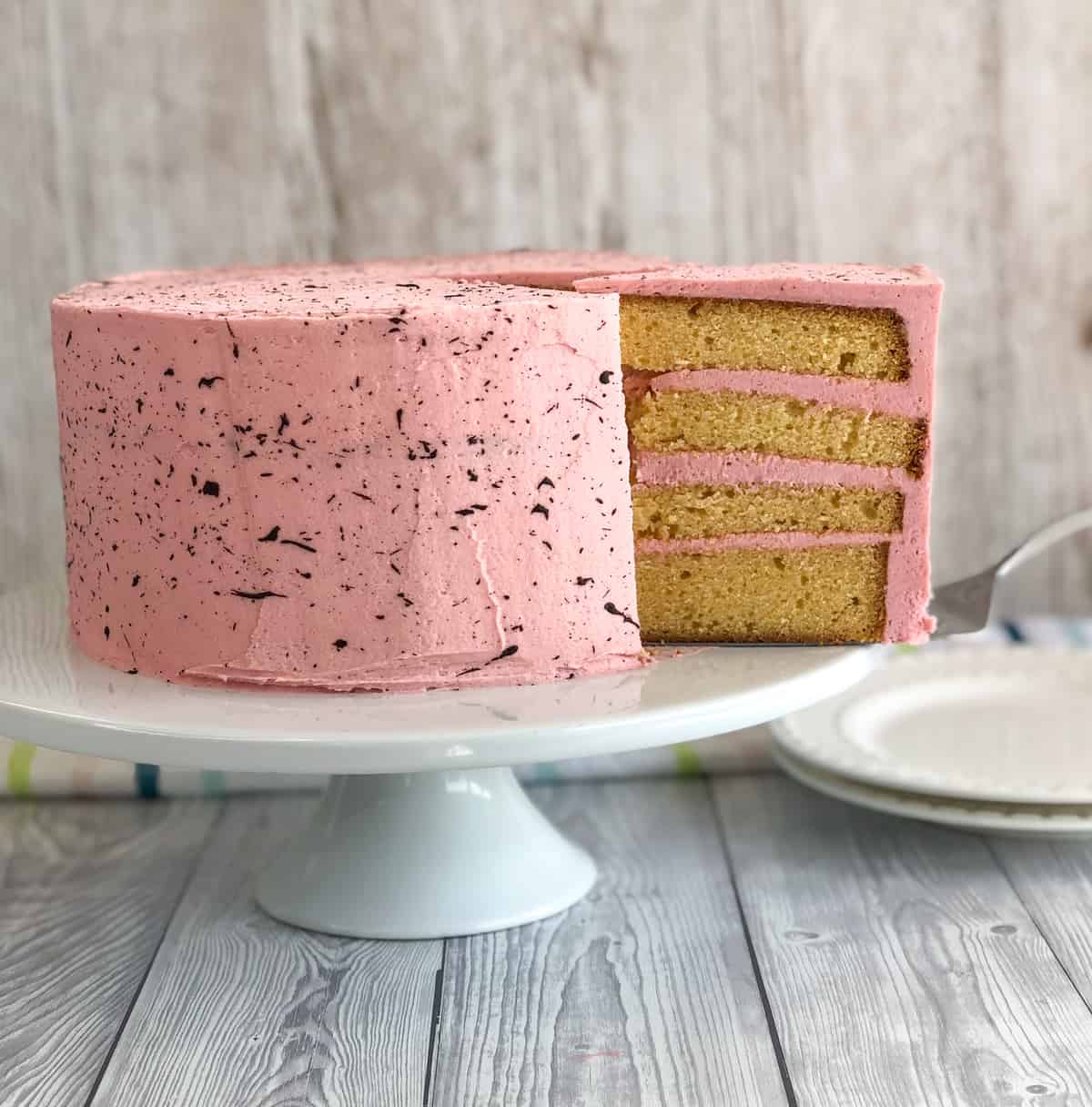 I would like to break down how I create those three components and some good tips. If you are just wanting to get straight onto the recipe head on down to the recipe card or click Jump to Recipe at the top of this page.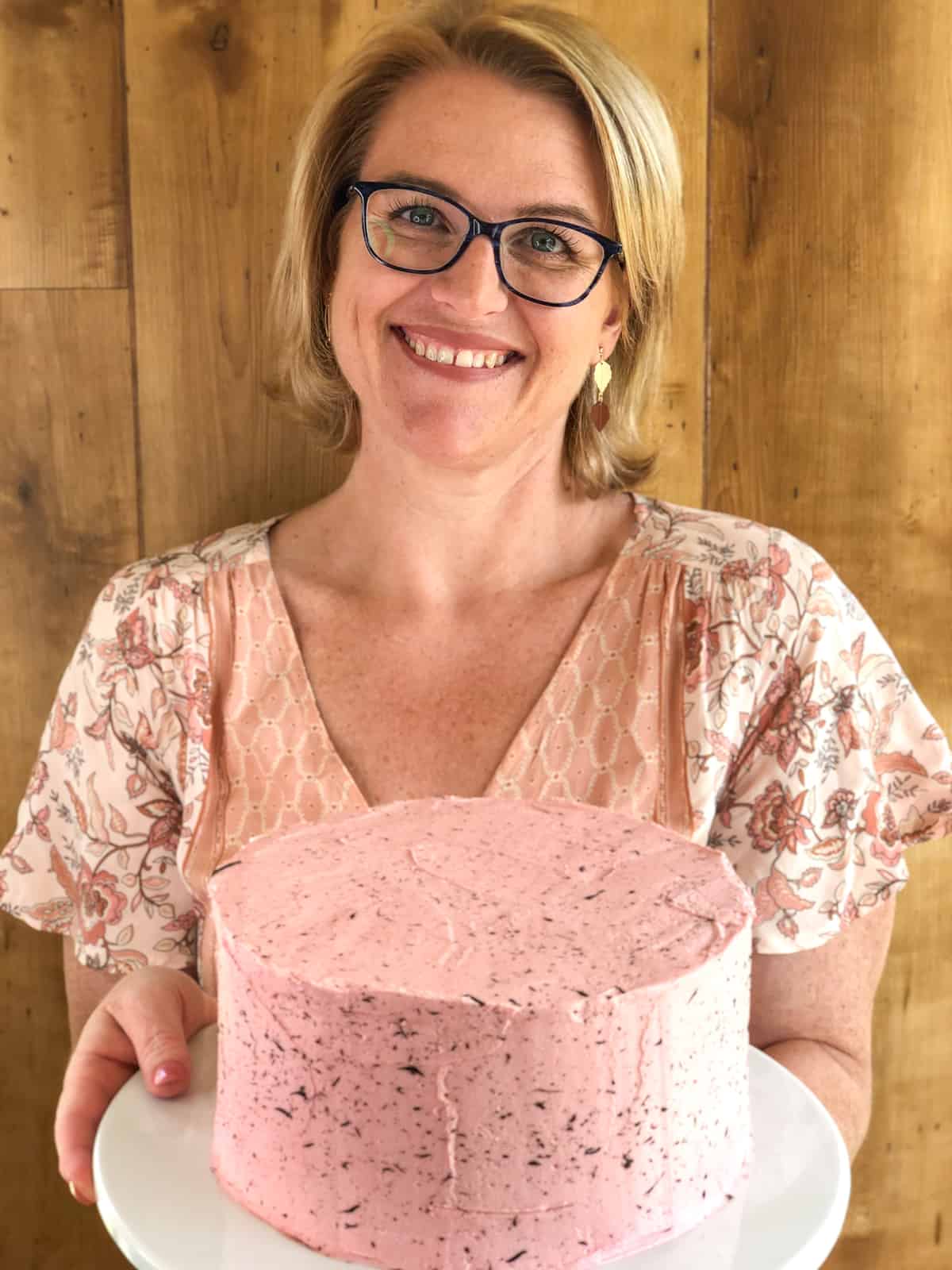 This is me – holding the cake!
To begin I make the White Chocolate Mudcake, I often make this a day or so ahead. The mudcake gets better and denser each day, so I would make it the day prior and once cool cover it well in plastic wrap and set aside.


To make the mudcake is a lovely technique, for this recipe you will need two 20cm cake tins to make the cake, it is a 4 layer cake so we halve each cake to make the layers.


To prepare the cake is a matter of heating the butter, white chocolate and sugar with boiling water, and melt. Then add this to the dry ingredients a long with the eggs.
Once combined you pour it evenly into the prepared tins, I like to line my tins base and sides with baking paper. I spray the tins well with cooking spray then line, so the liner sticks to the tins well.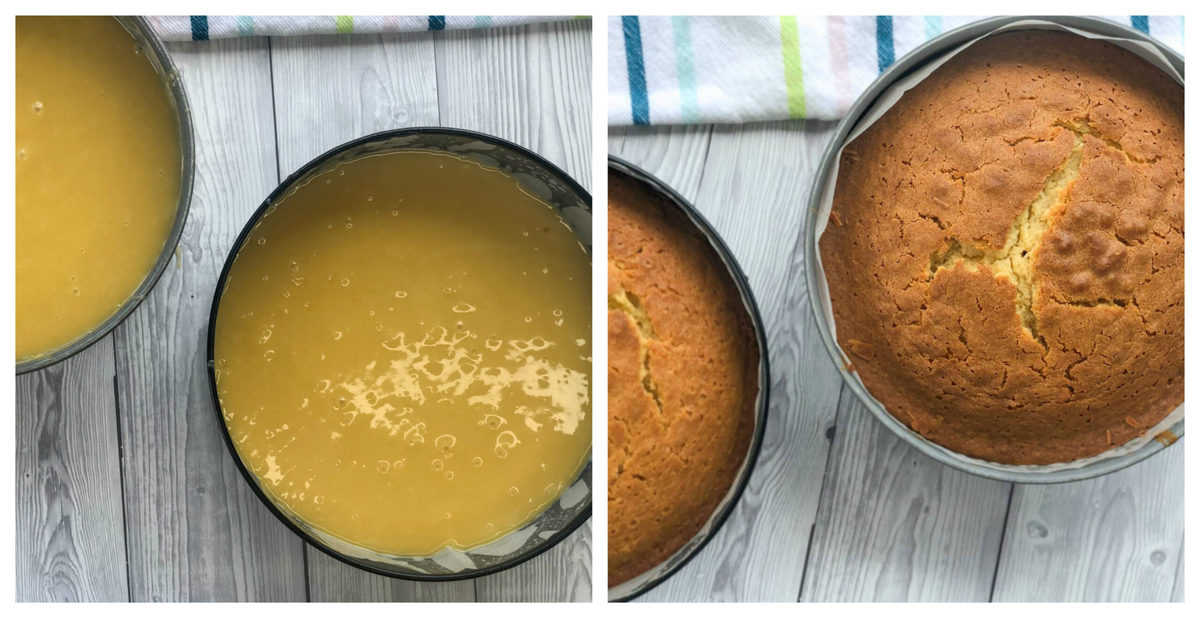 I use a scale to measure accurately to ensure an even amount of batter goes into each tin but you can absolutely eyeball this. As I mentioned above once the cakes are completely cool, I wrap well in plastic wrap and work with them the next day.


The cake needs to be trimmed (the top mound sliced off) then cut into two even pieces. You can do this with a steady hand and a knife, or you can use a special cake cutter which cuts evenly.
Once you have 4 layers, you find the middle of the cake and cut a circle in the middle of 3 of the 4 layers. Handling the cake carefully so it does not bend or break.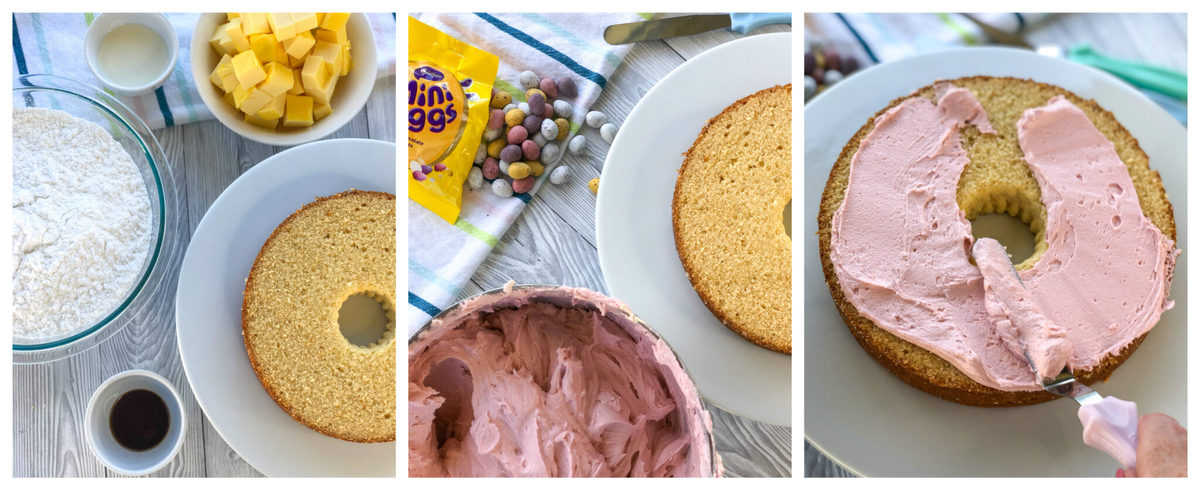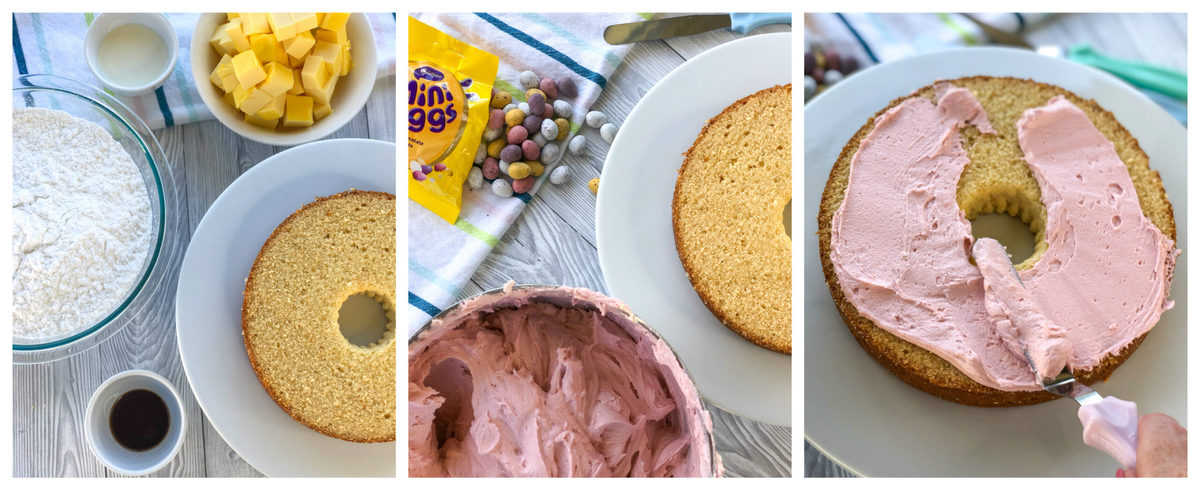 Then you want to prepare the buttercream, I have a lovely technique for creating buttercream, super simple, it involves long and thorough mixing of the buttercream once all of the icing sugar is added. This ensures the buttercream is light and fluffy.
I have chosen a soft pink colour for my cake, but you can absolutely choose any colour that suits your occasion.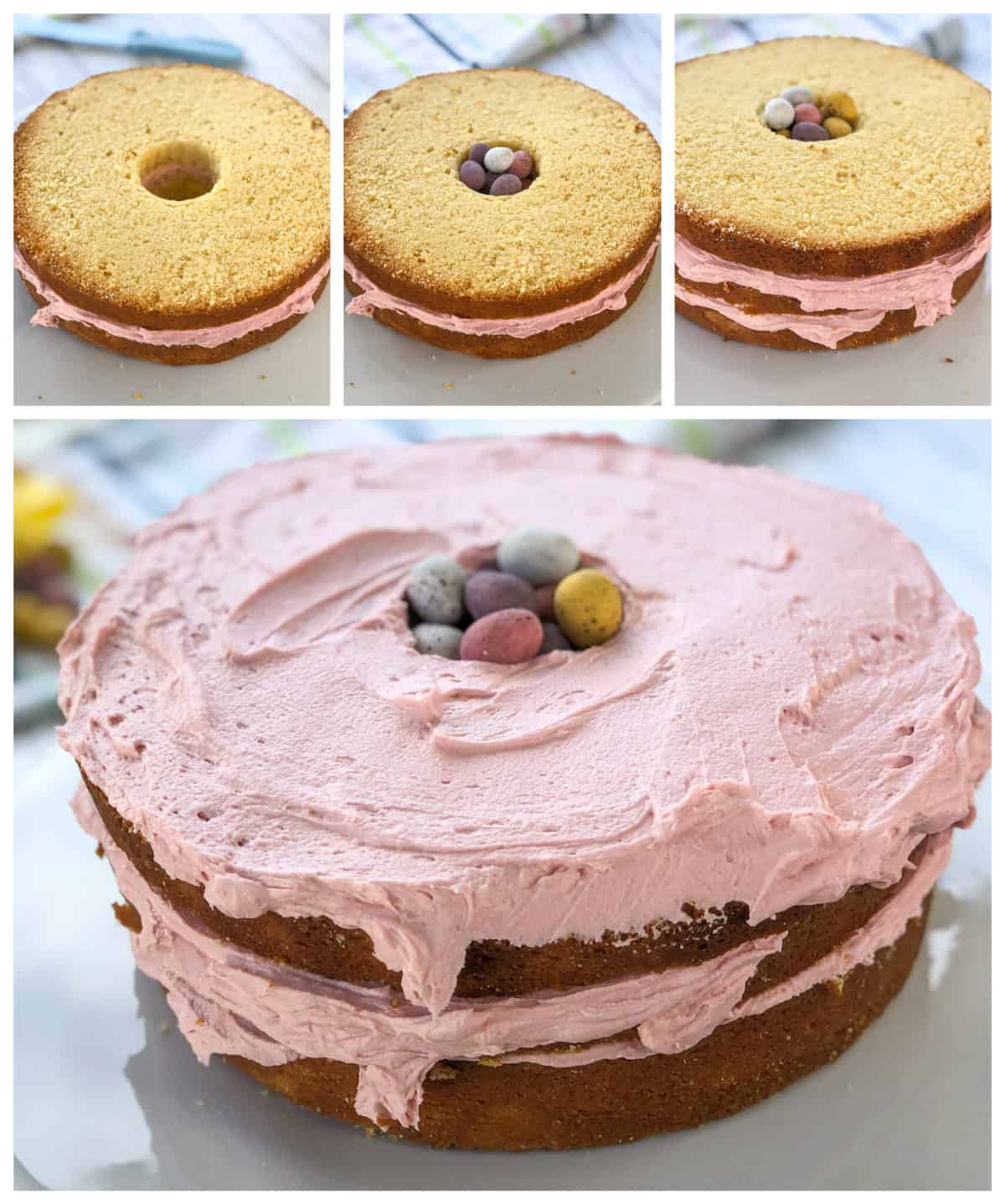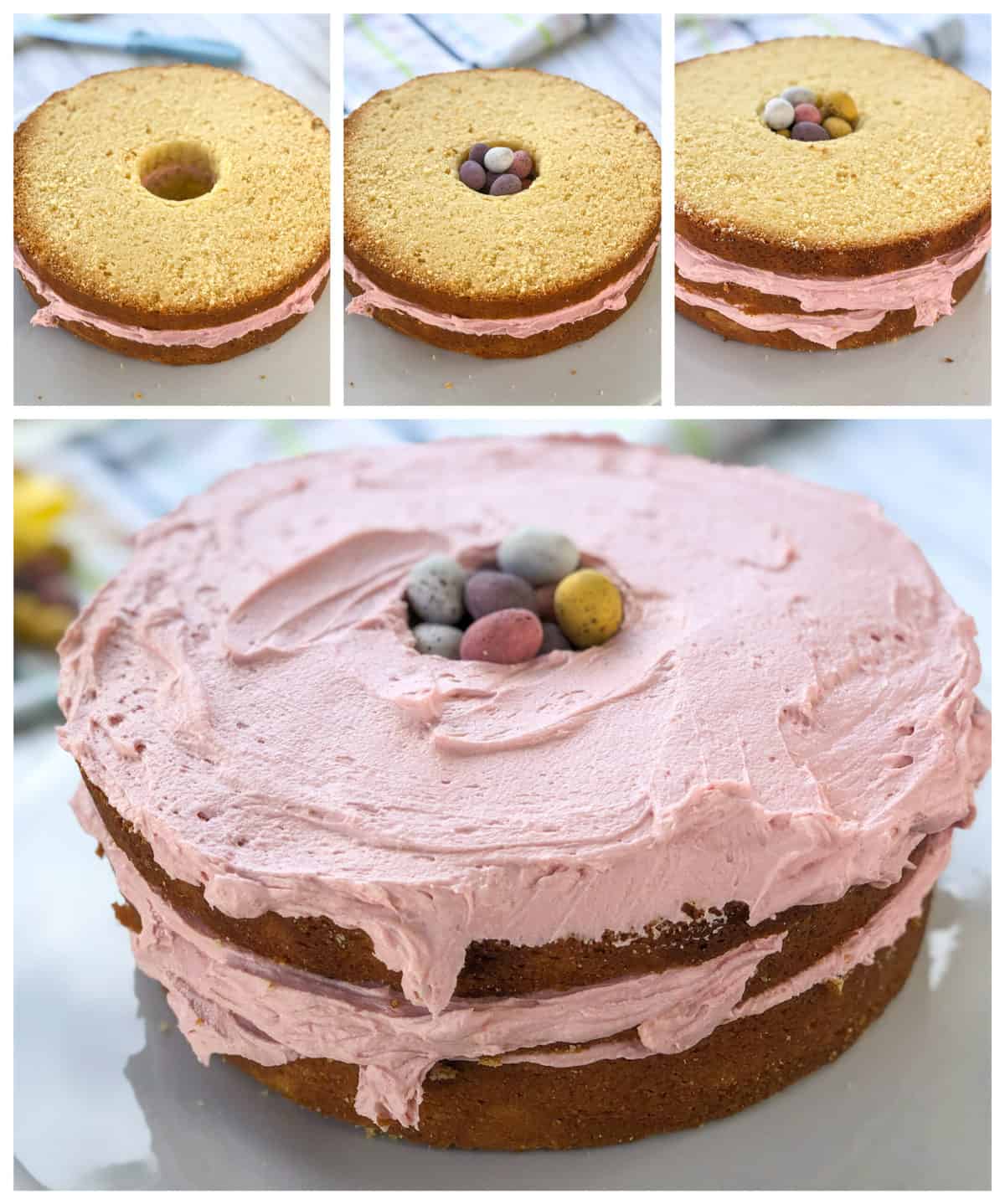 To assemble the cake place the bottom layer (saving the layer with no hole for last) on a serving plate. Smother the top of this with buttercream, then carefully place the next layer, repeat with the butter cream, adding the mini easter eggs as you go.
Then finally once the 3 layers with the holes are placed and filled with easter eggs, place the top layer on.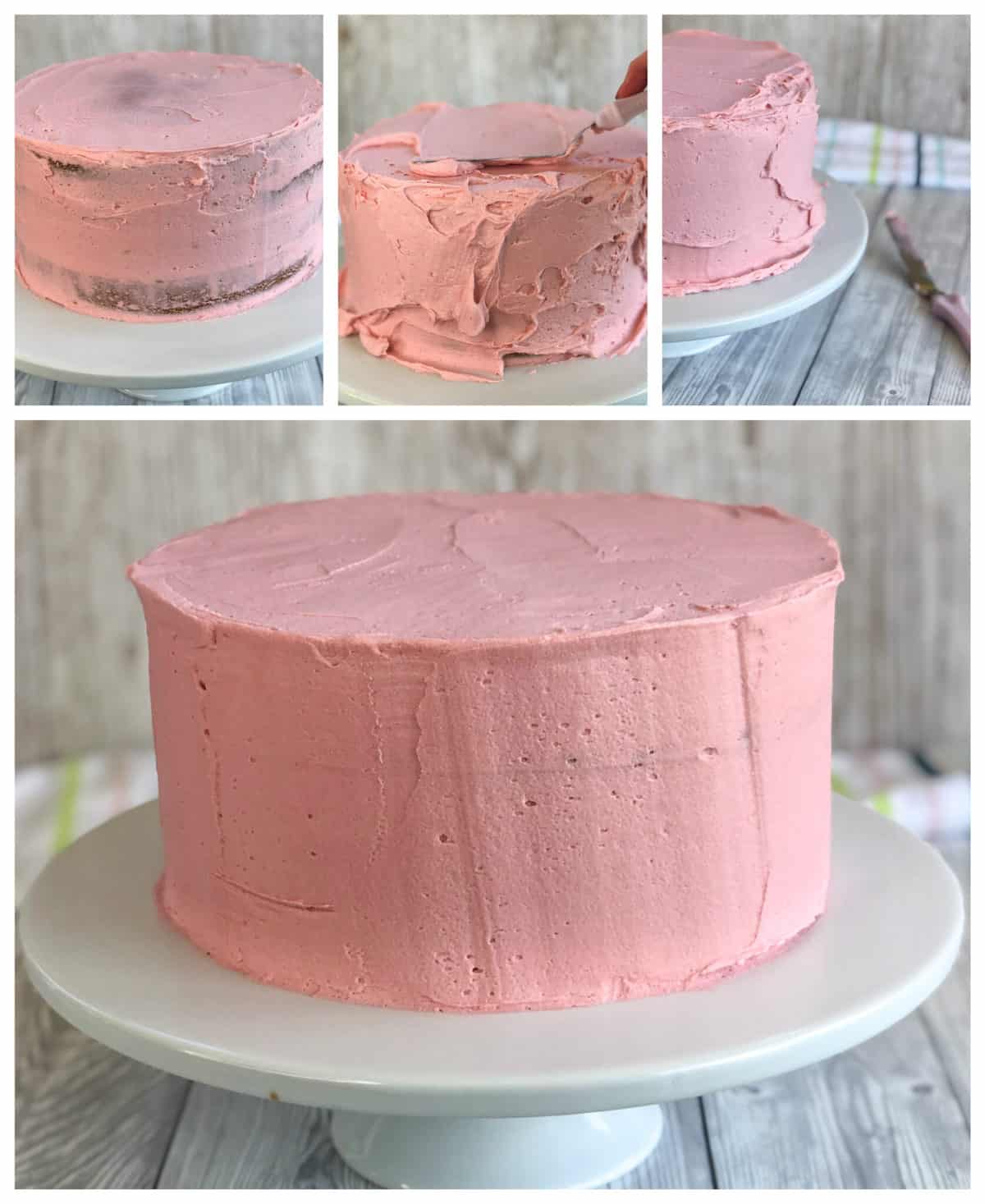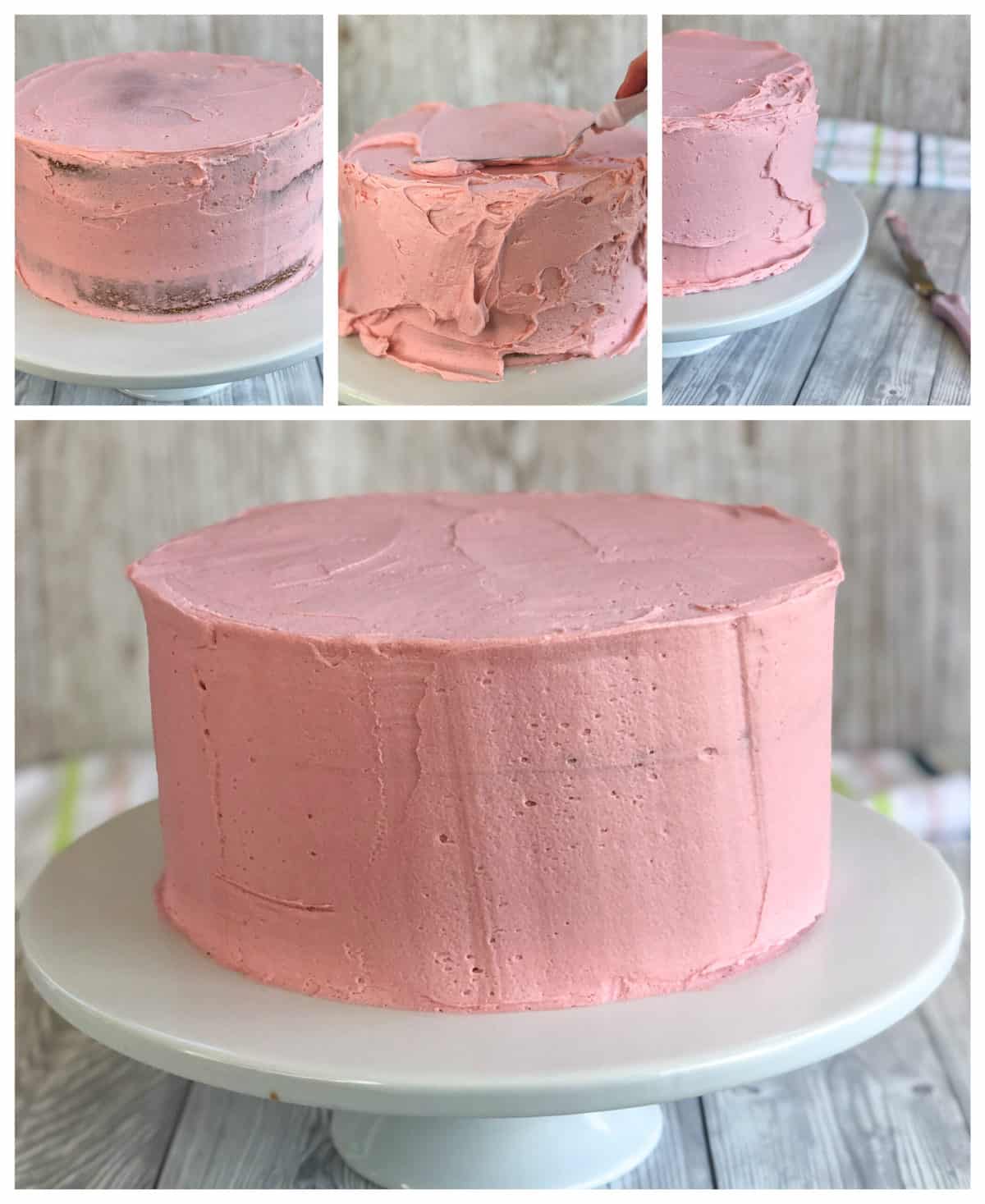 Cover the entire cake with a thin crumb coat them allow this to chill before finishing the cake with a final layer and smoothing to a lovely smooth finish. This can take some practice, there is no need for it to be perfect unless you are making it for Nigella, and even then…….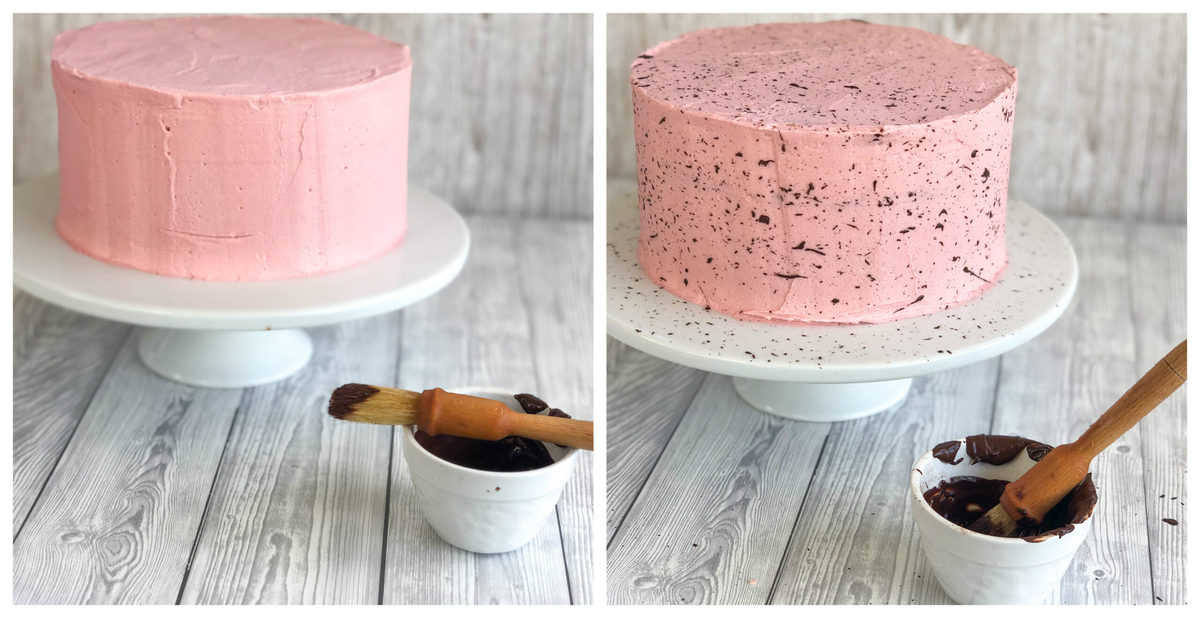 The final step and the most fun is speckling the cake! This is messy, there is no getting around that so you will want to create a background or do it on the grass or somewhere you won't mind literally flicking a cocoa paste with wild abandon.
The speckles are made with a combination of cocoa and vanilla essence. I use my pastry brush and holding the brush in one hand and the bristles in the other I use it to pull back the bristles and flick the mixture all over the cake. I did a little practice in the sink first to get my technique right. Messy, but so fun!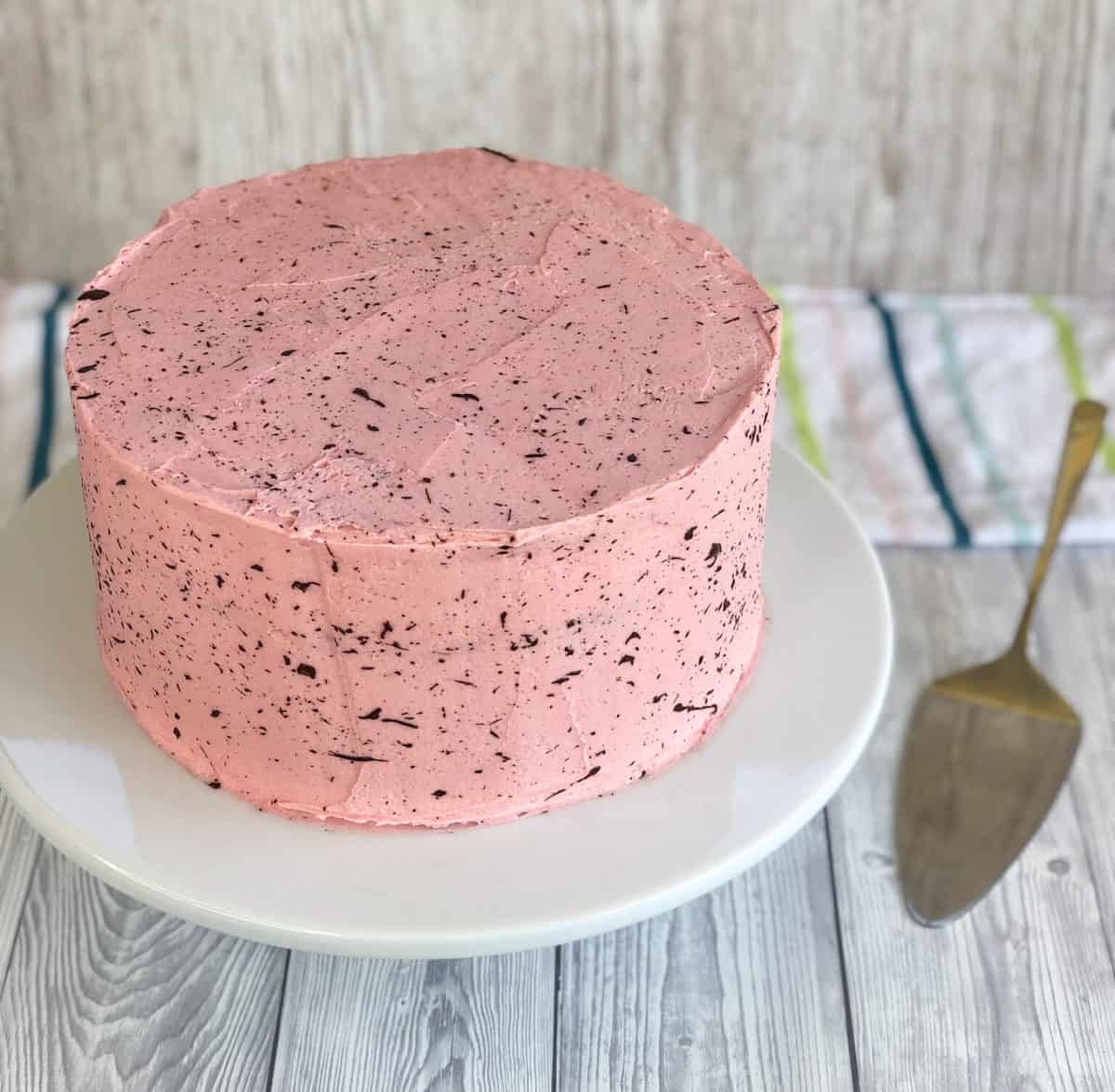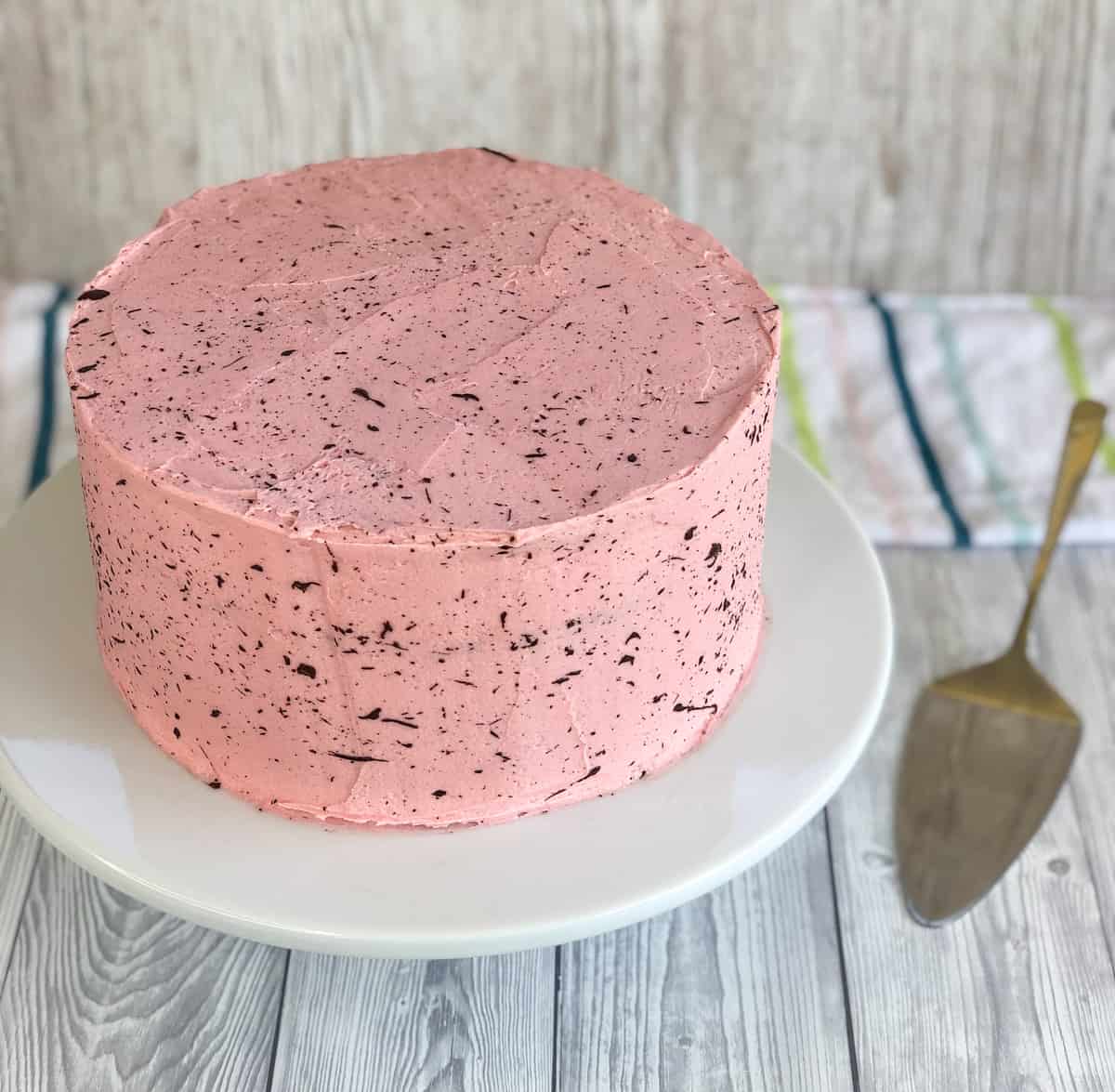 Once you are happy with the amount of speckle it is ready to serve, or store in the fridge until you are ready. Be sure to get the cake out at least 20 minutes before serving to allow the mudcake to come closer to room temperature for maximum deliciousness.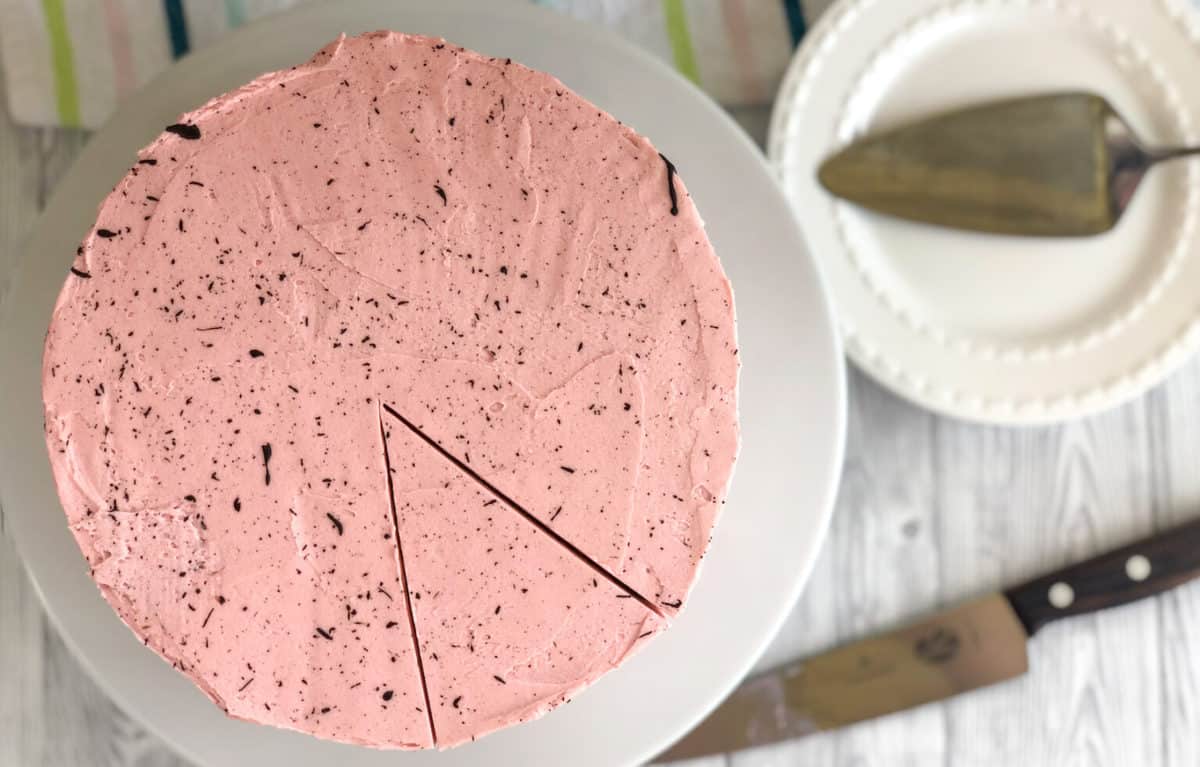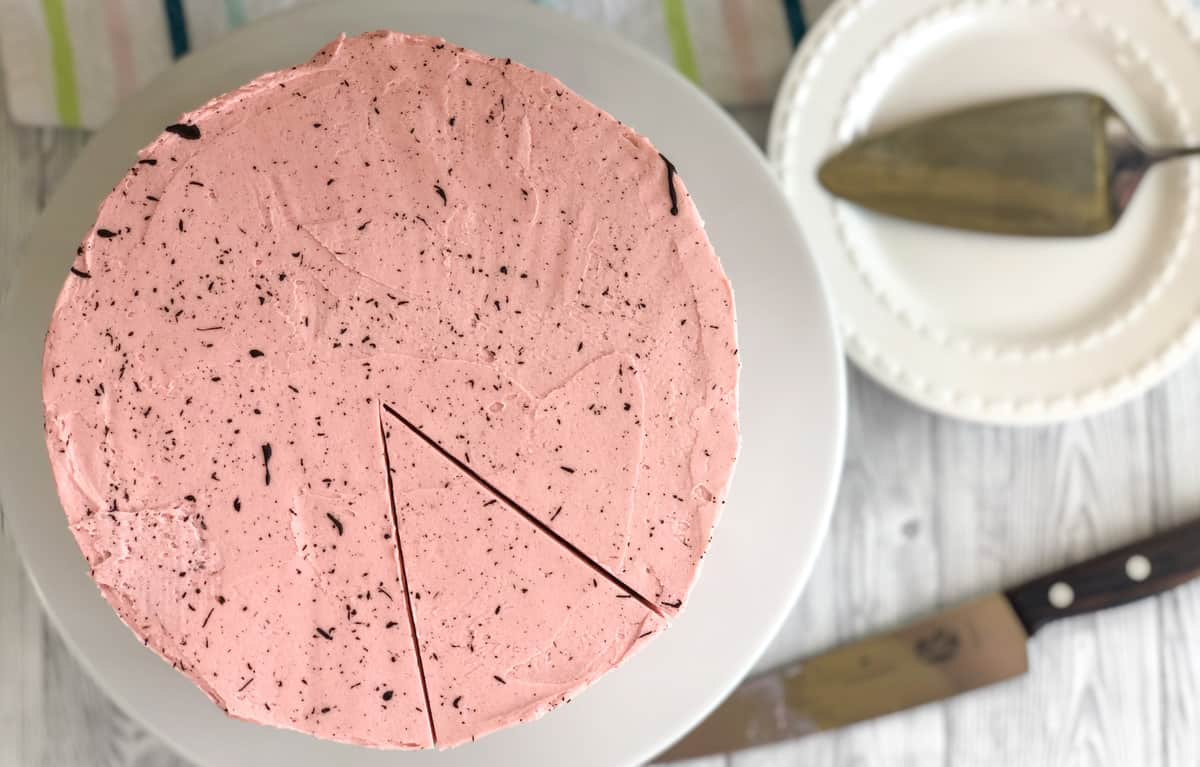 I hope you love this cake as much as I do! It could be recreated for any occasion really, simply choose the inside sweets of your choice and the colour of the icing.
If you love this idea be sure to check out my other Easter Spectacular Cake with more fun techniques to try.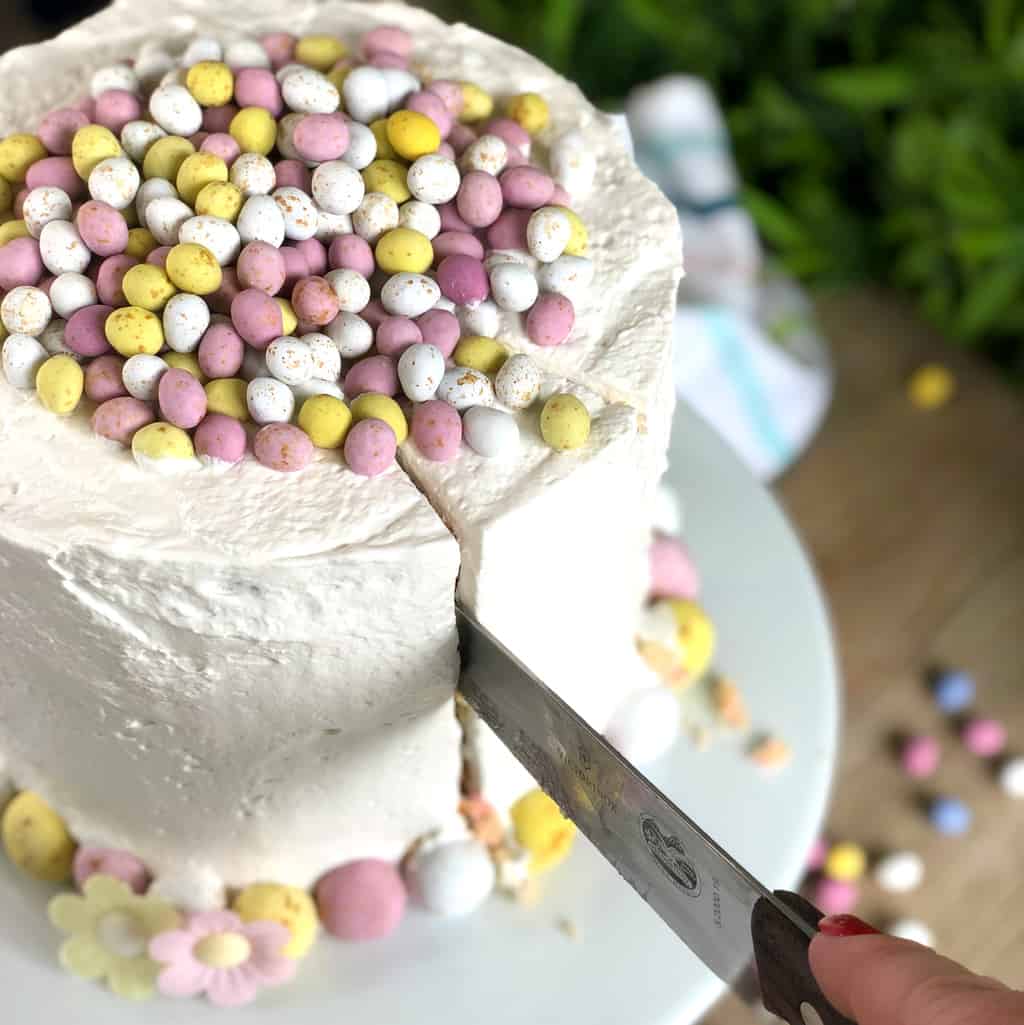 Onto the recipe for my Easter Speckle Mudcake
I hope you love this recipe! I cannot wait to hear, let me know in the comments down below.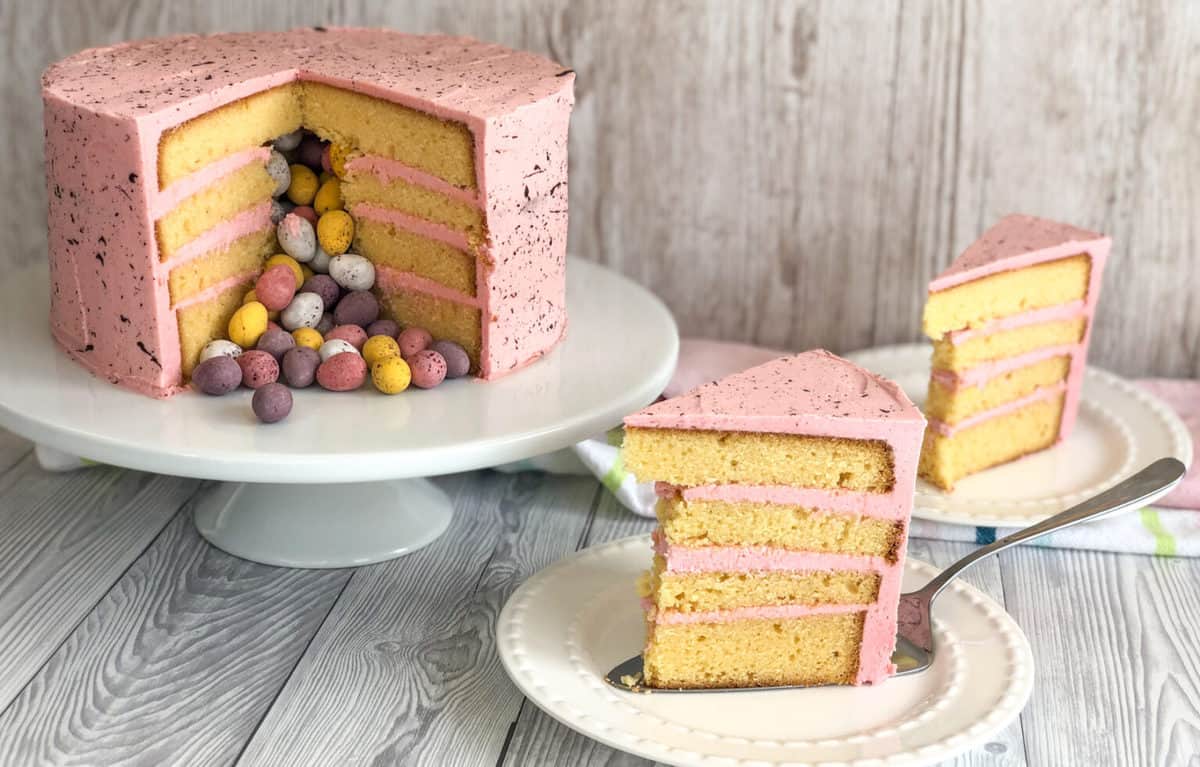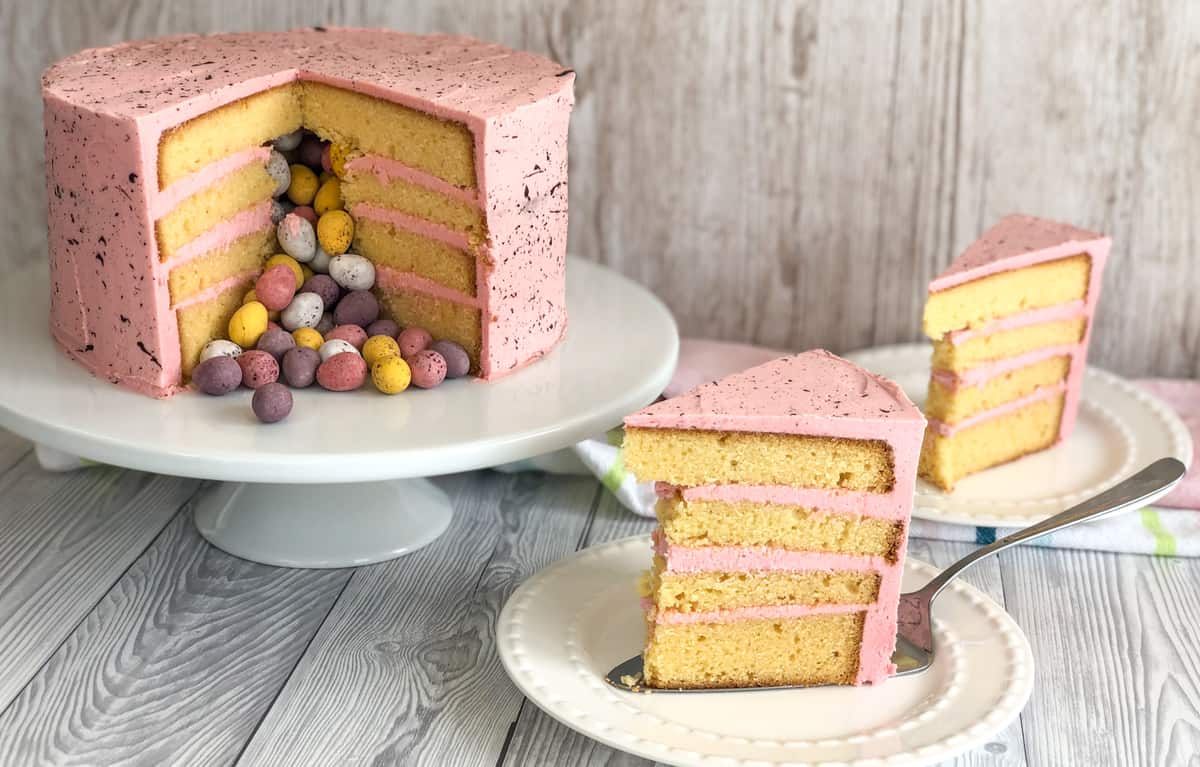 Thank you so much for stopping by to check out my latest recipes on my blog. If you are not already be sure to follow me on Facebook or Instagram for more deliciousness, and you can register your email in the subscription box below to receive all my recipes as I publish them.
Happy Baking
Anna
PIN IT! PINTEREST