This Chicken and Kumara Red Curry is absolutely delicious and flavoursome and a great 30 minute meal!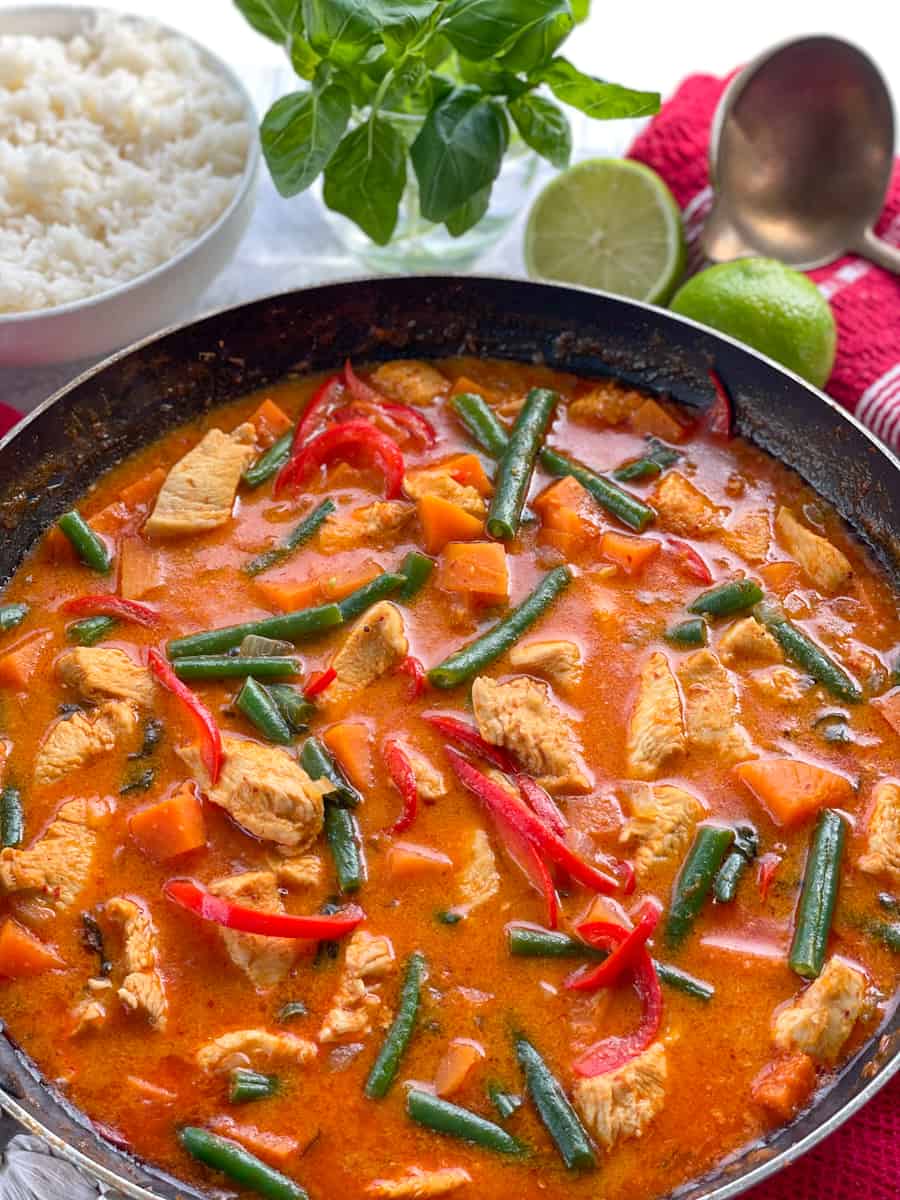 This recipe has been sponsored by Countdown Supermarkets, all opinions are my own
I have always loved curries, they are so tasty and versatile. A red curry has been something I have always wanted to share with you. If you have never made your own curry then this will be a great first recipe to try!
As we get back into the swing of term time I am always on the look out for new and interesting quick dinners that the kids will love. I wanted to showcase a 30 minute dinner idea using loads of Countdown Own Brand products so show you how you can quickly whip up something delicious and packed with goodness.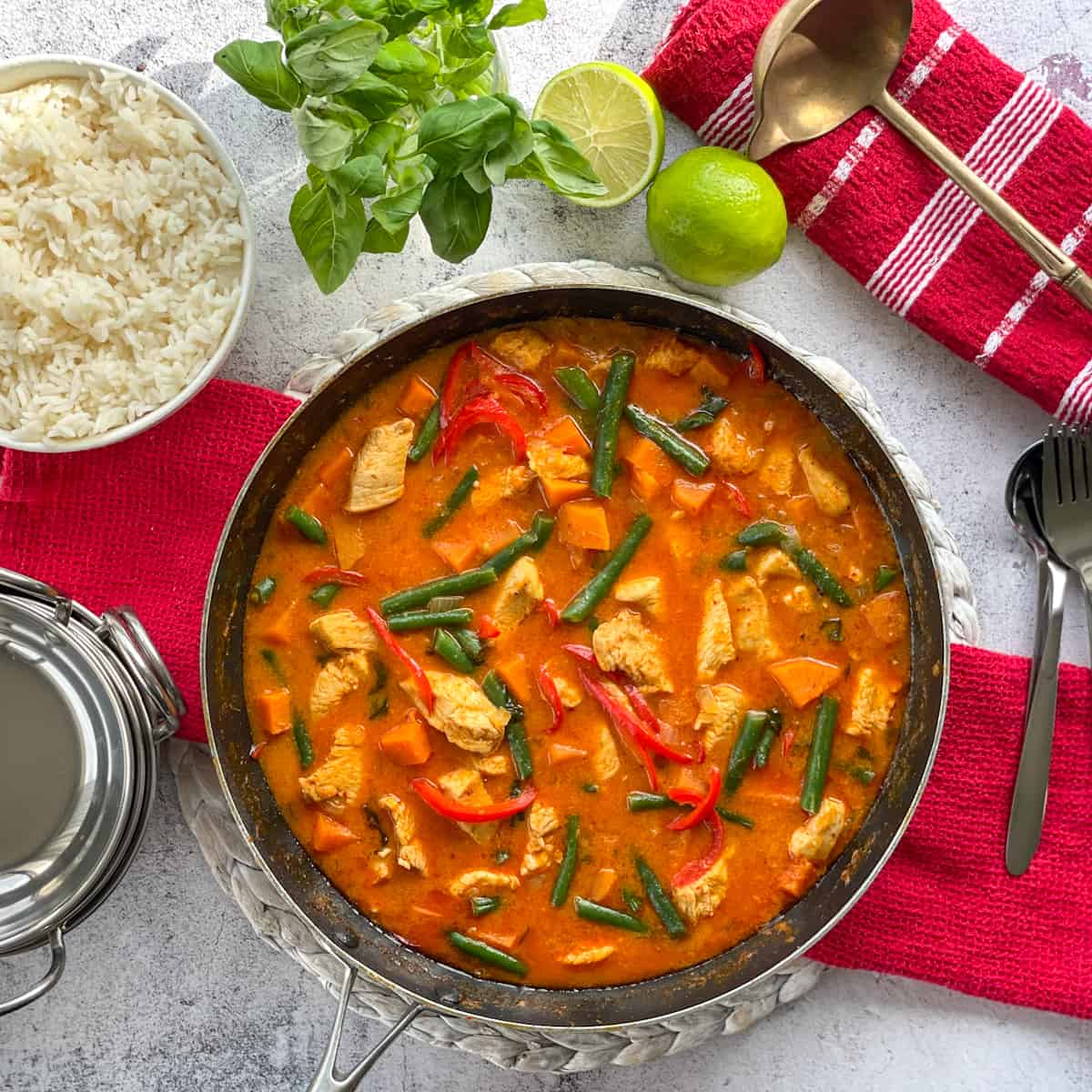 It is autumn here in New Zealand and our winter vegetables are in abundance. I love using golden Kumara in my cooking and you will see I have added it here right along side the chicken. That's sweet potato for all those not based in NZ!
The kumara adds a gorgeous flavour when combined with the red curry and the soft sweetness of it is lovely in a sauce like this one. You could easily substitute the kumara for butternut pumpkin if you prefer.
Often when people think of a red curry they worry about the heat of the curry paste for a family meal, I have created this recipe to be as simple as possible and super versatile.
You can start with as little as 1 tablespoon of curry paste and still have a delicious result, then build up from there, to 5 tablespoons for the brave! We use 2 and its perfect for everyone.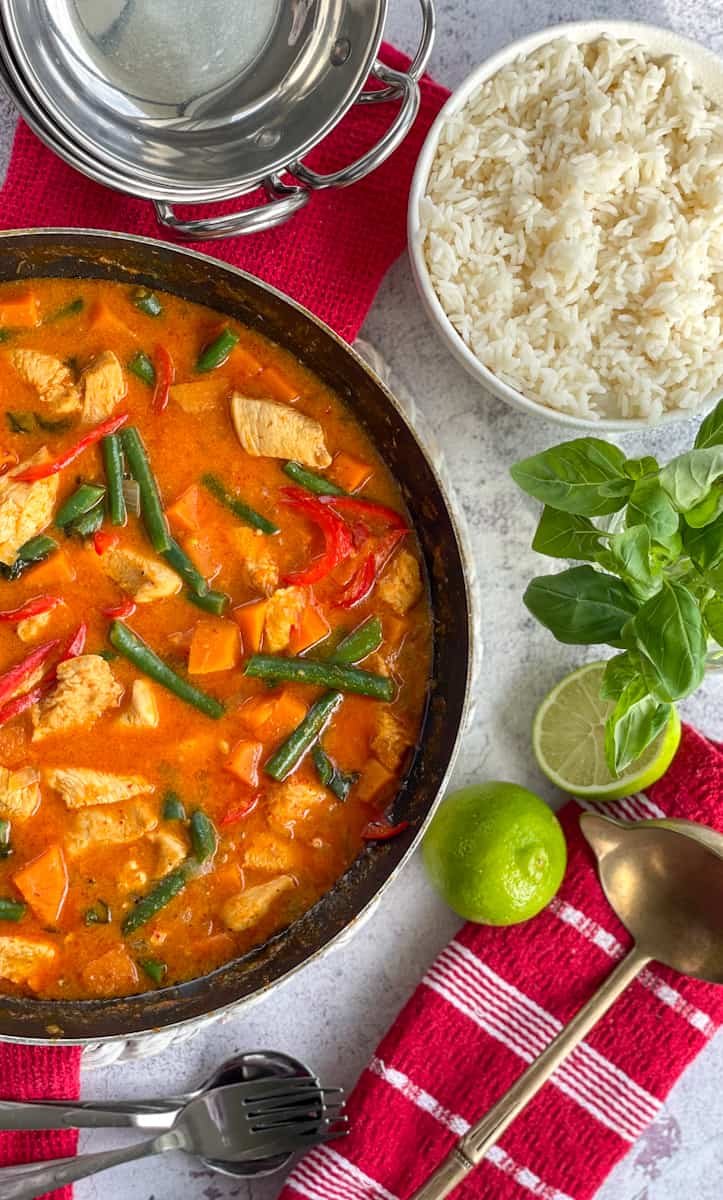 I have used a store bought curry paste today, you can of course make your own at home but it is so convenient to buy and means you can have this recipe a few times using just the one jar.
There are several traditional ingredients used to create the classic red curry flavours, I have included many of them here as they are simple to purchase, and I have left out a few to show that you can pare back the recipe so that you are not left with ingredients you will never use again!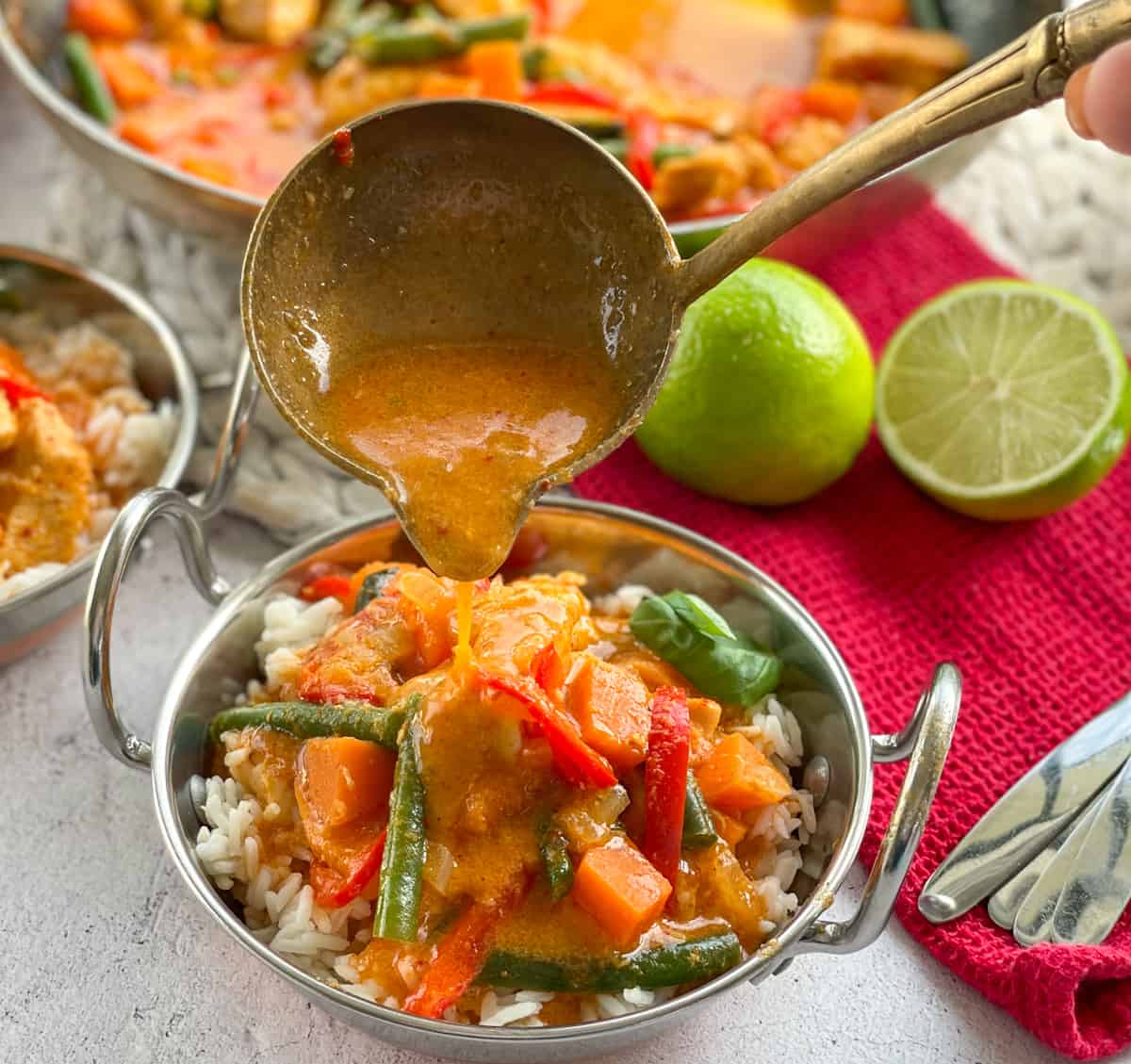 One of the ingredients I have left as optional is fish sauce. You will hear from the purists that it cannot be a traditional Thai red curry without it, and no doubt it enhances the flavour but for my personal taste I leave it out, but you can absolutely add this in!
The other ingredient that adds some oompf but is not mandatory is lemongrass. I use a lemon grass paste to lift the flavours, but you can leave this out all together if you prefer.
Ingredients like lemongrass, kefir and fish sauce all simply elevate an already delicious dish, so you can pick and choose to some extent what you add.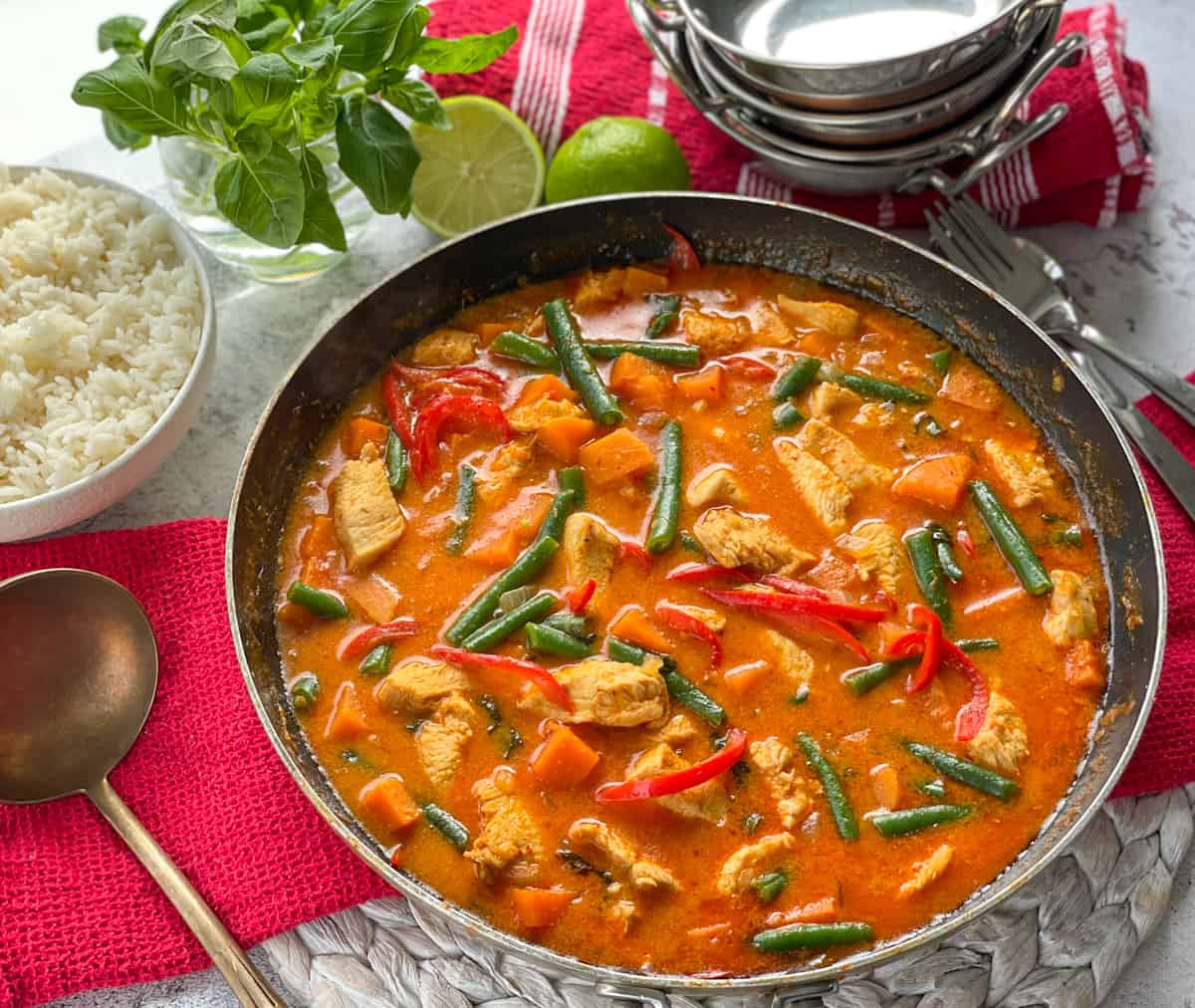 The key to a good curry is to build flavours, so I like to ensure I add layers of flavour into each step, then finally adding more textures with vegetables and finishing touches to ensure that while quick to make the end result is still full bodied.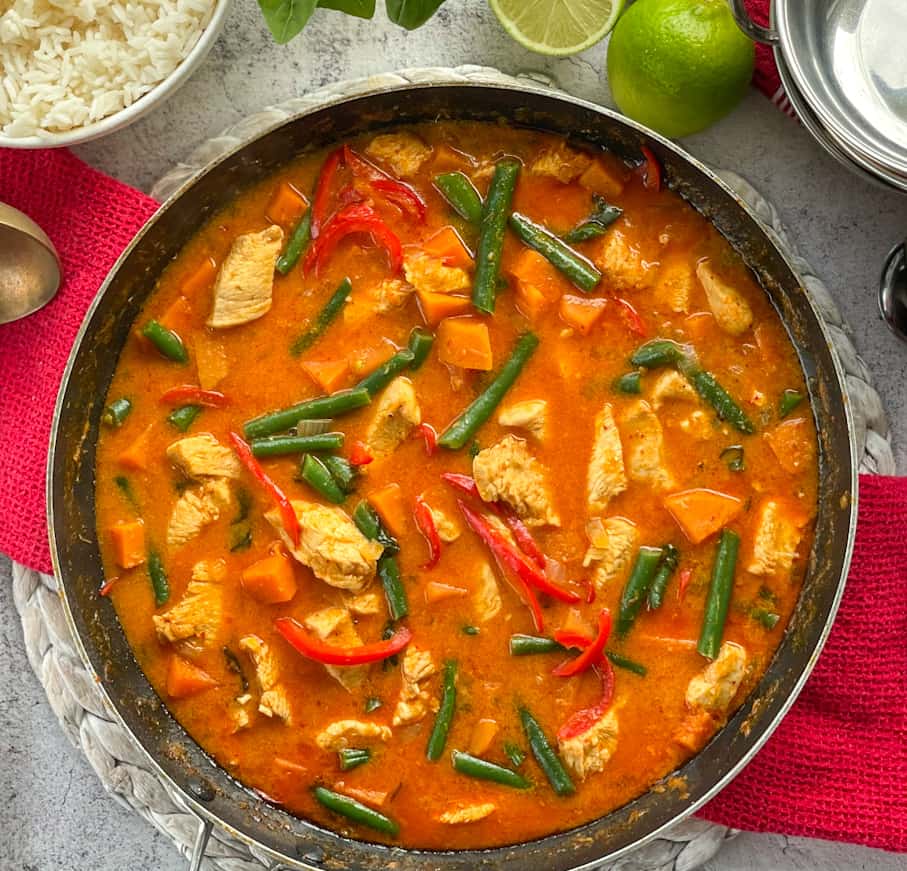 I always feel like I should clarify the statement of a 30 minute meal! It means it is super quick to cook, and to make this cooking time fly by the first bit is the prep.
Take the time to have all of your ingredients ready to go so the cooking itself will take little time. Today I have even used pre diced chicken so that removes one of my least favourite cooking chores to make this one even quicker.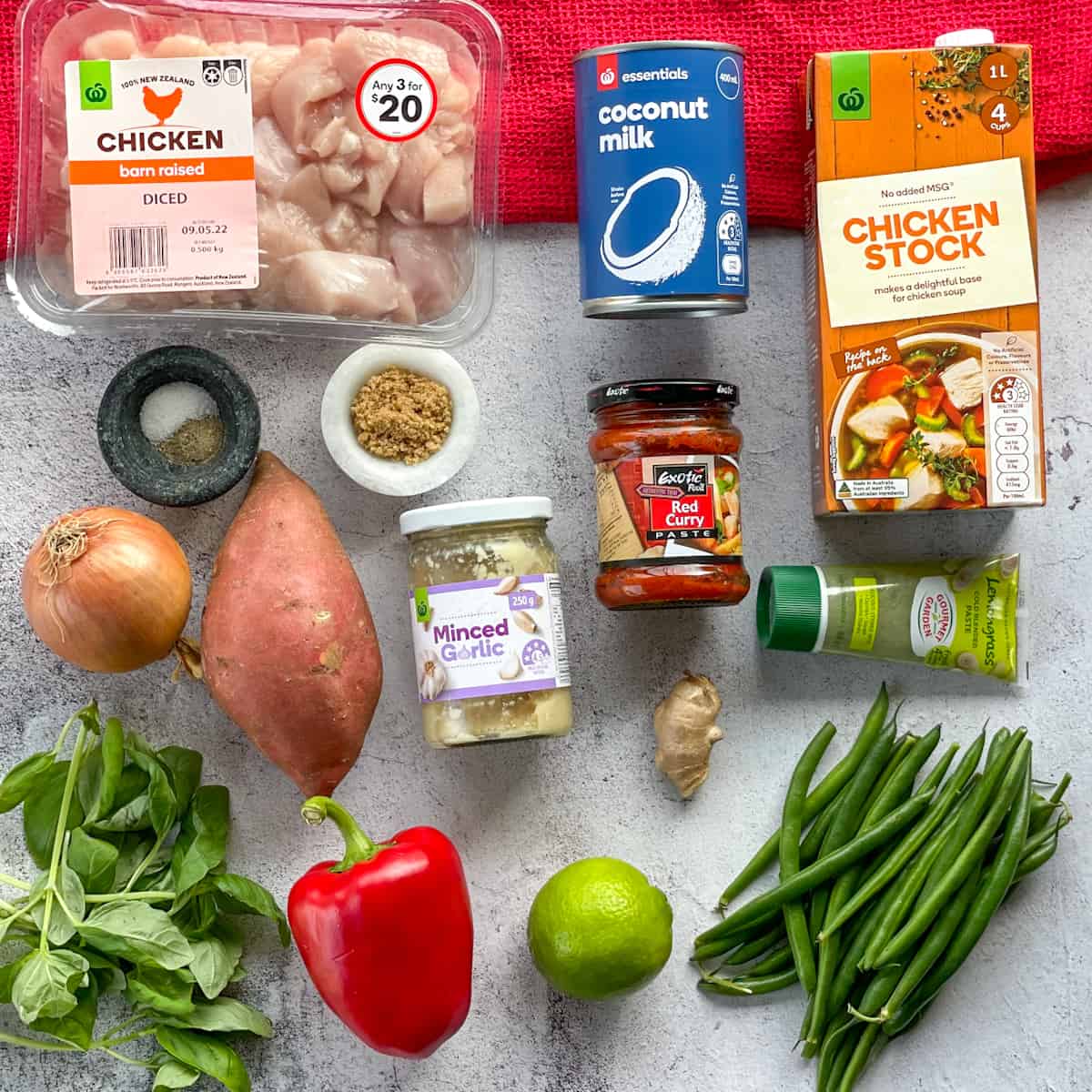 The ingredients I have used are as follows
Chicken Breast, or Thigh

Golden Kumara

Olive Oil

Onion

Garlic

Ginger

Red Curry Paste

Lemongrass Paste

Brown Sugar

Coconut Milk

Chicken Broth

Red Pepper

Green Beans

Lime Juice

Basil or Coriander

Salt & Pepper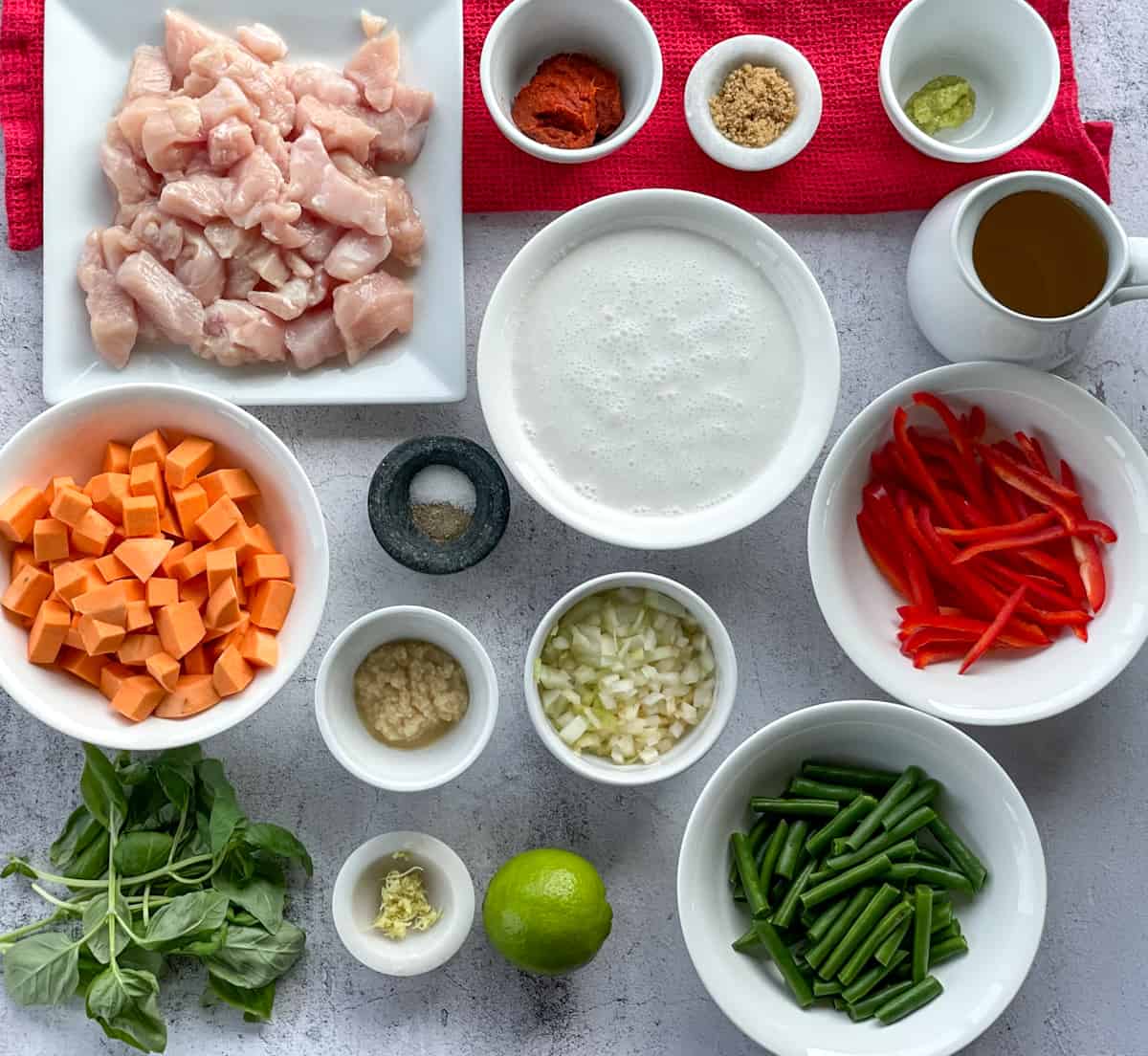 The method is lovely and simple. First of course prep everything! I like to dice the kumara quite small, so that this cooks along side the chicken. Once you begin to make the curry it all happens quite fast so the prep before hand makes a big difference.
I like to serve this with rice, I love kitchen hacks that make my life easier so often use the microwave pouches of Rice, but you can absolutely cook the rice traditionally alongside while you create the curry. Basmati or Jasmine rice is lovely.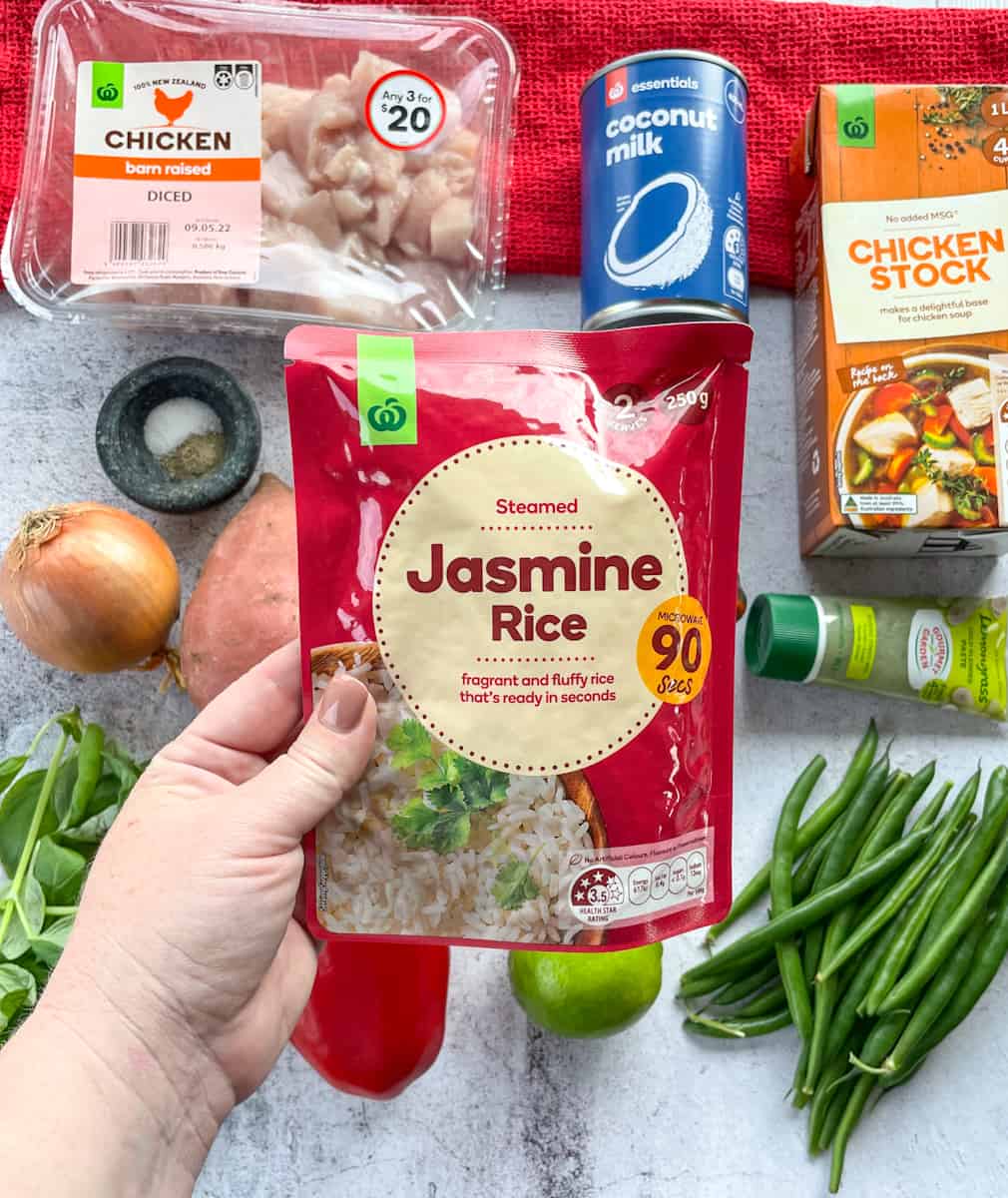 The initial step is to begin to build the flavours, you do this by sautéing the onion, garlic and fresh ginger in some olive oil until it begins to soften.
Then add the curry paste and lemongrass paste if using. I usually add 2 tablespoons or red curry paste to ours, it gives a small amount of heat, but lots of flavour and is perfect for our unadventurous kids!
But as I said above feel free to start slow if you are introducing curry to your family.

I allow this to infuse for a few minutes to cook off the spices and maximise the flavours. Then I add the kumara and chicken, coating well and allowing the kumara to begin to soften slightly. Again this infuses as much of that flavour as possible into the main ingredients.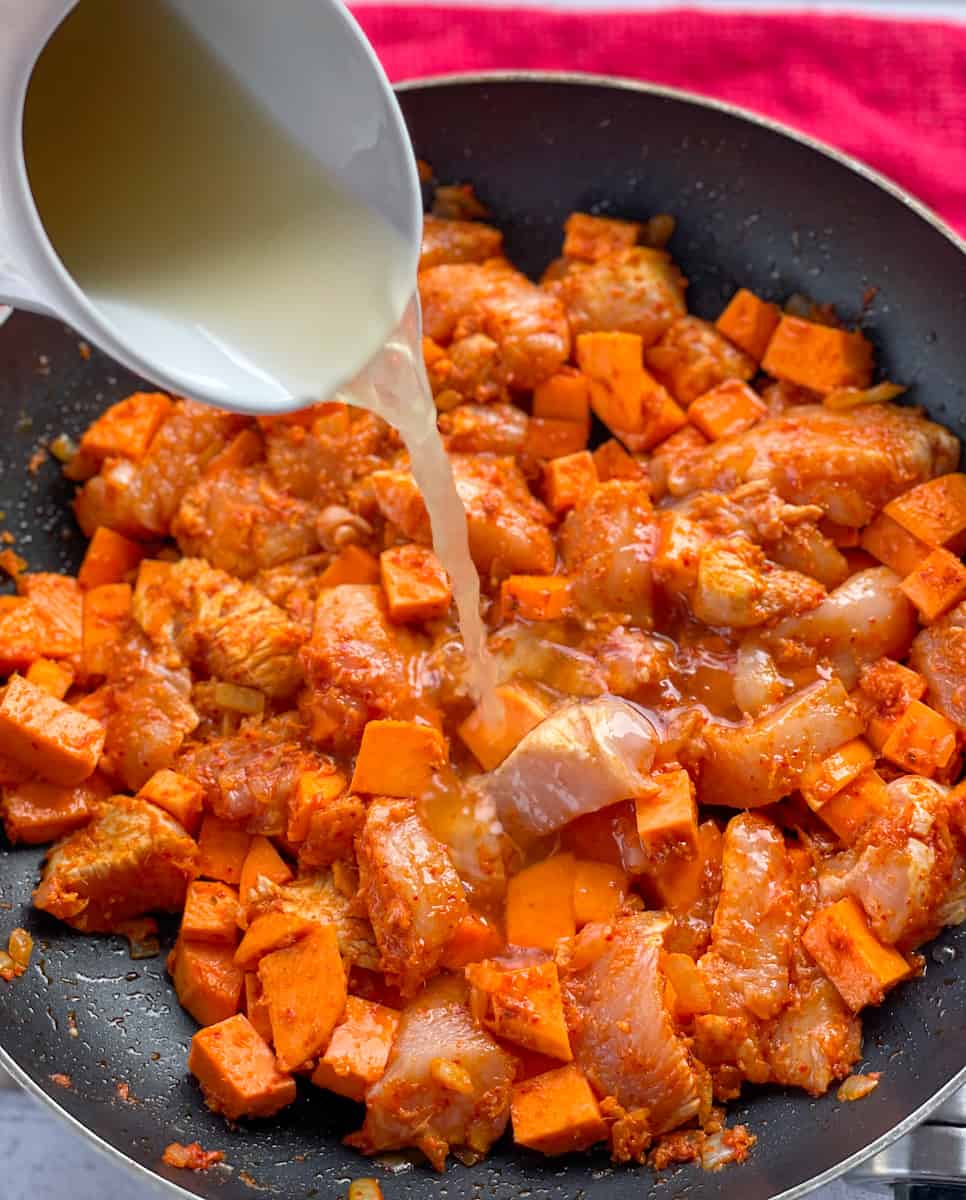 Next step is to add the liquids, I use coconut milk, make sure you whisk this together well before pouring in, the brown sugar is to balance out the flavours and give a hint of sweetness, but you can omit this if you prefer.


Then you will bring the mixture to the boil and allow this to simmer for at least 8 minutes, adding the capsicum once boiling. During this time the kumara will begin to soften and the chicken cook through.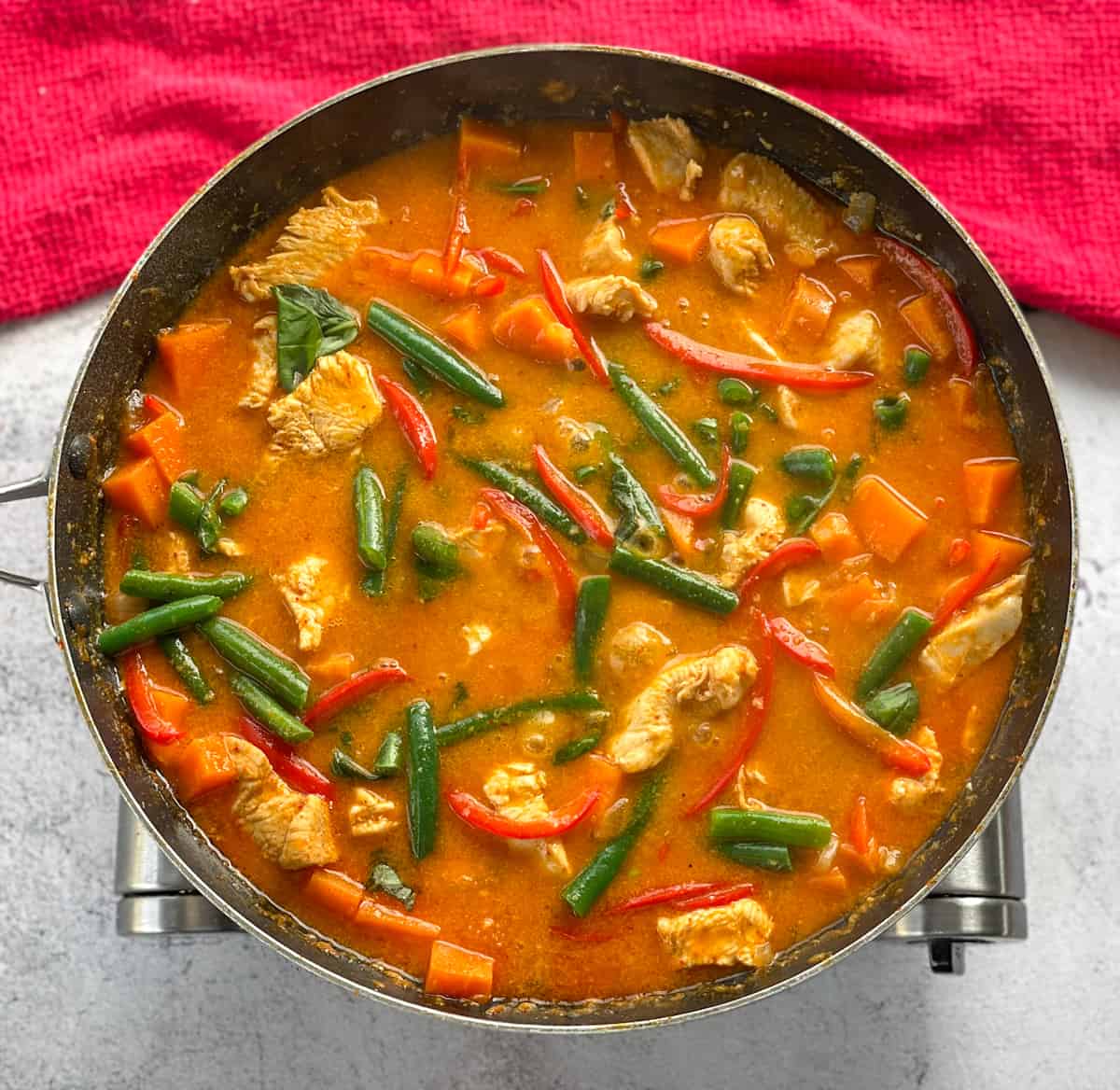 The final step is to add the green beans and some shredded basil or coriander, salt and pepper and a generous squeeze of lime juice, or lemon if that is all you have on hand.
Then get ready to serve! You can serve this over a bed of rice, quinoa, flatbreads or on its own.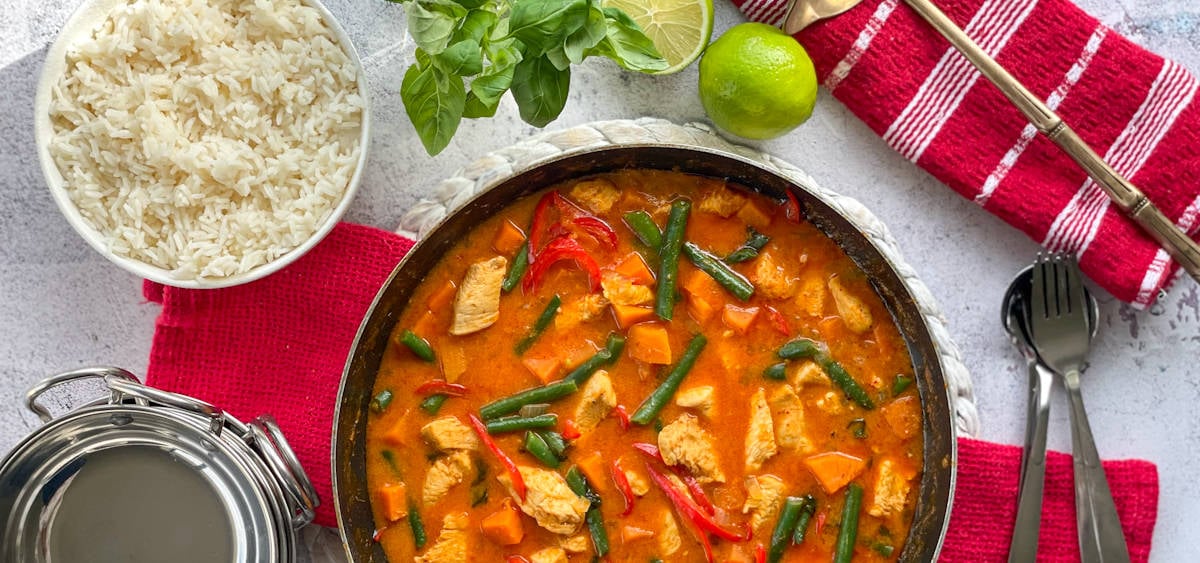 I hope you enjoy this version of a Chicken and Kumara Red Curry
I cannot wait to hear what you think of this one! Be sure to let me know in the comments below.
All of these great ingredients can of course be found at your local Countdown Supermarkets, love working with Countdown to bring you some new ideas to refresh your mid week meal plans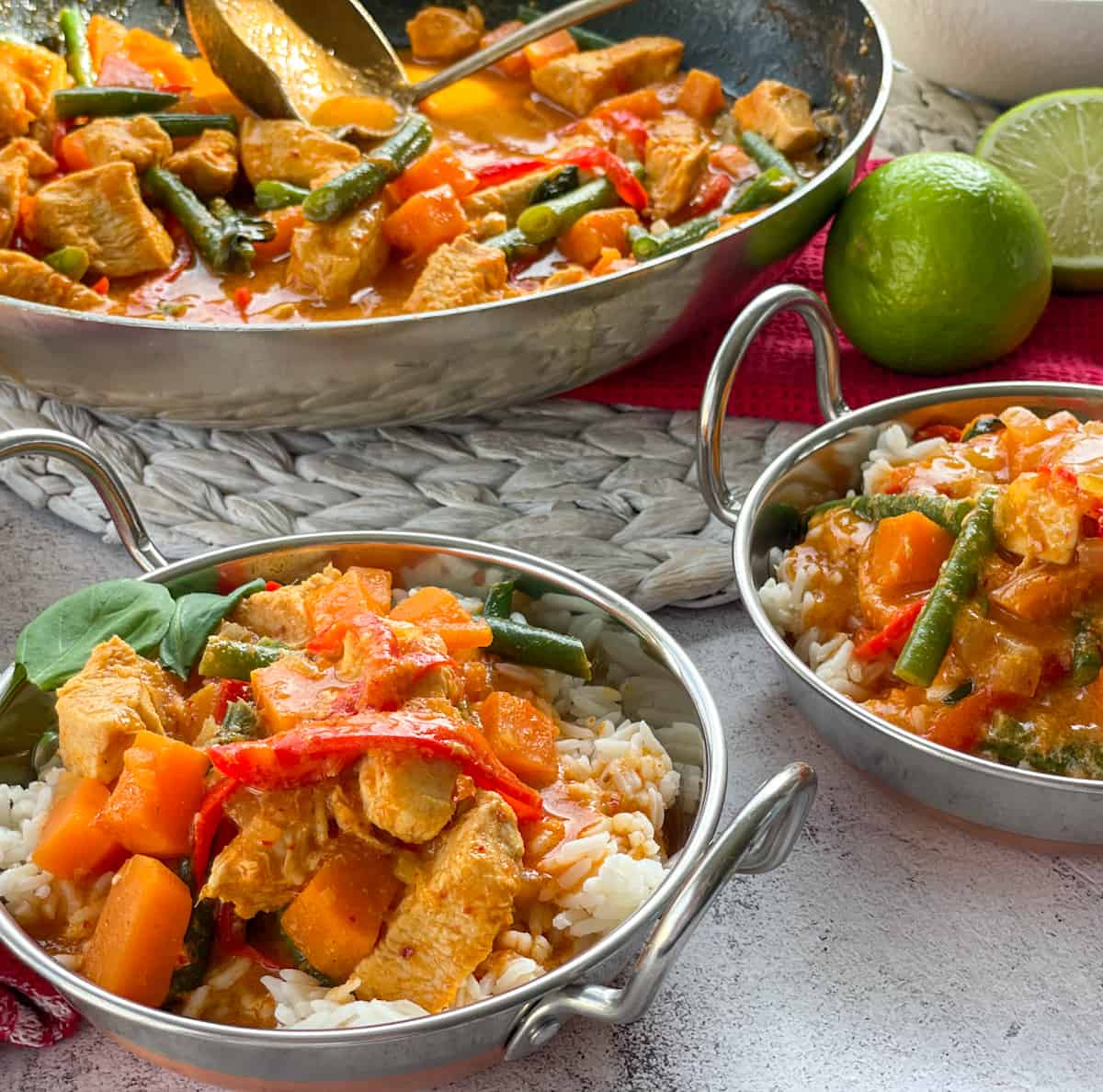 Thank you so much for stopping by to check out my latest recipes on my blog. If you are not already be sure to follow me on Facebook or Instagram for more deliciousness, and you can register your email in the subscription box below to receive all my recipes as I publish them.
Happy Cooking!
Anna
Pin it! Pinterest