Another fun Cake Mix cookie recipe, this time Vanilla White Chocolate and Sprinkle Cookies.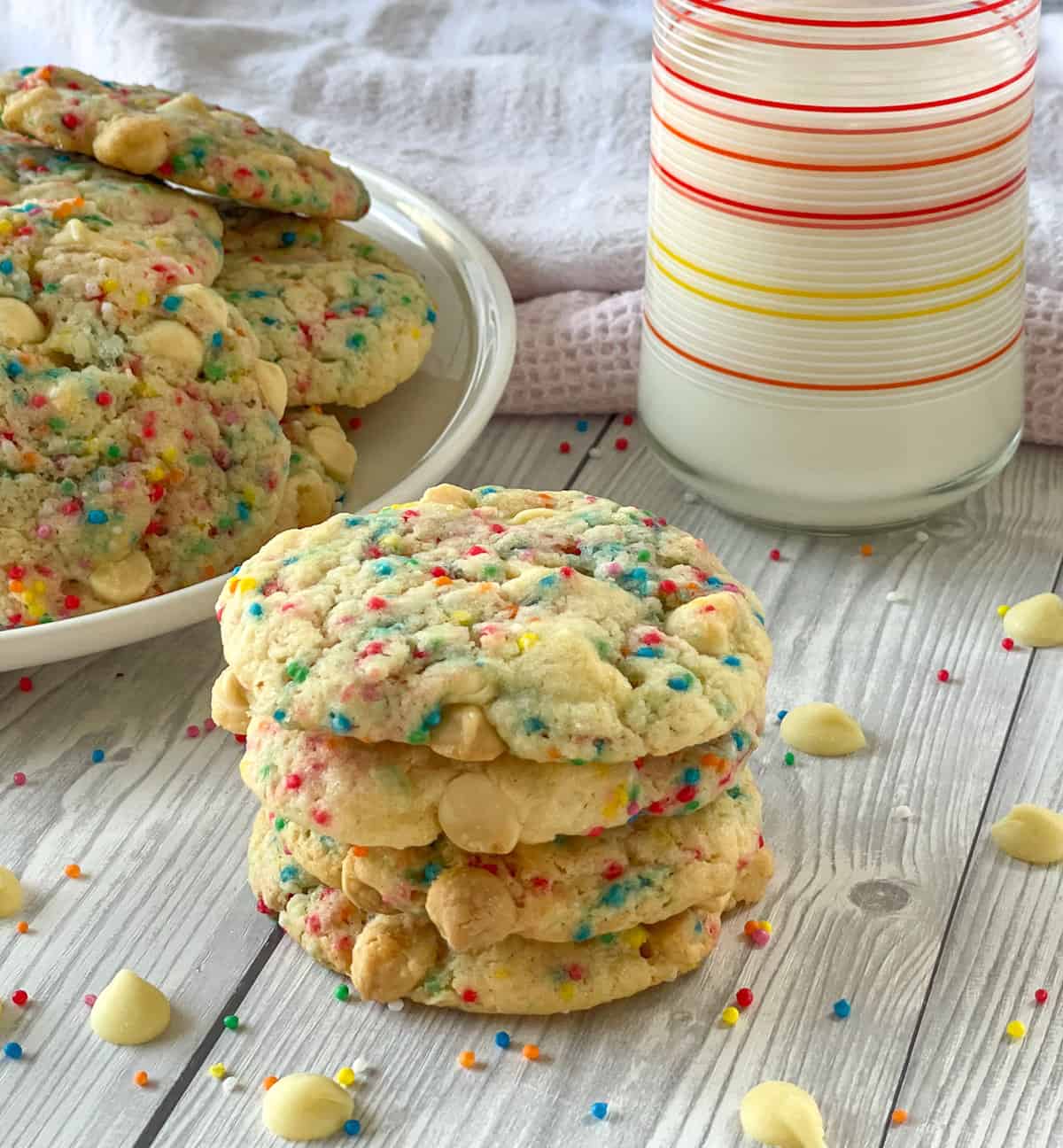 While I love traditional cookie recipes and baking from scratch I thought it would be a fun idea to have a few different style recipes on here. These cake mix cookies are very popular in America, and make baking cookies incredibly easy.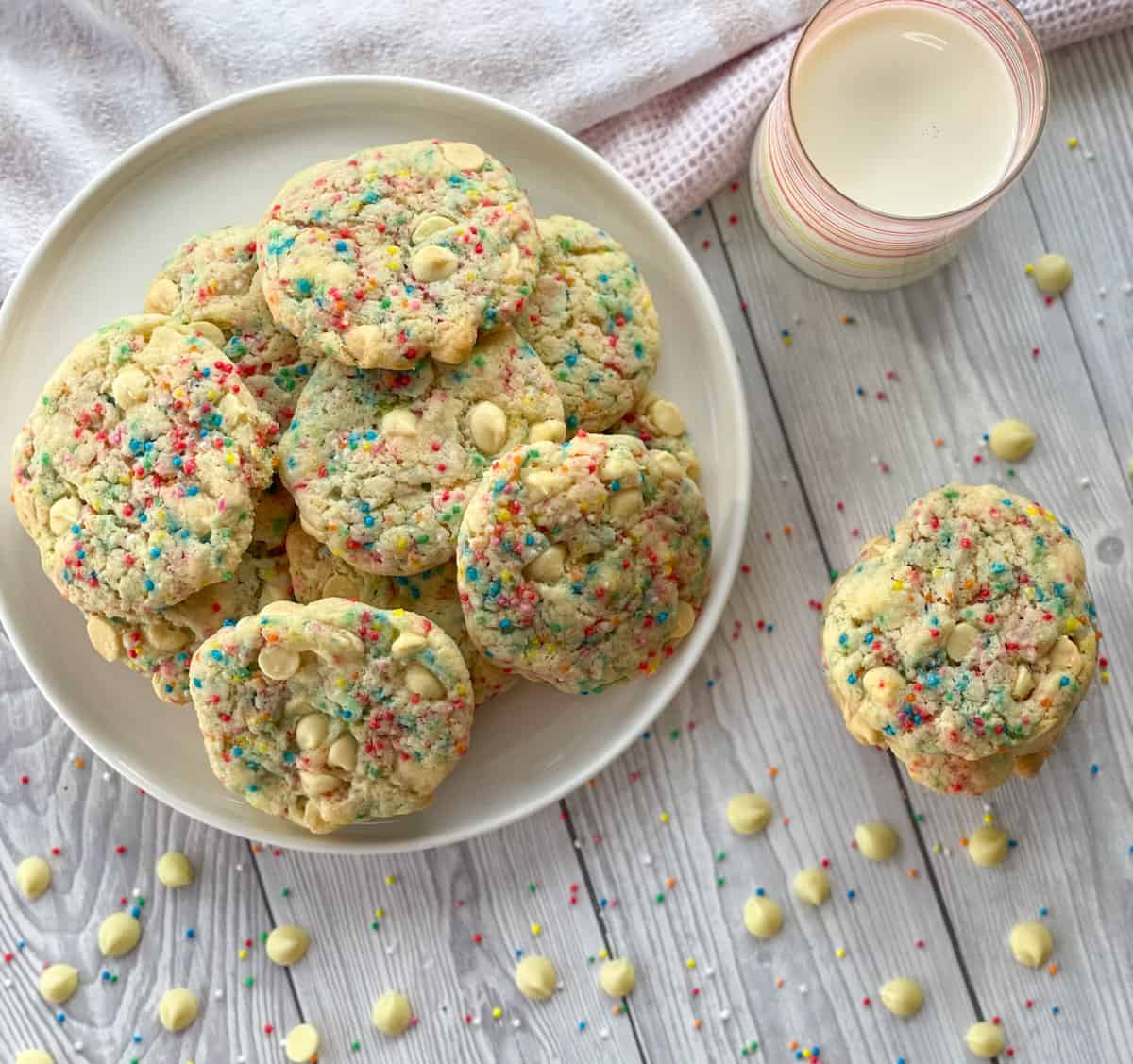 Did you see my recipe the other day for the Cake Mix Red Velvet Whoopie Pies? The first in this series of trying cake box cookies! So fun and tasty.
This recipe is so quick and easy to make, no creaming butter or sugar or needing a food mixer. The key is to choose a flavoured cake mix, some cake mixes are not as nice as others and this will make a difference.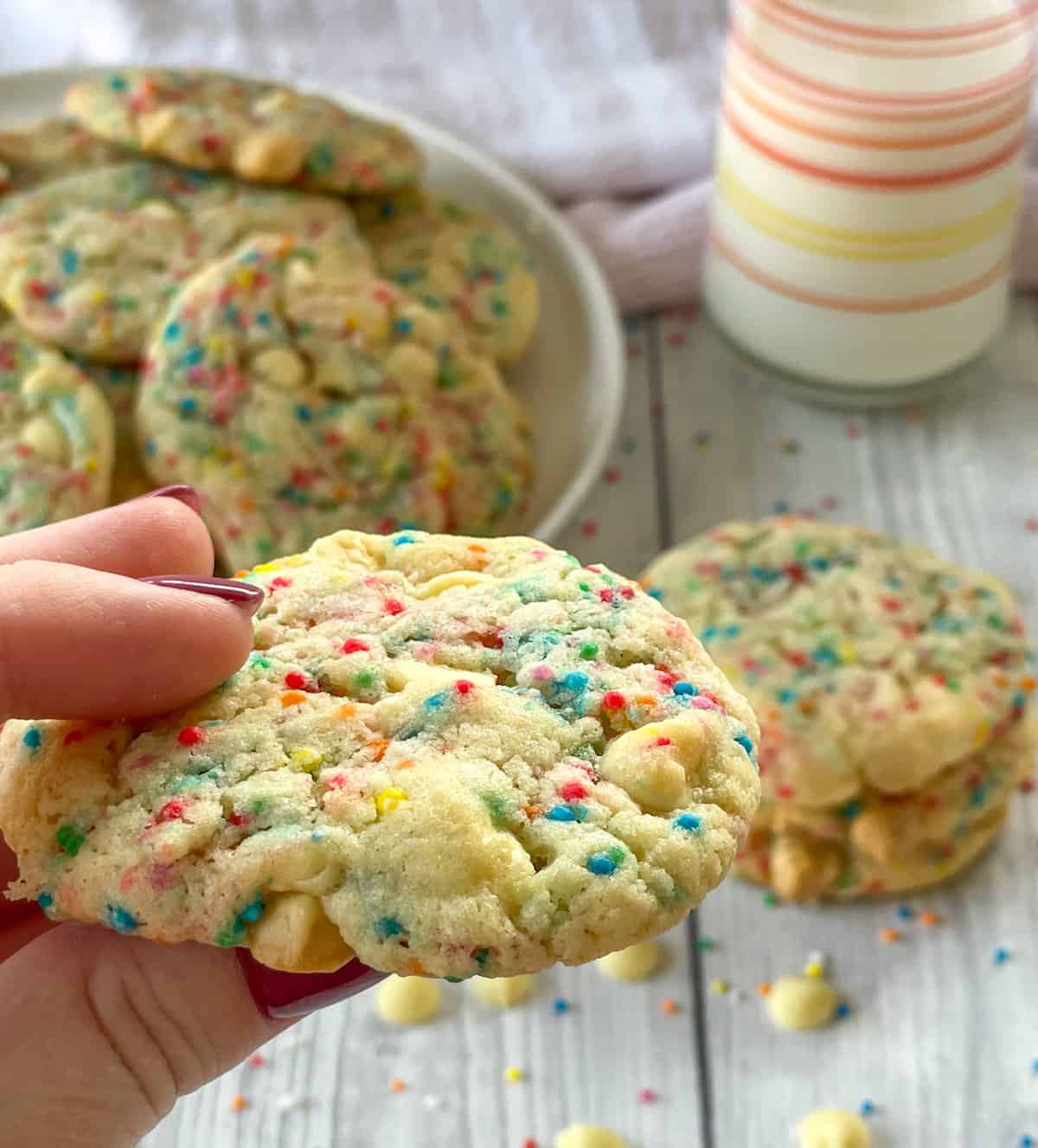 This recipe is so versatile, I chose to add white chocolate drops and sprinkles (or 100s and 1000's) to mine for flavour and colour, but any additions will be lovely!
Today I have used a Countdown Vanilla Cake Mix, this weighs 450 grams, this makes a difference in the quantities you use of the other ingredients, so anything much smaller or bigger than this you may wish to alter the liquid ingredients.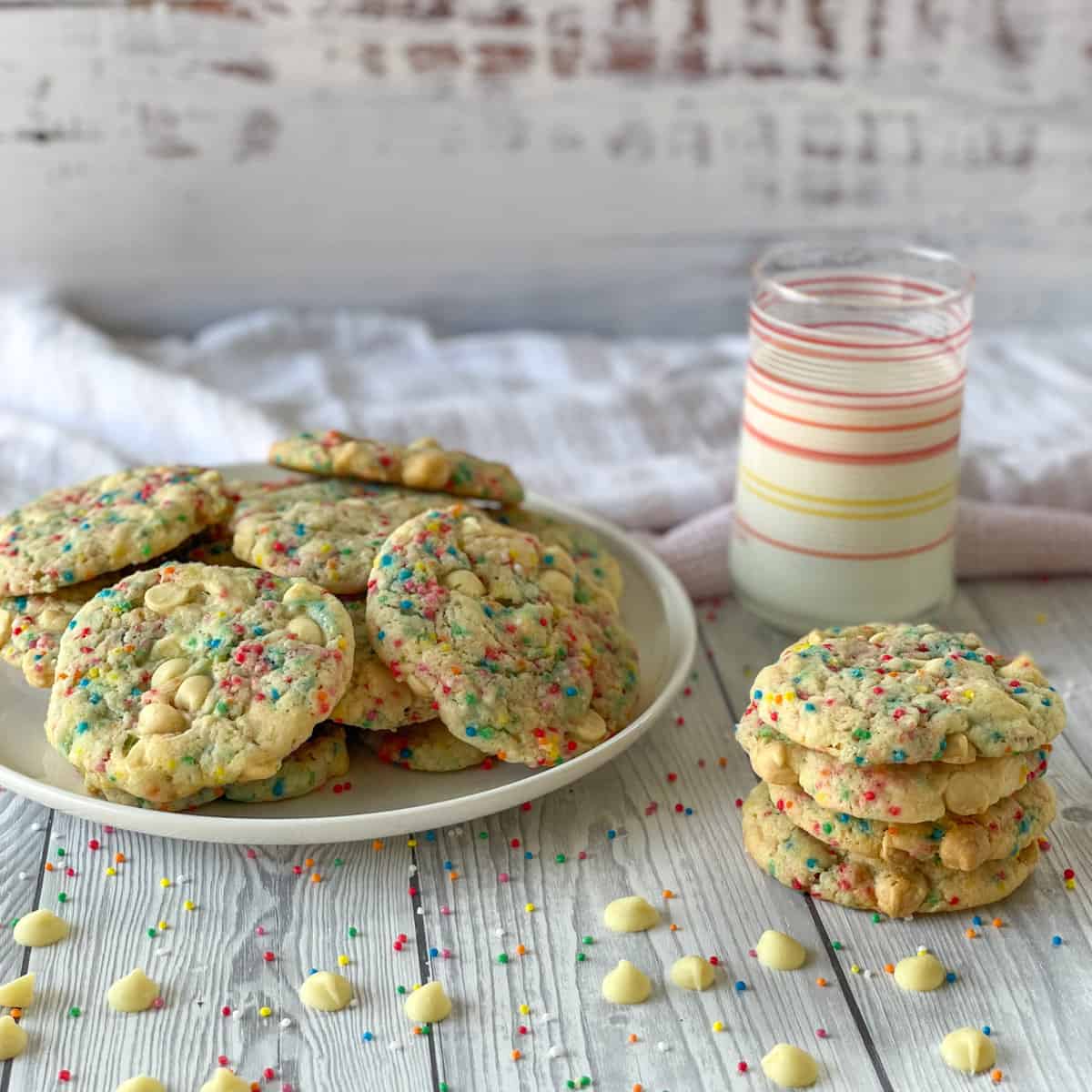 All you will need to make this recipe is
450g Vanilla Cake Mix

Canola or Vegetable Oil

Eggs

Vanilla

White Chocolate Drops*

Sprinkles*
*if using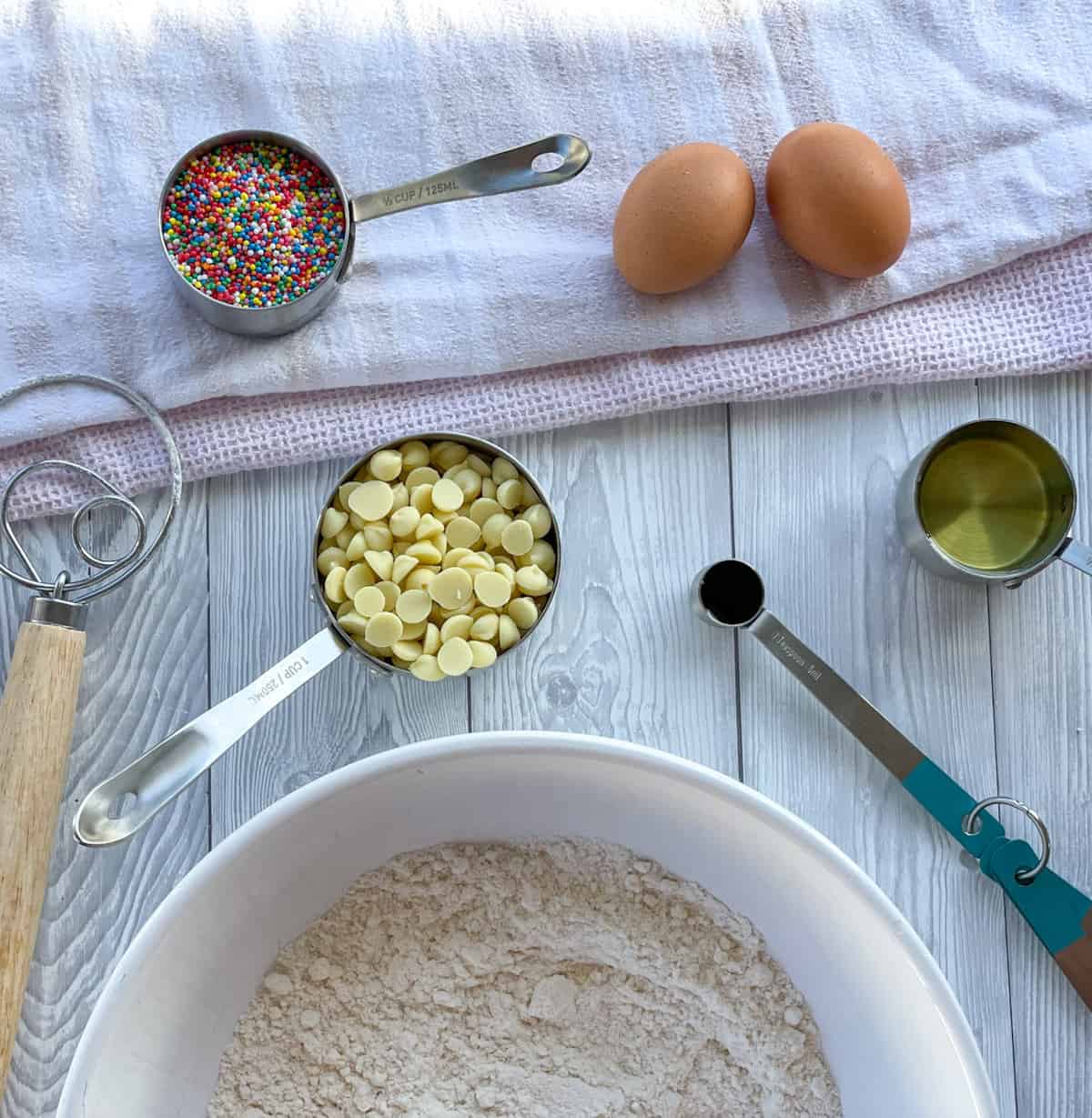 As I mentioned above you want a flavourful cake mix to start with, but I still add a little of my favourite vanilla extract to lift the flavour. Also the addition of more ingredients will add to the flavour.
Of the 3 box mix cookies I made this weekend, this one was by far the most popular with my taste testers!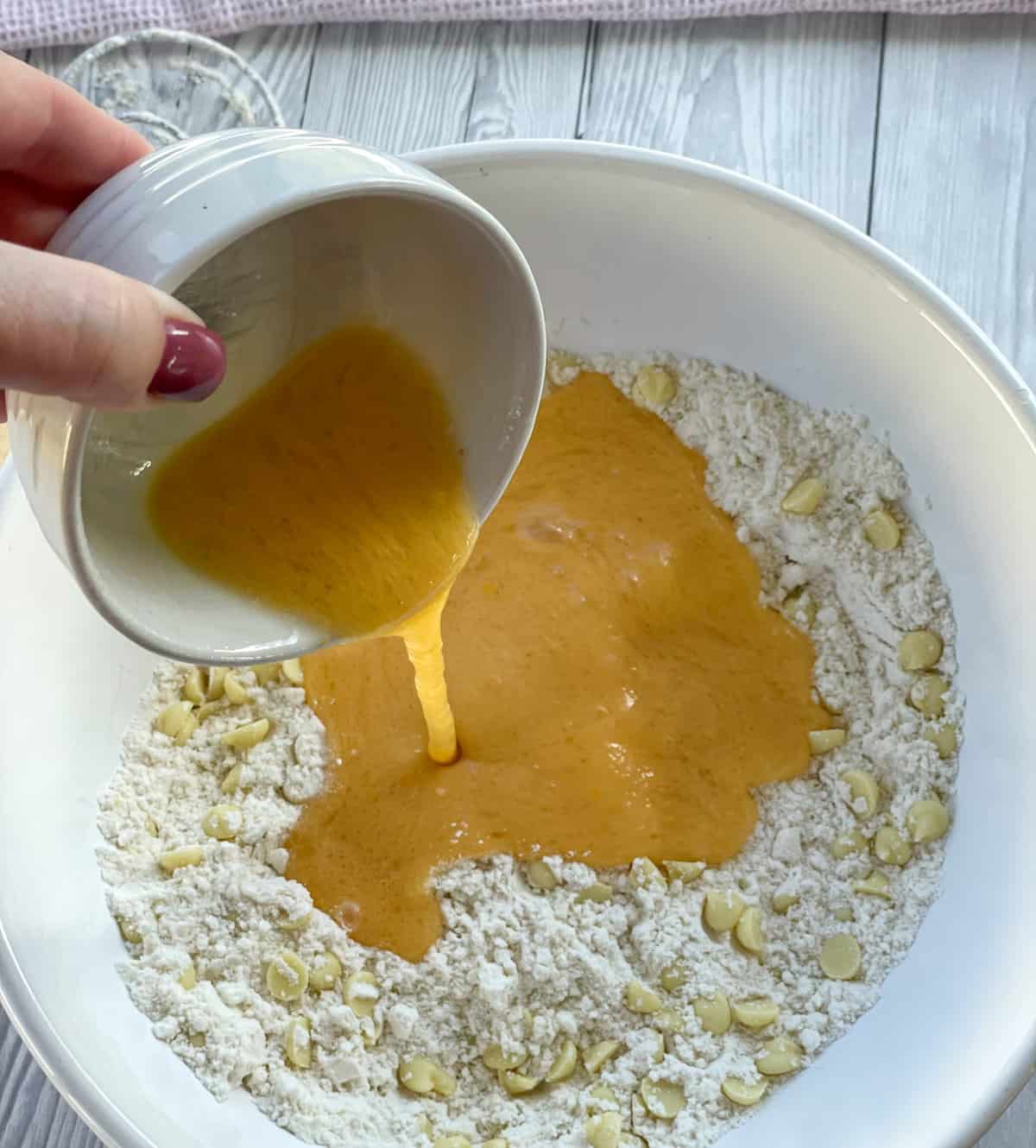 To make these cookies, simply combine the cake mix and white chocolate drops and combine, then in a small bowl add the eggs, whisk, then add the oil and vanilla and whisk again.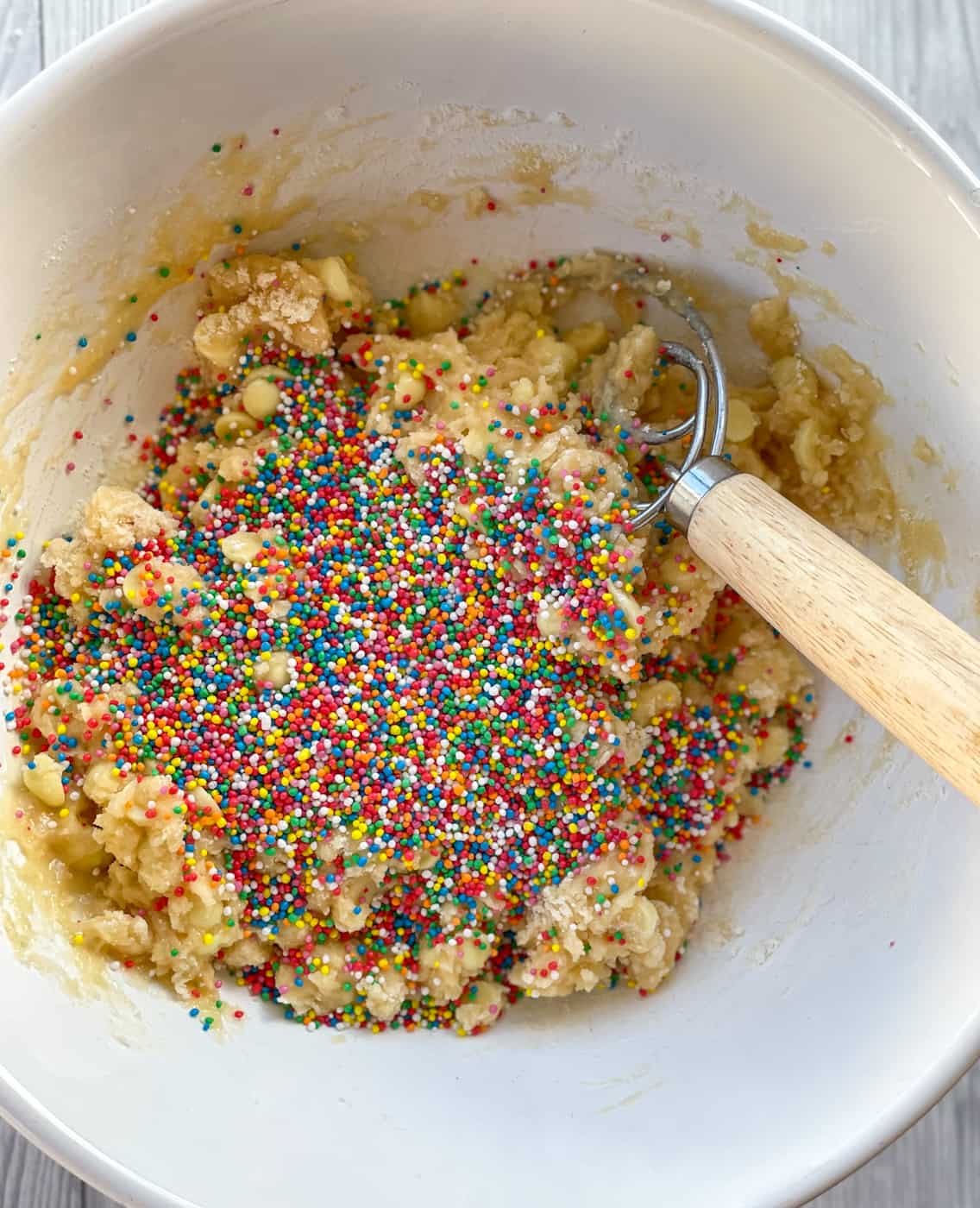 Pour these wet ingredients into the dry and stir well, then pour in the sprinkles and carefully stir until just combined, you do not want the sprinkle colours to blend into the mix.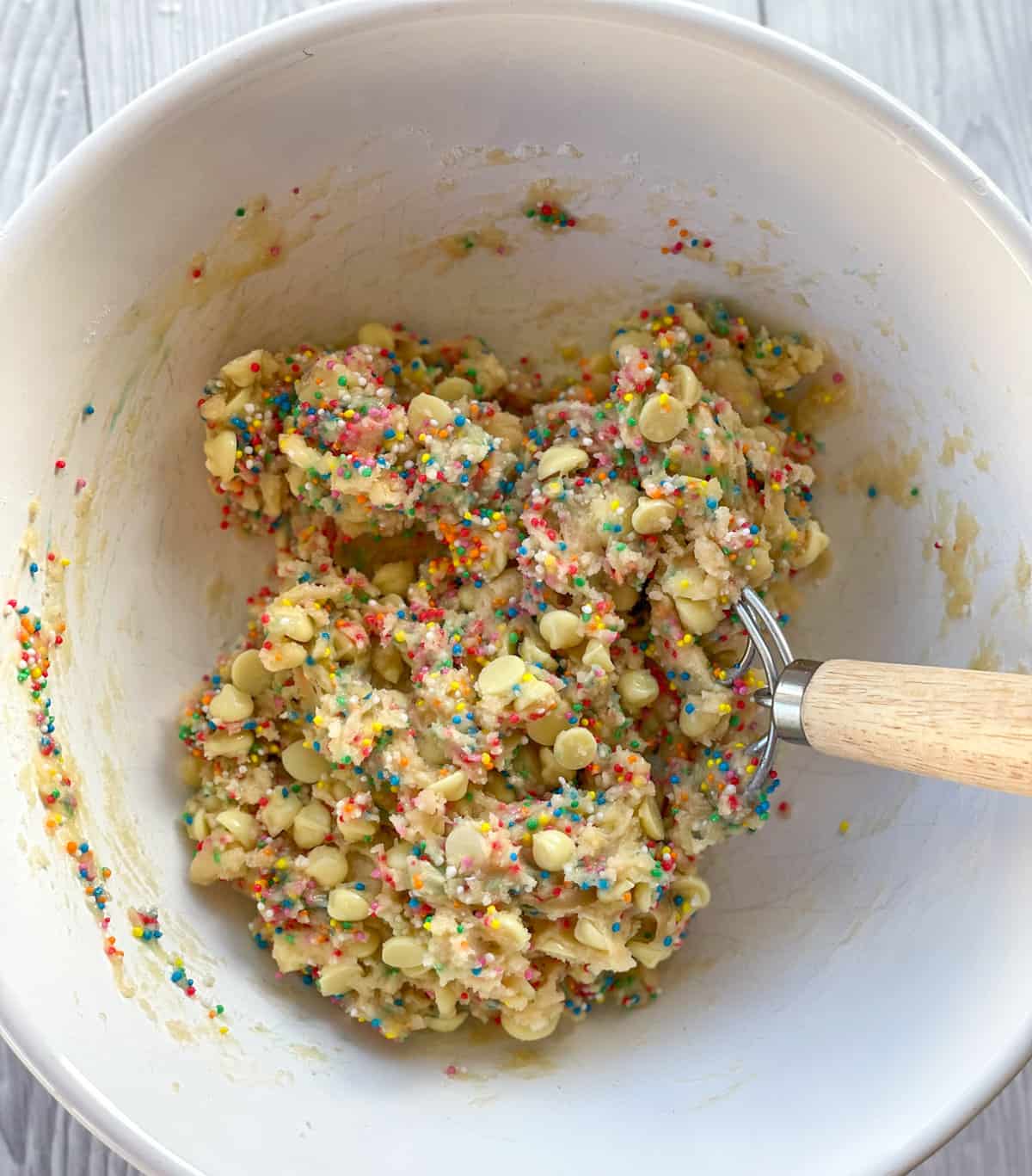 Then take tablespoon sized amounts of the mixture (it is sticky mixture and that is ok) and place evenly on a tray in a loose ball shape. Gently press them down a little.
For those asking the Dough Whisk I am using here is from my friend Pip at Whats for Smoko – you can buy one here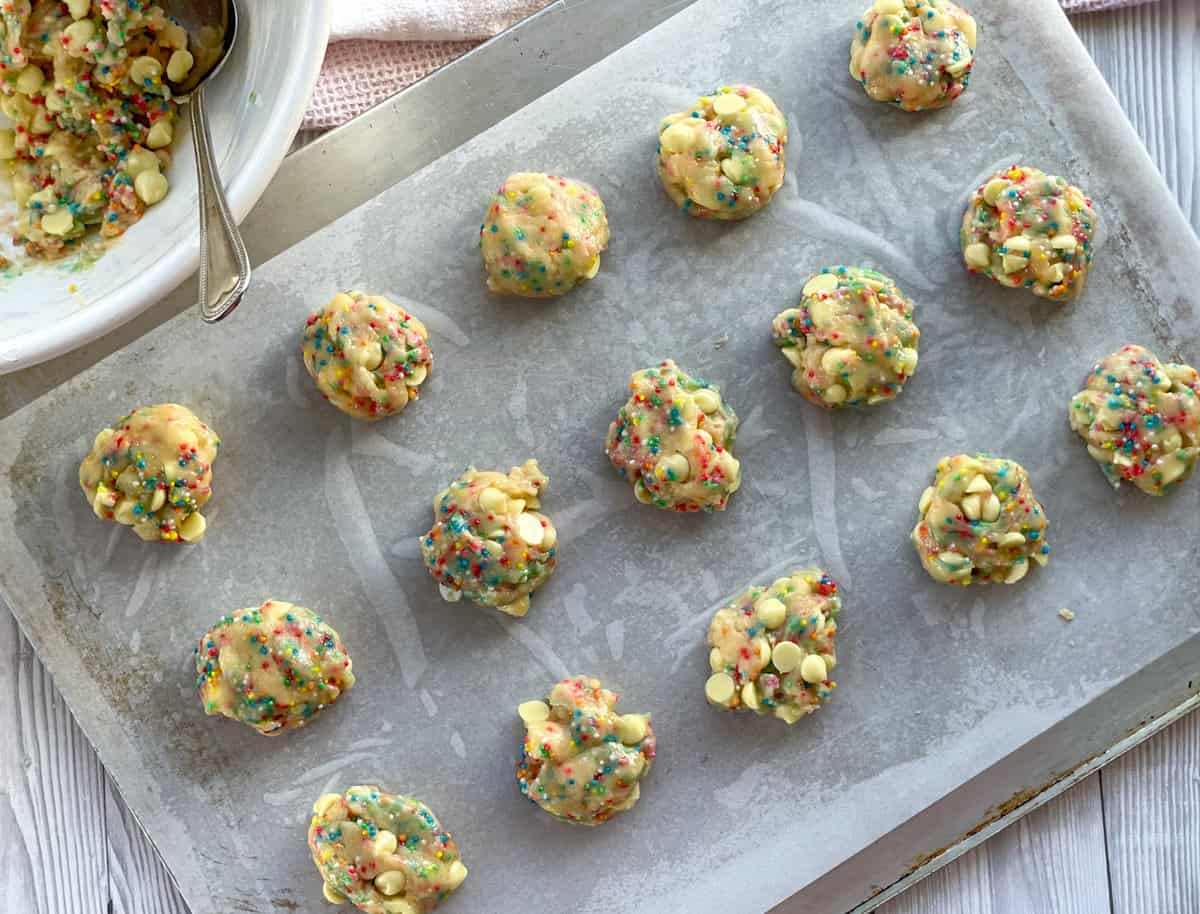 Bake them until very lightly golden brown – approx 11-14 minutes depending on your oven. They will be a light colour and soft, but they will firm up on cooling.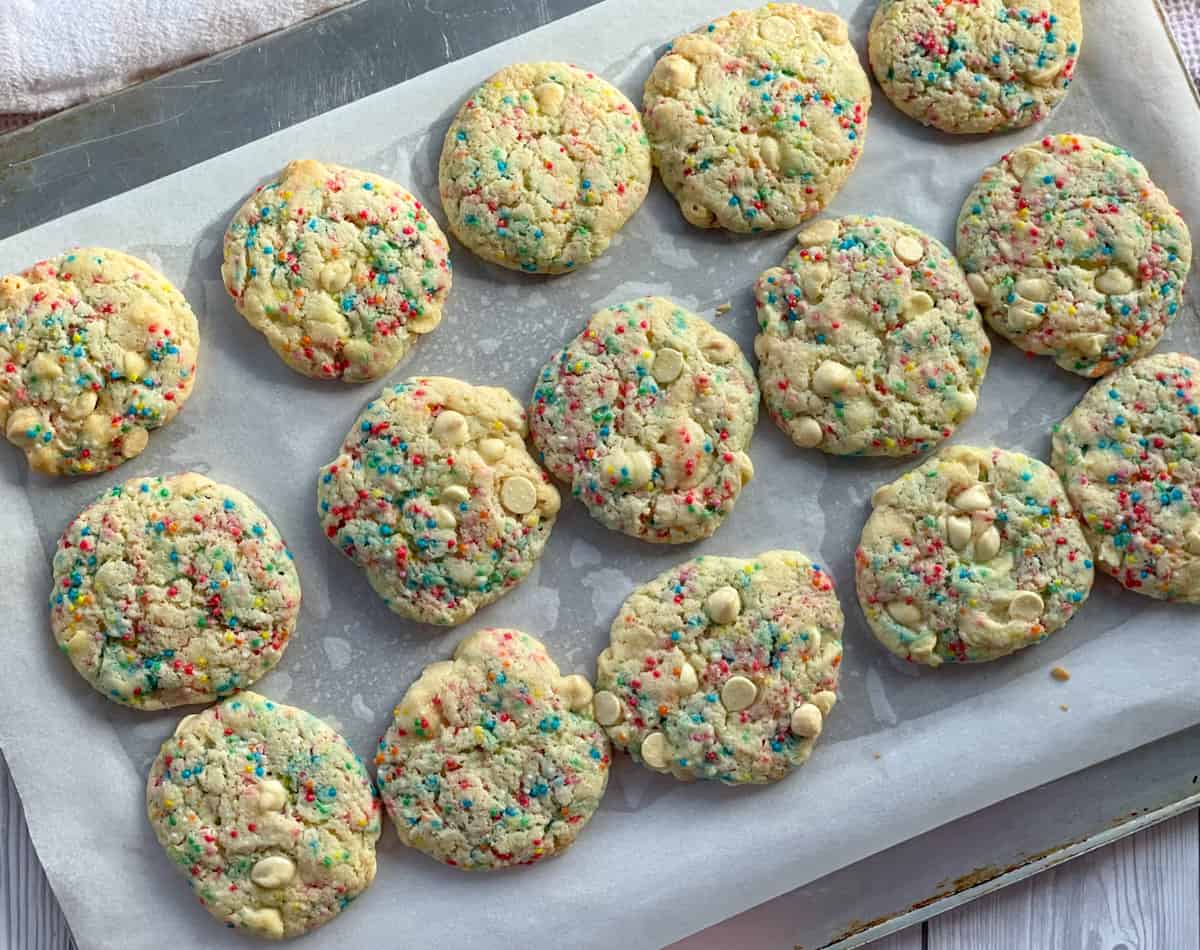 It is as easy as that! If you are a fan of traditional cookie recipes I have you covered there too! I adore cookies, so delicious and great to have on hand, you can find some of my favourites on my Cookies & Biscuits Page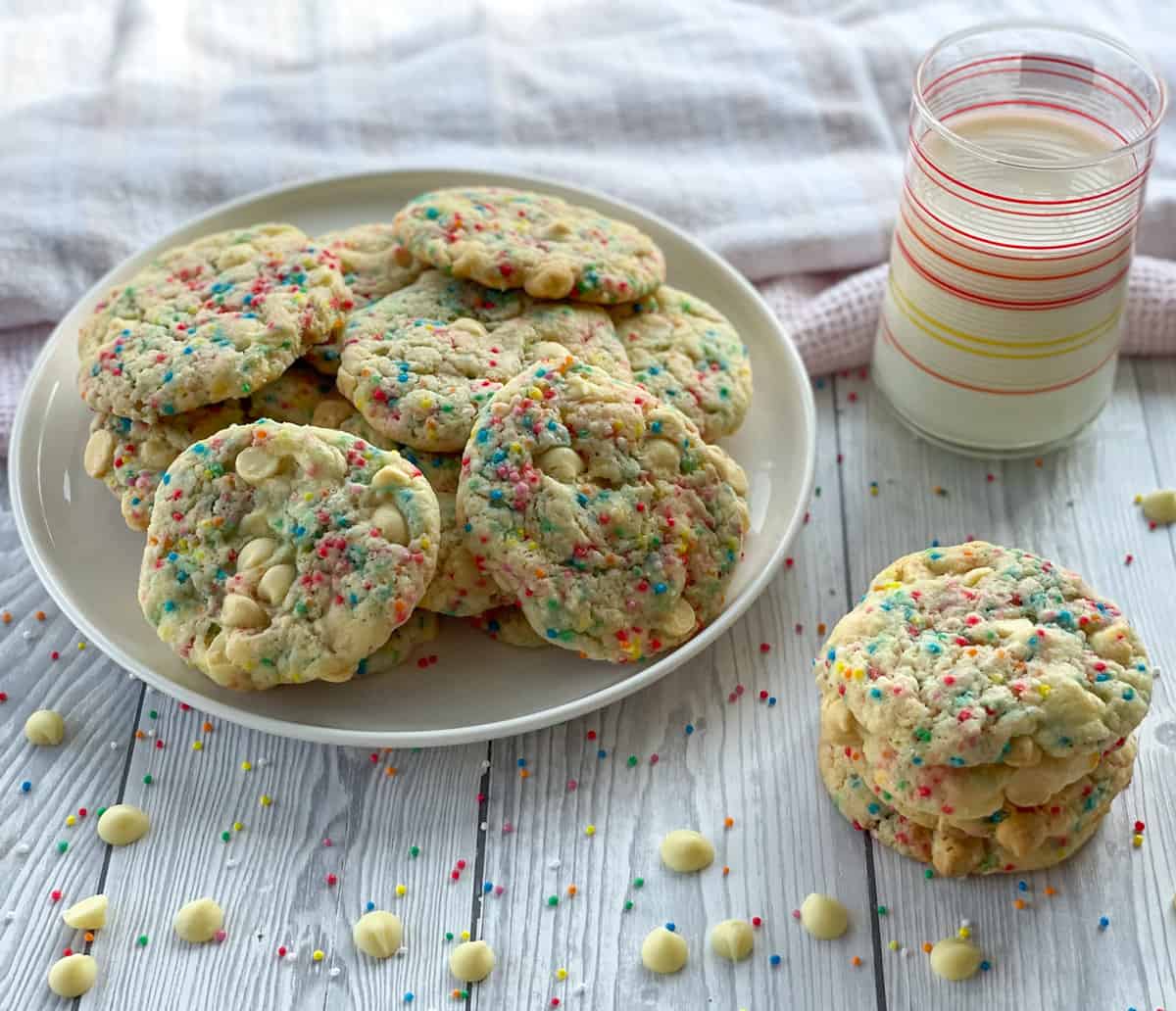 So onto the recipe for these easy Cake Mix Vanilla, White Chocolate & Sprinkle cookies
I hope you love that recipe as much as I do! Please let me know what you think in the comments below.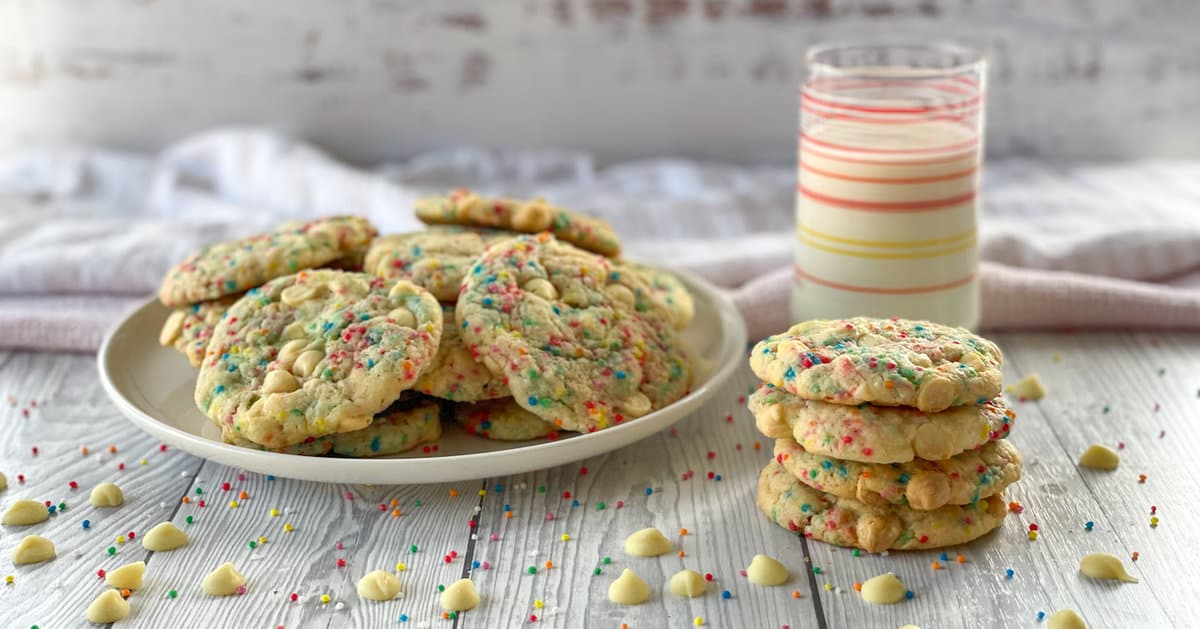 Thank you so much for stopping by to check out my latest recipes on my blog. If you are not already, be sure to follow me on Facebook or Instagram for more deliciousness, and you can register your email in the subscription box below to receive all my recipes as I publish them.
Happy Cooking!
Anna
Pin It! Pinterest