Something a little bit different but no less tasty – these Cake Mix Red Velvet Whoopie Pies are such a fun treat!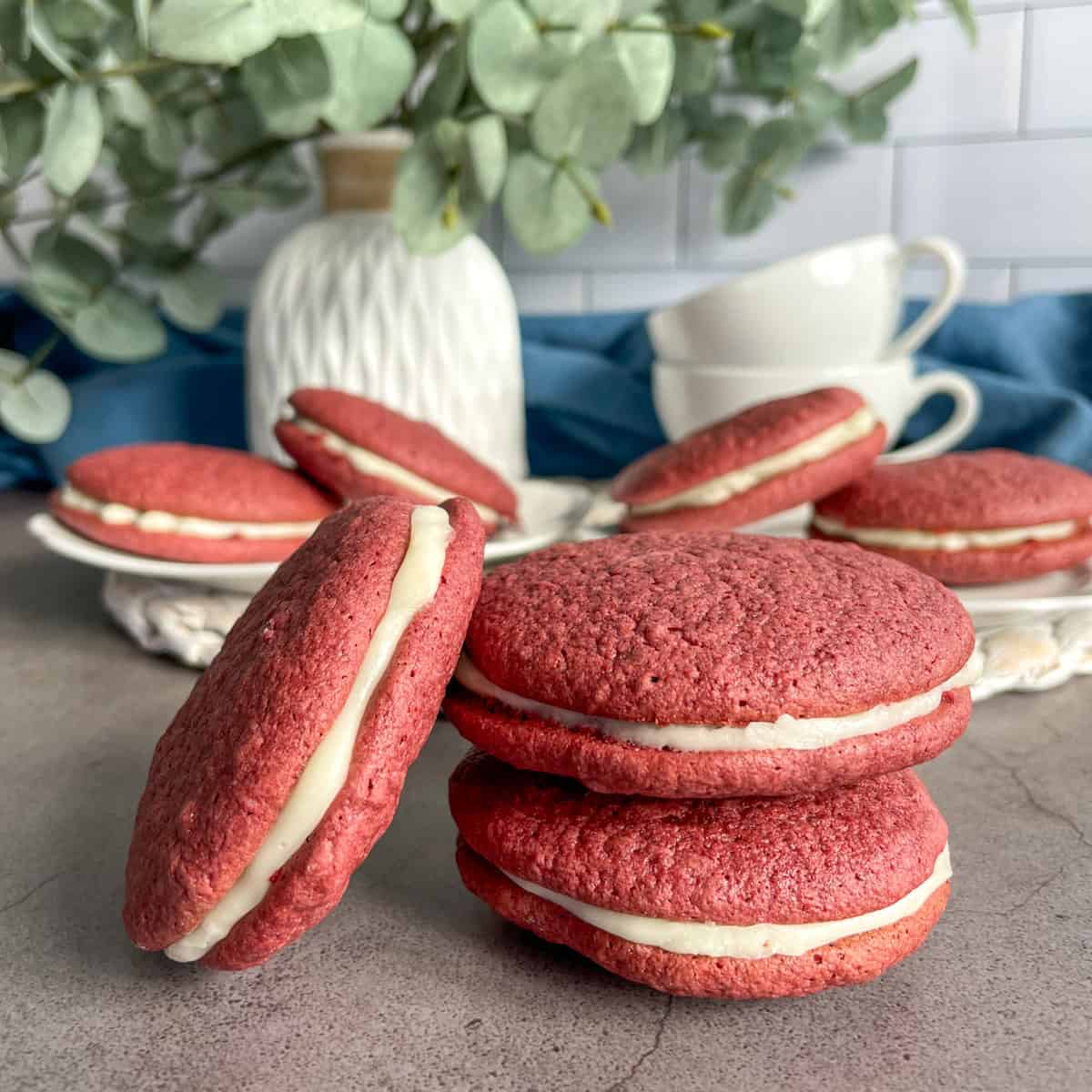 Ingredients for this recipe have been kindly provided by Countdown Supermarkets as Brand Ambassador, all opinions are my own
This recipe includes just 4 ingredients! One of those is an Betty Crocker's red velvet cake mix and icing. The other 3 are eggs, oil and vanilla, and it is so so easy to make. If you have seen a recipe for a usual red velvet cake the ingredients list is long!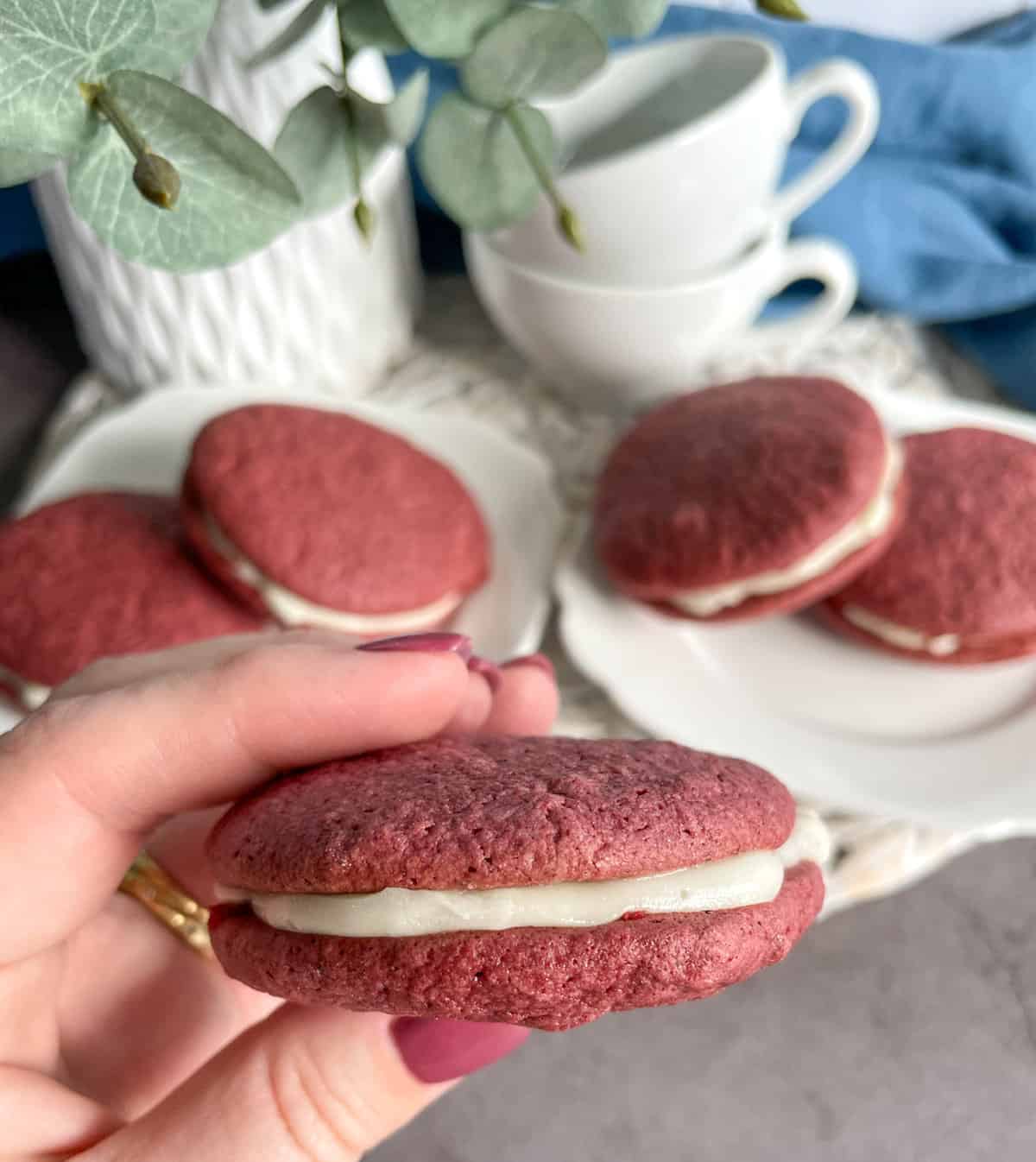 Cookies made from cake mixes are not new, neither is this recipe, it has been inspired from many you will find online. If you are after red velvet whoopie pie recipes from scratch a quick google search will turn up dozens of great ones if you prefer.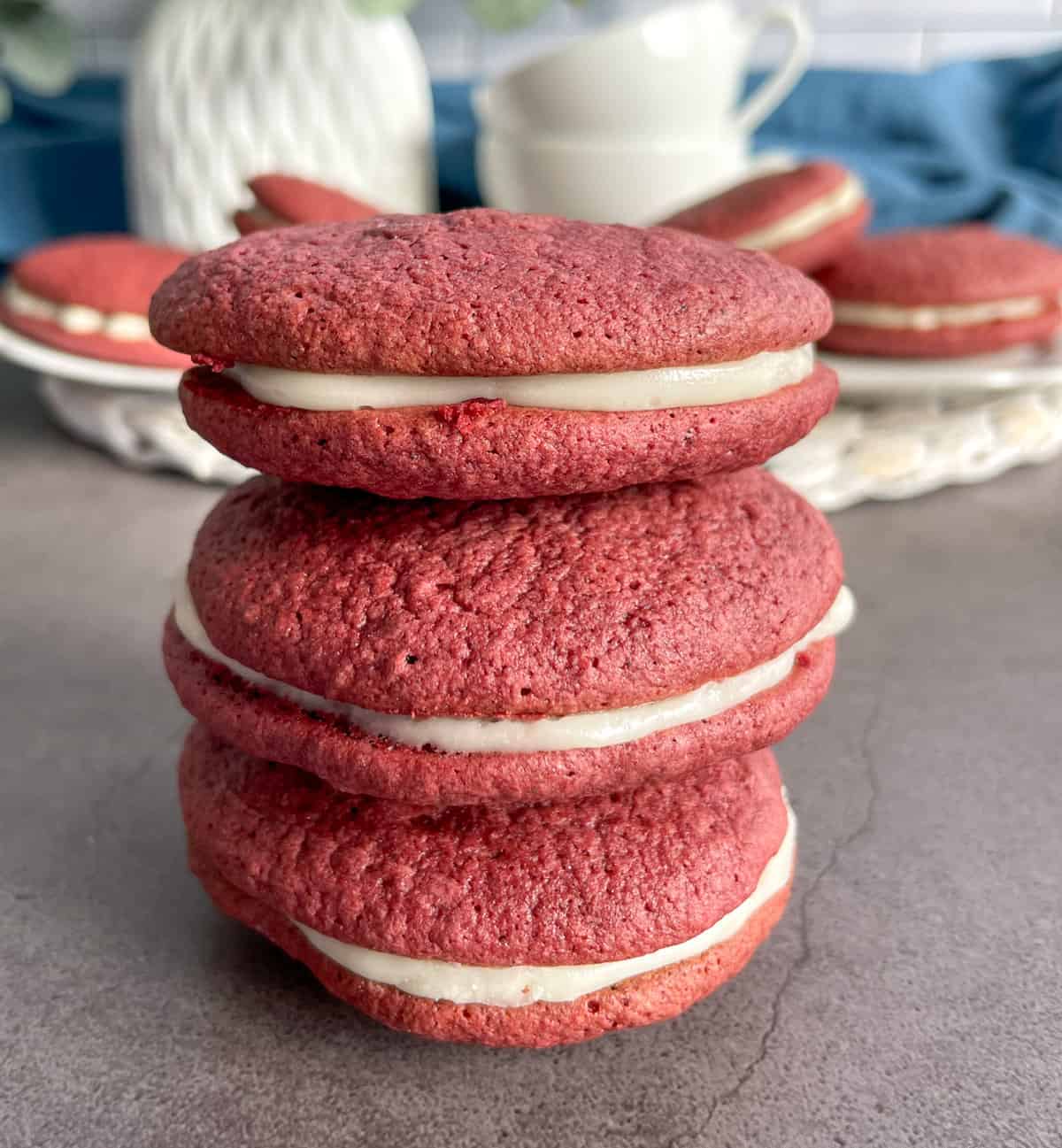 I find the idea of using hacks and quick tricks to be a fun way to try new recipes and possibly new favourites. With so few ingredients and methods this one is a great one.
Whoopie Pies for those new to them are soft pillows of cake batter, somewhere between a cookie and a cake texture. Very hard to describe as you will see when you make them.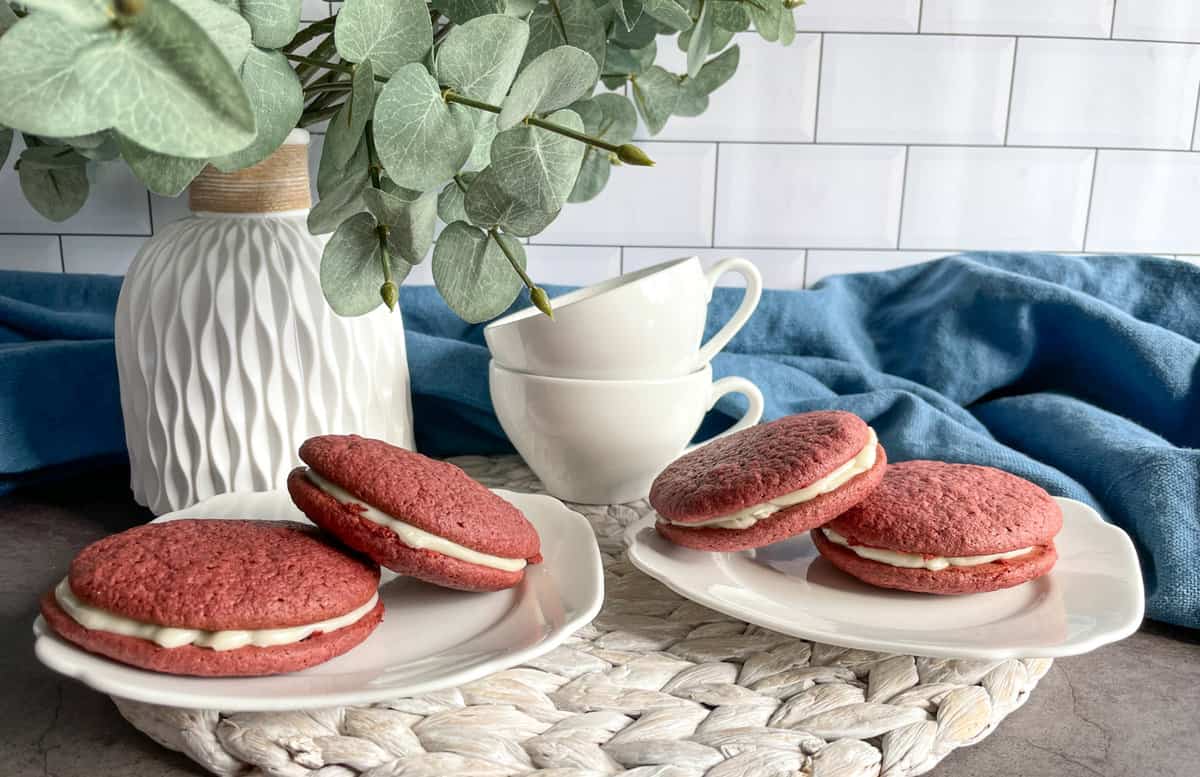 They originate in America, believed to be in the Pennsylvania Amish community, where leftover cake batter and frosting was used to create small treats in the farmers lunch boxes!
Either way, there are so many variations out there of various flavours that I hope to try one day. Using this method creates a lovely soft treat that is super easy to make, almost every step is done for you!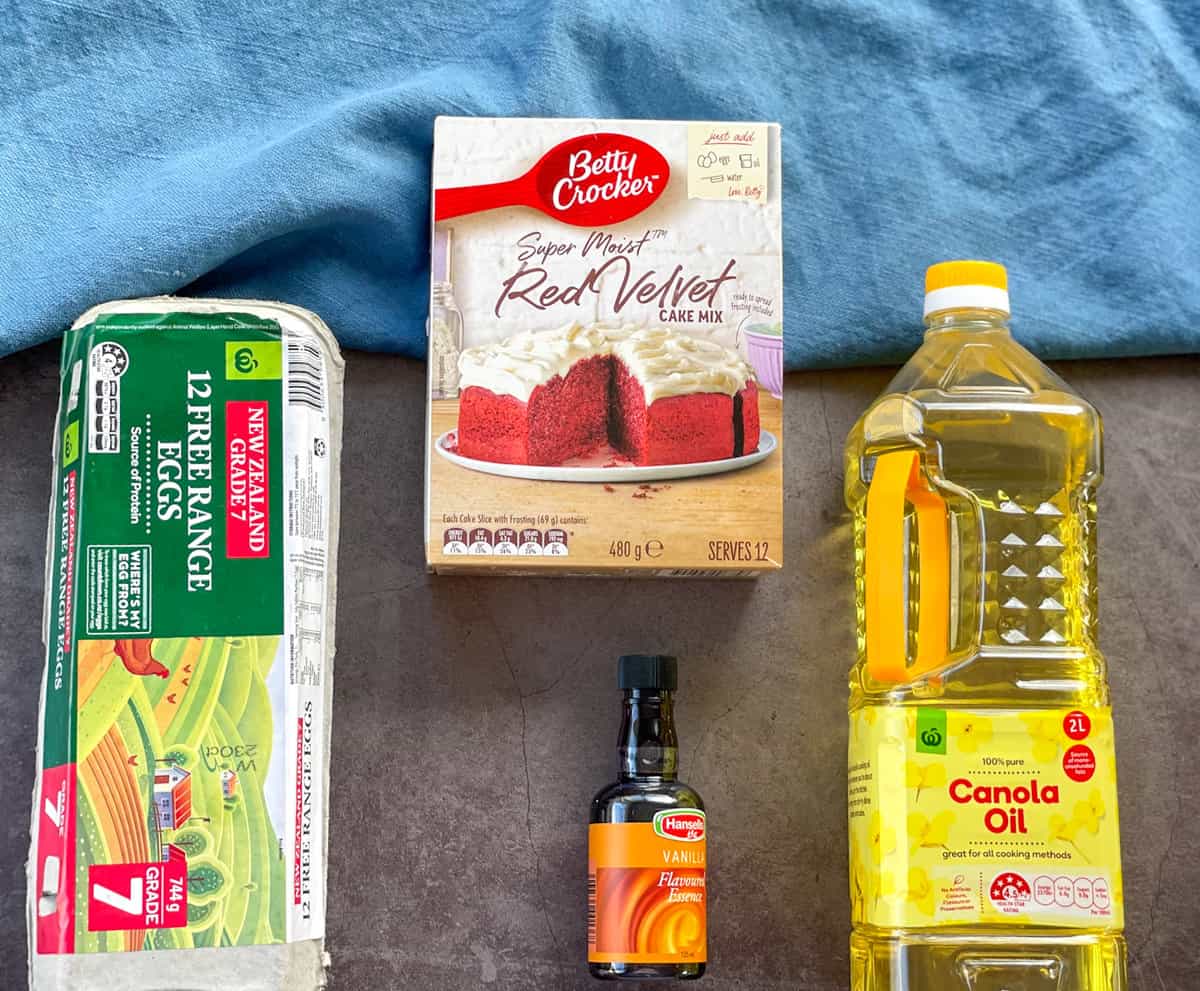 All you will need is
Red Velvet Cake Mix & Ready Made Icing

Canola Oil

Eggs

Vanilla Essence
Today I have used an Betty Crocker Red Velvet Cake mix which we had in the cupboard for some time in the hope someone would make a cake. It is 480 grams, so make sure if you buy another brand the cake mix is the same quantity for this to work.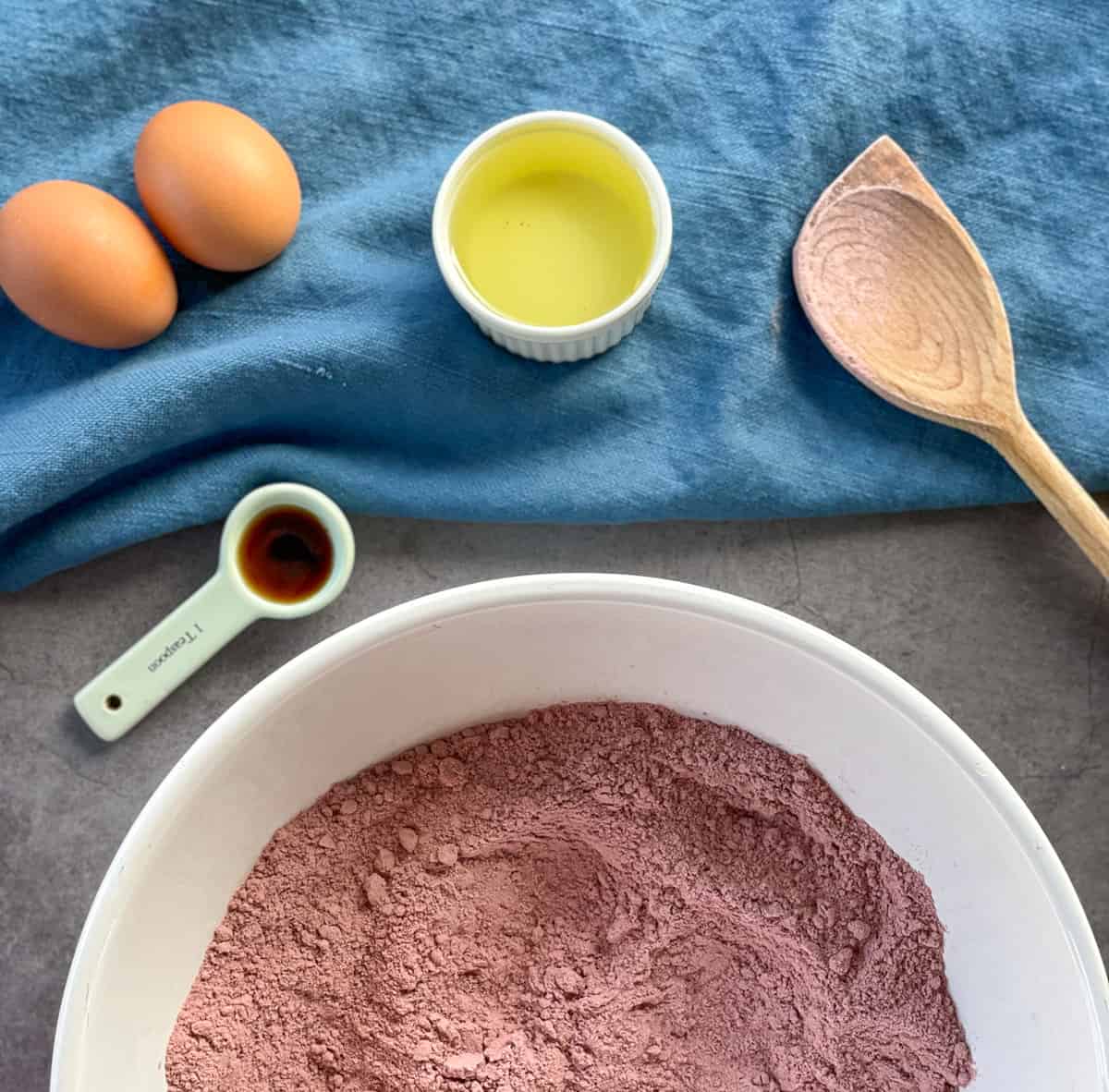 The process for making the individual whoopie pies is easy, simply place the cake mix in a large mixing bowl, then combine the eggs, oil and vanilla essence and pour this into the bowl and stir well to combine.
The next step is to place spoonful's of the mixture onto a couple of prepared trays, the mixture is very runny but it does hold its shape even though you will think it may not!

I found using two dessert spoons to pick up and scoop off the mixture onto a tray was the best method. I would then gently round off the edges to create uniform-ish round shapes.
As you will see my rounds are quite large, if you wish you can make smaller sized ones.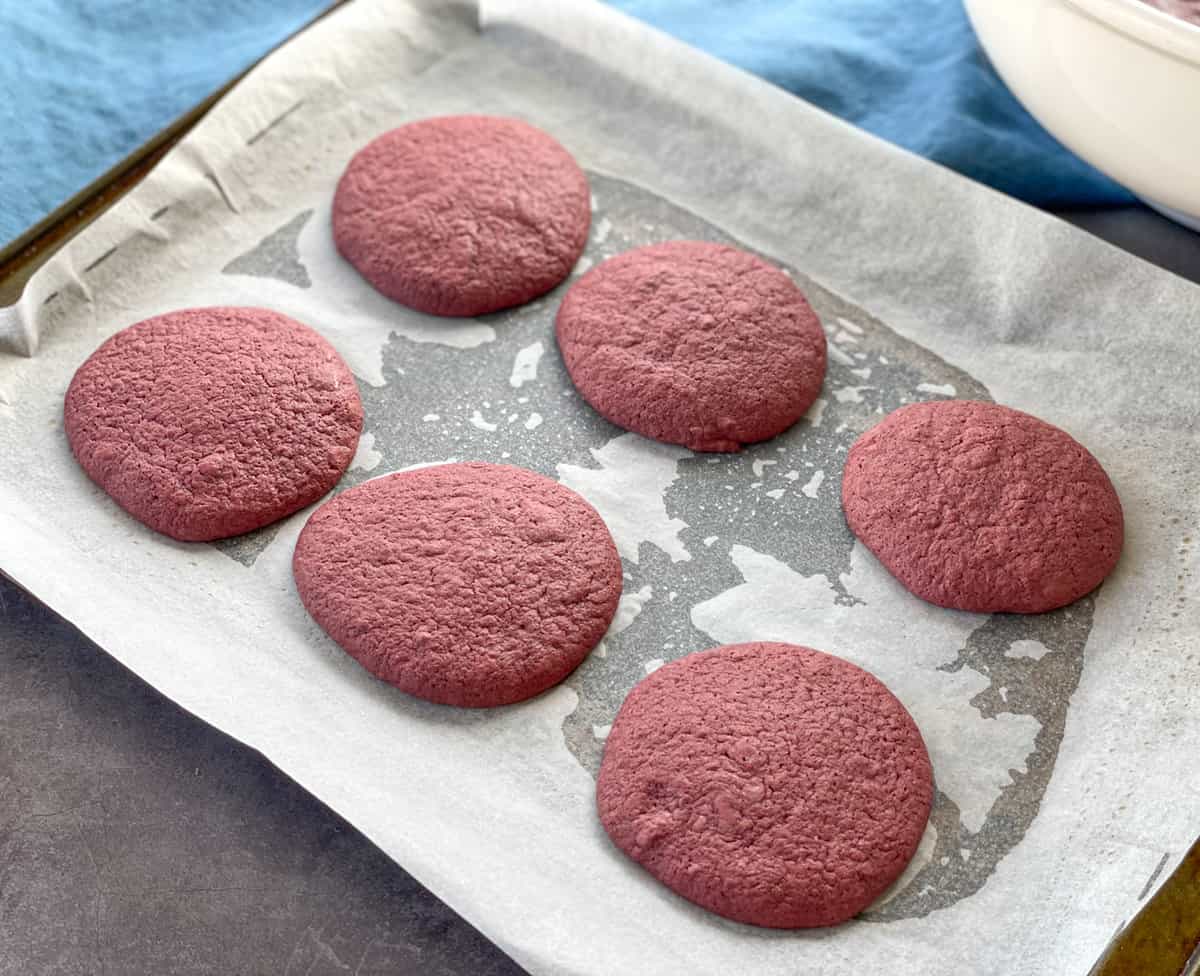 Then I baked the halves until they were slightly firm to the touch at the edge, they also took on a more dull appearance as the middle cooked, depending on your oven this will be between 10-13 minutes. They will firm upon standing, see my images for reference how they should look once baked.
Then allow them to cool on the trays then carefully using a metal slice remove them onto a wire rack to completely cool before icing.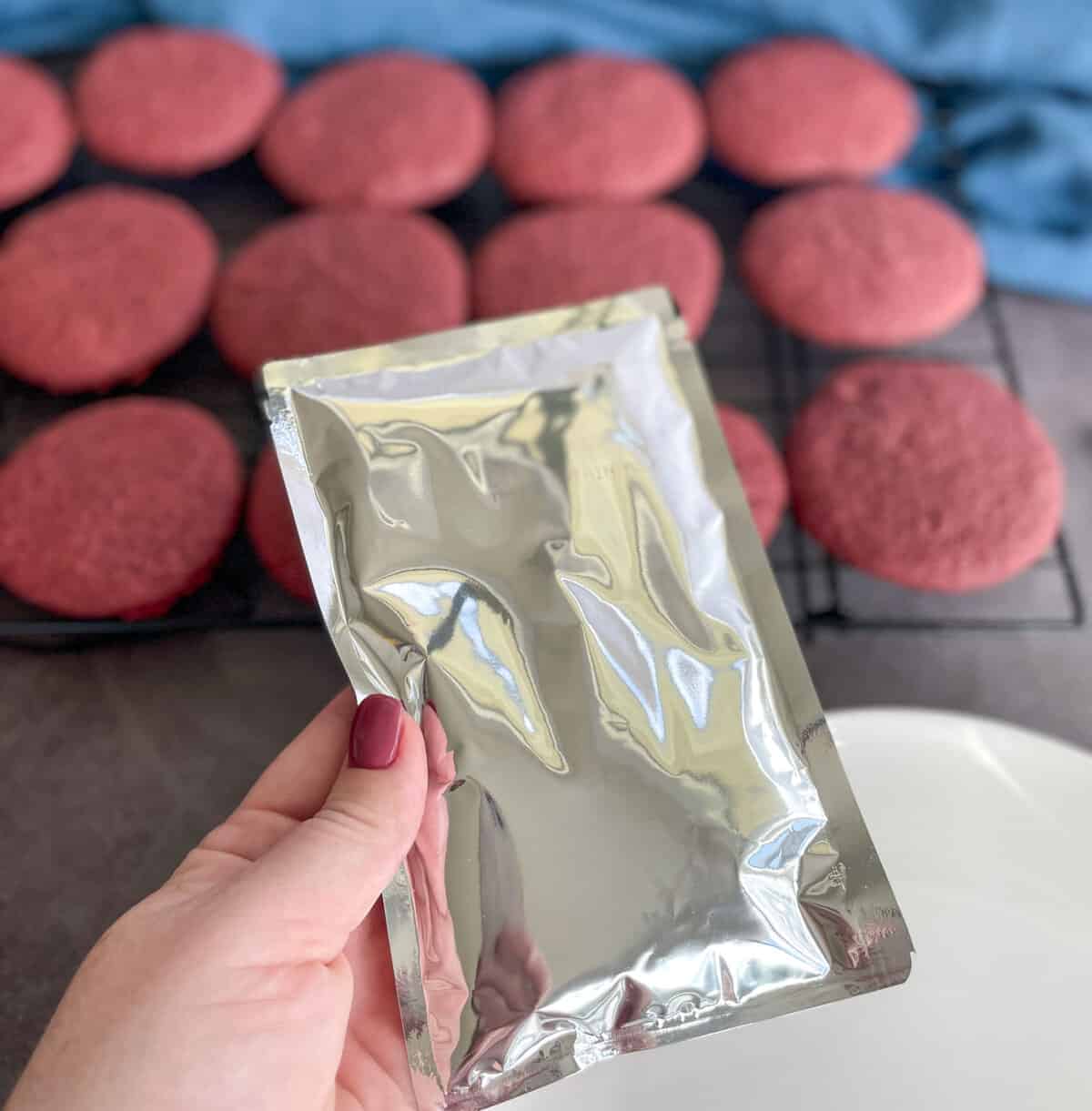 To ice, I used the cream cheese frosting that came with the cake mix! So easy, I simply cut off a small corner and used this as a piping bag. I matched similar shaped cookies with each other.
Careful not to overfill the whoopie pie halves, the icing will run out and it may be overly sweet, it is lovely to just have a hint of the icing throughout. You will see in my images I did not fully cover them with filling.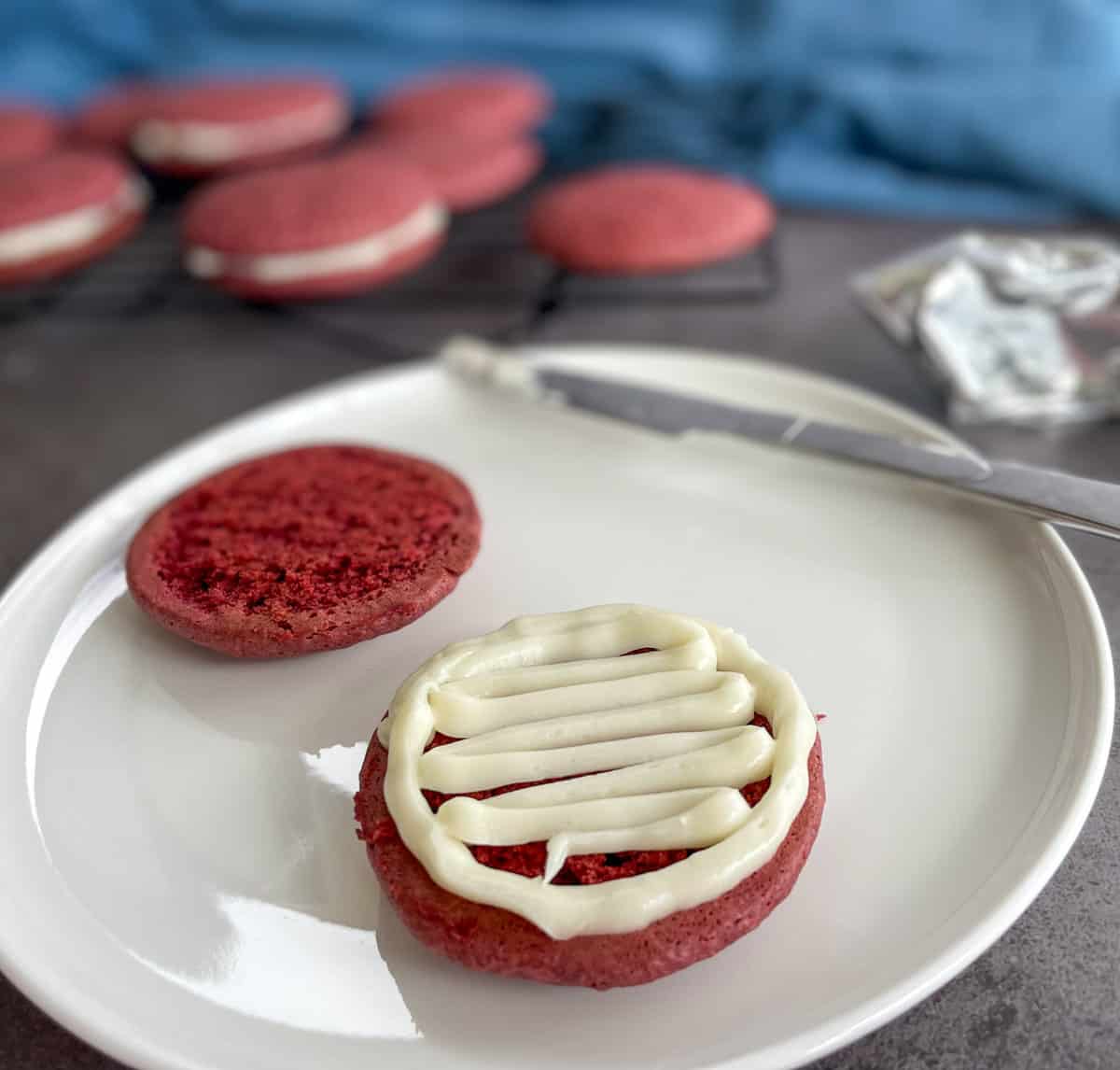 Using a piping bag is much easier than spreading with a knife as the whoopie pie halves are so delicate and may crumble.
Once iced, sandwich together the two pieces and serve!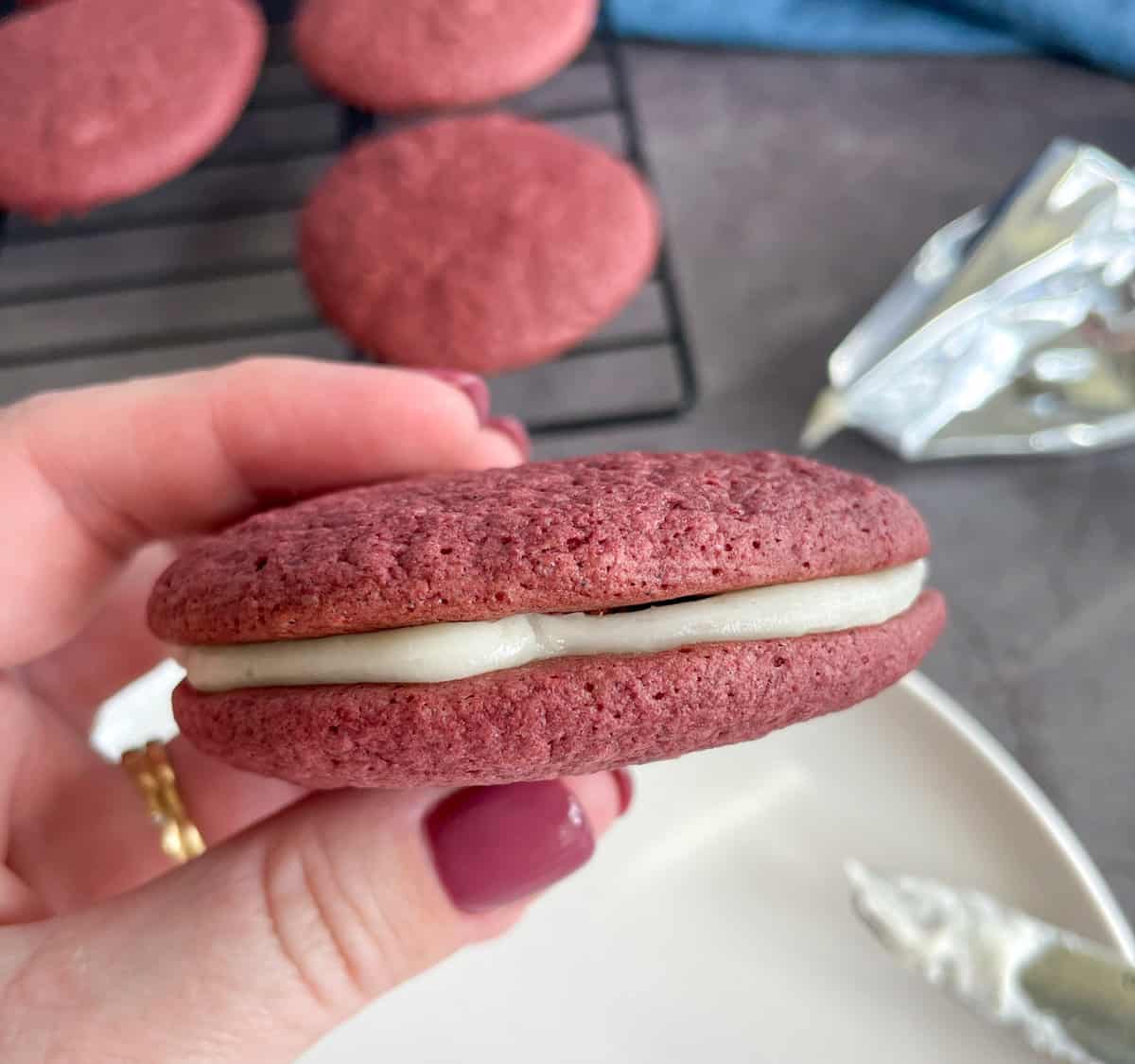 These are best eaten on the day of making, they will soften once stored in an airtight container but still tasty, for me this recipe created 8 large whoopie pies.
Onto the recipe for Cake Mix Red Velvet Whoopie Pies
I look forward to hearing if you try this one! They are so tasty and with a hint of cocoa and vanilla a lovely treat.
Thank you so much for stopping by to check out my latest recipes on my blog. If you are not already be sure to follow me on Facebook or Instagram for more deliciousness, and you can register your email in the subscription box below to receive all my recipes as I publish them.
Happy Baking
Anna
PS Want to try the best ever chocolate cake? Look no further, THIS RECIPE is all you will ever need
PIN IT! PINTEREST