A fun and festive recipe, these Stained Glass Window Cookies are so simple to make!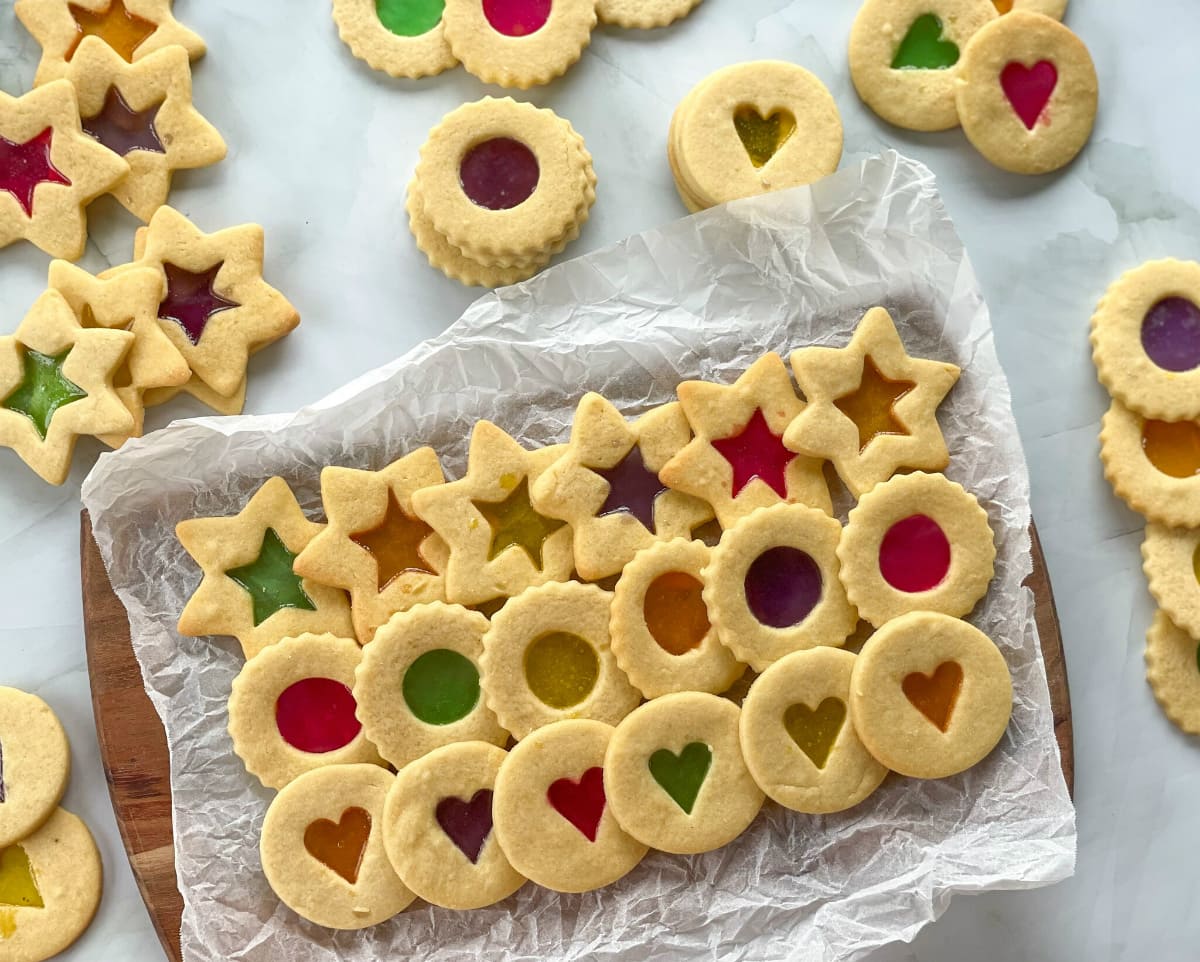 Ingredients for this recipe have been kindly provided by Countdown Supermarkets as Brand Ambassador, all opinions are my own.
This fun recipe looks fabulous but is really easy to make. A simple sugar cookie with a hard boiled sweet centre. There are a few tips for getting them just right but they are a really great activity.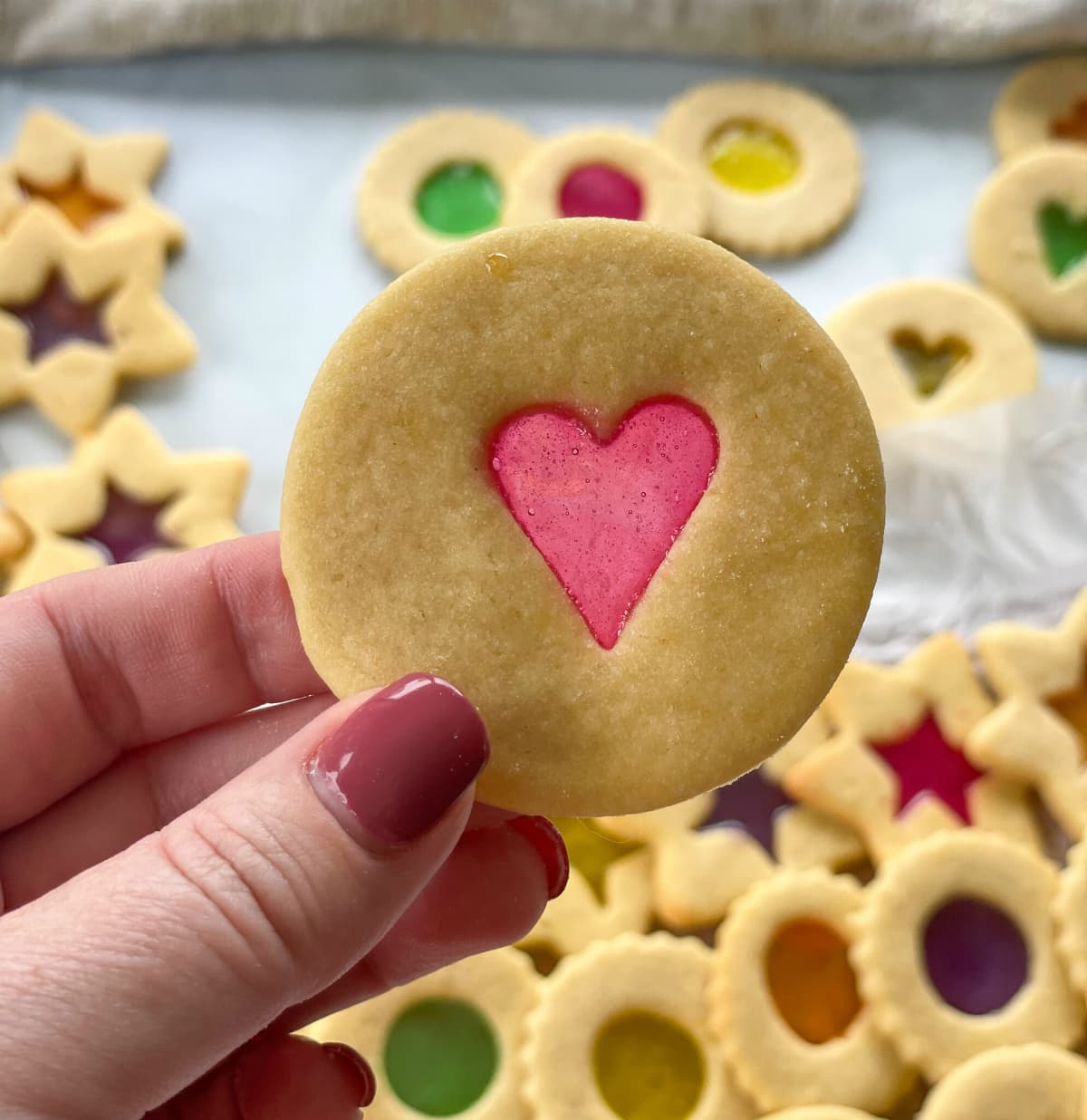 I have used my sugar cookie recipe that I used for my iced shape biscuits as it is lovely to work with. For the boiled sweets there are many options. Any hard boiled sweet or candy works well, from barley sugars, lollypops, candy canes and more!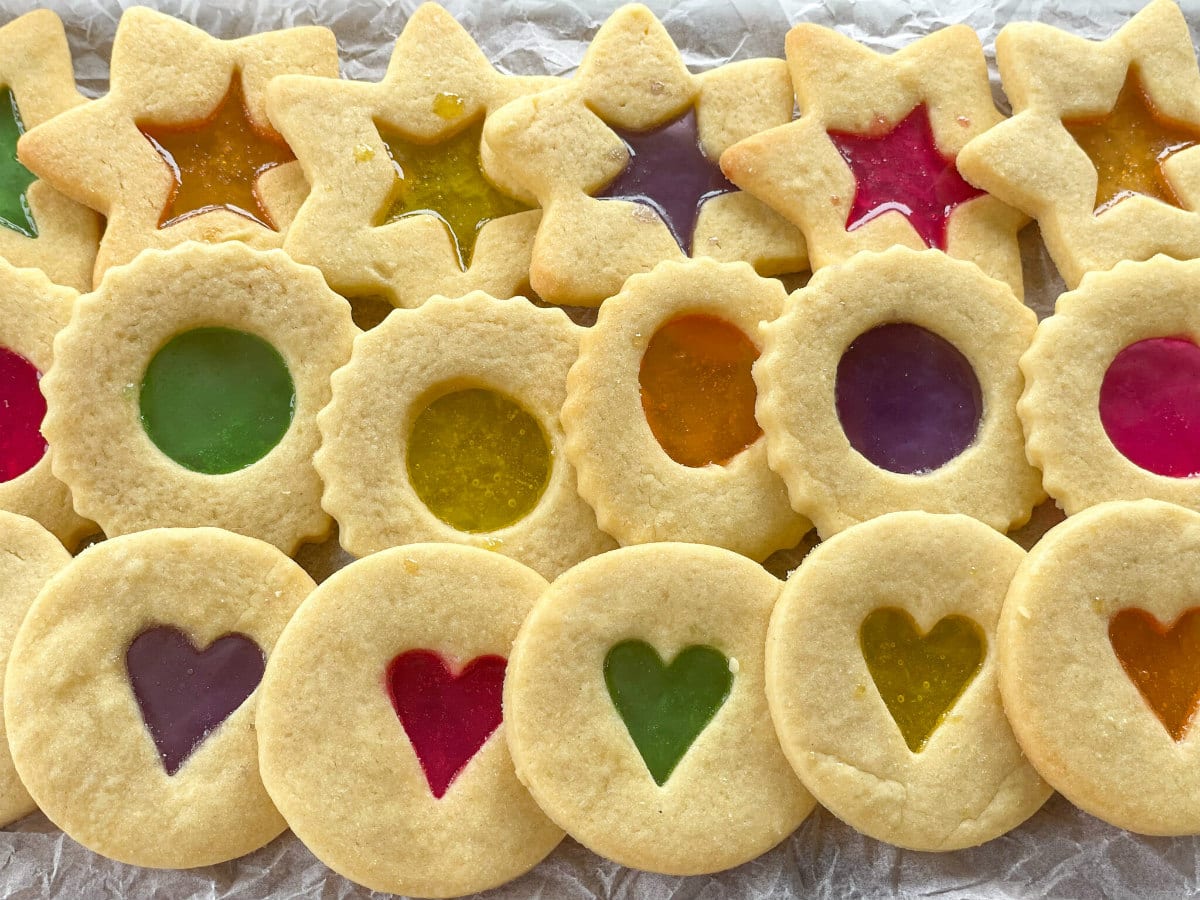 We love making these at Christmas time, they looks so cool and are a great gift. This is a super old idea that I cannot find the origins of but everyone seems to have their own version.
The ingredients are also simple
Butter

Sugar

Salt

Vanilla

Egg

Flour

Boiled Sweets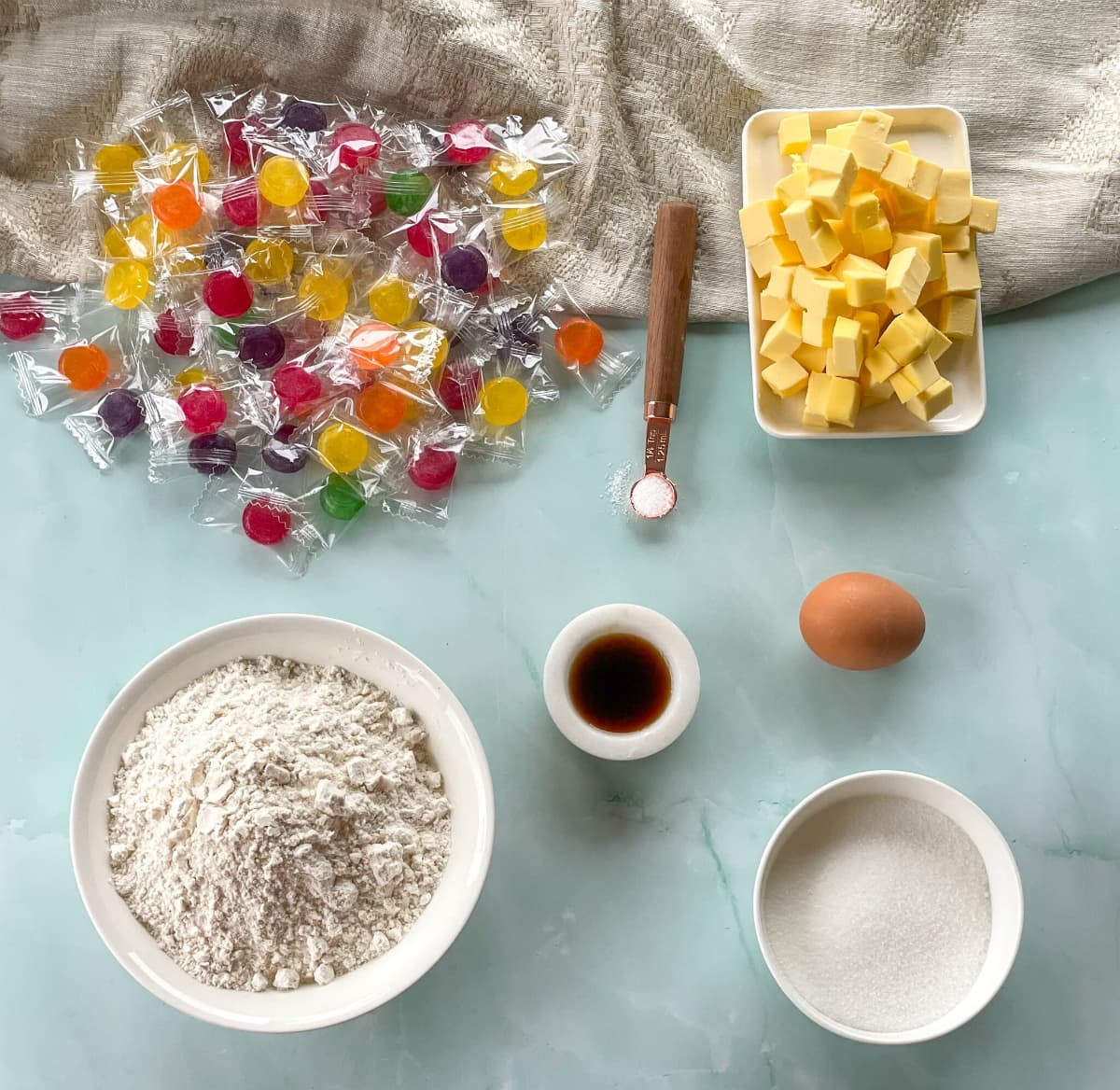 Today I have used some simple small boiled sweets in 5 colours so that the variety looks great. You can use any shape cookie cutters that you have on hand.
To begin you prepare the cookie dough ahead of time, it needs to chill for at least two hours. This is best done in a food mixer as you begin by creaming together the butter and sugar.

Place the prepared dough in two batches in some plastic wrap and pop aside in the fridge until firm.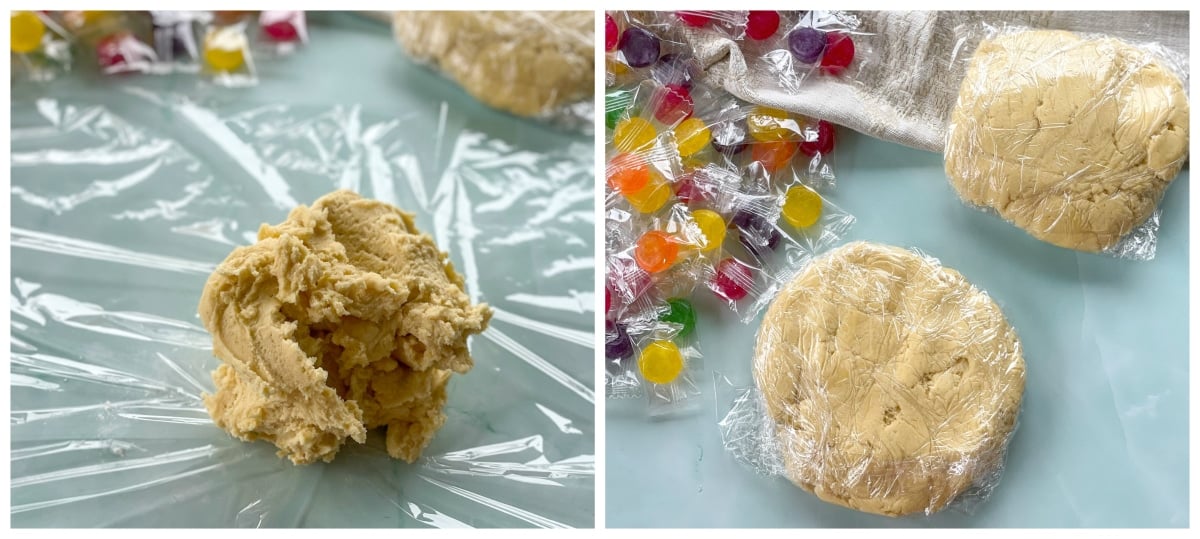 Once you are ready to bake have everything set up. You will need 2-3 baking trays lined with baking paper, and also your sweets crushed. To crush the sweets I add each colour to a zip lock bag.
To crush them you will need to use a hammer or a marble rolling pin. Something really hard. If you use your wooden rolling pin you are likely to leave indents on it. Ditto for the surface you place it on, preferably use a plastic chopping board or something that will not dent or does not matter if it does dent.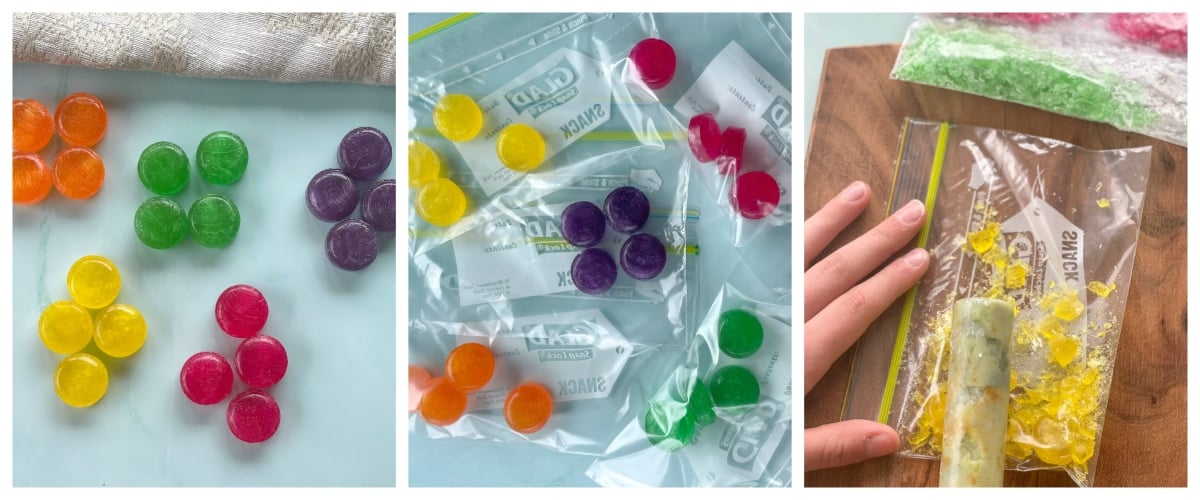 Crush the sweets into small and medium crumbs and set aside. Then roll out and begin to create the cookie shapes, you can use any shape cookie cutters you have. The key is to find something to take out the centre with.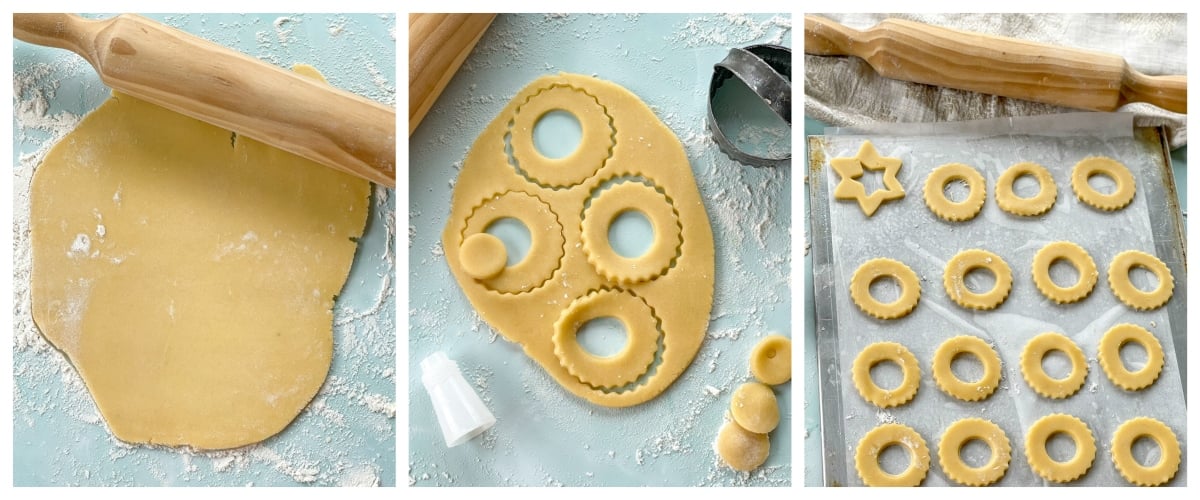 Today I have used a combination of shape cookie cutters and for the centres either a smaller version of the larger cutter or in the case of the round cookies I have used a large piping bag nozzle to cut circles as it is the perfect size.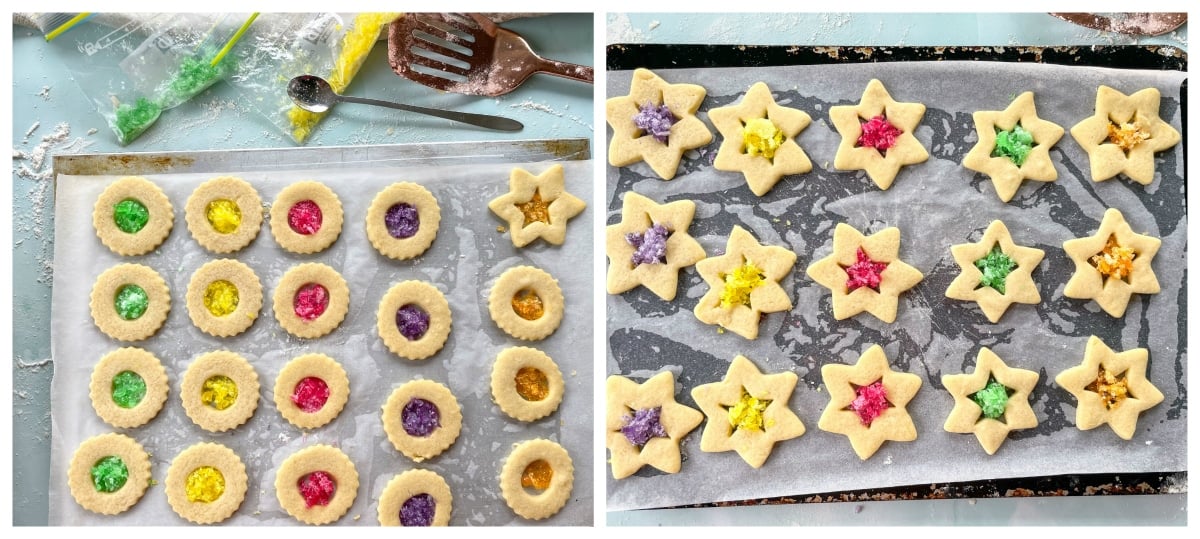 You cook this recipe in two stages, first the cookies themselves are baked for 7 minutes, then remove them from the oven while still soft and half cooked and add the crushed sweets to the centre in a pile and bake for a further 5-7 minutes until they just become lightly golden brown and the centre has melted to create the window look.

If you find at 5 minutes that there is not enough "glass" you can add more and pop back in the oven for a further 2 minutes.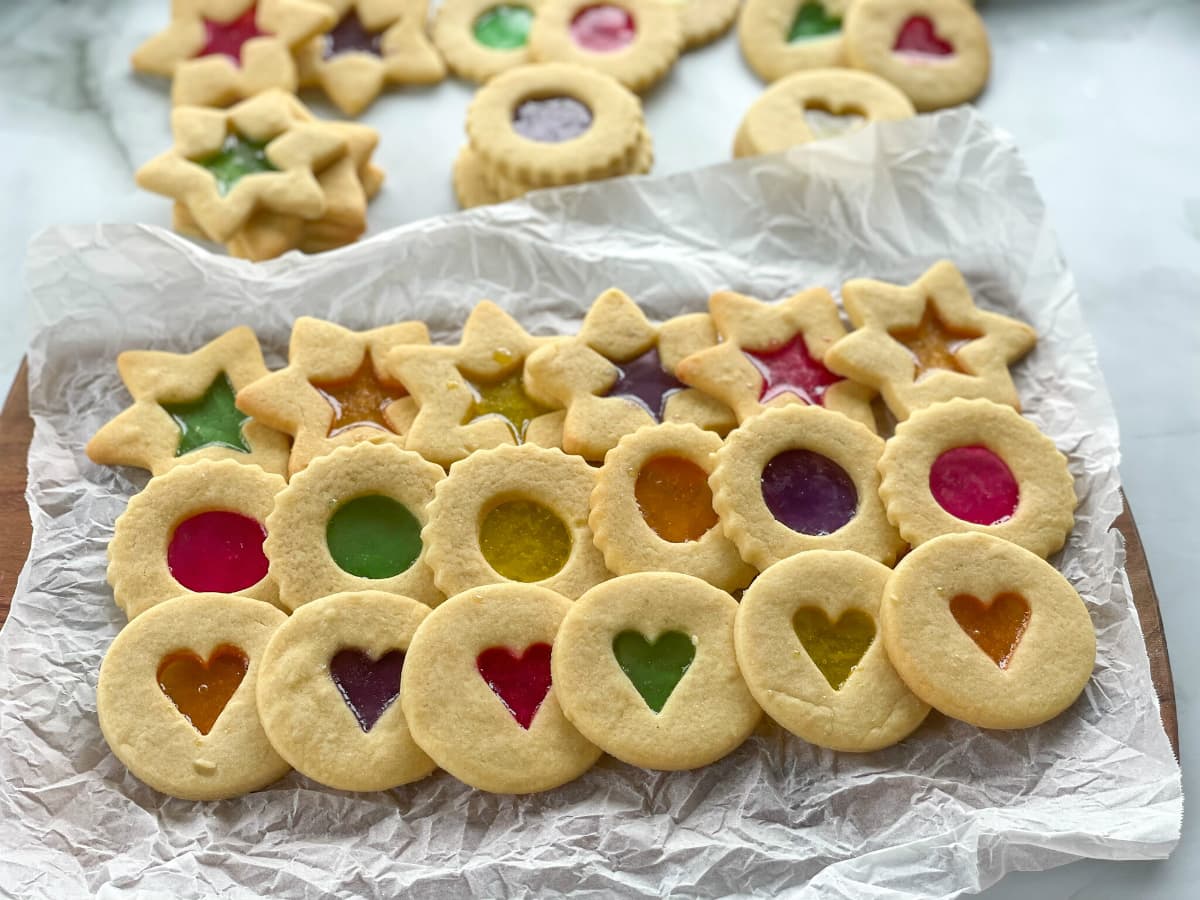 Allow these to fully cool on the tray before removing them and adding to an airtight container. I hope you love this fun and at times messy recipe!
If you are looking for more delicious Christmas treats check out my latest eBook – 40 pages of Cookies & Confectionary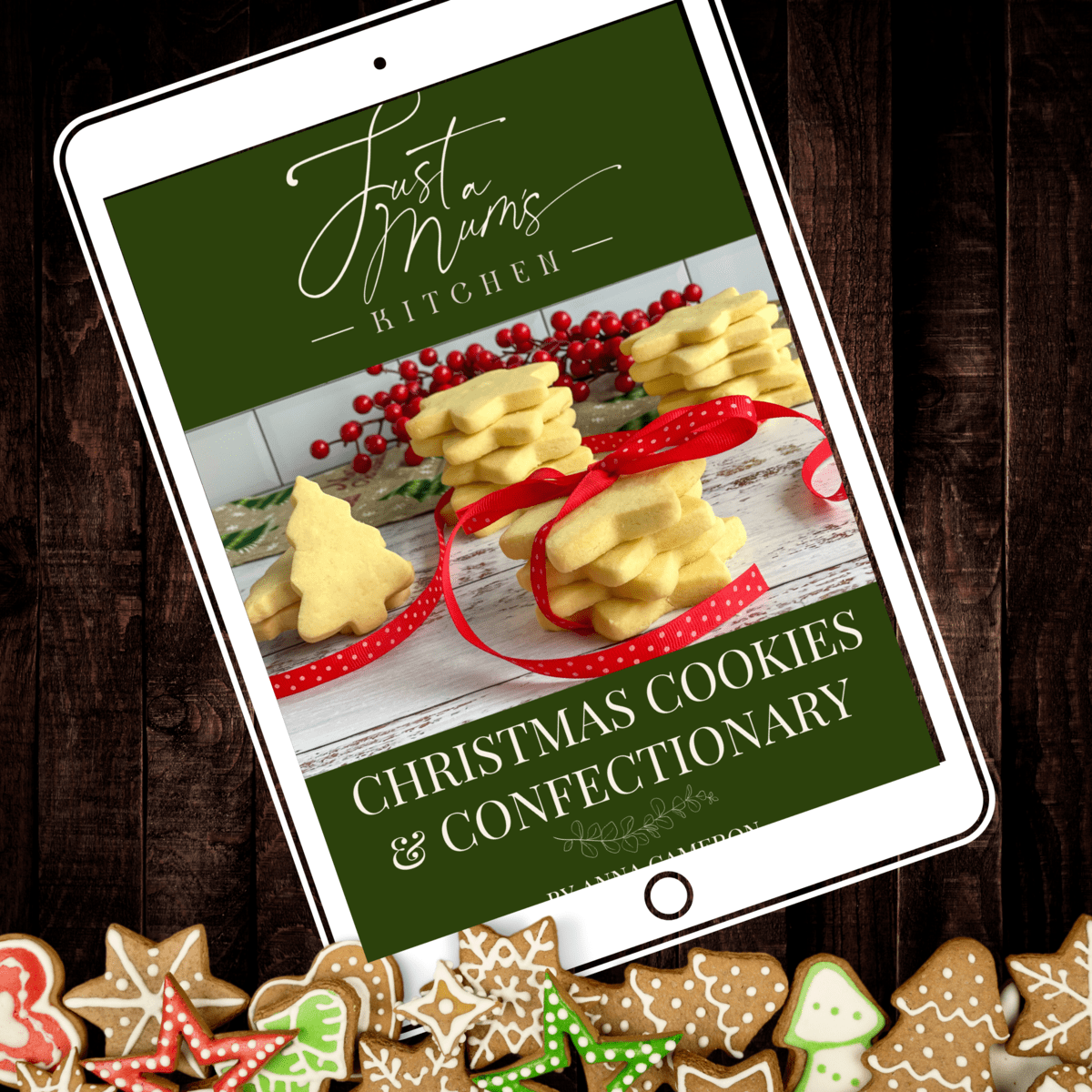 Stained Glass Window Cookies Recipe
What do you think? Have you made these before? Let me know in the comments below if you make them.
Check out all my other Christmas recipes here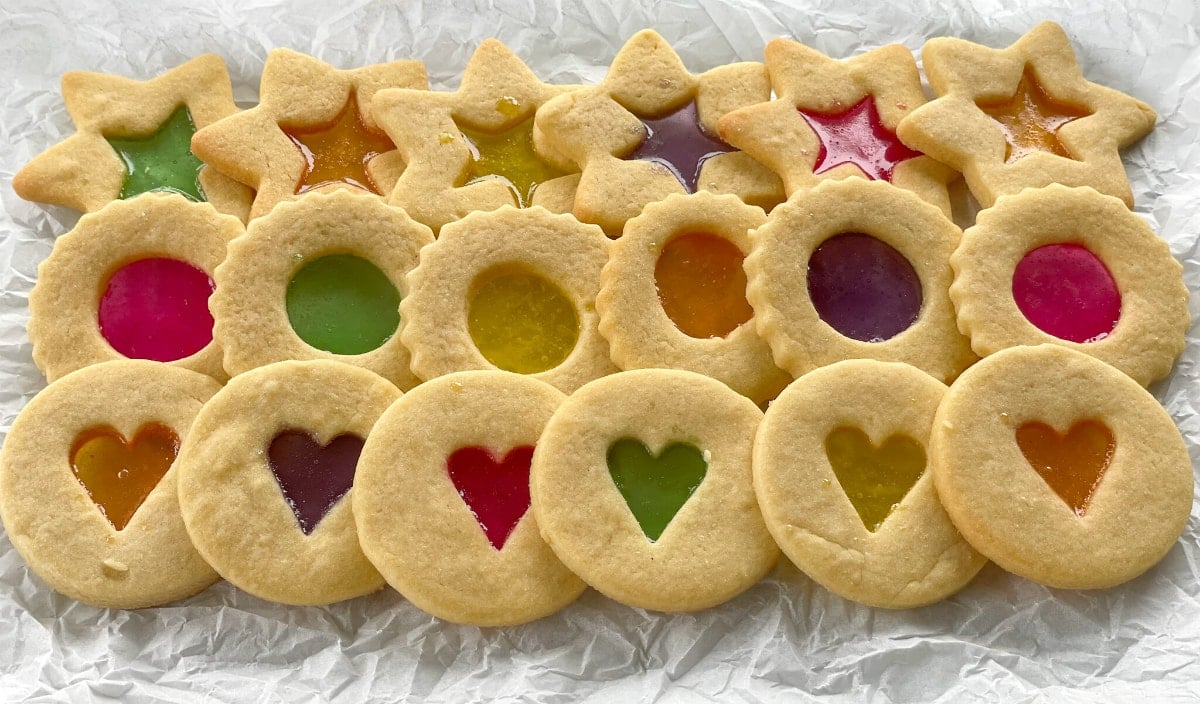 Thank you so much for stopping by to check out my latest recipes on my blog. If you are not already, be sure to follow me on Facebook or Instagram for more deliciousness, and you can register your email in the subscription box below to receive all my recipes as I publish them.
Happy Baking!
Anna
Pin It! Pinterest