A beautiful version of a trifle, a gluten friendly orange almond cake with custard, mascarpone, jelly and filled with lovely complementary flavours.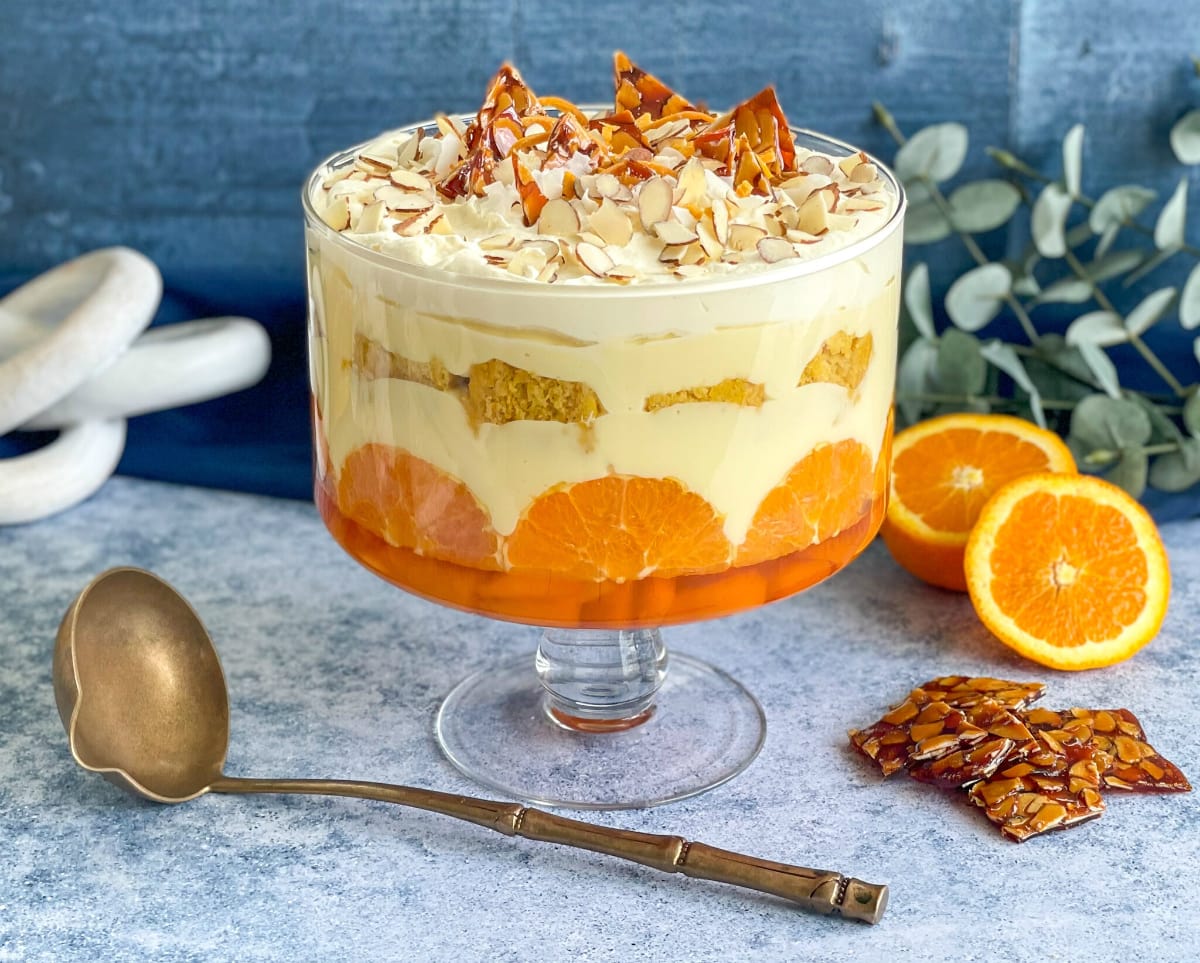 I love trifles, I did not always love them, trifles of old can be mushy with little texture. Over the years I have enjoyed making them my own and with a few tricks to ensure they are perfect.
This version has a lovely orange almond cake as the "sponge" and is filled with so many lovely textures and flavours.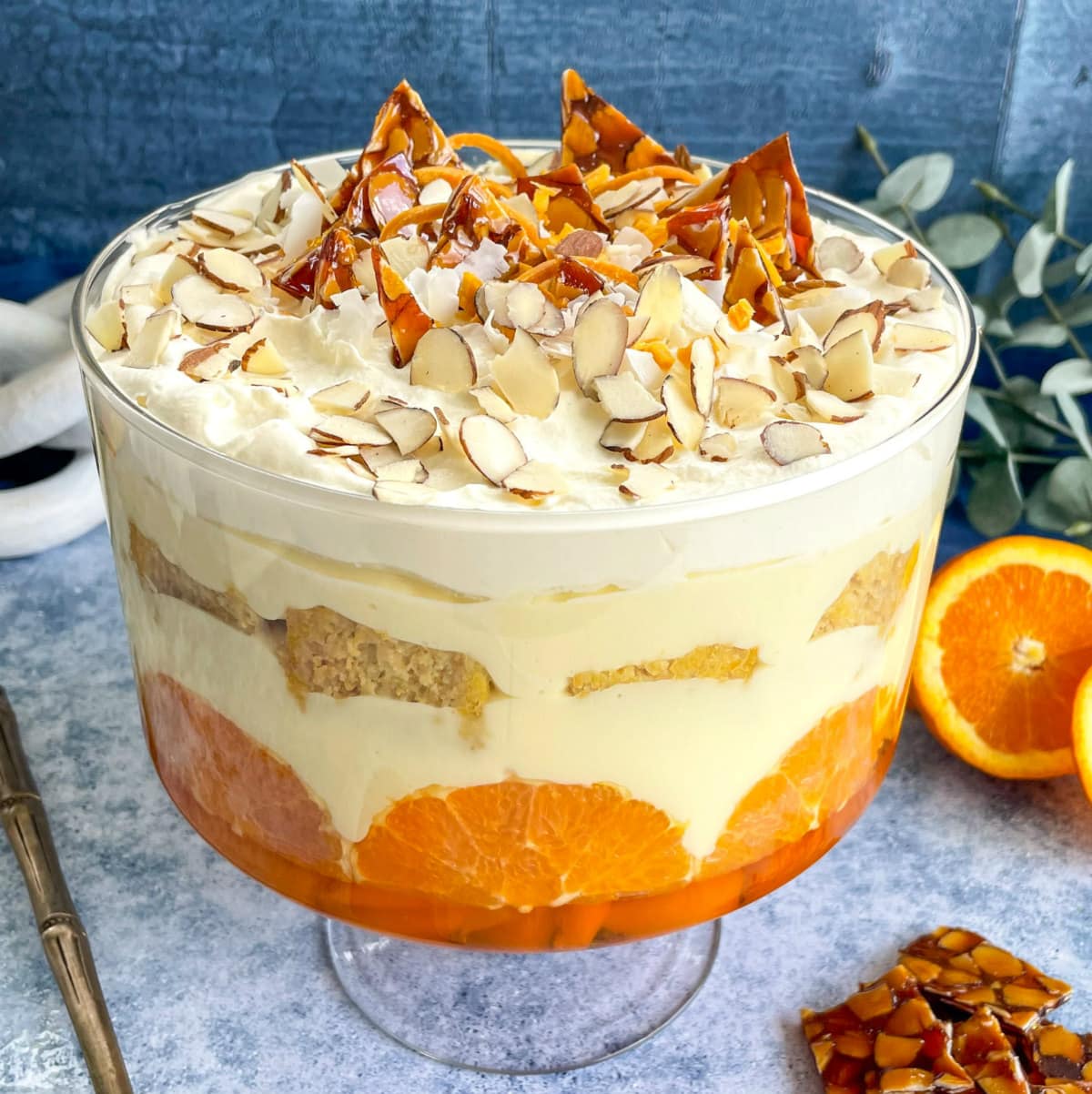 The layers are
Orange Jelly with Mango slices

Orange & Almond Cake

Custard & Mascarpone

Orange Slices

Whipped Cream

Dried Mango, Sliced Almonds, Coconut Shavings and Almond Brittle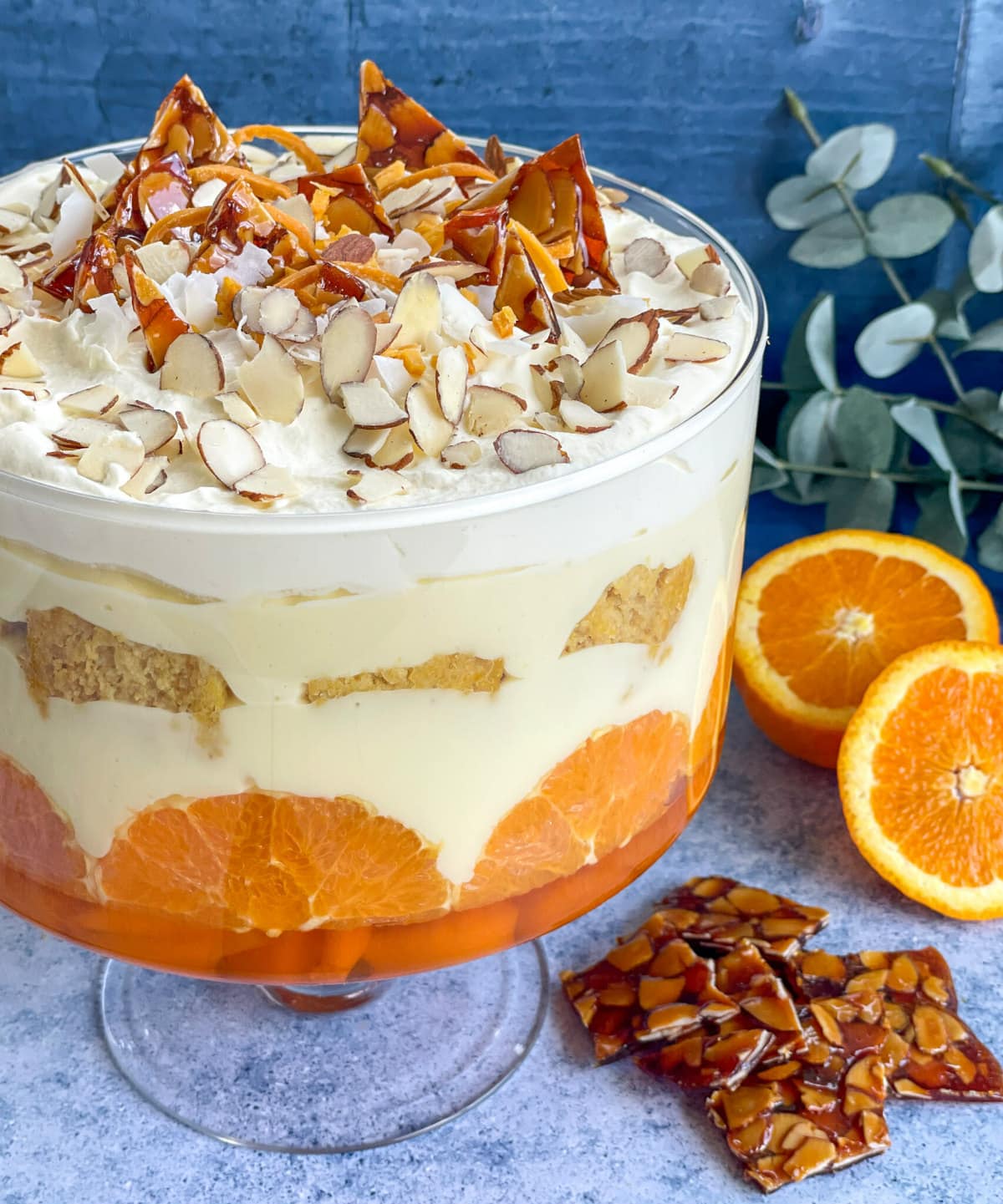 My top tip for those that have not tried trifle since they were young is you do not need to soak the sponge! There is so much moisture in all of the other ingredients that it is lovely to just slightly drizzle over any syrup or juice (or booze) so that there is a hint of texture to the sponge instead of everything being the same wetness.
These all work beautifully together to create something quite different! I so far have 4 versions including this one, so something for everyone to try!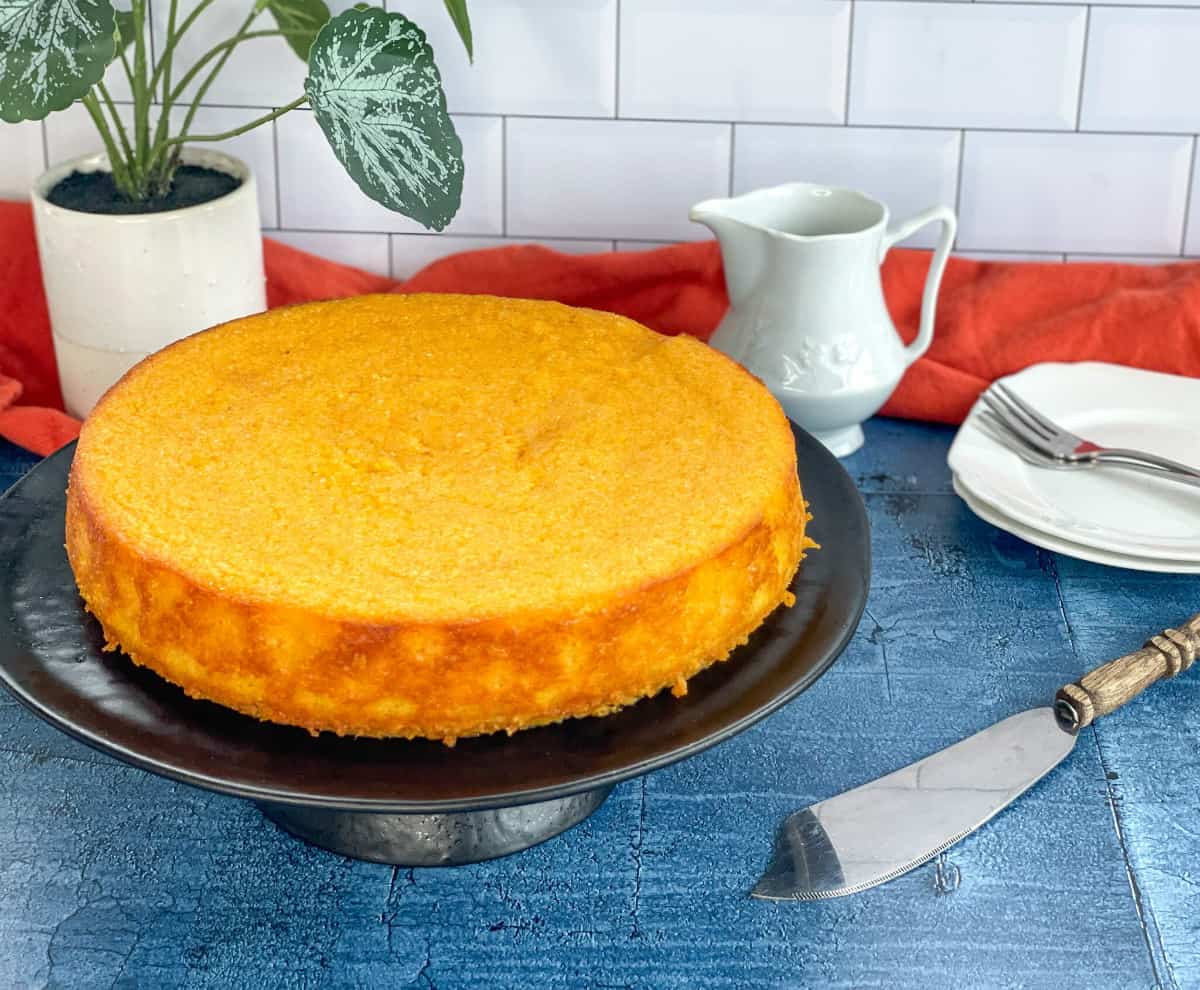 The orange almond cake I have used here is a very moist cake. If you choose to make it as per the instructions for the cake it has a syrup dressing on it, if you make it with the syrup it will have no need for any juice or syrup to be added to the trifle.
You can make the cake ahead of time and it will stay lovely and fresh for up to 5 days if stored well. If you are going to attempt a homemade almond brittle this can be made a day ahead also.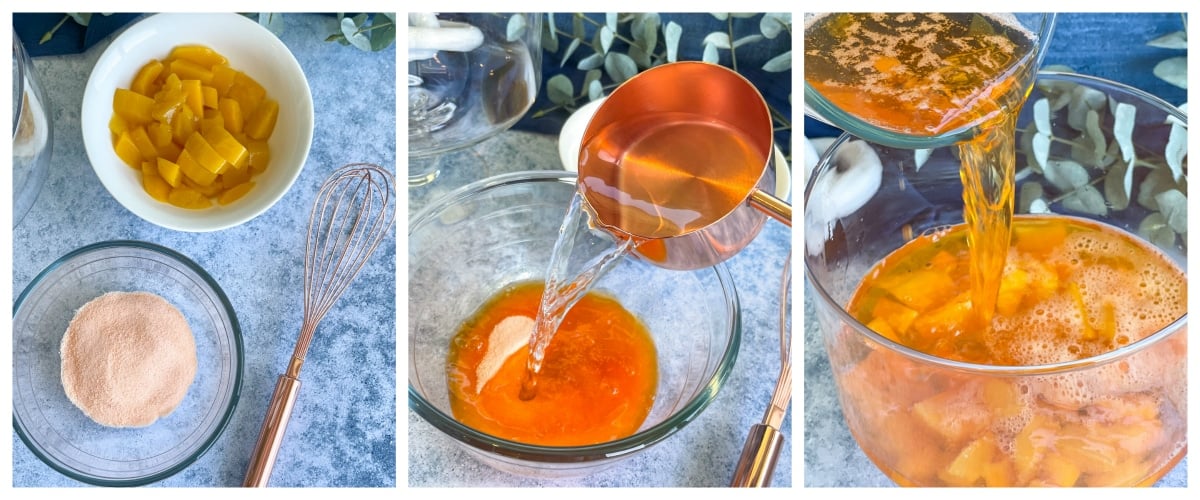 To make the trifle you will need to start the day ahead. Up to 4-6 hours before you need it, start with the jelly base layer.
I placed a can of drained mango slices in the bottom of my 3.5 litre trifle bowl and then poured over the jelly. Allow this to completely set in the fridge as per instructions.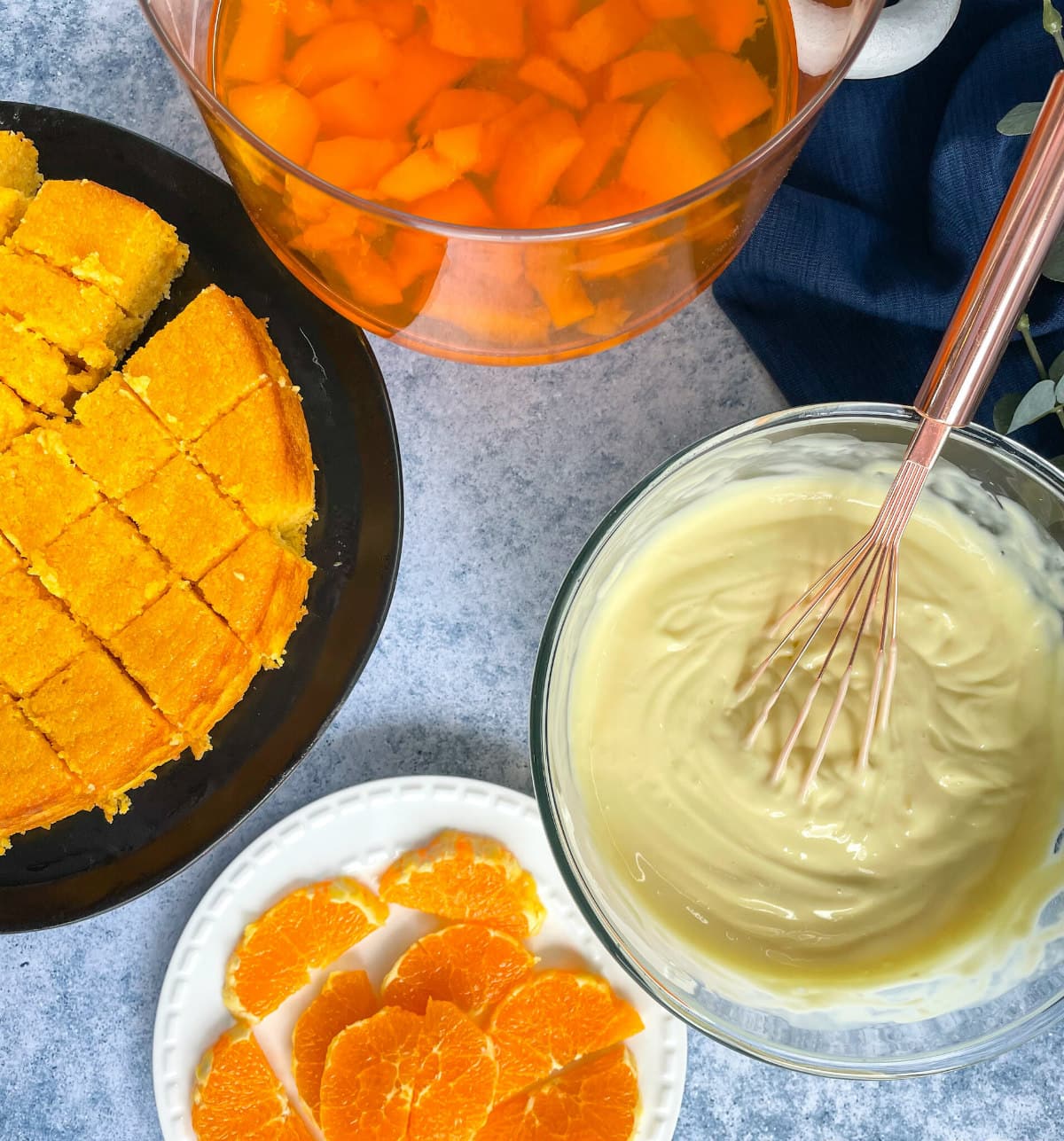 Then it is just a matter of building the layers. Peel and slice an orange, then halve the slices to create a edge to the trifle. Press these hard against the glass to stick nicely.

Add to this pieces of the cake in one layer, cut into 4cm squares. Then I combine custard and mascarpone. This adds such a lovely flavour to the custard, but feel free to omit the mascarpone if you prefer. Then repeat the layers.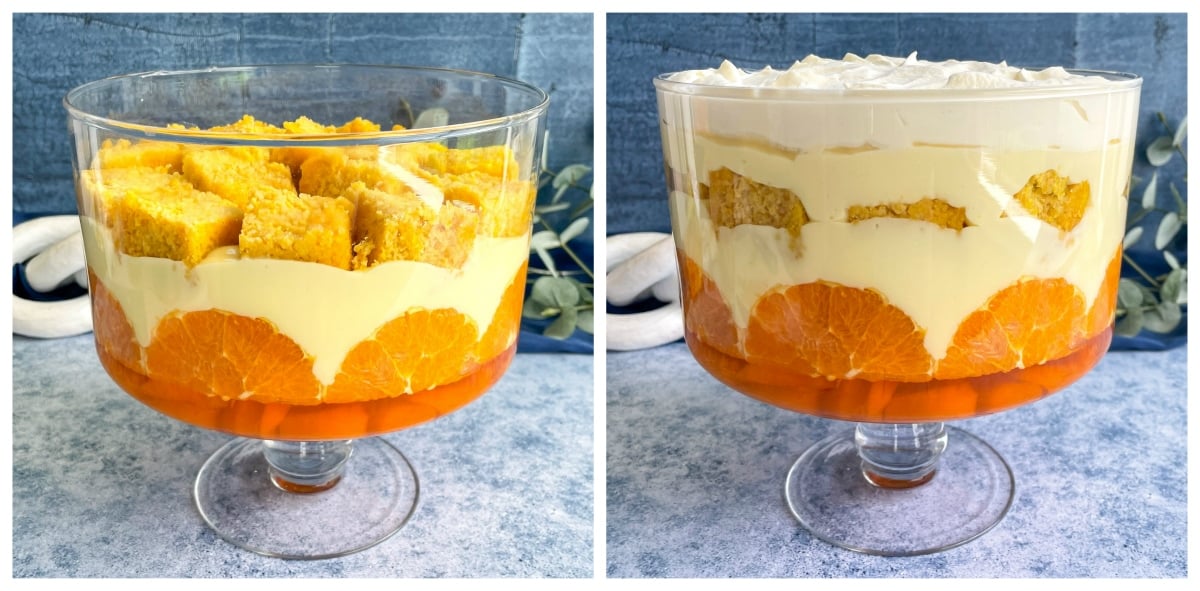 I have topped it with whipped cream, then you can choose any toppings you think will look good! I just adding bits and pieces, such as dried mango, almond brittle, coconut shavings and almond slices.
So onto the recipe, I hope you love this one!
Orange Almond Trifle Recipe
I cannot wait to hear what you think of this one! Be sure to let me know in the comments below. I would love to hear of someone making all 4 versions of my trifles to let me know which one wins!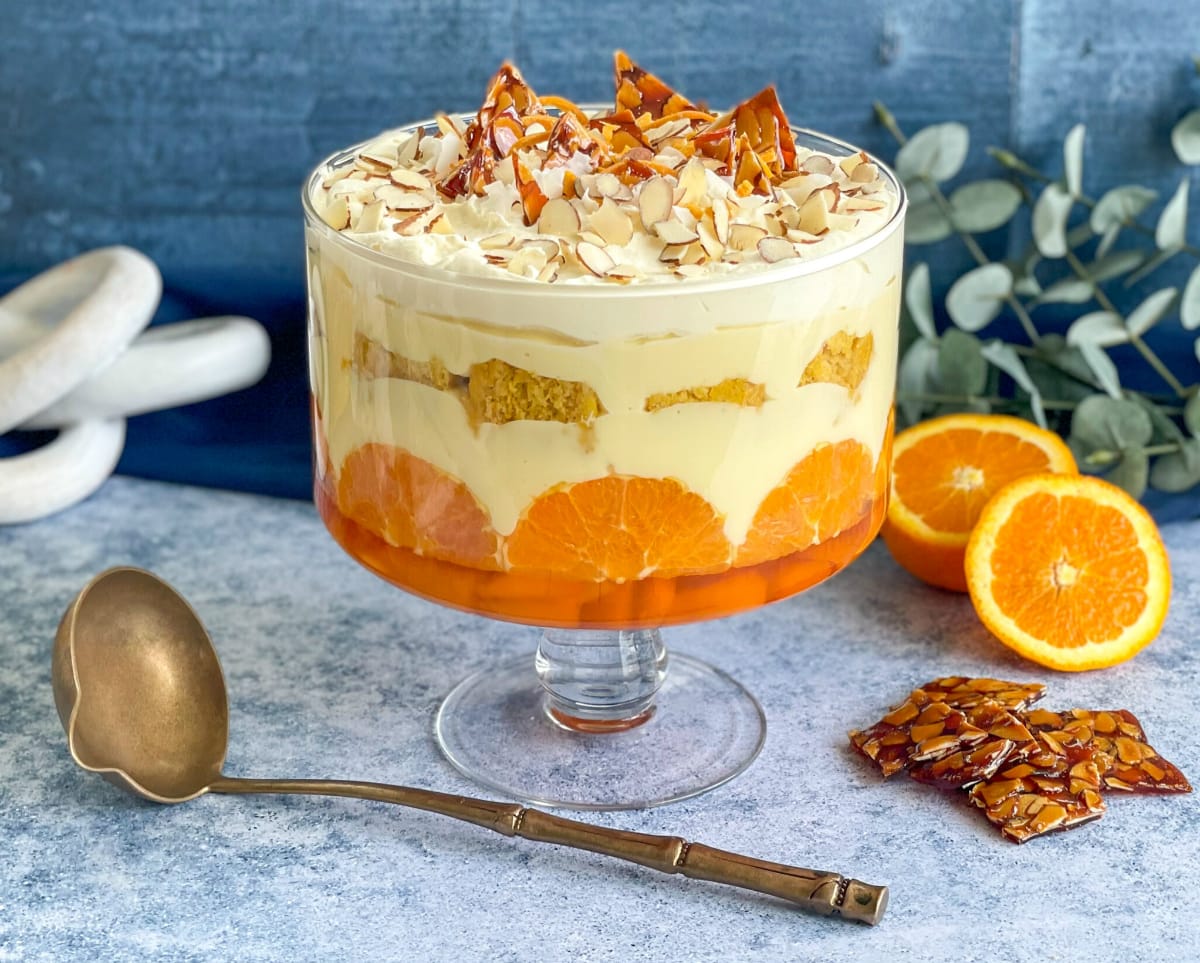 Thank you so much for stopping by to check out my latest recipes on my blog. If you are not already, be sure to follow me on Facebook or Instagram for more deliciousness, and you can register your email in the subscription box below to receive all my recipes as I publish them.
Happy Baking!
Anna
Pin It! Pinterest