This recipe for Classic Trifle is so easy – the messiest tastiest festive dessert.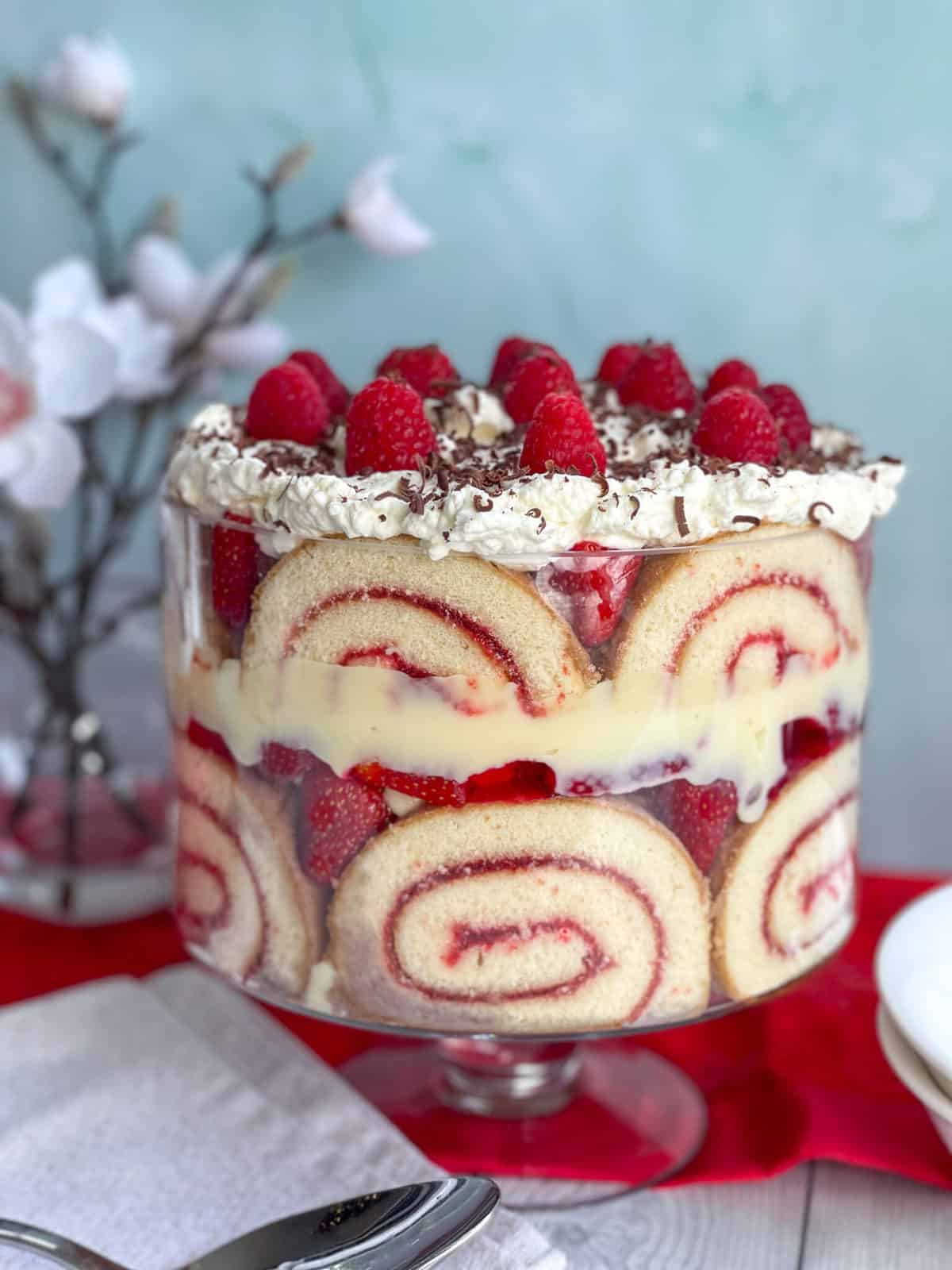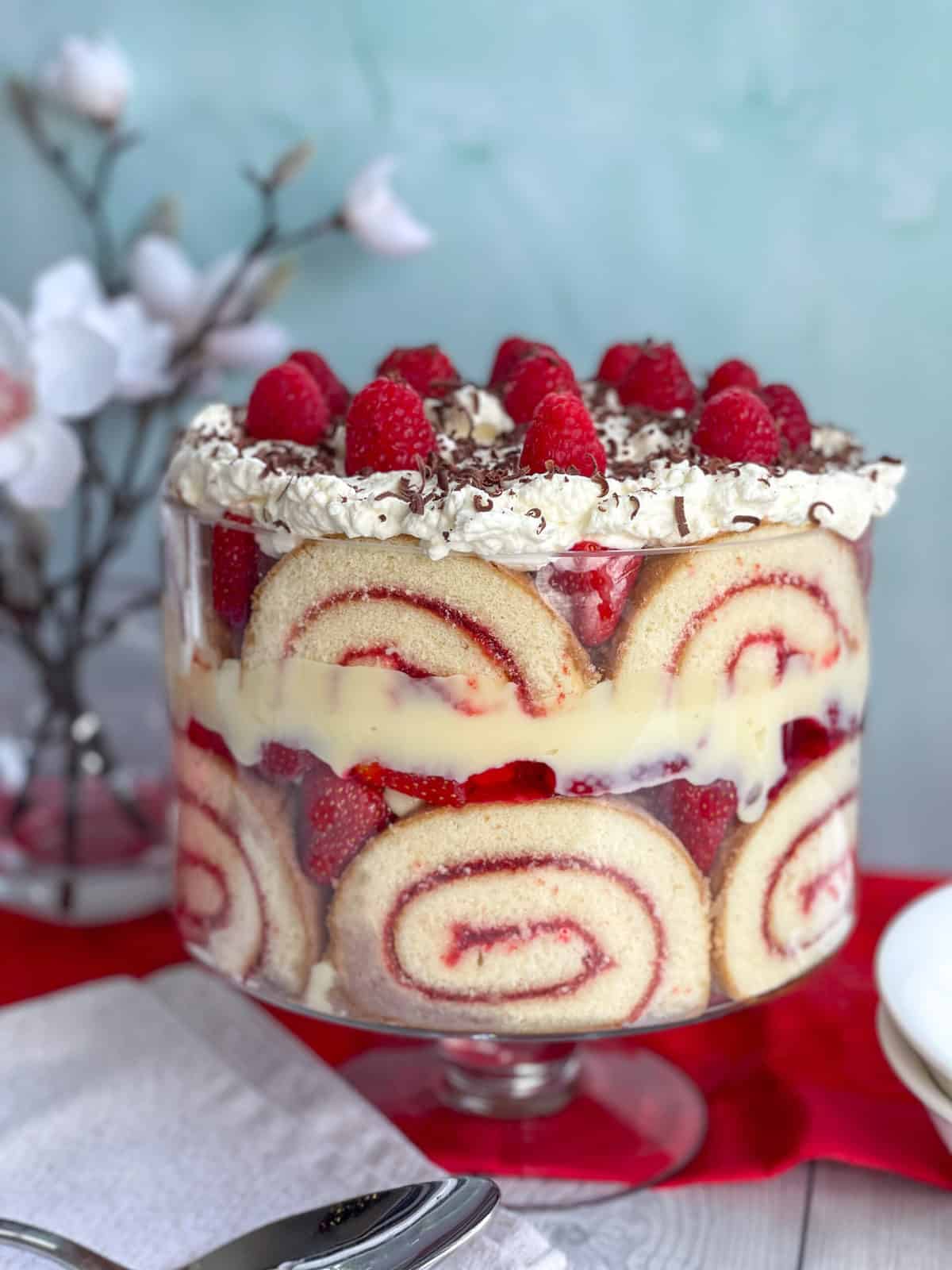 Ingredients in this recipe have been gifted by Countdown Supermarkets as Brand Ambassador, all opinions are my own
You can definitely say I am obsessed with the humble trifle. I now have three of the beautiful desserts on my website but until now I had not shared the classic trifle recipe. They are such pretty and delicious desserts.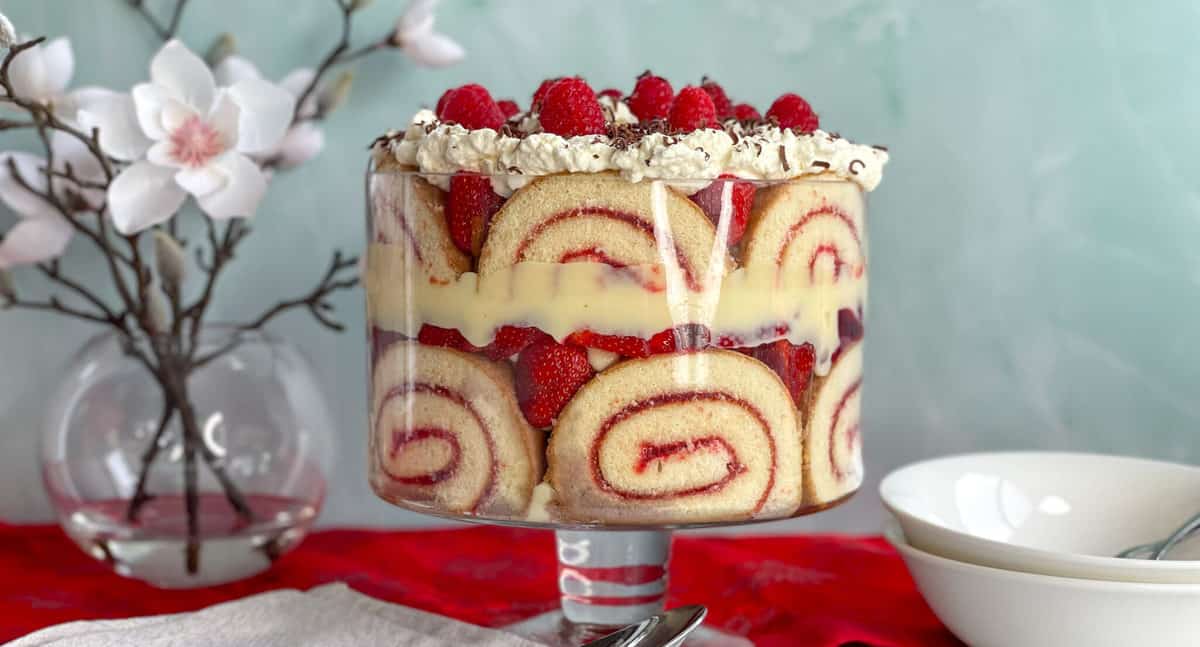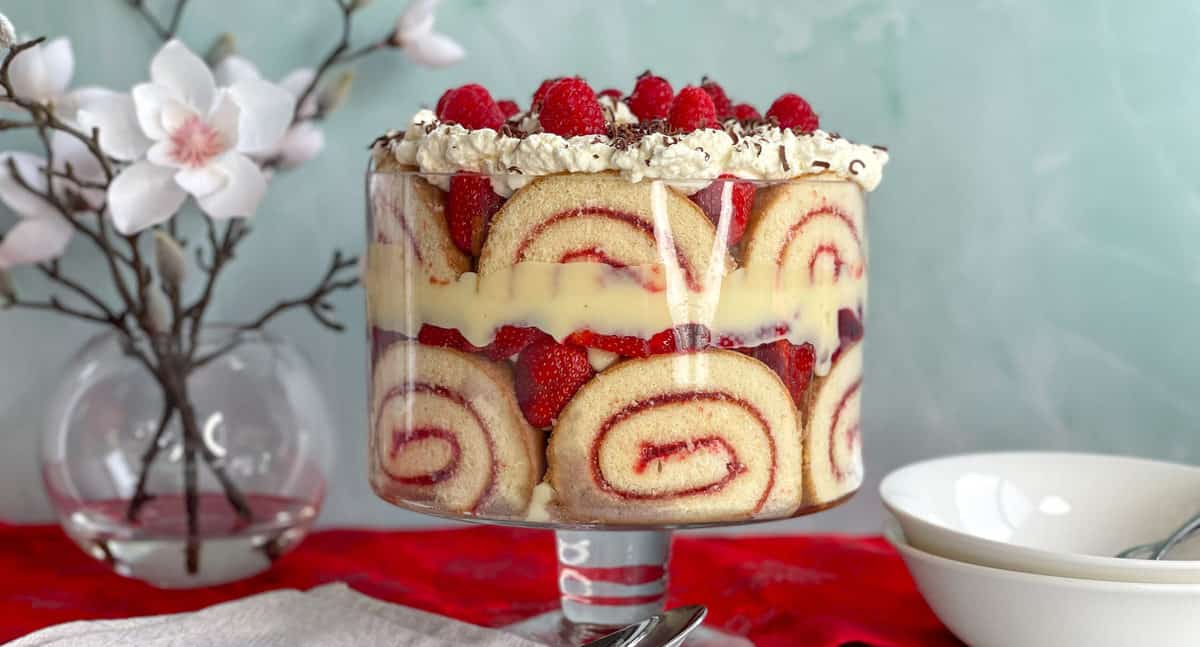 This simple dessert is traditionally a combination of sponge (usually with a generous splash of sherry!) custard, fruits and all topped with whipped cream. I of course have amended it a little but the basic layers remain the same.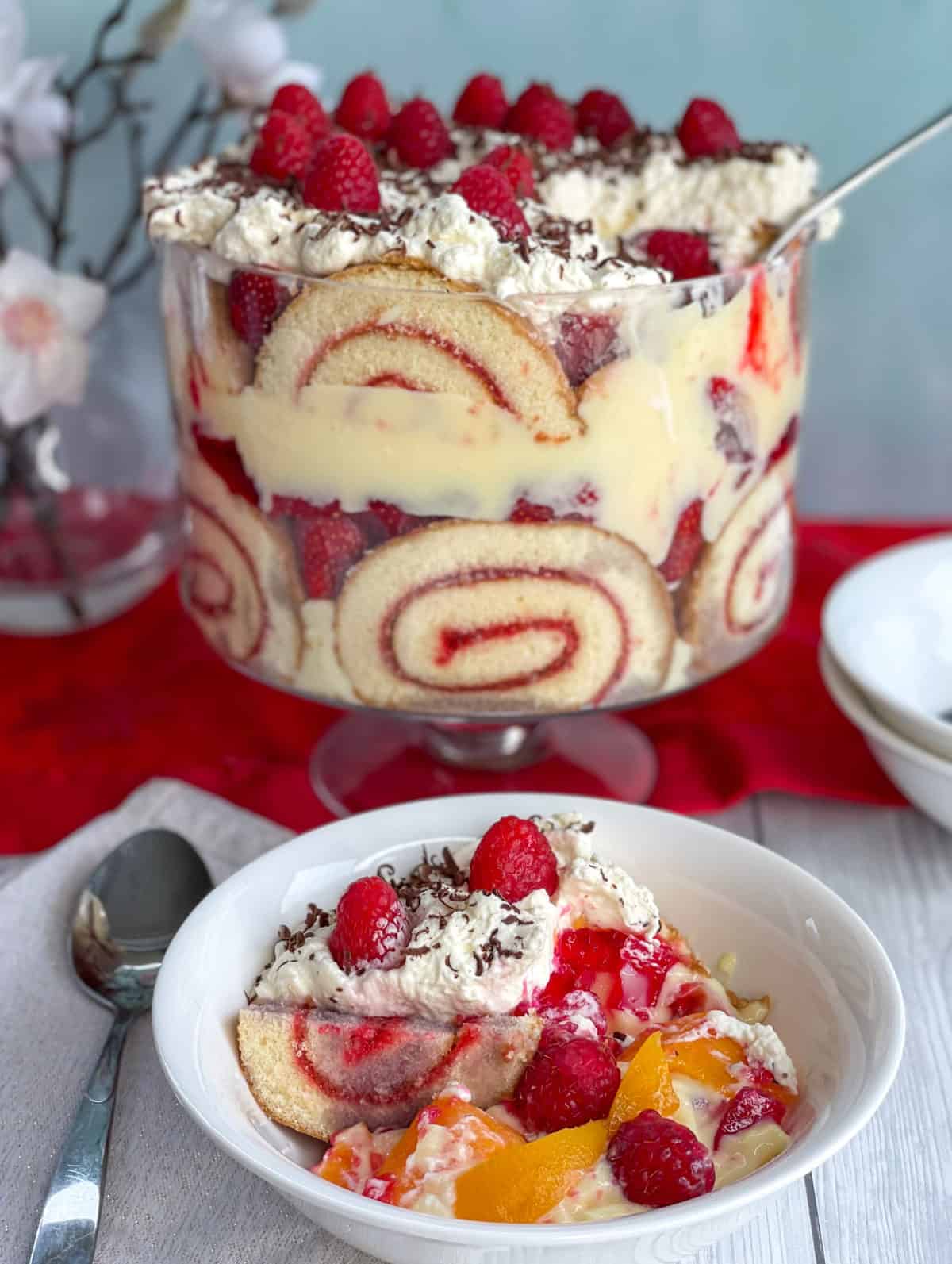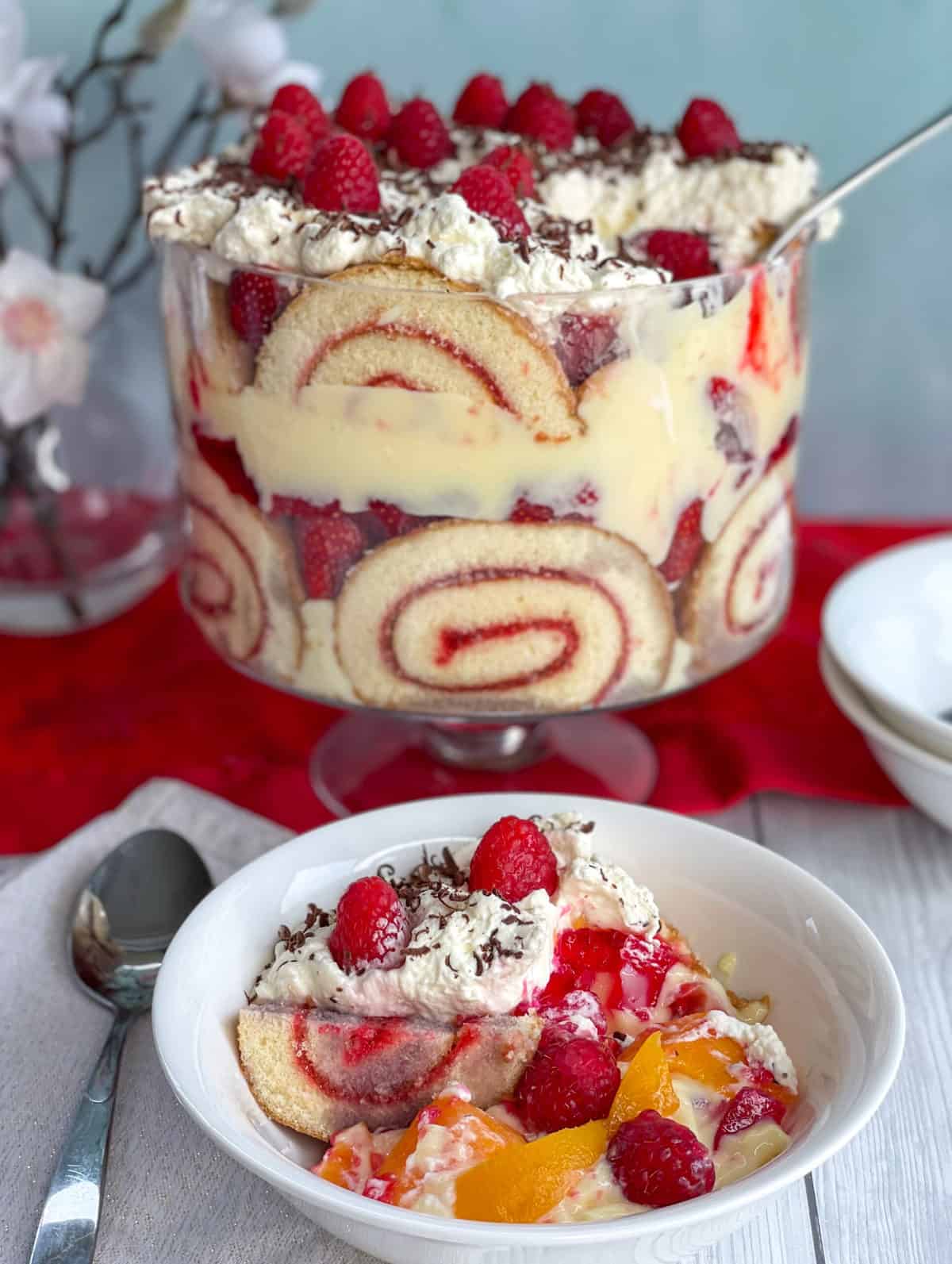 These are some common questions I get asked about trifles so I thought I would cover them here before we get into the recipe.
Should I use Sherry or Orange Juice in Trifle?
The choice is yours, traditionally sponges were considered the boozy dessert or tipsy pudding. We serve ours with orange juice so the kids can enjoy it, but for adults feel free to add as much or as little sherry as you like. 1/2 Cup is a suggestion, for a drier cleaner dessert reduce this, or use an amount to your liking.
Can I leave off the cream?
Yes absolutely, you can simply add more custard to the top of the trifle and decorate that. The cream is best made as you are serving.
What can I use instead of jam sponge rolls?
Use store bought sponges and cut these in half. Spread one half of the sponge in strawberry jam and place the other half on top. Slice into fingers and use this in place of the sponge roll in the recipe.
What size Trifle bowl do you use?
I use a 3.5 litre trifle bowl. Feel free to amend the ingredients if yours is smaller or bigger.
Can I use other fruit?
Absolutely. Peaches and strawberries are lovely together, but you can use summer stone fruits only or all the berries. The choice is totally up to you.
Can I make trifle the day before?
Yes definitely, in fact I recommend it! The flavours then have time to infuse together and create the delicious messy dessert that is trifle.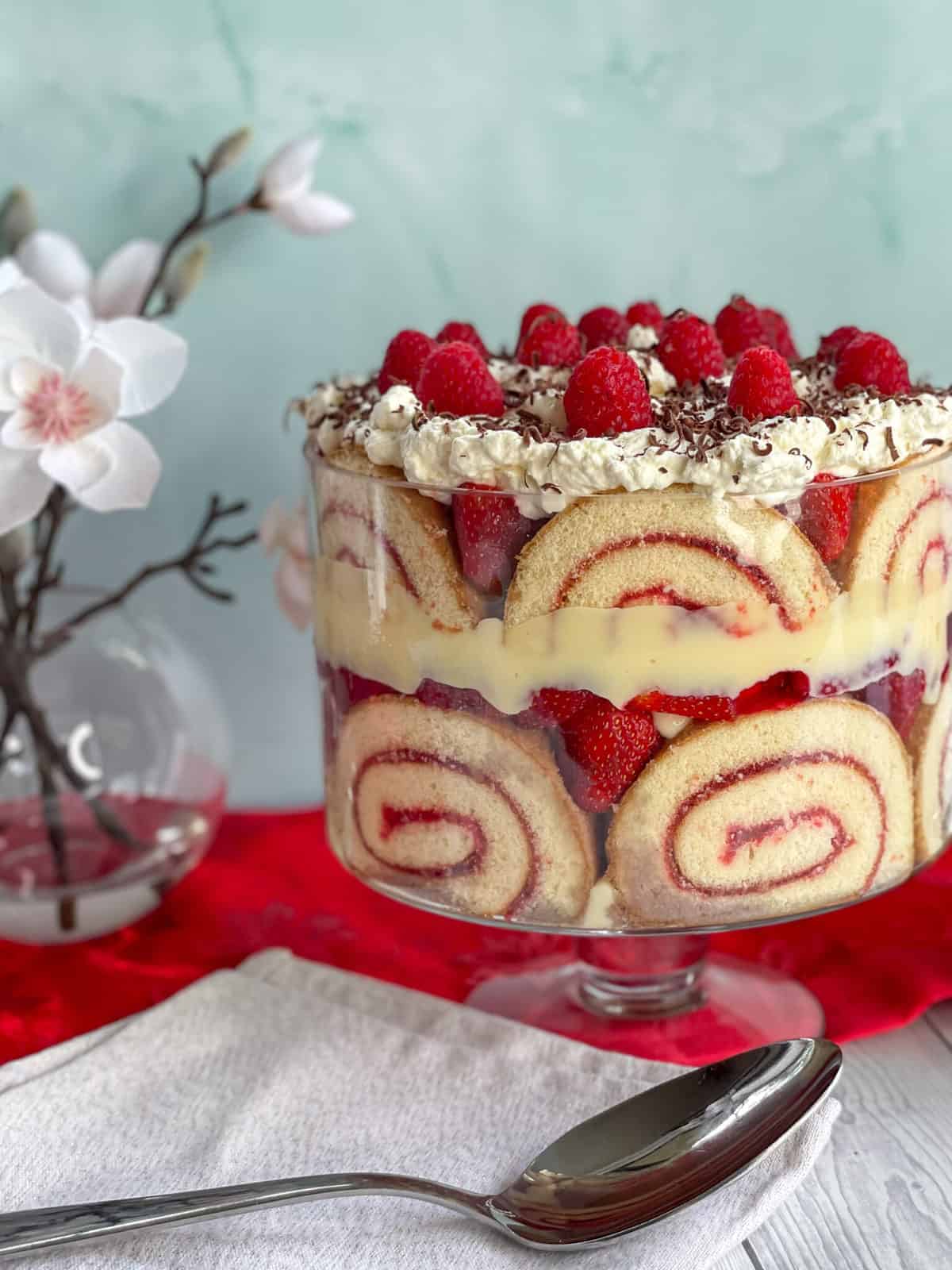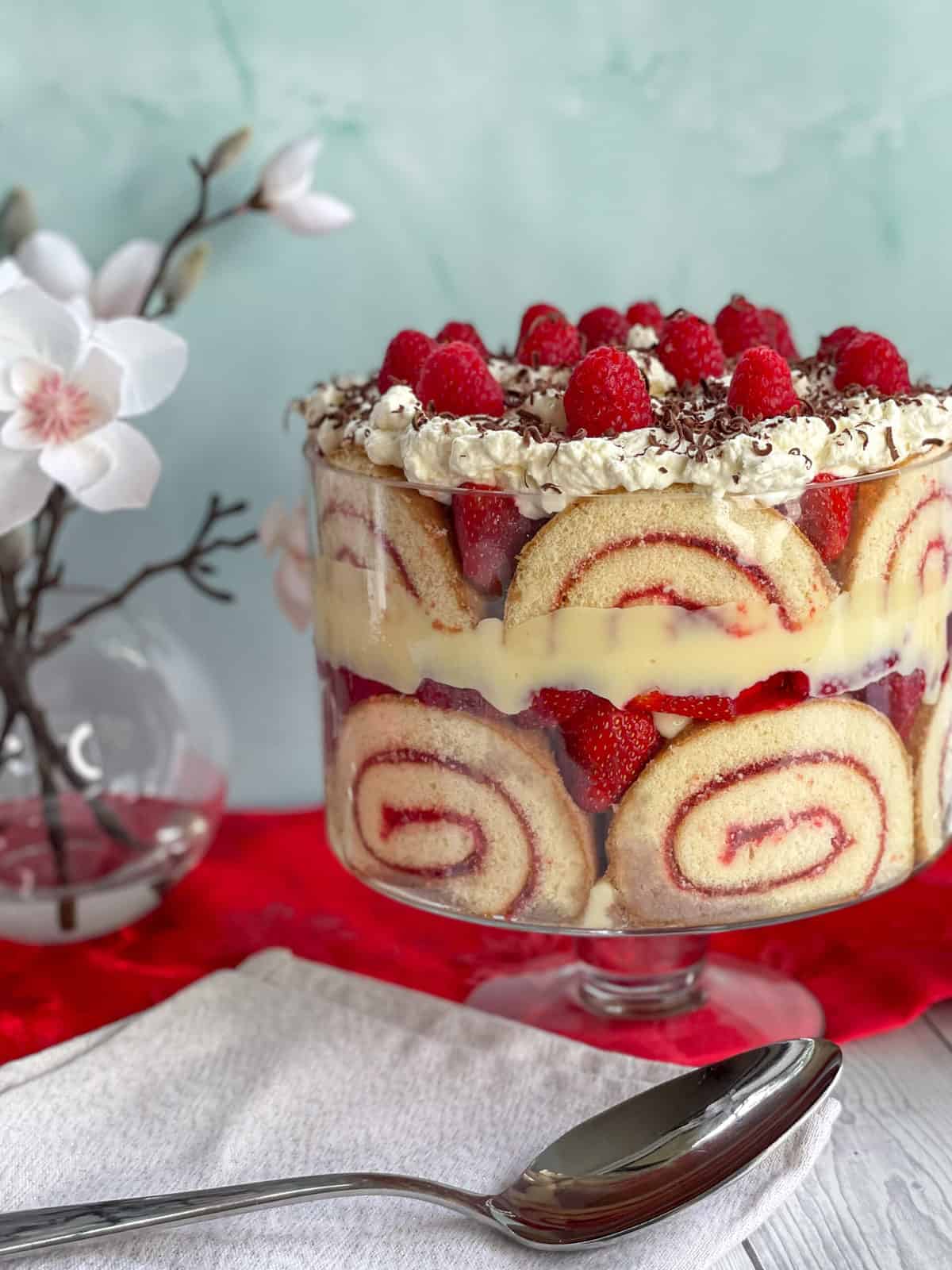 The ingredients I have used today are (scroll down to the recipe card for the quantities & method)
Jam Rolls

Sherry (or Orange Juice)

Custard

Peaches

Jelly

Strawberries

Whipped Cream

Raspberries & Shaved Chocolate to finish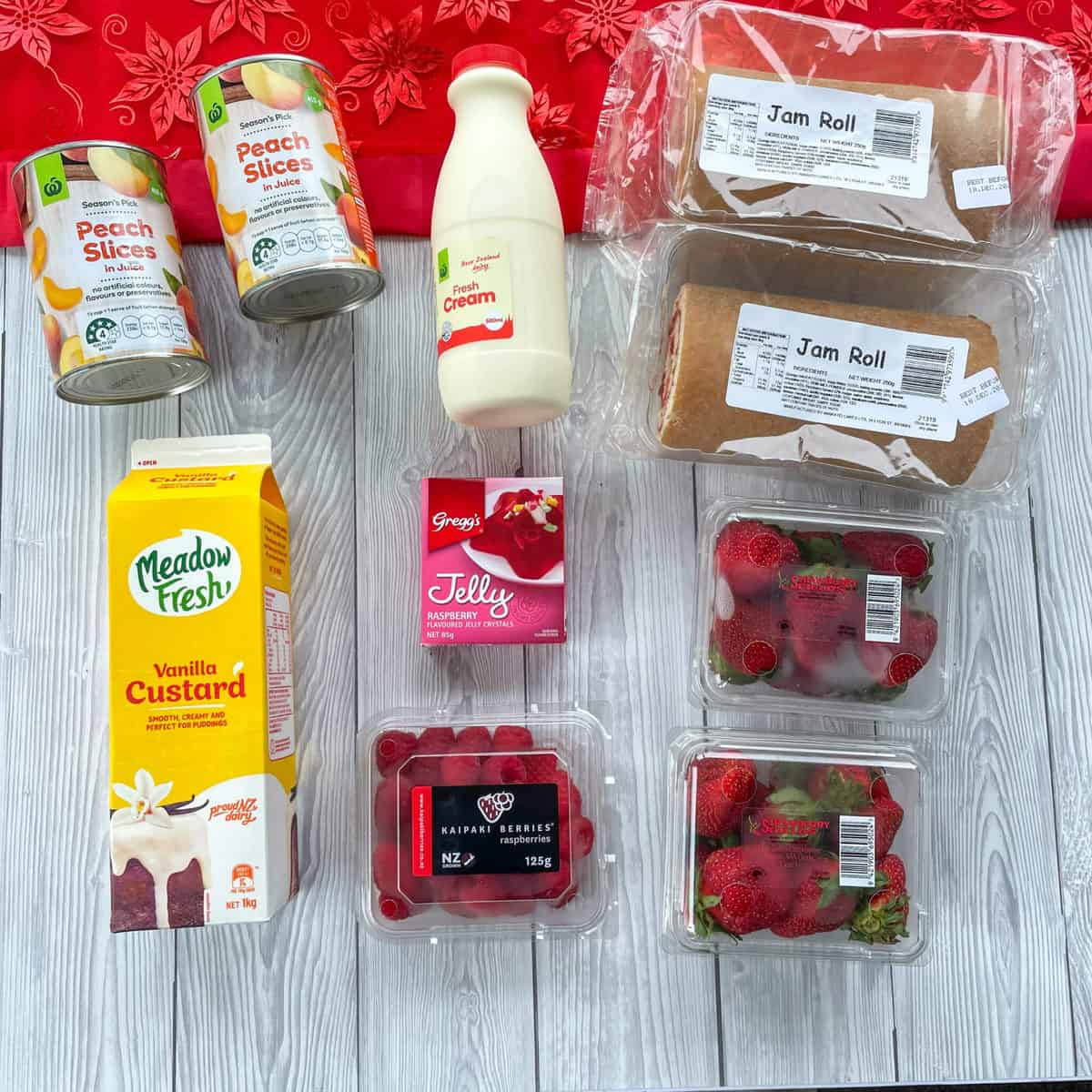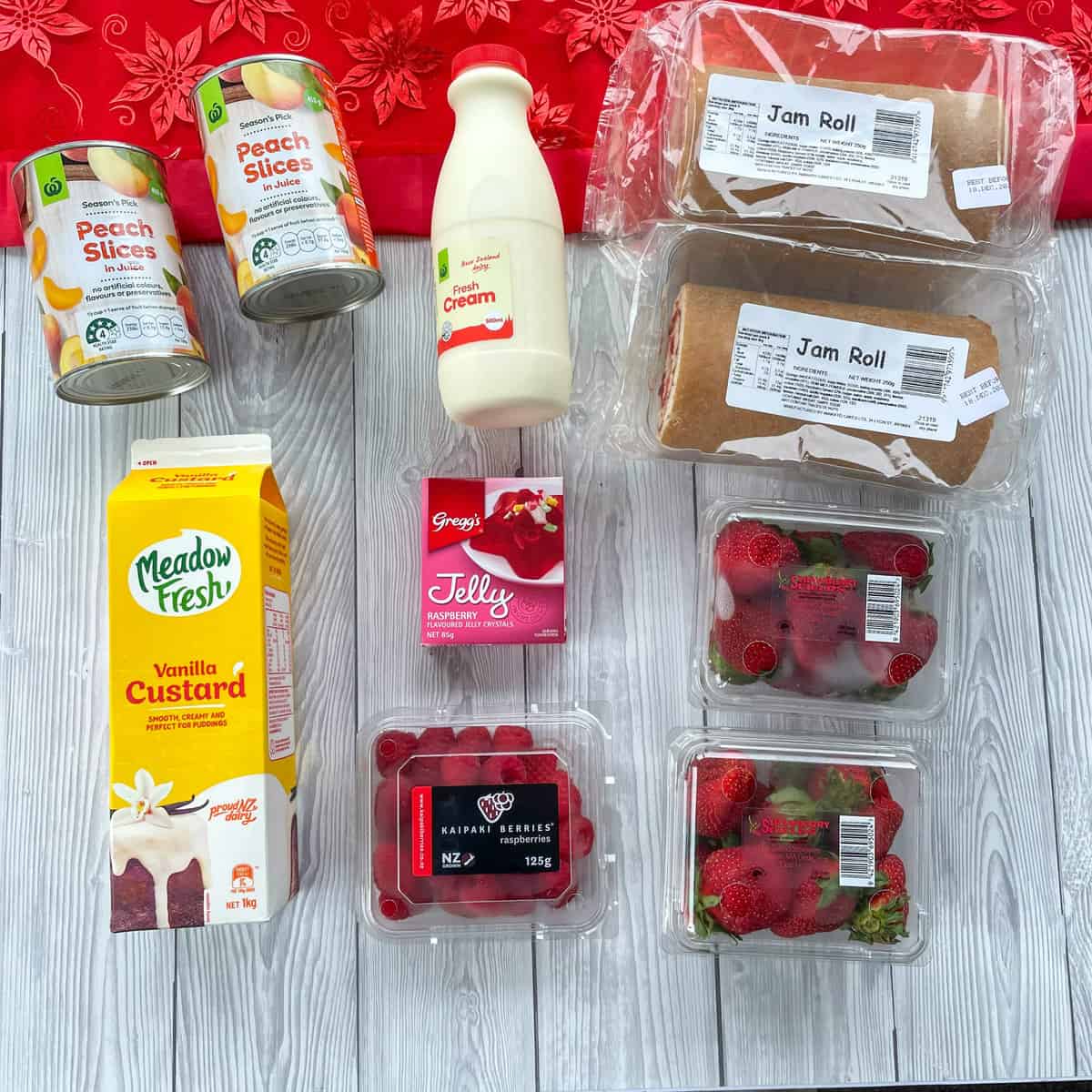 Everyone has their own methods for making trifles, traditionally they have been a tipsy dessert that is laden with sherry to soak the sponge. Some love a soggy trifle, others do not. If not using Sherry you can use orange juice in its place.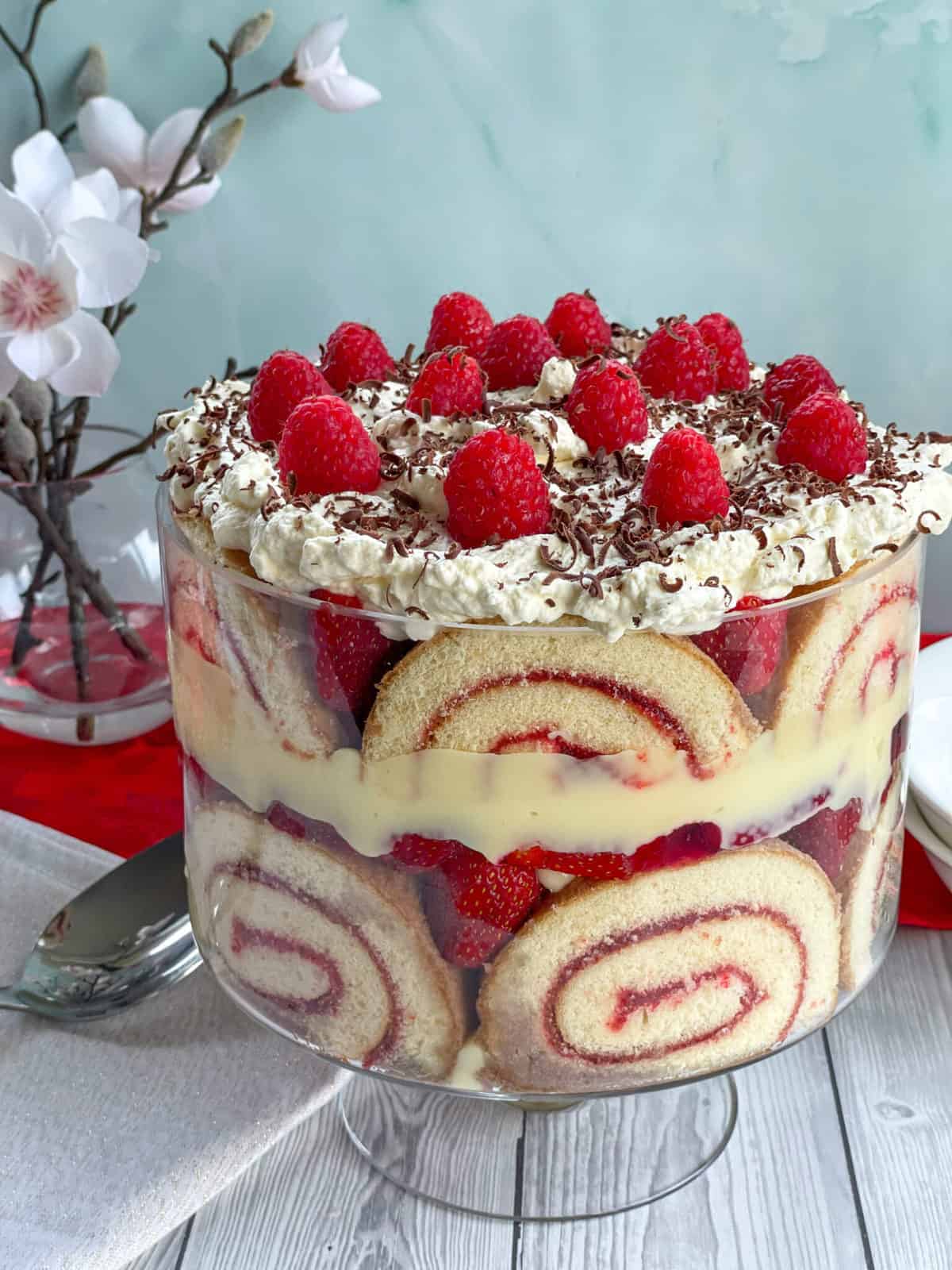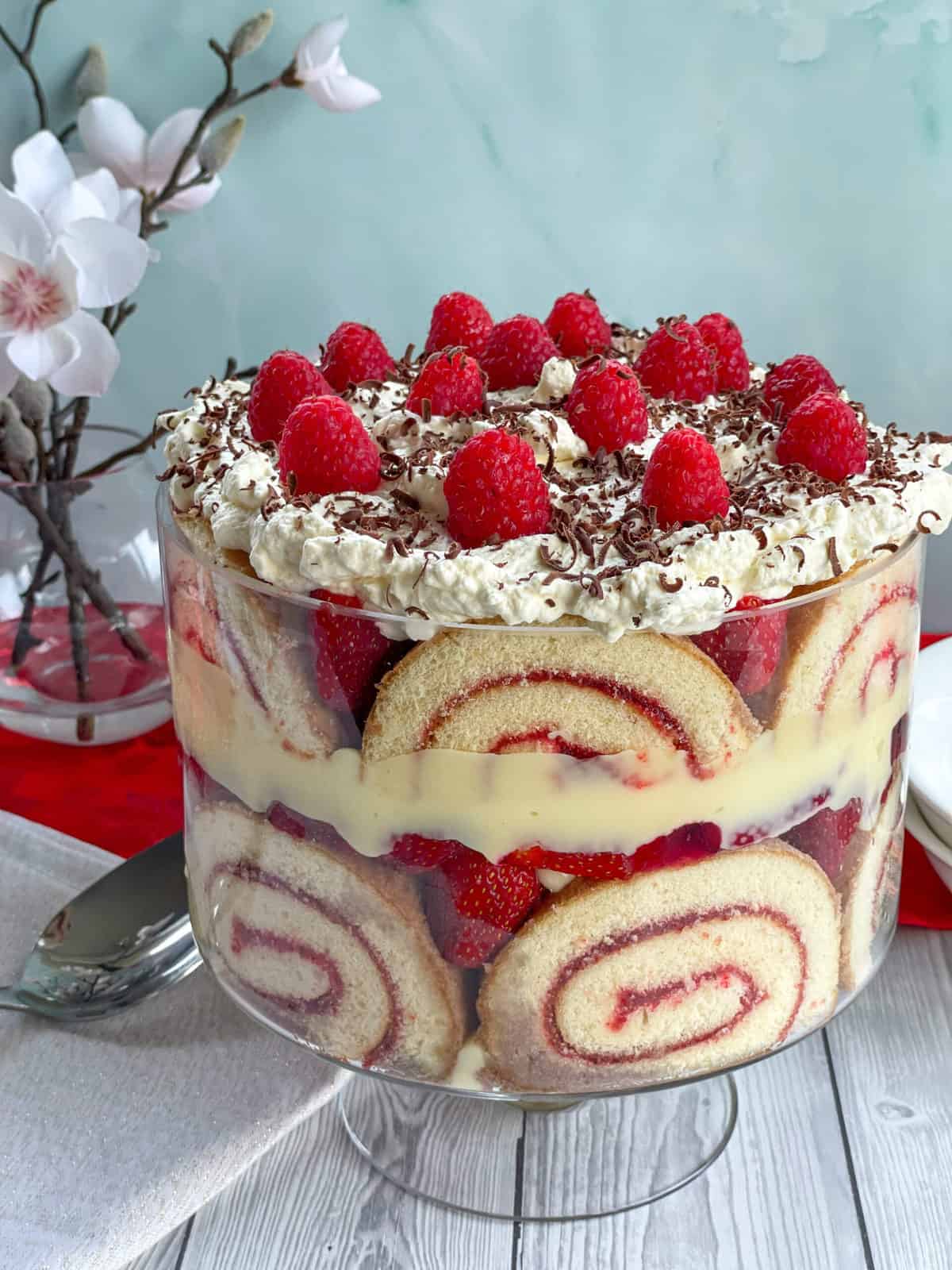 I can tell you one thing, a soggy sponge does not look great to photograph but tastes great, so make YOUR sponge for eating not photographing! I have not added extra liquid to mine like I normally do so the jam roll looks cute but definitely add it to yours if you like all the flavours.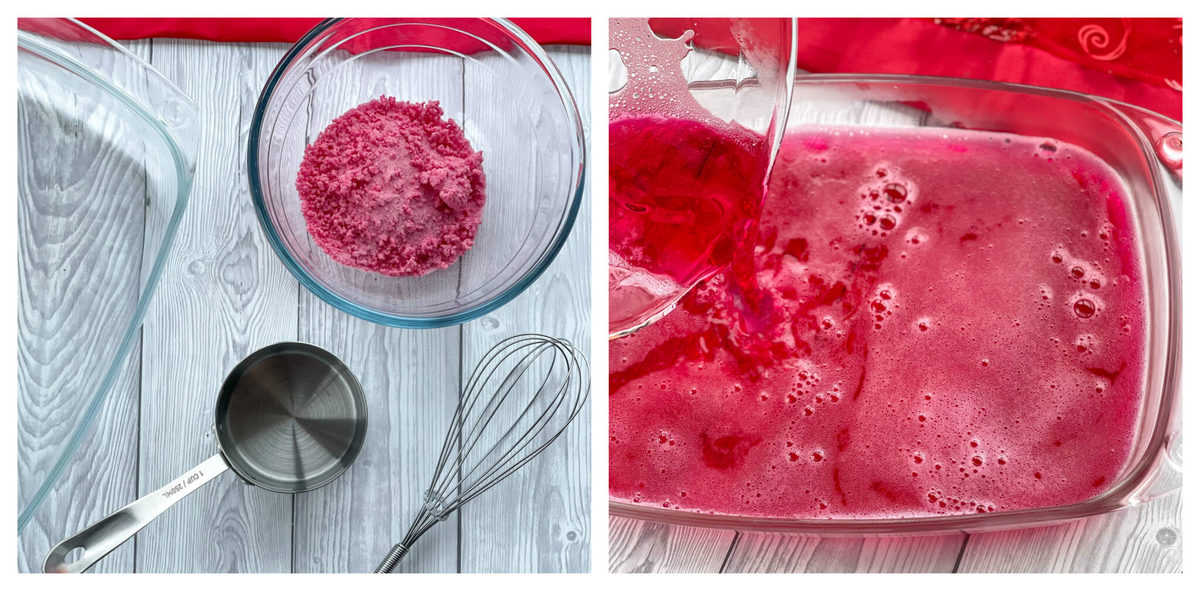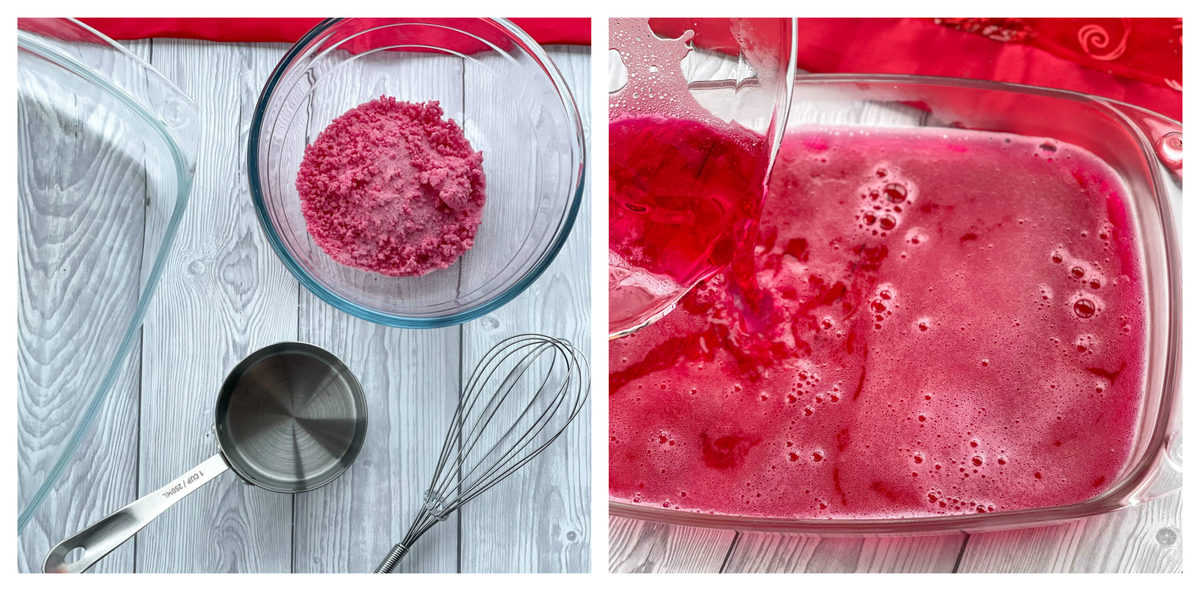 The day before or at least 4-5 hours before you need to make the jelly. I do this in a large shallow baking dish so it sets quickly and I can slice it into squares to place around the fruit in the pudding.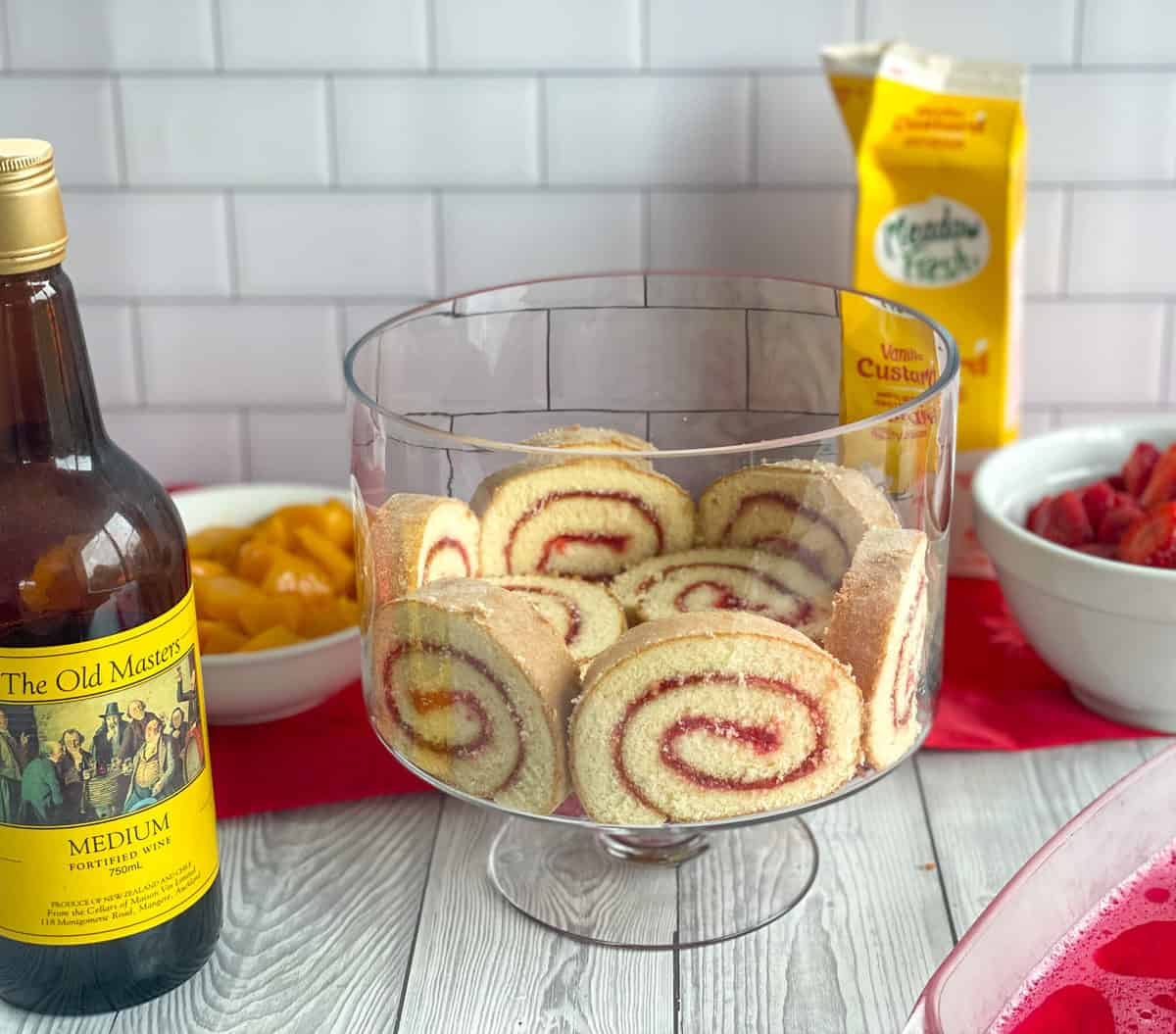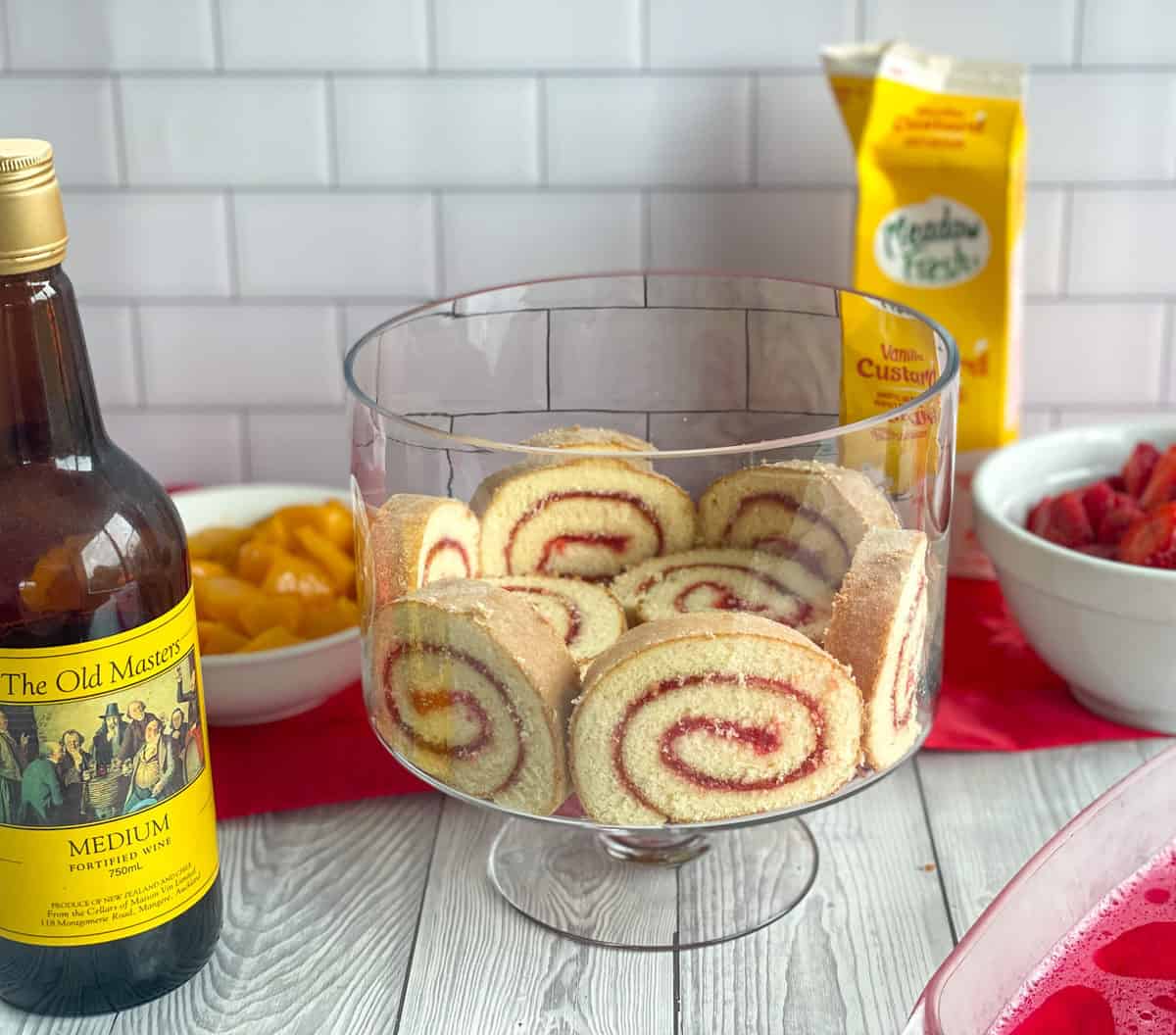 I have used a premade Jam Sponge roll here today as I love the look of it, but you can use any sponge and cover with strawberry jam before adding to the trifle bowl.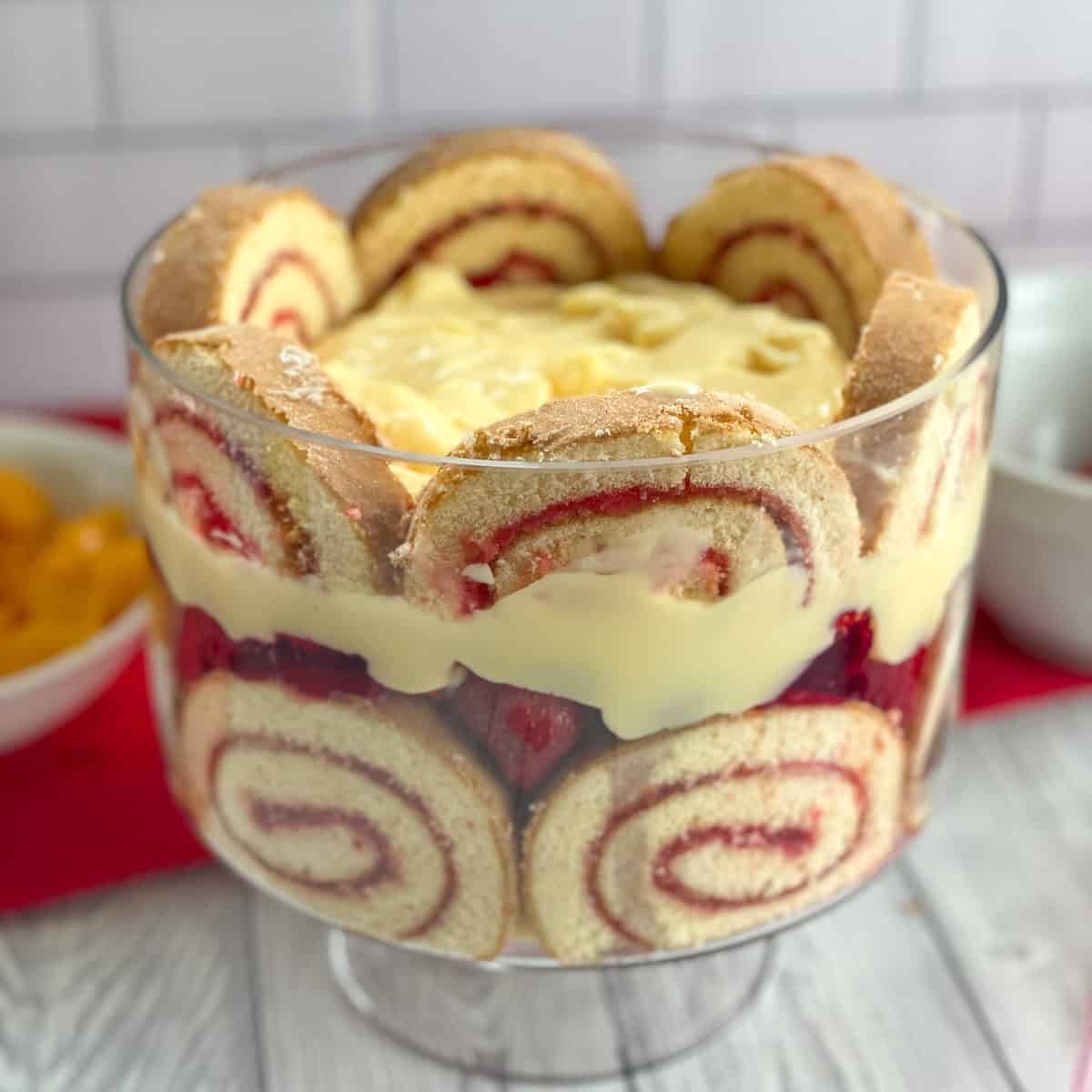 Here is detailed information about how I assemble the trifle, Feel free to scroll down to the full method below. I like to have everything ready beside me, so the peaches drained and diced, the jelly sliced into squares and the strawberries hulled and sliced in half etc
I usually use store bought vanilla custard but you are welcome to make it homemade also.


I like to lay the sponge roll pieces around the side then base of the trifle bowl and lightly pour over some of the liquid you are using. Then to this I fill with almost half the custard. Then layer half the peaches, jelly and strawberries then a thin layer of more custard.
Add a layer of sponge roll on top of this and around the top of the trifle bowl, I trimmed mine down here to allow them to fit up the sides.


Then repeat again with custard, fruits and jelly pieces. If you are not serving immediately cover the bowl, refrigerate ideally overnight or for at least 4 hours for the flavours and textures to meld together.
When ready to serve whip cream and decorate with raspberries and shaved chocolate or a topping of your choice.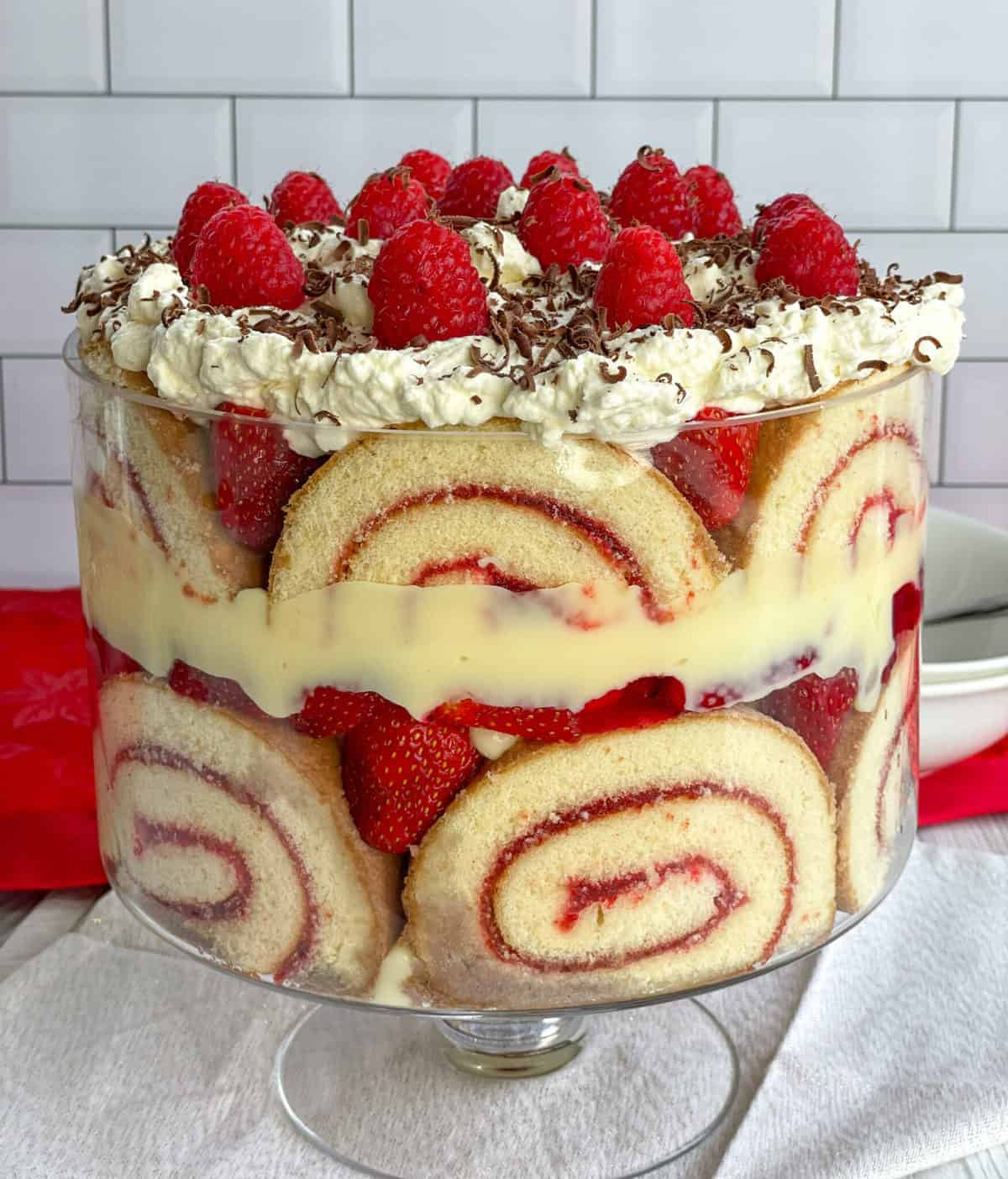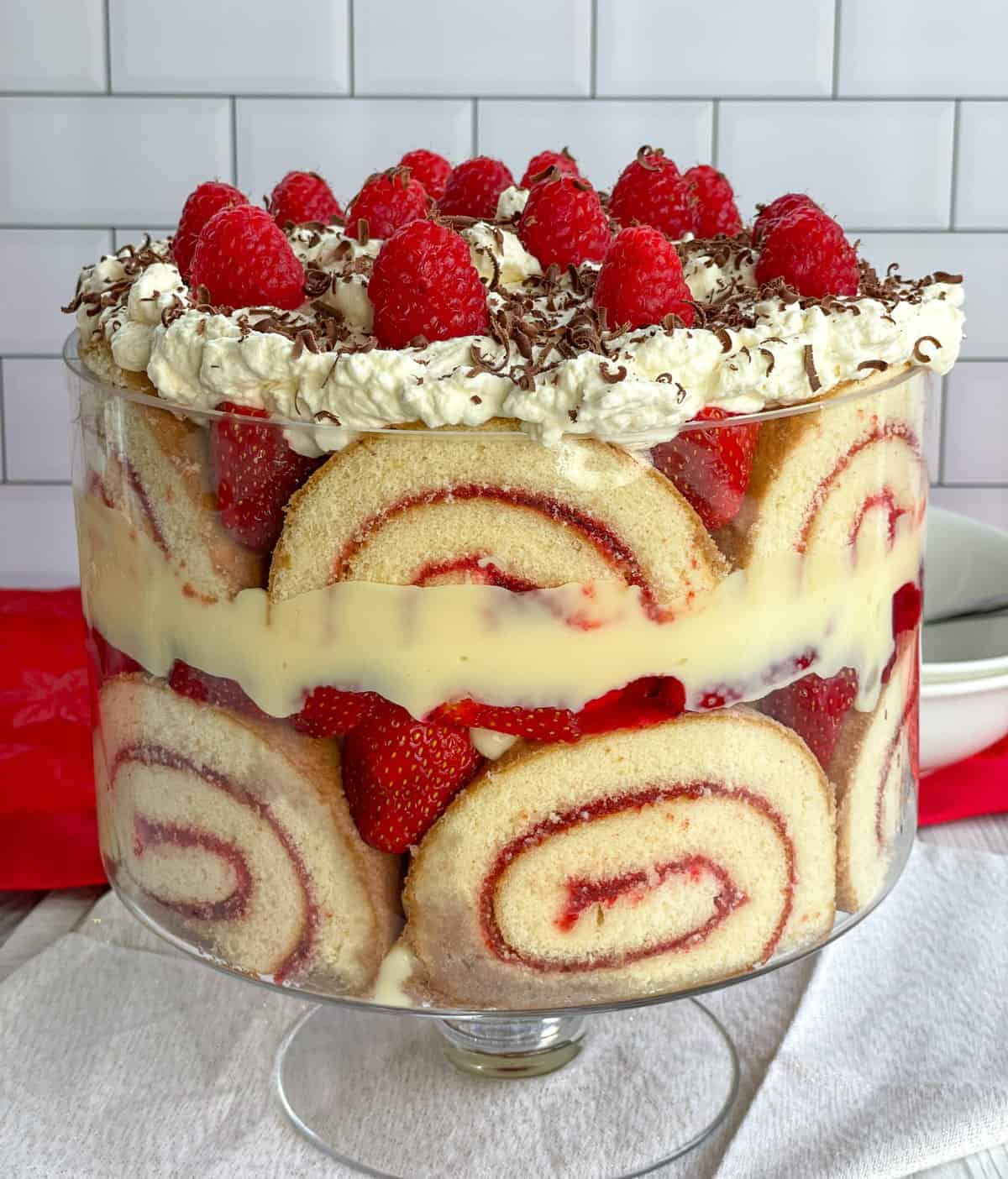 Also trifle is THE BEST breakfast food and I know many of you agree, trifle the day after the big event is a highlight of my year!
I have two other trifle recipes that are just as delicious for something different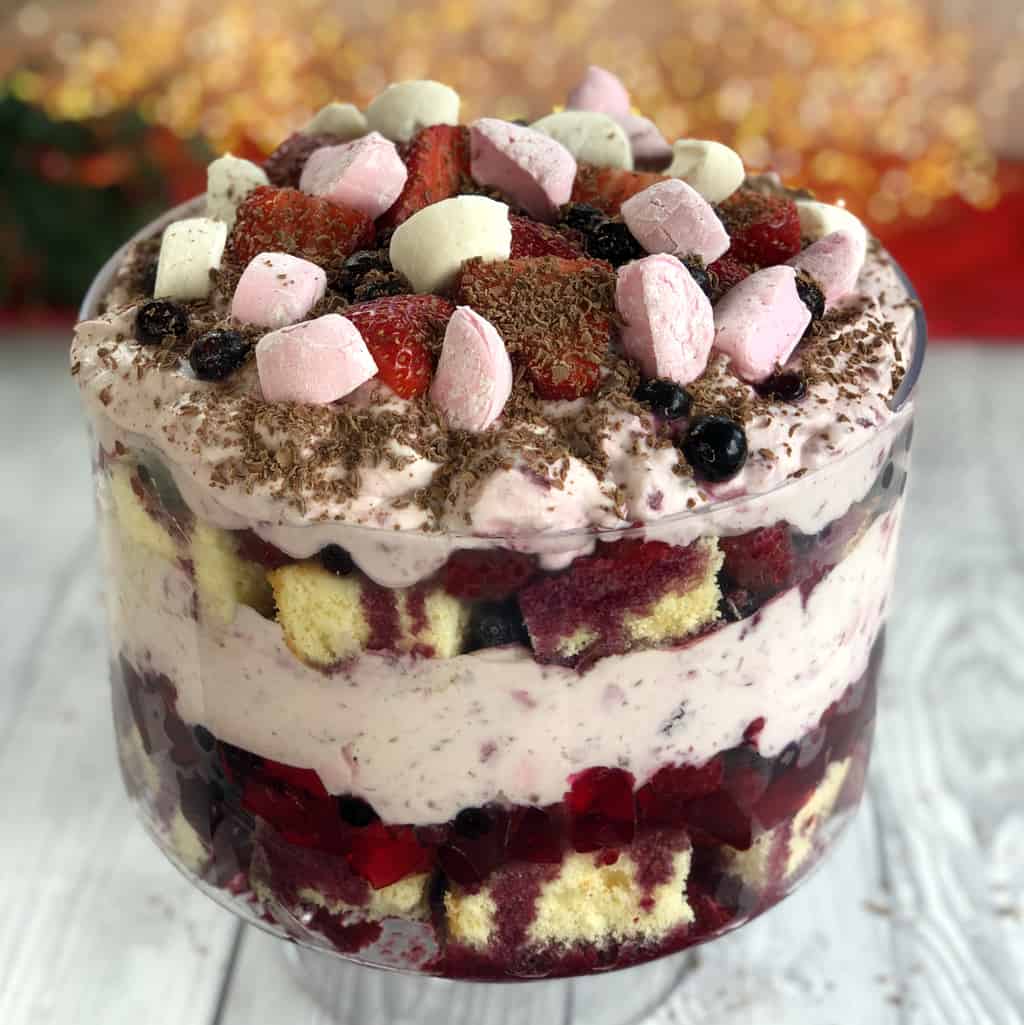 Maybe make all three and see which one is the best? I would happily judge your trifle-off.
Onto the recipe for this classic trifle, I hope you enjoy it.
I hope you love this recipe as much as we do, as always be sure to let me know what you think in the comments below.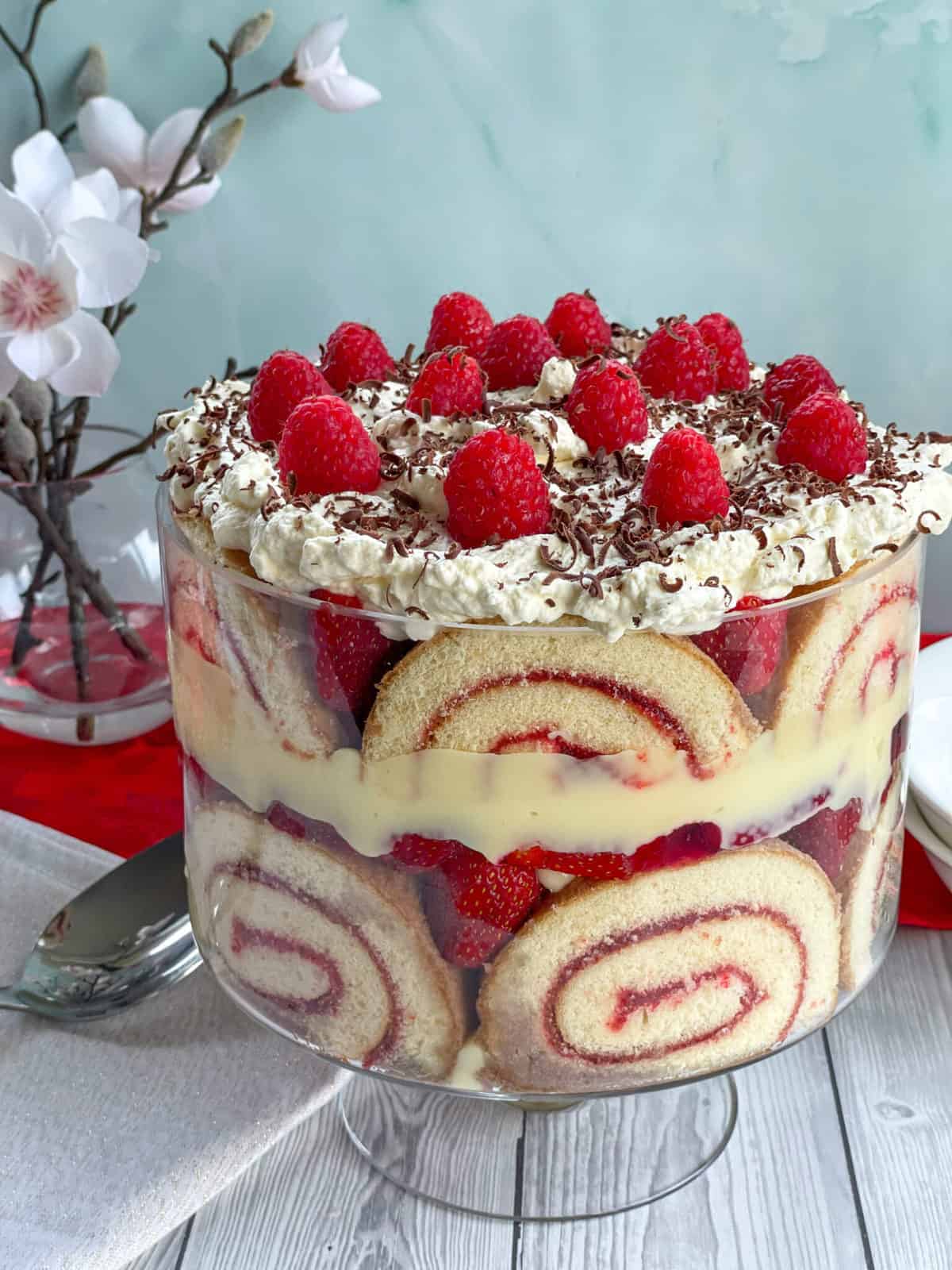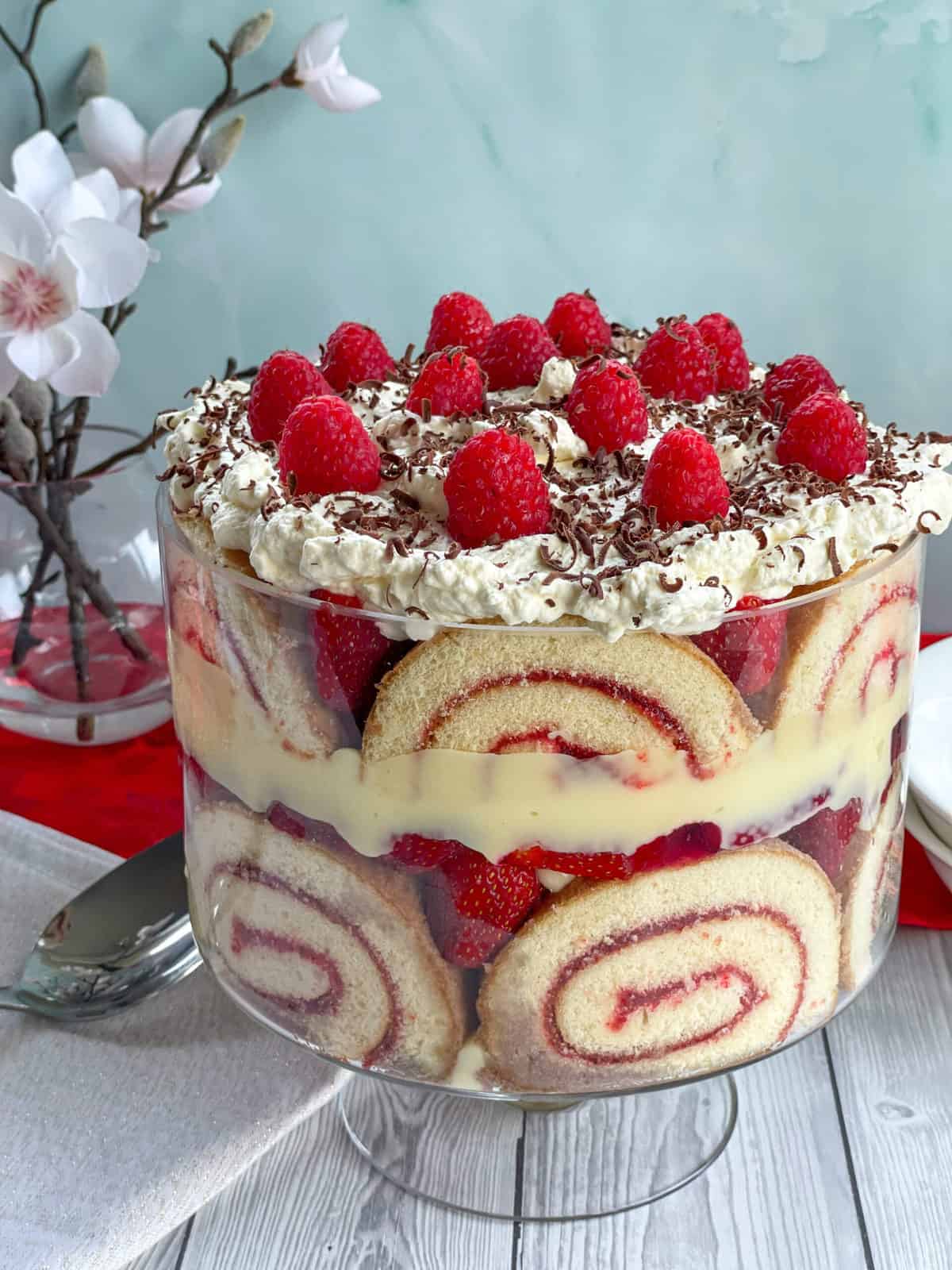 Thank you so much for stopping by to check out this recipe. Please also follow me on Facebook or Instagram and you can be one of the first to receive my new recipes by subscribing via email in the link below.
Happy Baking!
Anna
Pin It! Pinterest