Christmas desserts do not have to be that time consuming or complex, especially here in the Southern Hemisphere where fresh fruit and divine berries are available all Summer long. This Mascarpone Trifle is definitely one to try!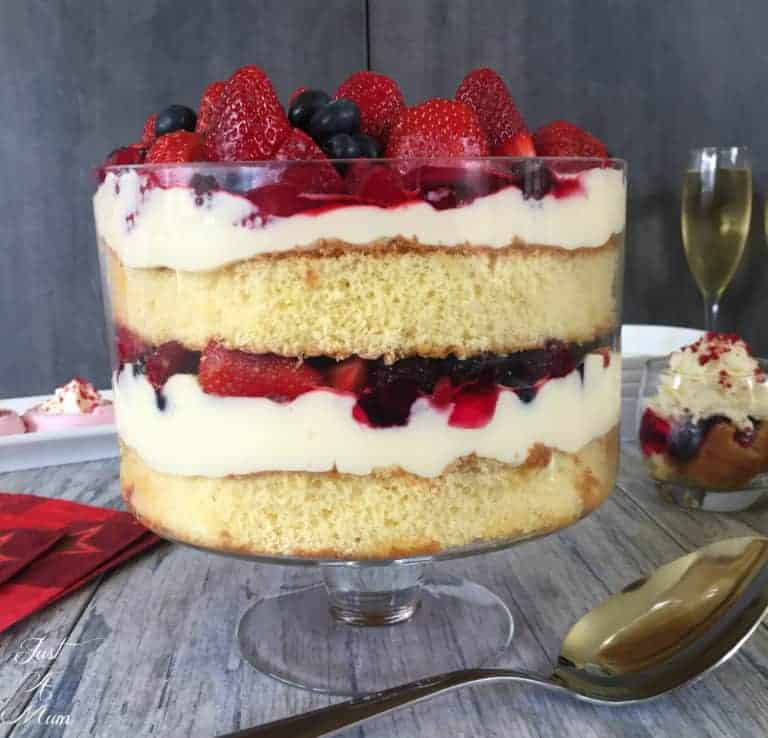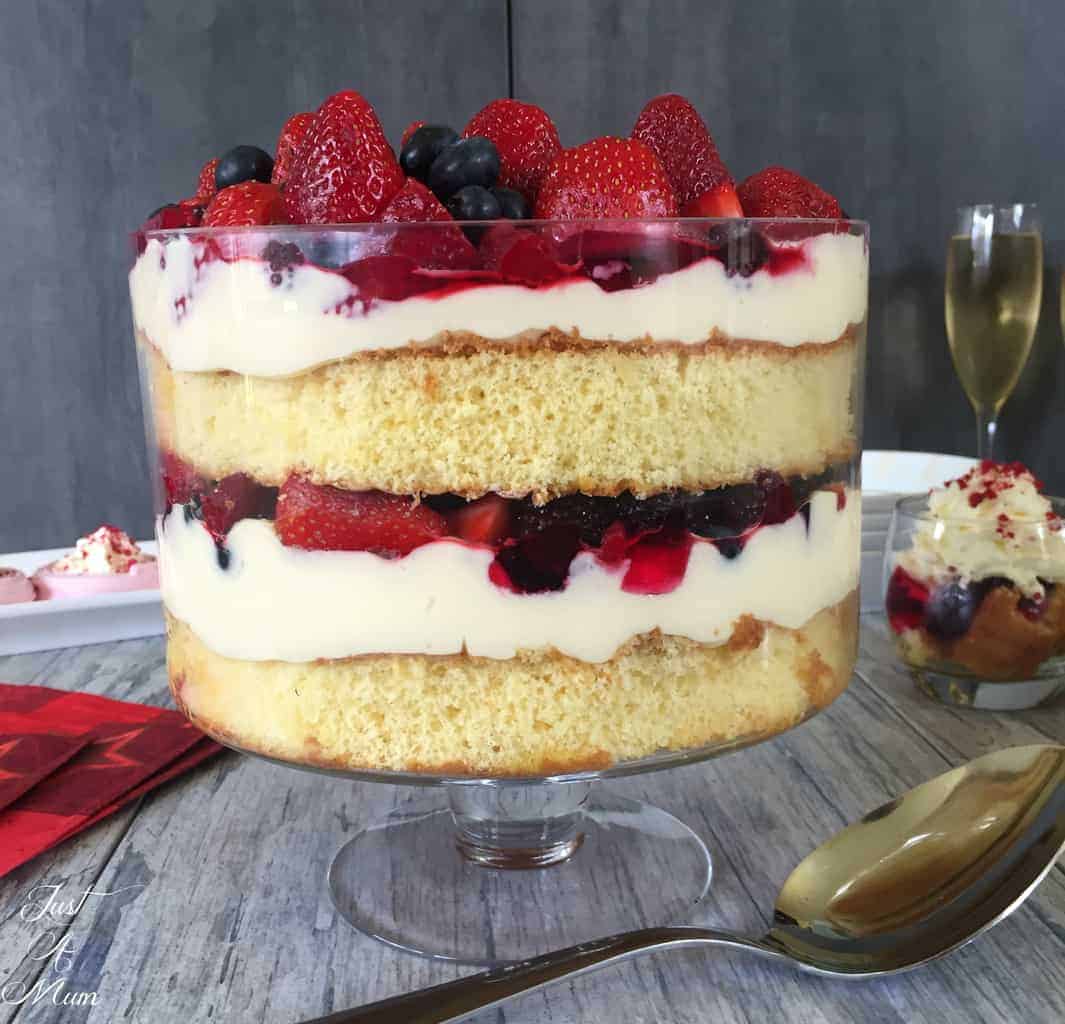 Summer desserts can be simple but absolutely be beautiful and delicious!
A trifle is one dessert I have never made (believe it or not!) but I was very keen too, especially this version that was filled with delicious layers of flavours and simple techniques. Trifle has appeared on pretty much every Christmas table since I was a little girl so it is lovely to be able to create my own version.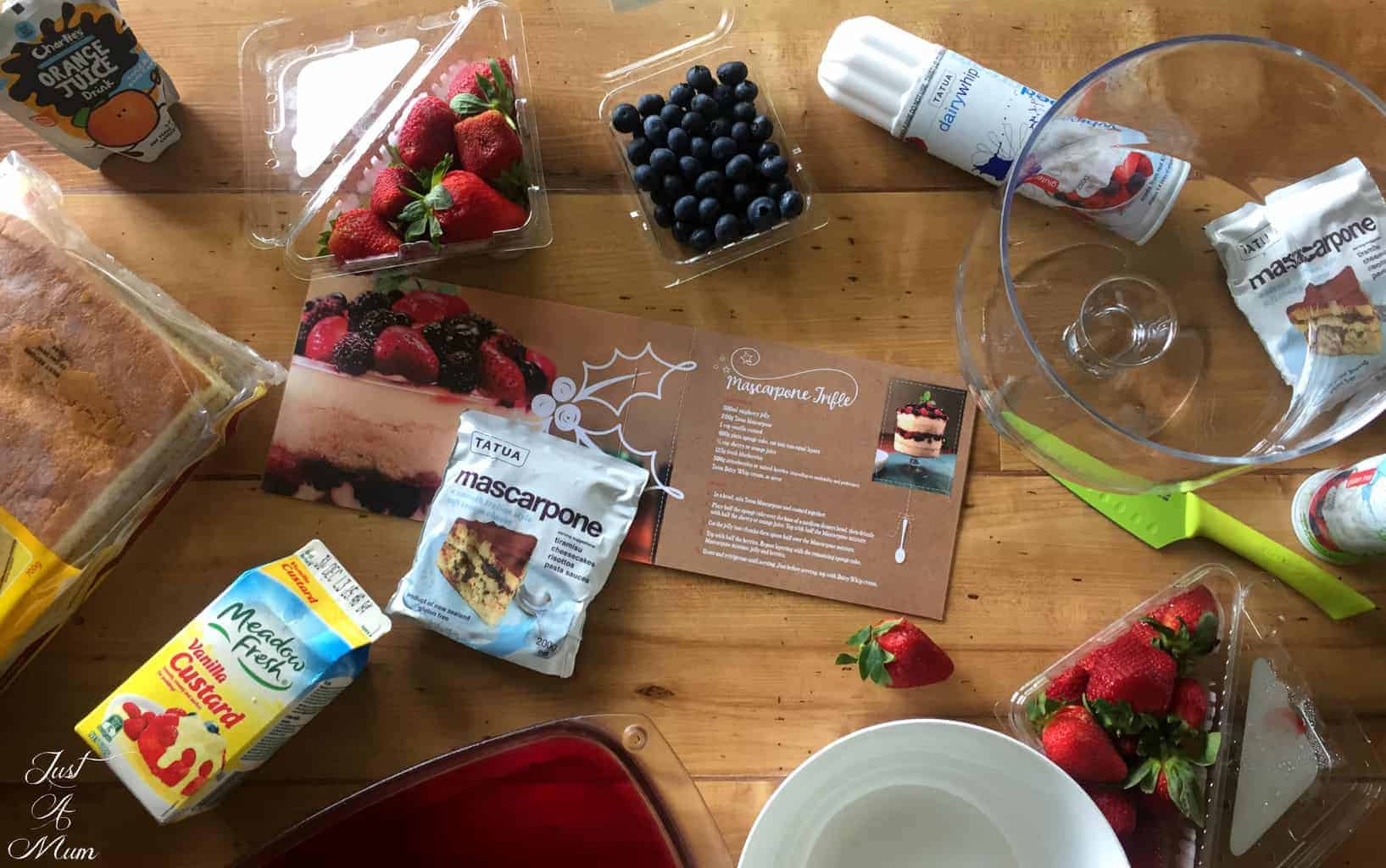 This is one of those great desserts where you spend very little time preparing and assembling. Then you simply pop it in the fridge until you are ready to serve! What makes this one different is the addition of the Mascarpone to the custard for the filling, it is a dream combination. It holds well which is great when you are weighing it all down with handfuls of fresh summer berries!
Also note in my version apart from whipping up a jelly the night before I haven't made anything! So it is simply a matter of buying the ingredients before hand, then fresh berries on the day and setting things up ready to go!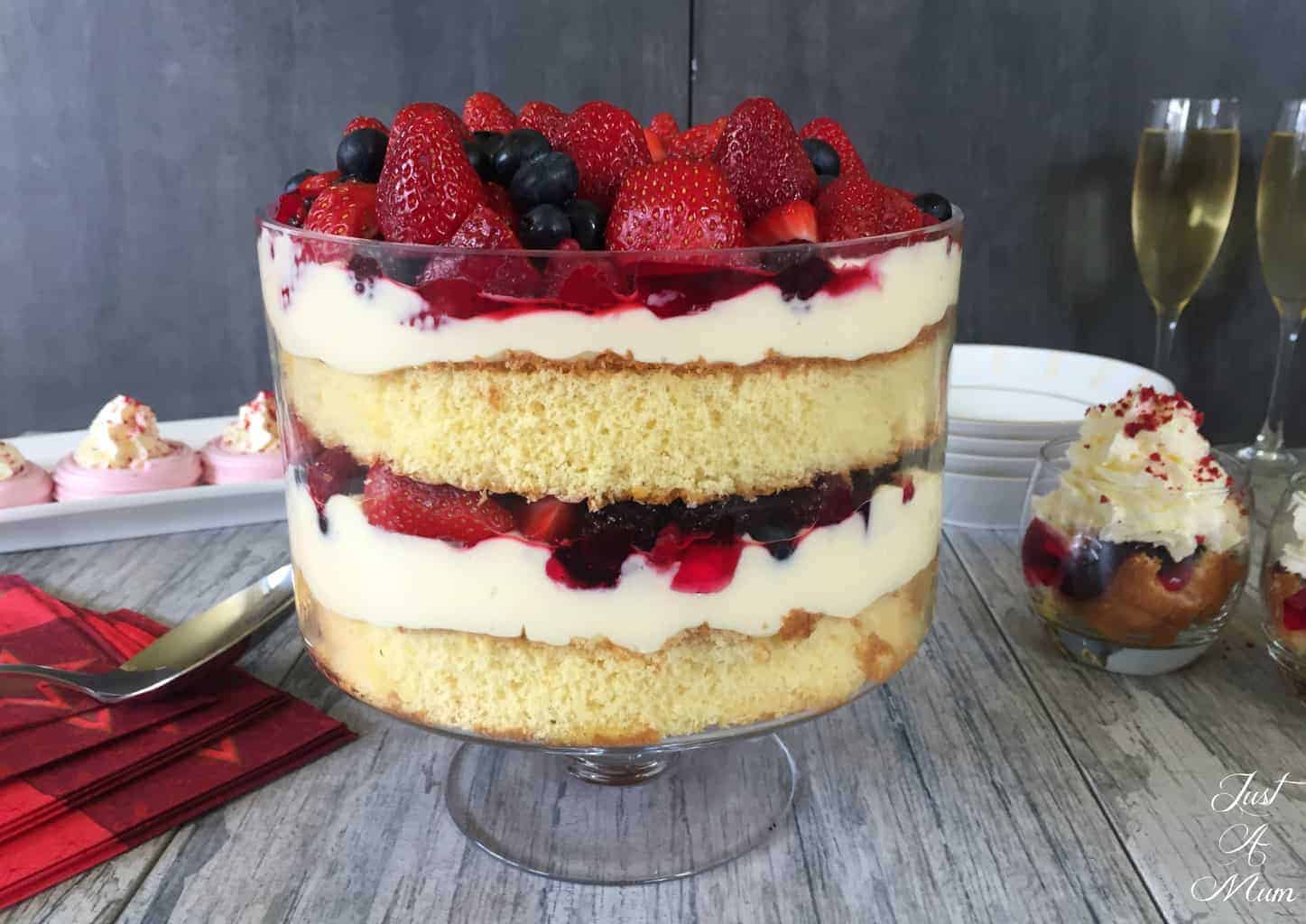 My trifle bowl is a beast – a gorgeous 3.5 litres! So the recipe I will give you below is for this size, if you are using a smaller bowl or making individual desserts feel free to halve the quantities I give. This is one of those recipes where you want to have a quick read through the night before to make sure you have everything you need.
I made the jelly in a low slice dish the night before so this was ready to go on the day. Then I prepped my berries and whipped together the Mascarpone and Custard before starting.
If you love using fresh strawberries in your recipes, this would make a stunning addition to a Christmas Table.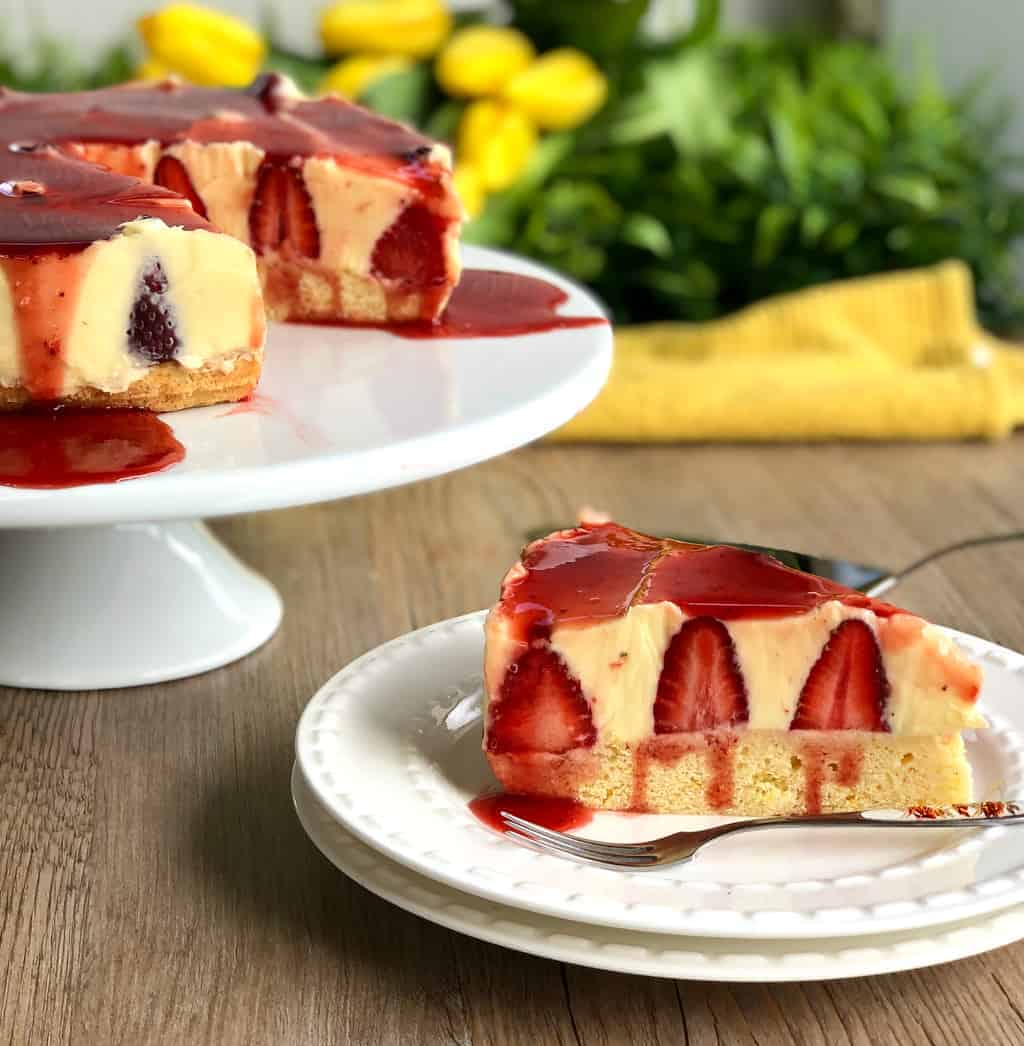 The plain sponge cake I used was not quite the right size to cut a perfect circle, so I did the best I could using the top of the trifle bowl as a guide cutting two big pieces, then cut out a small insert piece for each layer.
I am absolutely certain no one will care that it is not perfect – trifle is meant to be a delicious decadent smash on the plate so do not get too caught up in perfection – go for flavour every time! You can use either Sherry or Orange Juice to drizzle over the sponge, so choose to make it kid friendly if you like as I have done here.



As I said above Christmas Desserts, or in fact any desserts do not have to be epic feats of hours in the kitchen. This dessert takes less than half an hour to make, looks beautiful, has the most divine flavours and is sure to please everyone at the table. So think of the basic items to have in your cupboard or fridge at this time of year.
I always make sure I have a can of Dairy Whip cream, frozen berries, custard, meringues, chocolate and then I'm always pretty much sorted to make up quick simple desserts at a moments notice!
So onto the recipe, I have made a large dessert so these quantities are for a 3.5 litre bowl, please feel free to halve the quantities below.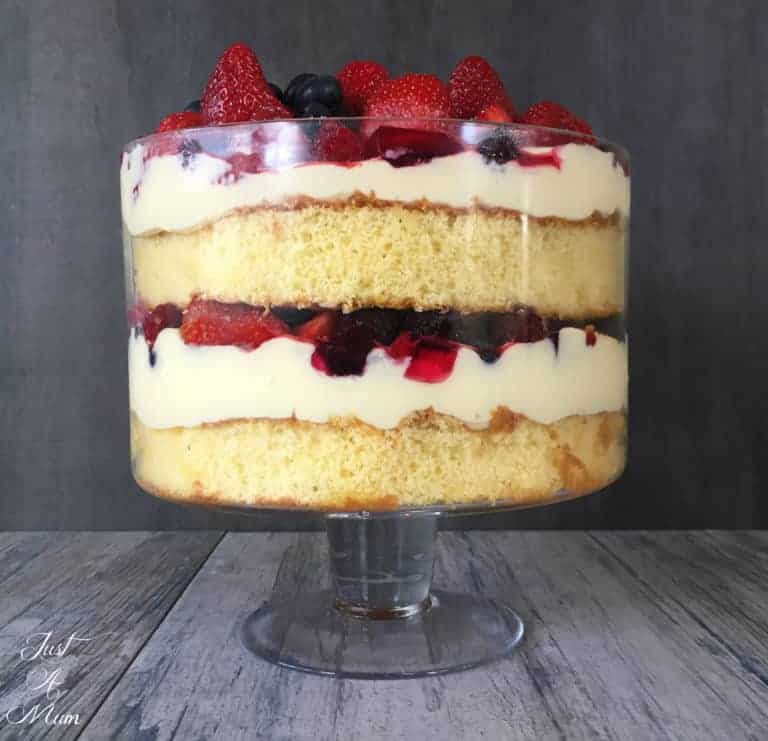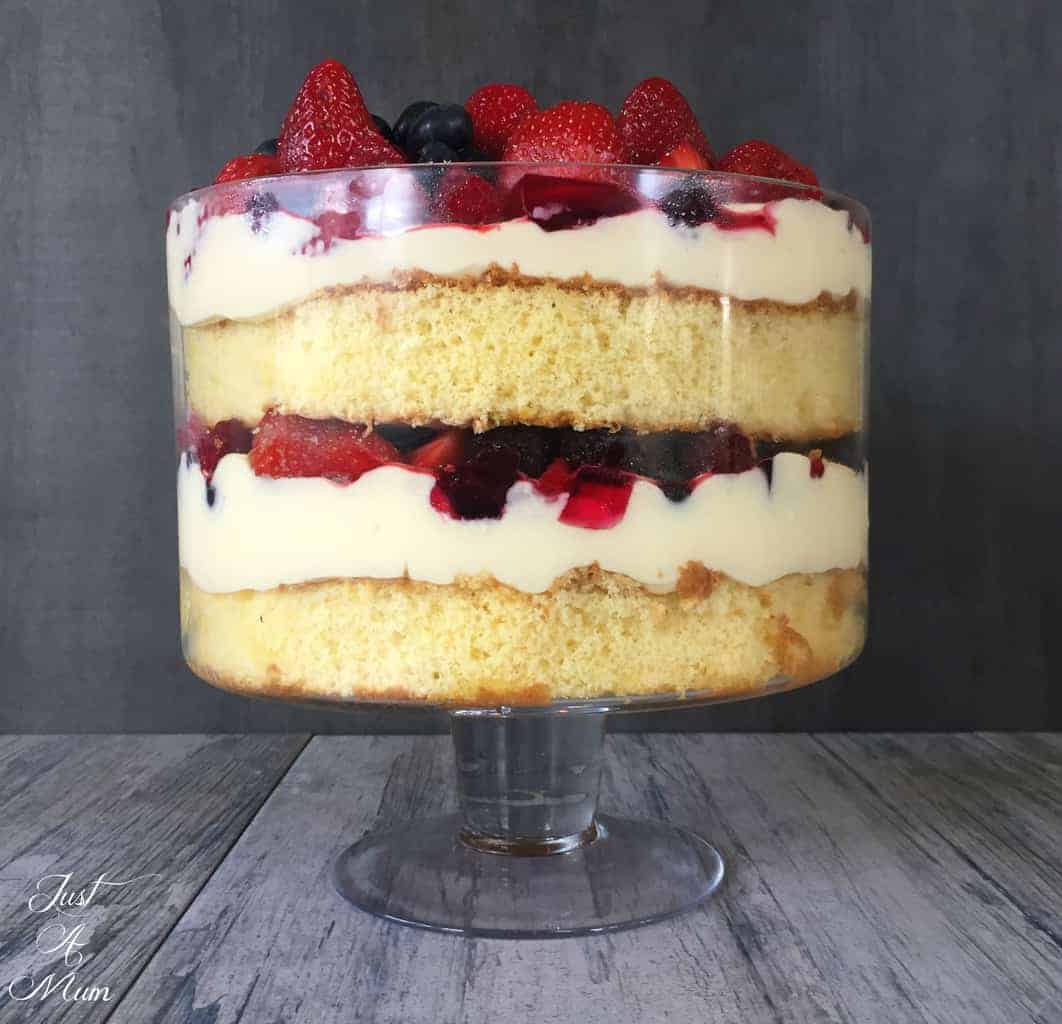 Please enjoy my version of Mascarpone Custard Trifle with Fresh Berries
I just love desserts like this, all the beauty with none of the effort! How do you make your trifle? Any tips and tricks that you have used over the years? Let me know in the comments below what I could try next time. Check out more delicious desserts
here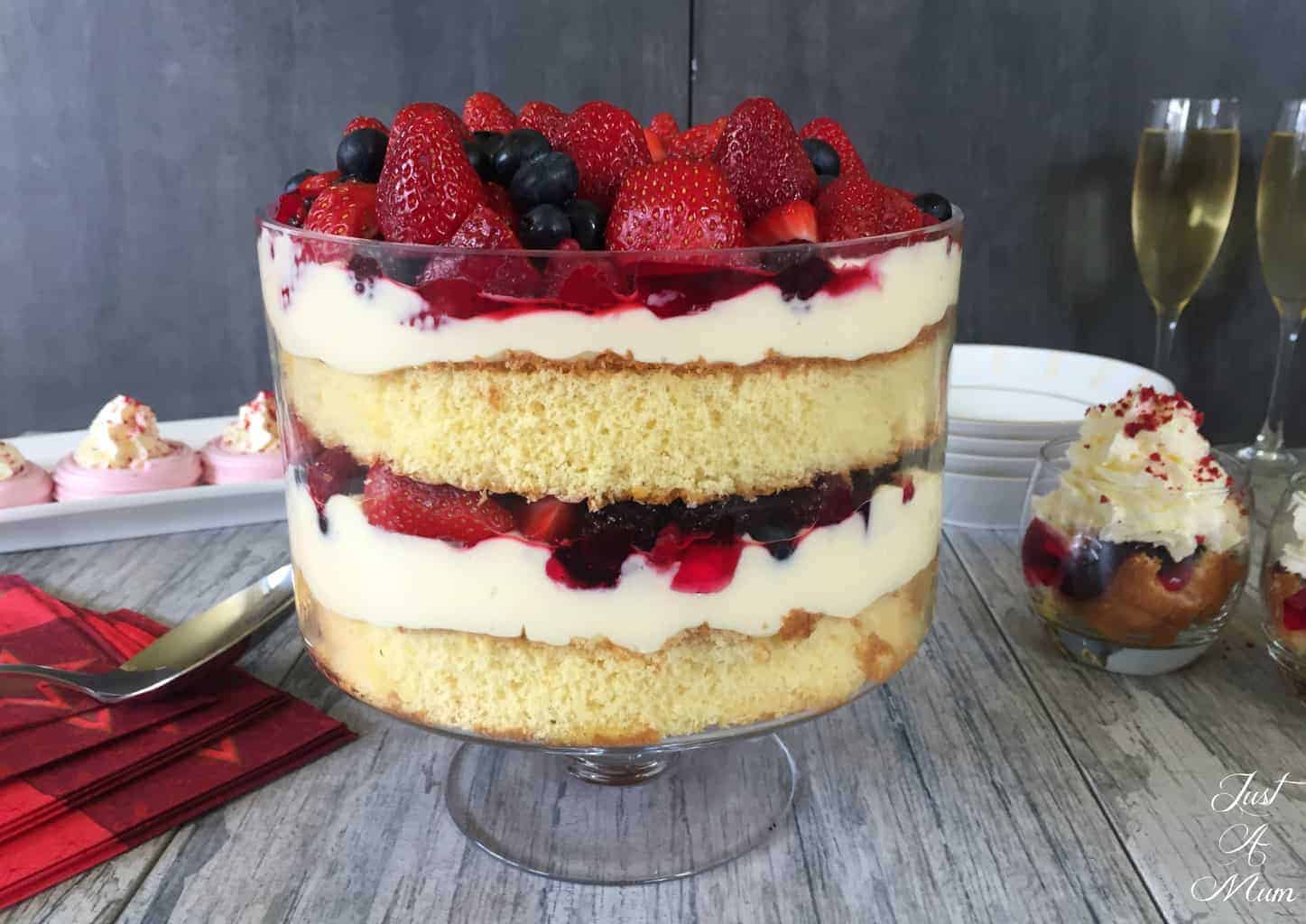 Thank you so much for stopping by to check out this delicious dessert, I hope that you are finding some inspiration in the recipes I am sharing. If you do not already please follow me on Facebook & Instagram for more delicious ideas. You can also register your email address in the subscription box below to receive all my recipes as soon as I publish them!
Happy Baking!
Anna
Pin it! Mascarpone Trifle