A lovely version of Tomato and Basil Soup, roasted and slow cooked for maximum flavour.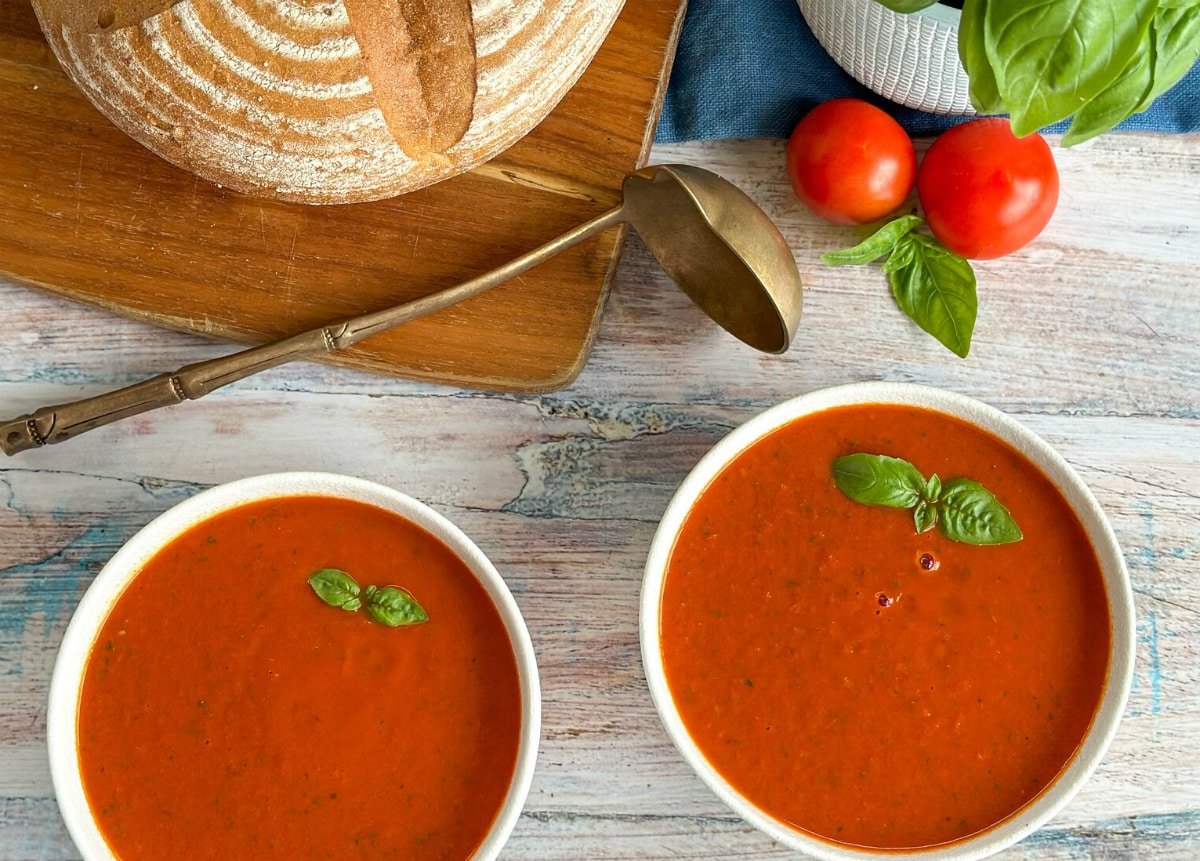 This recipe has ingredients provided by Countdown Supermarkets, as Brand Ambassador, all opinions are my own.
We are at that time of year where we have more tomatoes in the garden than we can possibly eat so I thought I would share a lovely recipe for you to try.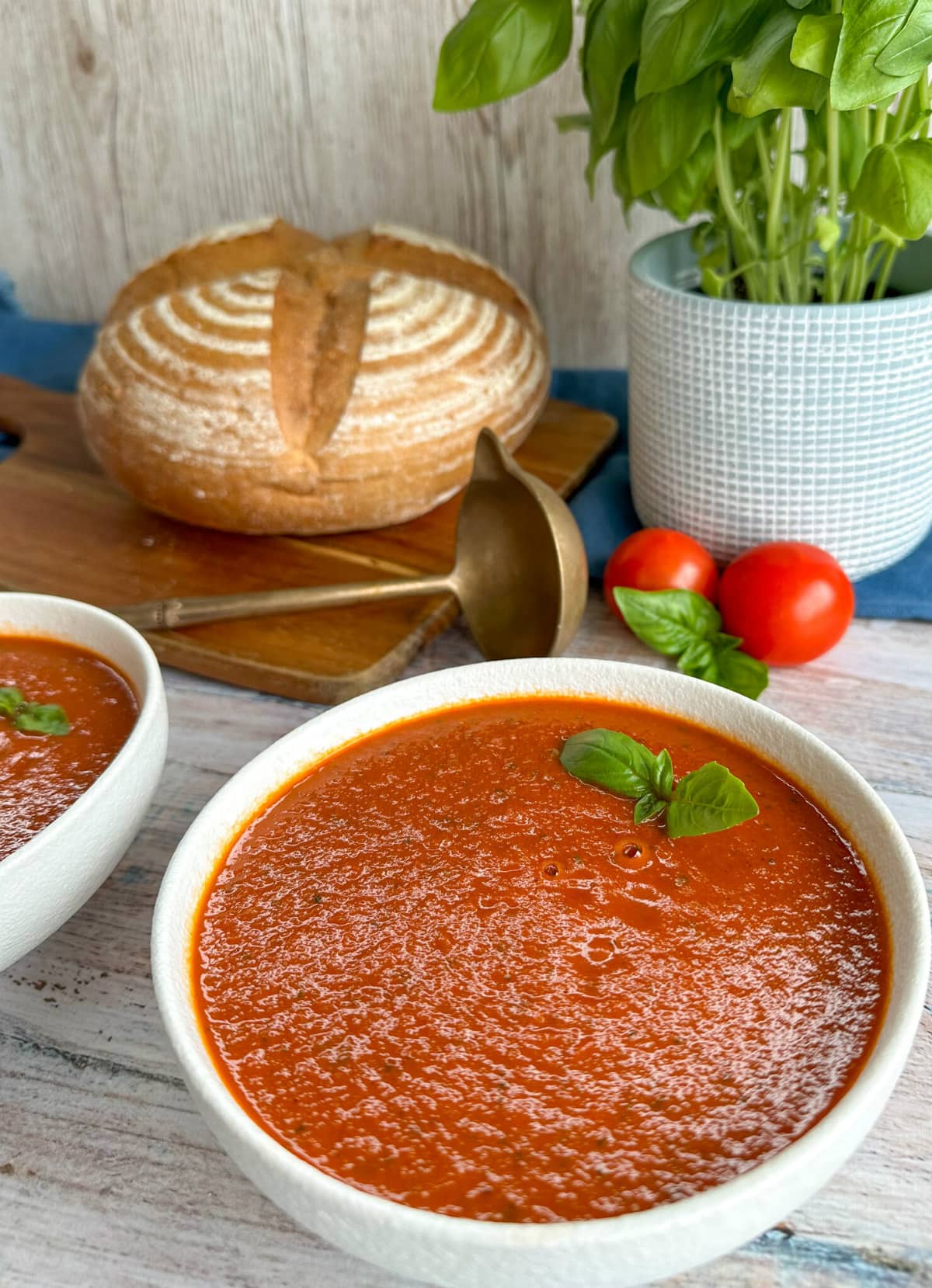 I love making soups in my slow cooker, so I wanted to show you a lovely way to make a tomato one. The key for me is to maximise the flavours from the vegetables, but make it easy too.
What I have done here is initially roasted the vegetables to give them more depth of flavour, then popped them in the slow cooker to finish cooking with the other ingredients. This provides a much richer result I think.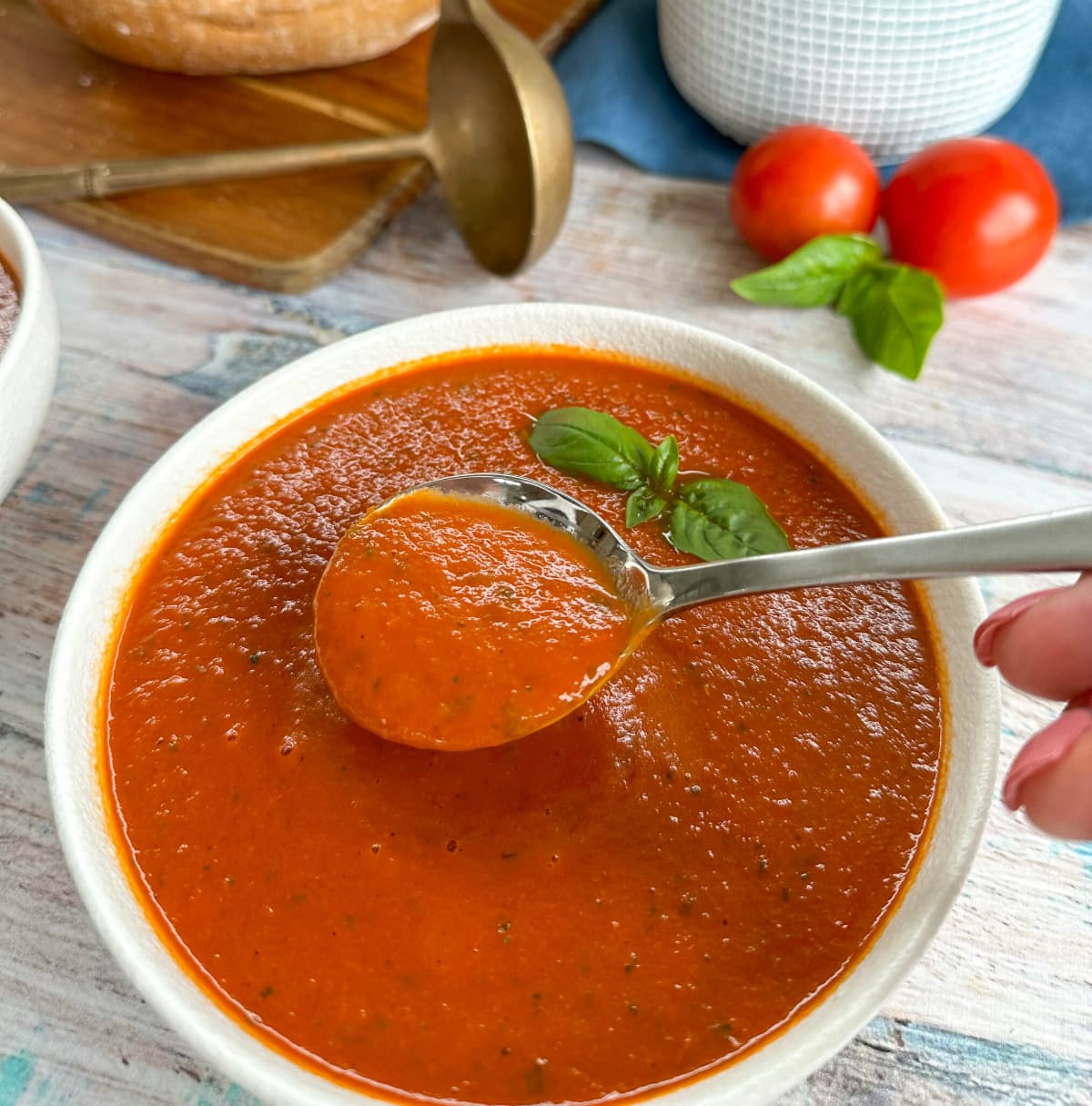 I have combined the tomatoes with basil as I think they work together so well, if you prefer you could leave this out or replace it with another complementary flavour.
The ingredients are lovely and simple
For the full recipe please scroll down further to see the recipe card with quantities and method
Tomatoes

Red Capsicum

Onion

Garlic

Olive Oil

Balsamic Vinegar

Salt & Pepper

Oregano

Dried Thyme or Basil

Sugar

Tomato Paste

Vegetable Stock (or chicken if you prefer)

Fresh Basil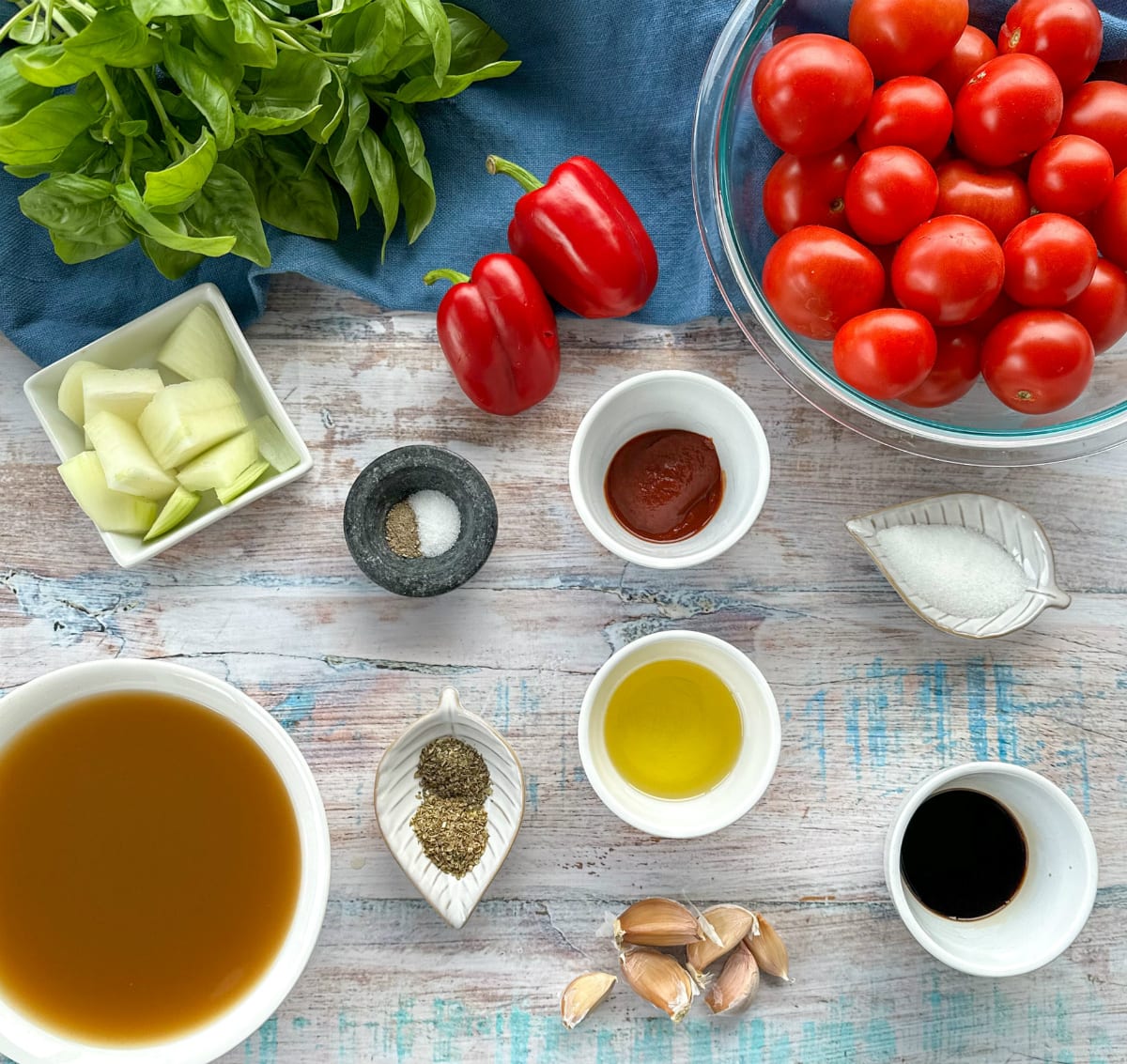 The method for this one is lovely and simple, a few steps and tools will make this much easier to make. You will want a large roasting dish, a slow cooker and either a immersion stick blender or a blender that can handle hot ingredients.
Firstly you want to prepare the vegetables. For my tomatoes I like to quarter them then very roughly remove the seeds, you don't need to be too fussy and get every last one but it is easy enough to use your knife to scoop them out once quartered.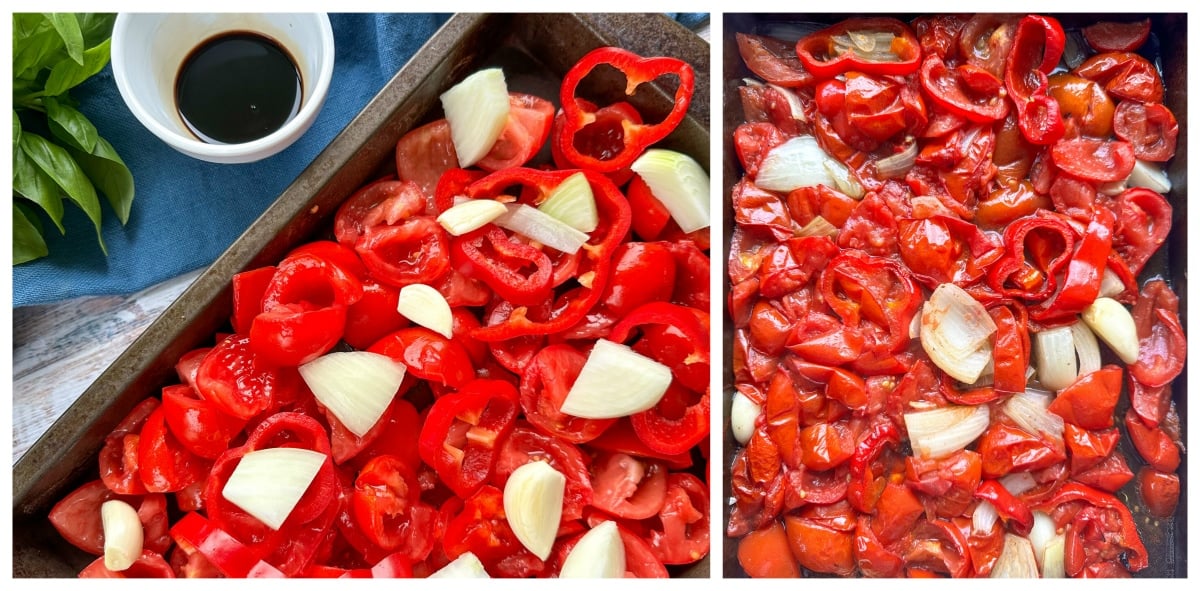 Then I dice the onion into chunks, leave the garlic peeled but whole and deseed the capsicum, slice and pop all of these vegetables into a large roasting dish.
Drizzle over this the olive oil and the balsamic vinegar and stir to coat then pop it in a hot preheated oven to roast for 30 minutes while you prepare the rest of the ingredients.
You want to use a large roasting dish so that they roast rather than cook in their own juices. If this does happen that is ok, you can simply pour off some of the juices before the next step.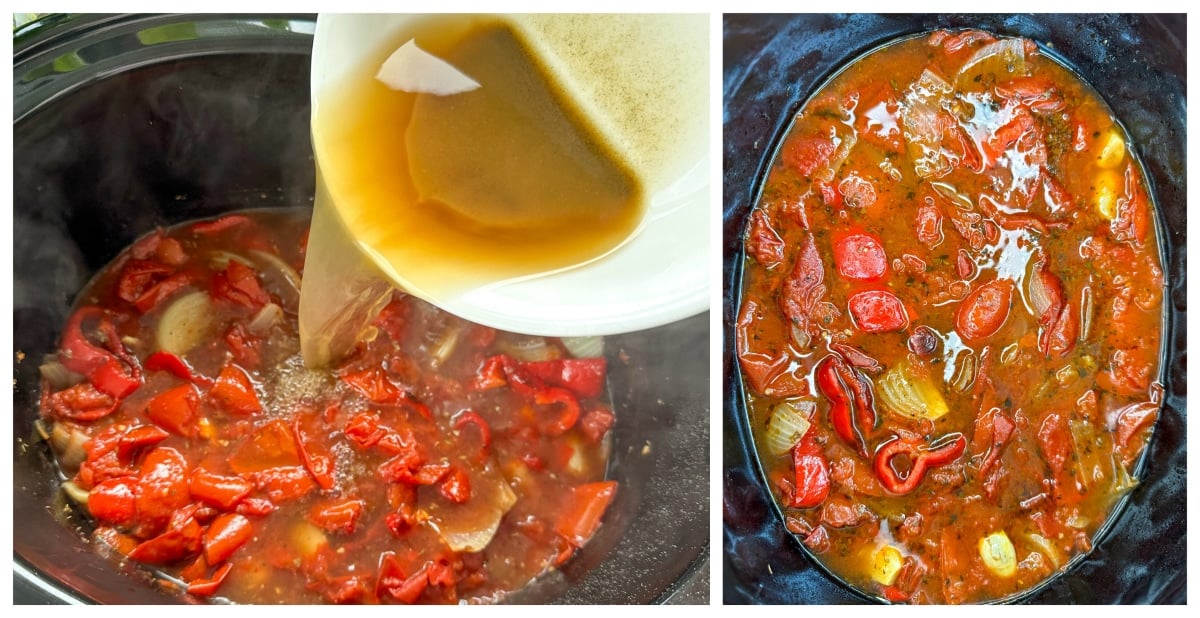 Then it is just a matter of putting the roasted vegetables into the slow cooker and adding the remainder of the ingredients. I tend to use vegetable stock, but if you only have chicken stock on hand that is ok too. I add half the fresh basil at this stage then the remainder at the end.
Then slow cook on high or low until ready. Then I add this to my blender or stick blender if using and blend until it is creamy and smooth. You can then add a little more basil and some salt if needed to taste and blend again.

If you wish this is lovely with a little cream stirred through at the end to make it even more creamy, but that is personal preference so feel free to taste as you go once blended.
Serve warm or this keeps beautifully in the fridge for another day or you can freeze it (without cream) for another day.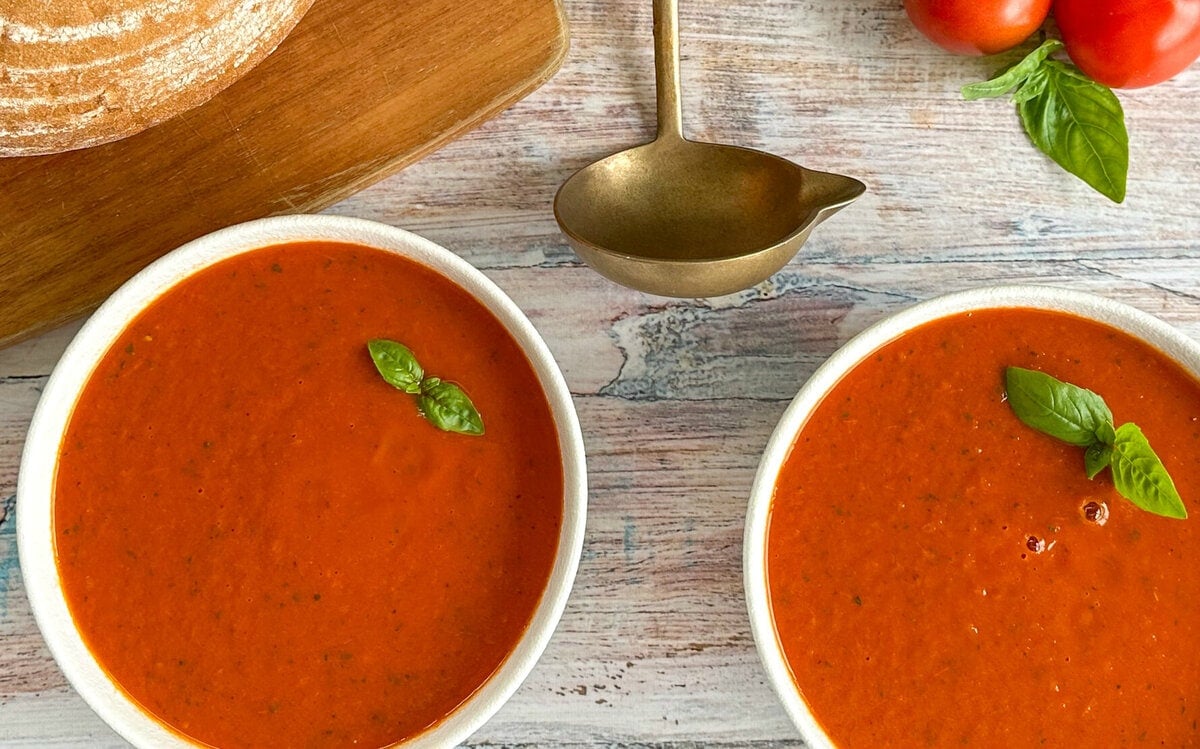 I hope you love this recipe for Slow Cooker Roasted Tomato & Basil Soup, I have loads of other lovely slow cooker soup recipes, be sure to check them out HERE
Thank you so much for stopping by to check out my latest recipes on my blog. If you are not already, be sure to follow me on Facebook or Instagram for more deliciousness, and you can register your email in the subscription box below to receive all my recipes as I publish them.
Happy Cooking!
Anna
Pin It! Pinterest