Delicious Apple Oat Crumble or Crisp, this is such a great easy recipe, perfect for cold winter evenings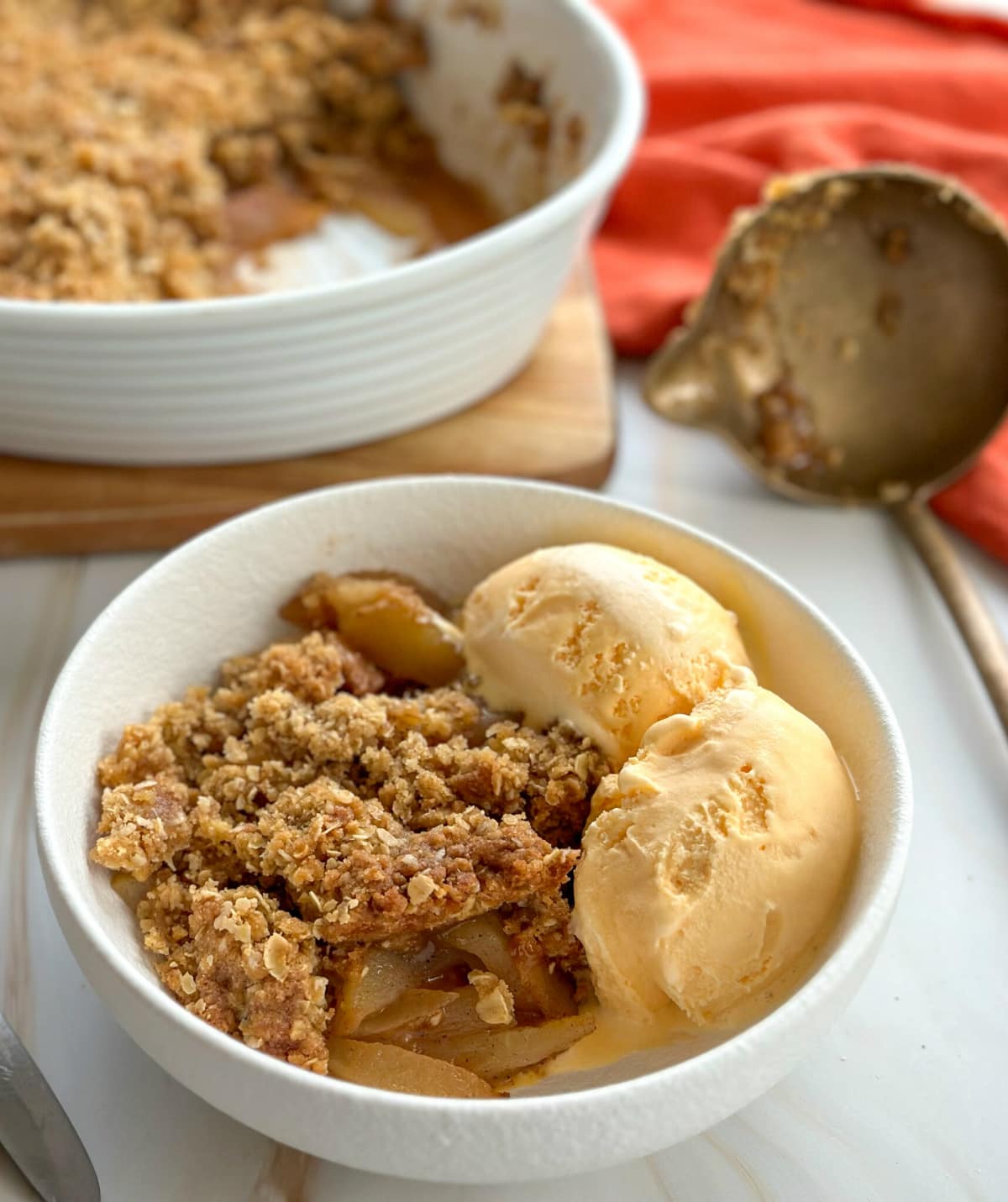 There is some debate in the world of desserts as to the name of the varieties of crumbles! Often when the crumble includes oats it is referred to as a crisp.
To separate this from my easy Classic Apple Crumble I have named this one Apple Oat Crumble, as you can never have too many versions of tasty things!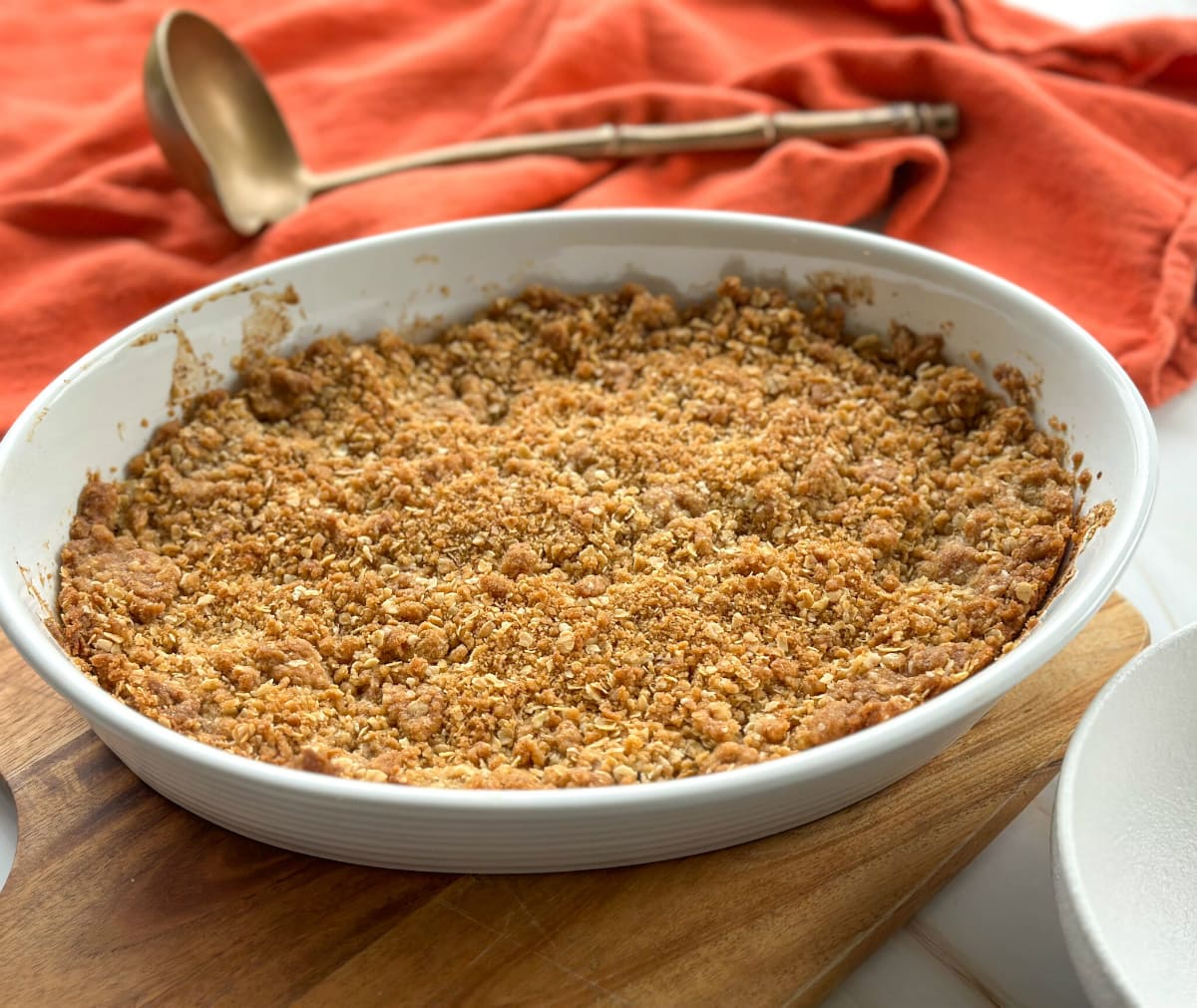 The difference is also in the sugar I have used, I have used brown sugar here rather than caster sugar in the original. This creates an even more warm toasty flavour in both the fruit and the crumble topping.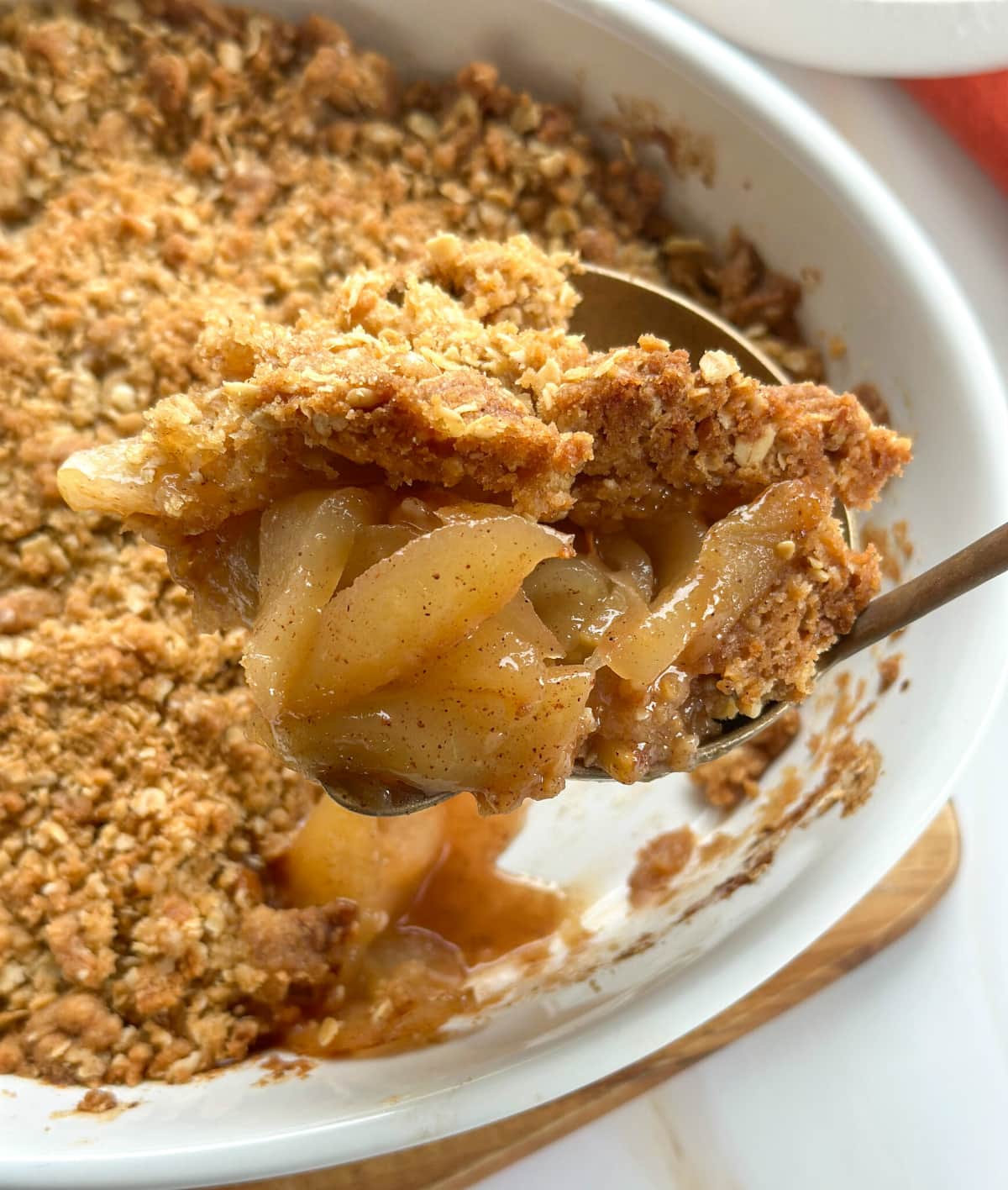 Crumbles are a fruit based dessert with a lovely sweet buttery topping that crisps up in the oven, and served warm. Often served with vanilla ice cream, custard or cream it is a family favourite of my kids.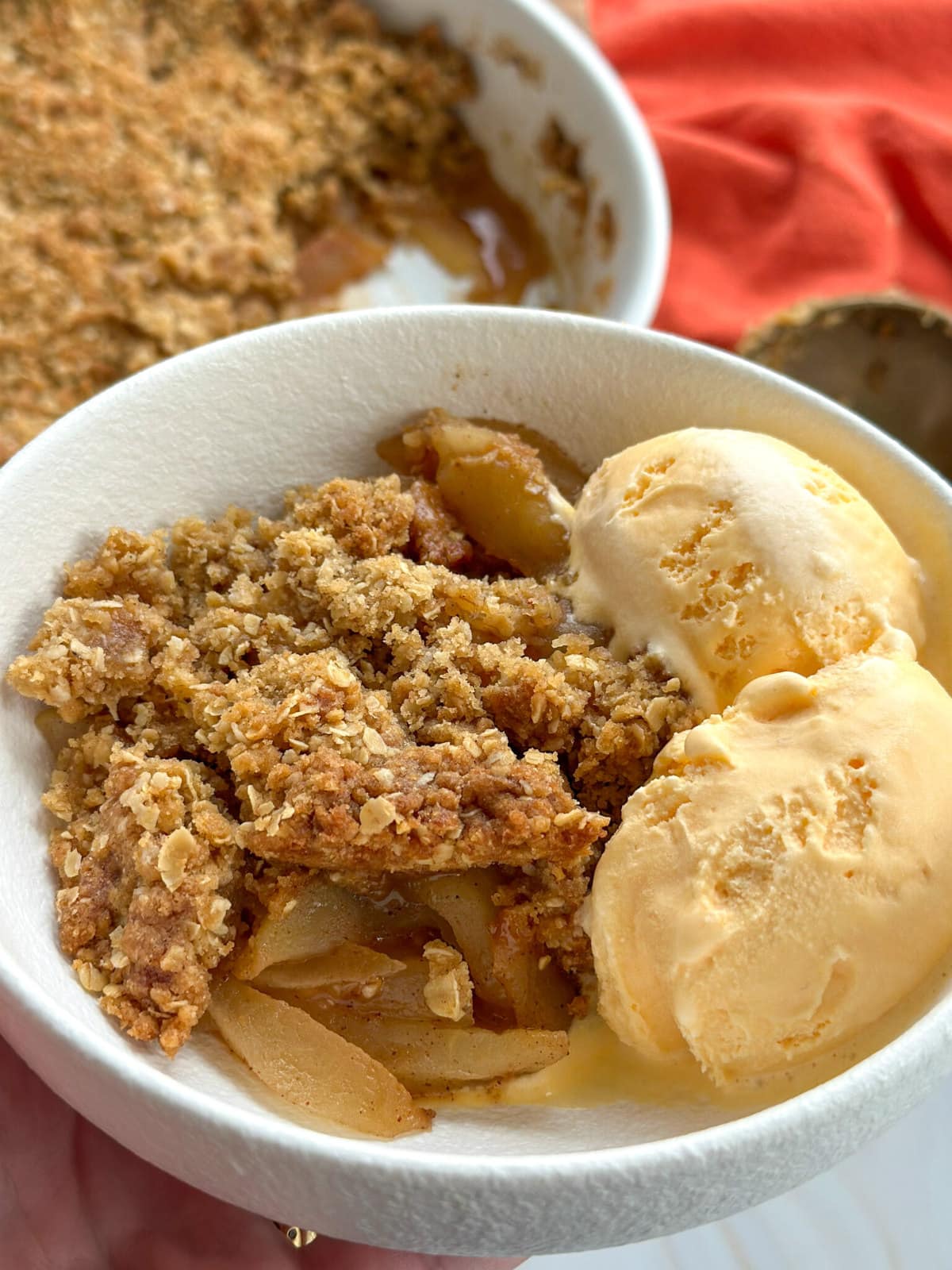 Today I have made this with apples as that is the classic version, but you can absolutely change that up, using feijoas, plums, pears, peaches, rhubarb or some even use berries. Granny Delicious apples are often the best version as they are lovely and tart and hold their shape while baking.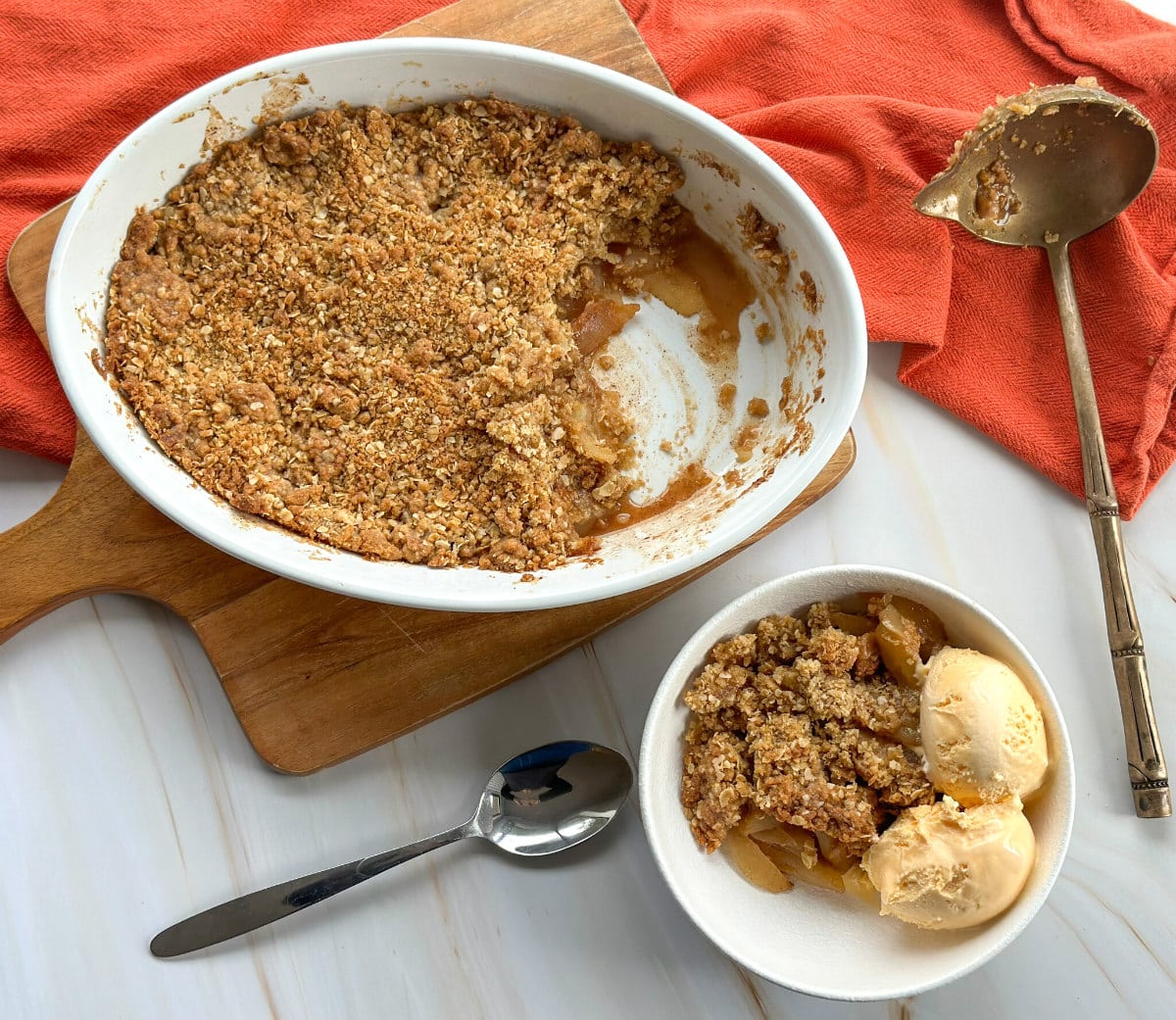 The ingredients are lovely simple pantry basics
(Please scroll down to the printable recipe card below for full quantities and method)
Apples, or fruit of your choice

Brown Sugar

Flour

Lemon Juice (or water)

Cinnamon

Rolled Oats

Plain White Flour

Butter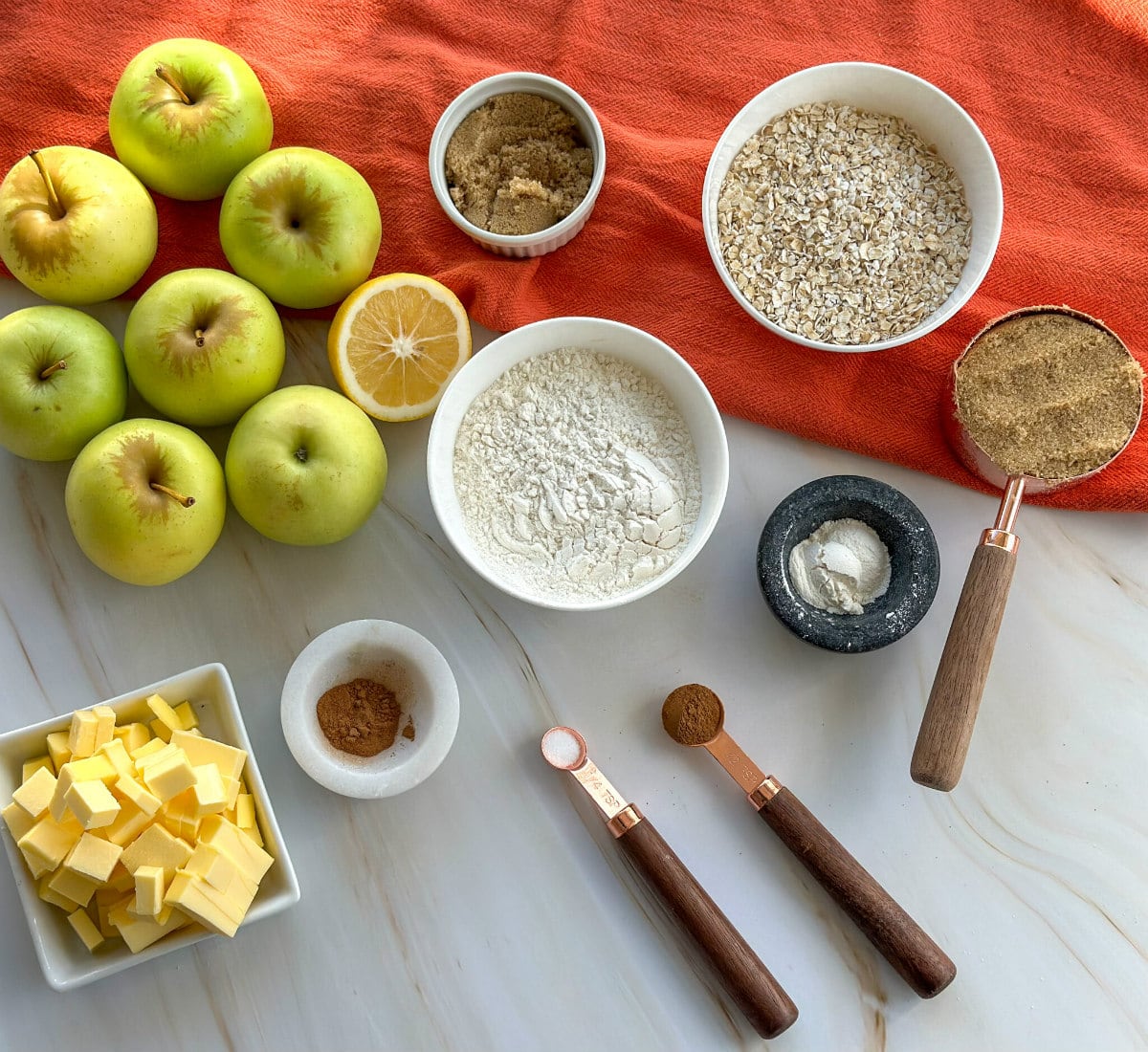 The method for making crumble is so lovely and easy. There is no need to pre cook the apples as they are sliced so thin they will cook during the time in the oven.
Peel, core and slice or dice the apples into small pieces, then coat in the mixture of brown sugar, flour, lemon juice and cinnamon to add lovely flavour and texture.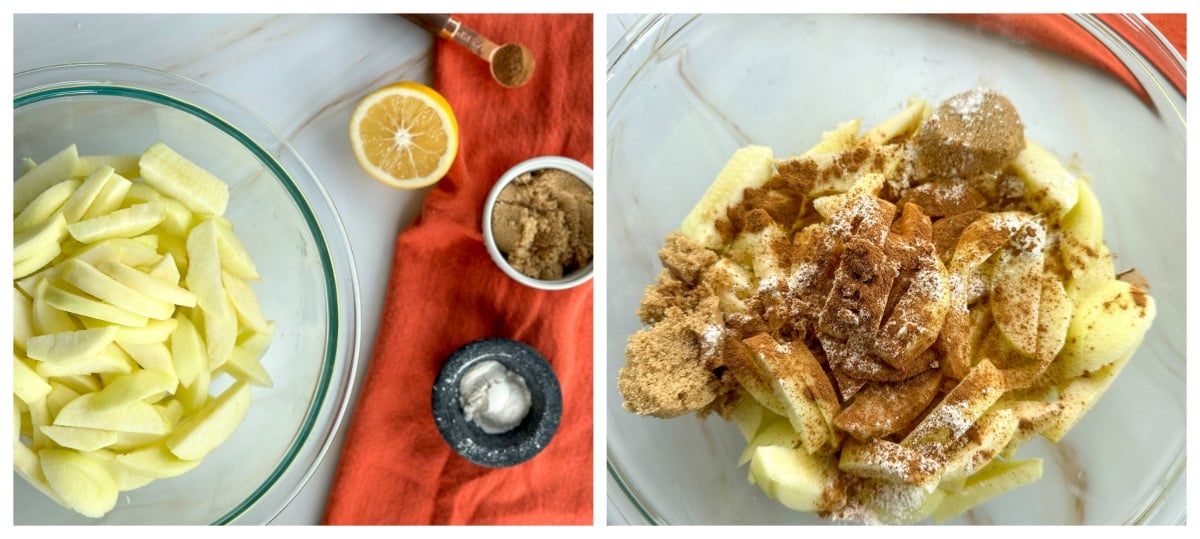 Then place the fruit into a prepared dish. Ideally a 23cm round dish, at least 5 cm high, with a minimum of a 3 litre capacity. The bigger the dish the thinner the end result will be.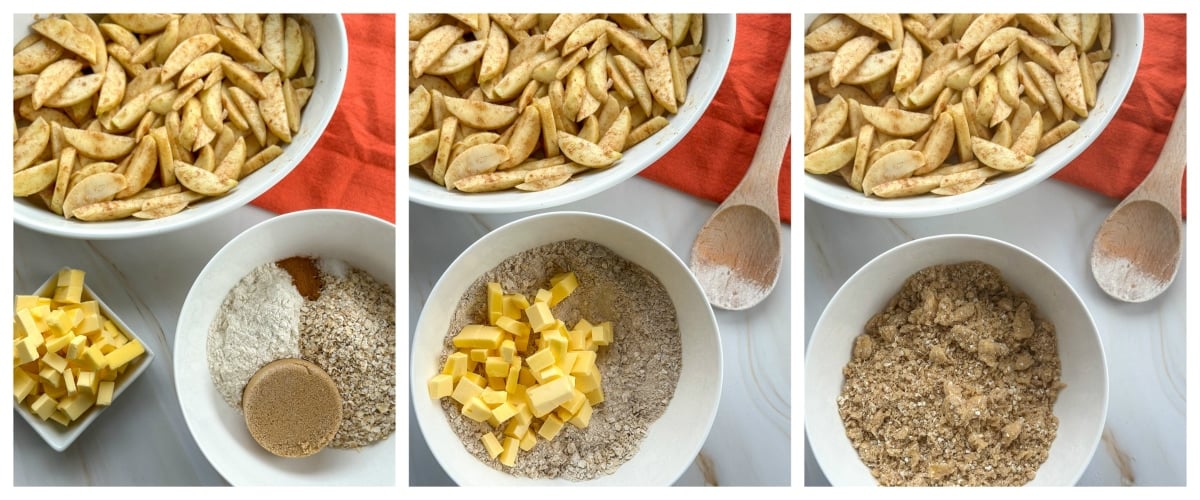 I like to press the fruit down flat so there are no gaps and the fruit stays underneath the crumble. Then it is time to prepare the easy crumble topping
In a medium bowl you will add together the oats, four, brown sugar, cinnamon and salt, then with your fingertips rub through the cold butter, cutting this into small cubes makes this job easier.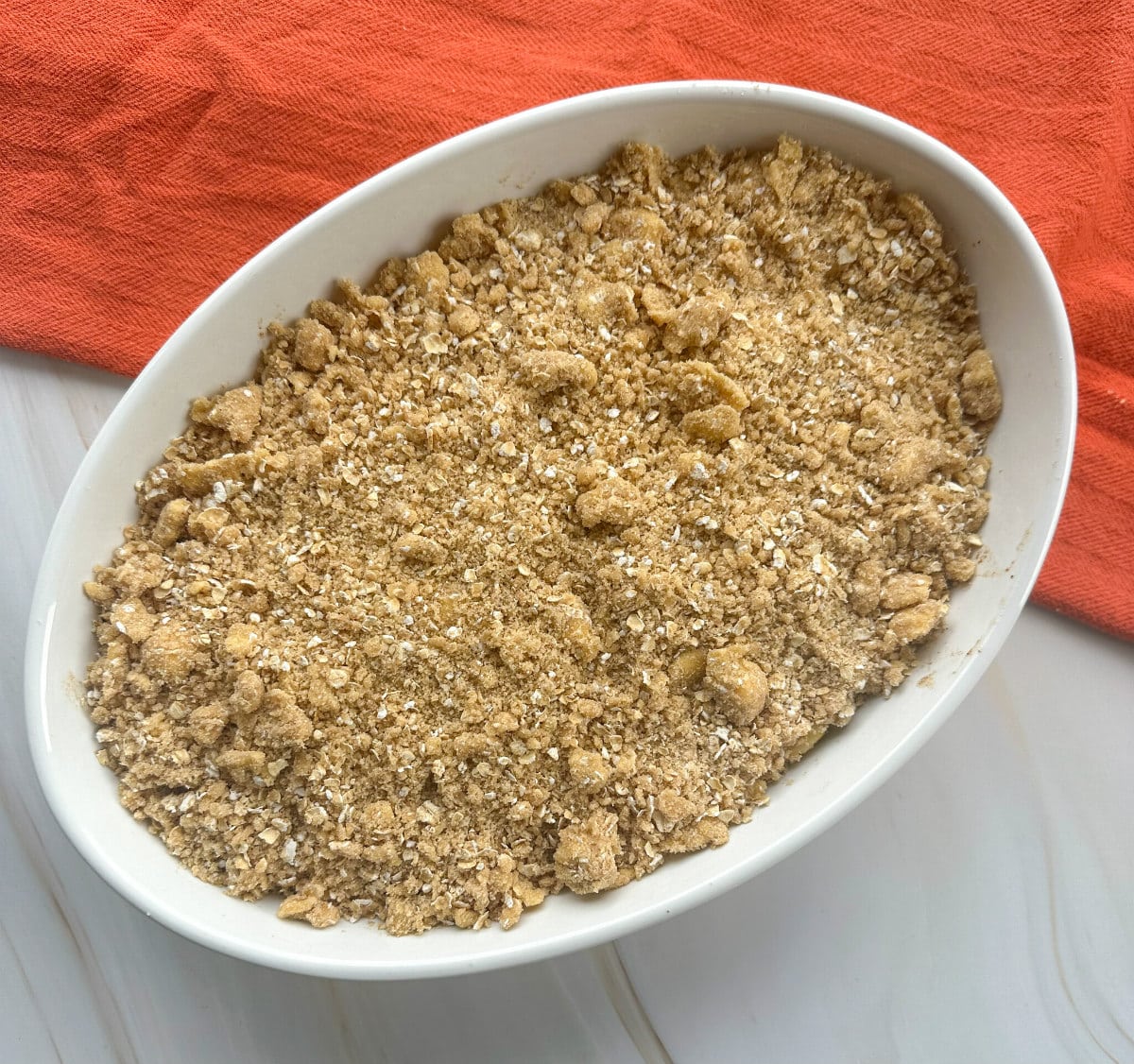 Once the butter is evenly distributed through the flour and oats mixture spread this evenly over the fruit and bake until lovely crispy and golden brown. I then allow it to sit for 20 minutes for the fruit to thicken then serve warm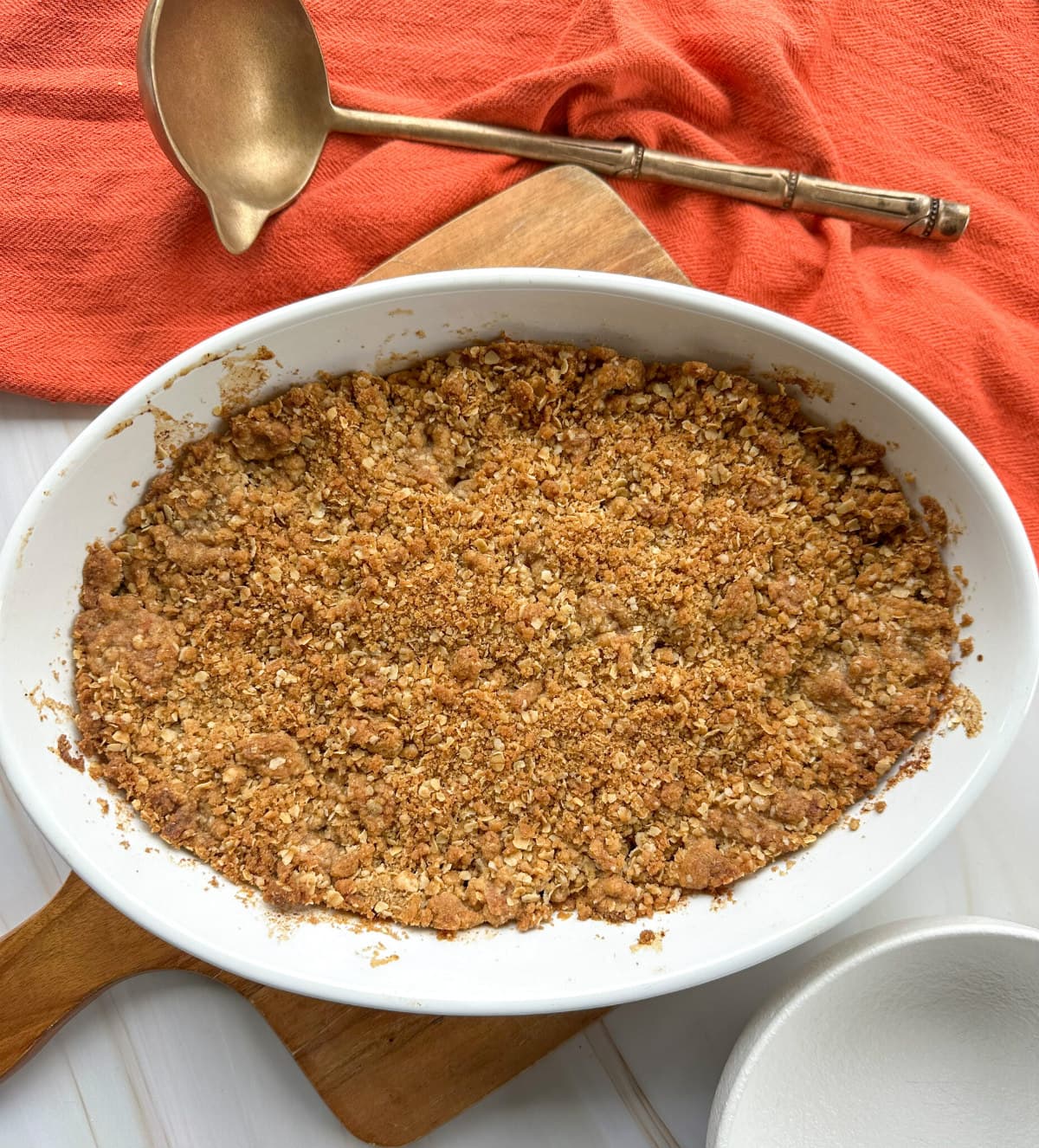 Be sure to check out my Classic Apple Crumble recipe too and try both! Let me know which one you like more.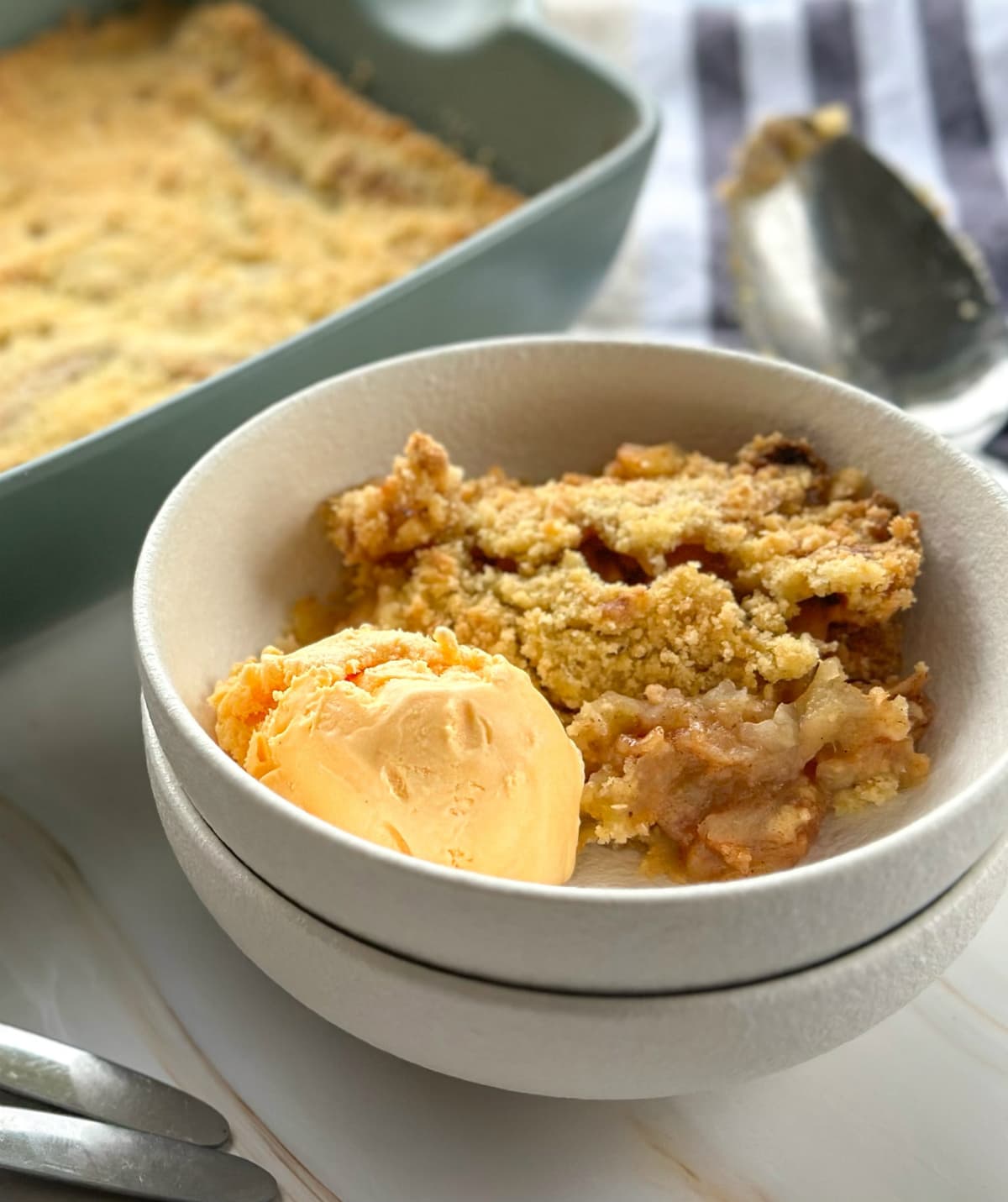 Onto my version of Apple Oat Crumble
I hope you love this recipe as much as we do, be sure to leave a comment below when you make it.
Thank you so much for stopping by to check out my latest recipes on my blog. If you are not already, be sure to follow me on Facebook or Instagram for more deliciousness, and you can register your email in the subscription box below to receive all my recipes as I publish them.
Happy Baking
Anna
Pin It! Pinterest