This classic apple crumble is so easy and such a lovely warm comforting dessert.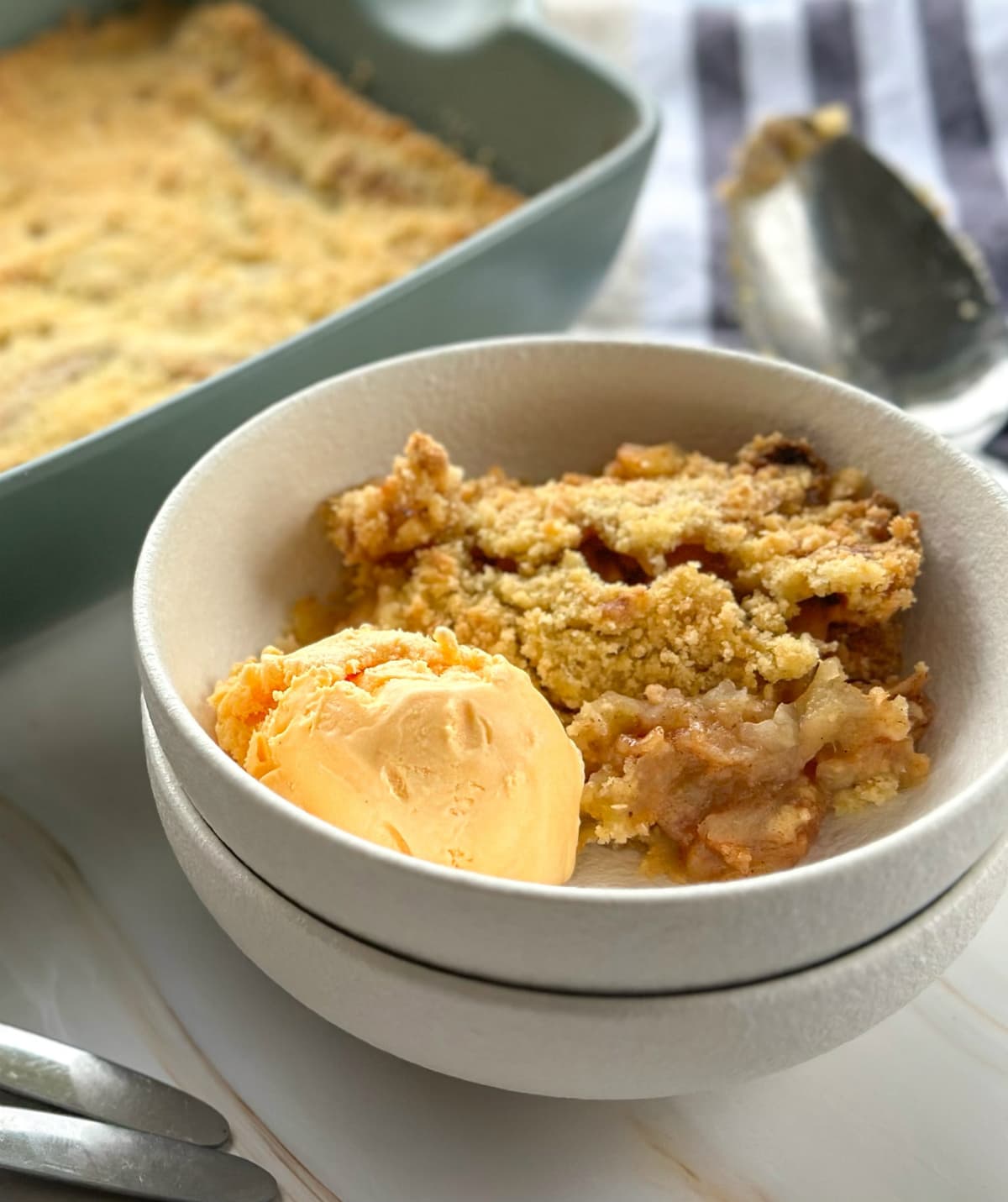 The ingredients for this recipe were provided by Countdown Supermarkets as Brand Ambassador, all opinions are my own.
I asked on my social channels if a classic crumble includes oats or not. While it was overwhelmingly for oats I decided I would share both! The classic crumble topping is just 3 ingredients and is such a lovely dessert.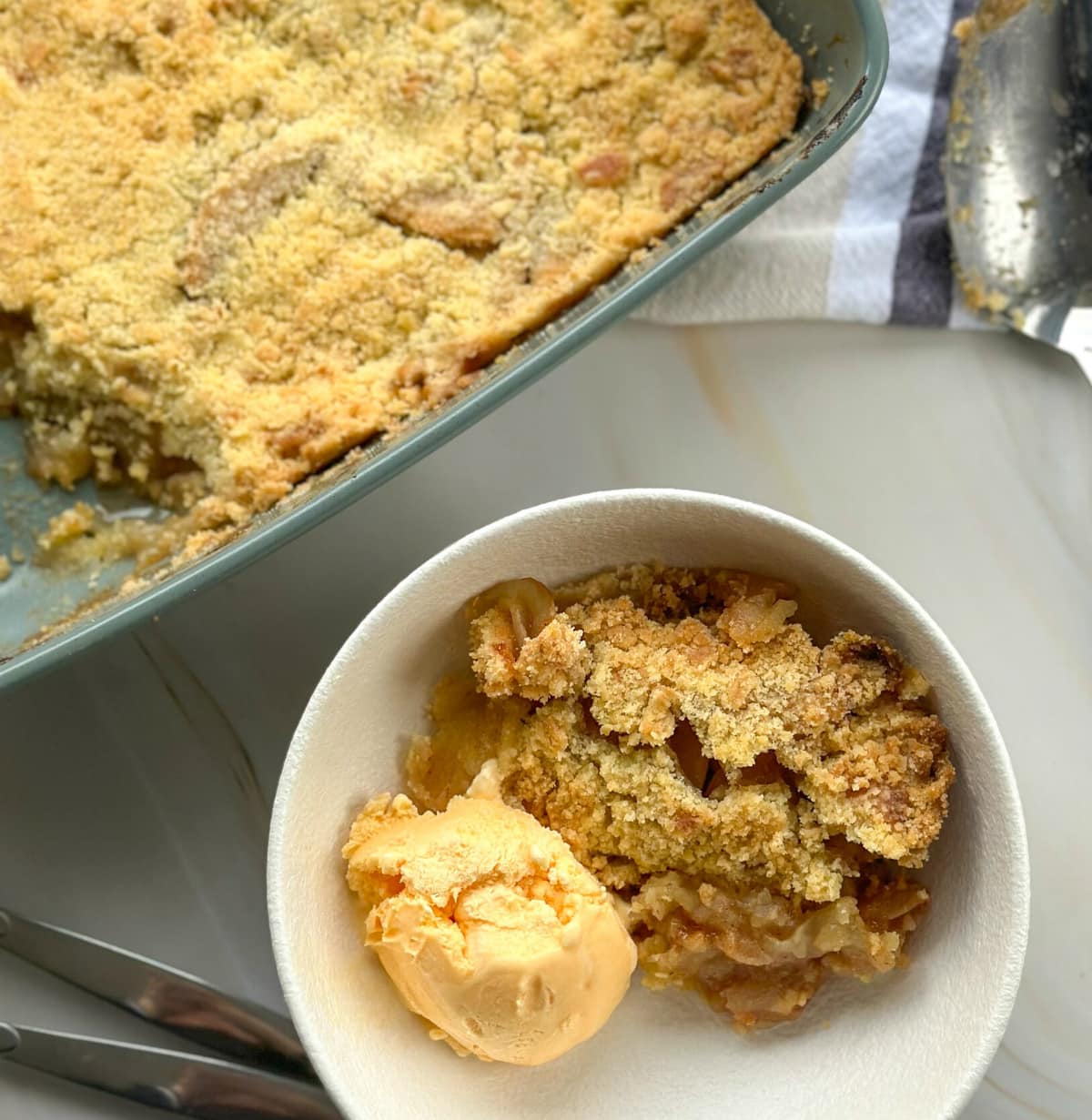 There are so many names for crumble depending on what the toppings include, so this is a classic crumble, when it includes oats is often referred to as a crisp, but then sometimes it is all just referred to as a crumble or a crisp no matter the inclusion of oats!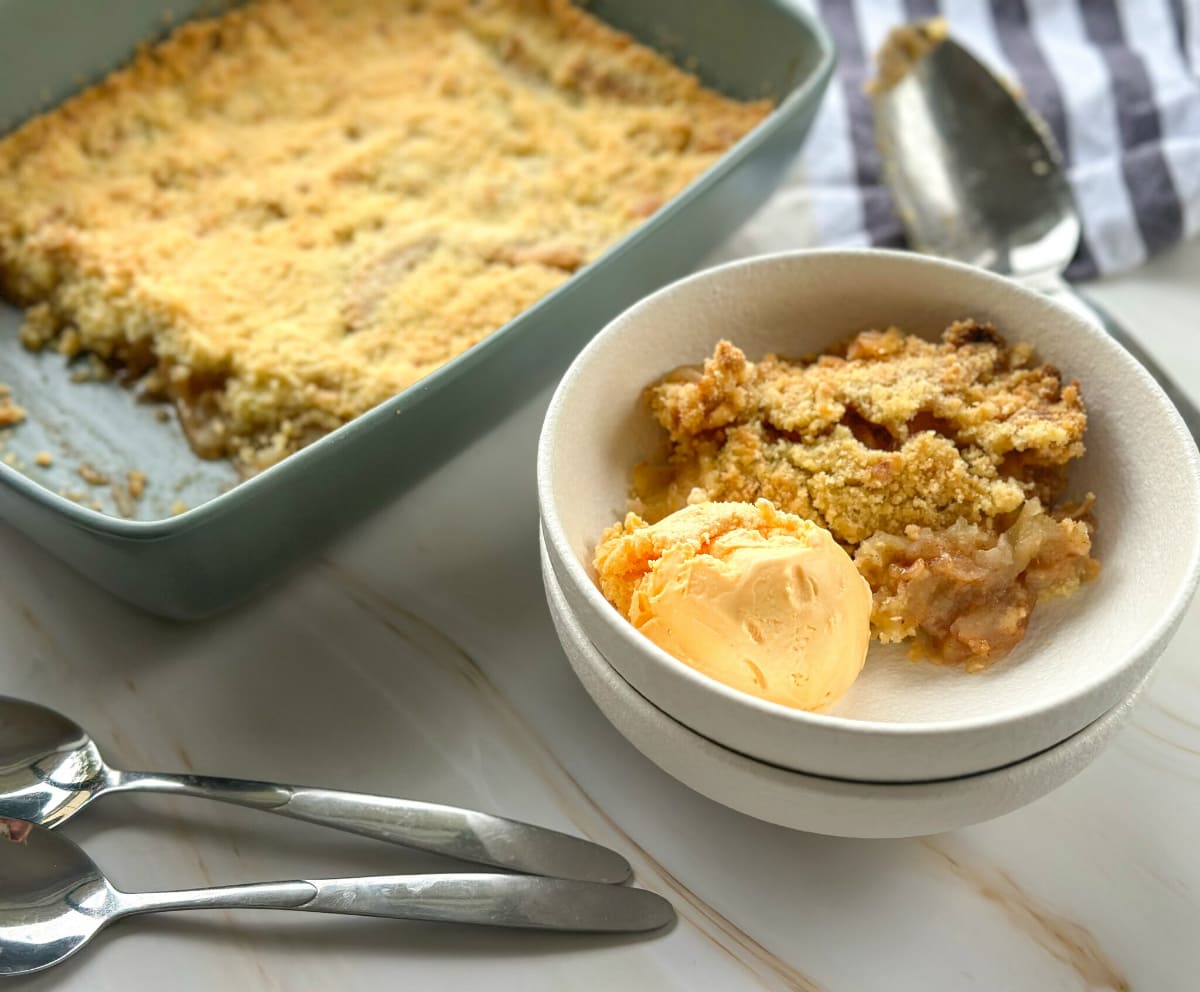 Then there is a cobbler, which is more like a pie, but without a base, so a pie topping pressed on top of warm fruit and baked. I shall share one of those one day too.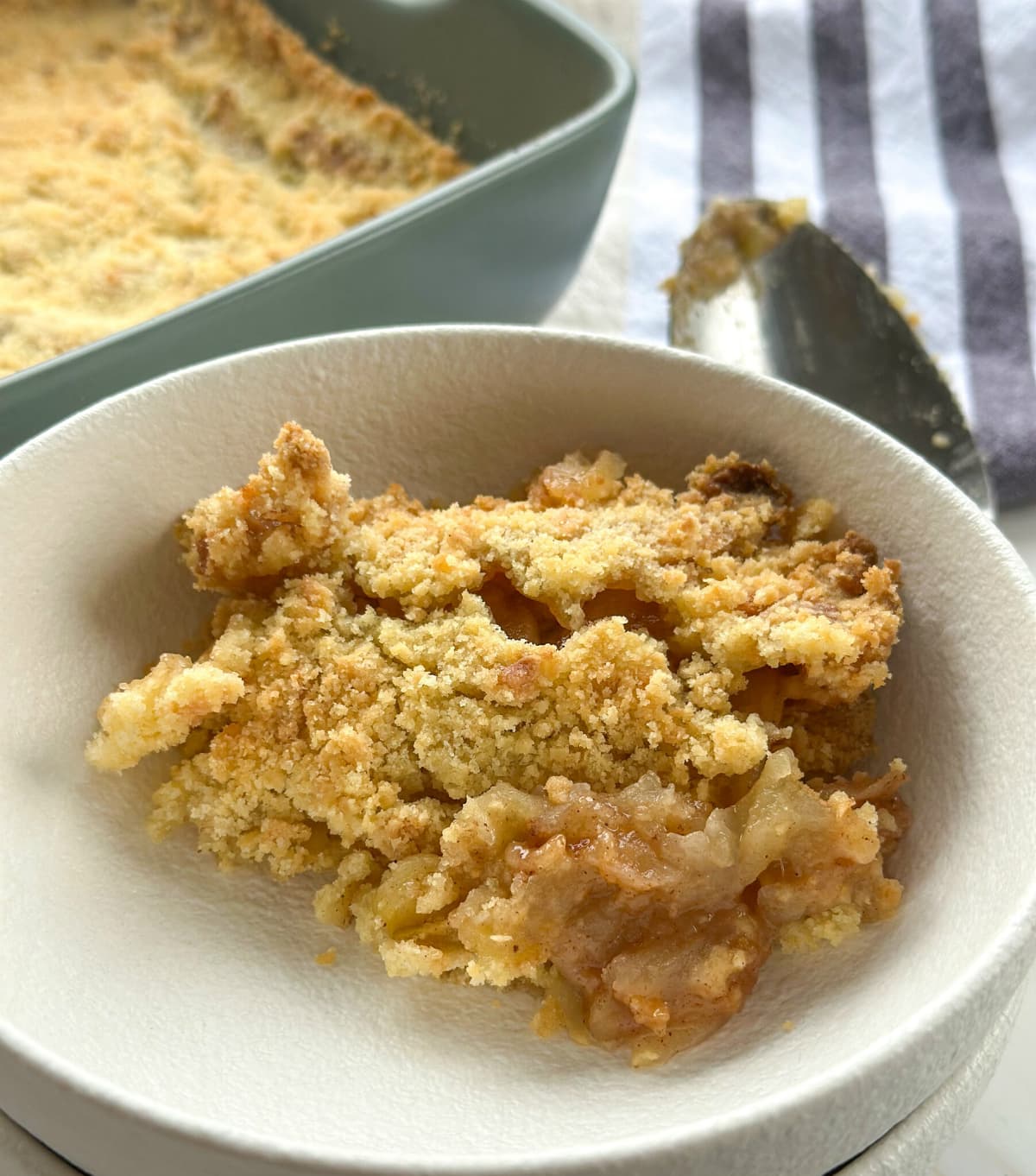 So with all that confusion out of the way, the next thing to think about is the fruit you use. I have used Apple today, but it is lovely with a combination of feijoas, or with plums, peaches or pears. Some even make this with berries. The method remains the same, so just swap out the equivalent quantity of fruit.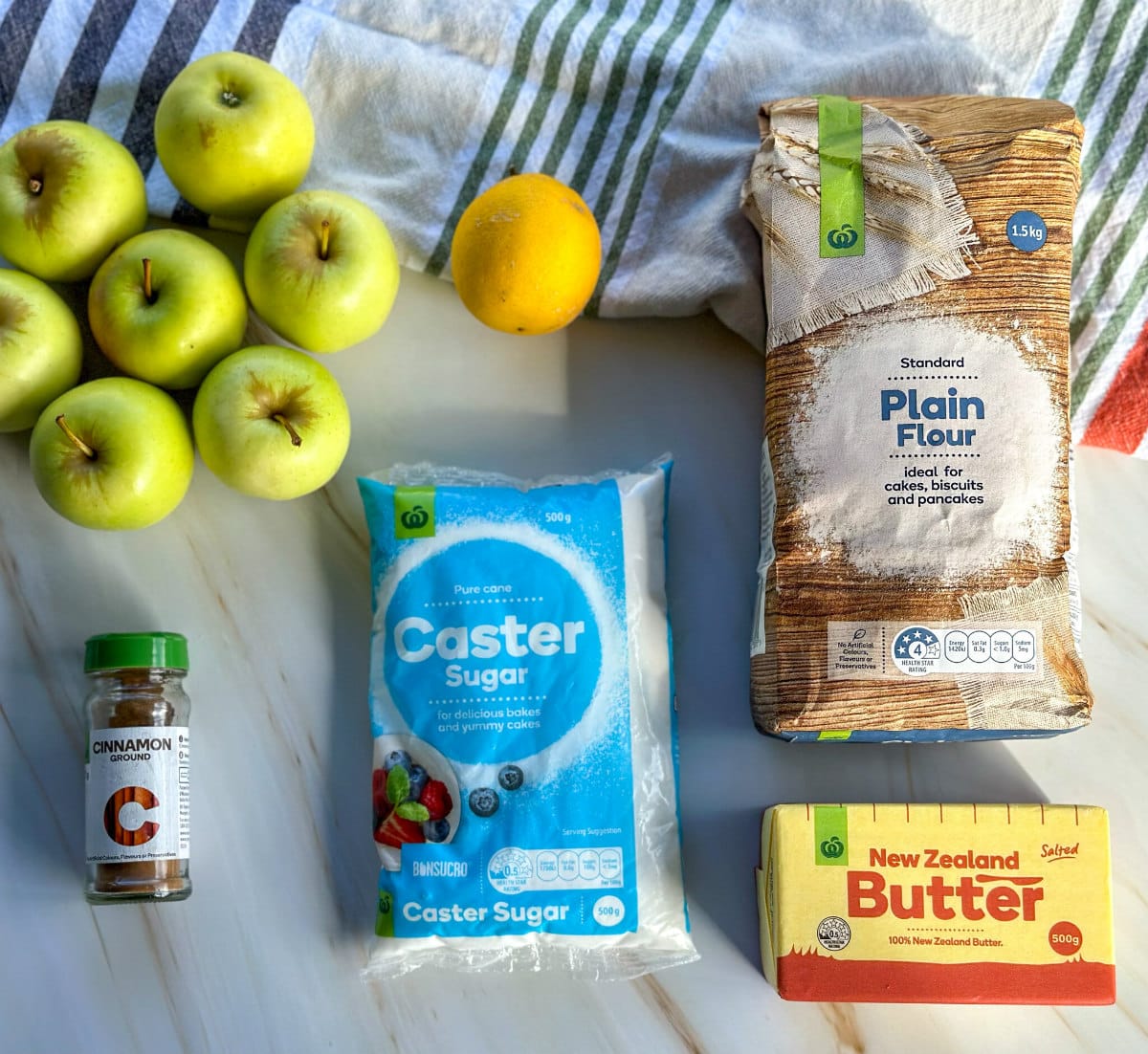 The ingredients you need are
(Please scroll down for the full printable recipe card, quantities and method)
Apples, or Pears, Feijoas, Plums, Peaches Berries etc

Caster Sugar

Plain White Flour

Lemon Juice

Cinnamon

Flour

Butter

Salt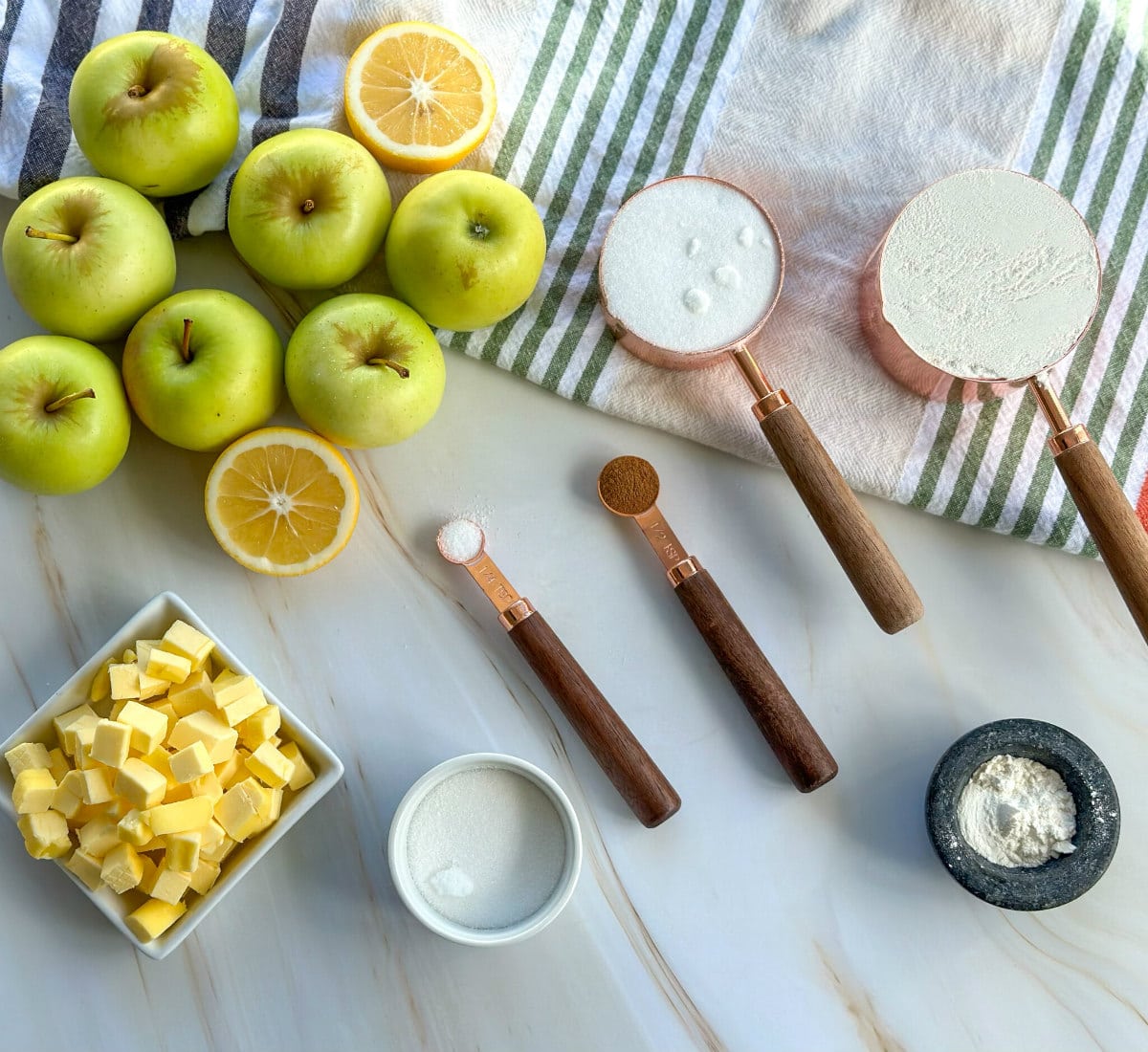 I have kept this as simple as I can to show you how you can make a basic crumble. The method is so easy too.
There is no need to pre cook the apples as they soften when you bake the crumble, you want to use at least a 2 litre dish, at least 5 cm deep (approx 20-23cm). The bigger you go, as I have done, the thinner it is.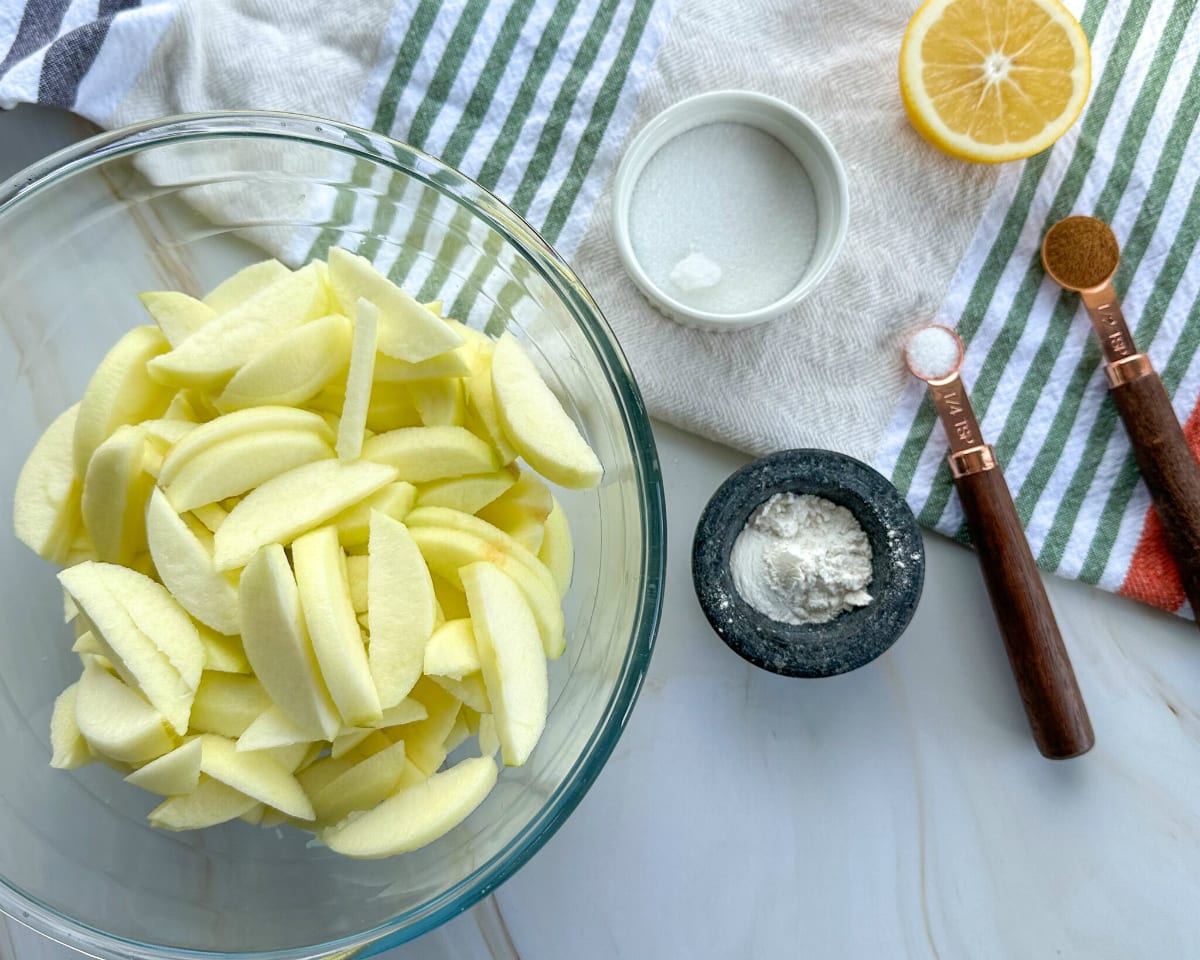 First peel the apples and slice into thin slices, coat this with the sugar, flour, lemon juice and cinnamon. You can use water instead of lemon juice if you do not have it on hand. The flour makes a lovely little thickened sauce coating for the fruit.
If you do not peel the apples they will not soften as well.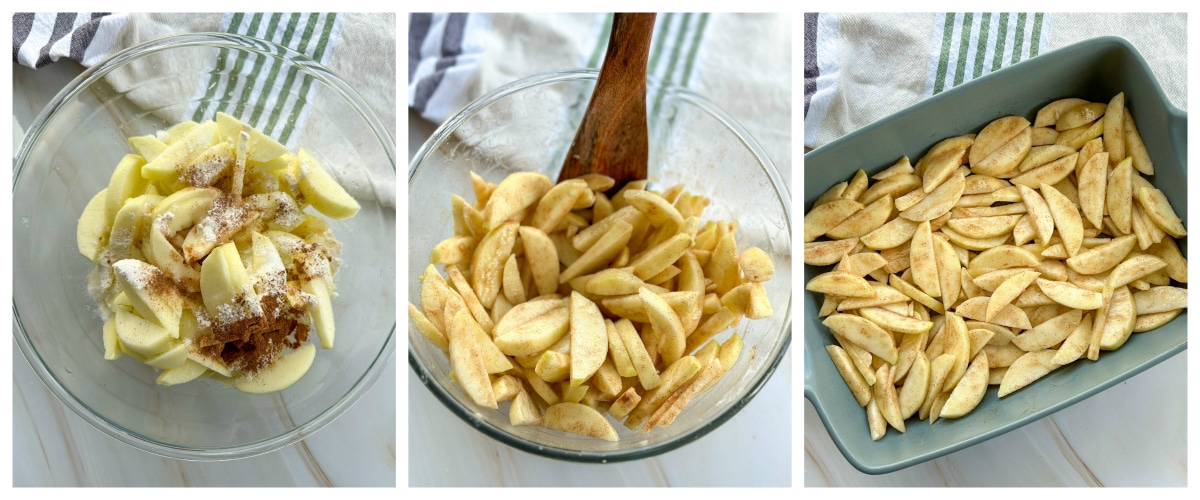 Then lay this on the base of the dish, press the fruit down flat with the back of a wooden spoon so that there are not many gaps and the crumble stays on the top, then prepare the crumble topping. The key here is to use cold butter.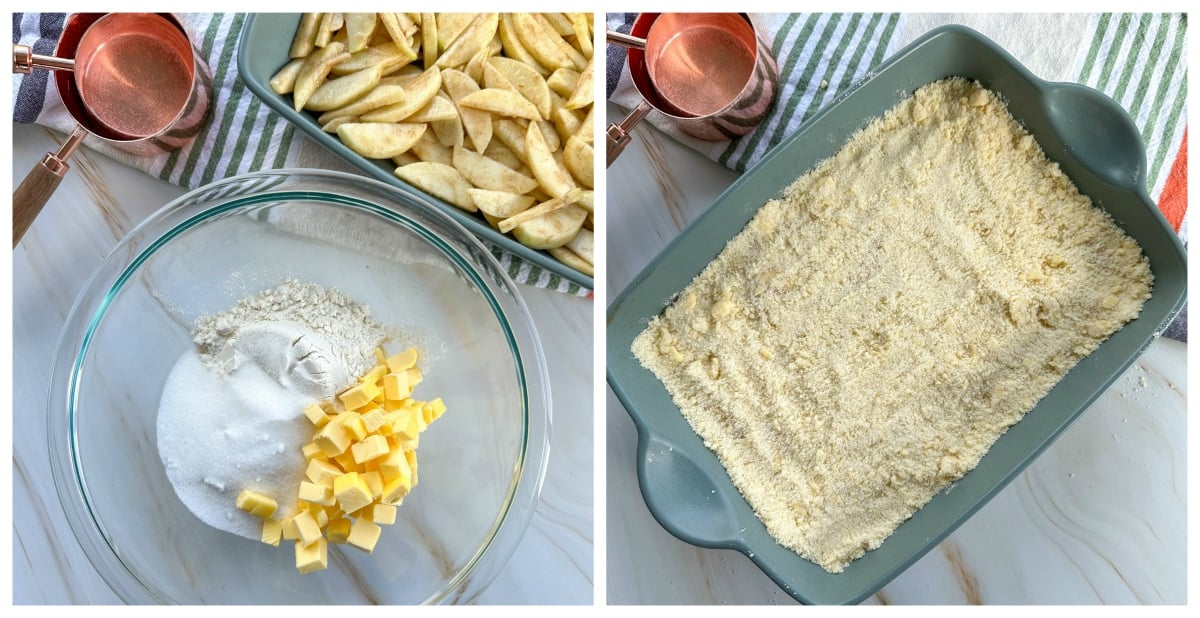 Combine the flour and sugar then using your finger tips rub the butter into the flour until it resembles moist breadcrumbs, careful not to over process it, some lumps is ok.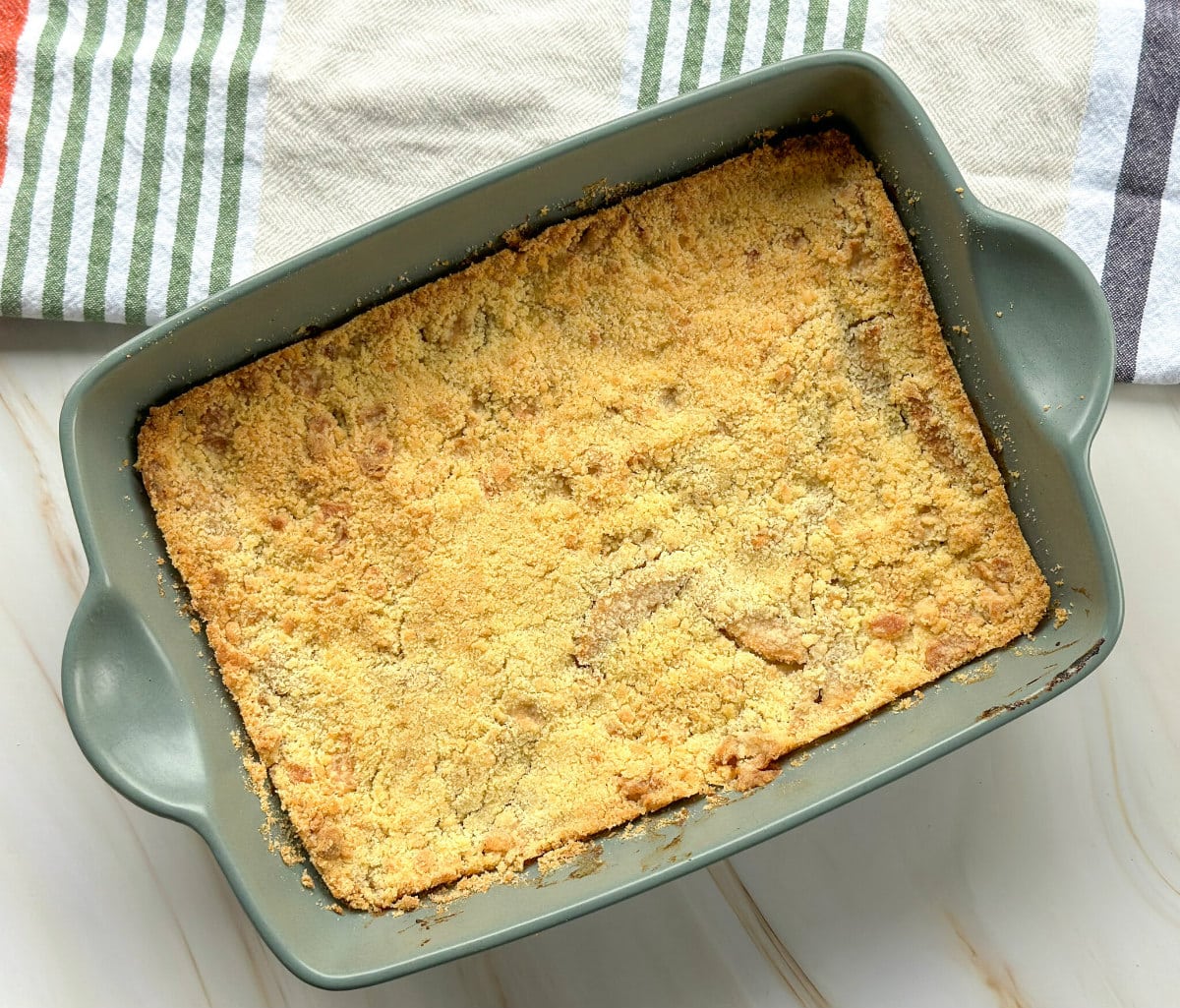 Then pour this evenly over the fruit and bake for 30 minutes or until it is lovely and golden brown and you can hear the fruit below sizzling. Allow it to sit for 20 minutes before serving warm.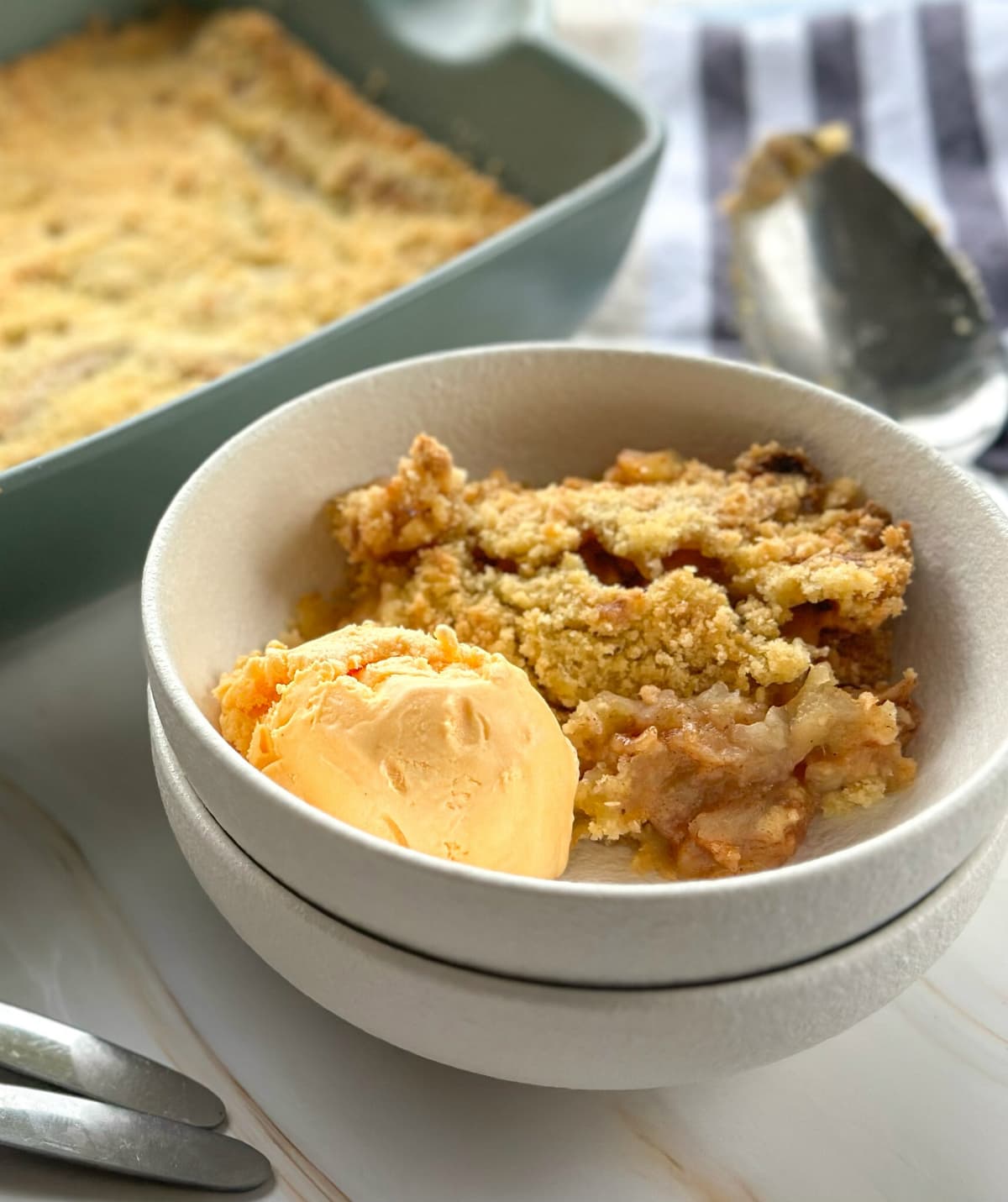 Can serve crumble with vanilla ice cream, cream or custard for a lovely comforting desert.
If you are a fan of apple desserts be sure to check out these, some of my favourites
Onto my recipe for Classic Apple Crumble.
I hope you love this recipe as much as we do, be sure to leave a comment below when you make it.
Thank you so much for stopping by to check out my latest recipes on my blog. If you are not already, be sure to follow me on Facebook or Instagram for more deliciousness, and you can register your email in the subscription box below to receive all my recipes as I publish them.
Pin it! Pinterest