A wonderful buttery crispy crust and a gorgeous caramel sauce makes this Delicious Caramel Apple Pie Recipe something very very special indeed!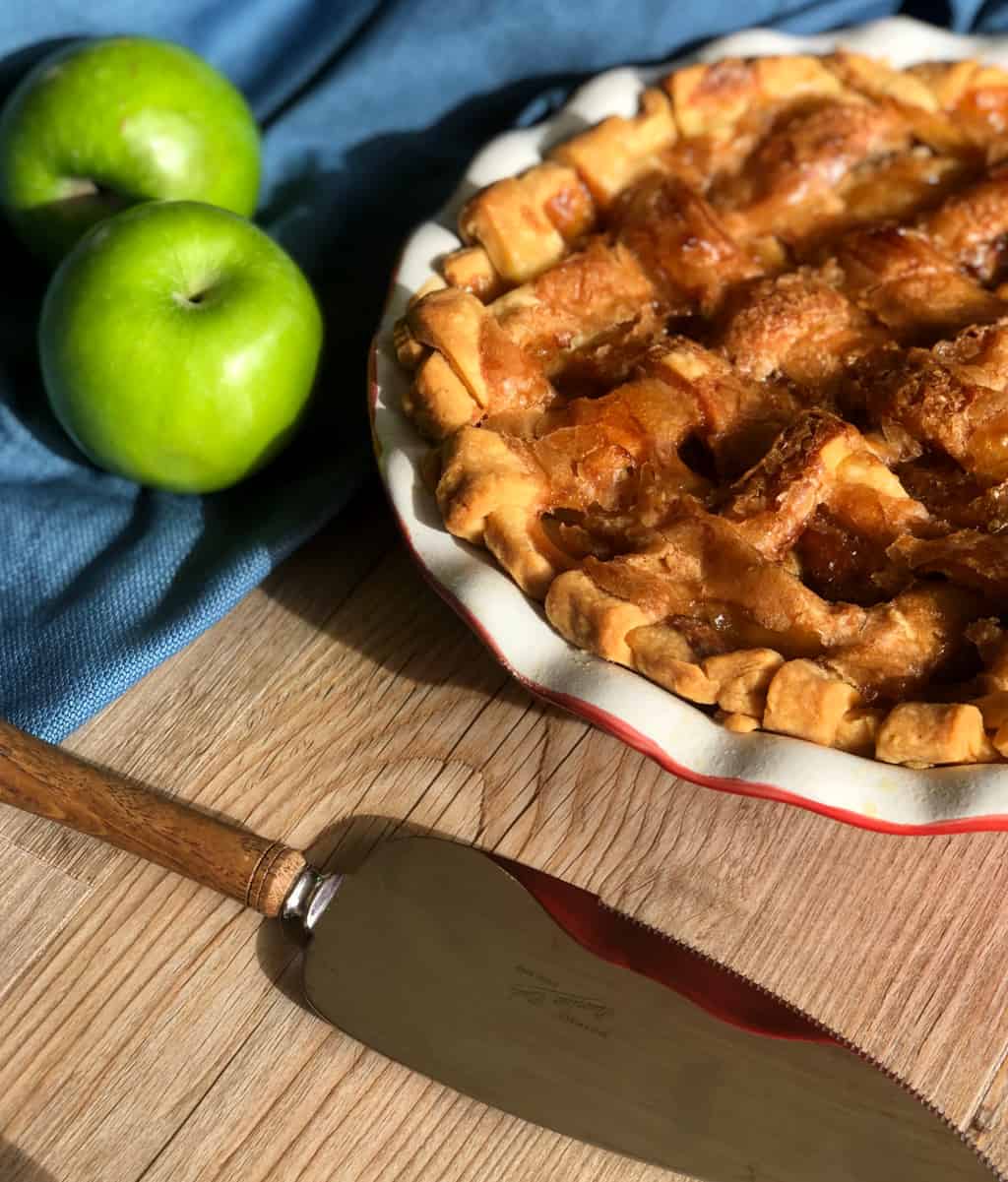 I am truly delighted to bring you this lovely recipe, so many handy tips that you can use to create gorgeous winter warming pies for your family, not to mention how to create a pretty lattice pattern which is much easier than you might think.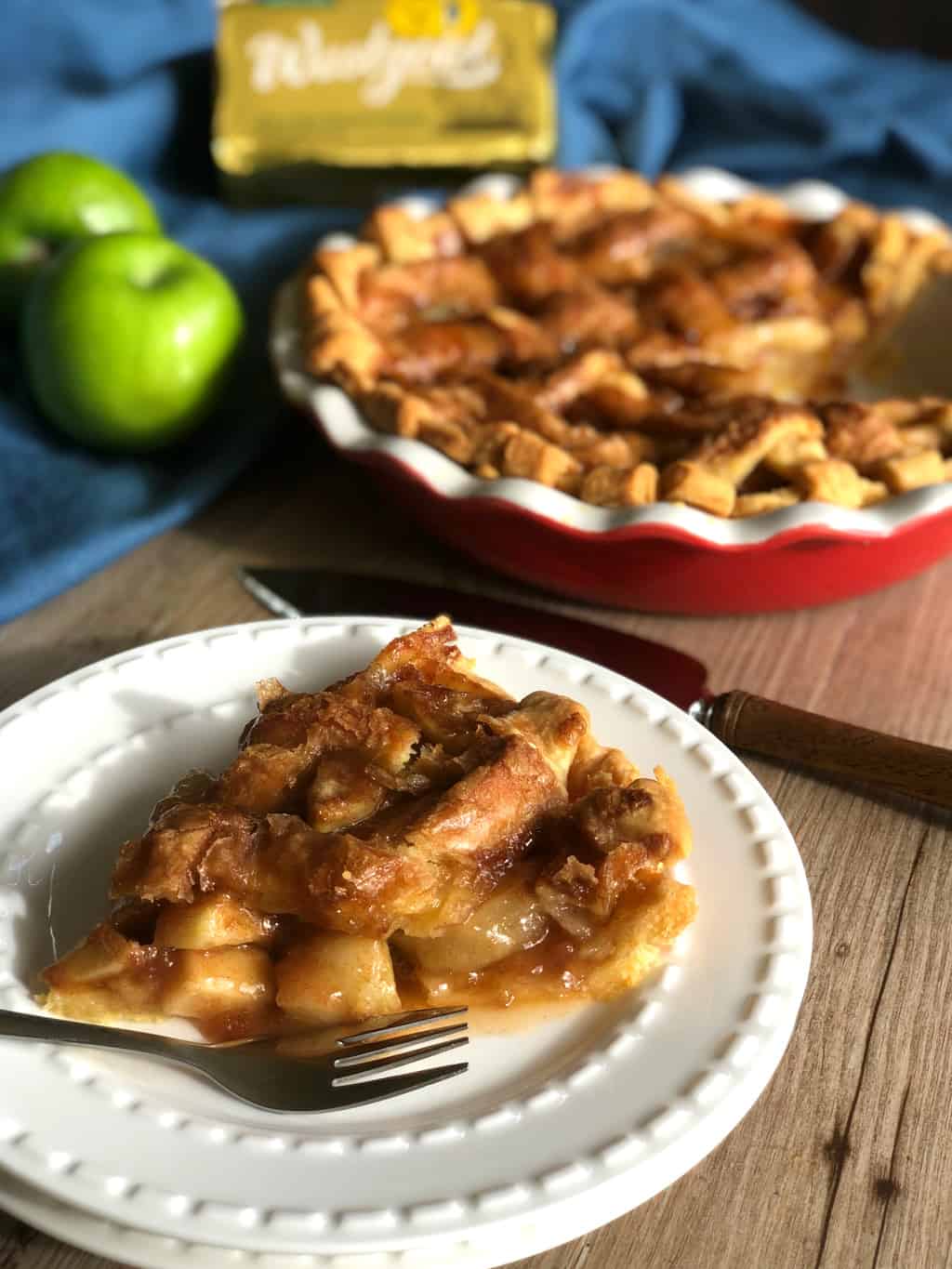 This beautiful recipe is bought to you thanks to Westgold Butter teaming up with me to showcase their award winning pure NZ butter. In this case their unsalted butter is in both the base of a lovely light buttery crispy crust and the dreamy caramel sauce that is drizzled over the apple pie before we bake it.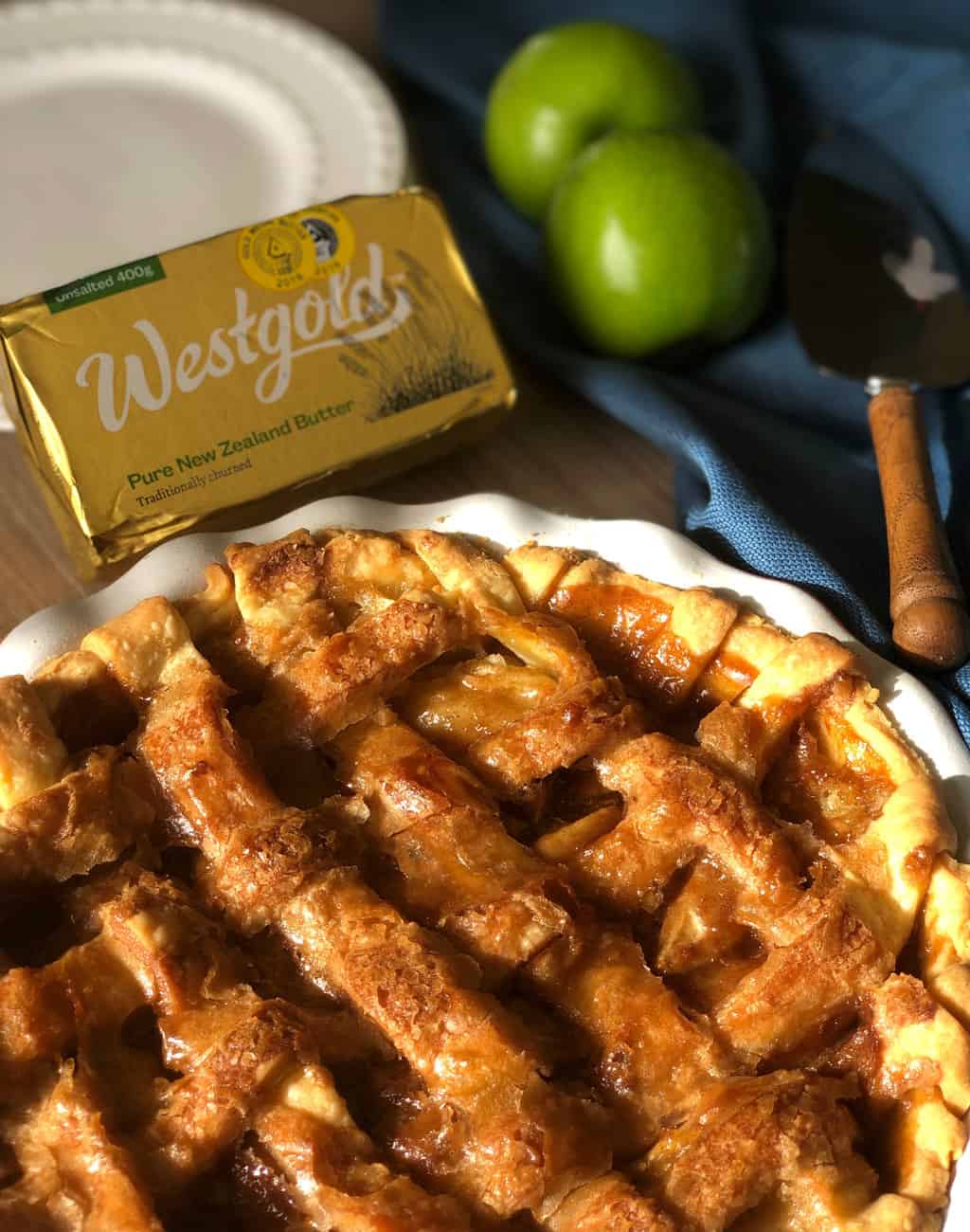 Unsalted butter is made from fresh cream and that is all! In many recipes using unsalted or salted butter does not make a huge difference, however in this one it is lovely to manage the levels of the salt to ensure the rich creaminess shines through, especially for the pastry. This is also the pastry recipe for my Quiche Lorraine – a lovely versatile pastry that can be used in both sweet and savoury recipes.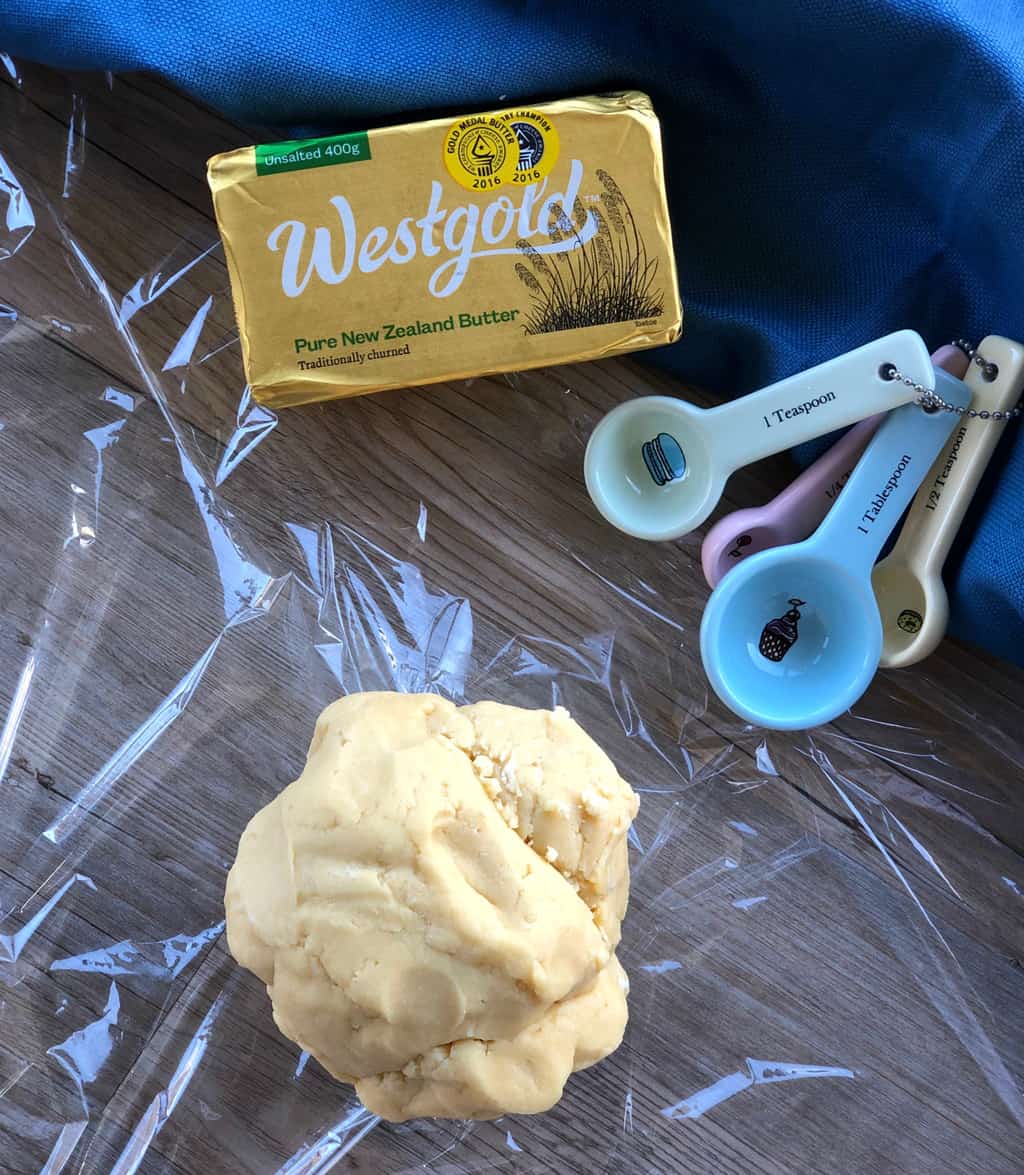 This pie is a little different than the usual apple pie I make in that it has a lattice top and the special caramel sauce is poured over the TOP of the finished pie before you bake it. Having a lattice top is important as these gaps in the top ensure some of the moisture escapes so the sauce becomes rich and caramelly, great eaten freshly warm and just as good the next day.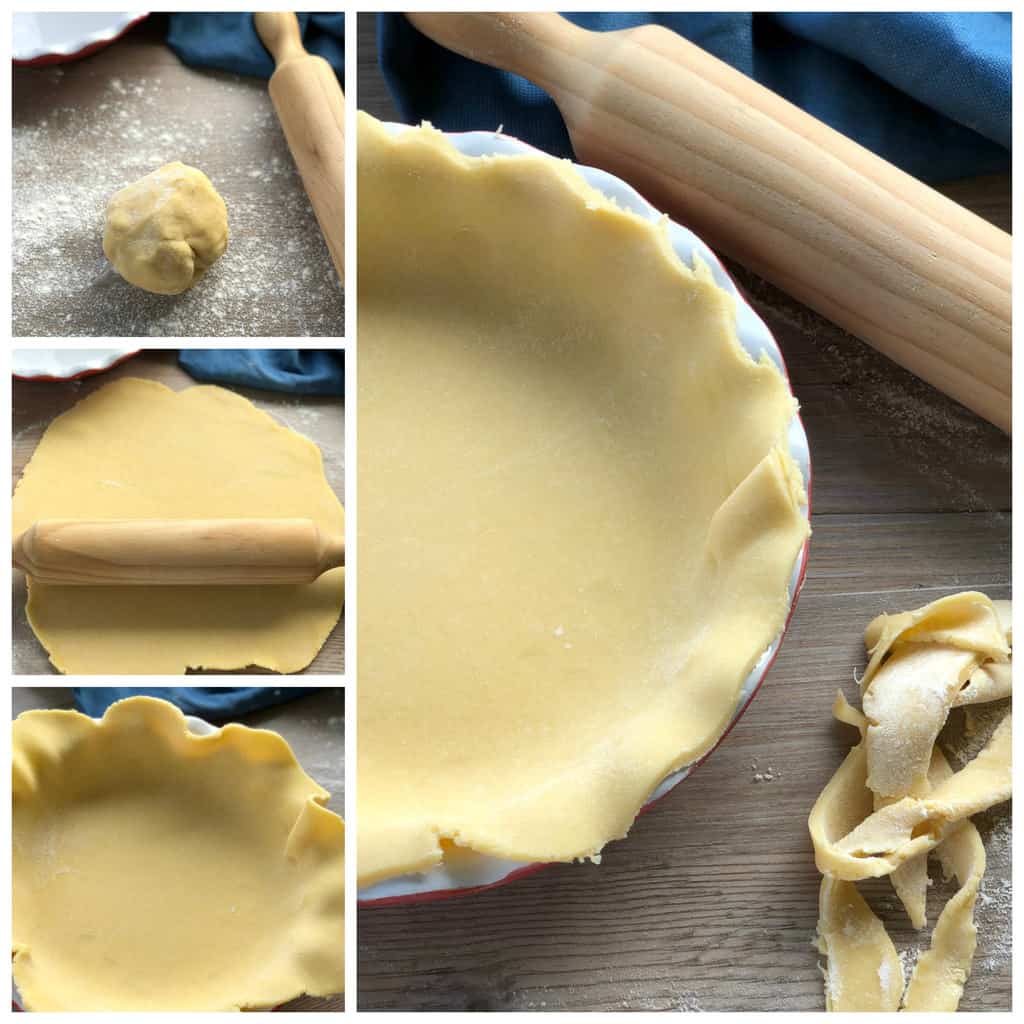 This pastry is quick and easy to make, using a food processor it is super easy – cutting the butter into the flour is very easily done a few pulses at a time until it comes together, using a few simple ingredients such as flour, the chunks of lovely Westgold butter, water, apple cider vinegar and a sprinkling of salt.

The filling is basic also, just some lovely chunkily cut granny smith apples with a little flour and cinnamon. The pastry recipe is the perfect amount for the crust and lattice top, takes just 30 minutes to chill before it is perfect to use. Creating a lattice is very easy, you can make the slices as thin or as thick as you like, I went for a medium lattice here as it is easy to work with and quick too.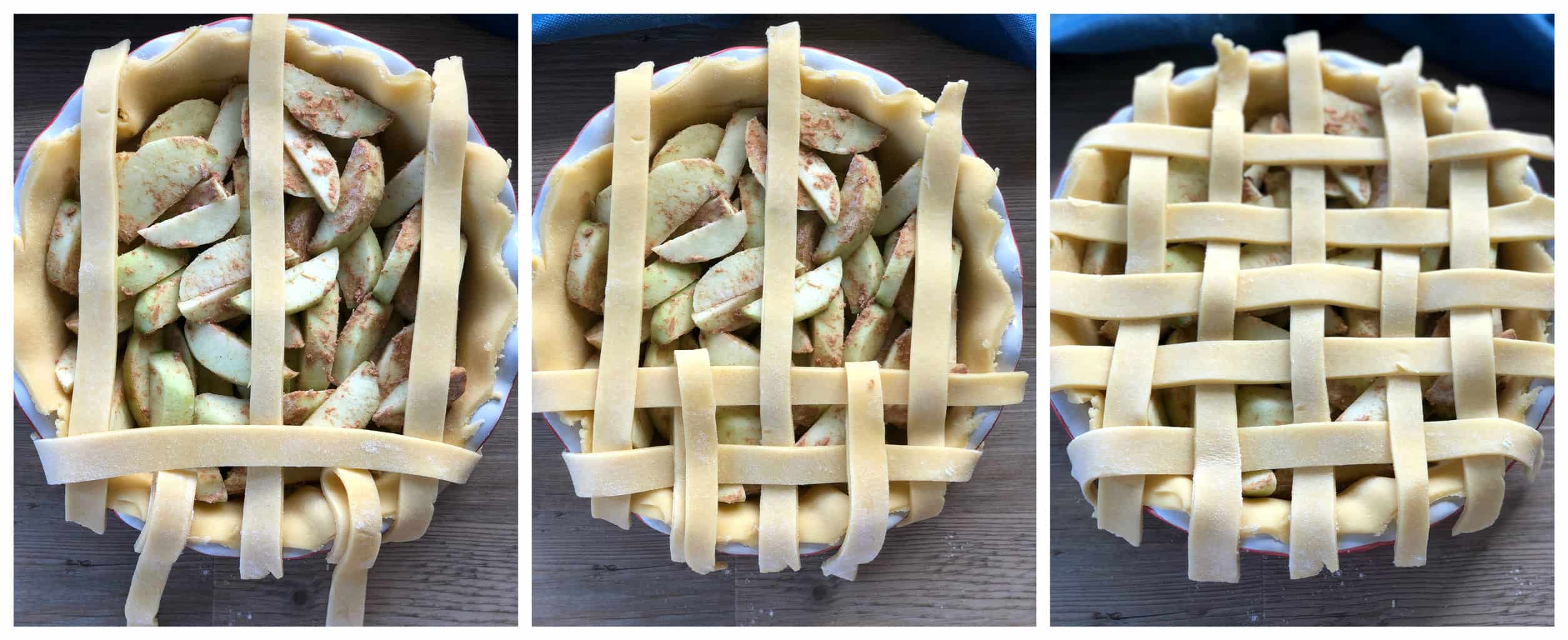 As you can see from the above photos, you lay 5 strips vertically, and then fold back the second and fourth strip, lay one strip horizontally, then fold the strips back up. The fold down strips one, three and five, place a horizontal strip and fold back up, and repeat with remaining strips. Then simply fold the strips under the base pastry and pinch the edges to form a sealed crust.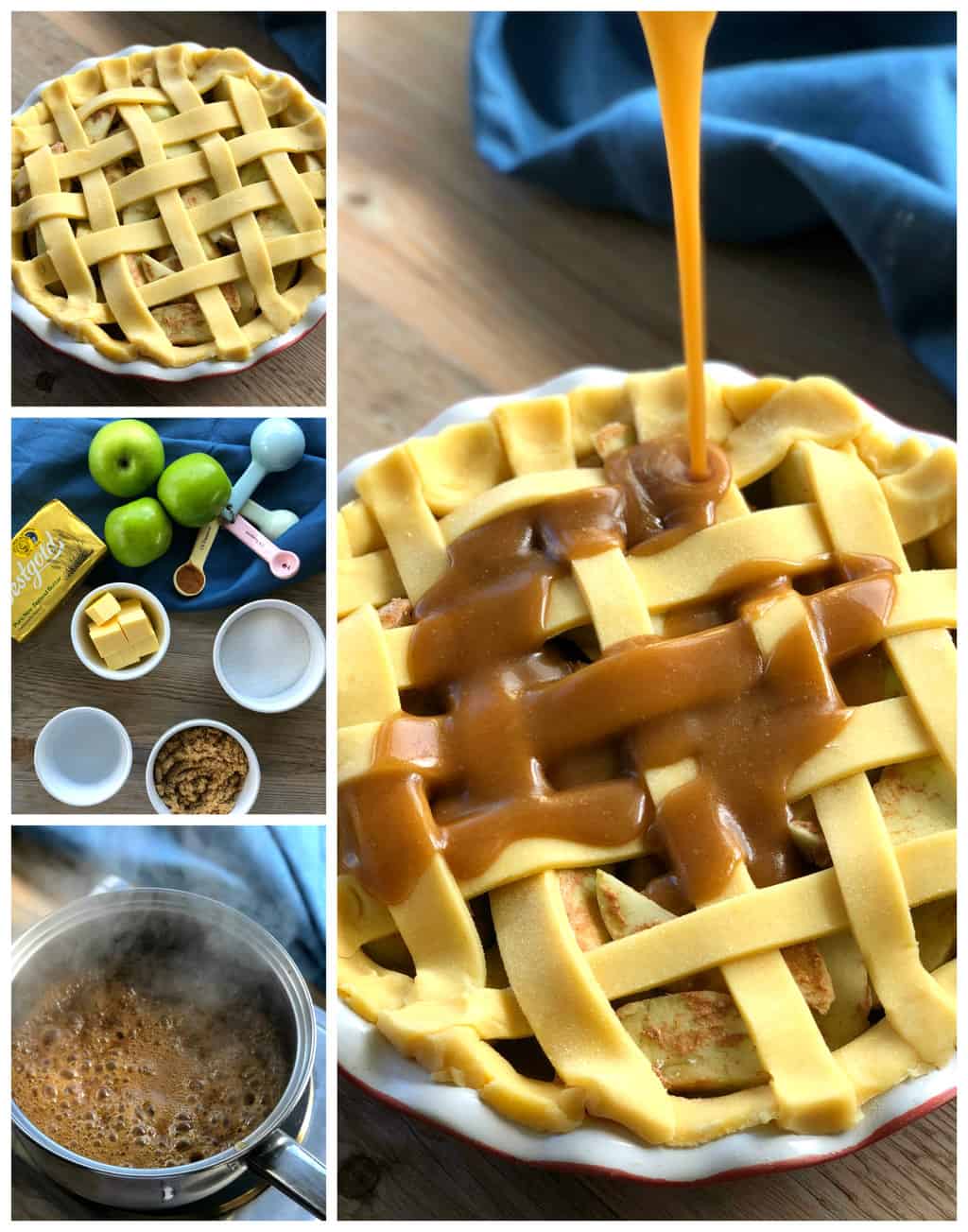 The caramel topping is lovely, a simple combination of all the flavours that go well with apples from brown sugar, white sugar, unsalted Westgold butter, cinnamon and some water – this all boils together and creates a beautiful rich dark sauce that you pour over the top – yes the top – of the pie before you bake it.
During baking the sauce boils and drizzles down into the pie coating all of the apple with a lovely caramel sauce. Also as an added bonus the top lattice has a gorgeous crunchy caramel coating which adds such a special finish.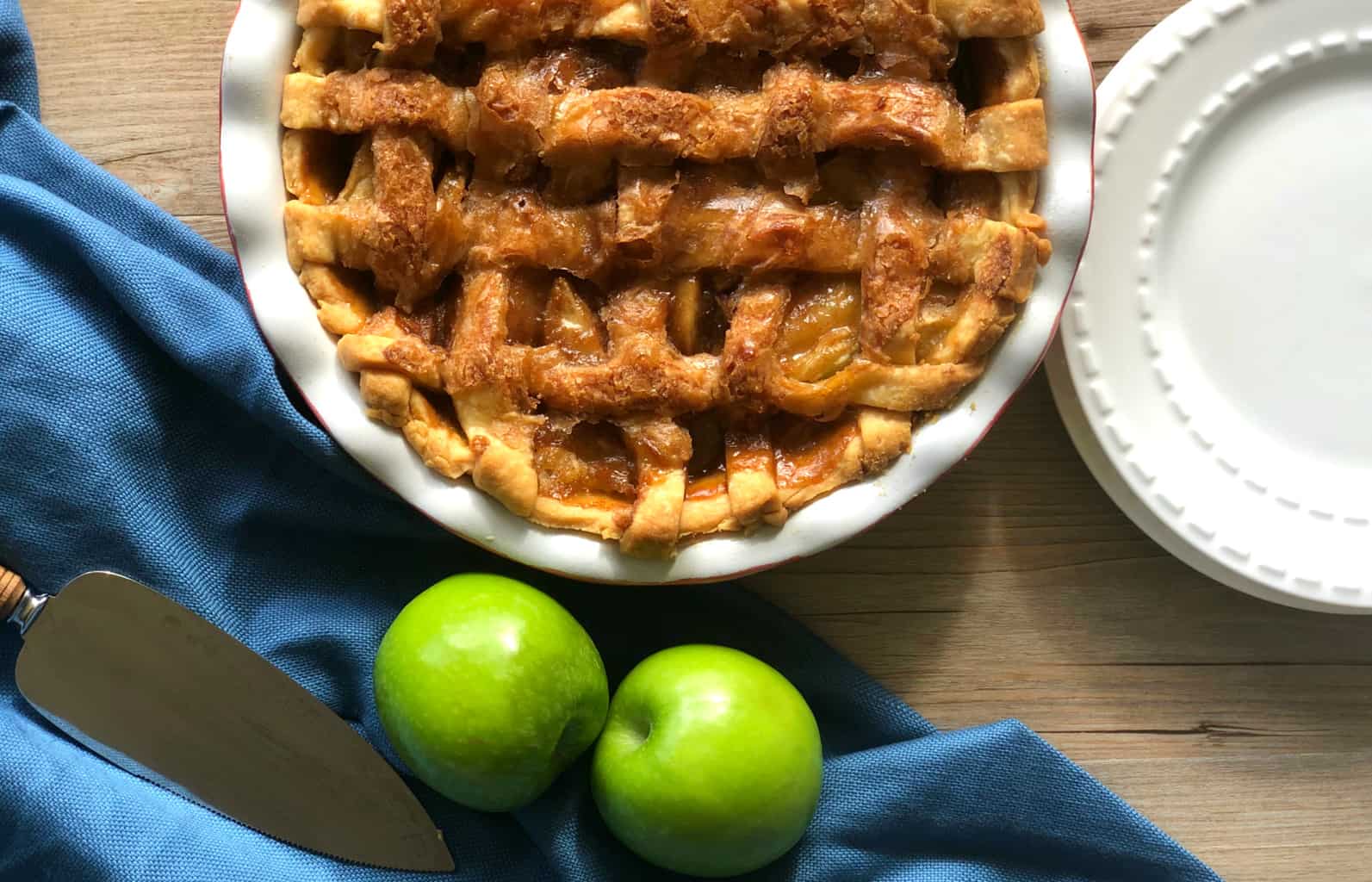 This recipe is adapted from the famous Grandma Ople Apple Pie, with a divine home made crust and a few tweaks to make it my own and even more delicious. Now you can recreate it at home this side of the world with my easy step by step instructions.
So onto the recipe, so easy – I hope you love it too!
There are a lot of steps but trust me when I say it is not time consuming, rather more fun in the kitchen creating deliciousness from scratch.
I hope to see lots of you sharing my recipes on your Insta or Facebook pages! Spread the love.
A huge thank you to Westgold for partnering with me, their quality butter means a divine pastry and caramel apples, a match made in heaven! Be sure to check out their full range in stores.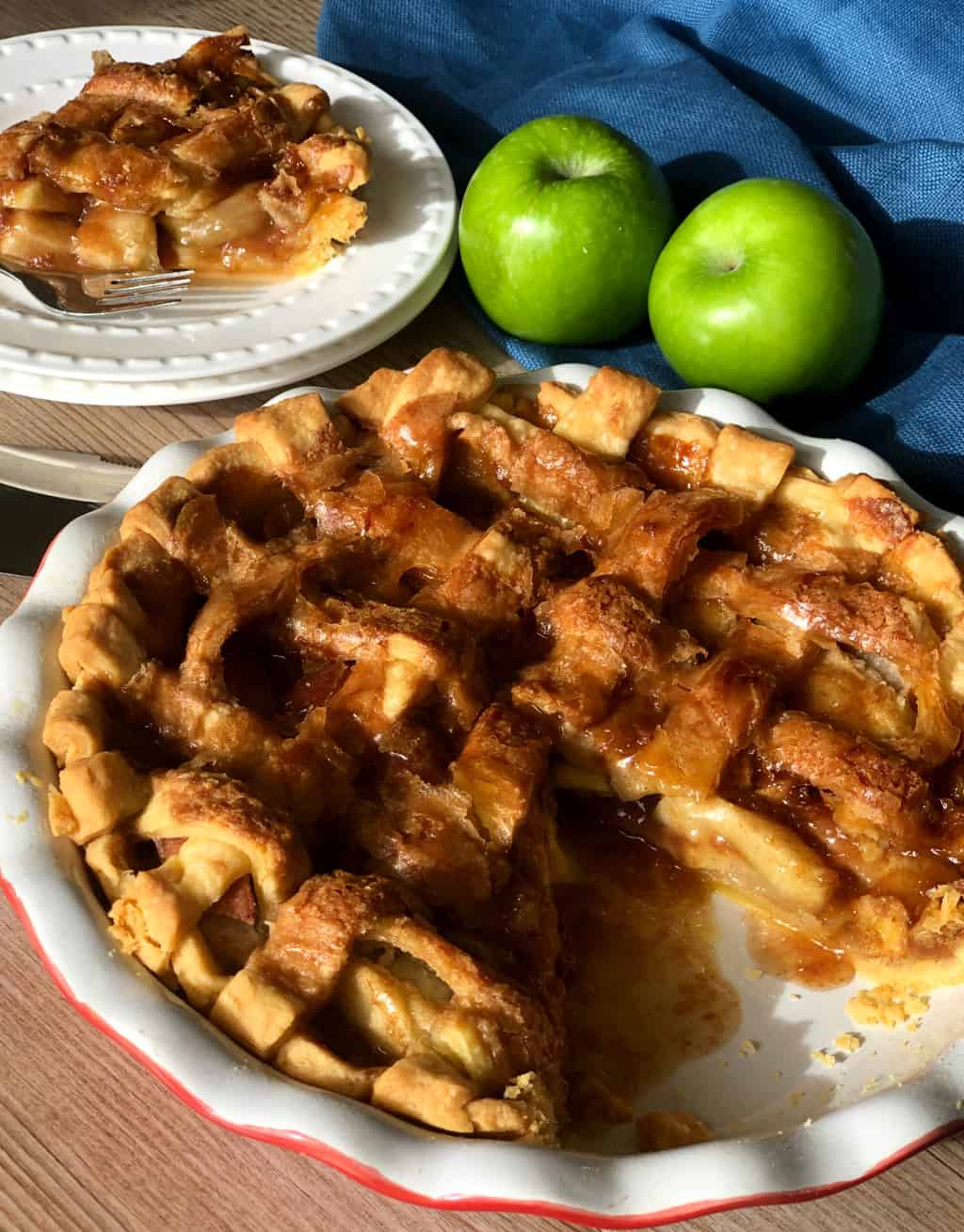 Thank you so much for stopping by to check out this recipe and others on my blog. If you are not already be sure to follow me on Facebook or Instagram for more deliciousness, and you can register your email in the subscription box below to receive all my recipes as I publish them.
Happy Baking!
Anna