I was blessed to know my wonderful Grandma into my early 20′s until she passed from Cancer. She was a Wife to a Sheep Farmer, a Mother to seven, a Grandma to 21 and by now would be a Great Grandma to lots & lots of Great Grandchildren!
She was very special to me and some of the fondest memories I have of her are baking and preparing meals for her family & grandchildren and I am delighted to have many of her recipes, passed on by my Mum who was her eldest daughter.
This is such a yummy recipe – so light and really easy to make. It is one of my favourites and I am sure it will become one of yours too!
Grandma's Apple Shortcake

Ingredients
6 oz room temperature butter (170 grams)
1 teacup of sugar (delighted with this reference – I just use 1 Cup)
2 eggs
1 tsp baking soda *
3 Cups Flour
2 tsp cream of tarter* (can replace with 3 teaspoons of baking powder (omit BOTH the baking soda and cream of tarter if you do this) )
pinch of salt
Apple Filling = I use a pre-prepared can of Delish Apple Pie Filling or use fresh or stewed apple.
*If you do not have cream of tarter simply replace both the baking soda and cream of tarter with 3 teaspoons of baking powder. 🙂
Method
Preheat Oven to 180C – 355F
Cream the butter and the sugar in a food mixer until pale
Add eggs and blend well, then sift the dry ingredients and combine until the dough comes away from the side of the bowl. (If you know me from this blog you know I never sift anything so up to you!)
Gently knead into a ball and fridge in gladwrap for 30 minutes (at least).
Roll out half of the dough on a well floured bench into desired shape and using rolling pin to carefully transfer the dough to the prepared greased dish and gently press in – trim off excess if needed.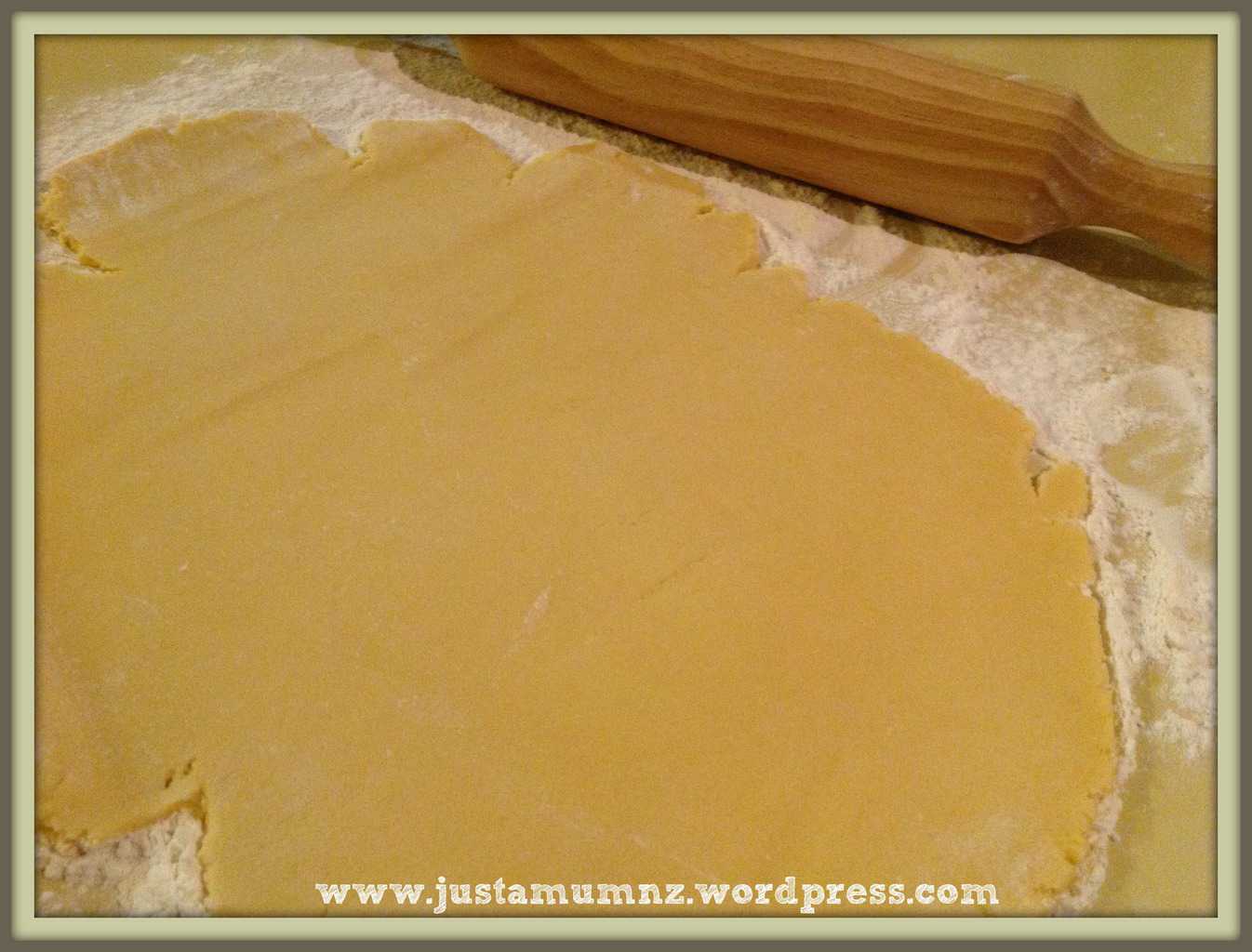 Sprinkle a small amount of white sugar and cinnamon onto the dough and then spoon the apple mixture onto the base.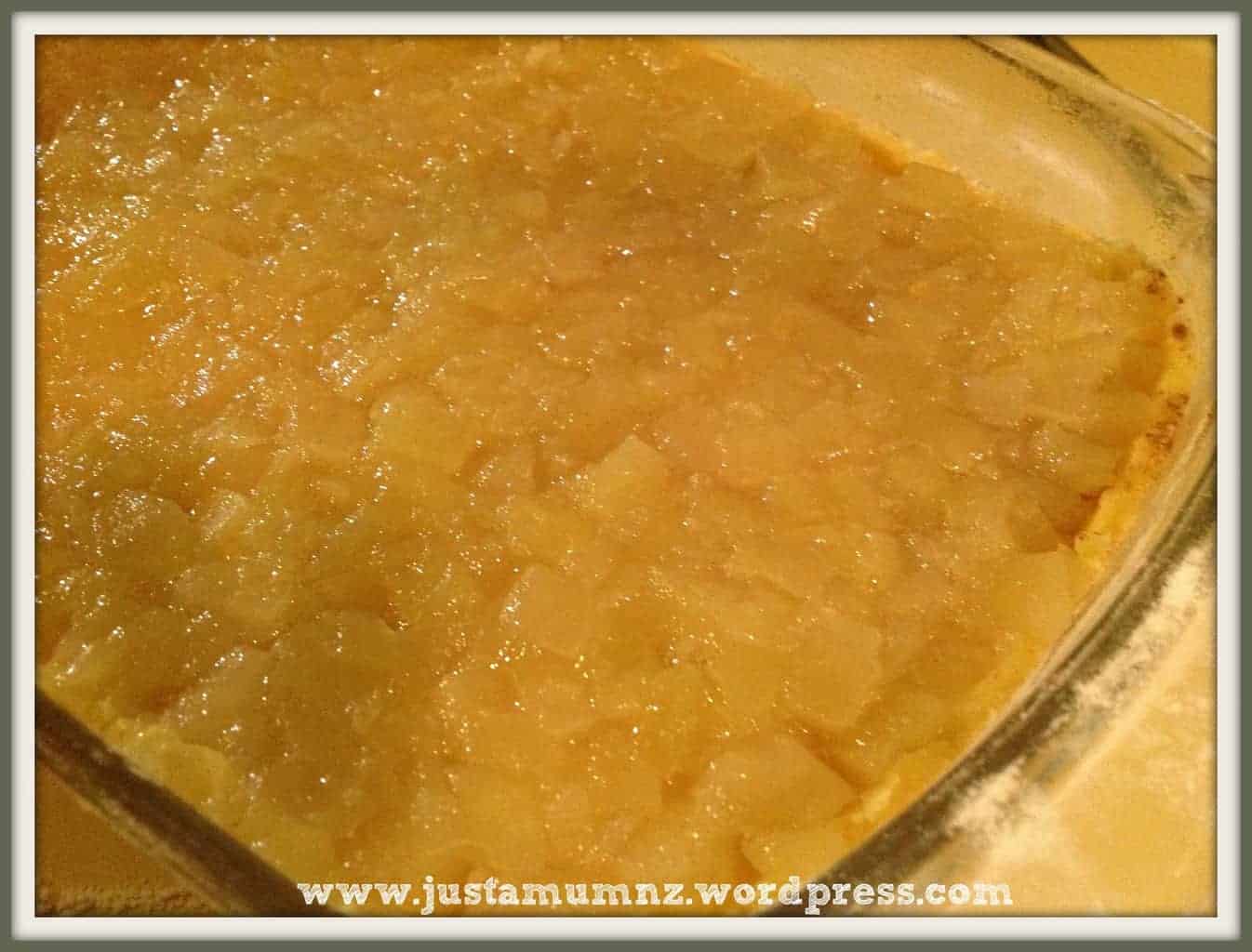 Repeat with the remaining dough – roll and gently lap on top of the apple mixture then gently press down – trim the edges until they are tidy.
Feel free to make a pretty pattern or simple marks with a fork for added effect once cooked.
Cook for 25-30 minutes until golden brown on top

The most important aspect of cooking times for this recipe is that the bottom is cooked well – which is why I like to use a clear glass baking dish – the bottom needs to begin to brown. So if in doubt give it a few minutes longer so that it does not fall apart when you slice it.
Remove from oven and allow to cool before slicing into squares, dust with icing sugar to serve.
IMPORTANT NOTE: If you store this in an airtight container it will go soft! I found this out the hard way. What I do is if I make it the day before I simply leave it in the slice dish with a tea towel over the top then slice just before I am ready to serve it. It is beautiful like this or served the same day. If you wish to keep it longer do pop it in an airtight container if you like, but be aware it will go soft, but still taste delicious! 🙂
This can easily be made into an Apple Pie – and is so so good with ice-cream, custard or cream! Simply add the dough to your favourite pie dish with the same method. Bake and serve while hot. Yum!
Thank you so much for stopping by to see this lovely recipe from my dear Grandma, have a look around while you are here for more Sweet Treats or Fun Activities for Kids.
You can sign up via email to receive my posts or check me out on Facebook or Twitter.
www.facebook.com/justamumnz
www.twitter.com/justamumnz
Enjoy! 🙂 tesp