The ultimate comfort food, I have perfected Macaroni Cheese and it is so good!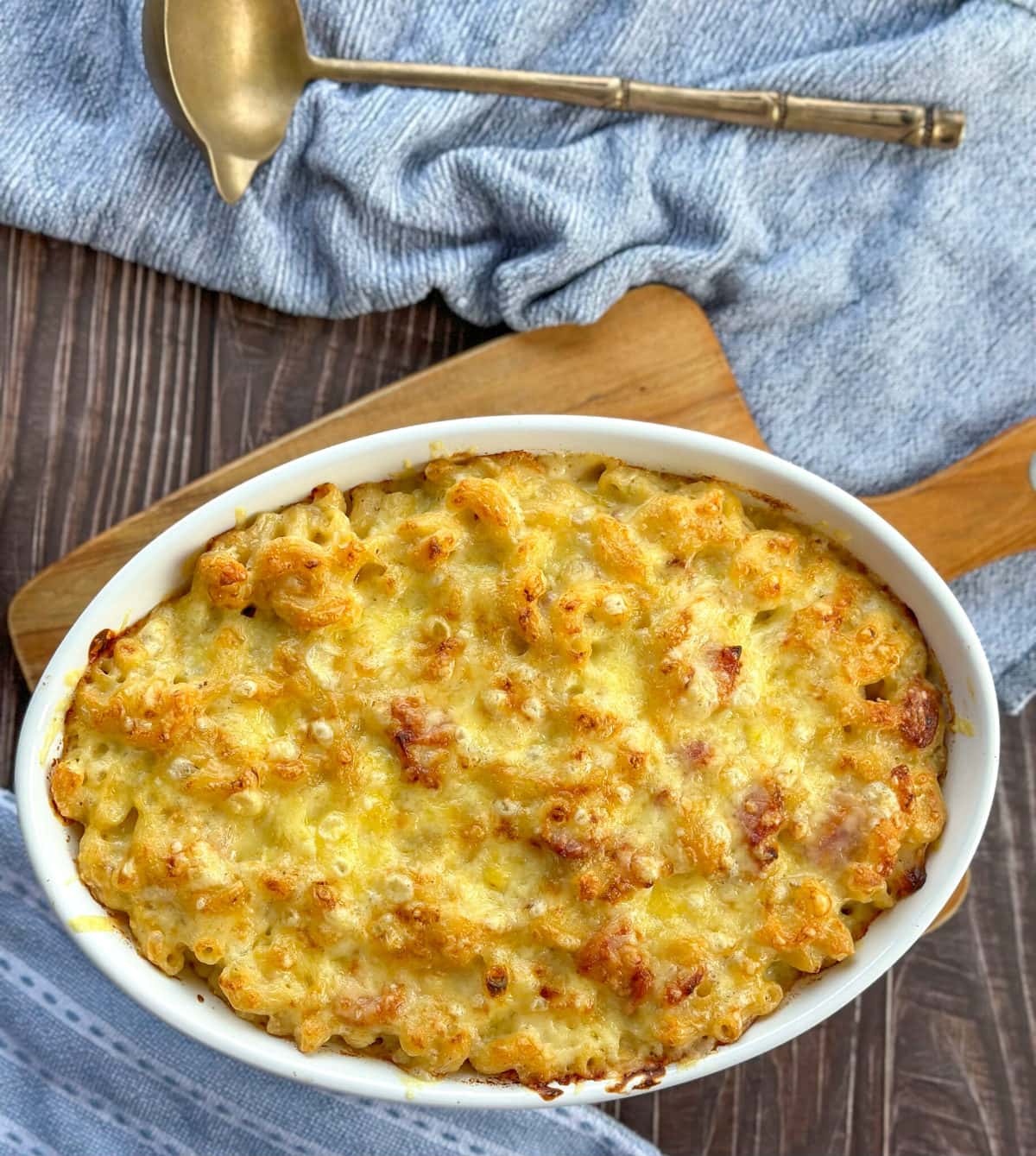 This post was first published January 28 2014 UPDATED 9th May 2023
I was never a fan of Mac n Cheese growing up – too often it to me tasted of well Macaroni and Cheese! A bit bland and not something I would seek out. Well this has all changed with a few additions and jazzing up my basic recipe over the past 20 years.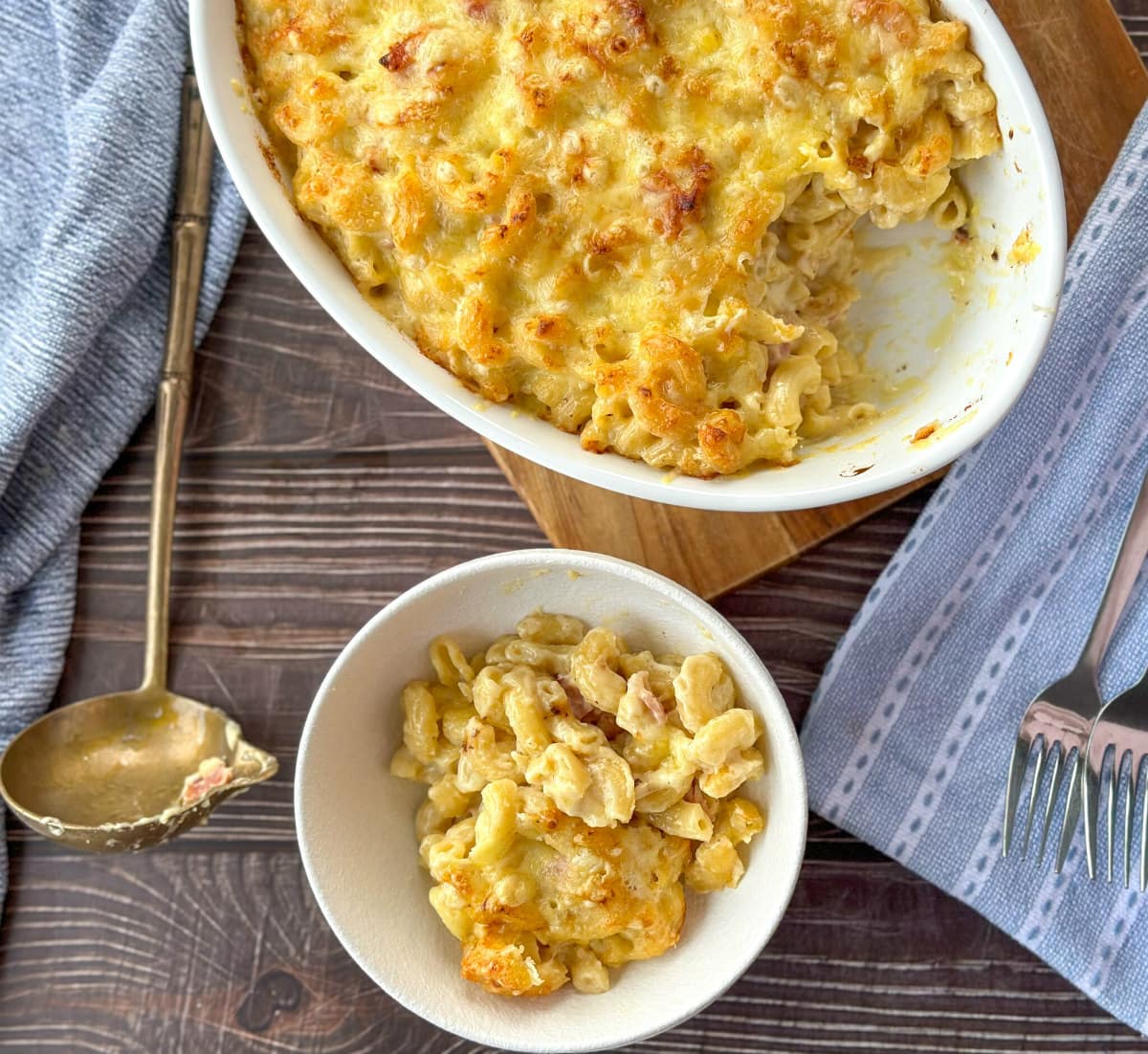 The secret to mine is adding sautéed garlic, bacon and sometimes mushrooms and the flavour is just lovely. You will have a few pans on the stove top so why not add one more.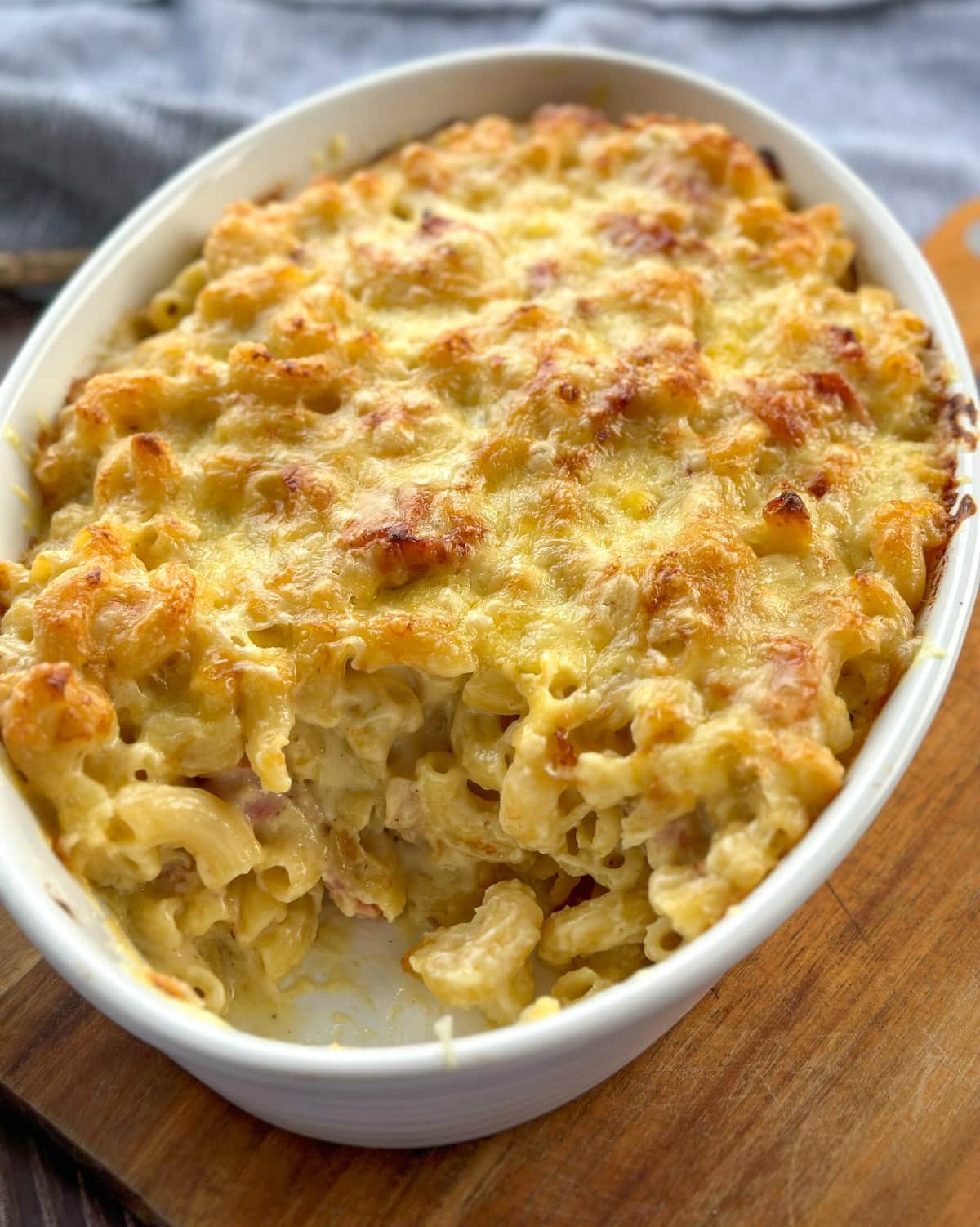 Macaroni Cheese is one of my favourite comforting dishes and the kids love it too. I do find that it is quite involved with a few steps but so worth the effort.
There are so many variations of this recipe, they are all the same basic principles of macaroni with a lovely cheese sauce, and in this case some additional flavours to enhance it even further! Feel free to leave out the garlic and bacon if you prefer but it does lift it.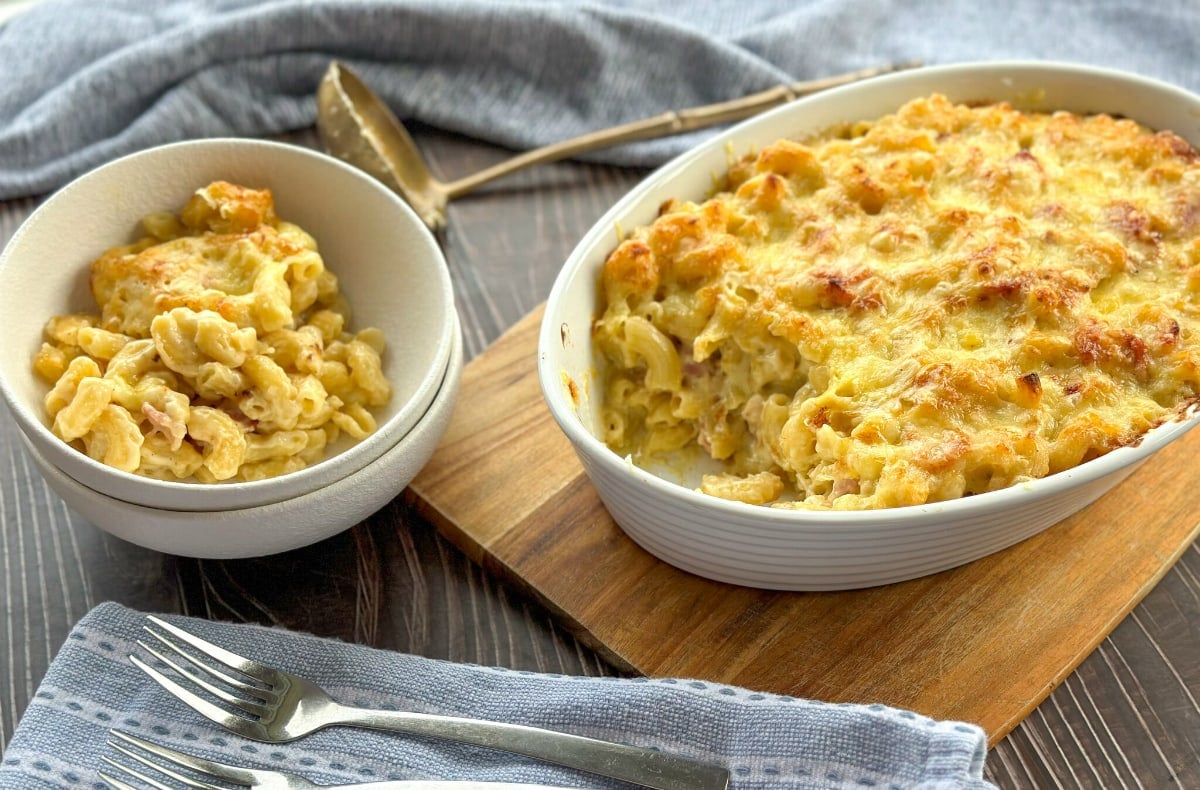 You will need the following ingredients
(Please scroll down further to see the full list of ingredients and method in the printable recipe card)
Macaroni Elbows
Bacon rashers
Garlic
Butter
Plain White Flour
Milk
Salt & Pepper
Cheese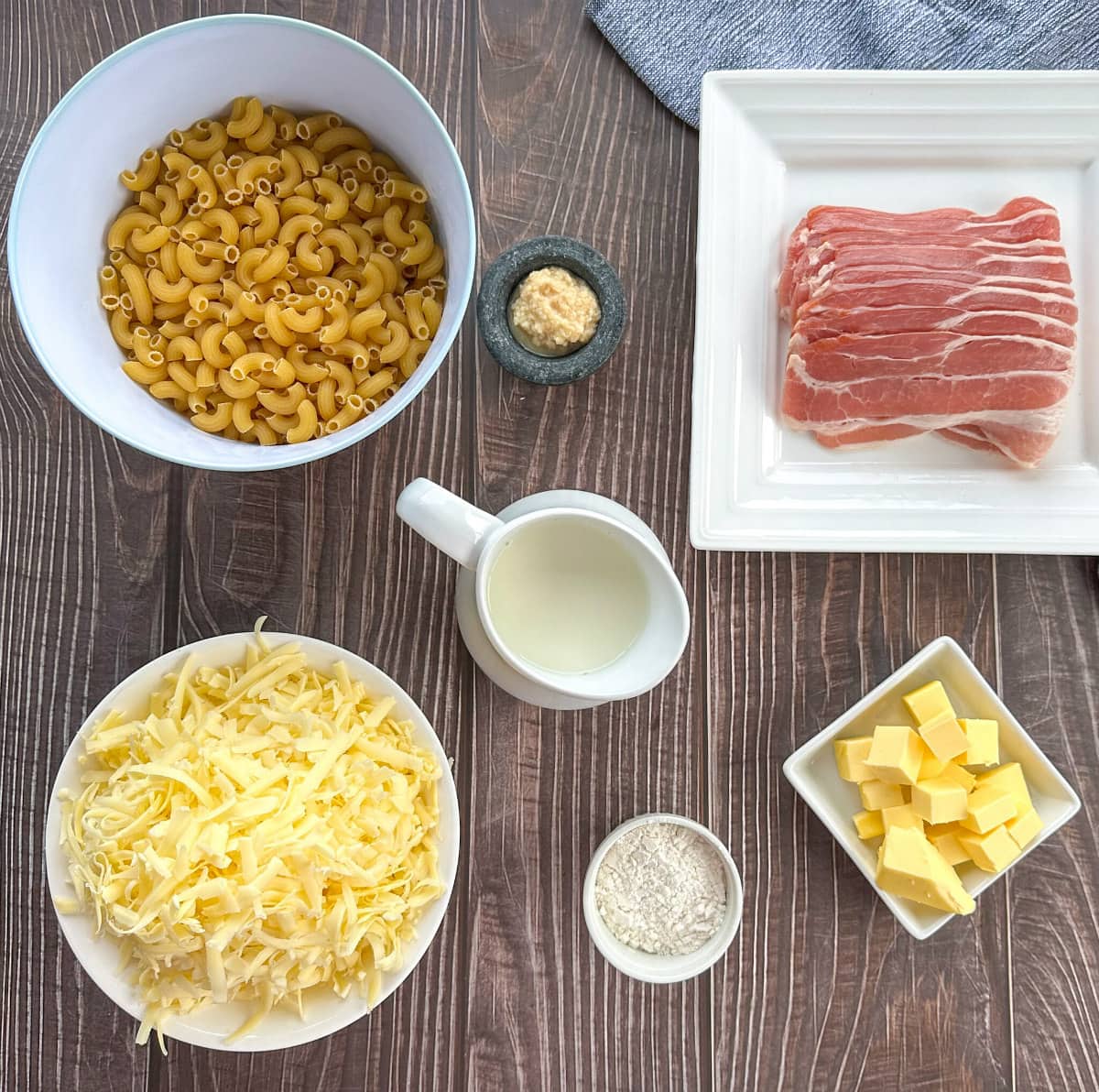 The method is lovely and simple but you will have a few sauce pans on the go, feel free to do this all at one time, or can cook the components separately.
First get the pasta on the go, cook according to the packet directions, which is basically a large pot of salted boiling water and adding your macaroni elbows to this and cooking until just al dente.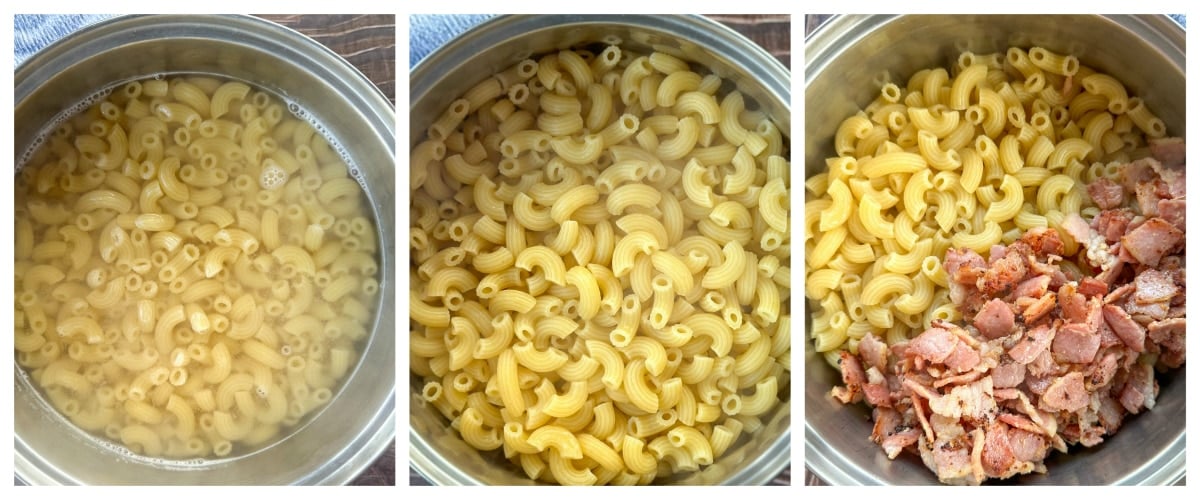 For the bacon and garlic, I love this addition of crispy bacon. So to cook this I cook diced bacon in butter then once it is nice and crispy add the garlic and sauté this to add maximum flavour. Sometimes I will also add mushrooms to this and then it is amazing!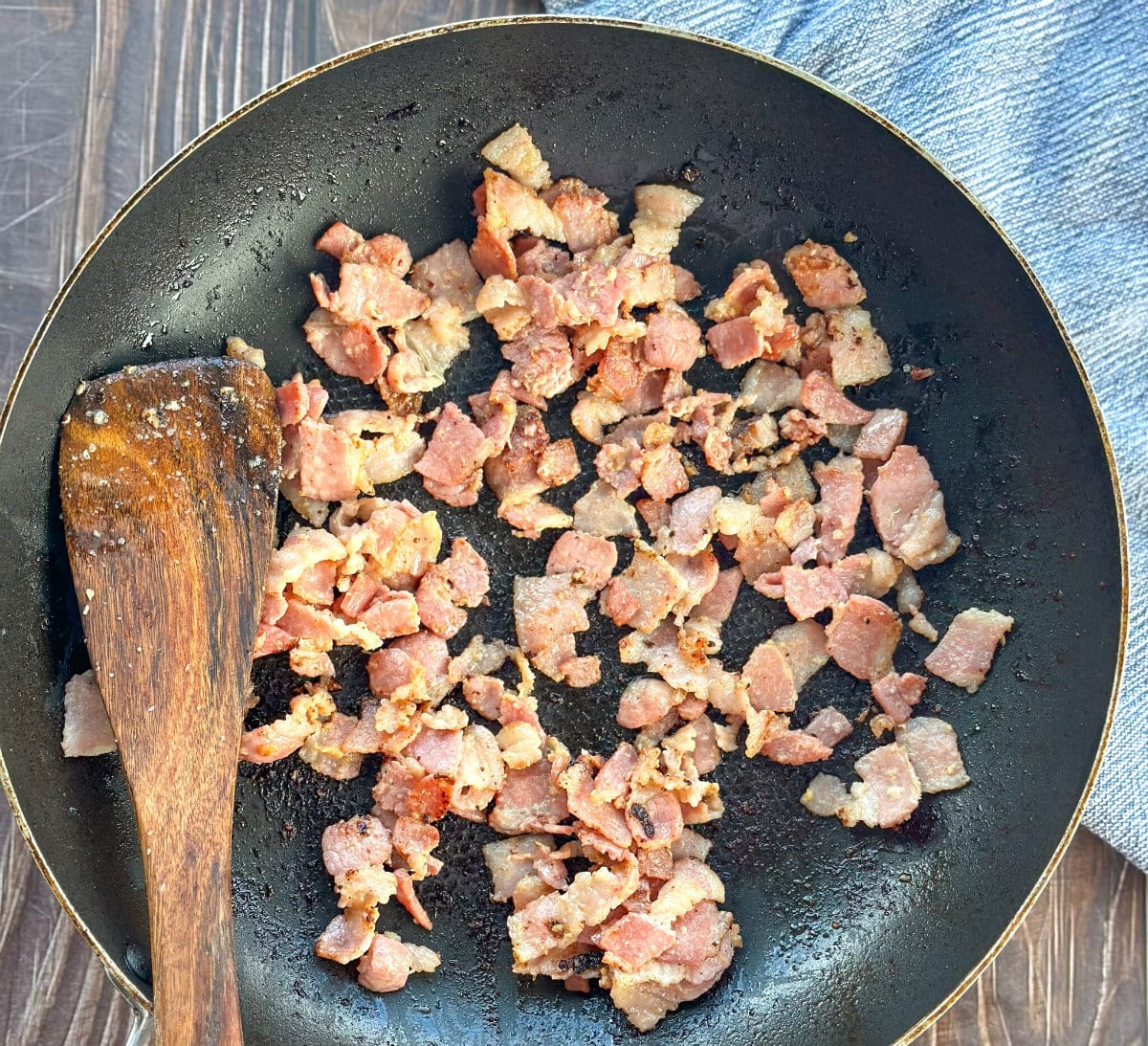 Then the best bit, the cheese sauce. My cheese sauce is slightly more than most recipes, I like there to be more sauce and for it to be SUPER cheesy!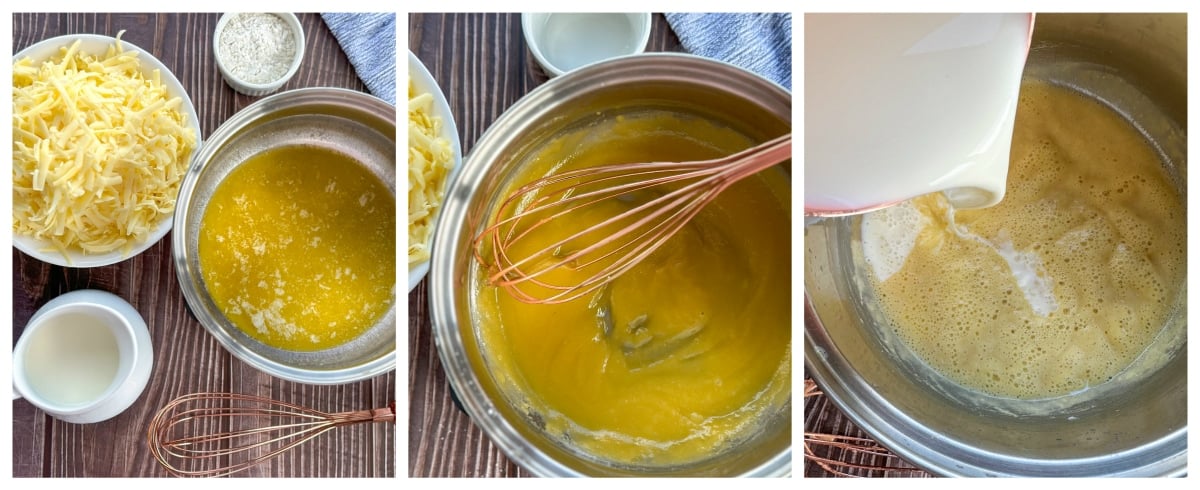 You need to watch over cheese sauce carefully to ensure it does not catch at any stage. The first stage is to combine melted butter with some flour, cook this off until it starts to foam.
You can actually notice a change of smell after you have made this a few times which indicates to me it is time to add the milk.

I add the milk a little at a time, it will start off very thick, but adding it a little at a time ensures there are no lumps. Some people use hot milk, this does cut down the timing of the thickening so up to you.
Whisk the milk often ensuring it does not burn at the bottom, until it is lovely and thick. Should coat the back of a spoon and fall in ribbons against the sauce. Once lovely and thick remove from the heat and add a pinch of salt and pepper.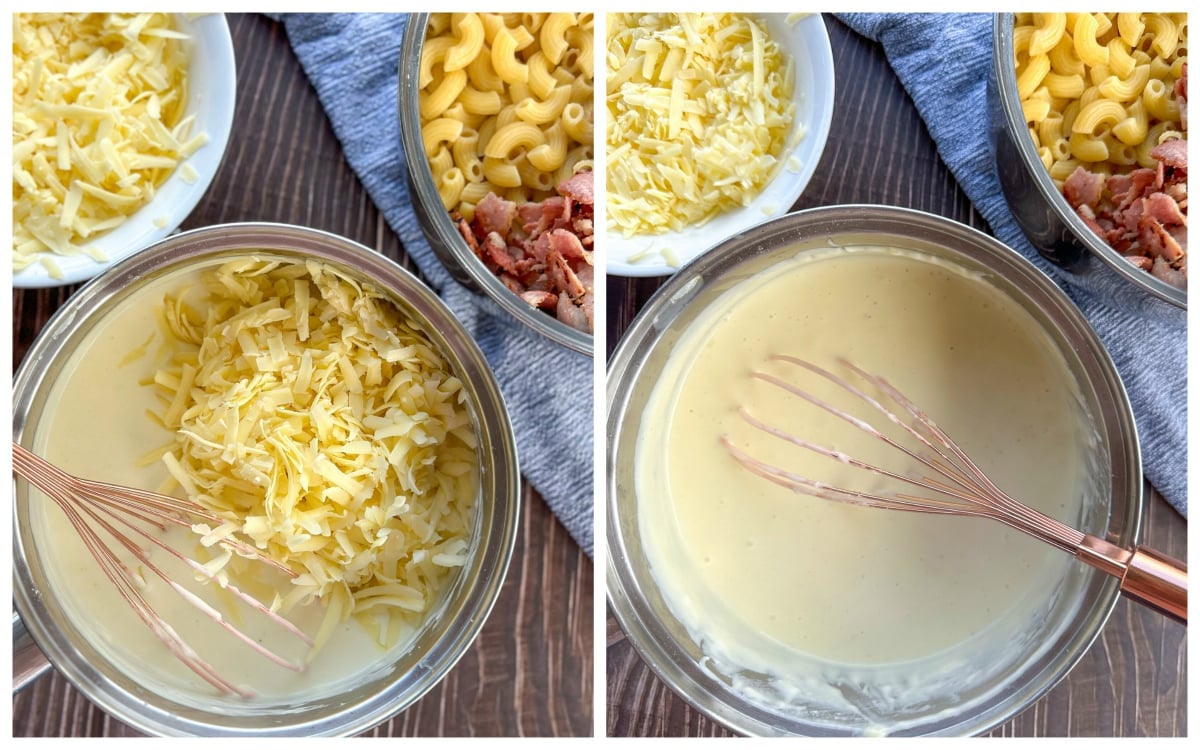 Add to this the bulk of the cheese, leaving some for the topping. I like to pop the cheese in the sauce and let it sit for a few minutes to begin to melt then whisk well until no lumps remain.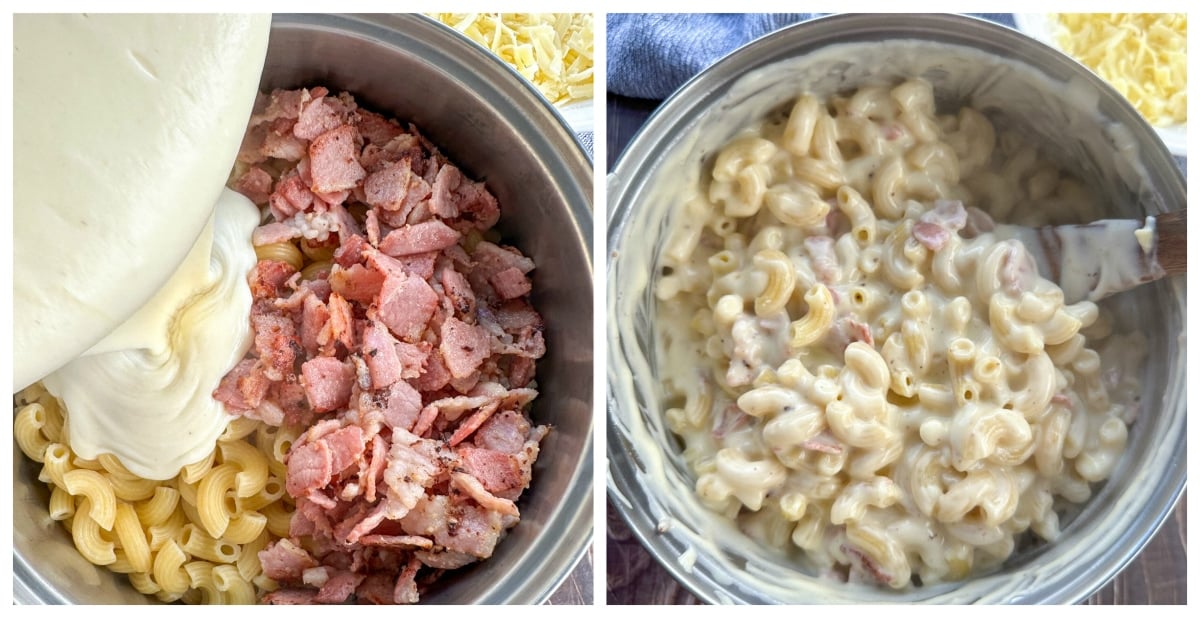 In the large saucepan the macaroni was cooked in combine the macaroni and bacon, stir then pour over the cheese sauce and fold through thoroughly.
Spoon this into an oven proof dish and sprinkle with the remaining cheese. Bake until golden brown and serve! So so good!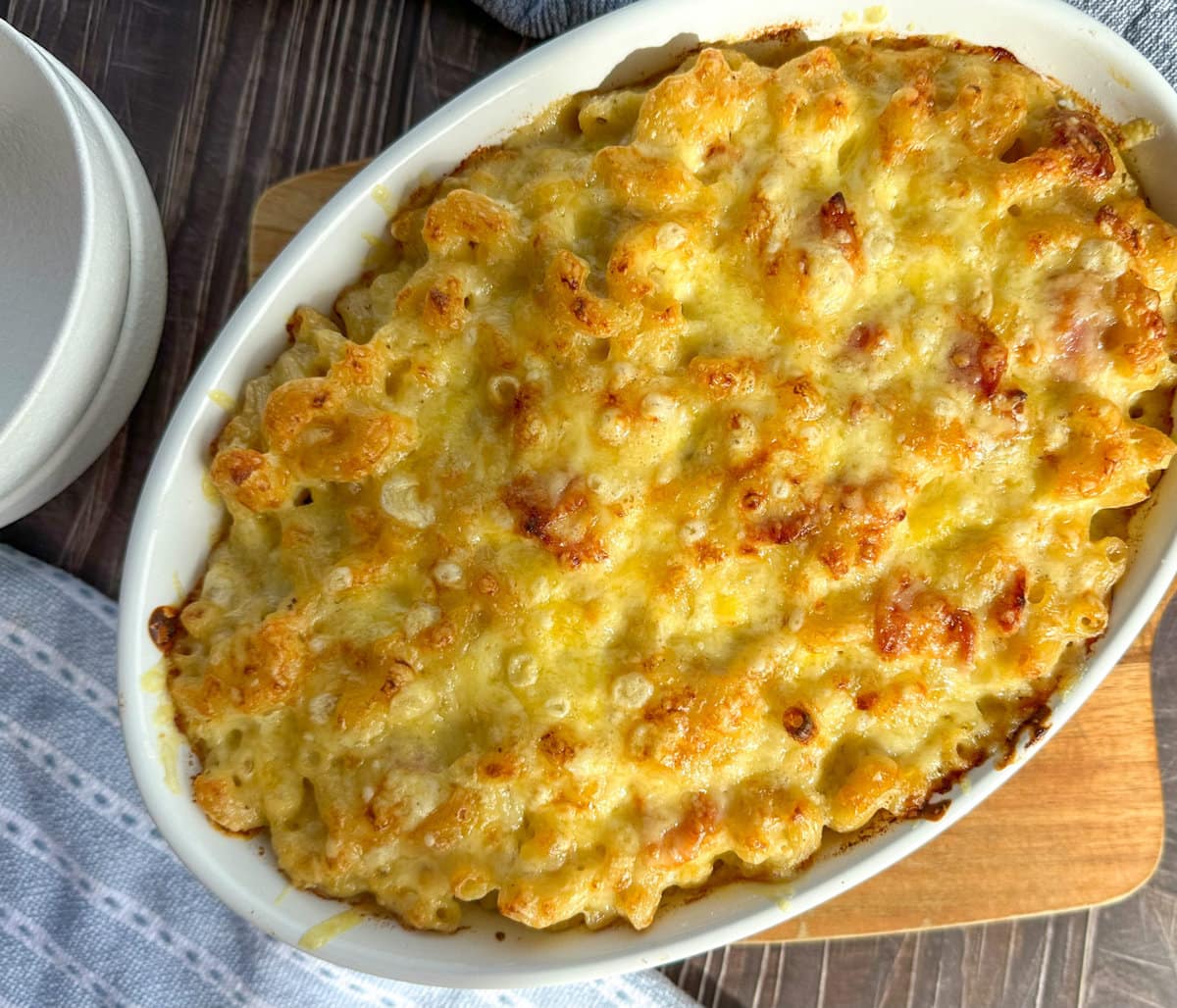 If you are a fan of pasta dishes check out some of my most popular
Creamy Chicken & Bacon Fettucine
I hope you love my version of Macaroni Cheese
I hope you enjoy this recipe as much as we have. Be sure to let me know in the comments below when you make it.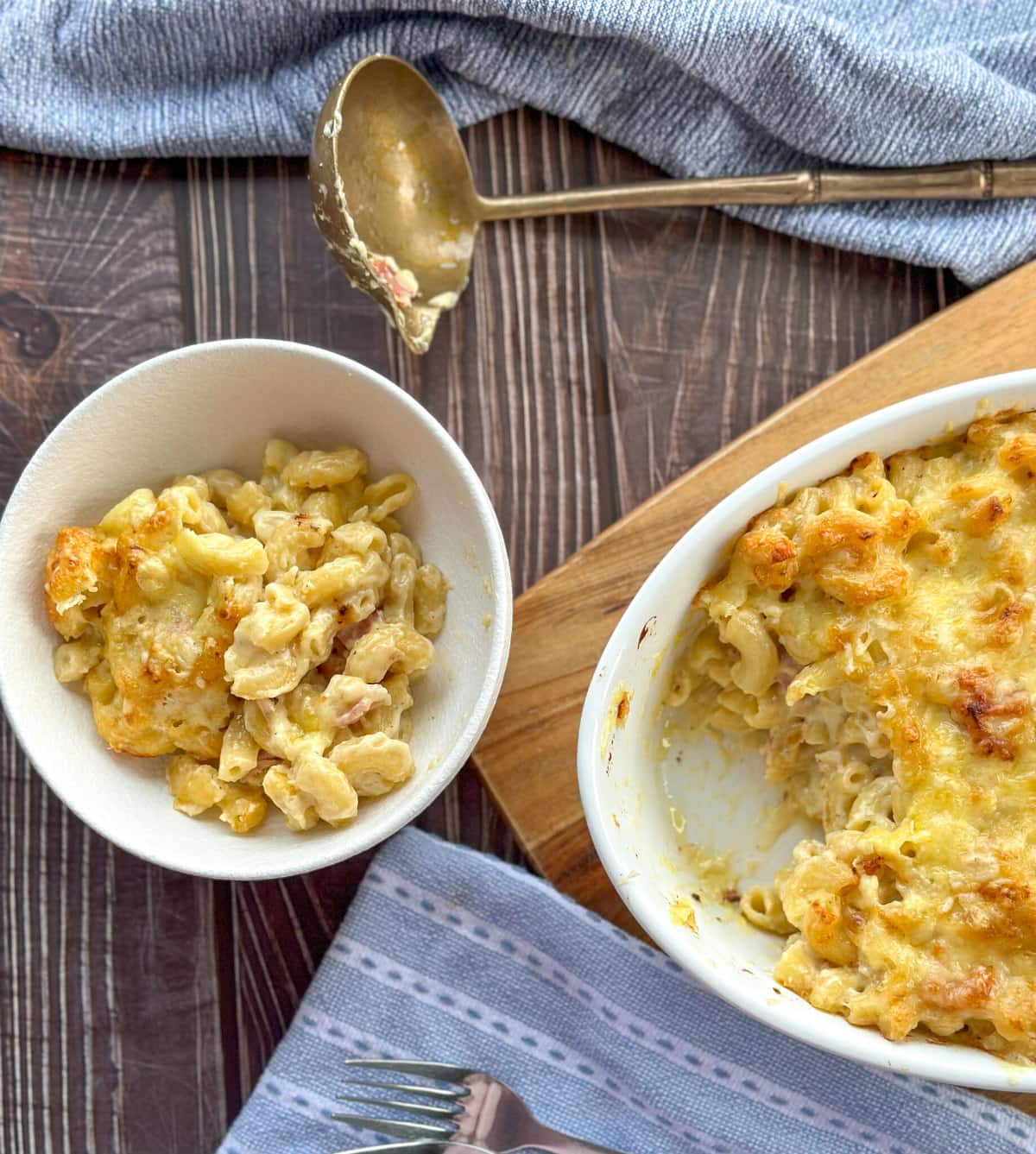 Thank you so much for stopping by to check out my latest recipes on my blog. If you are not already, be sure to follow me on Facebook or Instagram for more deliciousness, and you can register your email in the subscription box below to receive all my recipes as I publish them.