This indulgent Creamy Chicken & Bacon Fettucine is one of my favourites. Super simple to make as well!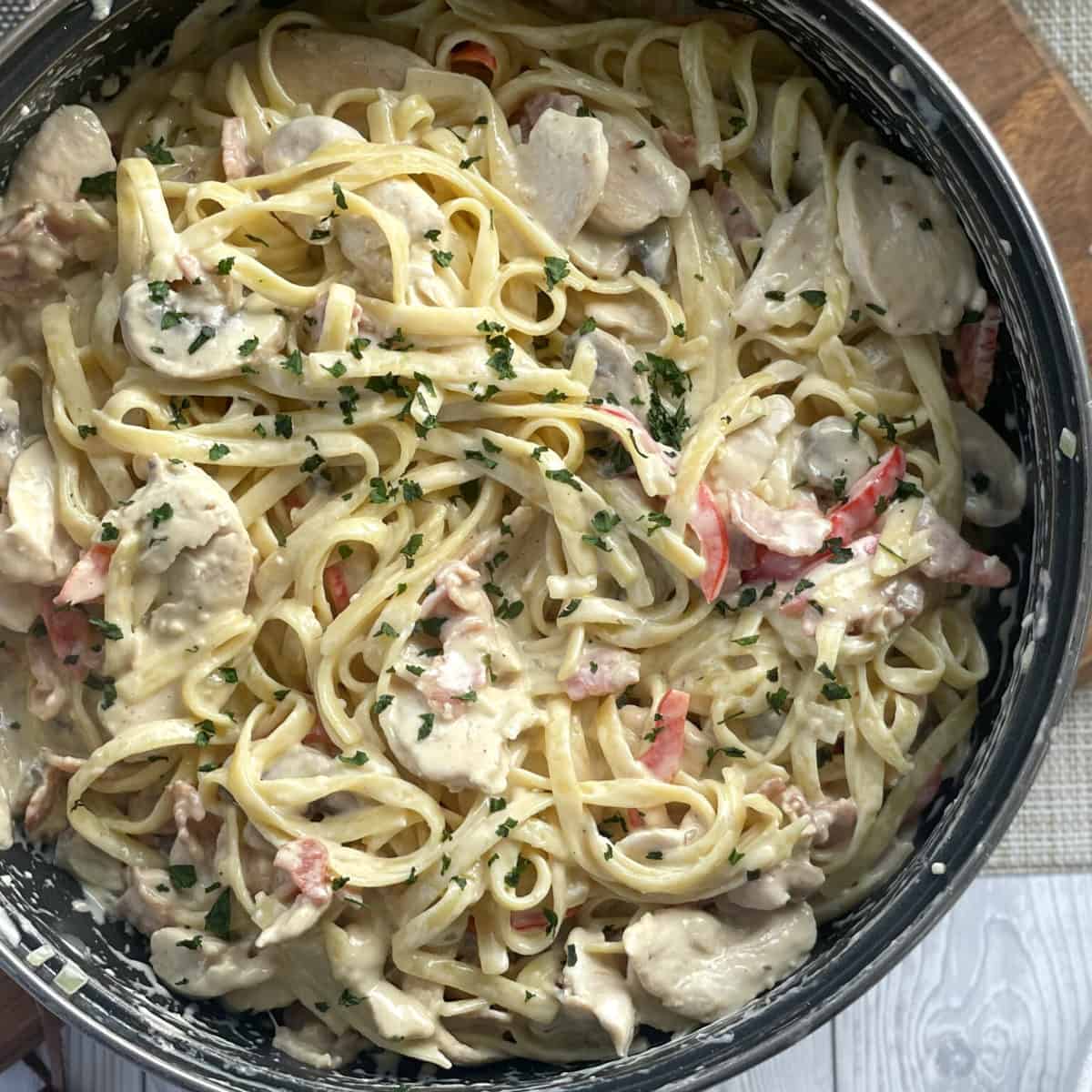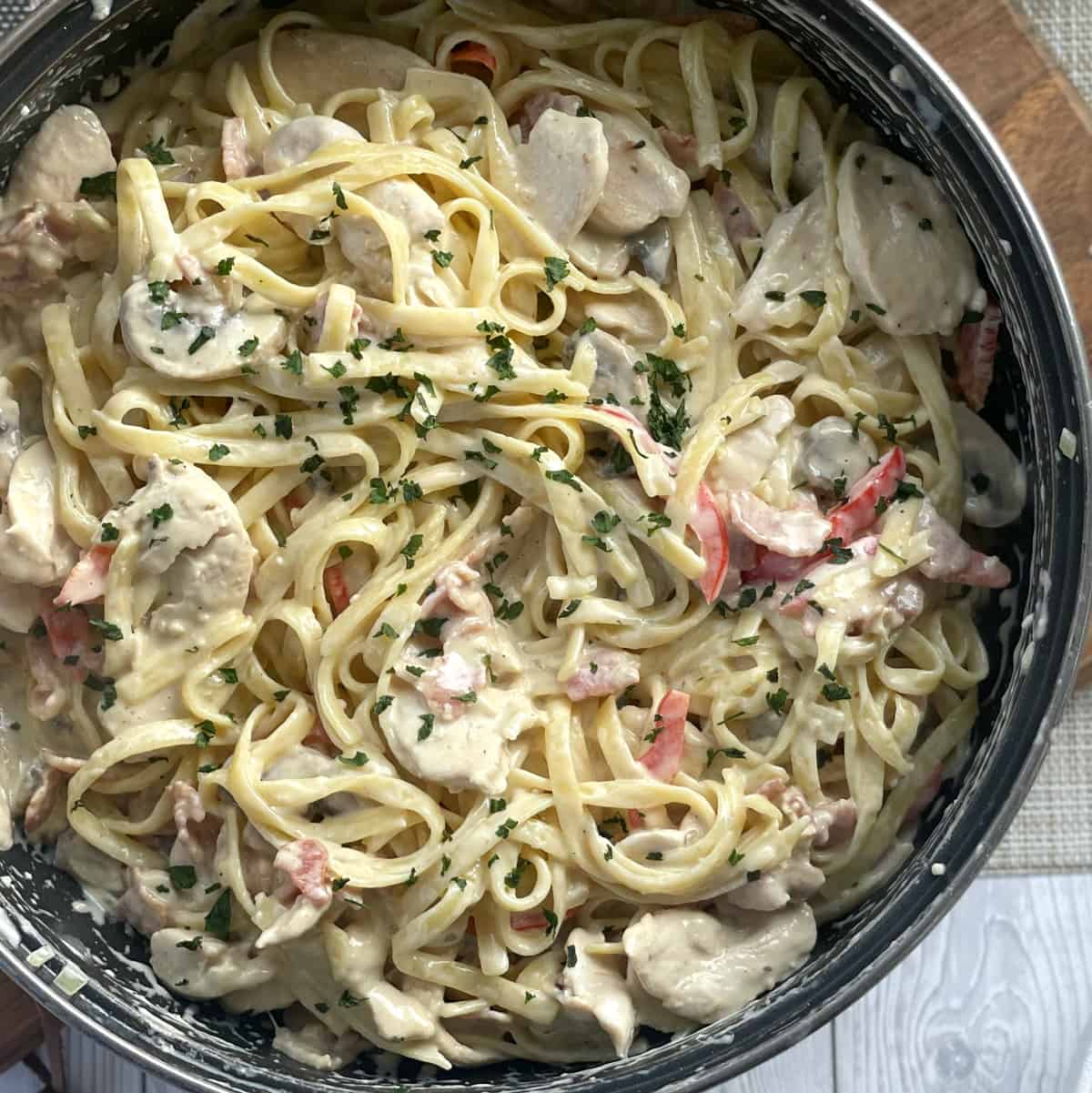 The ingredients for this recipe are gifted by Countdown Supermarkets, all opinions are my own
I absolutely adore this recipe. It is unapologetically indulgent, with bacon, cream, butter and all things delicious but well worth adding to your list to try.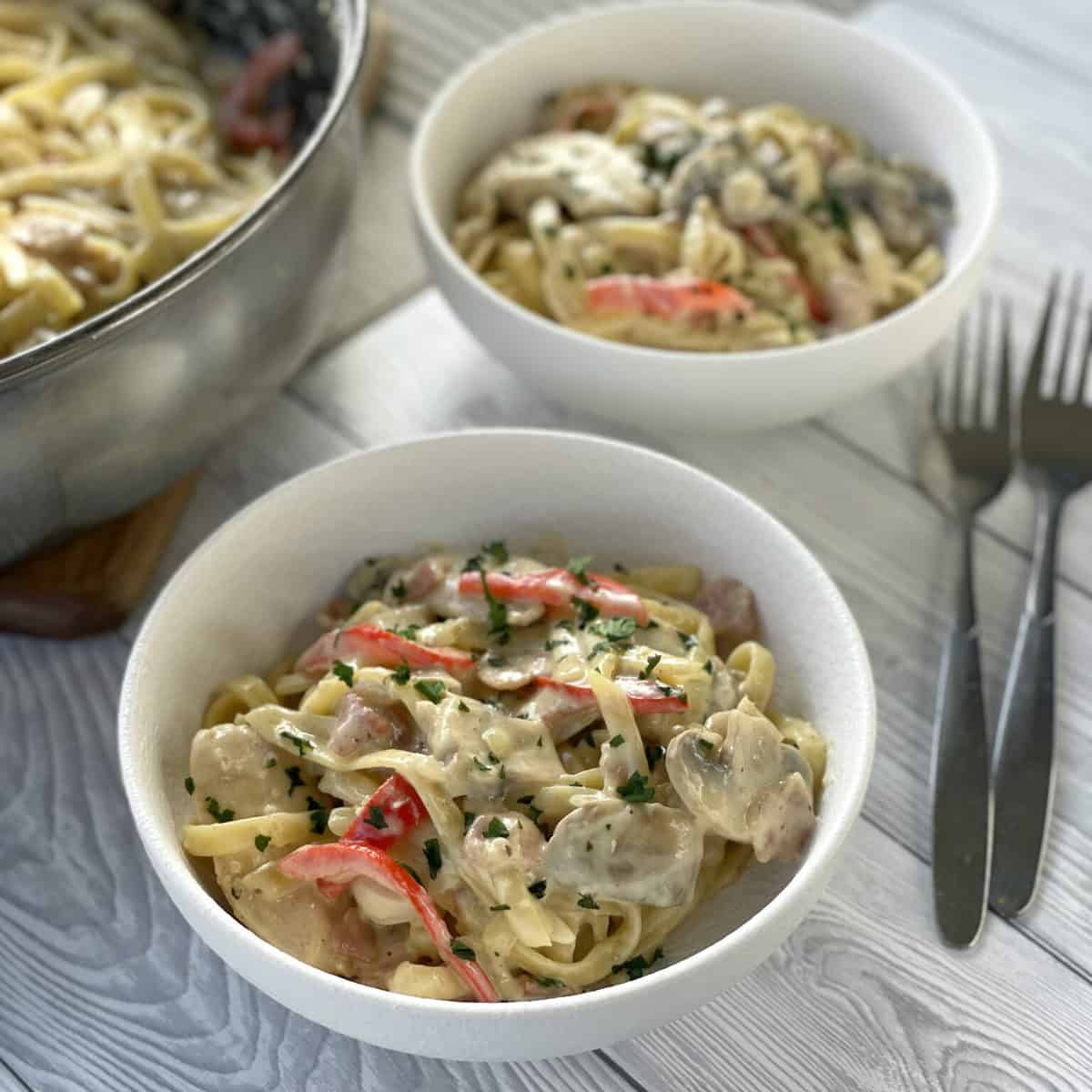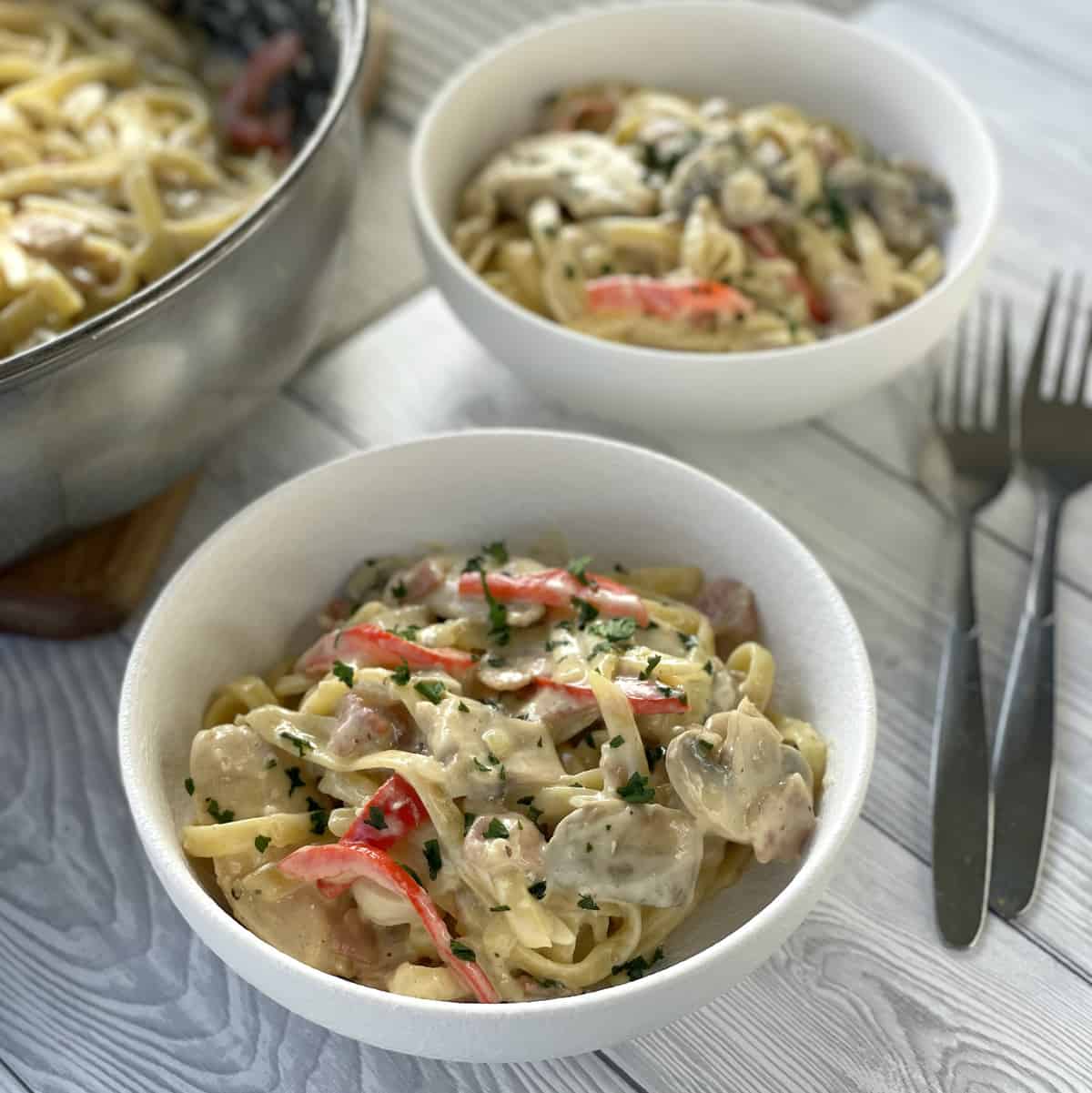 This combination of flavours is absolutely delicious and one I often order if I feel like pasta in a restaurant. There are a few tips and tricks to getting it right but it really is easy to make.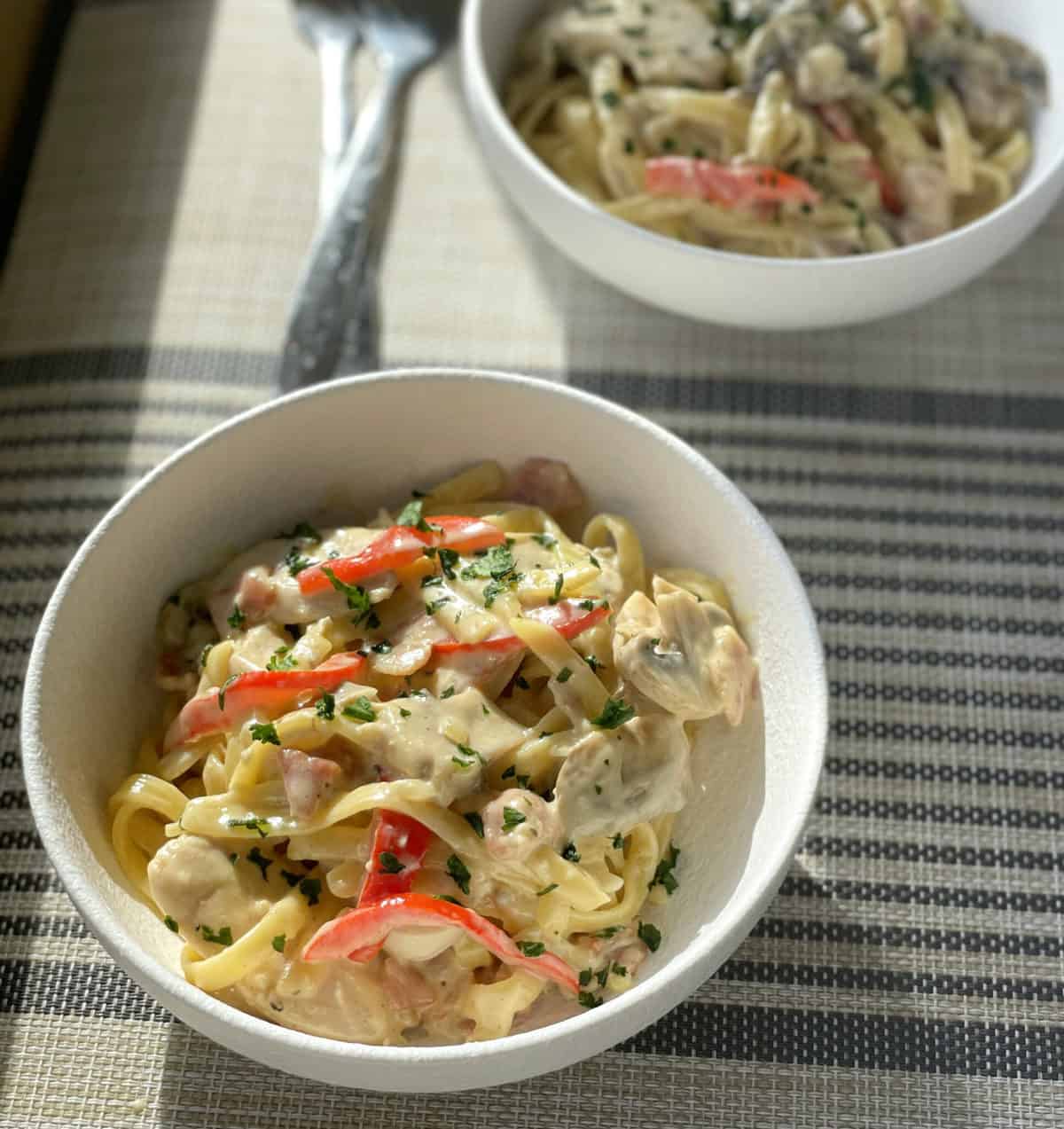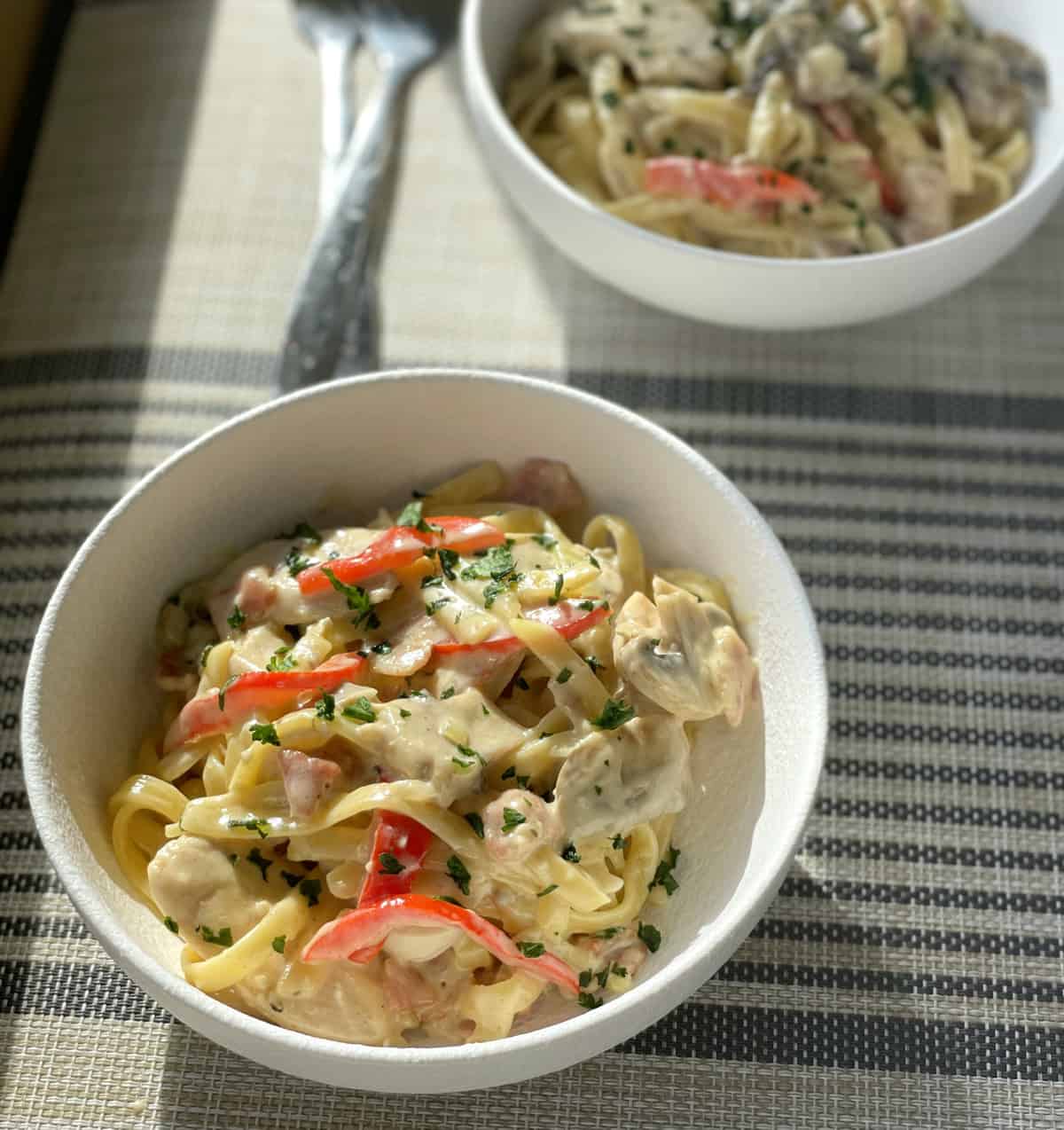 The ingredients are simple and there are a few optional extras I add to mine for extra flavour but can be omitted which are the mushrooms and the red capsicum. I love the addition of the mushrooms and feel it adds so much to the sauce flavour.
When serving this to the kids I simply don't serve them the mushroom pieces.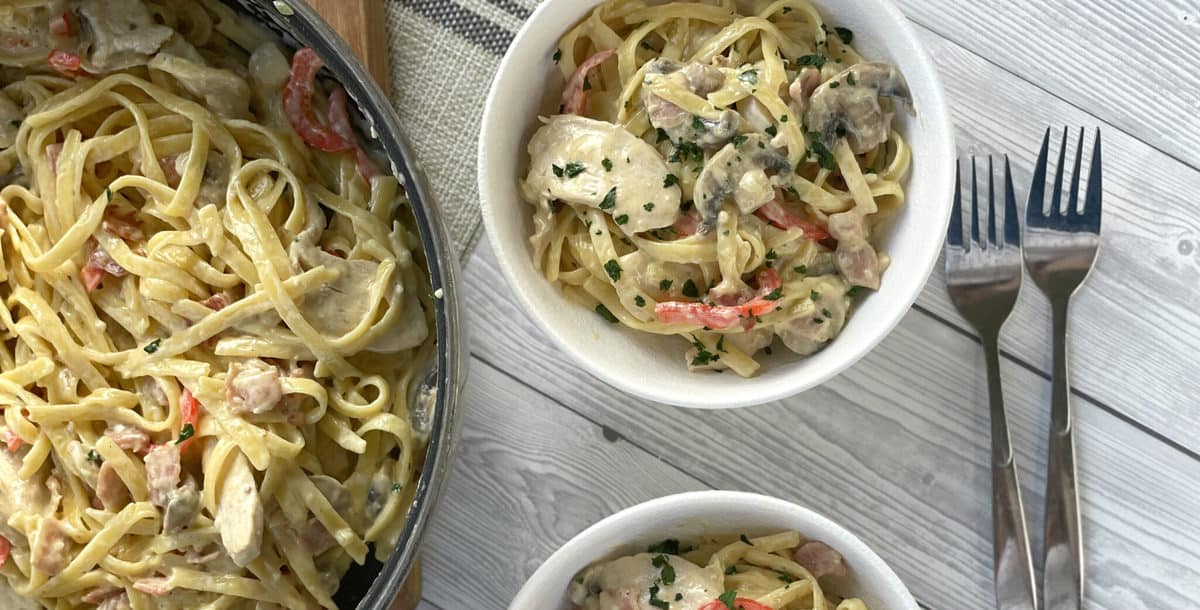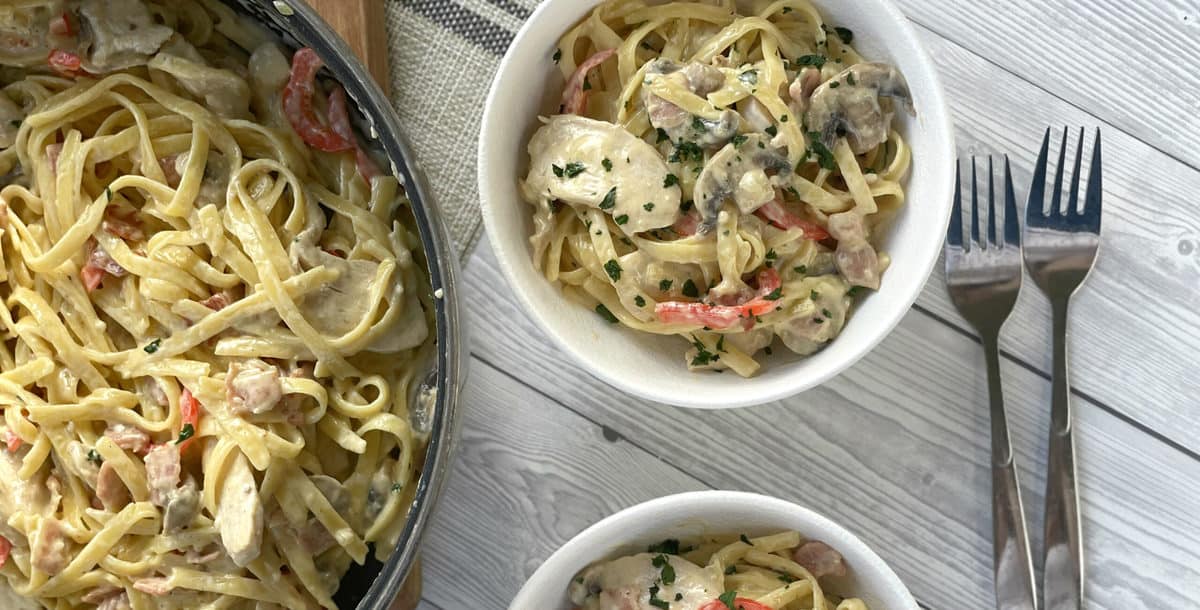 The red capsicums adds a lovely flavour and a bit of freshness when combined with the whole dish so I always add them, again you can omit them all together or just don't serve them in all of the dishes if some are not fans.
This makes a large serving of pasta! Easily could feed 4-6 people, so feel free to reduce the overall recipe if you are serving less. Halve it if just making it for two.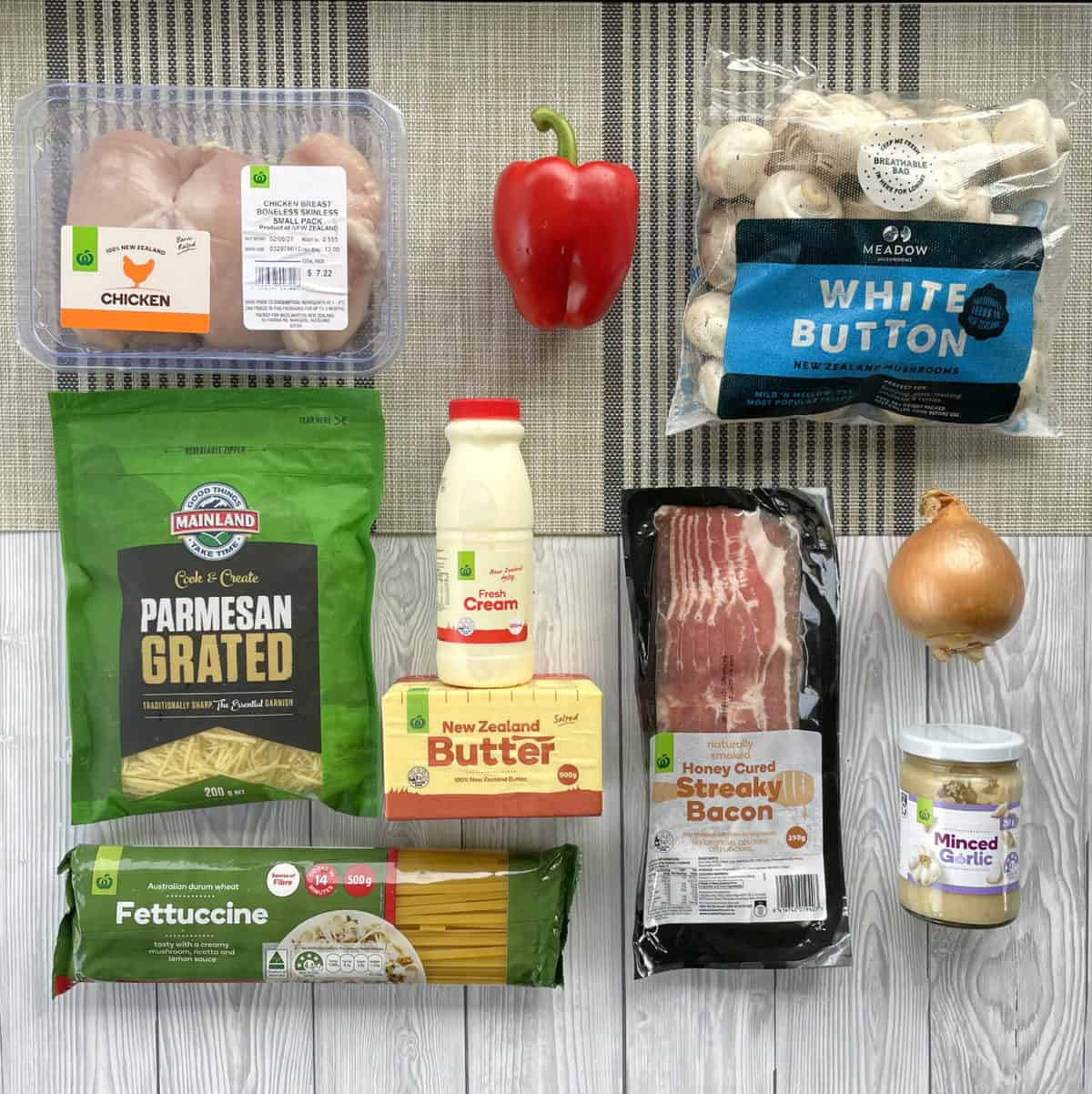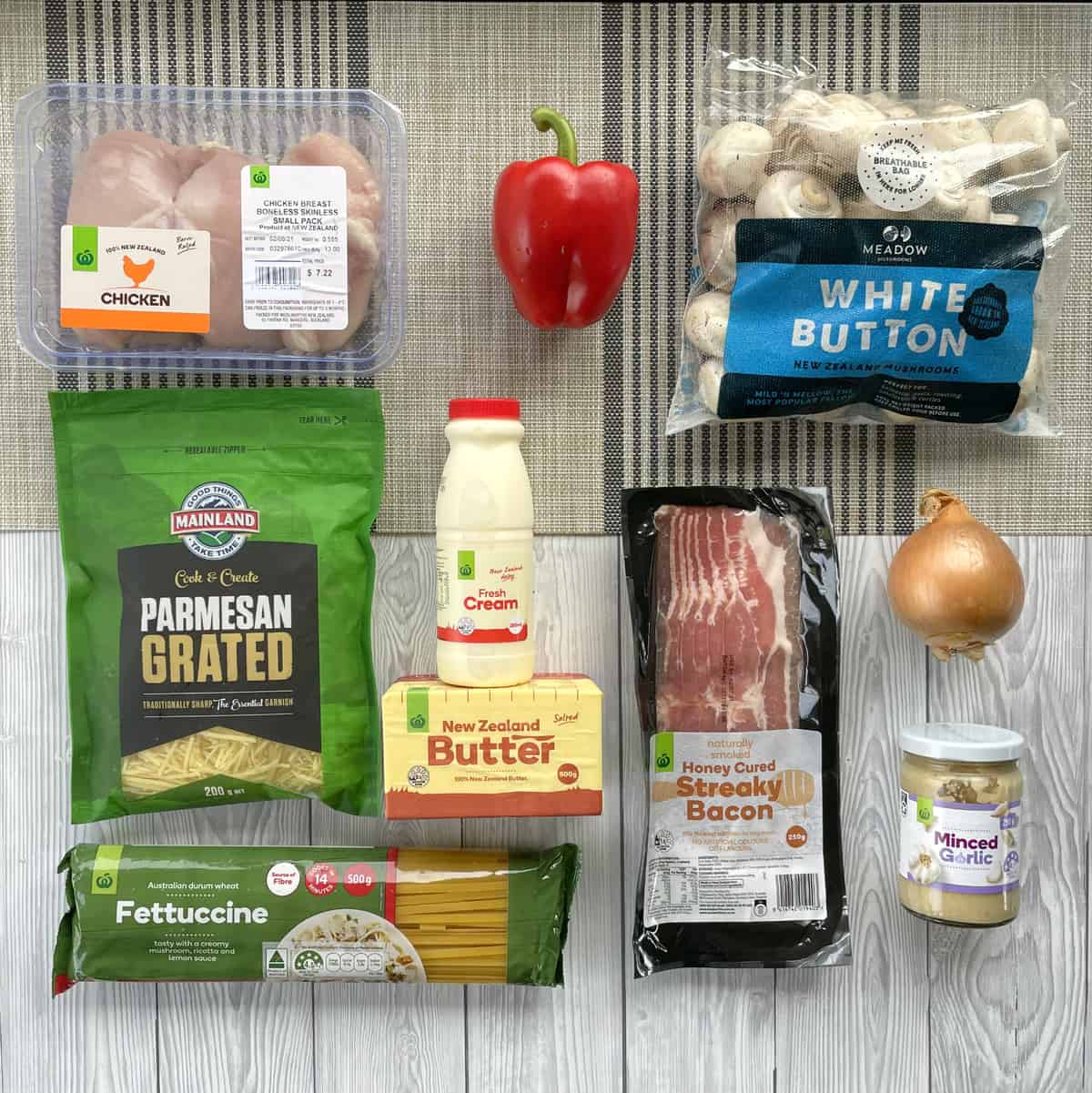 All you need to make this recipe for Creamy Chicken & Bacon Fettucine is:
Fettucine & The Cooking Water

Bacon

Chicken Breast

Butter

Onion

Garlic

Mushrooms*

Cream

Parmesan

Red Capsicum*

Salt & Pepper
*Optional
This is one of those recipes where you will want to have all the ingredients diced and prepped near you ready to go as it does not take too long at all to cook.
My top tip is to use the biggest frying pan you own, it makes a lot of ingredients!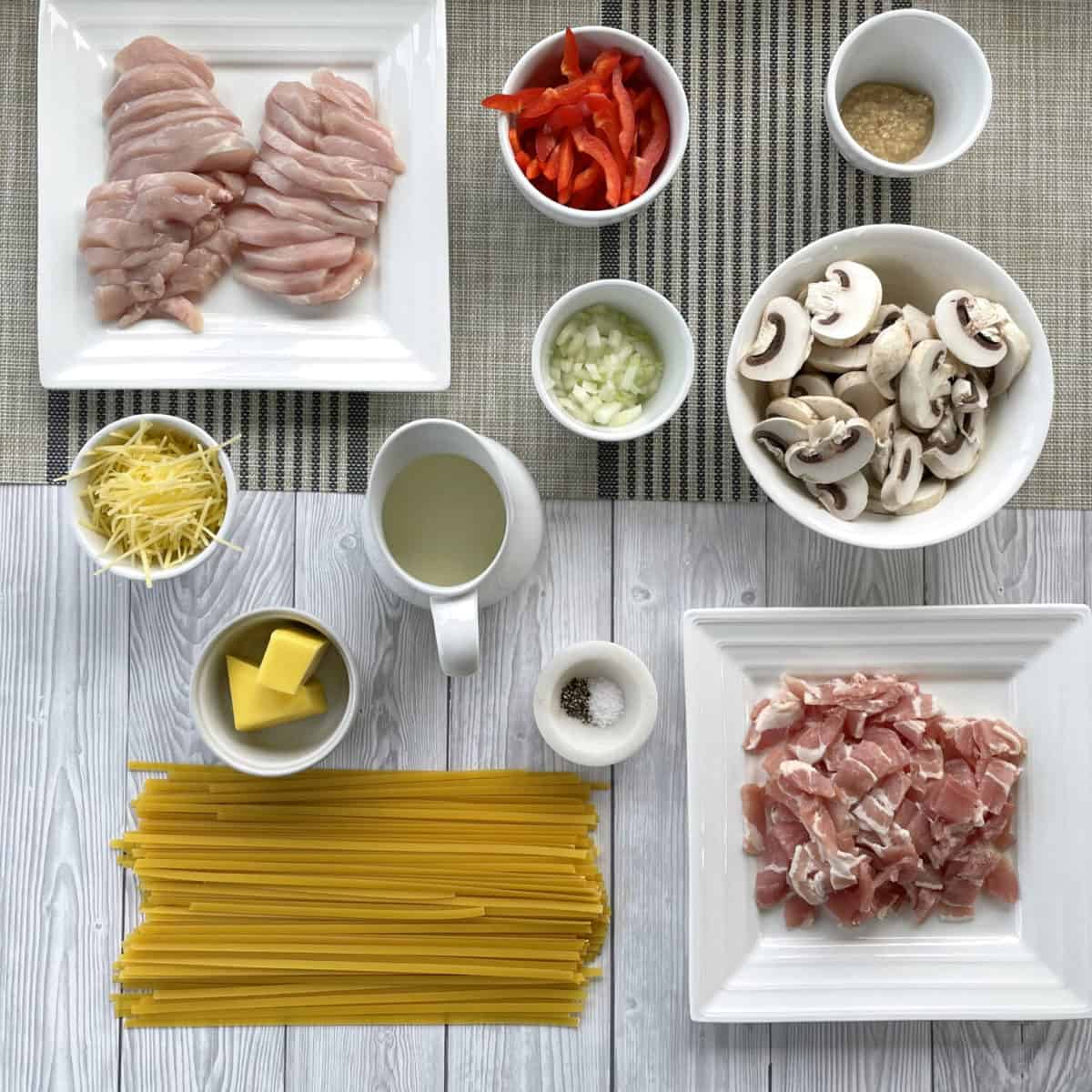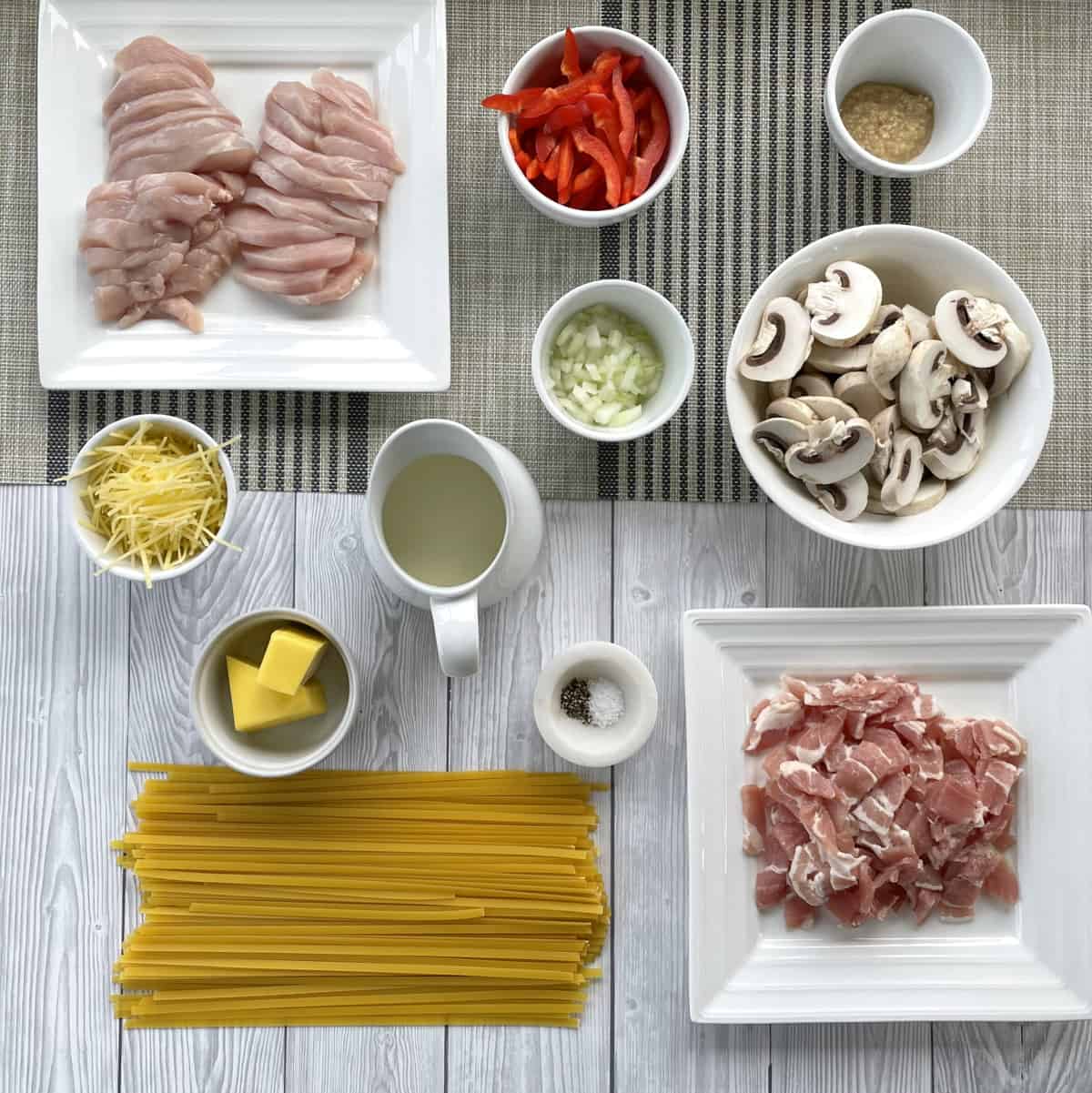 The first step is to get the water on for the pasta. A large saucepan full of salted water then adding the fettucine. You don't want to cook for the full cooking time recommended as the pasta will cook a little further in the sauce later in the recipe. Be sure to reserve the pasta water!
First step in the frying pan is to cook the bacon until it is crispy and brown in a little butter. Then remove this and set aside on a paper towel to drain, then add the chicken to the bacon fat and cook for a few minutes each side until seared.


I like to wipe out the frying pan at this step. This ensures that the sauce and the meat juices do not combine and make the sauce brown and overly flavoured.
Next you add the butter, garlic and onion. I sauté this for just a few minutes until the onion becomes translucent then add the mushrooms and cook gently until they soften and become smaller.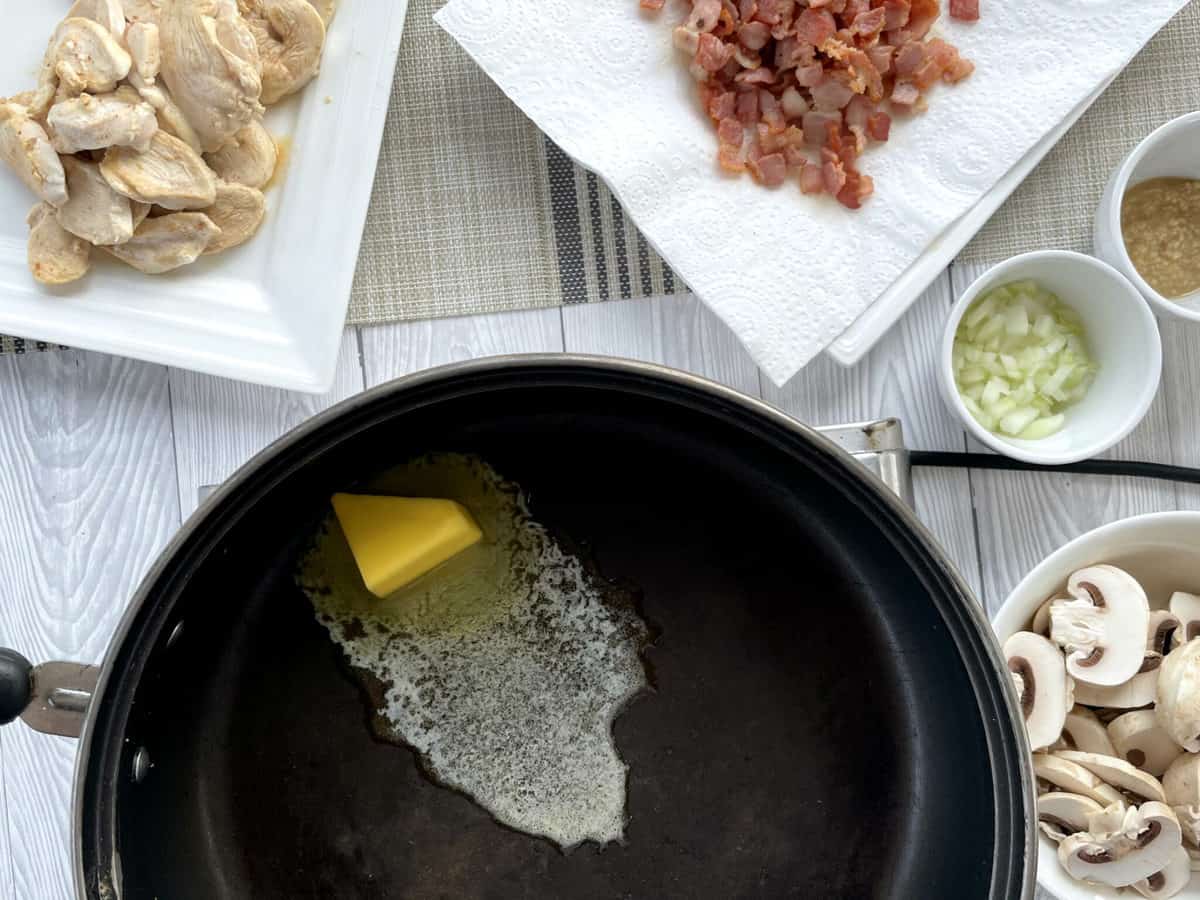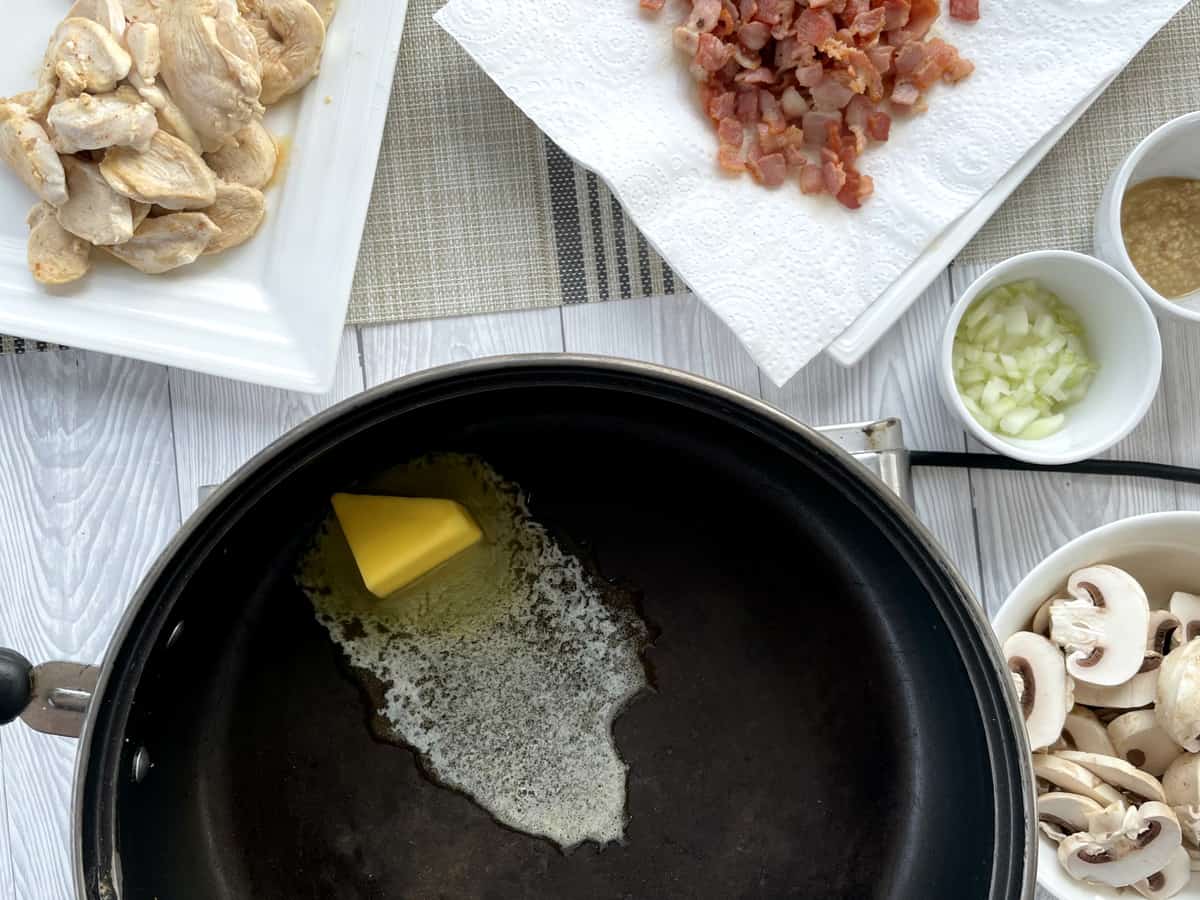 Then it is time to add the cream, pasta water and parmesan. The parmesan you use can have an impact on the outcome of the sauce believe it or not. Grating your own good quality parmesan is the best choice.
If you use store bought pre grated parmesan like I have used today it is a little stringier and tends to clump together. Still delicious but be mindful of that if you have the choice.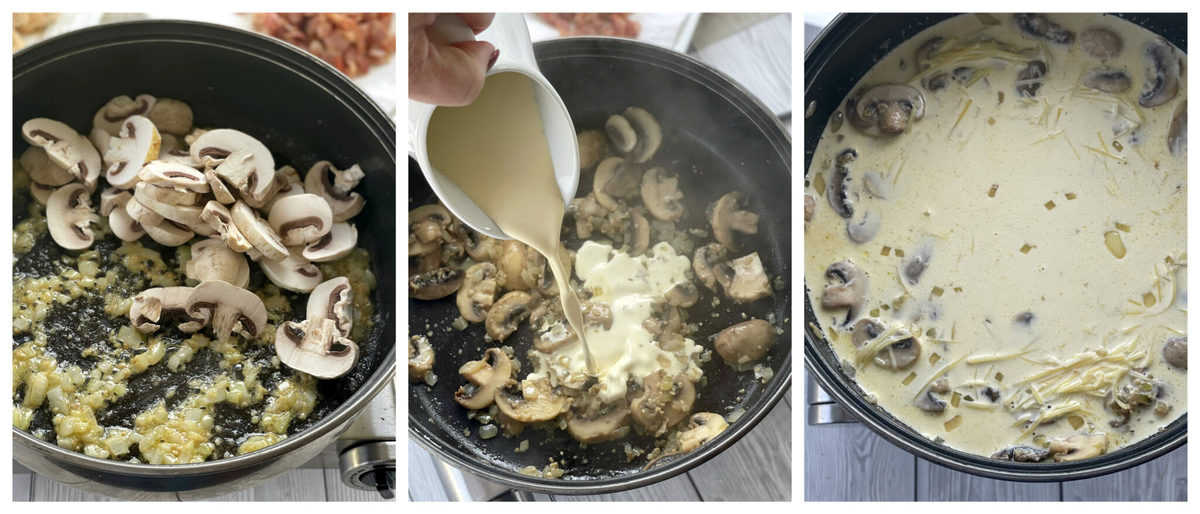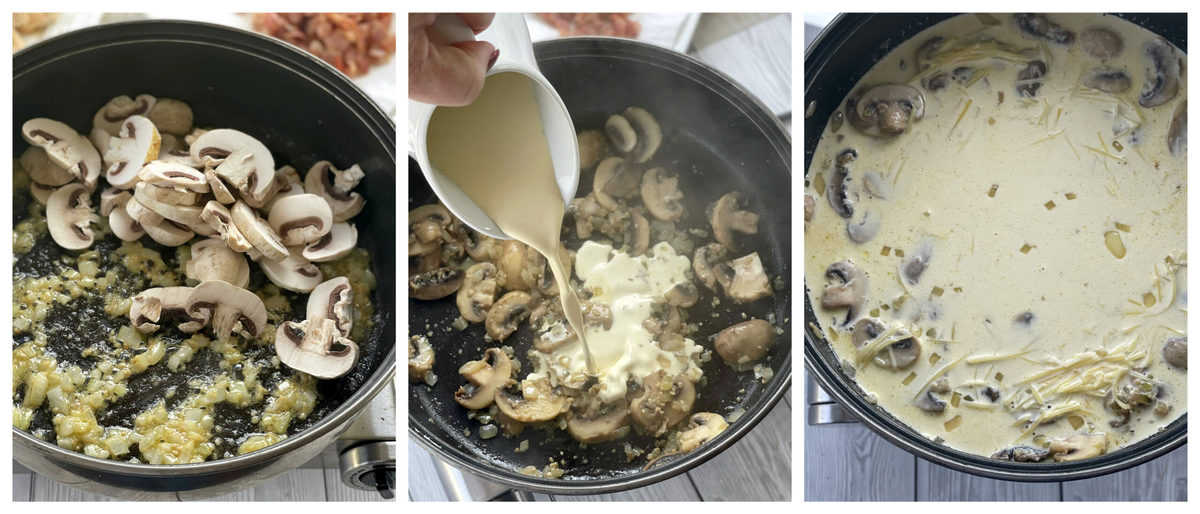 I then add the capsicum here so it has time to soften. Once the mixture begins to boil simmer for just two minutes more before you add the drained fettucine and using tongs turn to coat the pasta completely before adding the meats.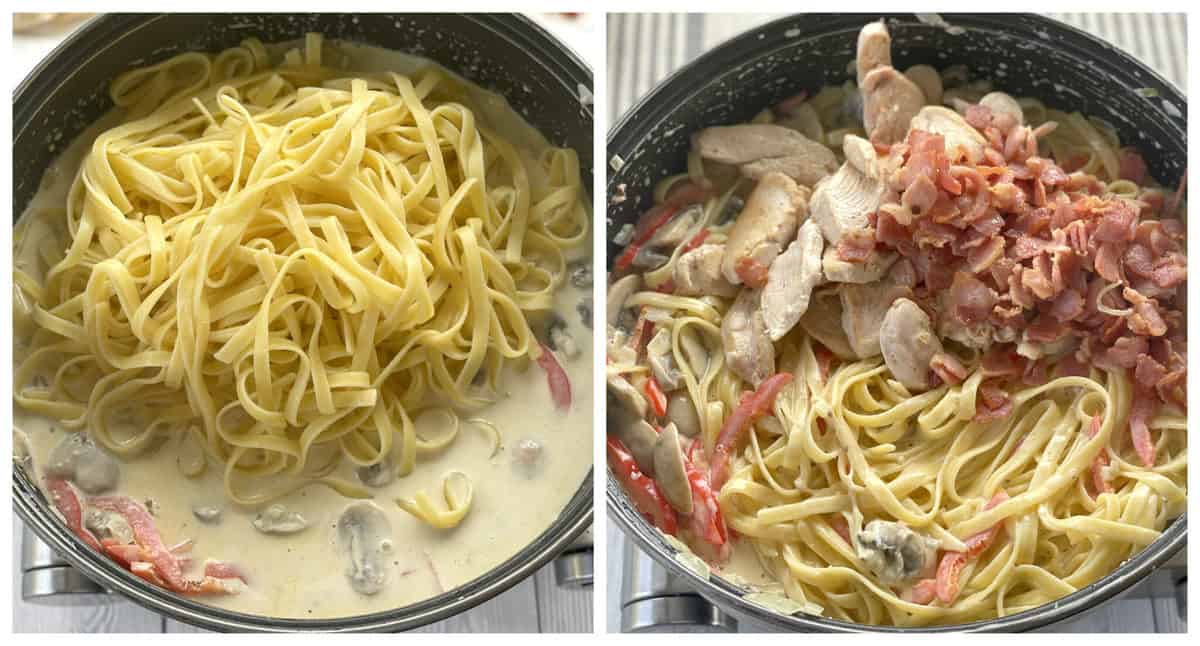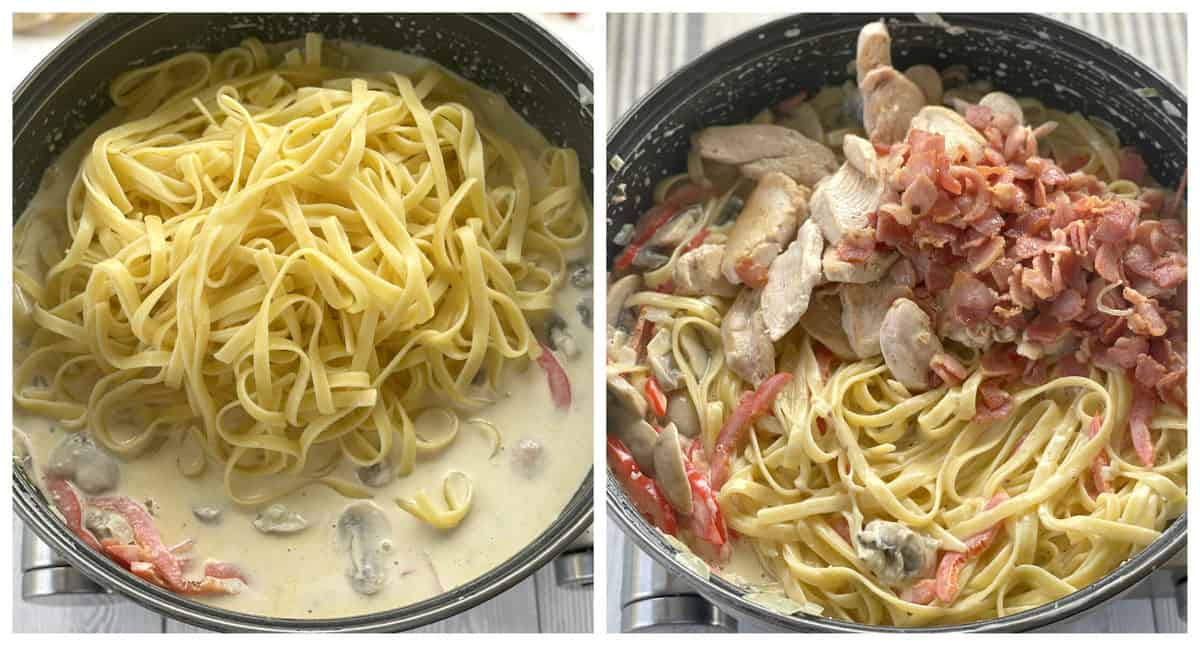 Stir well and cook through for a further two minutes to heat right through and finish cooking the chicken before serving. I like to serve mine with a little parsley and some extra grated parmesan.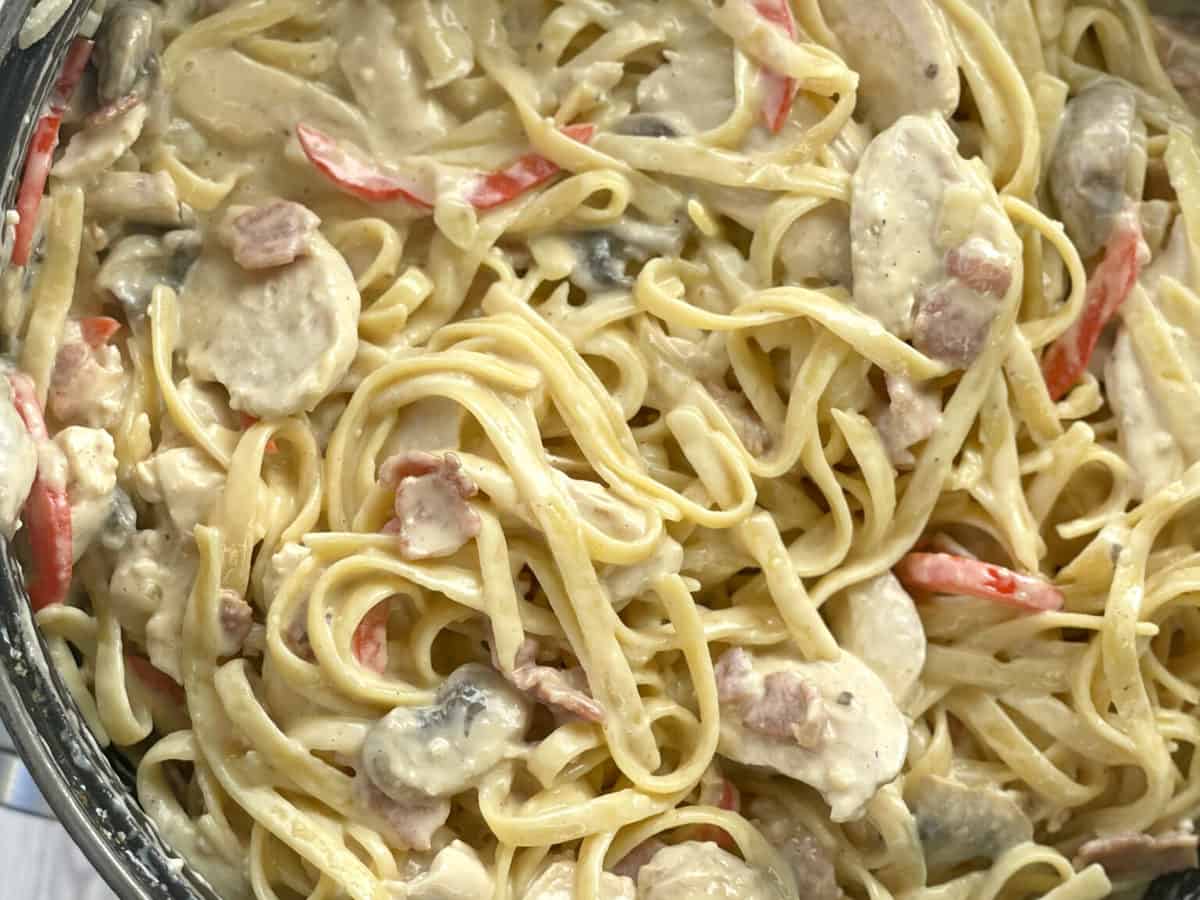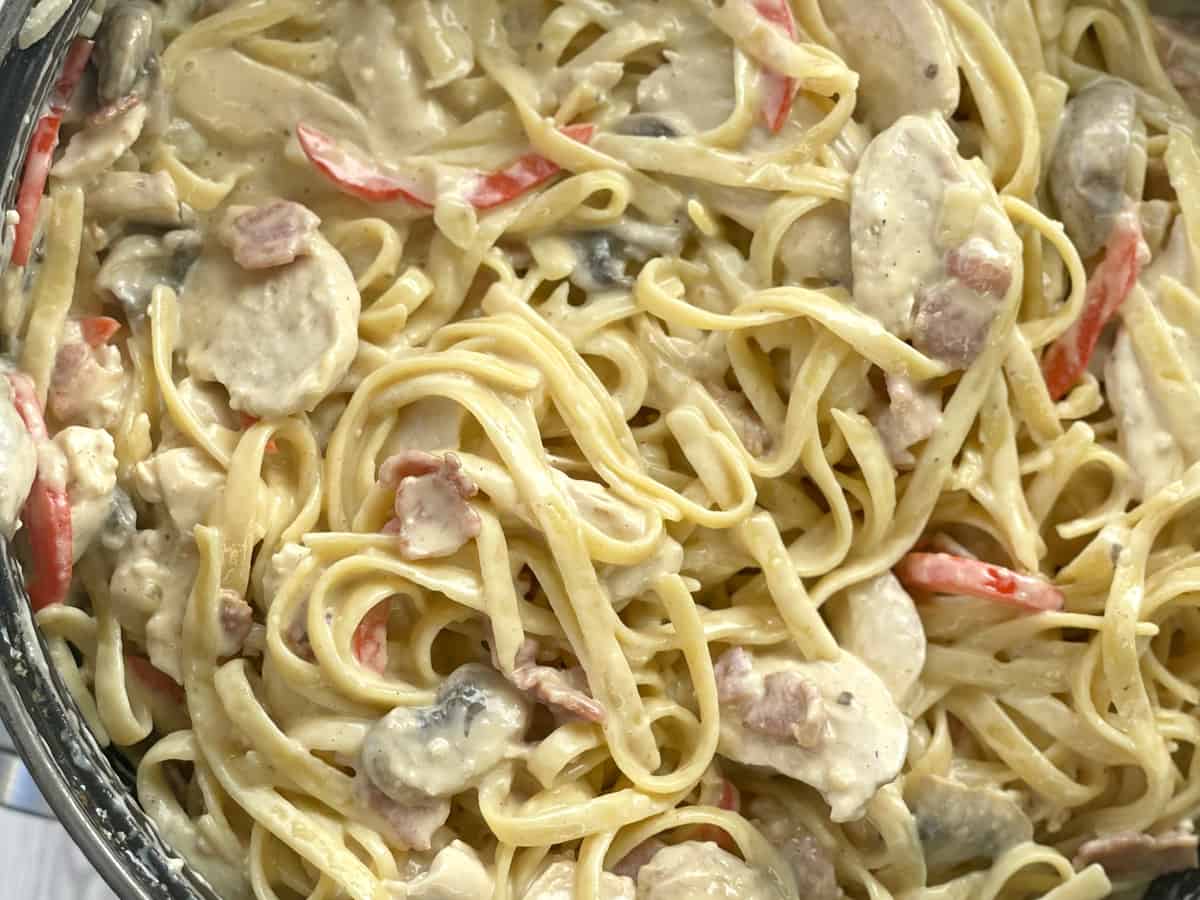 This is such a dreamy creamy dinner dish I cannot wait to hear what you think of it!
If you are a fan of creamy chicken dishes then check out this dish for Creamy Garlic Bacon Chicken!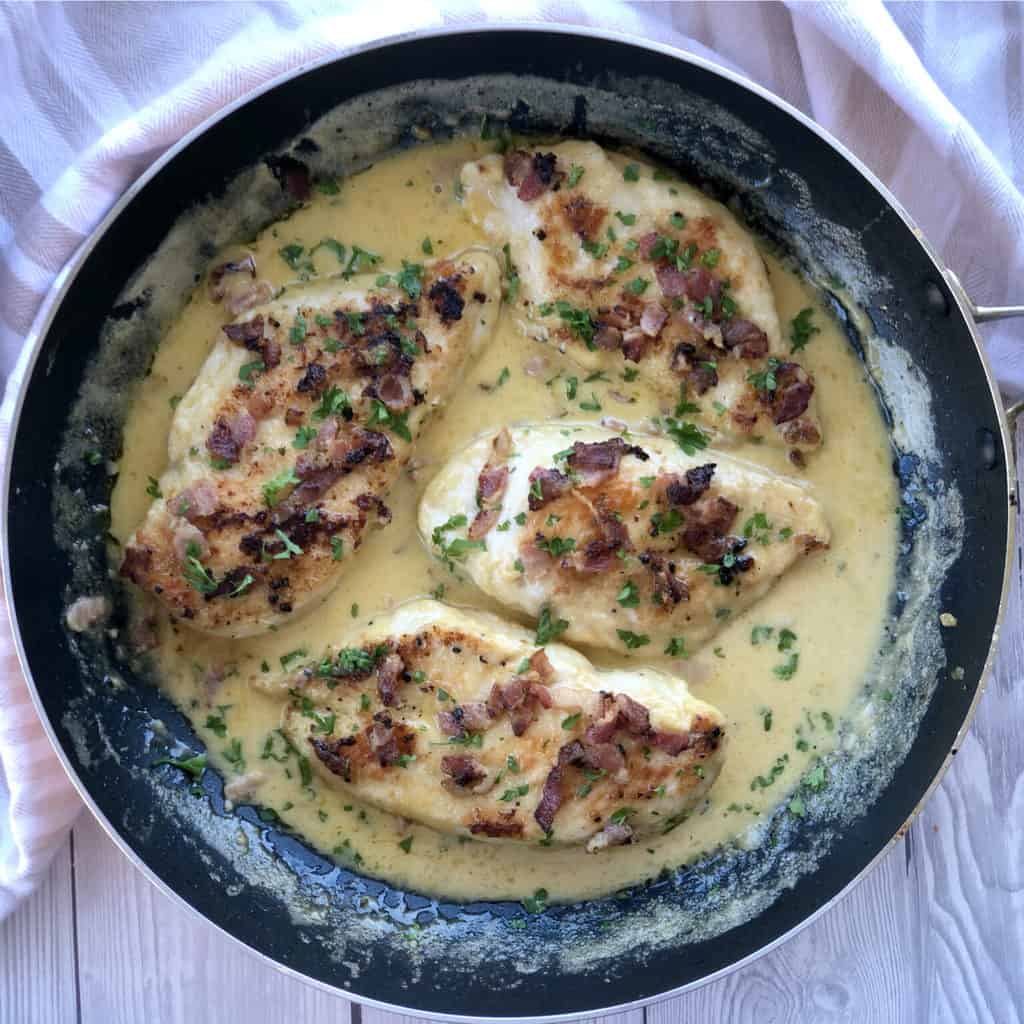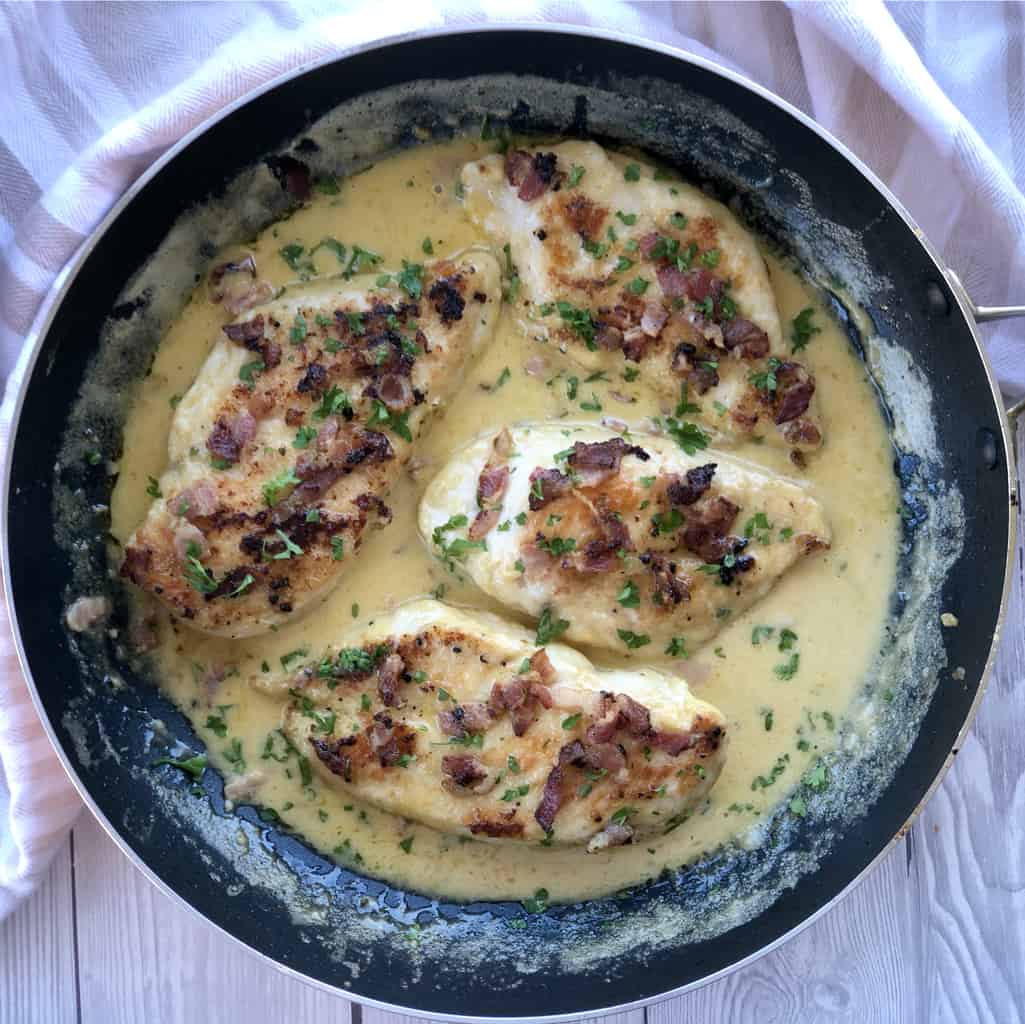 Please enjoy this recipe for Creamy Chicken & Bacon Fettucine.
How easy is that!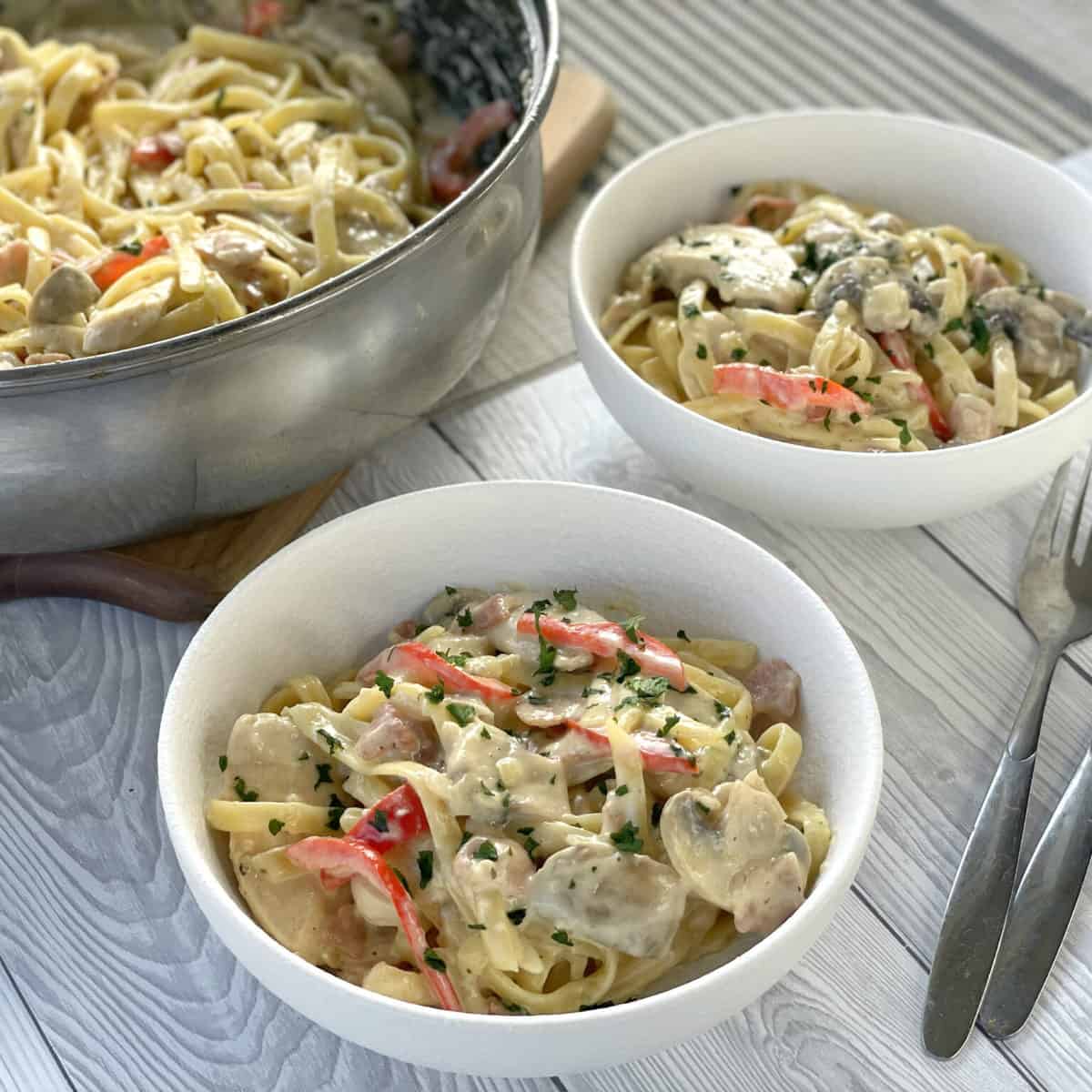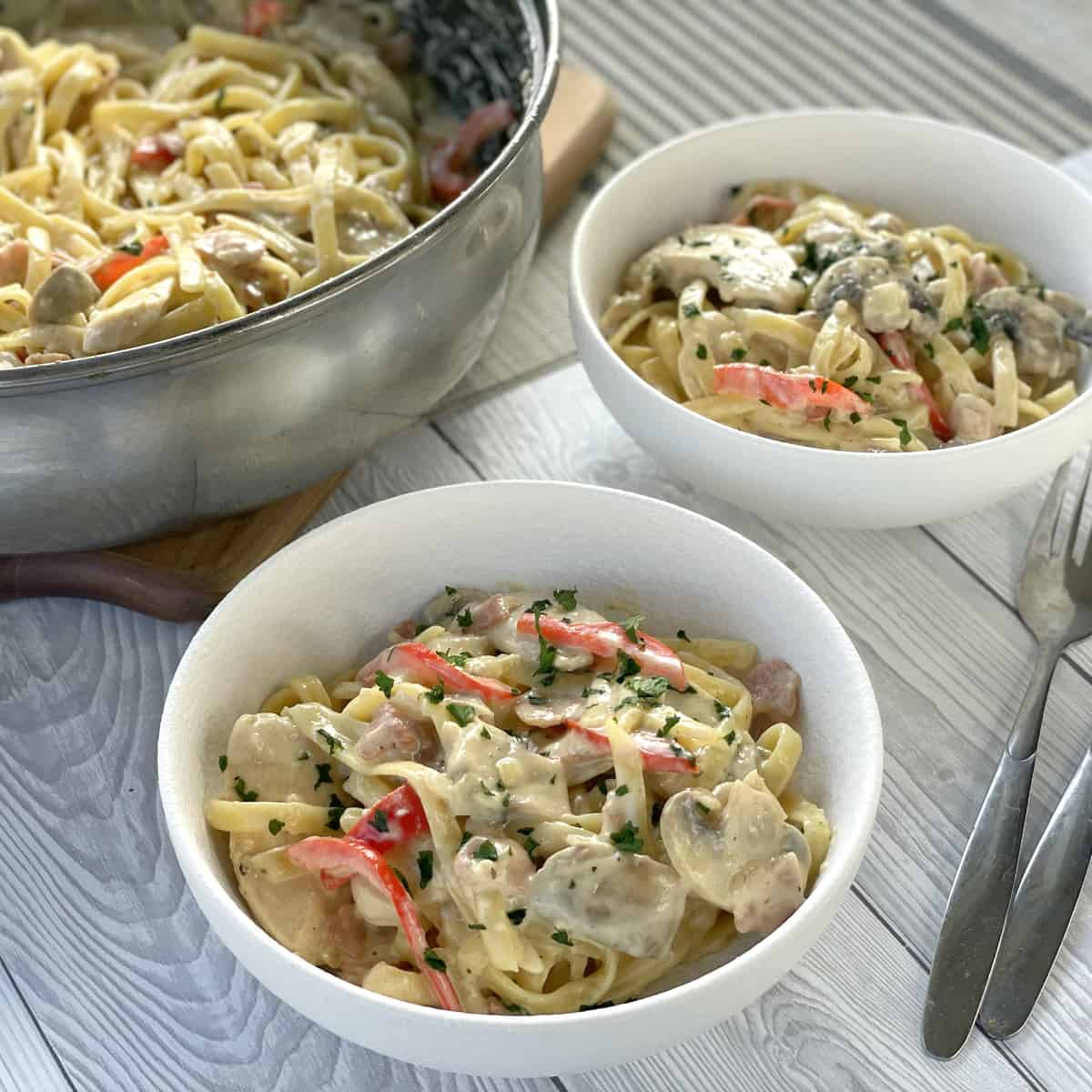 Thank you so much for stopping by to check out my latest recipes on my blog. If you are not already, be sure to follow me on Facebook or Instagram for more deliciousness, and you can register your email in the subscription box below to receive all my recipes as I publish them.
Happy Cooking!
Anna
Pin It! Pinterest