Delicious simple toasted muesli recipe, so easy and quick to make with a lovely combo of almonds, cashews and cranberries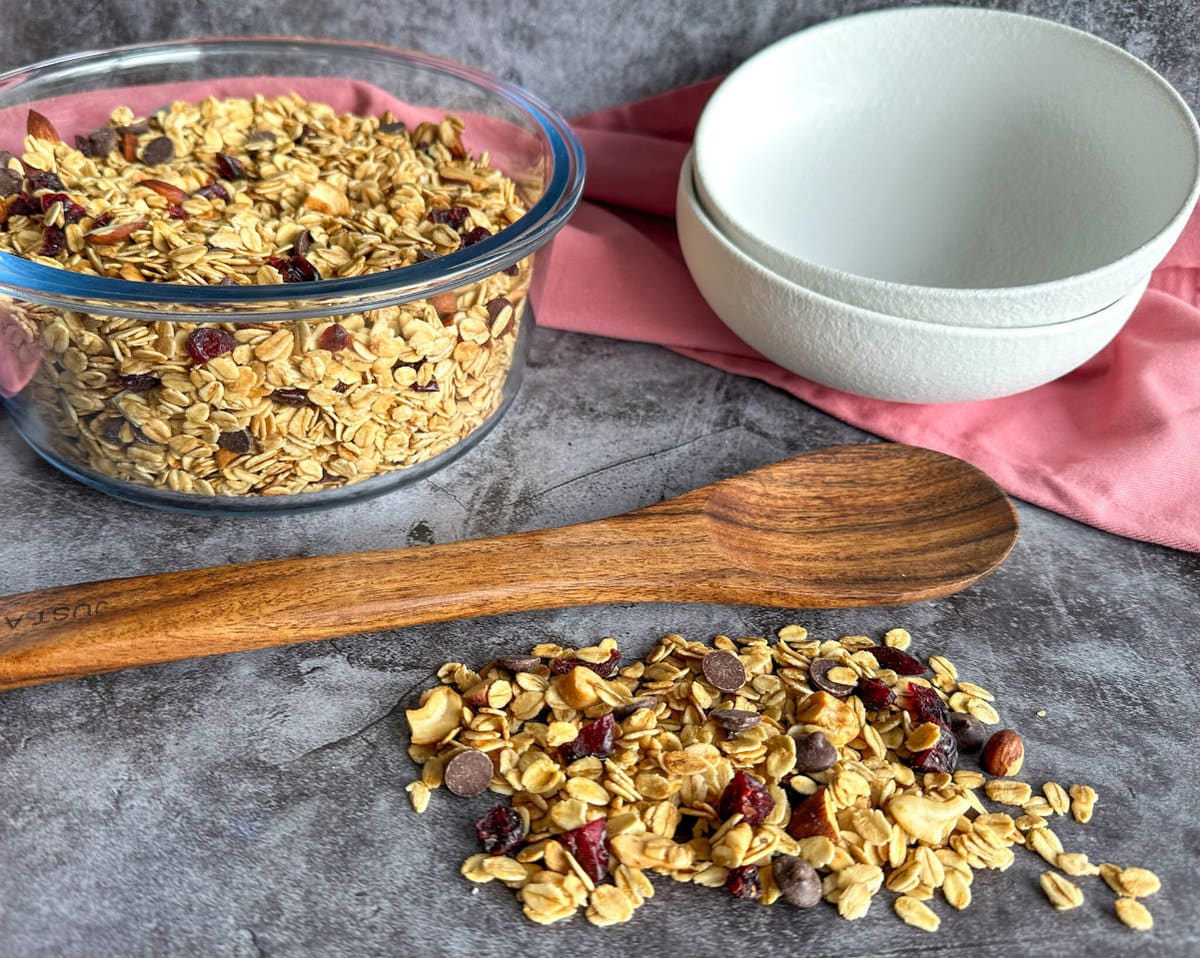 Sponsored Post with Countdown Supermarkets to showcase their value range of Great Price Products – all opinions are my own
We love toasted muesli so I thought I would share a way to make your own at home that is delicious and easy. Using a base of rolled oats and a combination of almonds cashews drizzled in a lovely honey syrup then baked to golden perfection.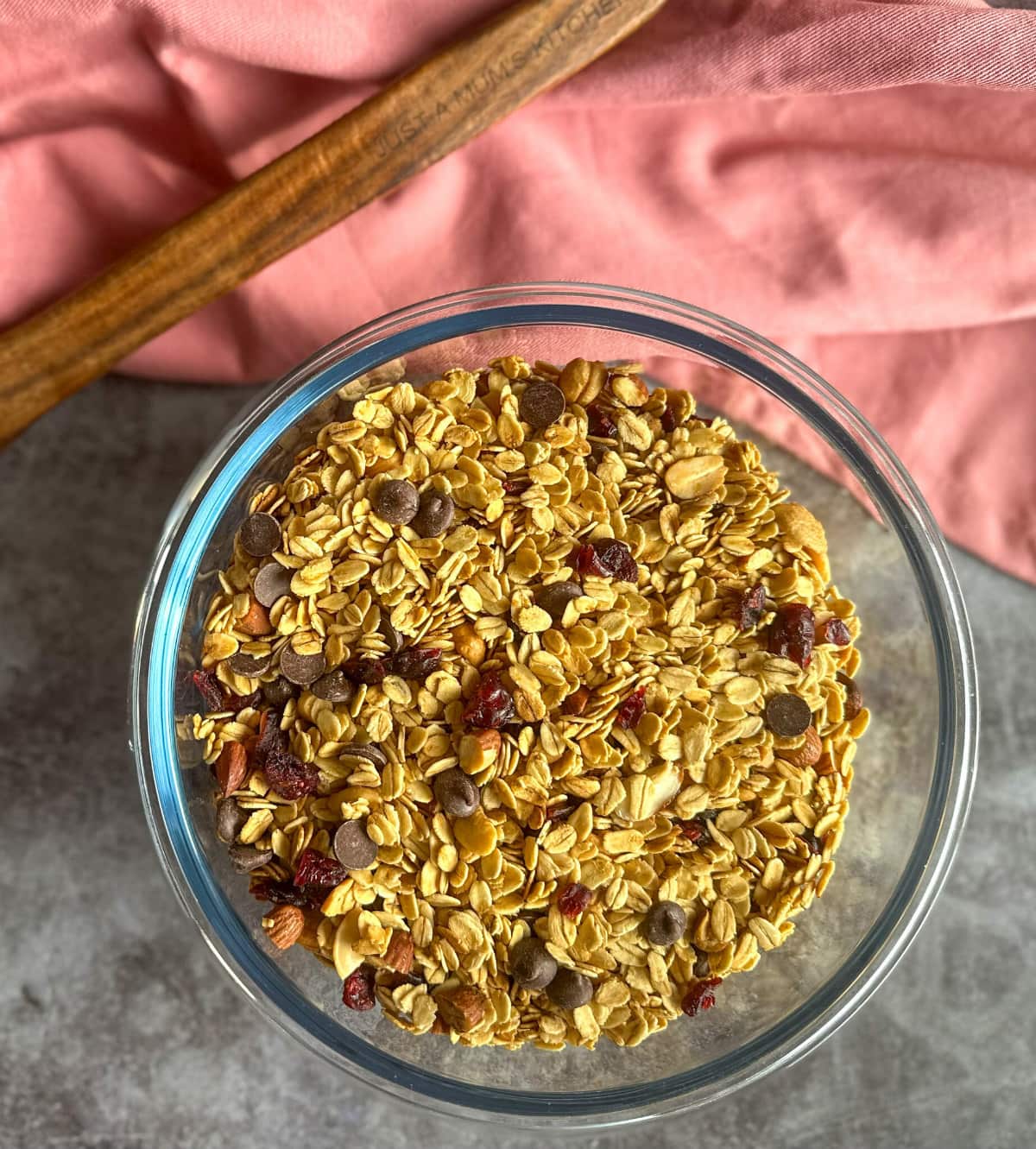 There is some debate as to what makes a toasted muesli different from granola, for me the biggest difference is the amount of honey or liquid which in a granola clumps together the cereal pieces which is also super tasty. To me toasted muesli is more of a loose rolled oat cereal that still has the gorgeous sweet toasted flavour.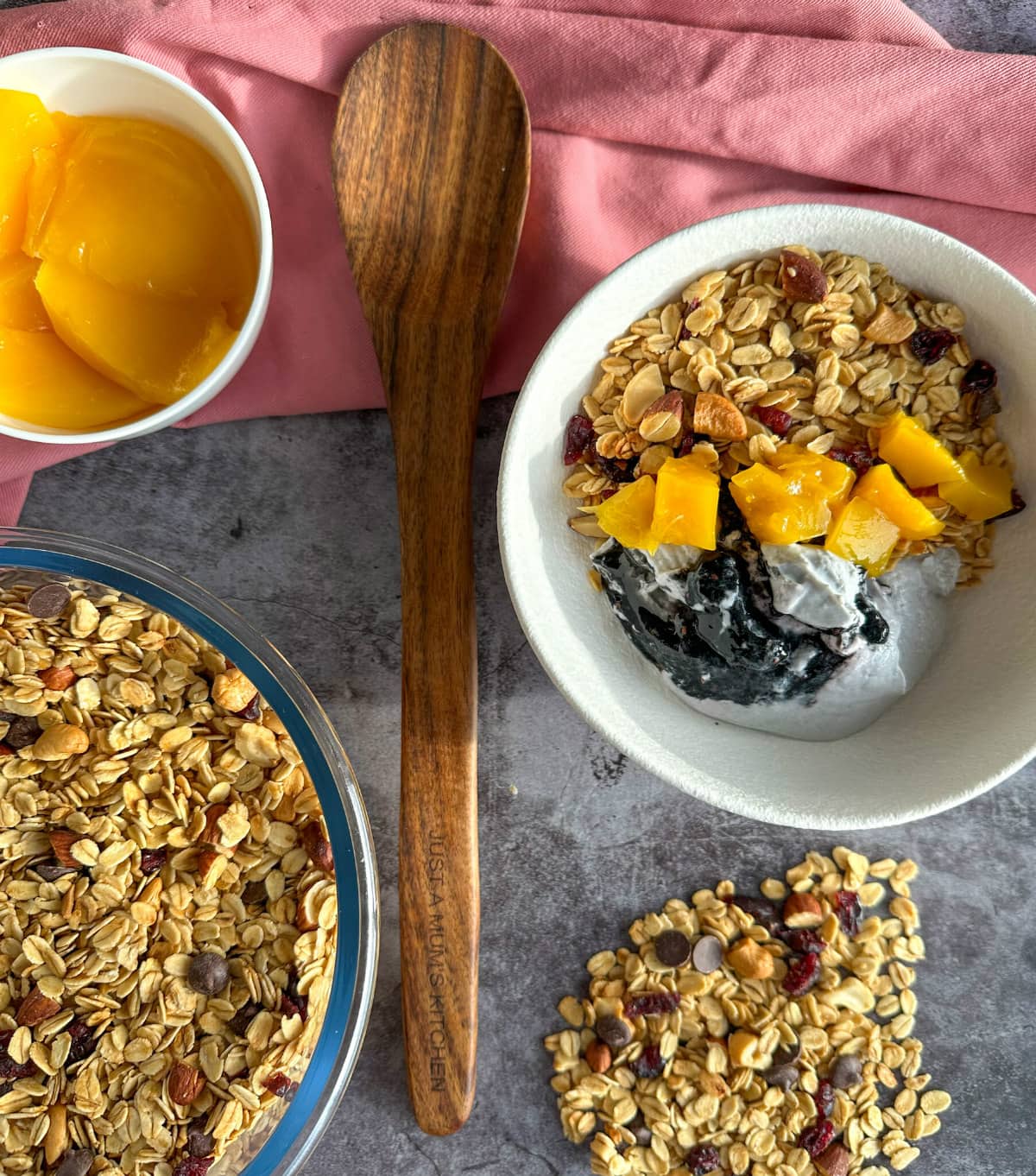 This recipe makes around 5 cups of cereal which is a lot of servings, which stores well either at room temperature or you can freeze it also and serve straight from the freezer!
There are many ways to enjoy it, if you are my kids you will eat it just in a cup! Or you can serve it with your favourite seasonal fruits and a little greek yoghurt, milk or in a lovely yoghurt, berry, toasted muesli parfait.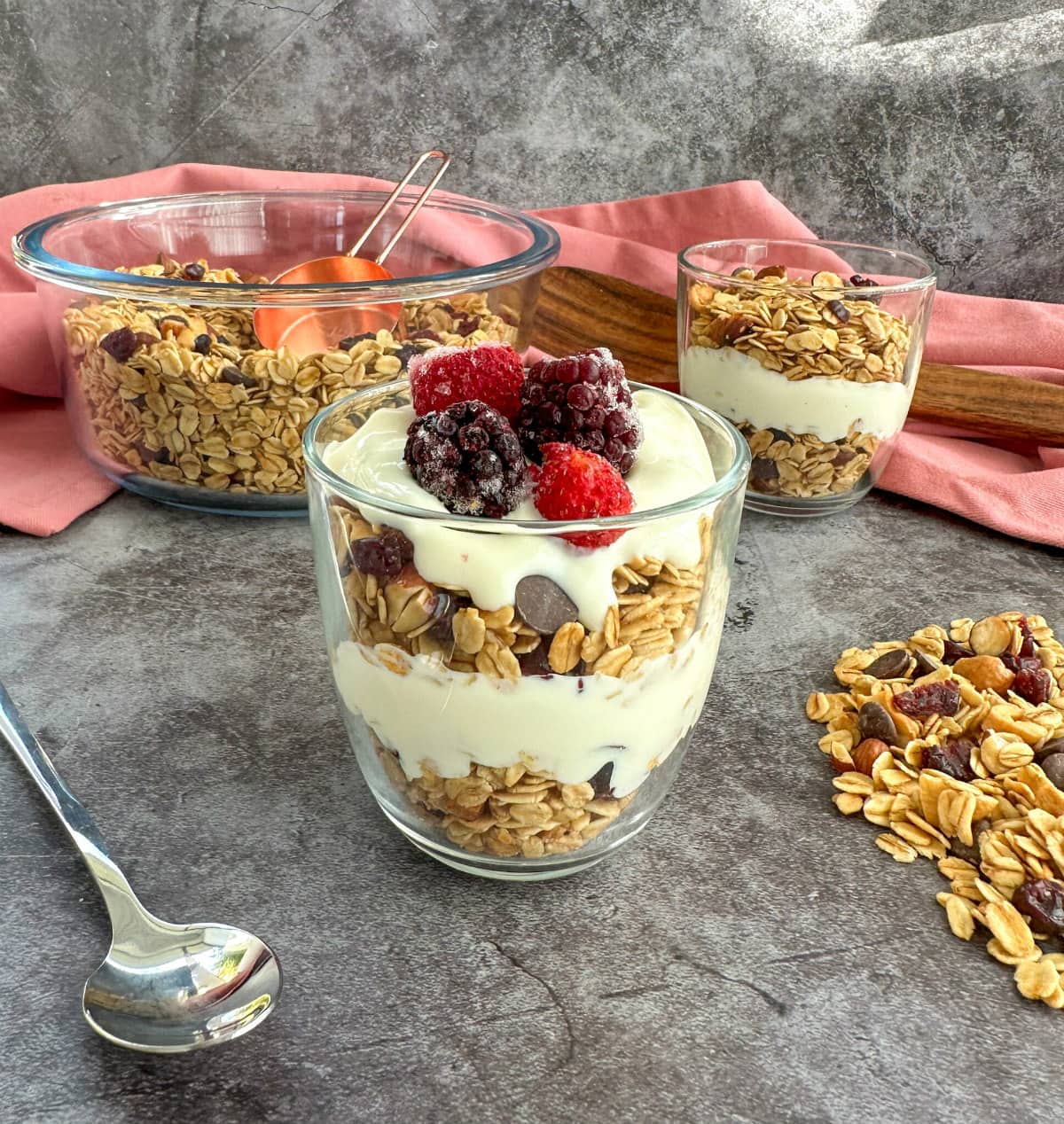 If you wish this recipe to go even further you can add cornflakes, bran flakes or rice bubbles to the cooled mixture for more texture and flavour.
The ingredients are as follows
(Scroll further down for the printable recipe card for full ingredients list and method)
Rolled Oats

Nuts, choose mild nuts such as cashews, almonds, walnuts etc

Dried Cranberries

Honey (today I used a beautiful Manuka Honey

Coconut Oil

Vanilla Essence

Chocolate Drops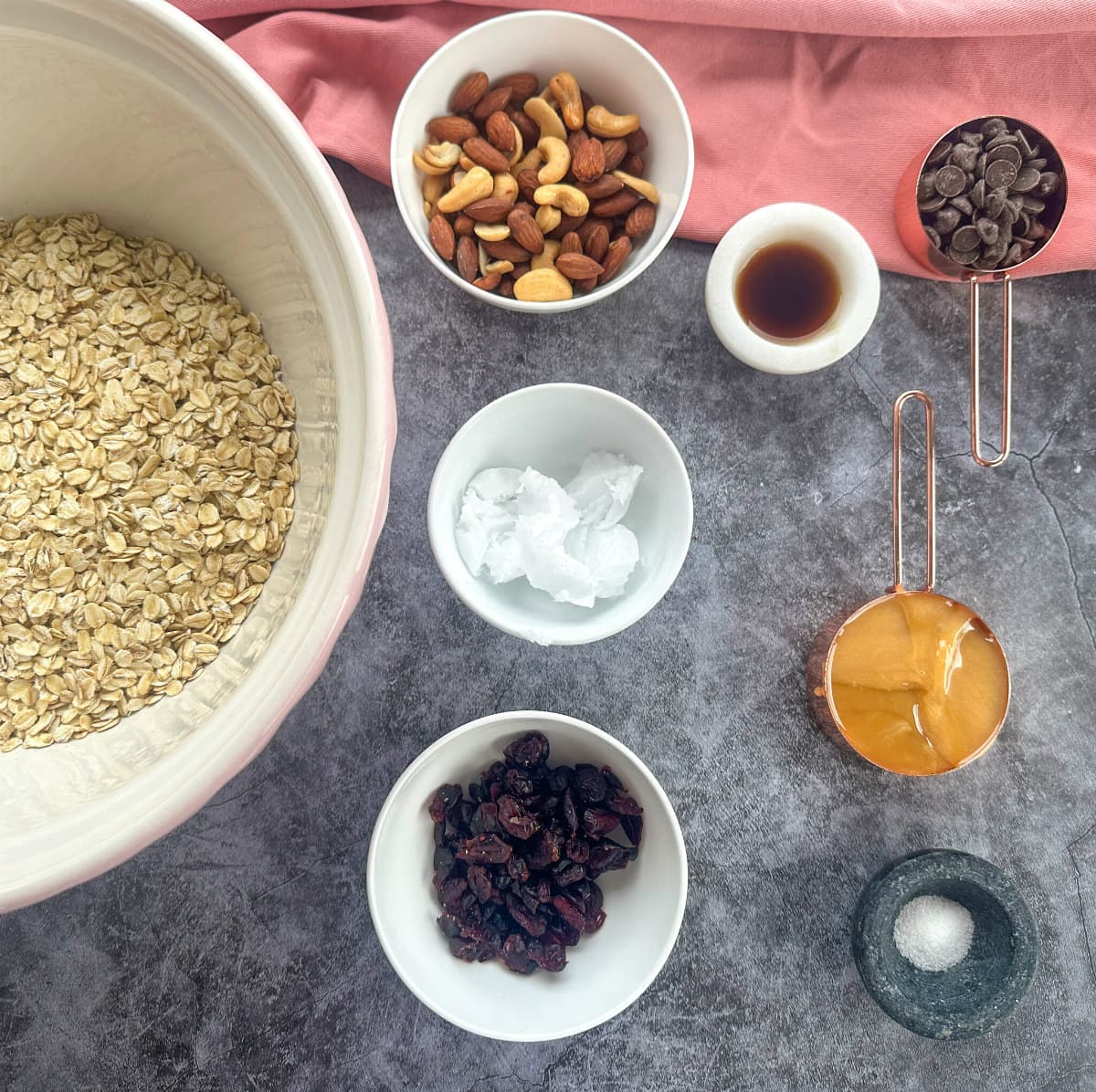 I have used a single bag of Countdown Almonds, Cashews and Cranberries mix, it is the perfect size for this recipe. But you can pick and choose your favourite nuts and dried fruits to suit your tastes.
To make is so easy, combine the honey, coconut oil and vanilla essence and melt on a low heat on the stove top until it just comes to the boil.
Then pour this into a large bowl that holds the rolled oats, nuts and a pinch of salt. Use mild flavoured nuts or they will take over the flavour of the muesli. I like to cut the nuts in half so you have a little in each mouthful. Do not add your cranberries or chocolate at this time – or the cranberries will bake hard and the chocolate will melt! Tasty but not ideal.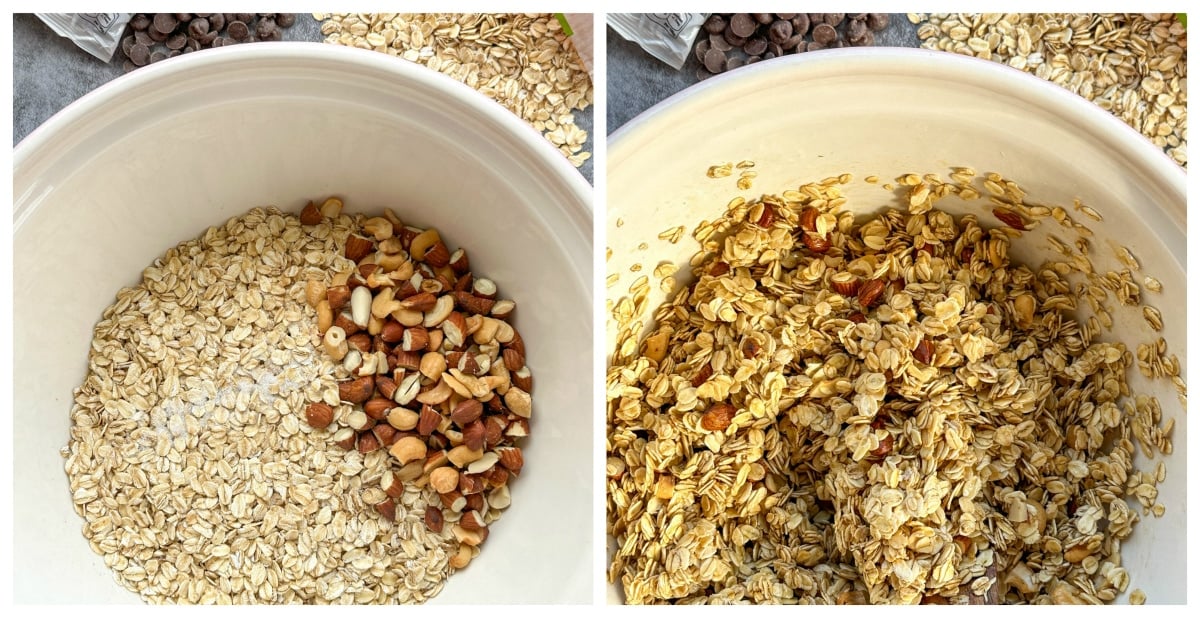 Once the rolled oat mixture is coated in the honey syrup, spread this onto a prepared tray. Then bake until golden brown, it will take around 15-20 minutes to become a lovely light golden brown.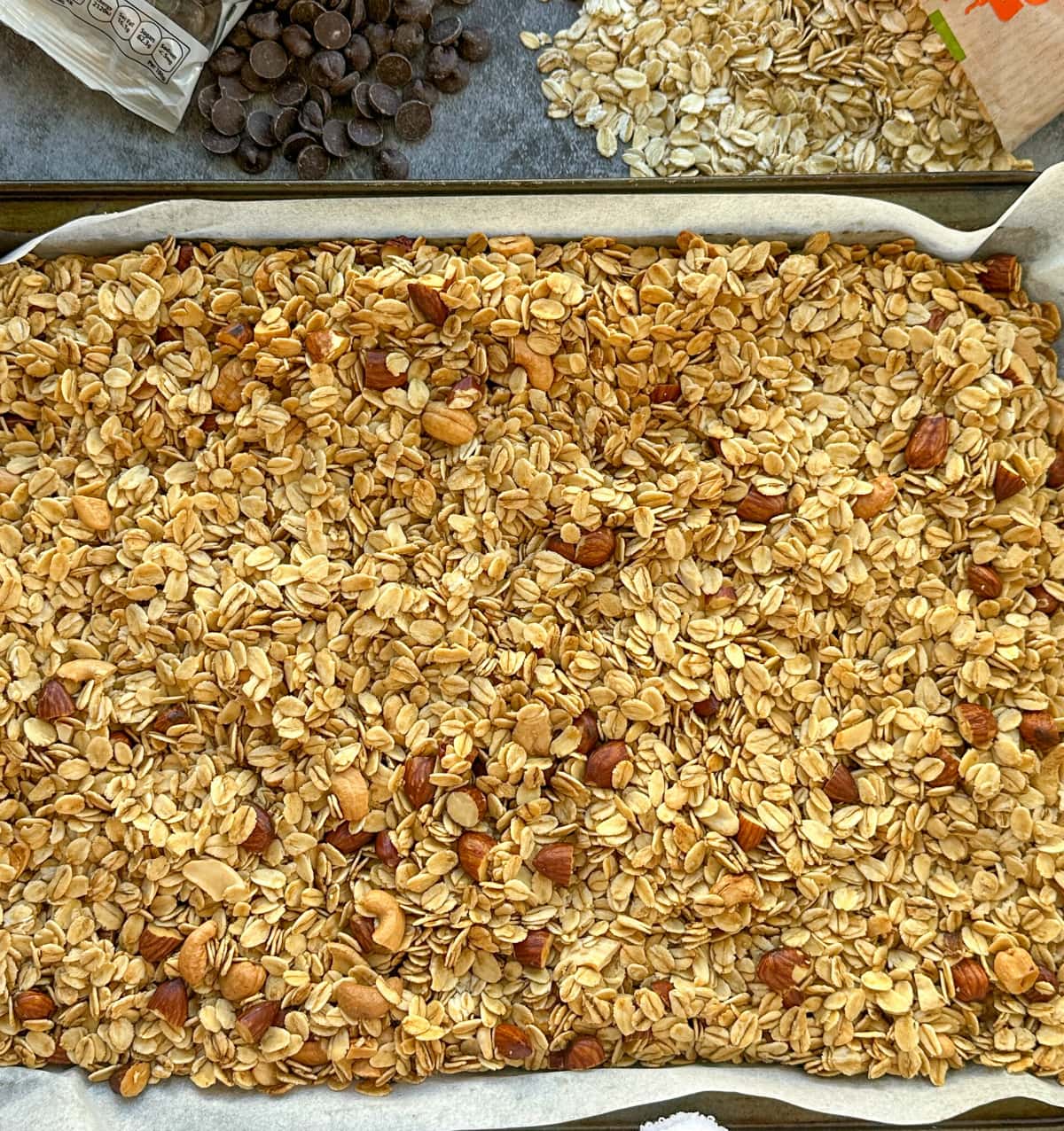 Depending on the size of the tray you use it may take more or less time, I like to stir mine around every 8 minutes to ensure every piece is golden.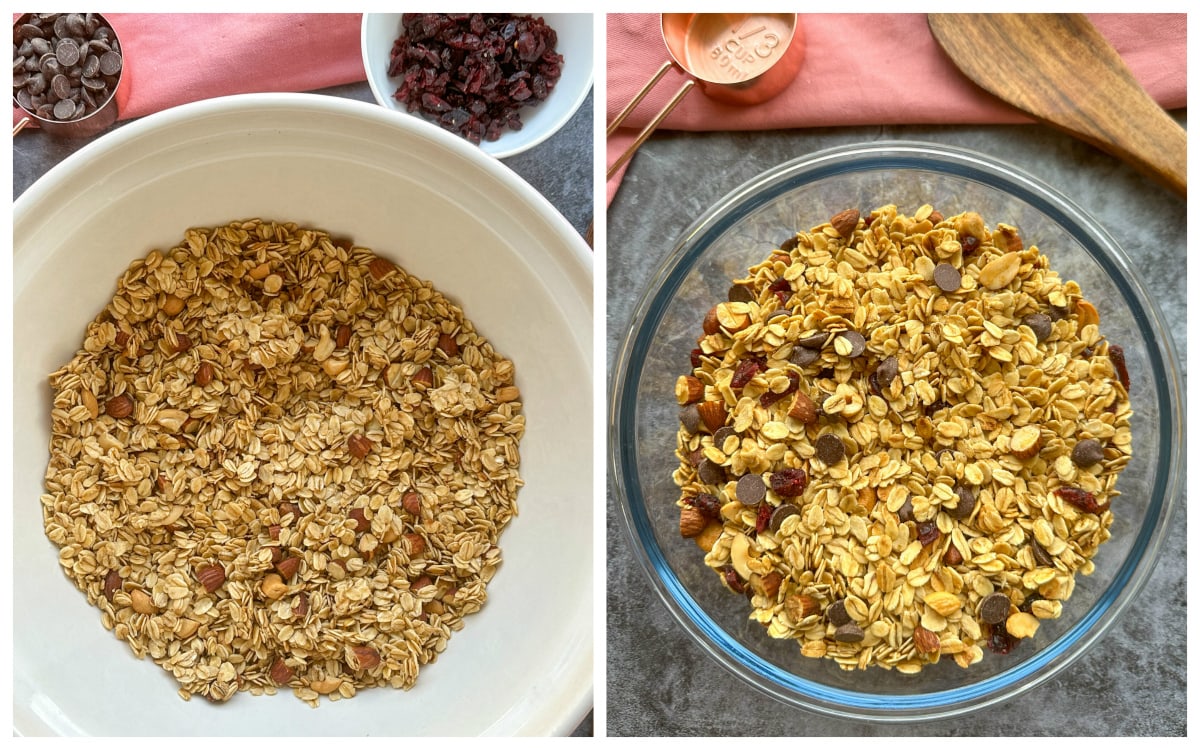 Then you allow the muesli to completely cool then pour into a large bowl and stir through the sliced cranberries and chocolate drops if using. There are so many other things you can add also, some lightly toasted coconut flakes, sprinkle over freeze dried raspberries, the variations are up to you!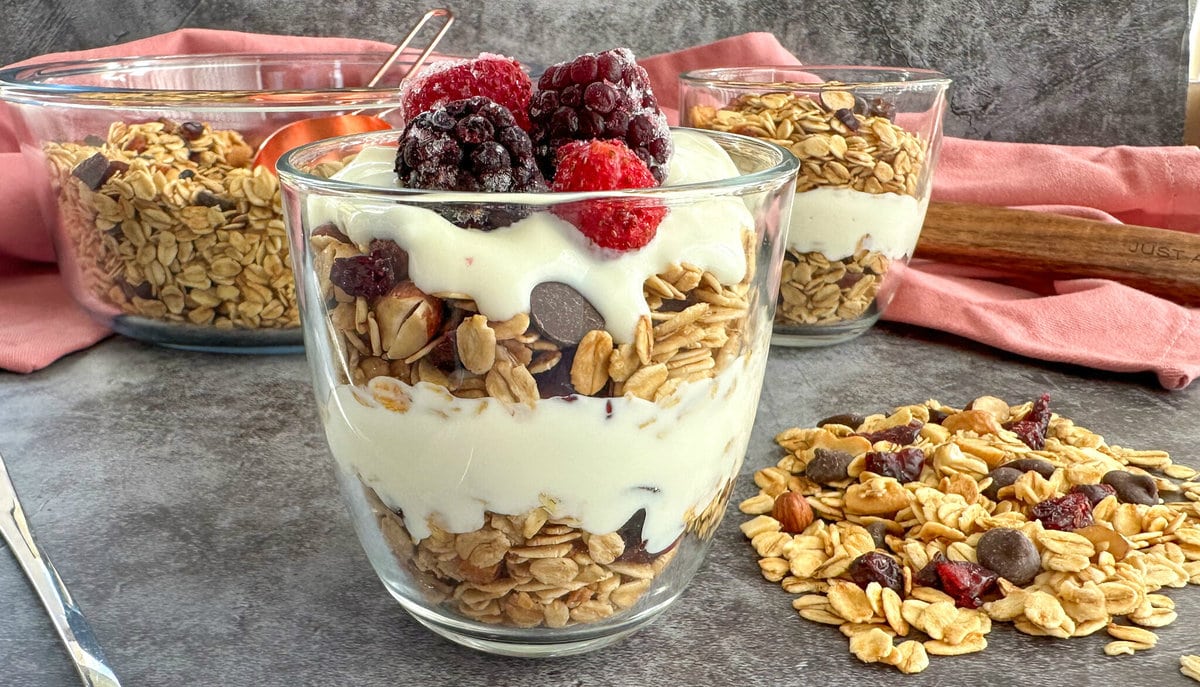 Onto the recipe for easy toasted muesli, I hope you love it.
Let me know in the comments below once you have made this recipe, I look forward to bringing you other variations in time.
Thank you so much for stopping by to check out my latest recipe and others on my blog. If you are not already be sure to follow me on Facebook or Instagram for more deliciousness, and you can register your email in the subscription box below to receive all my recipes as I publish them.
Happy Baking!
PS if you are looking for another lovely breakfast idea with Rolled Oats check out my delicious Rolled Oat Apple Breakfast Cups
Pin It! Pinterest