A classic soup that my Mum has been making us for years, we love this Winter Vegetable and Bacon Hock Soup – a Kiwi classic.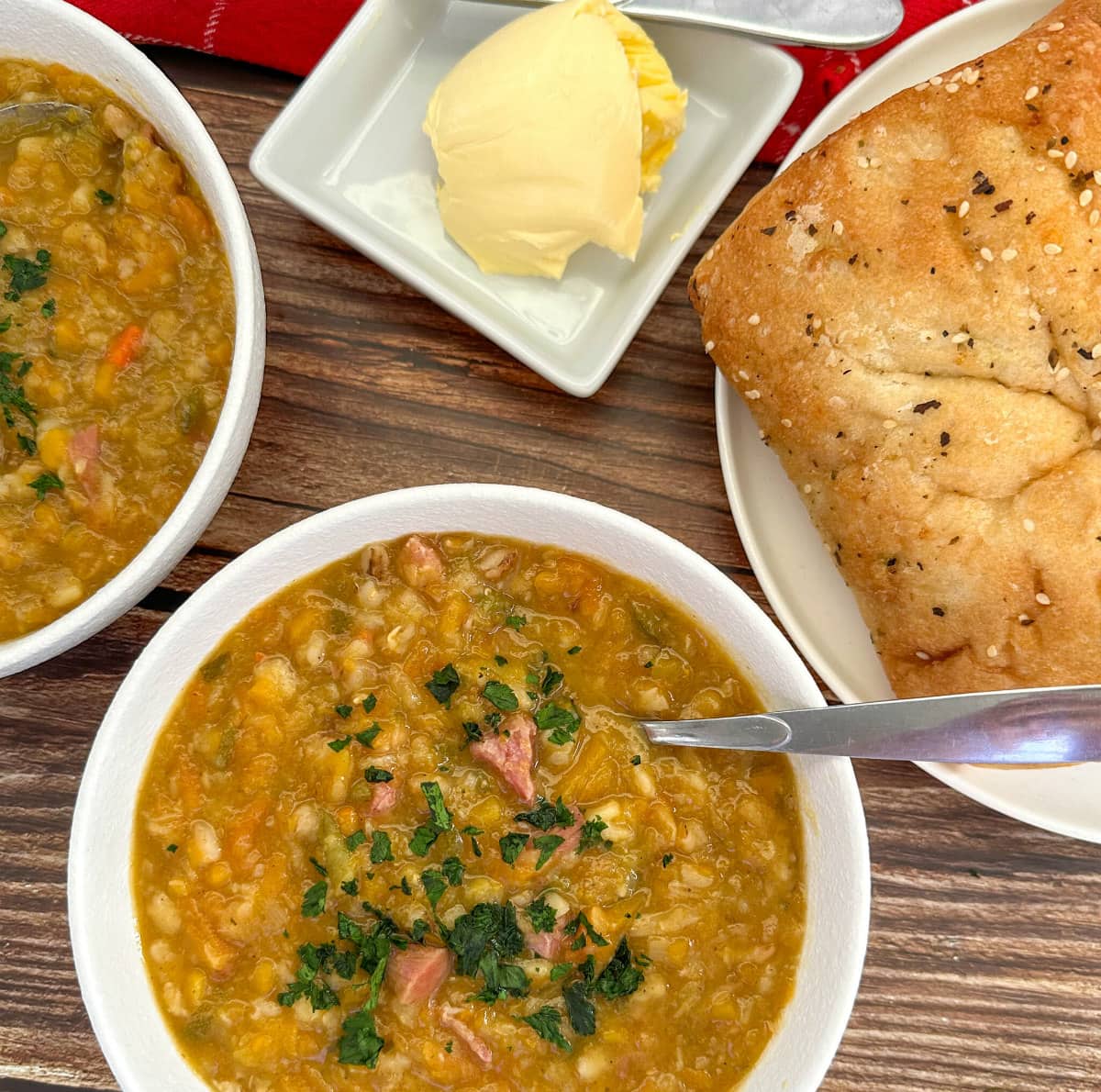 This recipe includes ingredients provided by Countdown Supermarkets as Brand Ambassador, all opinions are my own.
This soup reminds me of winter, always a pot on the stove top to be reheated and enjoyed with soft white buns or bread. Finally I have got Mum to write up her recipe for me so I can share it with you all.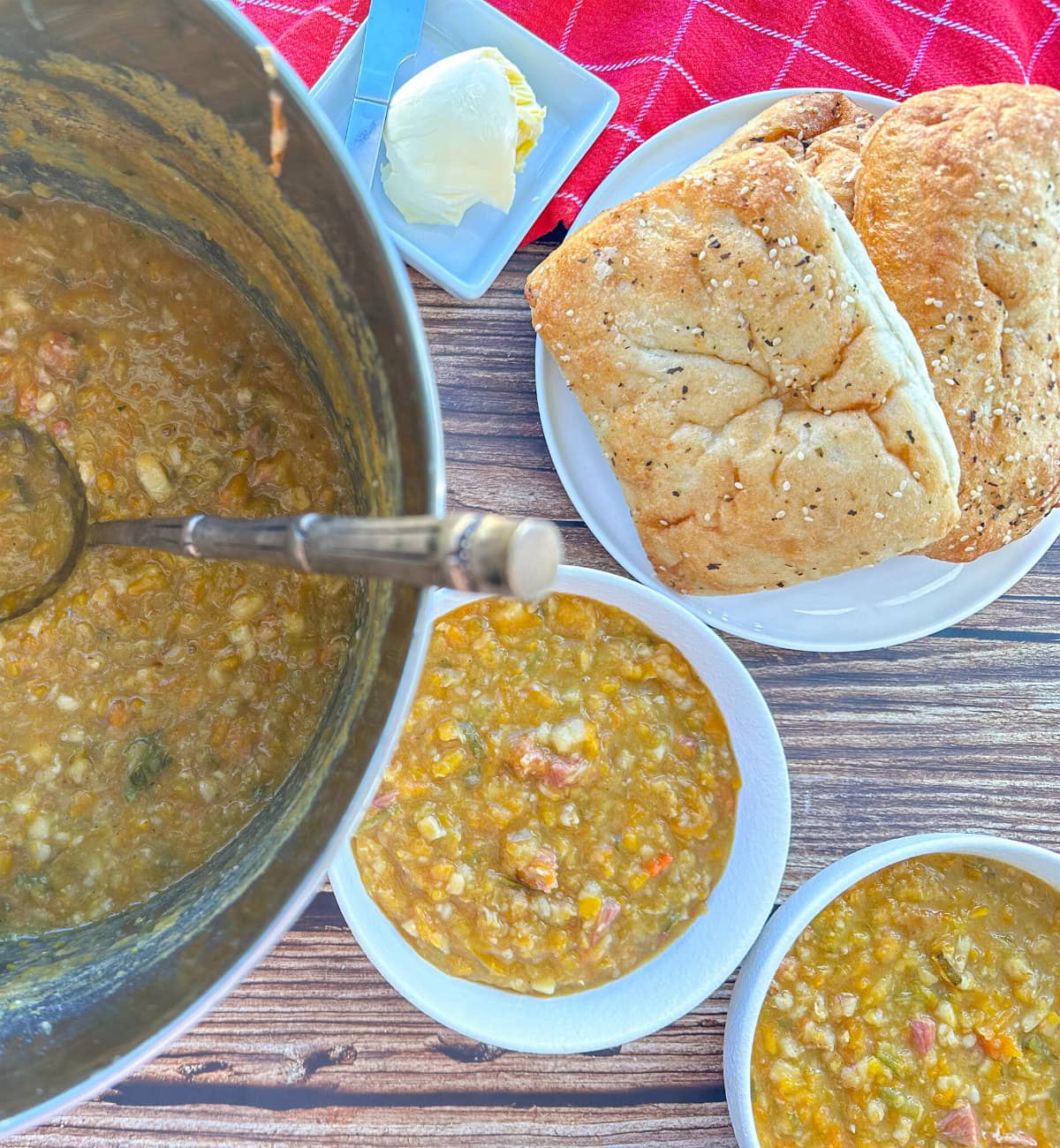 The beauty in this recipe is how versatile it is. There are a few basics that you want to make sure of, but then you can be super flexible in the vegetables and amount that you use.
That might be the reason why it has taken so long to get this written up – Mum always adds a bit of this and that! But I love that and she never makes a bad batch.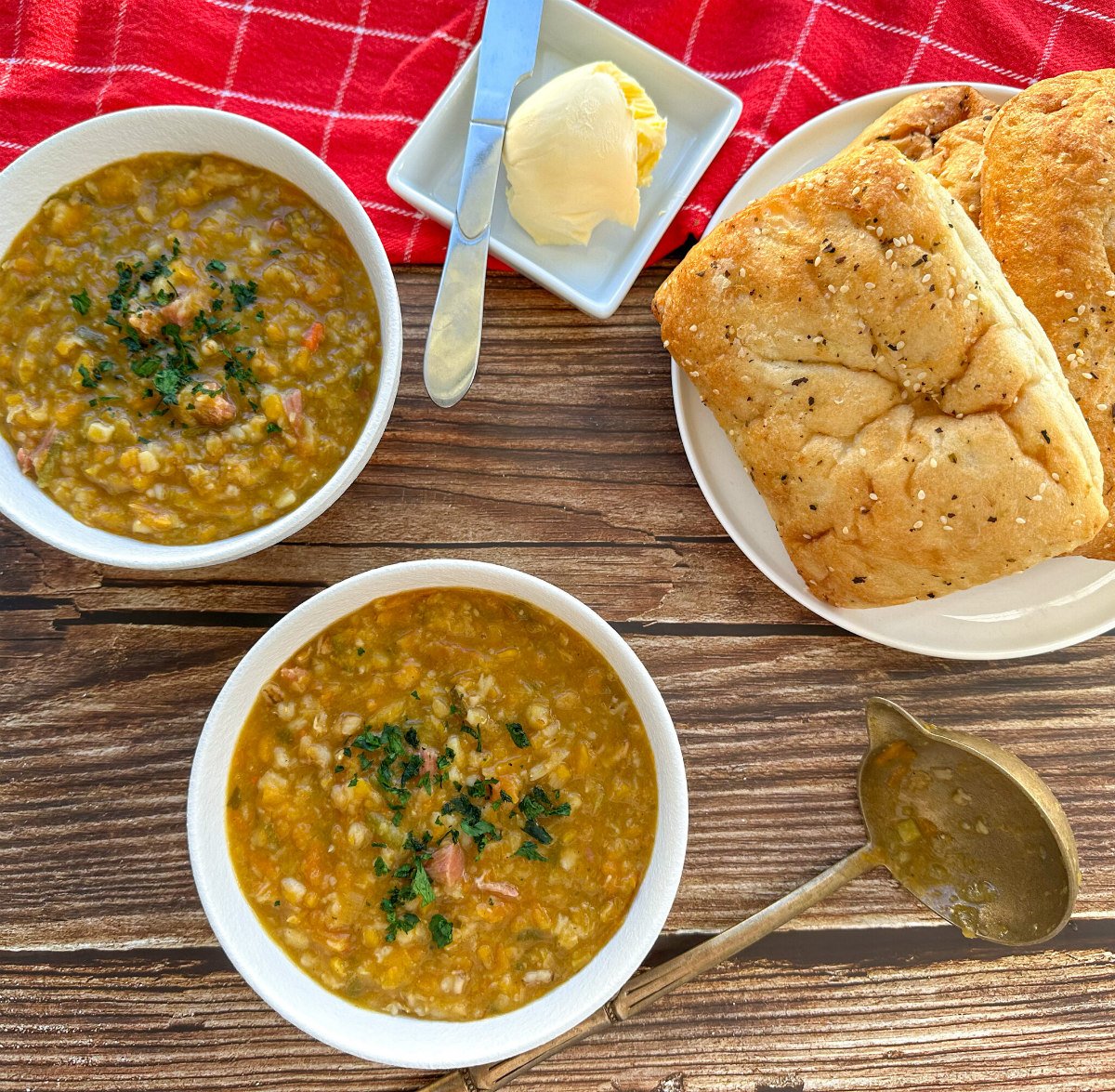 Today I have used a delicious combination of vegetables that I think work really well, but I will also include the other veges that Mum says works well too! The final touch is the bacon hock, this adds a lovely salty finish to the soup with little mouthfuls of bacon in the final soup.
Using pumpkin or similar vegetable makes this soup thicker and sweeter which I like, if you prefer omit it and make a more clear vegetable soup.
The ingredients I have used are as follows:
(Scroll down to the printable recipe card for full ingredient quantities and method)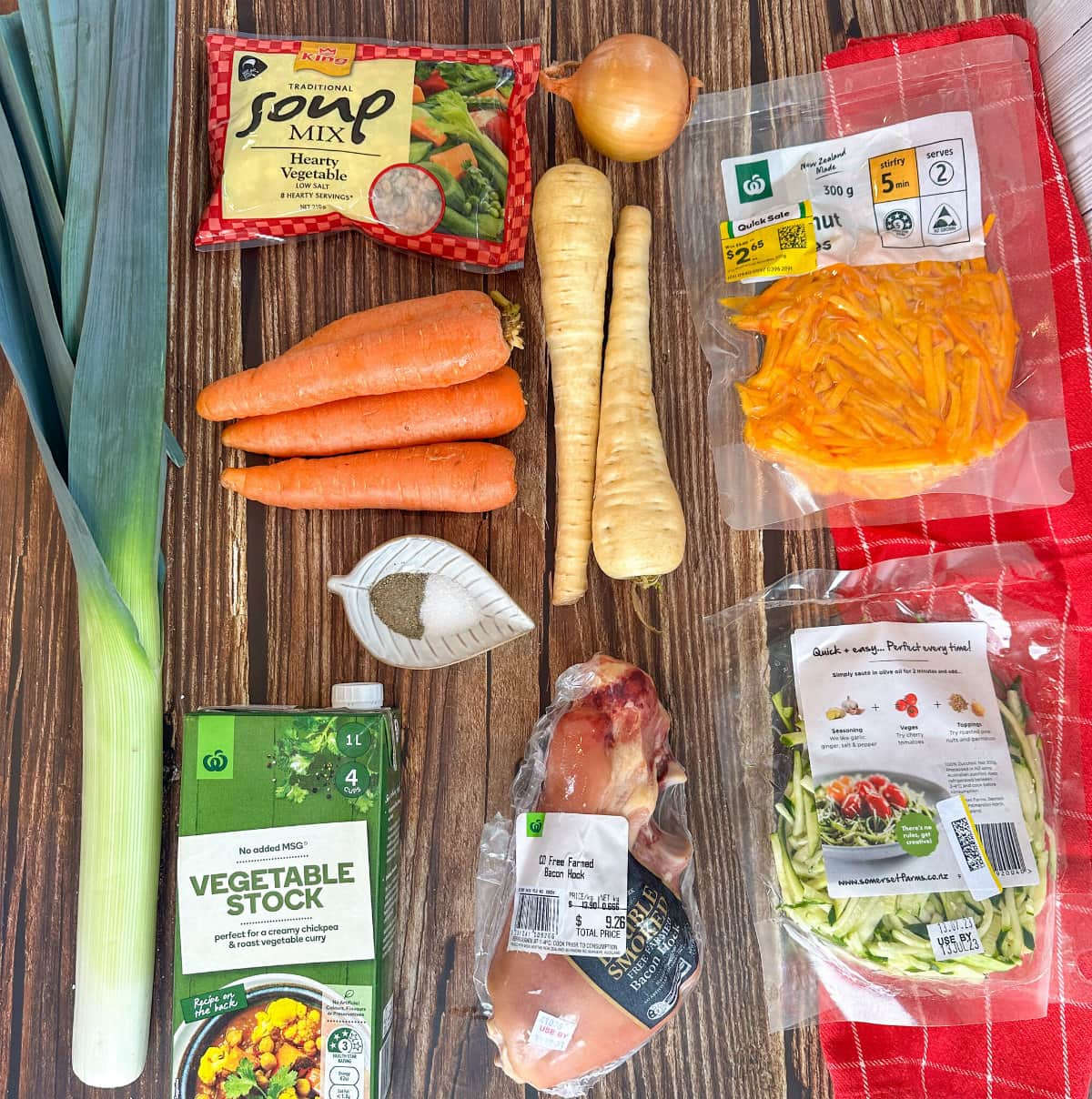 Bacon Hock

Onion

Carrots

Pumpkin

Leek

Parsnip

Courgettes

Kings Hearty Vegetable Soup Mix

Vegetable Stock

Salt & Pepper

Water
Kings Hearty Vegetable Soup mix is a combination soup mix you can buy at the supermarket which includes grains, legumes and vegetables which forms the base of the soup and thickens the final result.
The method is lovely and simple, the first step is to prepare and cut all of the vegetables. I was able to get some already grated vegetables on special so that was handy, but most vegetables should be grated or finely sliced.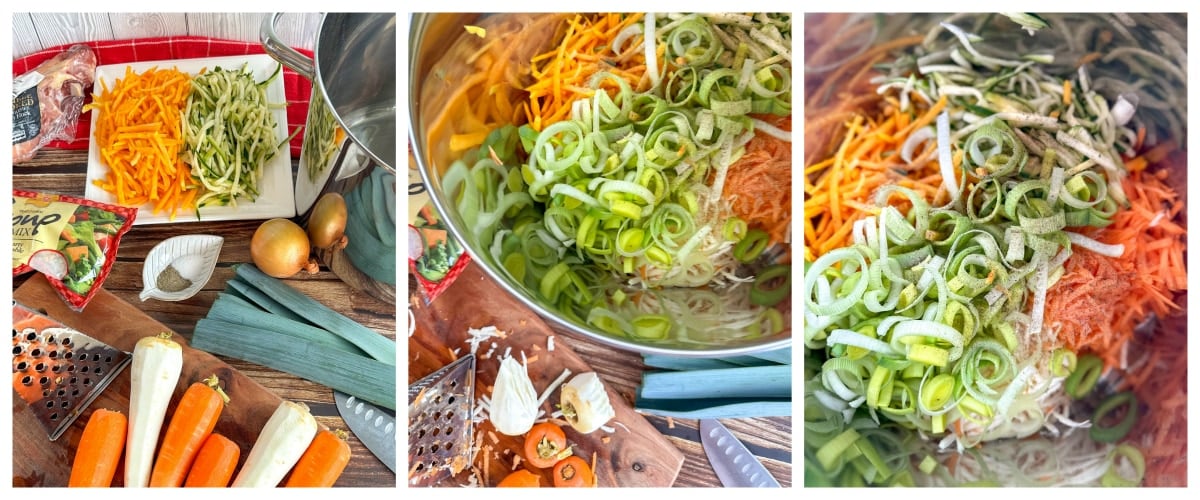 We use a combination of vegetable stock and water for extra flavour, and the bacon hock. You want to use a large stock or soup pot for this recipe as you will use around 4 litres of water plus all the vegetables, so a stock pot that is around 7 litres works well.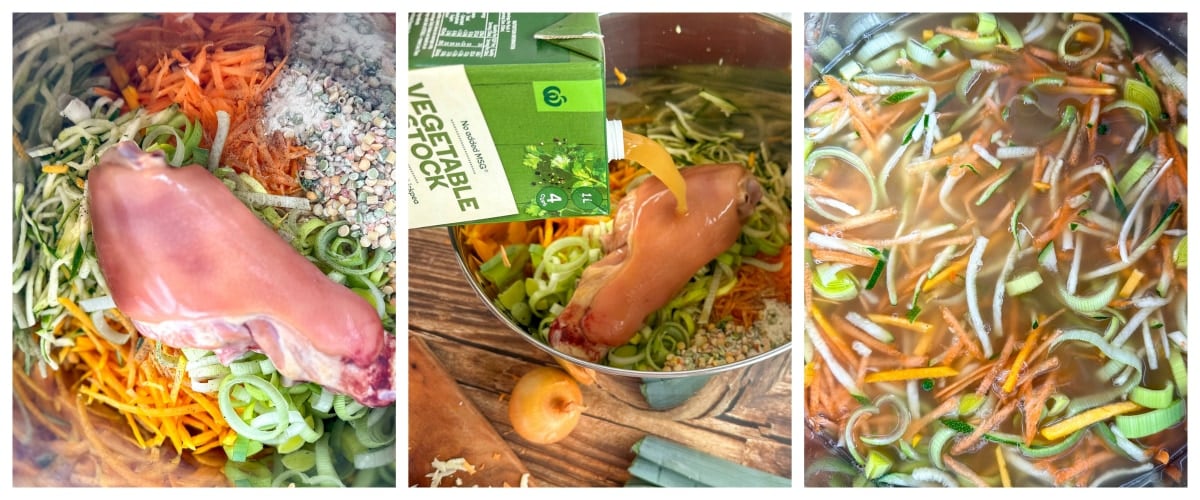 To cook the soup you cook it at a gentle rolling boil for a few hours, before removing the bacon hock, remove all the bacon meat from the bone, and then finely dice and add back into the soup and cook for a further 30 minutes to an hour until the bacon has softened and the soup has reduced by at least a litre and thickened.
Adding the pumpkin means that this soup is thicker than if you leave it out but it gives it a lovely texture. Each batch you make will be slightly different depending on what vegetables you choose to use.
This soup is perfect served fresh and just as lovely reheated, and can also be frozen.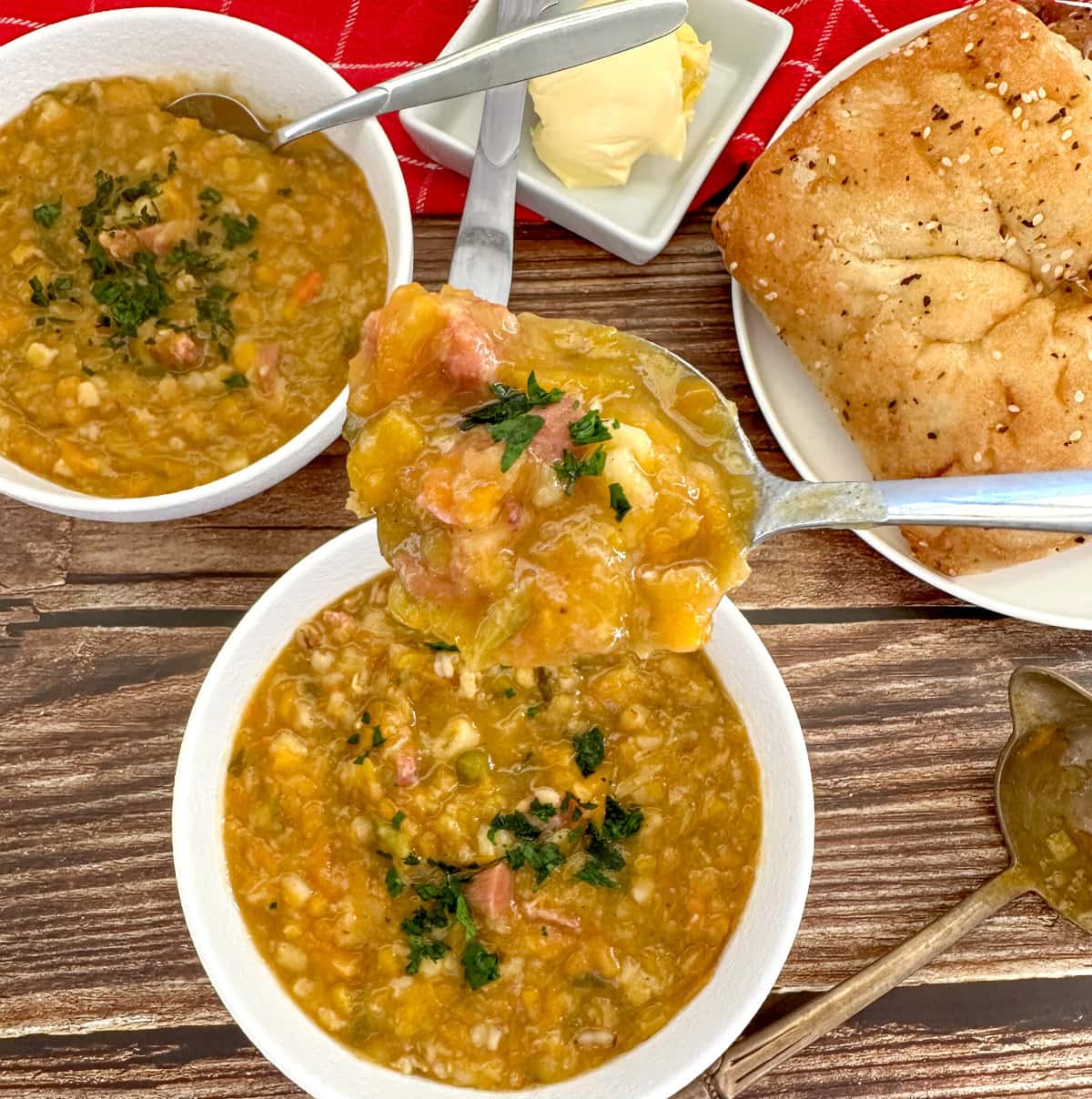 I have lots of other lovely soups so be sure to check them out HERE also
Onto the recipe for My Mums Winter Vegetable and Bacon Hock Soup.
So lovely to have yet another of my Mums classic recipes up here on the website, if you make it be sure to let me know in the comments below.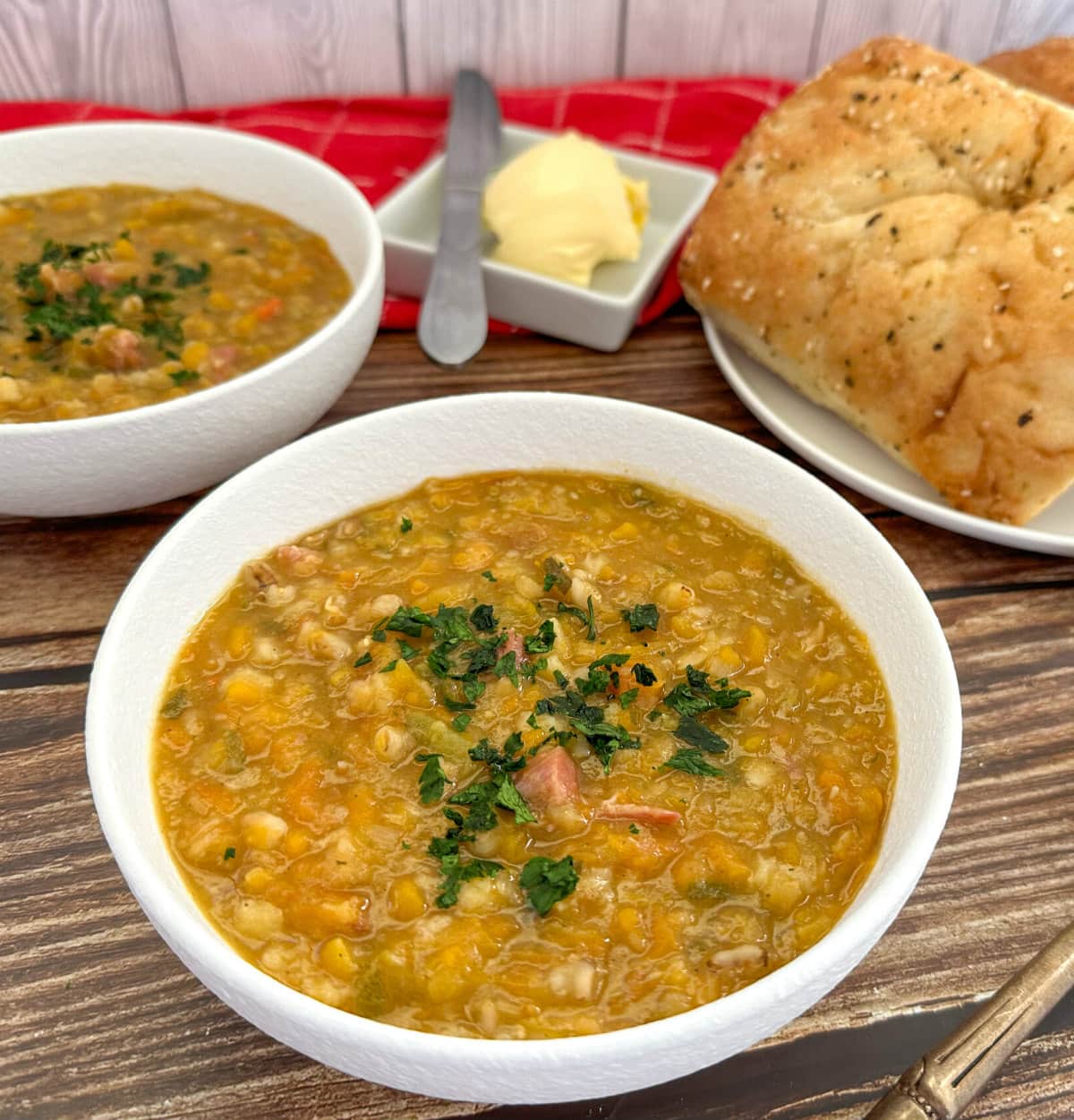 Thank you so much for stopping by to check out my latest recipe and others on my blog. If you are not already be sure to follow me on Facebook or Instagram for more deliciousness, and you can register your email in the subscription box below to receive all my recipes as I publish them.
Happy Cooking!
Pin It! Pinterest