A lovely light moist flavourful cake with apple pieces in every bite, I love this Easy French Apple Cake recipe.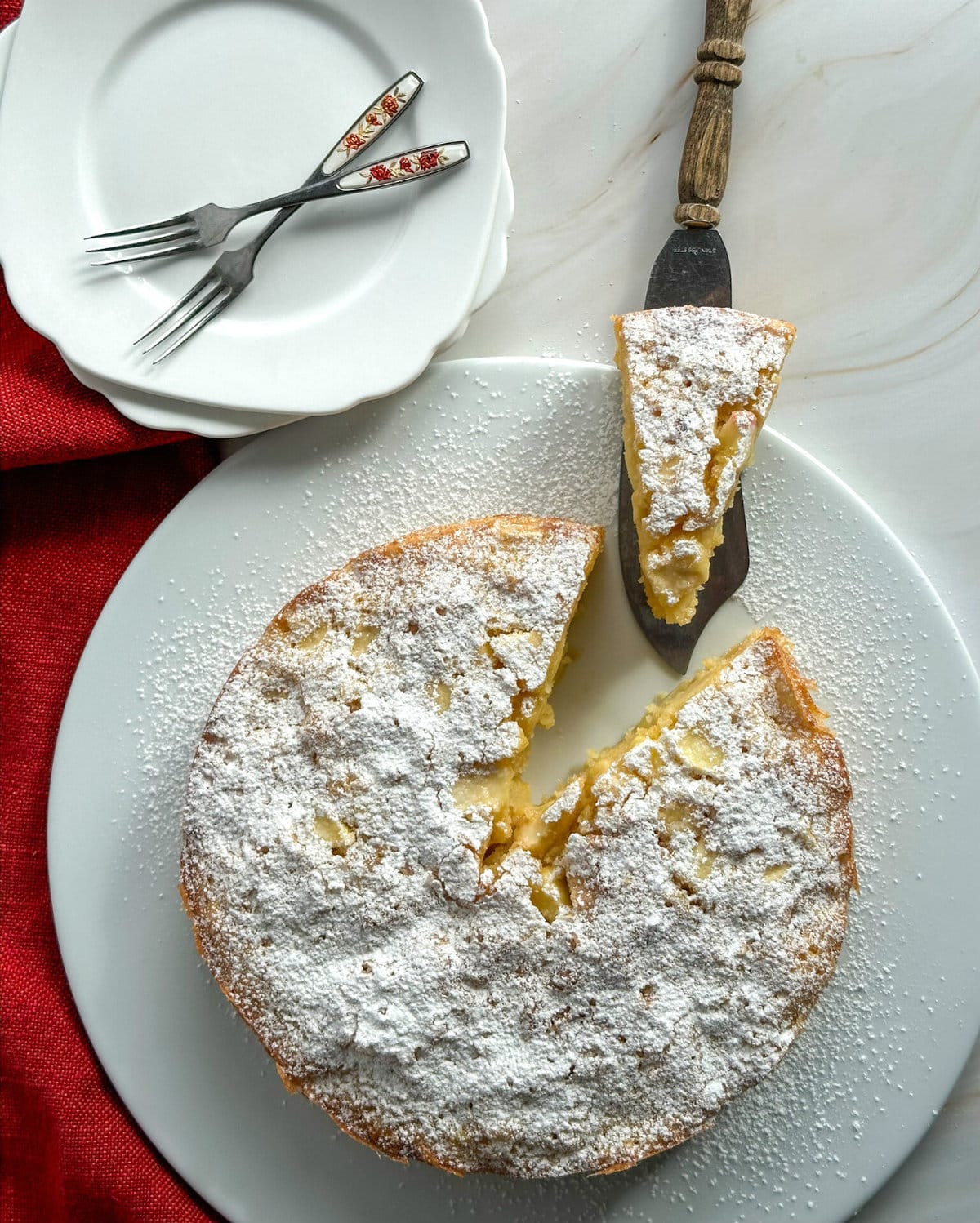 The ingredients for this recipe have been provided by Countdown Supermarkets as Brand Ambassador, all opinions are my own.
This cake, or variations of it, have been around for such a long time, traditionally made as a simple batter infused with the flavour of rum, it is truly a delicious cake.
I have amended the original recipe to suit my tastes, but I will give a variety of options for you if you wish to make a Rum version closer to the original.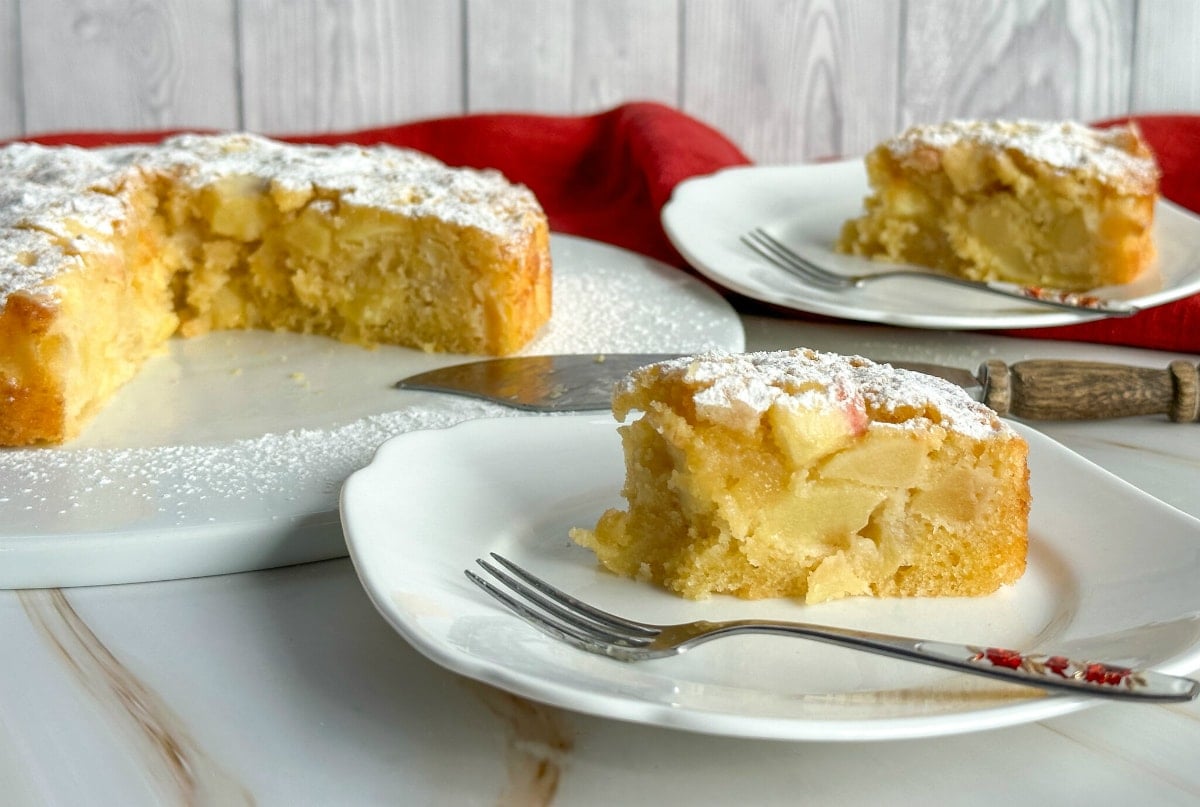 The version I love the most is the addition of almond essence in place of the rum, this gives such a lovely end result and it works perfectly against the apples.
This is really an apple cake with a little batter, the apples really shine here. Traditionally it was made with apple slices, so using a mandolin to create thin apple slices which are then coated in batter. I make mine chunks of apples but you may choose!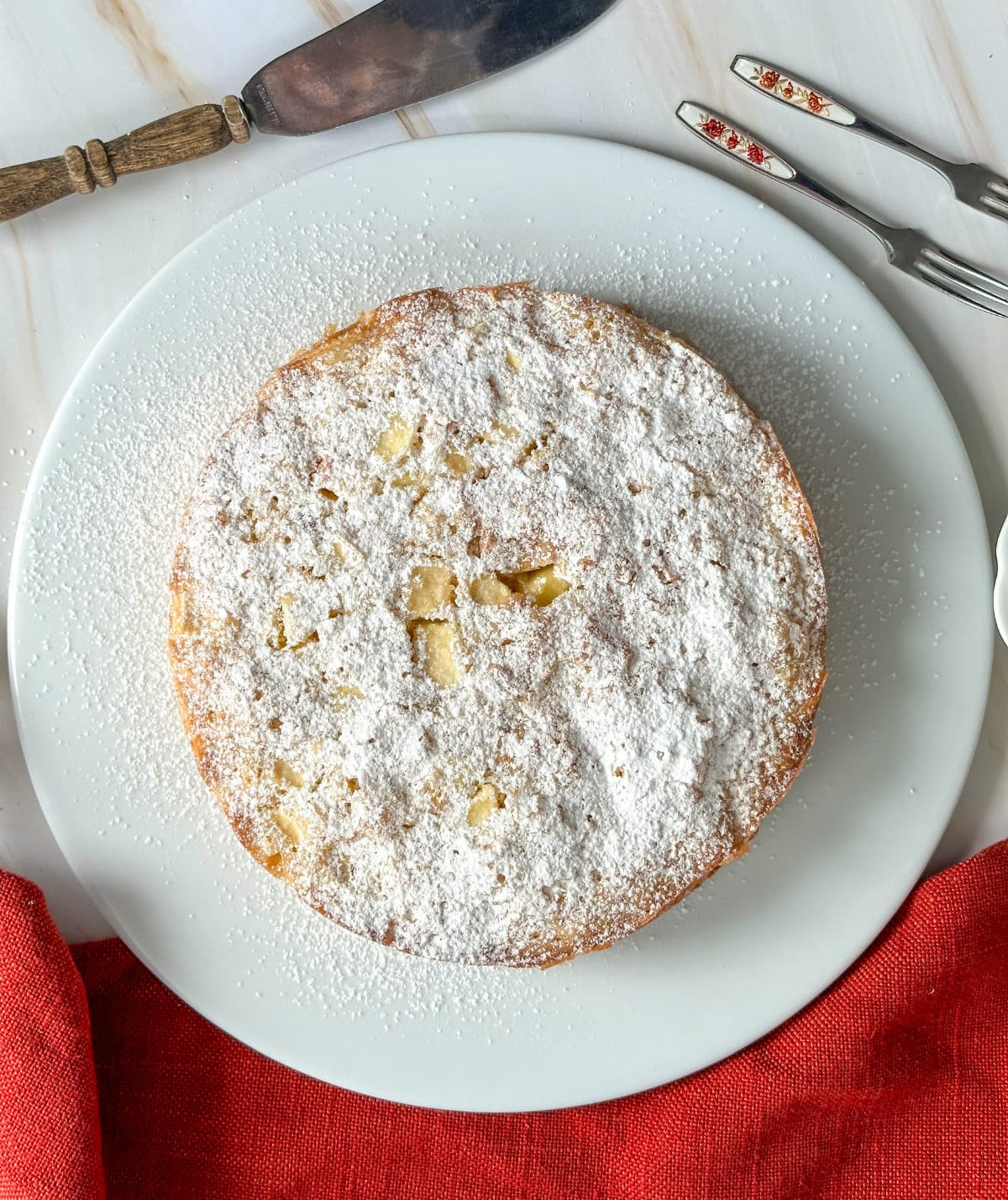 Often apple cakes come with spices such as cinnamon and nutmeg, it is really nice to have a recipe that gets away from these flavours and really lets the apple flavour through.
I recommend changing up the apples each time you make this, ideally you want an apple that is going to hold its shape upon baking, but most do in this instance.
The traditional Granny Smith is what is often used in baking, but today I used Jazz apples and they were delicious! There are so many flavours of apples available these will really enhance the flavour.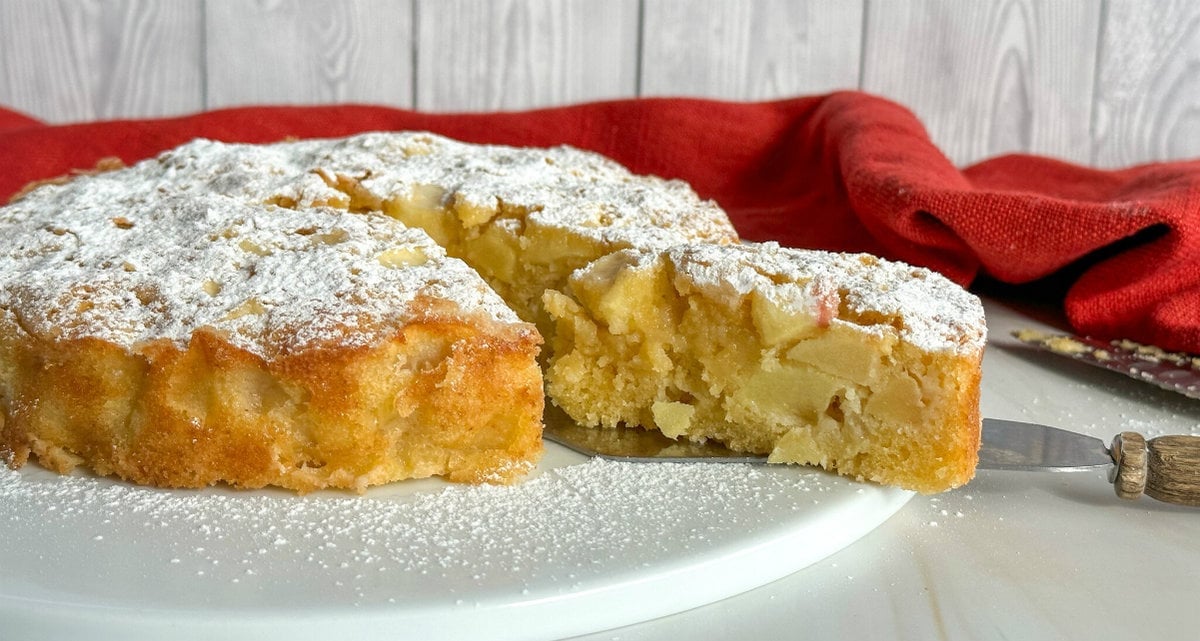 *The options I have suggested for the flavour of the French Apple Cake are as below (I use almond essence)
1/4 Cup Rum or Spiced Rum

1/4 Cup Brandy

1 teaspoon Almond Essence, or Rum Essence, or Brandy Essence. That will really stand out strongly but I love it! Feel free to play around to find your favourite version.
If you do use Rum or Brandy then be sure to reduce the milk component to make up for the extra liquid, see my recipe notes for more details as I use almond essence in my favourite version.
All you need for my version of Easy French Cake is
(Scroll down the page to find the full ingredient list and method)
Plain White Flour

Baking Powder

Salt

Butter

White Sugar

Eggs

Vanilla Essence

Almond Essence*

Milk

Apples

Icing Sugar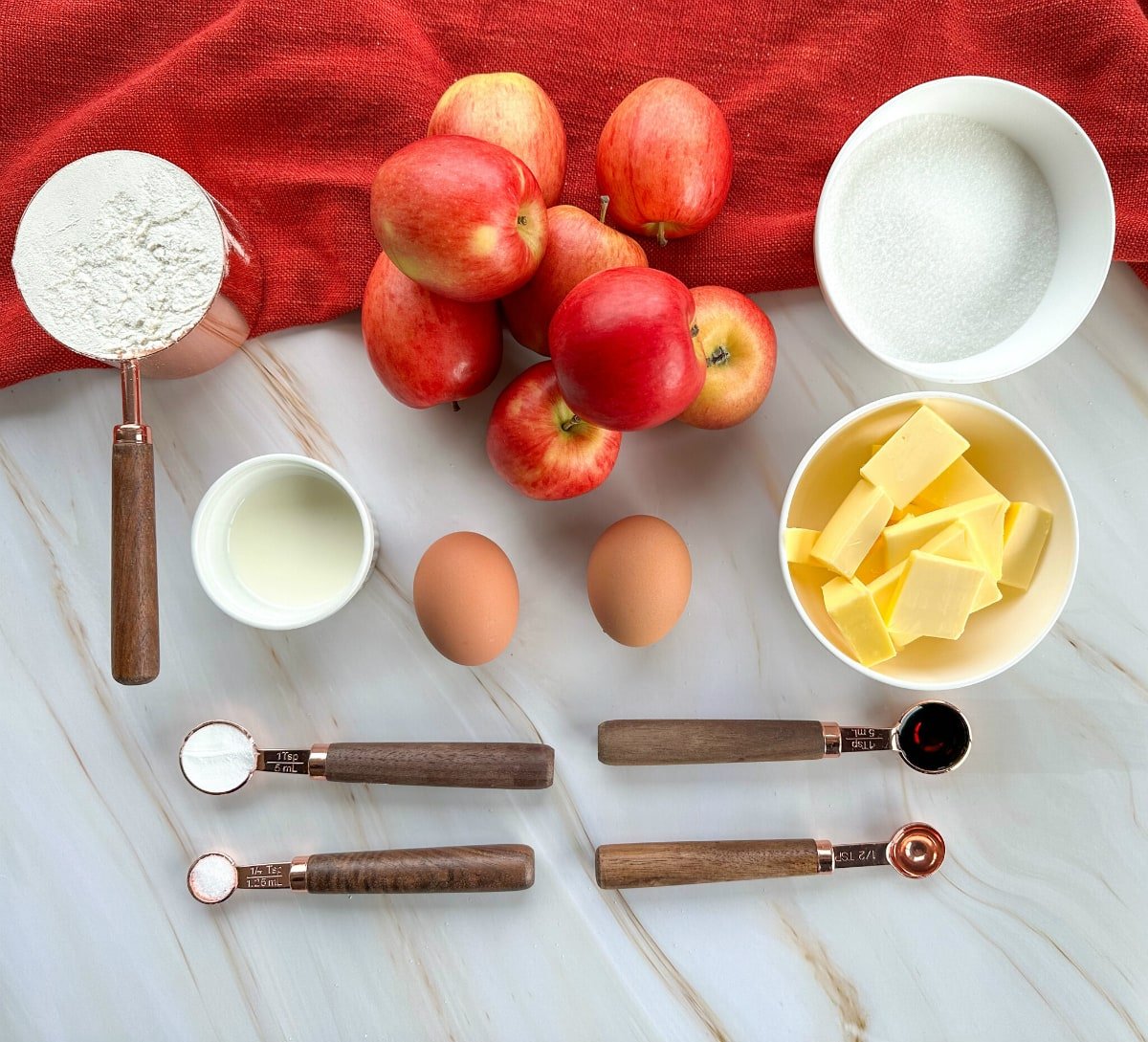 The method to making this is lovely and simple. I use a food mixer as it makes creaming the butter and sugar easier, but if you wish use a strong whisk for the first step.
When using flour and baking powder be sure to whisk this well first with the salt, this way the baking powder is evenly dispersed into the flour before you pour it into the dry ingredients.

Once the butter and sugar is creamed, you will add the eggs one at a time and then the essences and milk (or alcohol if using) this may begin to look a little curdled, it will be fine so trust the process!
Finally mix through the flour then fold in the peeled and diced apples. I like to dice my apples quite small so there is a piece of apple in every mouthful. The balance of batter to apples seems a little off but that makes it special, it really is an APPLE cake, almost more apple than cake.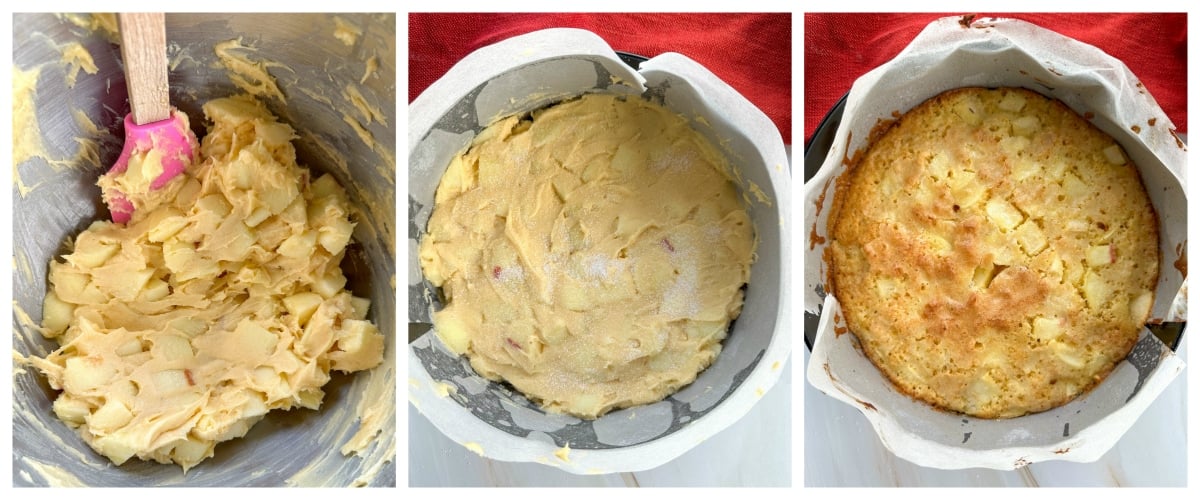 Then to finish sprinkle with a little more white sugar and bake until the cake is cooked in the middle and the edges are a lovely crispy golden brown. All ovens are so different so after the initial cooking time test with a knife or skewer until no moist batter remains.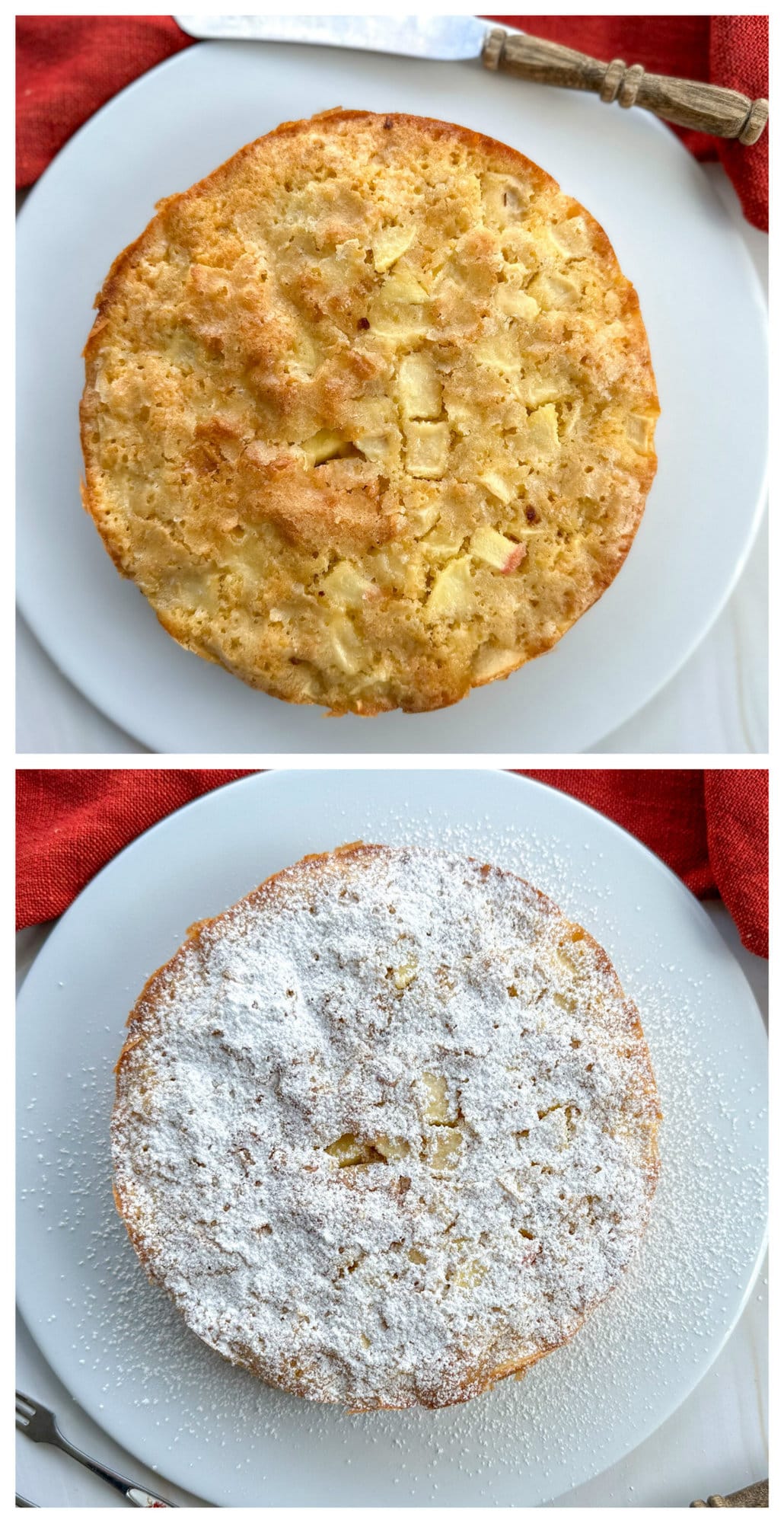 Then allow the cake to cool in the pan for a while before carefully removing it. You will have beautifully lined your cake so the removing part will be so easy! I recommend a spring form or lose bottomed cake tin for this one as the cake is super moist and delicate.
I have lots of lovely apple recipes, be sure to check them out come apple season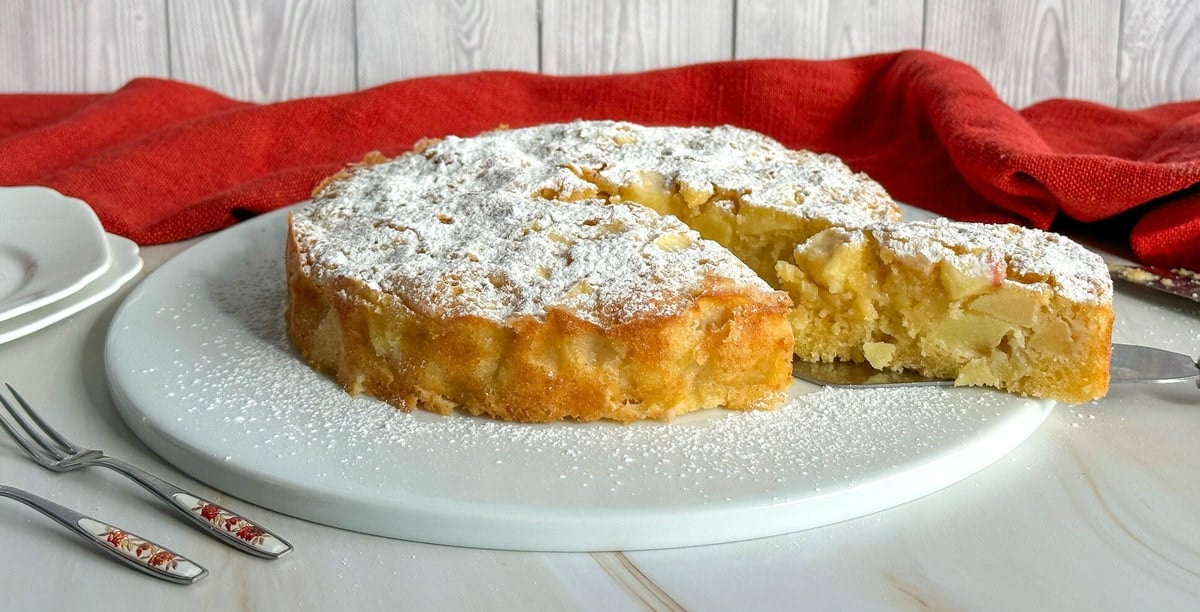 Onto the recipe for this super popular Easy French Apple Cake
I hope you love this recipe as much as I do, be sure to let me know in the comments below once you make it.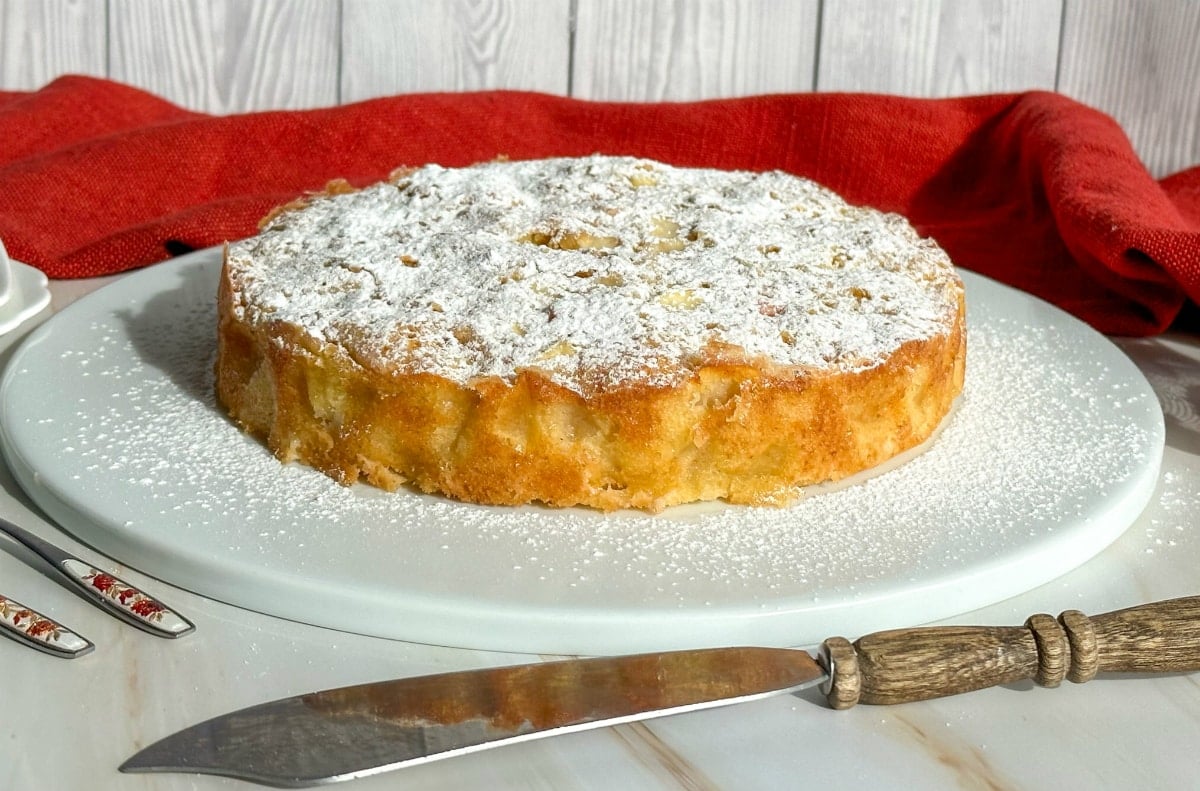 Thank you so much for stopping by to check out my latest recipe and others on my blog. If you are not already be sure to follow me on Facebook or Instagram for more deliciousness, and you can register your email in the subscription box below to receive all my recipes as I publish them.
Happy Baking!
Pin It! Pinterest