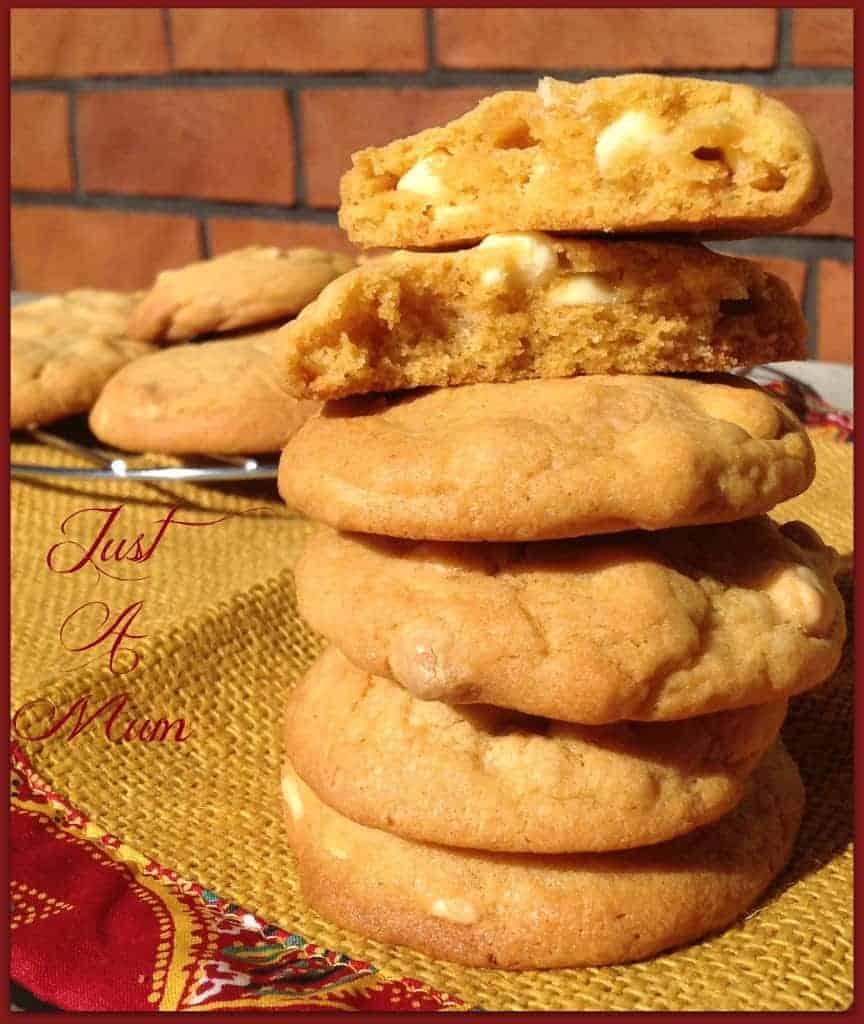 I have been at it again! Since I last posted my Double Chocolate Pudding Cookies recipe on here I have been thinking of new ways to use Instant Pudding or Desserts in a Cookie and this one immediately sprang to mind. It seems that the options for cookie or biscuit recipes is pretty endless, I know if you search for Cookie recipes in Pinterest you will be there all day flicking through the weird and wonderful creations people come up with.
What is always so important to me is that the ingredients in the recipe are those I have on hand. There is nothing worse than thinking you will have a baking session then realise that the recipe calls for that one thing you do not have – or 6 things in some cases! With this recipe it is mostly basic baking essentials we have in our cupboards (if you are a baker that is – if not remember it does not have to be the flash brand – go budget and still get great results!)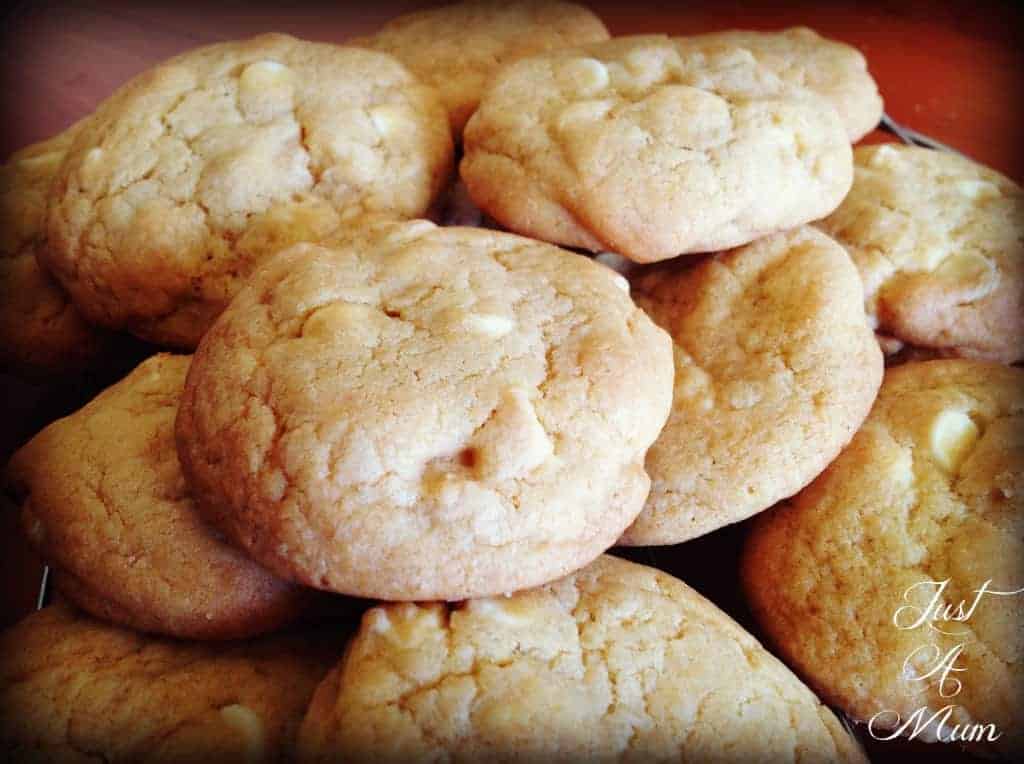 For this recipe, next time you are at the supermarket grab some Butterscotch Instant Pudding (or Dessert) and some white chocolate drops or bits and have them handy for when the baking bug bites! It took me a few weeks to remember to get these in the shopping but the wait was worth it. They are just so tasty, soft & decadent. I have again used my basic but perfect Chewy Chocolate Chip Cookies Recipe and made a few modifications with the sugar and eggs to get the right balance.  When preparing to make these take into account time to chill the dough before baking, and this is also a great recipe to freeze the uncooked cookie dough – so that when you or the kids get an urge for fresh warm cookies you can appear before them like Martha Stewart and just happen to have all you need on hand! Oh the little things I do to make myself appear more organised and a better mother than perhaps I am! ha ha
Anyway back to the task on hand – Butterscotch & White Chocolate Cookies – so good – here is the recipe, as always if you have any questions about any of my recipes do ask, I am usually able to respond within a day or less so check out the comment section below – and if you do make them – grab a photo and flick it through to me via email or my Facebook page, it makes my day to know others are out there enjoying what I share and adding a bit of something fun & sweet in their lives 🙂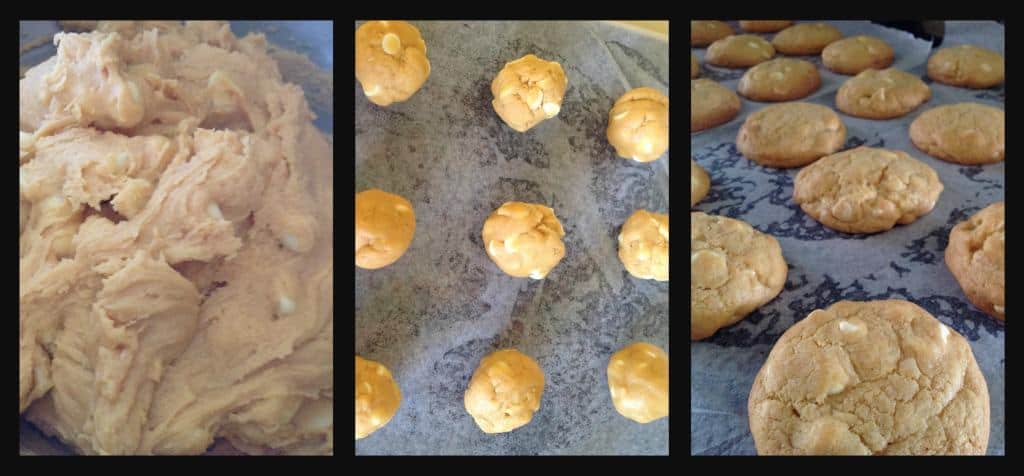 White Chocolate & Butterscotch Pudding Cookie
Ingredients
170g unsalted butter, melted (I actually just use ordinary as I don't often have unsalted)
¾ Cup packed brown sugar
¼ cup white sugar
1 Tablespoon vanilla extract
2 eggs
1 packet of Greggs Golden Butterscotch Instant Dessert (or similar, not diet)
2 Cups plain flour
½ teaspoon baking soda
½ teaspoon salt
2 cups white chocolate drops or bits
Method
In a food mixer mix melted butter, brown sugar and white sugar until well blended – colour will start to change - approximately 4 minutes
Beat in vanilla, eggs until mixture light and creamy - a further 2 minutes
Add the instant pudding and combine for a further minute
Add the flour, baking soda and salt and mix until just combined.
Stir in the white chocolate drops (you can do this step by hand or in mixer)
Cover and chill cookie dough in the same bowl for an hour or overnight (or freeze if not needing)
When ready to bake - Preheat oven to 165 degrees C (or 330 Fahrenheit)
Lightly spray baking tray then lay baking paper on top (I find this the BEST method – baking paper sticks and no extra oil on cookies)
Spoon out a tablespoon sized amount and roll into balls and pop onto tray about an inch or two apart
Flatten the balls with the palm of your hand slightly
Bake in oven for 10-13 minutes - they will still be soft in the middle but slightly cooked on the outside.
After they have cooled for 3-5 minutes on the tray transfer to a wire rack until completely cooled.
IMPORTANT NOTE: Make sure that for quality control purposes you eat one cookie about 5 minutes after they come out of the oven, you may need to try up to 3 to ensure its a suitable for general consumption 🙂
Store in an airtight container for up to 5 days
The result will be a delicious golden cookie with a hint of butterscotch and the lovely caramel flavour of the white chocolate drops. As with all cookies you can determine the size depending on what you need them for – little amounts for kids and bigger ones for adults or a special occasion. If you want to be extra fancy you can melt some white chocolate in the microwave and using a teaspoon flick the white chocolate back and forth over cookies while still on the baking sheet for a little added pizzazz.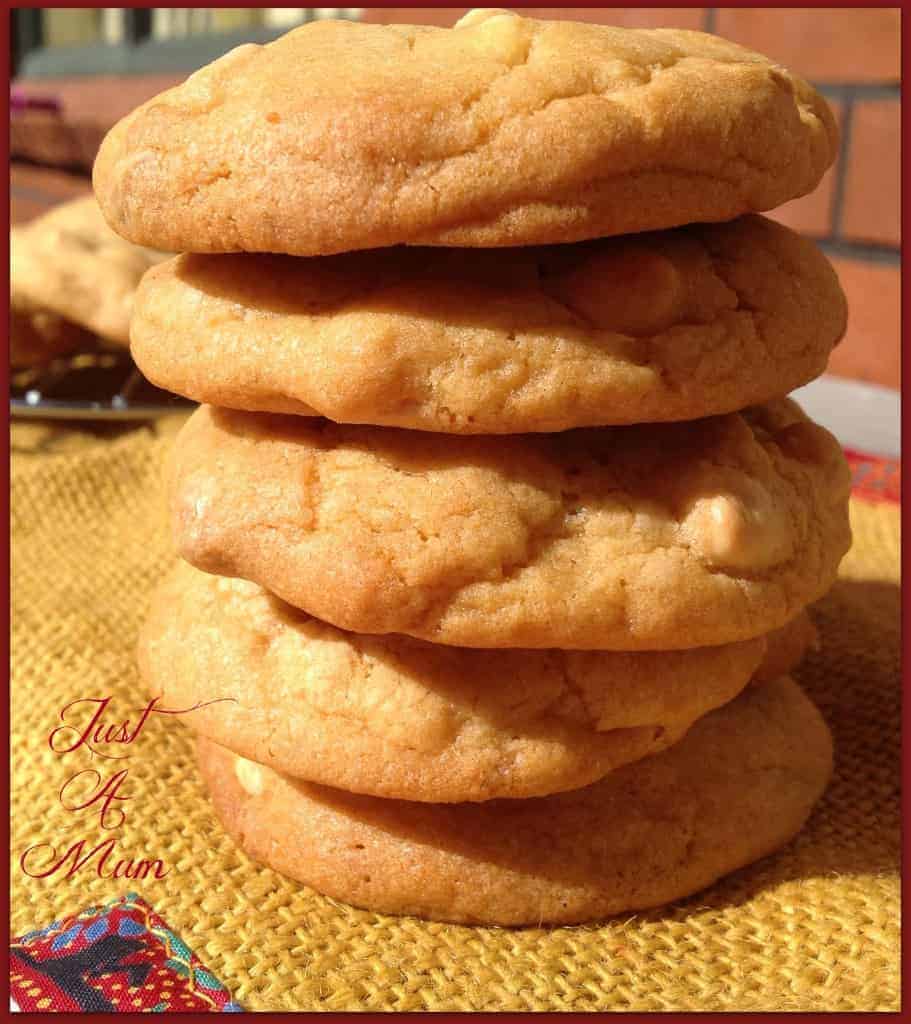 You can follow my blog for more recipes and fun kids activities by registering your email – or alternatively follow me on Facebook or my other social medias – links above.
Thanks so much for checking out this recipe – feel free to share this with your friends and have a nosy around the site before you go for more deliciousness.
Happy Baking!
Anna 🙂