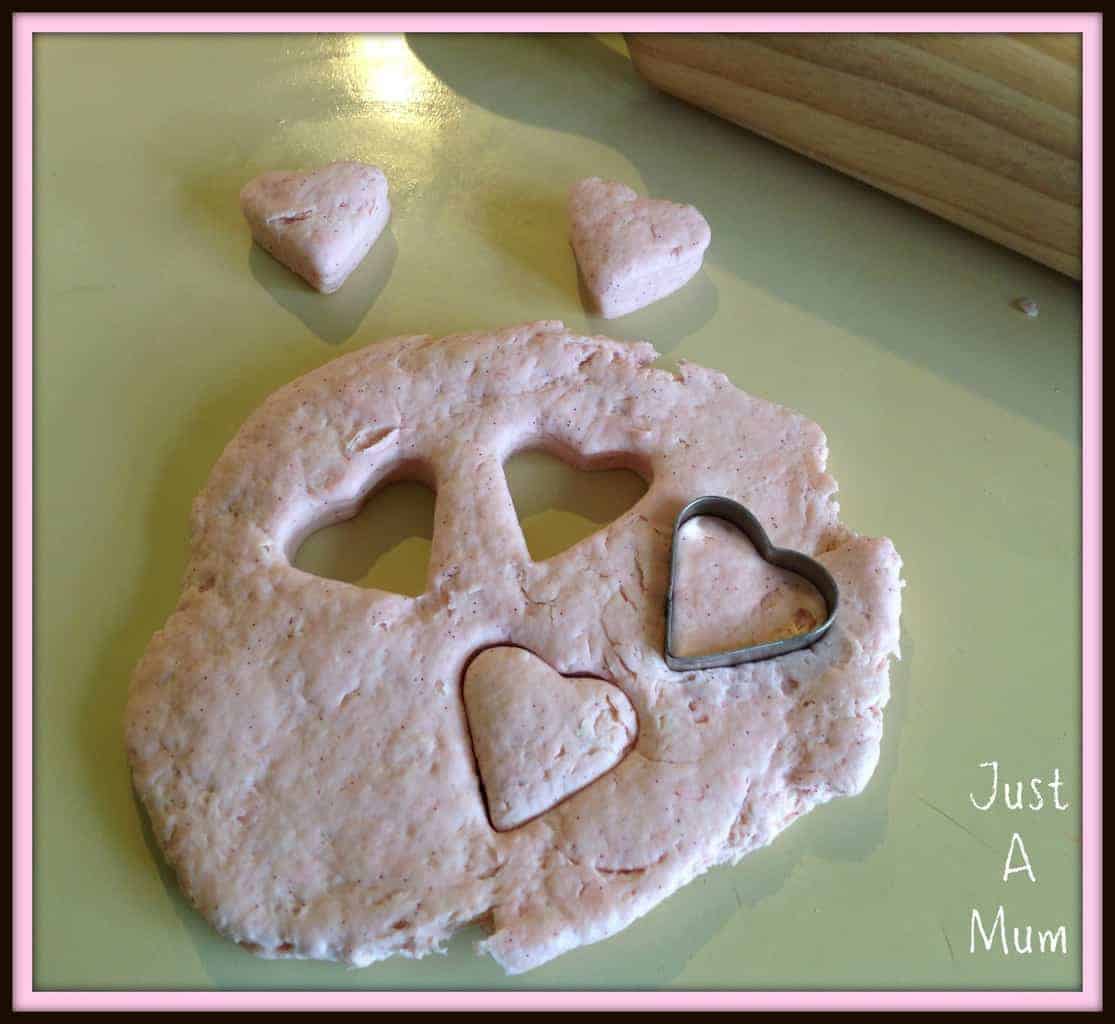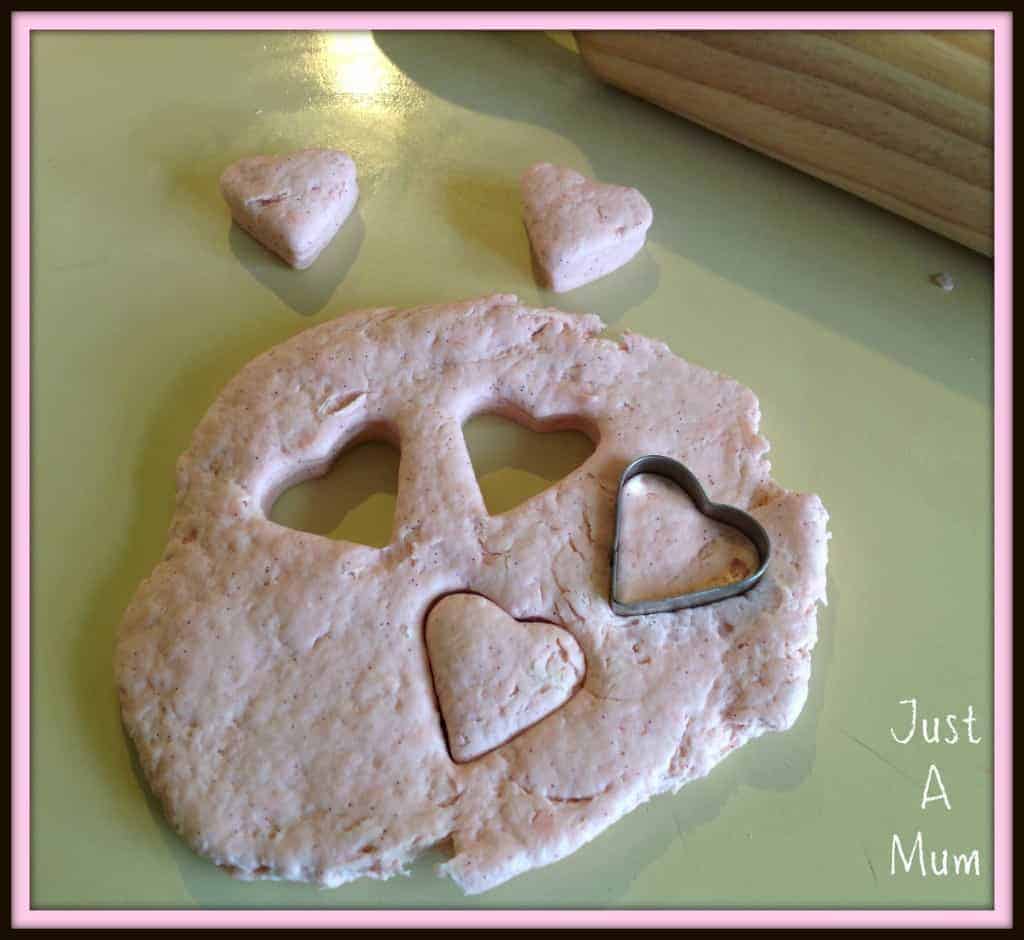 One of the most searched terms on my blog is for playdough without salt. I have another recipe which you can check out HERE which we did earlier in the year when the blog first started, it includes oil which this one does not. So I thought I would show you another method for salt free dough today. 🙂
There has been a bit of publicity recently around salt in playdough and how if ingested the salt content of many home made playdough's is very high. (Click this link to read the article). Little kids being what they are can at times eat the play dough, in fact many adults can probably remember doing so when they were little! In many cases the salty taste will put them off but I have seen a few little ones at kindy thinking playdough is a fine meal substitute! With any activity you try with kids you do need to supervise them, if you know your child eats anything within a five mile radius then they are best with constant supervision or a salt free playdough recipe – so the worst that can happen is a bit too much flour or water – not very nutritious but won't kill them! However I would not be too concerned, I would imagine there are far worse things to ingest than playdough for a little one that puts everything in their mouth – dog hair, stones, week old raisins or dirt anyone??? 😉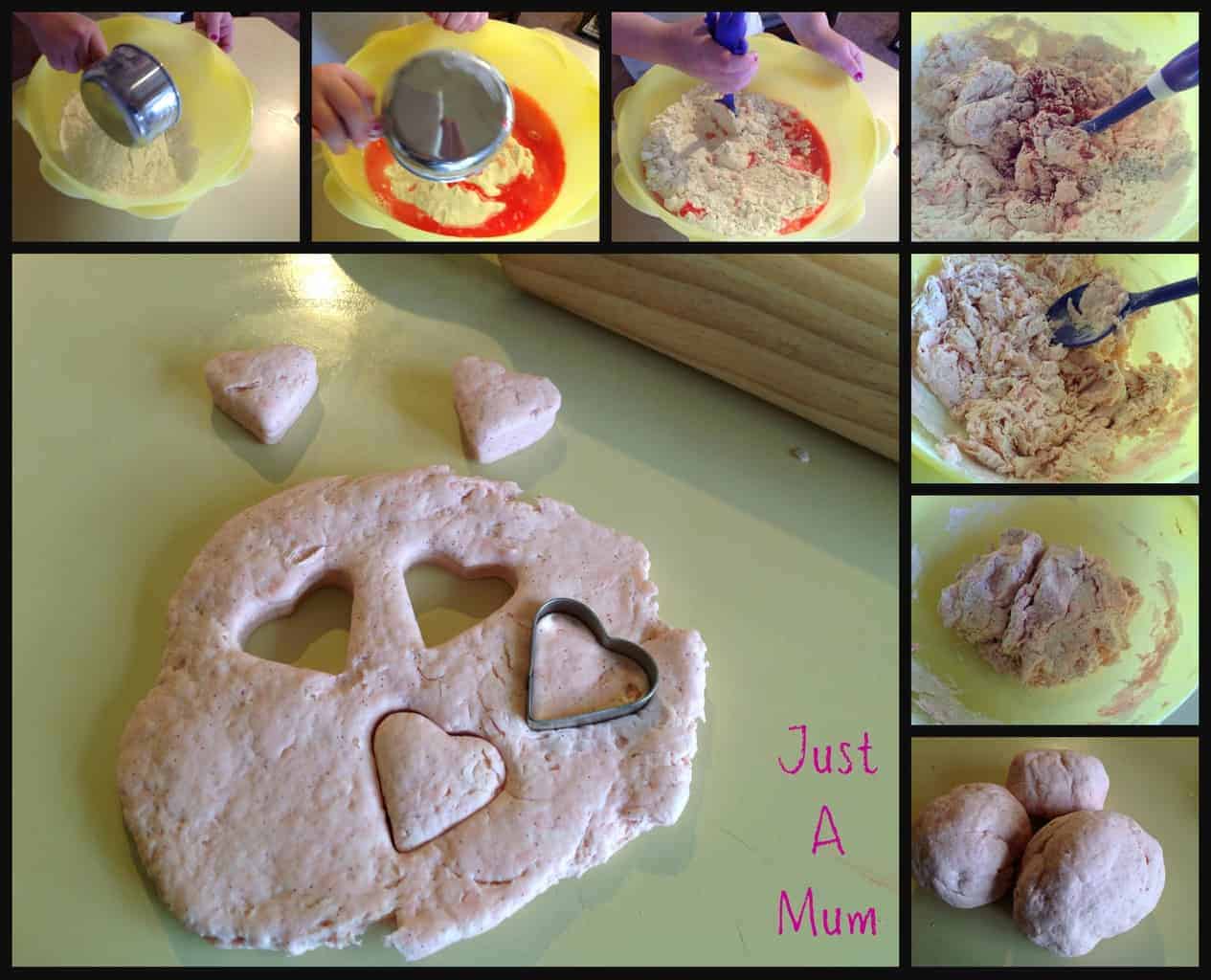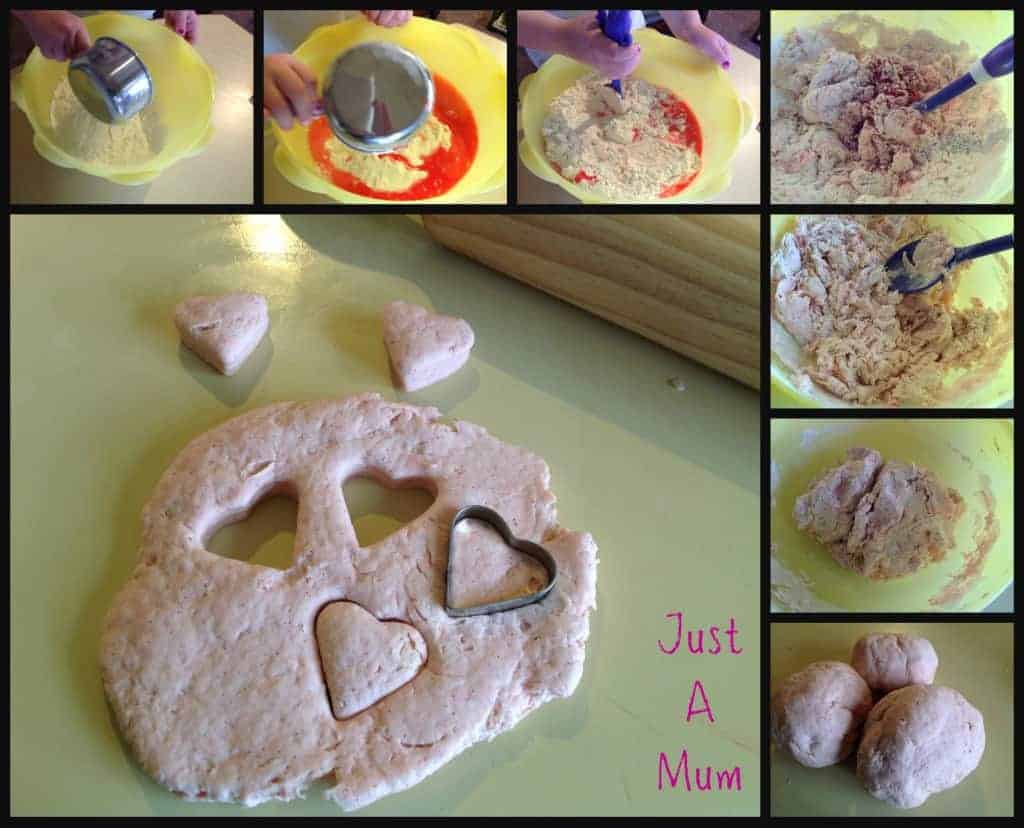 This recipe makes a playdough that reacts like soft yeast dough when it is handled – it is not as pliable and a bit tougher than my cooked or uncooked dough with salt & cream of tarter. But still loads of fun, you can still roll it, use shape cutters and squidge it between your fingers. It will not last as long as other doughs however – so enjoy it for a few days while you can.
Ingredients
3 Cups Self Raising Flour
1 Cup Water
Method
In a large bowl mix the flour and water together. I added a few drops of food colouring to the water and some red glitter for added sparkle. Mix with a strong spoon until coming together then tip onto a clean surface and begin to knead the dough well for 4 minutes or so. I found the dough a little dry so I would break it into 3-4 bits and slightly dampen my hands to continue to knead the dough. This was an effective way to add a small amount of water until I got the desired consistency.
It should not be sticky so work with it until you are happy – then pass it onto a child for the ultimate test – can they cut it, roll it. squidge it, shape it and create?? Store in an airtight bag or container for a few days. If your child has allergies try a suitable substitute for the flour and let me know how you get on 🙂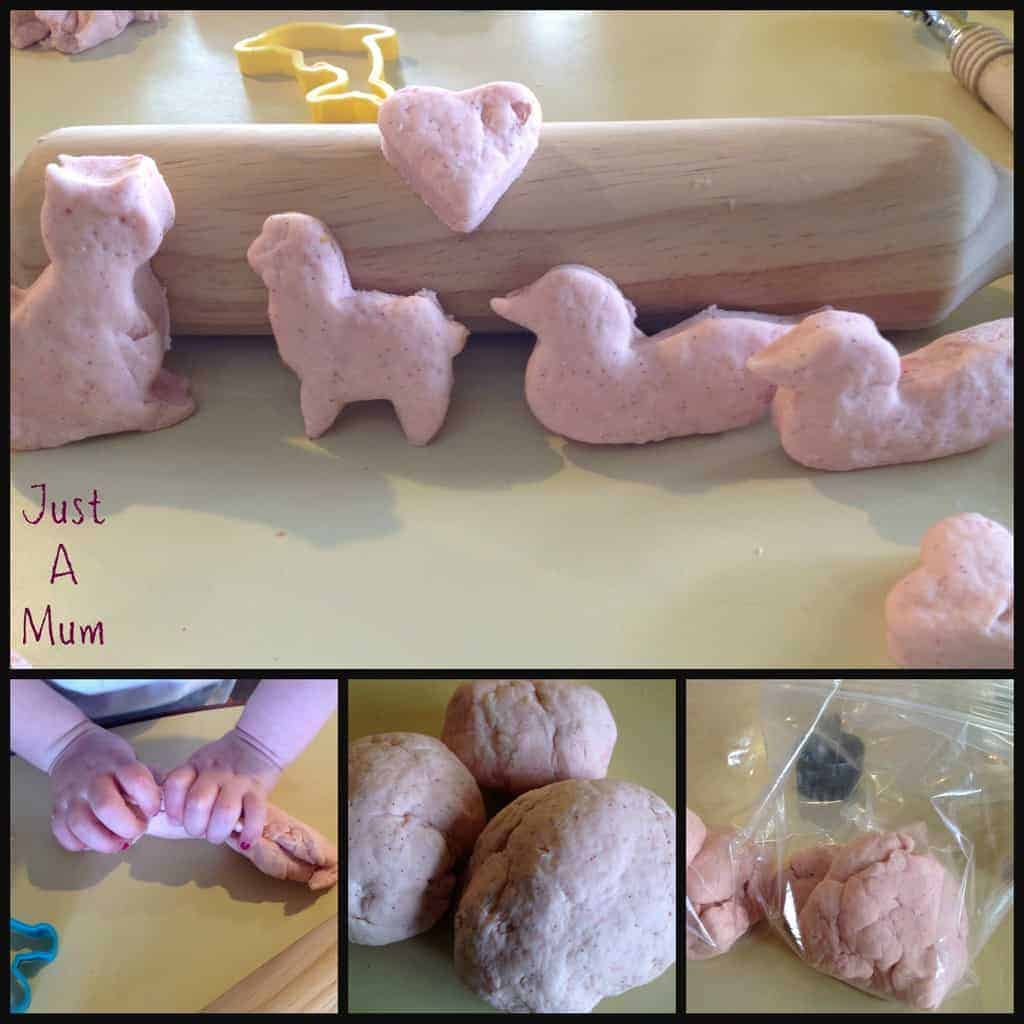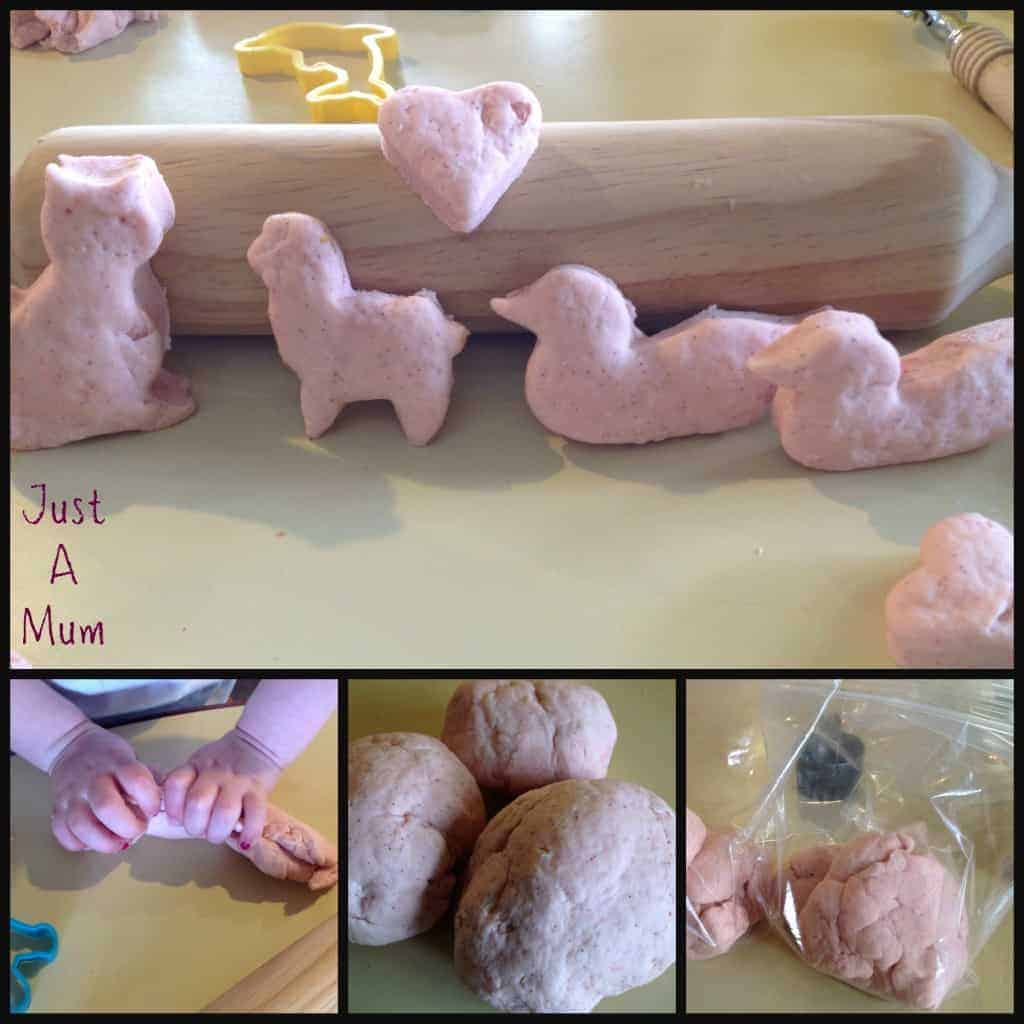 I hope you enjoy this fun easy kids activity. Check out the tab above for more easy ideas to keep your children busy over this coming season.
Thanks for stopping by and remember to follow me on Facebook for more recipes and fun kids activities!
Anna 🙂