The lovely thing about having a foodie website is the excuse to make lots of recipes that I have only admired in the past. These Cookie Christmas Trees are definitely something I have admired from afar!
So I was delighted to find just how easy they are! I already have a cookie recipe that I love using for cookie cutter shapes. This recipe is lovely buttery and short and so easy to work with.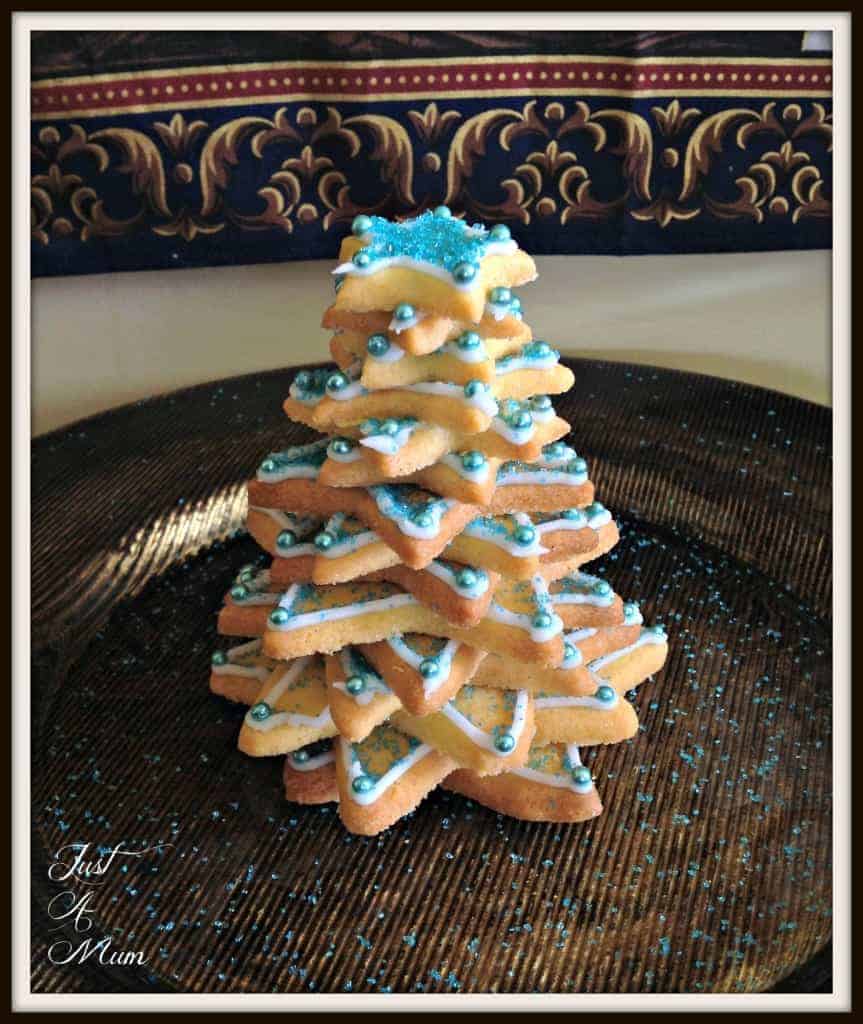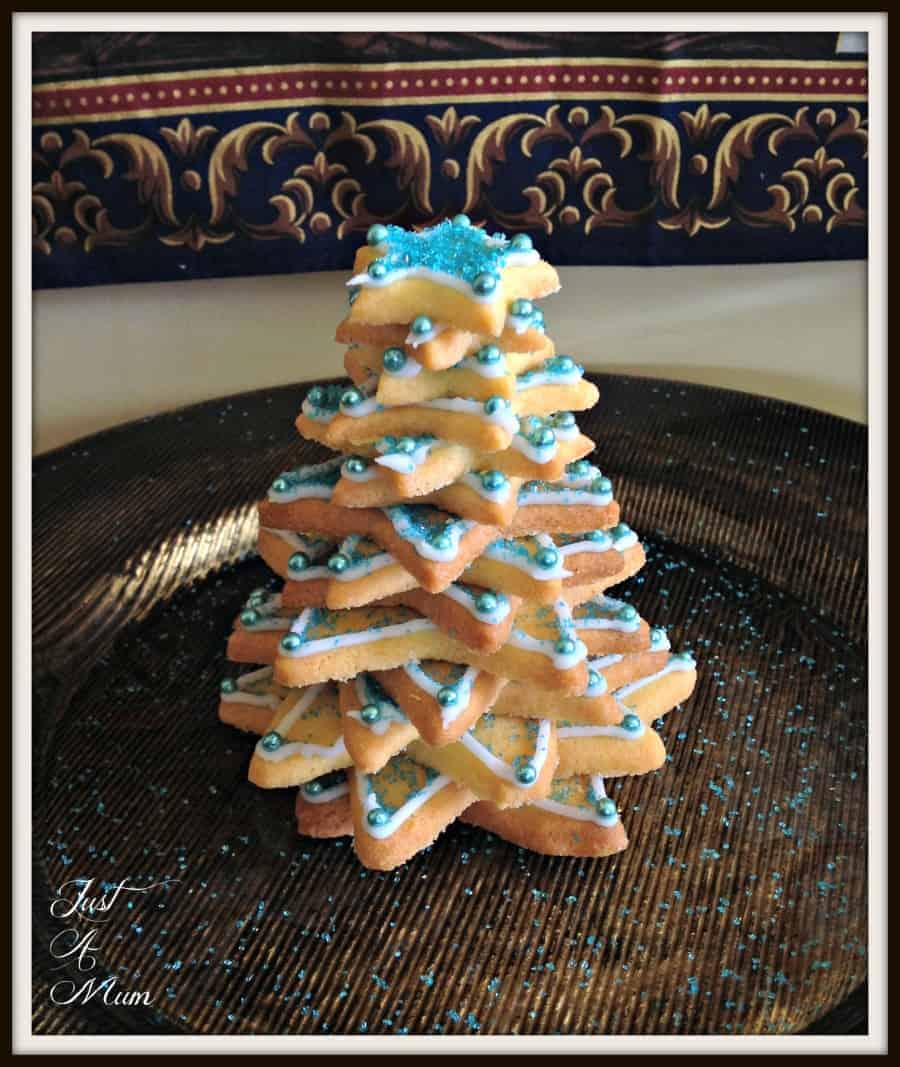 We kept the icing of the trees to a simple minimum so my daughter could help me but you could make these as simple or as elegant as you like. We had a Wilton ready made white icing tube in the cupboard so this made it a breeze to ice –  we just added a little narrow circle tip to it and away you go 🙂 You can also make up some basic white royal icing and use a piping bag and a small nozzle tip, that way you can ice it any colour you like – I will add in a link to a good royal icing recipe below for you to use. Or alternatively you could use melted white chocolate – fiddlier to use but delicious 🙂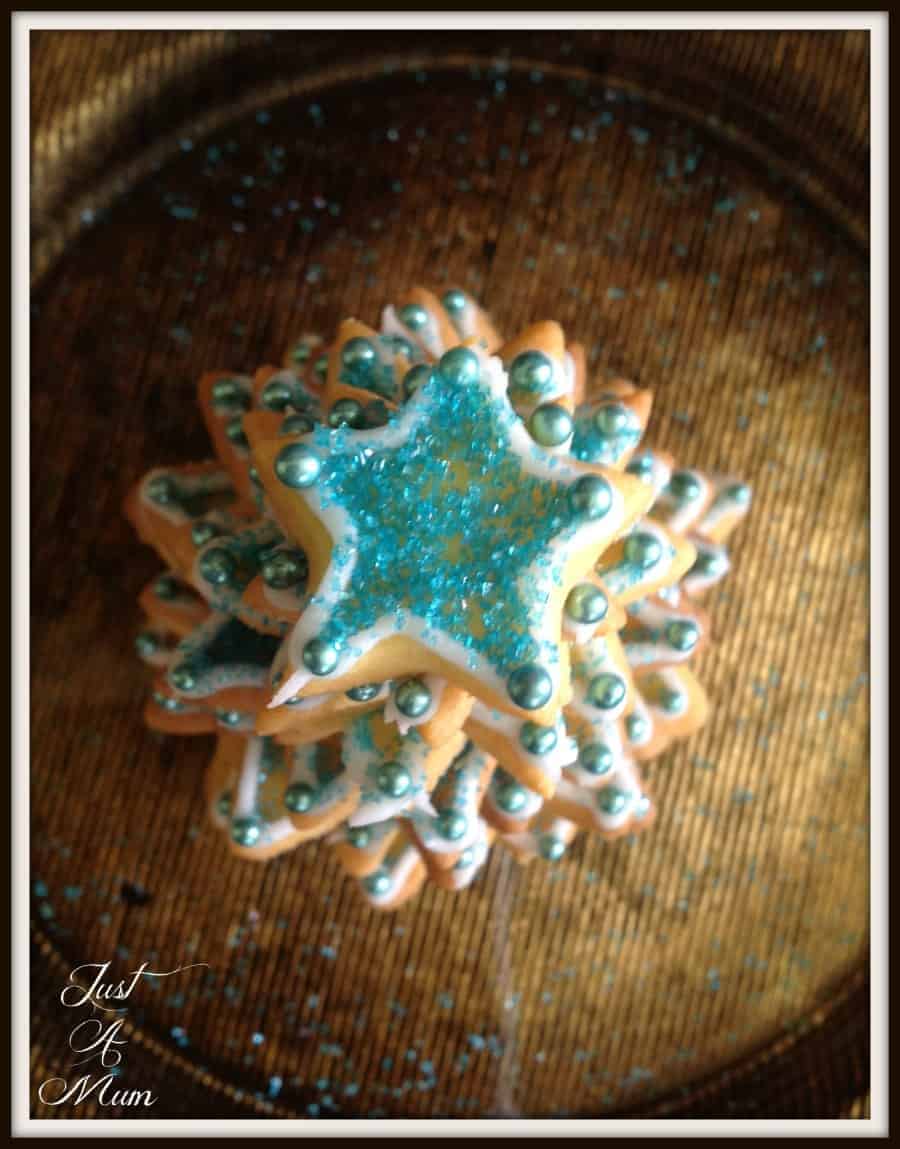 It is best to make up the cookie dough ahead of time as it has to sit for 2 hours minimum – I made mine on a super humid day so I needed to pop it back in the freezer between rolling & cutting to make sure it is not too soft – if it sticks to the bench its too soft so 15 minutes in the freezer will sort that out. I made my dough the day before I needed it so it was ready to go when I was the next day.
You will also find this is the same recipe I used for Frozen Themed Snowflake Cookies – this is such a versatile recipe 🙂

Cookie Christmas Tree
Ingredients
225g Unsalted Butter (I used normal and it was fine)
¾ Cup White Sugar
¼ tsp salt
1½ tsp Vanilla
1 Egg
2 Cups Flour
To Decorate Tree
50g White Chocolate
Royal Icing or ready made white icing
Decorative sprinkles or cachous
Icing Sugar, Sugar Sprinkles or edible glitter to finish
Method
Combine the butter and sugar together in food mixer until it is pale and creamy, scraping down the sides of the bowl occasionally and then mix the salt and vanilla well into this mixture.
Add the egg and beat well.
Slowly add the flour and mix until only just combined.
Place some plastic wrap or gladwrap on the bench and tip the mixture into this. Gently mould it into a rough flat ball shape
Cover and refrigerate for at least two hours until firm enough to knead and roll out.
Once out of the fridge gently knead the dough and on a well floured surface roll out the dough to the desired thickness, we went quite thin but could also be thicker and just cooked longer. You may need to flour the rolling pin too to ensure nothing sticks.
Preheat oven to 160C
Use the cookie cutter to cut the shape and gently transfer to a baking tray lined with baking paper - cut 3 of each star shape - so 15 in total per tree - this recipe should to 3 trees
Cook for 13-15 minutes. Keep an eye on the little stars from about 10 minutes on to ensure that they do not begin to brown at the edges, they should be pale golden underneath when done. I took the two littlest star shapes out early - watch your fingers!
Cool on the tray for 3 minutes then transfer to a wire rack to cool completely. Store in an airtight container for up to 5 days.
To Prepare Tree
Ice around the outside of the star shape with a small icing tip, add the decorative bauble of your choice at each tip - repeat with remaining cookies - 3 of each shape - so in this case 15 cookies
Melt the white chocolate in the microwave, stirring every 10 seconds
Place a small amount of melted white chocolate in the middle of a decorative plate.
Place your largest star on the white chocolate and add a small amount of white chocolate on top of that star.
Then add the next large star of the same size, you can either have this completely off centre of the other star or ⅓rd turned.
Then add another dollop of white chocolate
Repeat with last largest star - turned again either off centre to that one or ⅓ turned again.
Then begin with the next size, repeating the dollop of white chocolate, and turning the star to different angles and continue until you have used all 15 stars.
Be careful as you are creating the tree that you keep it centred and the tree growing straight not leaning sideways!
Sprinkle over the completed tree with some edible glitter, sugar sprinkles or icing sugar to finish them off.
So while there are a lot of instructions it is really quite simple! I loved making these with my daughter and I am going to make up another batch for when they finish school so they can create their own.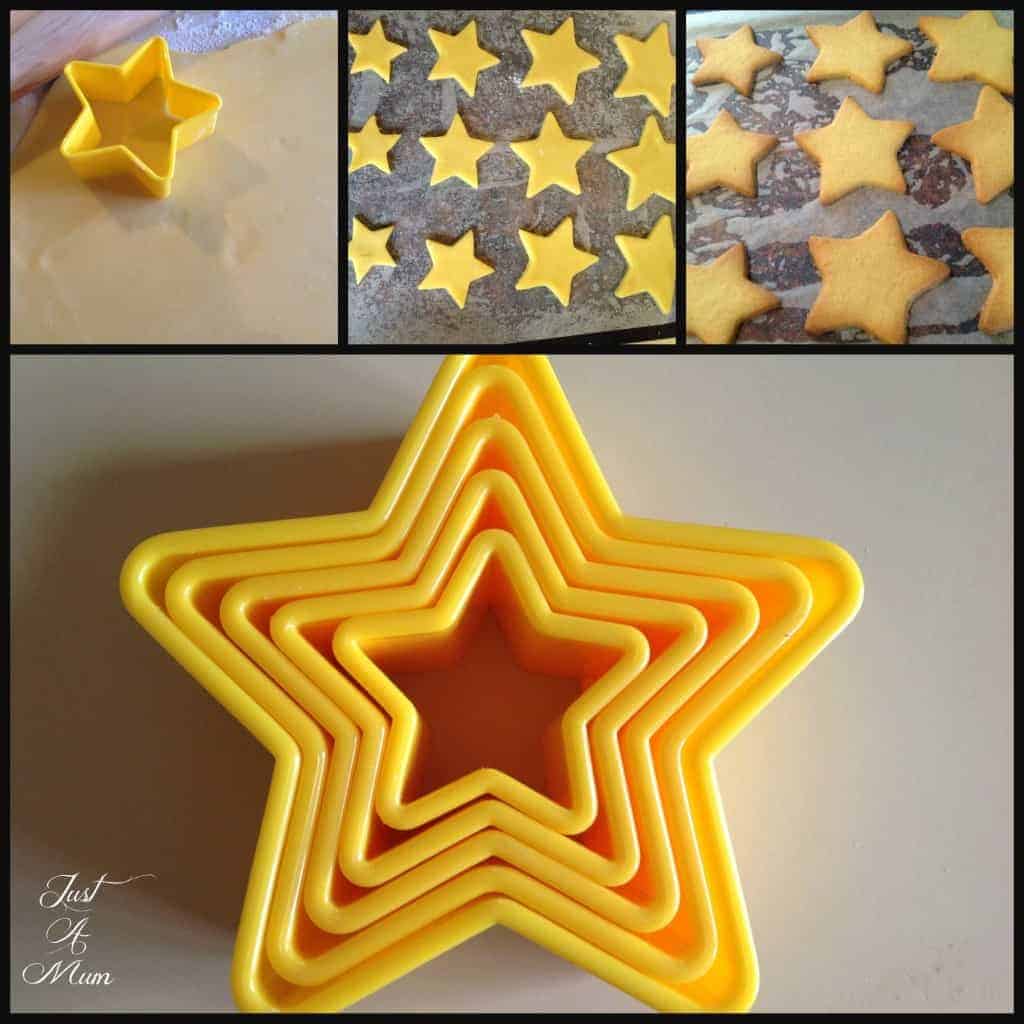 I have included here some step by step photos to assist you in your making these lovely little trees – please do send me a photo of what you make I would love to see them. I really enjoy hearing from you so leave a comment below. Here is the link for royal icing – you will not need the quantity they have listed here so at least half the recipe or make other things like gingerbread men or more xmas trees! 🙂 Royal Icing Recipe
Be sure to follow me on Facebook for giveaways and more fun recipes – and register your email to the right hand side to receive my recipes as soon as I post them!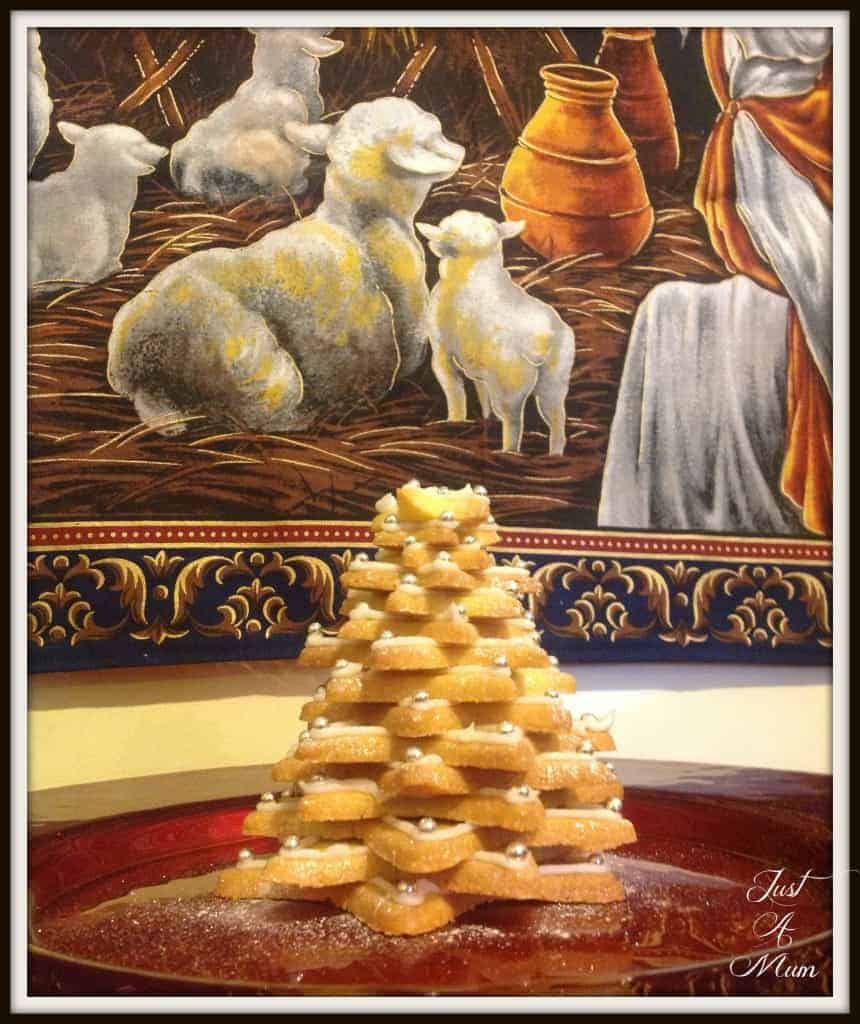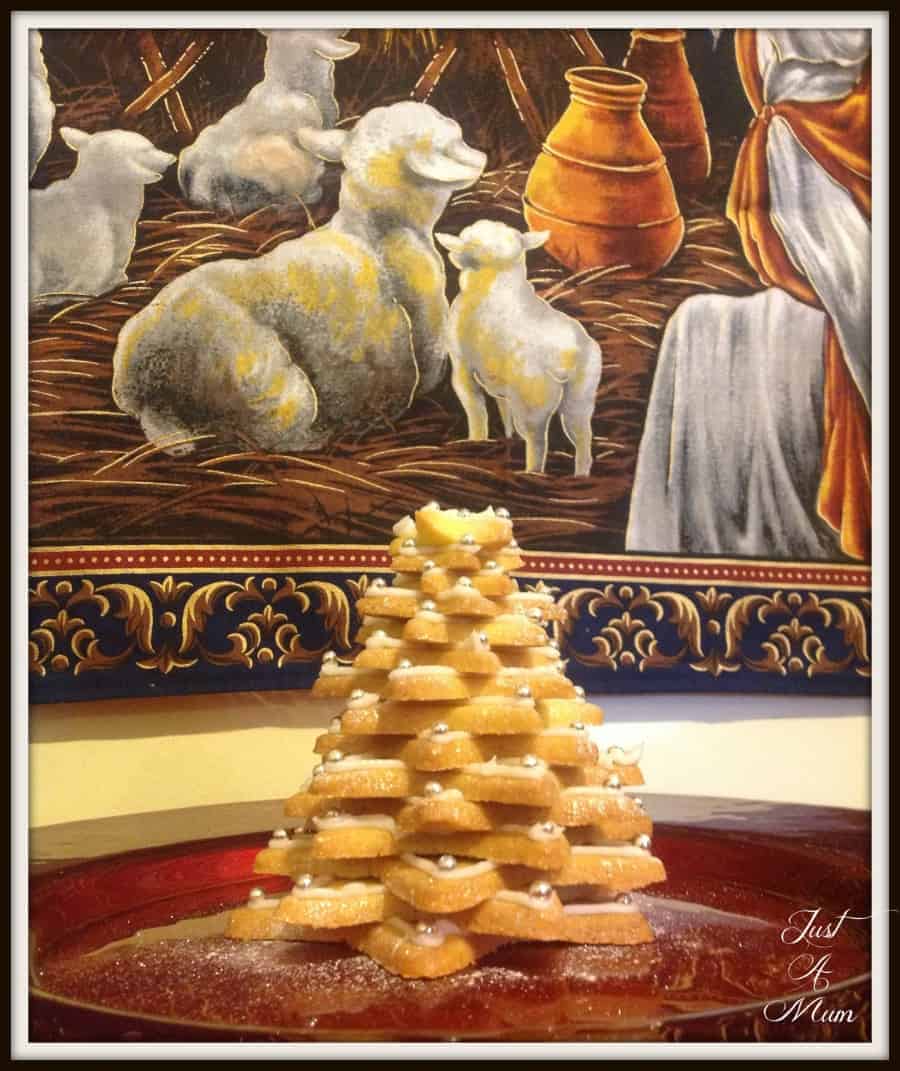 Thank you so much for stopping by – check out lots more gorgeous Christmas Recipes below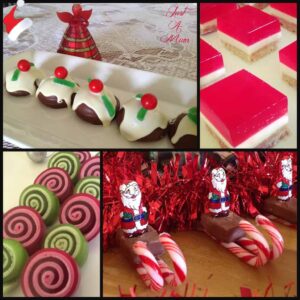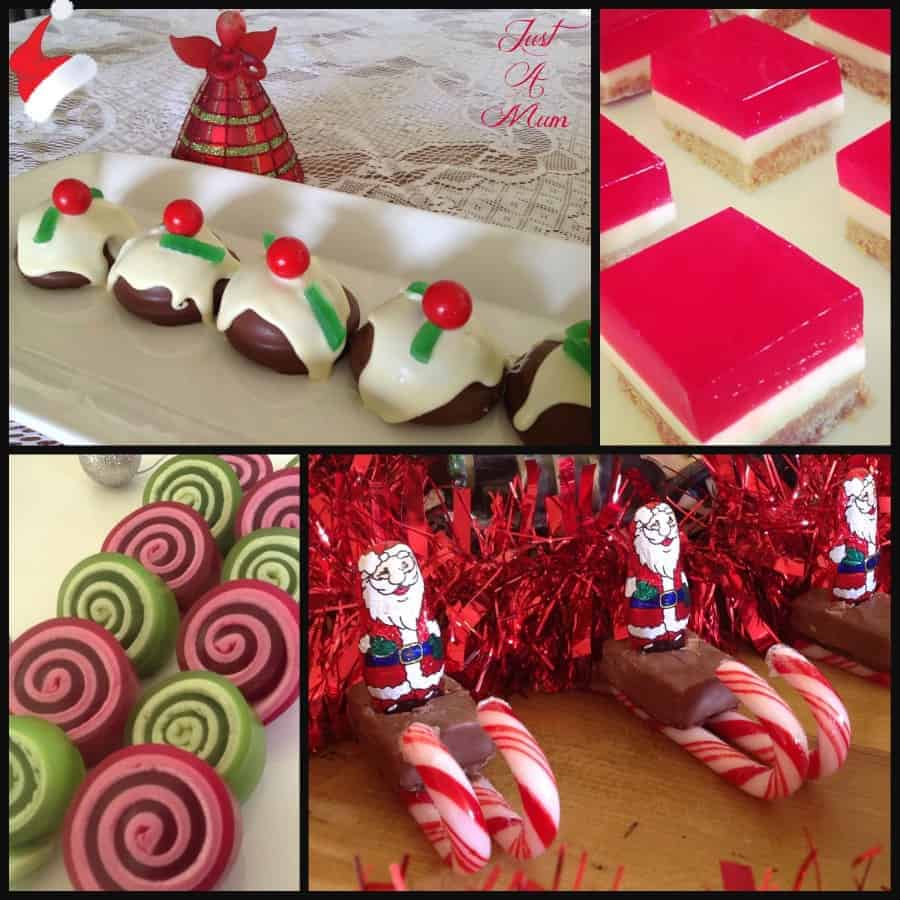 Happy Baking!
Anna