I have been so impressed with all the Wreath & Christmas Pudding inspired ideas I have seen around this Christmas, from Christmas coloured cakes shaped to look like wreathes to pavlovas shaped in a circle covered in gorgeous red berries & mint leaves and even slices, it seems you can make anything Christmassy if you make it in a ring tin!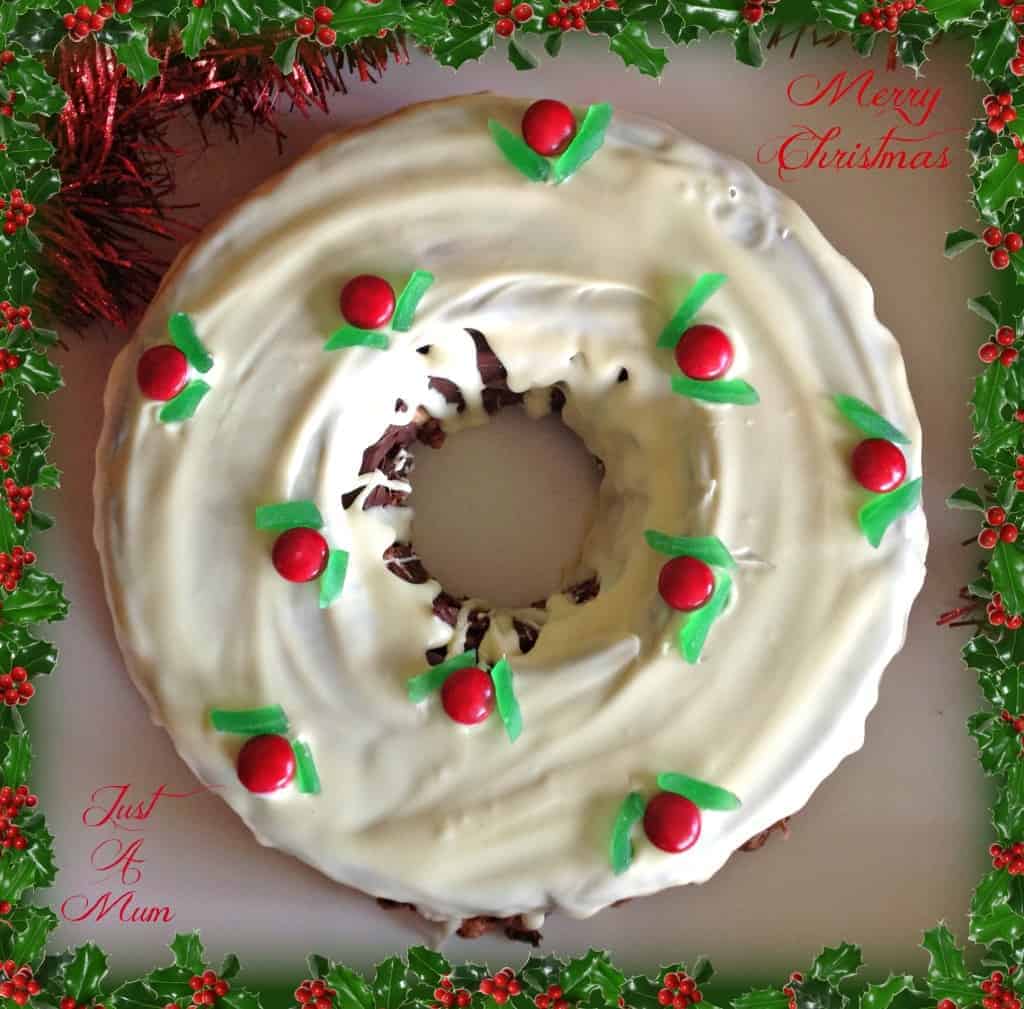 So after being given a Rocky Road recipe from a friend I was excited to try out my theory – and I think it came together really well. So easy and fun way to serve it. Of course this recipe will be lovely in a slice tin too so if you are wanting something quick and easy please make it the usual way as it is delicious! It is perfect to give to friends in some little bags or boxes done in a slice tin as you can slice it into small squares but I quite like my Christmassy Wreath/Christmas Pudding idea so I am glad a tried it! My recipe below is double the original so it will go in a large slice tin if making that way 🙂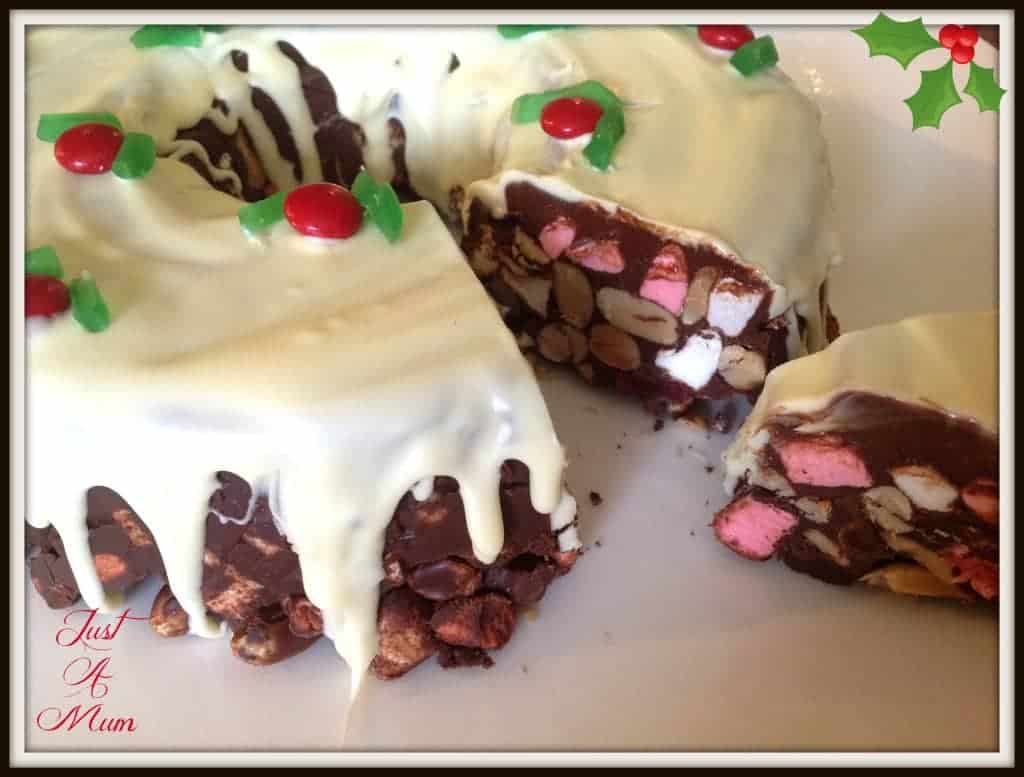 I added some jubes and omitted the raisins but you could add glace cherries, cranberries and any other yummy things you think would go well in here.
And it really is easy! I have never used Kremelta before but it seems to be the thing in Christmas baking so I went along with it and it was really easy to use. Here I am going to give you the recipe I used today but below that I will give you the basic recipe I got from the lovely Donna, it is perfect just the way she makes it! So feel free to use either version.

Rocky Road Wreath
Recipe type:
Confectionary
Ingredients
1 Block Dark Chocolate (I used Cadbury Old Gold 70%)
1 Block Dairy Milk Chocolate (I used Cadbury Dairy Milk)
4 TBSP Kremelta
2 Cups Salted Peanuts
1 Cup Chopped Jubes or soft jelly lollies
1 Bag Mini Marshmallows
TOPPING
180g White Chocolate (I used Cadbury Dream)
Red Smarties or M & Ms
Spearmint Leaves or Green Jelly Lollies
Method
To make the wreath shape prepare a ring tin with either glad wrap or line with baking paper. Spray the tin well first
Chop your jubes into small pieces - I used strong kitchen scissors to make this easier!
Over a double boiler melt the chocolates and kremelta together until all combined
Remove from heat and add the peanuts and stir well
Allow the chocolate to cool a bit before you add the marshmallows and chopped jubes
Pour into the lined ring tin
Set aside in the fridge to set
When ready to remove from the ring tin get it out of the fridge for 20 minutes - you may need to run knife around the edges before it comes free and invert it onto a serving plate
Melt the white chocolate in a small bowl in the microwave, 40 seconds first then stir, then 10 seconds at a time stirring in between until completely melted
There are two ways to decorate with the white chocolate, you can flick the chocolate back and forth using a spoon creating a pattern all the way around the wreath or do as I have done and spread the chocolate over the top and allow to drip down the sides - you can encourage it to do so with the back of a spoon.
Add the red smarties and thinly sliced spearmint leaves to finish the look.
Once set and cool not cold slice with a warm knife into thin slices
Store in fridge until needed.

And here is Donnas original version which is just delicious and such a quick easy Christmas Recipe
1 king sized block of energy chocolate
1.5 cups salted peanuts
1 bag marshmallows
2 tbsp kremelta
1 cup sultanas (optional)
Melt kremelta and chocolate in a saucepan over boiling water.  Add peanuts and sultanas.  When cool add marshmellows.  Put into lined tin and refridgerate.  Cut when cool, not cold.
I usually double this mixture and use the small marshmallows and milk chocolate and leave out the sultanas.  It doesn't last long in our house but it's a great Xmas treat.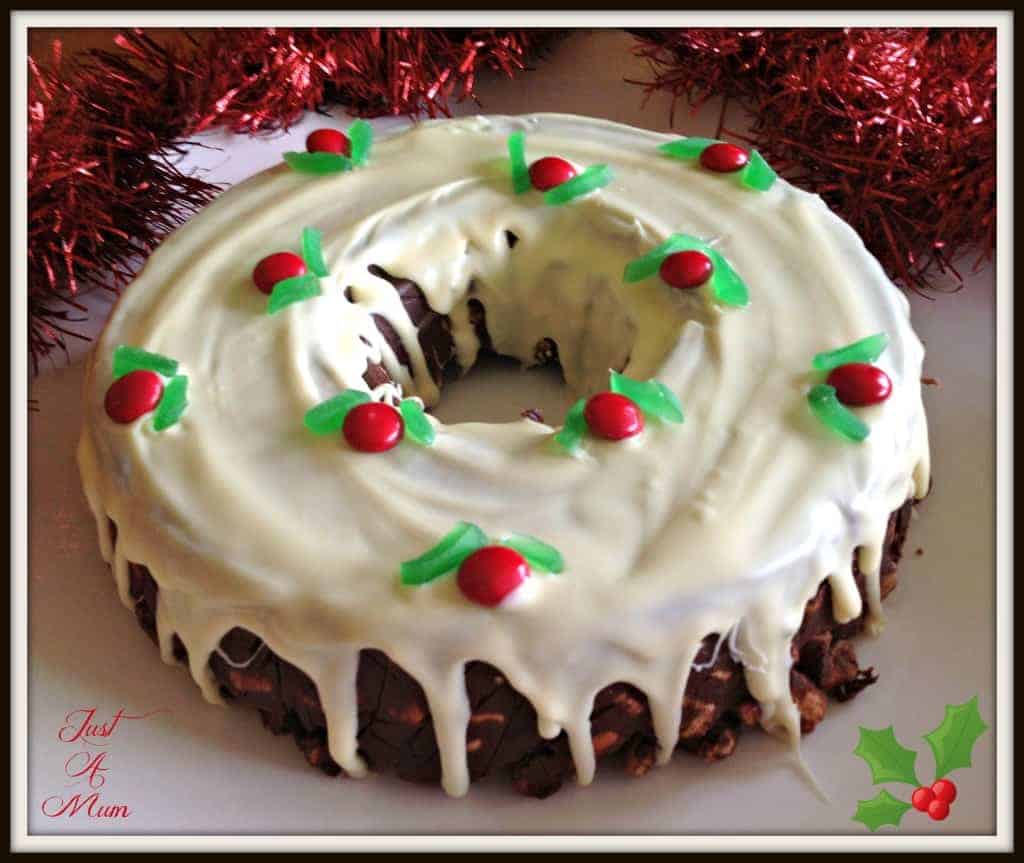 So it is as easy as that – I hope you have fun with this recipe and create something that you enjoy sharing with your friends and family this Christmas.
While you are here feel free to have a look around – my
Sweet Treats Tab
is where you find all manner of delcious recipes to whip up this Christmas – and please do follow me
Here on Facebook
or you could register your email to receive all my recipes as I publish them!
Thank you so much for stopping by – I have lots more Christmas Recipes to come so keep an eye out and check out a few on the link below.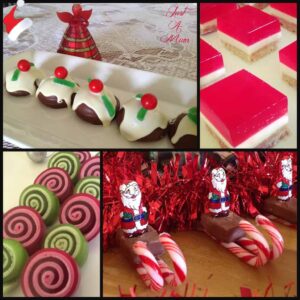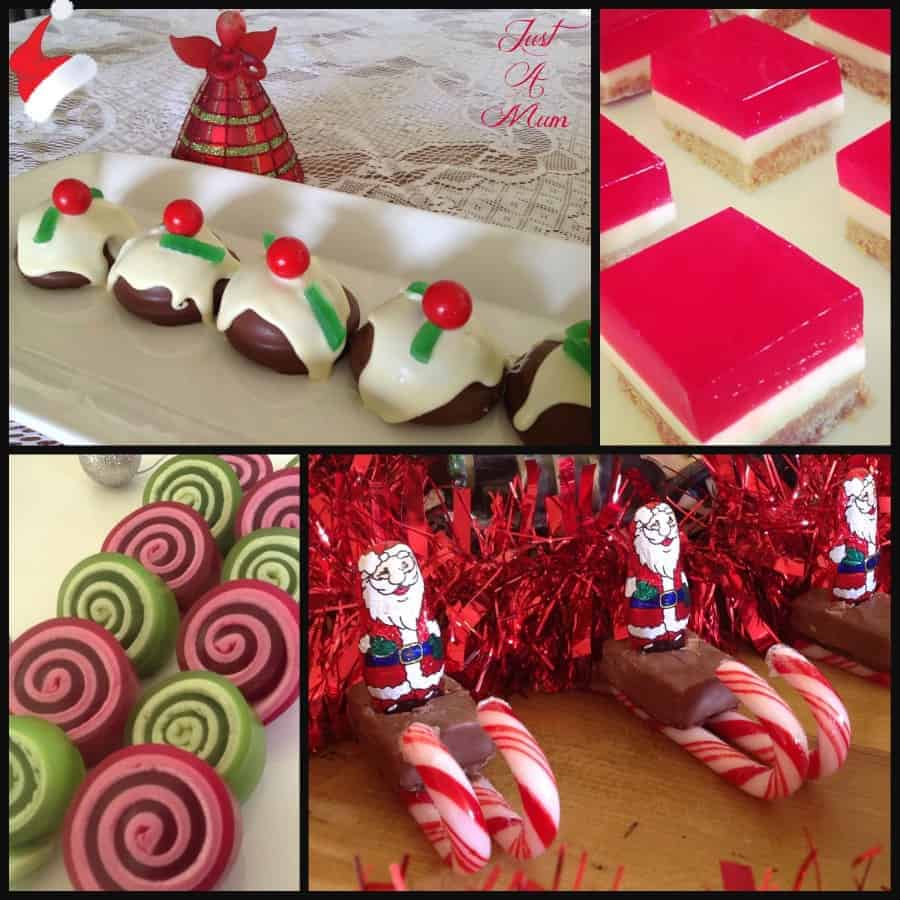 Happy Baking!
Anna xo