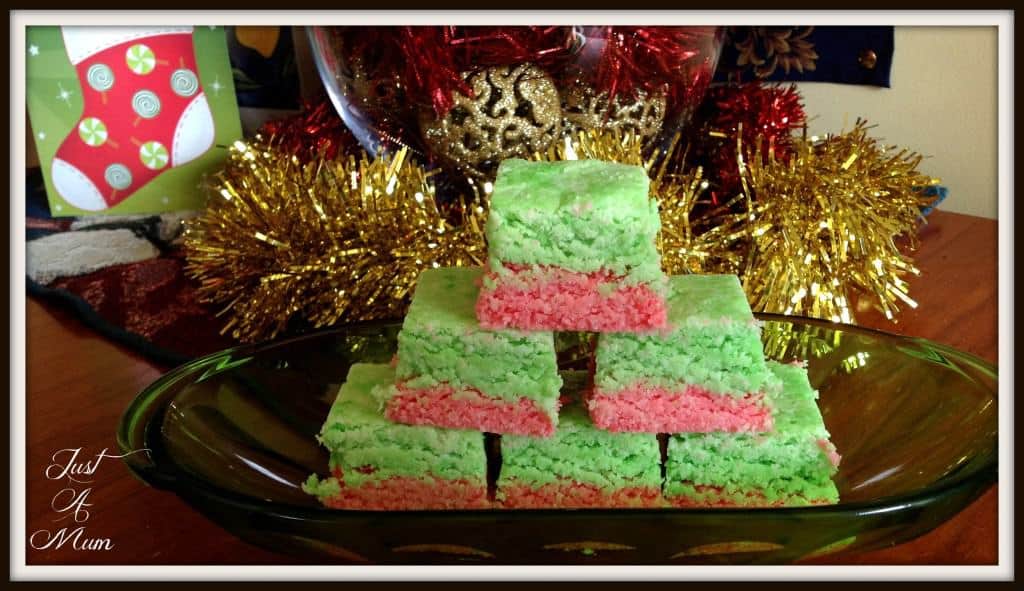 My kids only wanted to give their teachers one thing this year – coconut ice! I actually ended up giving each of them a deck chair but did make coconut ice for a shared lunch and it is super easy! So I thought I would again share this recipe with you. This is for an uncooked coconut ice, so it is easy, quick and does not involve the tricky soft ball stage the other variety does. It means you get a softer result than the cooked one but its great!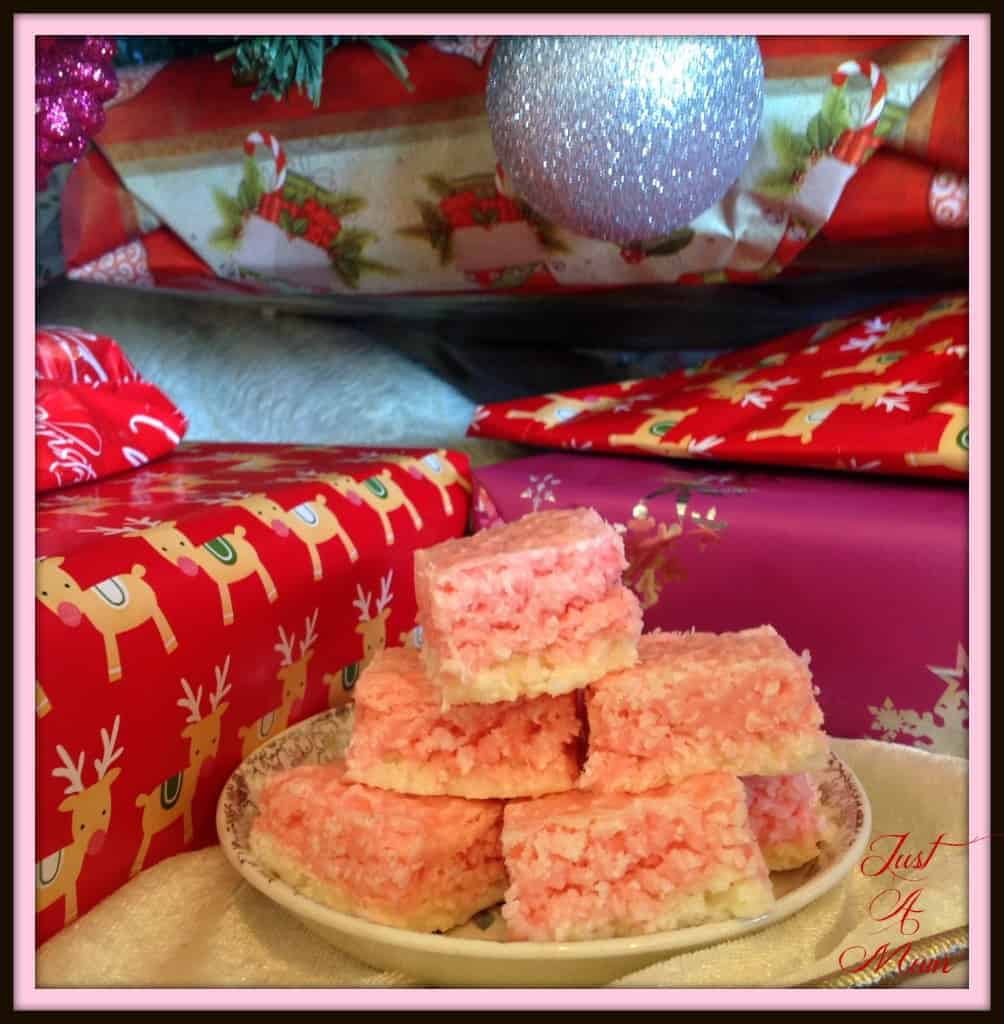 If you make this in a loaf tin you will get a thicker result that is the red and green one, than I did here with the pink and white version – and you can tell the difference with slightly coarser coconut too – I will share below a few other ideas as well.
This is such a simple recipe that you can make fit whatever theme or occasion you are going with! I have also created before a Halloween batch that the kids say reminds them of Pumpkins. Elsewhere on this site is my Frozen Coconut Ice which is white and blue, and also have used it to create Easter Eggs so those of you that are clever could easily use this recipe to create fun Christmas baubles!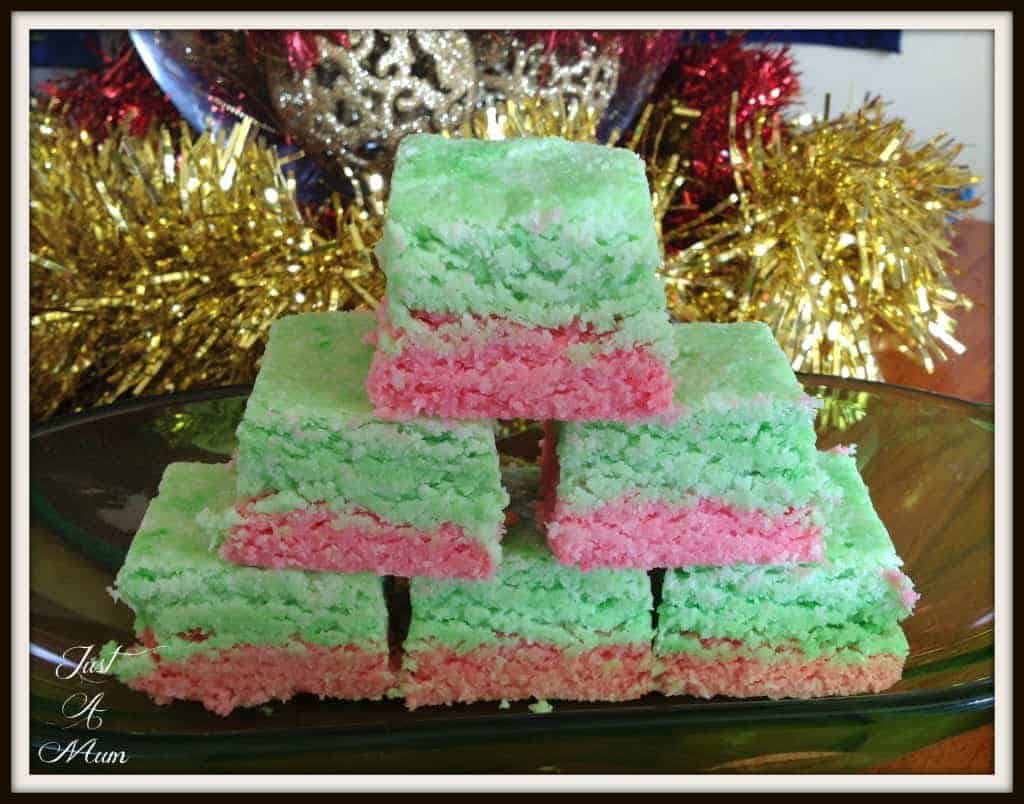 The recipe itself is so easy – 4 simple ingredients, a bit of mixing and some food colouring.

Uncooked Coconut Ice - The Perfect Gift
Ingredients
3½ Cups Icing Sugar
3 Cups Desiccated Coconut - super fine is best
1 tin Condensed Milk (400g)
1 tsp vanilla essence
Pink or Red Colouring or Red & Green for xmas colours
Method
Line a baking tin (I used a slice tin today but a loaf tin will give a thicker result) with baking paper or a slight spray of cooking oil.
Combine the icing sugar, coconut, condensed milk and vanilla in a bowl and blend well. Once it begins to come together use your hands or a strong wooden spoon to kneed it until completely combined .
Take half the mixture and while still white press into the lined tin until level. (or colour this portion green in a separate bowl)
With the other half of the mixture add a few drops of red or pink colouring until you get the desired colour, work quickly as it does begin to set.
Pop blobs of this over the white and work quickly to press the pink layer over the white until completely covered. - you can use the back of a spoon or a damp hand to do this.
Refrigerate until set and slice with a sharp knife into small squares.
Store in the fridge in an airtight container.
So taking a plate has never been easier! This is such a fun quick recipe so keep it in mind over the next few months when you are asked to take endless plates of food places – because the last thing you need is tricky – but this is so tasty and pretty people will love it! You could make one half red and one half green – the sky is the limit in terms of colours!
Thank you so much for stopping by my page, there are lots more lovely recipes in the above tabs and fun kids activities too. Keep an eye on this page in the lead up to Christmas – I have loads of lovely Christmas treats to share with you all.
You can follow me on Facebook here and also register your email on the ride hand side panel to receive my posts as I publish them. Be sure to check out my Christmas Recipes up the top for more Christmassy inspiration 😀
Happy Baking!
Anna 🙂