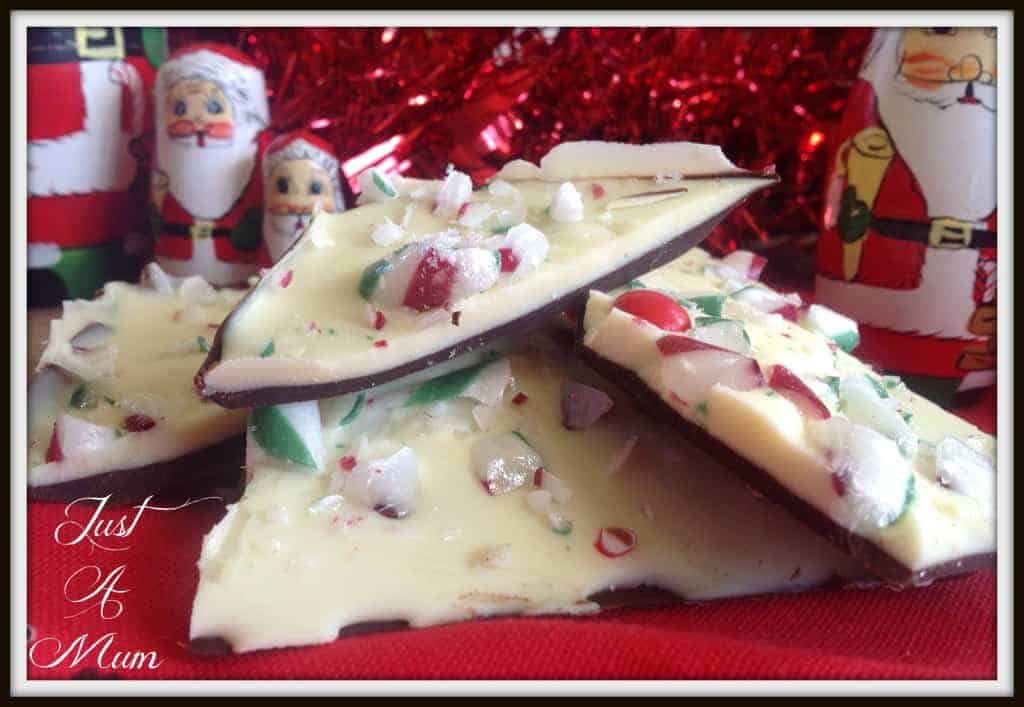 Its beginning to feel a lot like Christmas…….there is nothing quite like the taste of candy canes to make you come over all Christmassy! I am delighted to begin to share with you all the fun recipes I enjoy making at Christmas time.
We have a family tradition of our tree and Christmas decorations going up on December 1st so it has been a bit of a treat getting a few things down from the attic space to play with for these photos.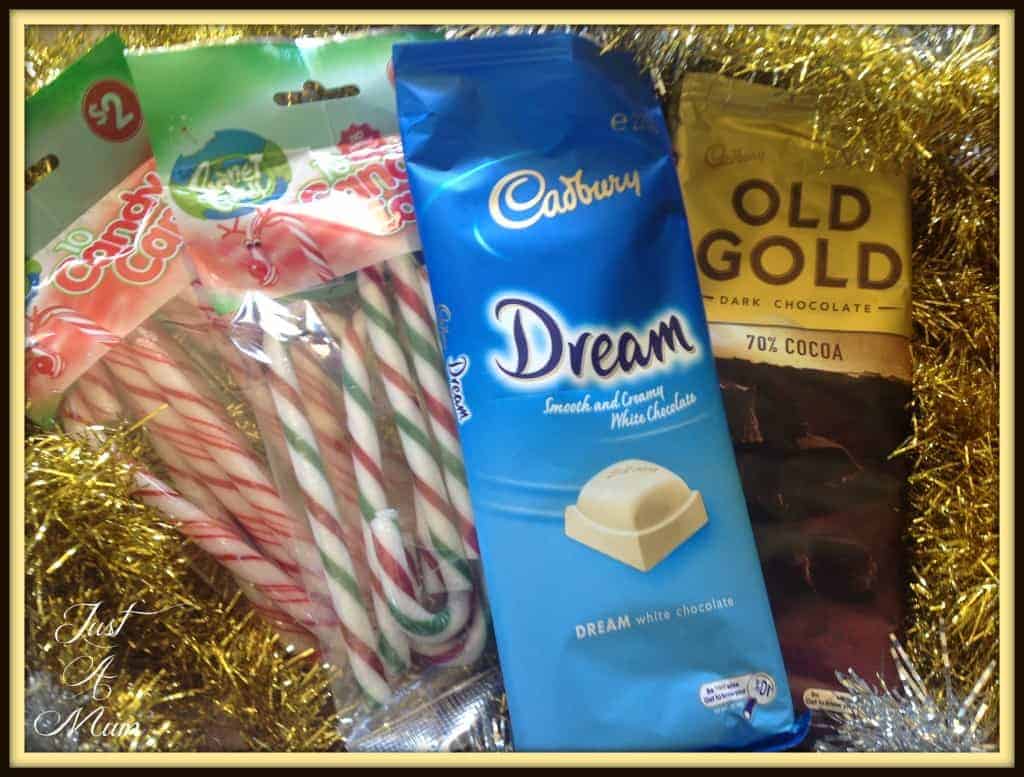 I discovered this recipe last year – and made it even tastier this year with the addition of the dark chocolate as the base. It takes it from delicious to divine! You can of course omit the dark chocolate or change it to Milk Chocolate if you prefer but I like how it looks too! When I am making recipes like this I always use blocks of chocolate that I enjoy eating rather than cooking chocolate. Sure it looks good but its got to taste good too right? So use your favourite block of chocolate and you will be so impressed with the difference!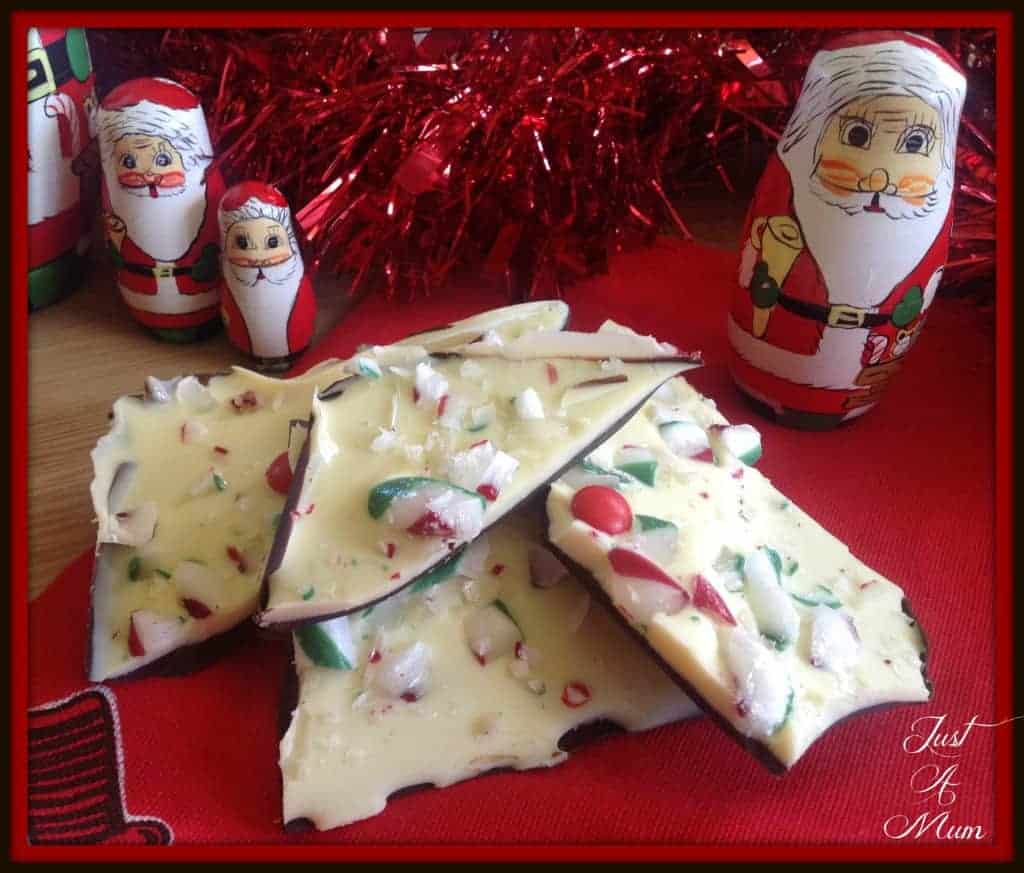 There is no point trying to cut this with a knife, I tend to just break it up into shards and it forms a rough bark looking shape hence the name!
In order to smash up your candy canes you can do as I have done with a bag and a rolling pin or briefly pulse them in a food processor. As long as there are several different shapes and sizes it will be delicious! If you have some green and red mini smarties or pebbles then these look good too and very Christmassy.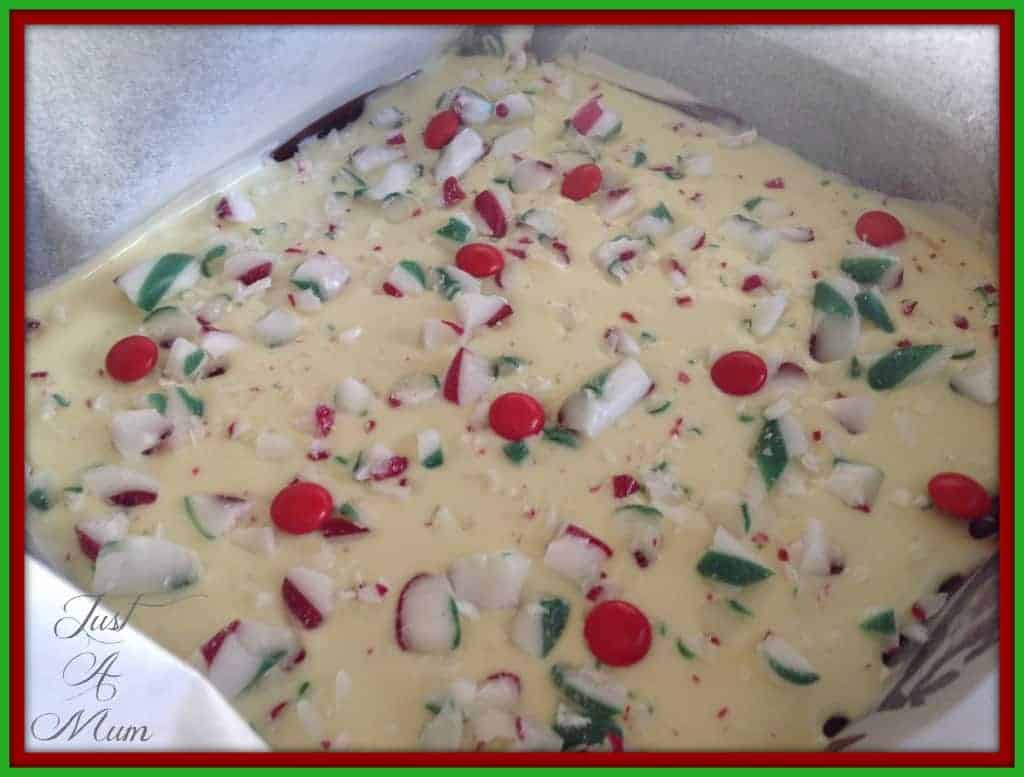 I would love to see photos of any of my Christmas recipes and I am hoping to run some giveaways in the lead up to Christmas so keep baking and take a few pictures as you go of any of my recipes.

Candy Cane Chocolate Bark
Recipe type:
Confectionary
Ingredients
100g Dark Chocolate
125g White Chocolate
3 Large Candy Canes
~optional~ mini green & red pebbles
Method
Prepare a small 20 x 20 baking dish with baking paper (I spray with a little oil or water on tin to help paper to stick!)
Peel Candy Canes and either blitz in food processor or pop in a ziplock bag and bash with a rolling pin until combination of crushed and small chunks remain. Set aside.
Melt Dark Chocolate in the microwave, 20 second bursts at a time, stirring well in between (or in double boiler on stove)
Pour melted chocolate into dish and spread with the back of a spoon until level then pop in fridge or freezer to set
Melt White Chocolate in the microwave, 20 second bursts at a time, stirring well in between (or in a double boiler on stove)
Pour White Chocolate onto set Dark Chocolate and spread with the back of a spoon until smooth.
Sprinkle crushed candy cane over the top of the melted white chocolate, and pebbles if you are using
Pop in the fridge to set completely.
Once set remove from fridge and using hands crack the bark into smaller segments depending on what you need them more.
Store in an airtight container for ages - if it lasts that long!
Enjoy!
 If you are making this for a crowd you can easily double or triple this recipe and make in a roasting dish – it will go down well wherever you take it!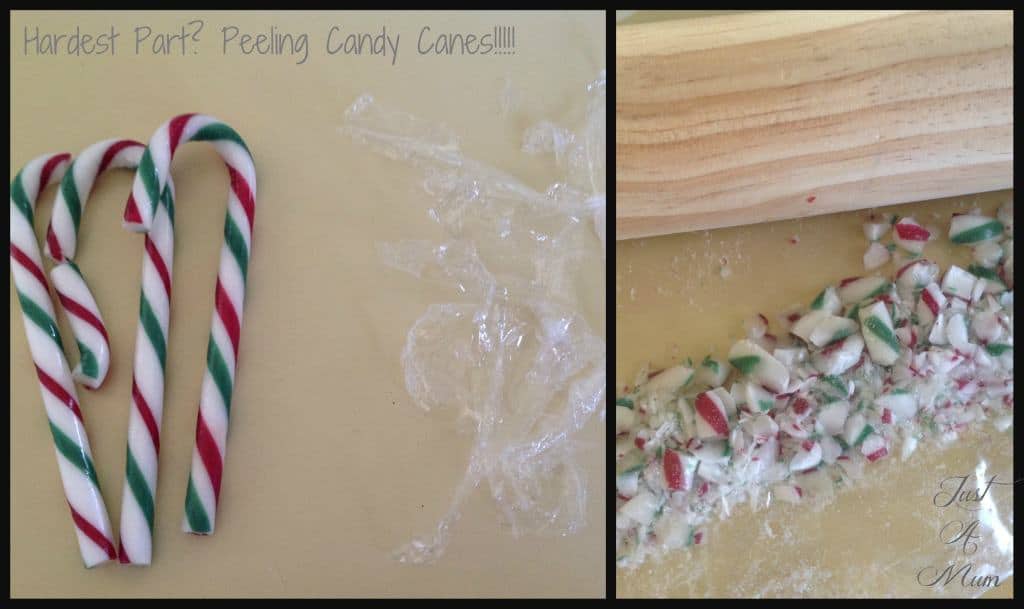 Thank you so much for stopping by to check out this recipe, sign up to my email subscribers list and you will find lots more gorgeous recipes will come to your inbox between now and Christmas!
Remember to take photos of any of my recipes and pop them up on Facebook or email to justamumnz@gmail.com 😀
Follow me on Facebook by clicking Here
Happy Baking!
Anna 🙂