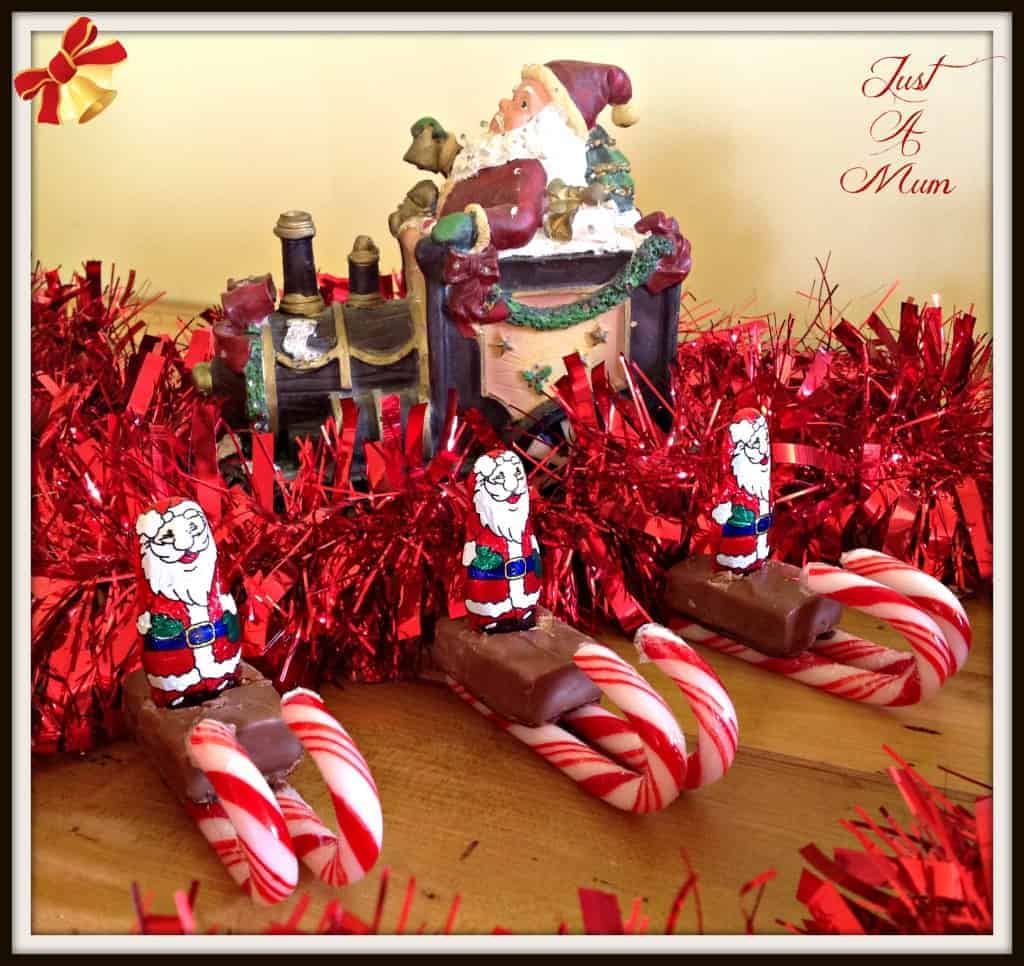 I have loved making these wee Santa's Sleighs for my kids for many years now – they are so cute and easy to make and I definitely know Christmas has arrived when I start making them! With 3 kids the lead up to Christmas is such a busy time, with school Christmas Concerts, Prizegivings, end of year parties and general tiredness that goes with all that. I like to do the odd thing with the kids in amongst all that craziness so they start to feel a little Christmassy and give us all a break from rushing all over the place. These are the perfect thing to do for your little Christmas activity. The kids can help with all aspects of it, whether it be making them on their own or helping you hold the bits and pieces.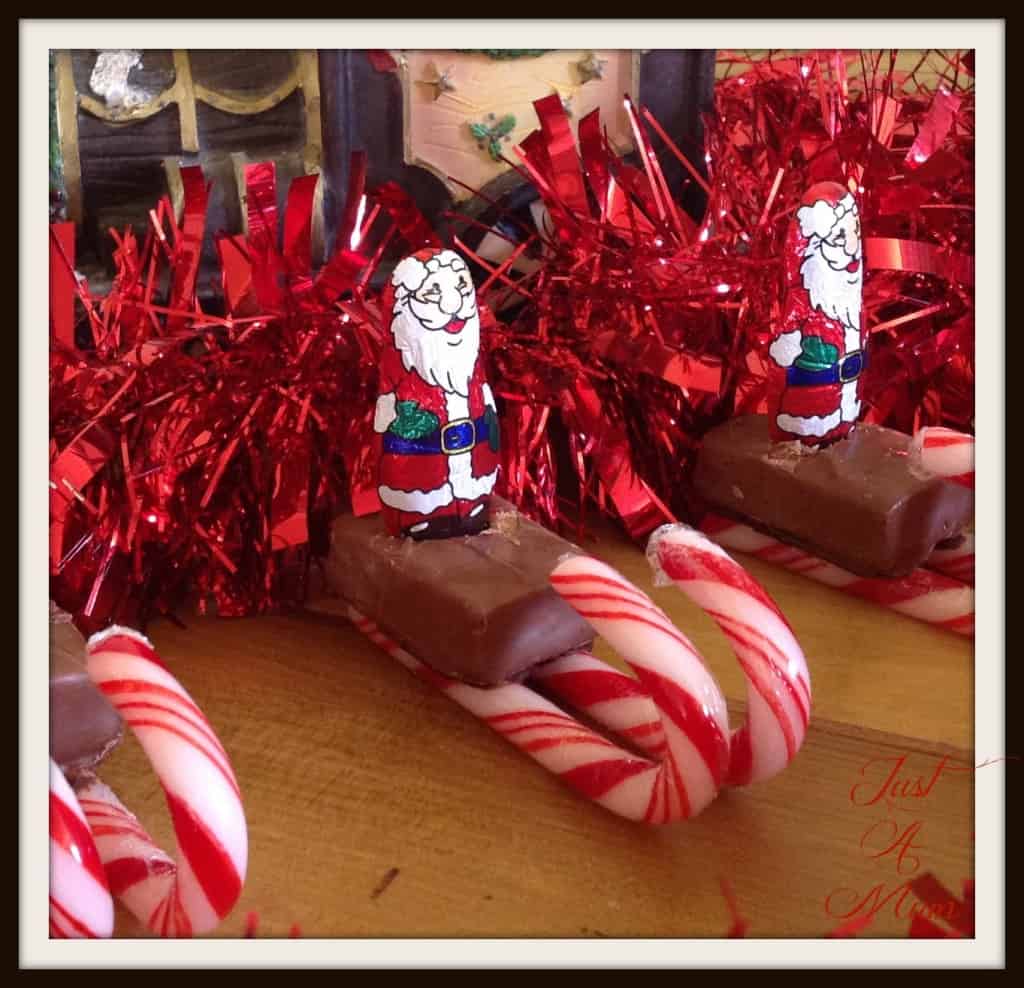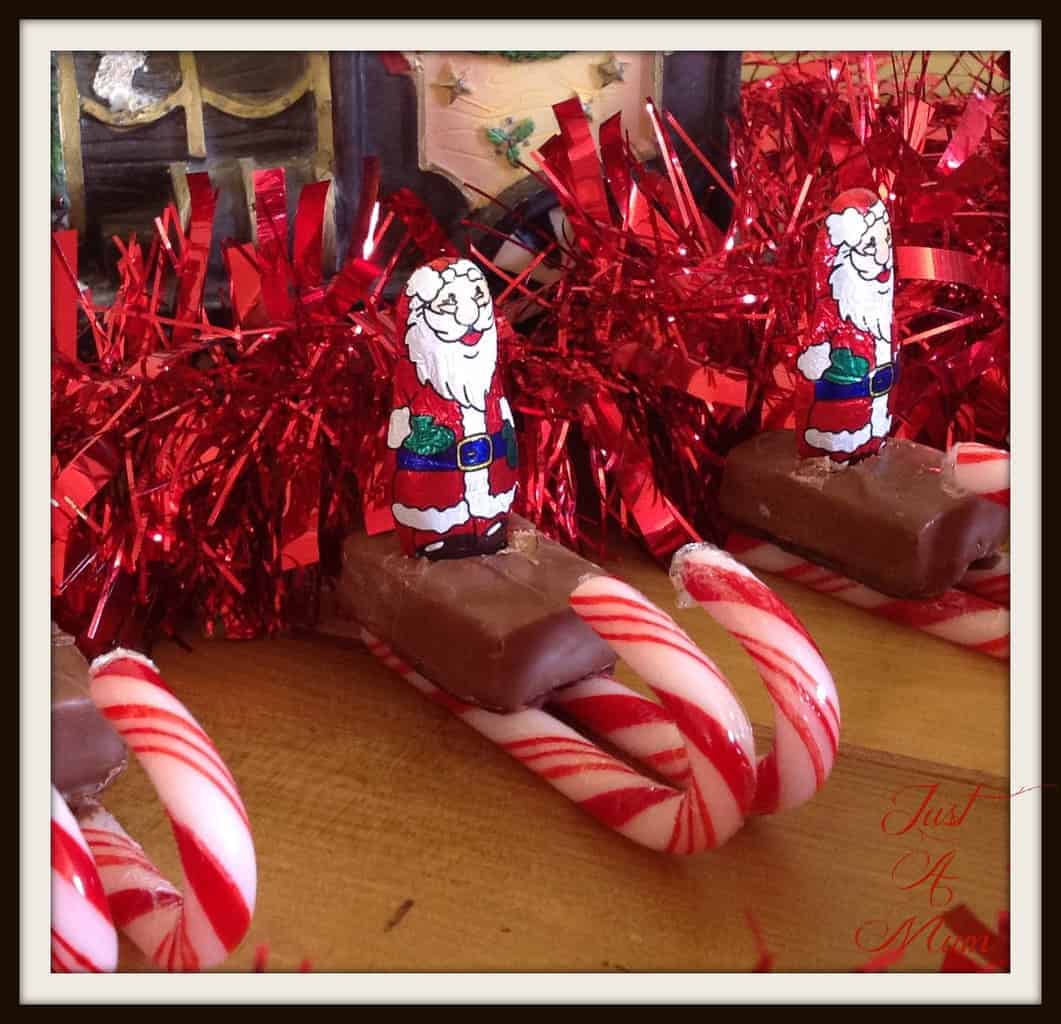 I have seen these done before with tiny teddy cookies and they do look adorable, but for Christmas I like to make them with the little wrapped Santa's you get in stores. It does mean you have to make a little hole for Santa to sit in but its all part of the fun!
Below is my "how to" so have fun and please don't expect them to look Martha Stewart fabulous – especially if the little ones help – the milky ways can crack and the candy canes are often different lengths – its all about the fun, smiles and yumminess and less about perfection!! 😉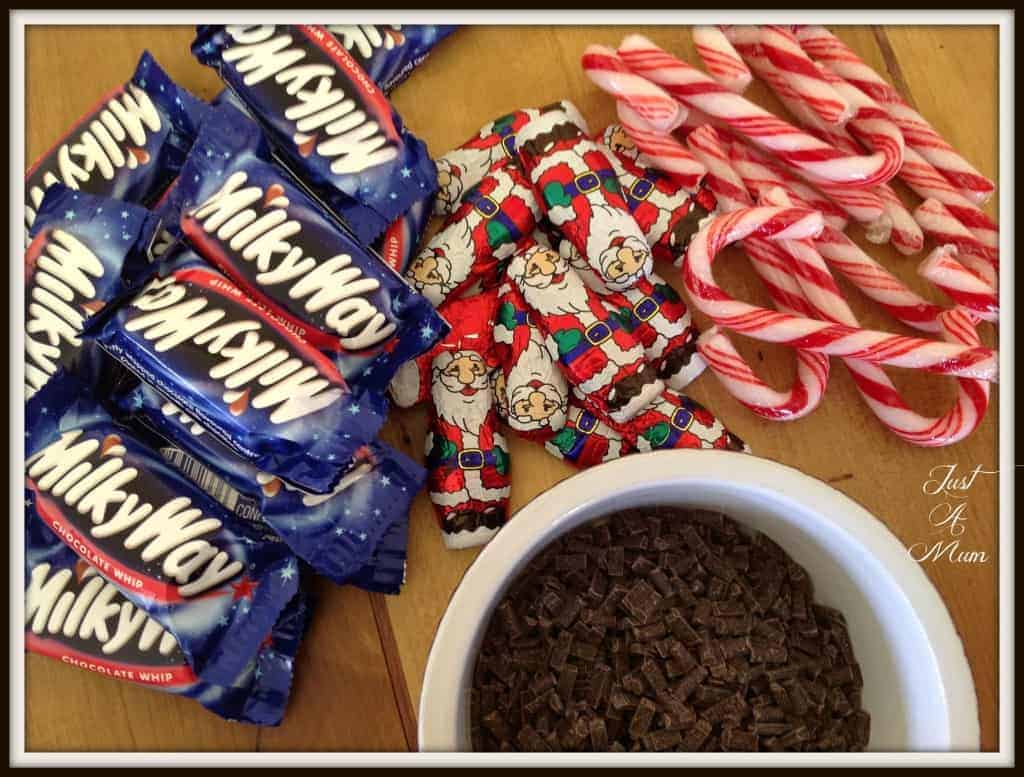 Please note that I have not added quantities here – but you need one milky way, one santa and two small candy canes per sleigh 😀

Santas Candy Cane Sleighs
Recipe type:
Christmas Confectionary
Ingredients
Small Candy Canes (still in wrappers)
Small Wrapped Santa's
Mini Milky Ways
Small Amount of melted chocolate (drops, chocolate chips or a few pieces of a block)
Method
Melt Chocolate in a small bowl in the microwave or stove top in 10 second bursts until completely melted
Remove wrappers from the milky ways
Using the tip of a sharp knife cut a small slit in the back 3rd of the milky way and one about 5mm in front of that then dig out the middle bit of milky way with the tip of the knife - this is for Santa to sit in. You can just do one slit but he will crush and crack the bar - but that is fine too!
Turn the milky way over and spread on a generous amount of melted chocolate.
Lay the candy canes on the melted chocolate - curve side down towards the table and hold until set (you will find if you do not have enough chocolate then they will not stick)
Turn the sleigh over and then pop Santa in the hole and you are done!
Repeat until you have enough!

How easy is that! I am so happy that you have stopped by to see this recipe – please do follow me on Facebook Here if you are a Facebooker, and add your name to my email list on the right hand side of this page to subscribe to my recipes as I post them! I have many more Christmas Recipes – here are a few
Happy Baking and stop by again soon for more delicious recipes.