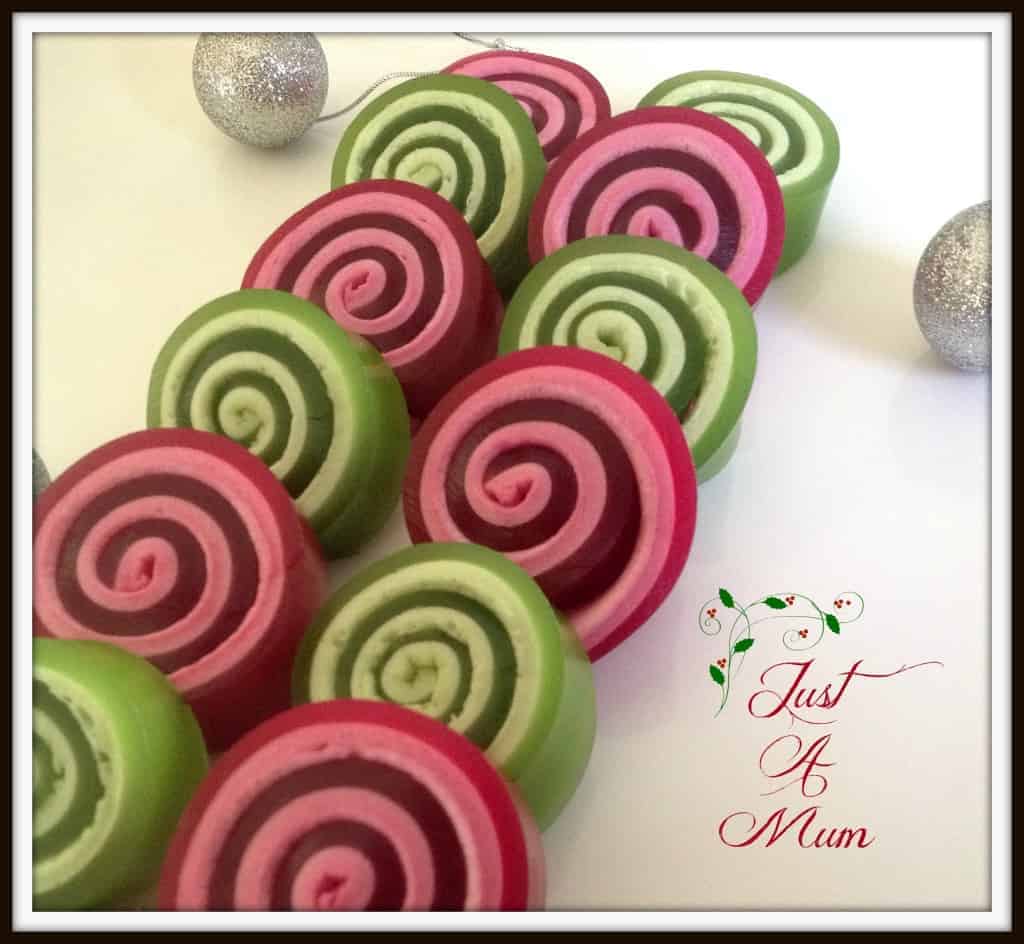 This recipe for Jelly Pinwheels or Jello Rollups was one of the first recipes I ever put up on Just a Mum. I has consistently been one of the most viewed recipes too! So I thought I would give it a bit of a Christmas Makeover to inspire a whole new lot of people to try this magical two ingredient recipe.
The recipe is just delightful! All it contains is Jelly and mini marshmallows, but the magic happens when you get the mixture out of the fridge – the jelly and marshmallow separate into two distinct layers – so cool! It takes about 5 minutes to make up the recipe, an hour for cooling time and then the fun bit begins, rolling up and then cutting the roll. And of course with all things magical you don't cut it the ordinary old way – you use a piece of cotton, so the kids will just love helping out with the entire recipe.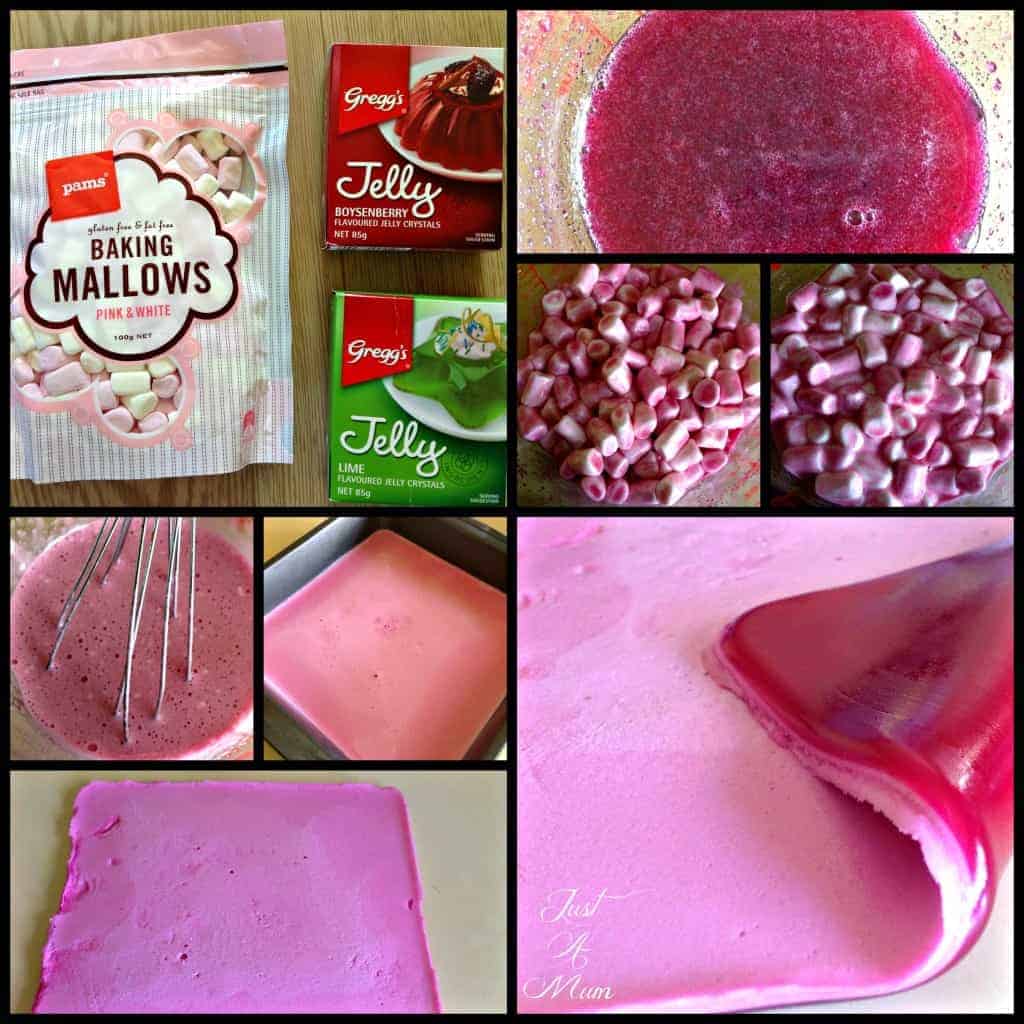 The marshmallow will take on whatever colour jelly you use so its fun to create these for any occasion. Mini marshmallows can be found in the baking section of the supermarket. An added bonus for some families is that these are dairy free (check your brand) and gluten free also, so a nice treat food for parties where there will be children with allergies!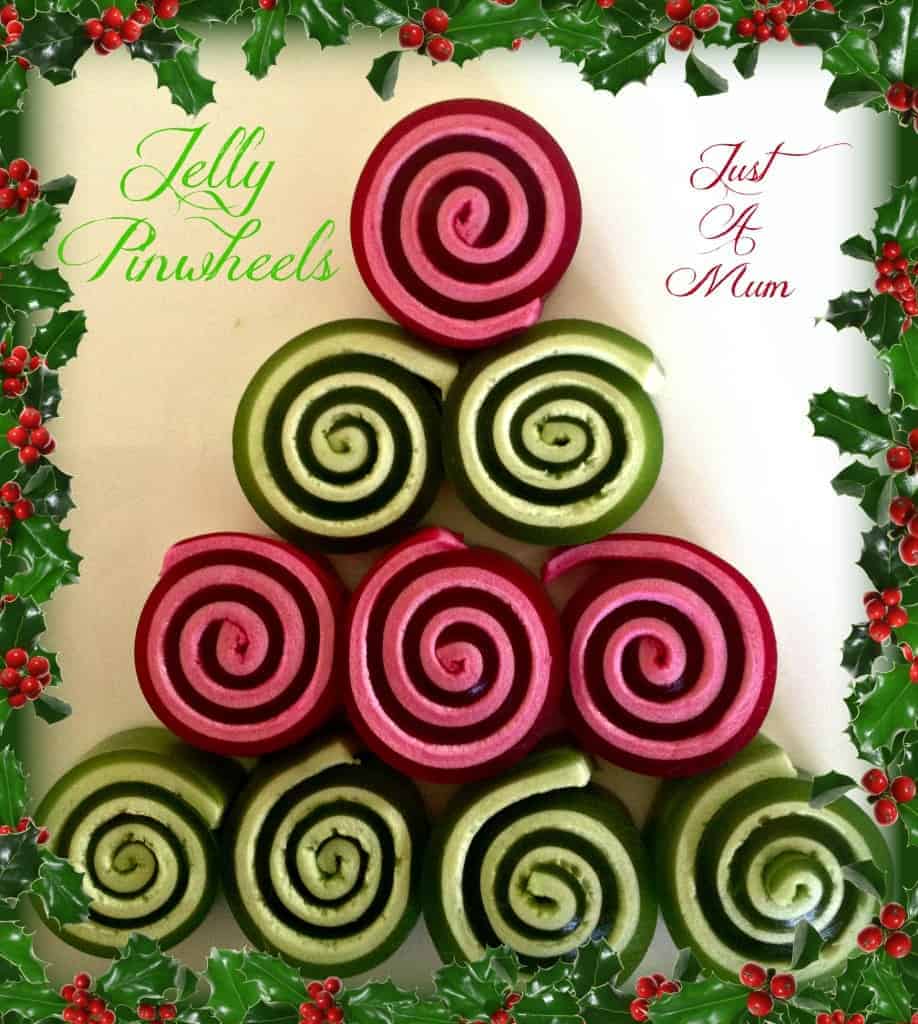 So without further ado – here is the recipe – it is easy, few steps and so much fun!

Jelly Pinwheels
Recipe type:
Confectionary/Dessert
Ingredients
1 Packet Flavoured Jelly (Jello) 85g
½ cup Cold Water
1½ Cups Mini Marshmallows
Method
Prepare a 25 x 25 slice tin with a very light spray of cooking oil - you do not want it to taste of oil!
In a microwave proof bowl add the jelly crystals and cold water
Heat on high for 1 minute, stir & check if crystals have dissolved, if not heat for a further 10 seconds.
Add marshmallows and stir lightly into jelly.
Heat for 15-30 seconds (only until marshmallows just begin to puff up **see below!)
Using a whisk quickly mix together the ingredients until the marshmallow has completely dissolved.
Pour into prepared slice tin and set on a level shelf in your refrigerator for an hour or until set
Remove from the fridge and carefully pull away the mixture from one side of the tin to see if it will come away cleanly.
Gently lift the set mixture onto a clean dry surface, marshmallow side up.
If you feel it will catch at the sides of the tin gently run a knife around the edge.
Begin at one end and with gently roll the jelly with the fingers of both of your hands, keeping the roll as firm and tight as possible.
Mine always has funny ends - don't worry!
Set seam side down on bench
Get a clean piece of cotton about 15-20 cm long
Slide the cotton under the roll about 1cm from the end and cross it over the top of the roll, pulling the cotton tight until it cuts through the rollup.
Continue to do this every 1 cm down the roll until you have completely sliced it.
Display on a plate and serve!
Keep in fridge until ready to serve, best eaten the day it is made.
**Be careful not to overcook the marshmallow – so watch it as it cooks – when you begin to see the marshmallows change shape and just puff up remove them from the microwave – this allows the layers to separate properly and the sciencey stuff to work!

So how easy and cool is that! Nice and quick so the kids can help with the making of part, then head off and play for a bit and after not much time come back and cut it – with cotton!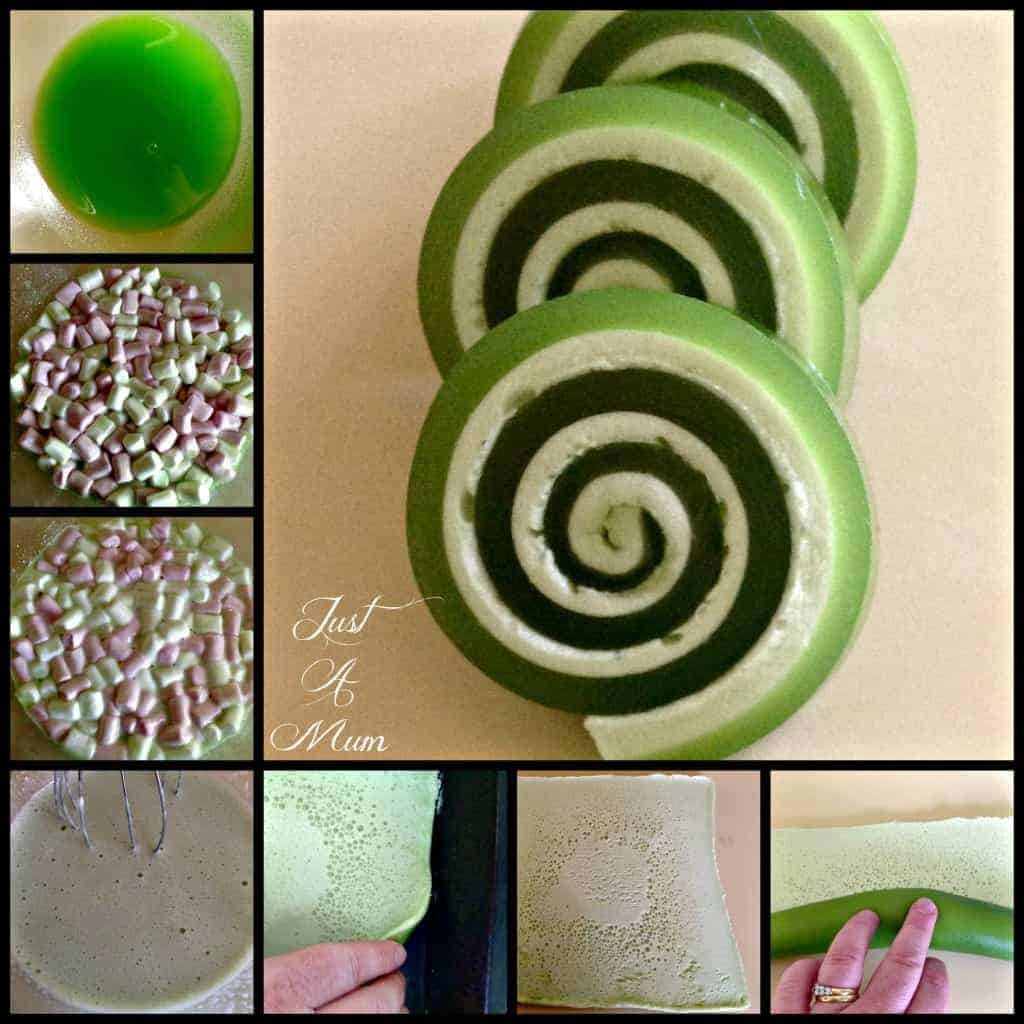 I do hope you get as much enjoyment of this recipe as my family have. There will be many more Christmas recipes to come in the following weeks so be sure to follow me on Facebook here or register your email on the right hand side of the website where it says subscribe here to be the first to receive my posts as a publish them.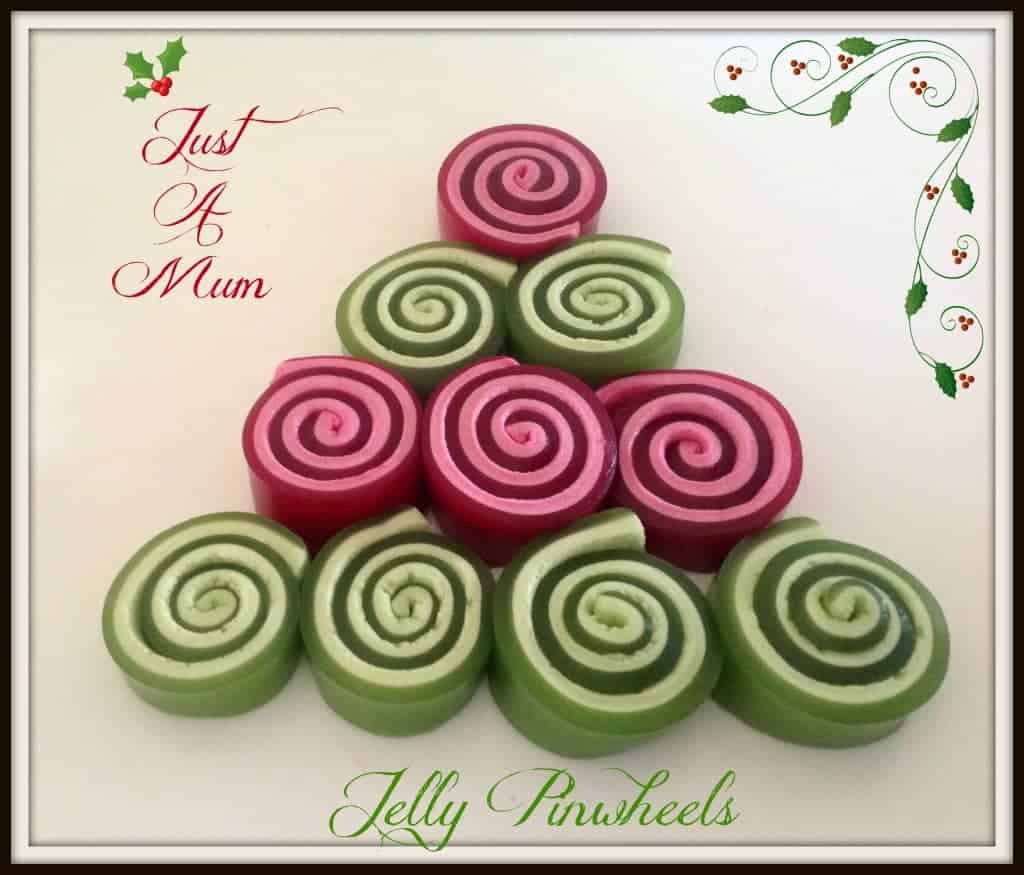 Please check out my other Christmas recipes like these two below – so delicious and easy to make 🙂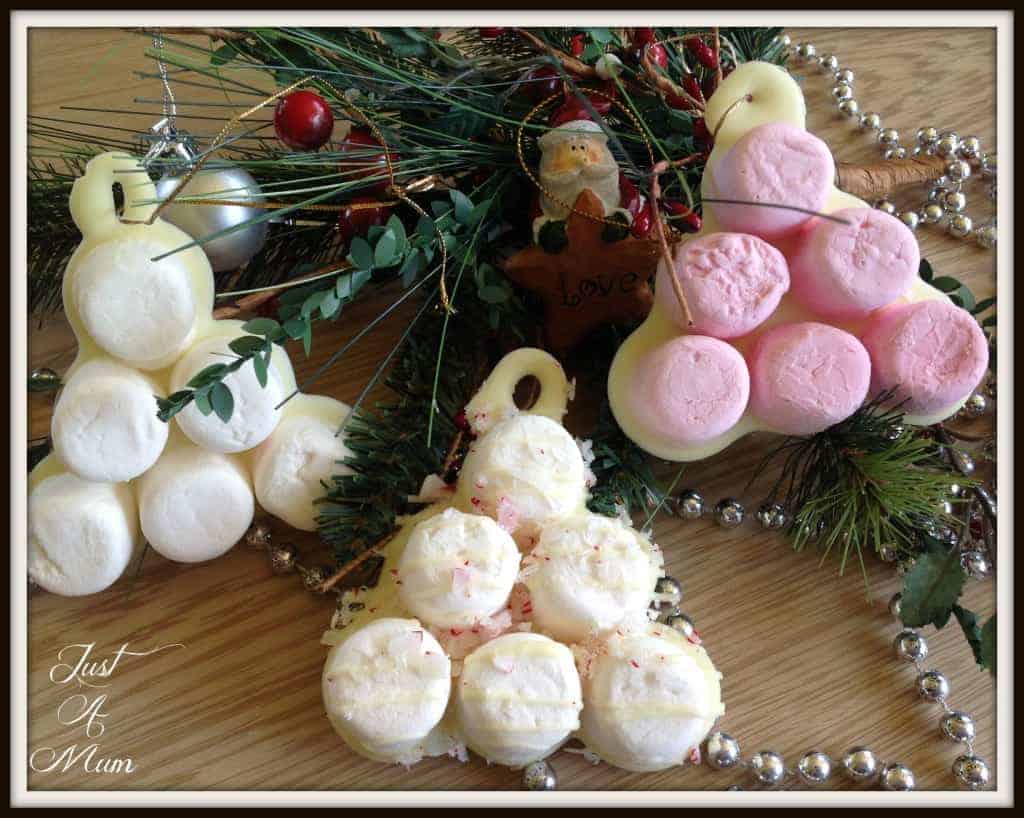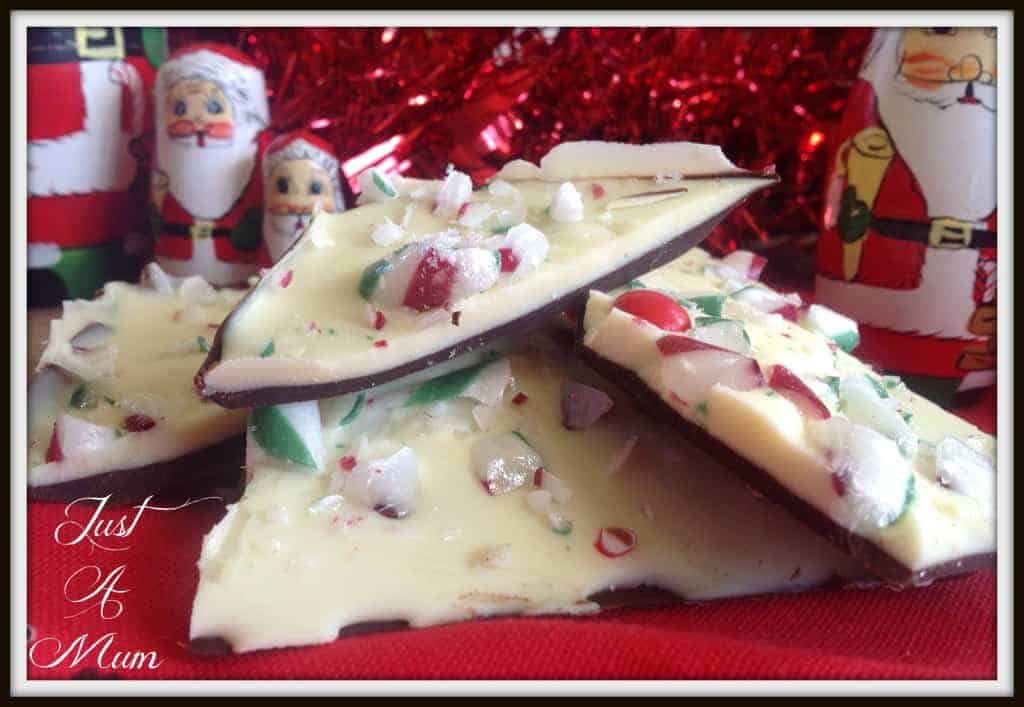 I love your feedback and comments so be sure to take the time to let me know what you think and what colours you made!
Happy Baking, Anna 🙂